Dashcams are pretty handy if you ever get yourself caught in a sticky situation. The whole "caught in 4K" meme pays dividends whenever you can use the dashcam's footage to your advantage… Such as finding someone who's keyed your car, had bumped into you, or perhaps prove what happened during an accident. As far as MIOFIVE is concerned, their latest bit of kit takes capturing it in 4K quite literally.
Most dashcams that you'll find today only record in yesteryear's 1080p. Ah, but not MIOFIVE or their new 4K dashcam, which upscales the world around you to a crisp 3840 x 2160 pixels. The unit costs £149.99, and you're certainly getting a lot for your money. Unwrap it from the box, and you'll soon realise how tiny MIOFIVE's 4K dashcam really is.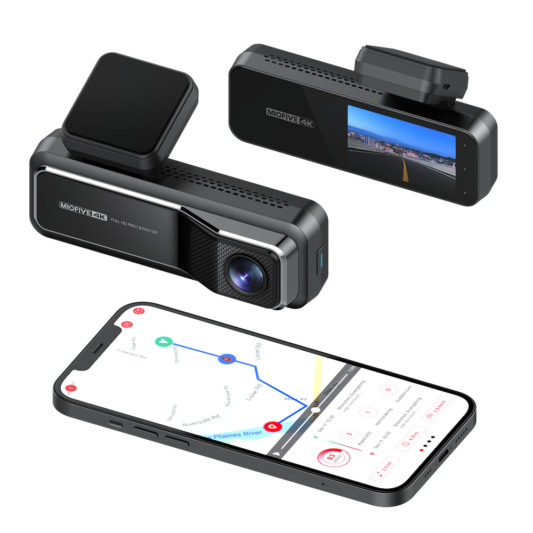 Unlike most bulky dashcams, the low profile and compact dimensions of the MIOFIVE are very neatly designed. So much so, that you can sometimes forget that it's there. As a result, it's not as obtrusive as some other dashcams out there can be. MIOFIVE's attention to detail goes beyond that, proven by little touches like making the sticky pad that goes onto the windscreen capable of dissipating heat.
Super, Duper, High Resolution
Despite its diminutive form factor, however, the packed down frame of the MIOFIVE hides a massive Sony IMX415 sensor. Combined with a speedy processor, this allows it to capture footage at a sharp 2160p and 30 frames per second. Even for smartphone cameras, this is pretty high end, let alone inside a dashcam. Granted, some may think that it's silly to include a 4K camera in a mere dashcam.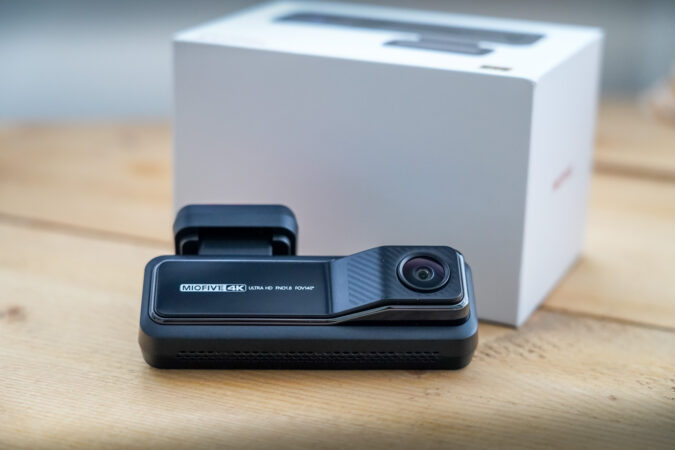 In practice though, those extra pixels afford you so much more clarity. That sharpness and detail in the footage could ultimately make a significant difference if you ever need to dissect and analyse the recording. For instance, discerning more clearly the face of a person, or deciphering the registration plates of another car, all from your dashcam footage. It also works just as well when it gets dark.
Another noteworthy highlight of the MIOFIVE is its inclusion of 5G Wi-Fi connectivity. Thus, allowing you to more easily download and pull out any footage stored on the dashcam, and onto your phone. It's a necessary feature, given that the MIOFIVE 4K dashcam as downloading 4K footage via Bluetooth just wouldn't work. Don't forget the system comes with 64Gb of eMMC storage as well, so no need to buy an extra card.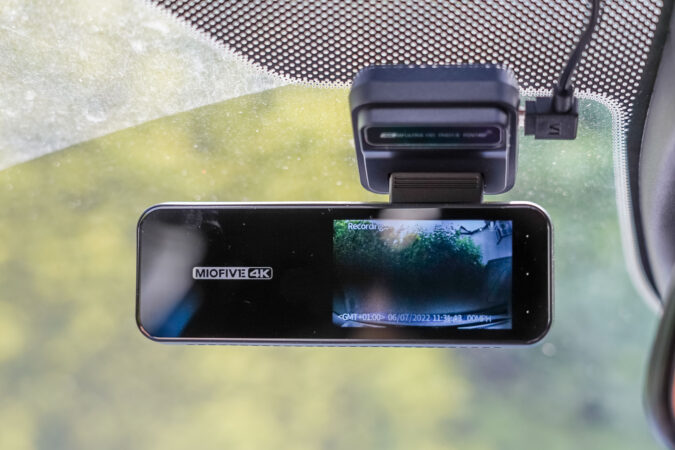 Ordinarily, this is a tedious process in other dashcams that requires you to remove the SD card. Then, stick that into your computer, before spending quite a bit of time and brain power to try and read the video files. On the other hand, MIOFIVE makes it pretty effortless to stream or download footage onto the MIOFIVE app on our phone. And, you can do so speedily using its super-fast 5G Wi-Fi.
More Than Just A Camera
With that being said, the MIOFIVE is so much more than a camera, which is evident once you install their app. There, you can access additional functionality for the MIOFIVE 4K dashcam, like capturing a time lapse. The dashcam unit itself also contains GPS and a myriad of other telemetry sensors. On the app, you can view records that log your vehicle's location, speed, driving routes, and more.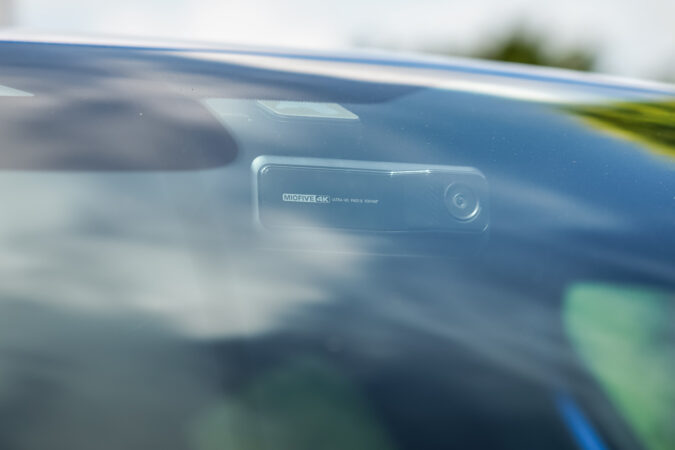 Just like grabbing footage off of the dashcam and viewing it on your phone, there's no need to plug into the dashcam or remove an SD card. Rather, its 5G Wi-Fi reception is good for 10M/s download speeds, so you could stream all this data in real-time. But speaking of sensors, the MIOFIVE handles more than just GPS. Included within the dashcam unit are a G-sensor and nighttime vision capabilities.
This practically allows it to function as a security camera for 24-hour monitoring or surveillance of what's going on around your car. It would work perfectly if you're, for example, leaving your vehicle parked for a long time. And, want to make sure that no one's going to do anything to it. Though, it's worth noting that you'll have to rig the MIOFIVE dashcam to a secondary battery for this.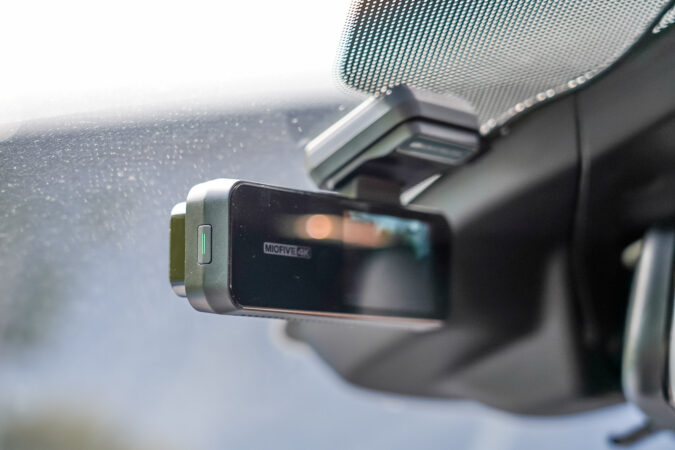 Once you've done that, the MIOFIVE's sensors kick in. For instance, it can use the sensors to detect if another car has bumped into yours, and keep a record of it. It'll keep a log of all of this in a dedicated folder. Plus, with its use of night vision, it'll keep watch over your car, even in the dead of night.
Keeps You On Your Toes
In addition to functioning as a dashcam, MIOFIVE's kit here also works as a co-pilot. This is thanks to their built-in AI driving assistant. It mainly uses GPS but also adopts digital signal processing to read what's ahead of you. For example, let's say you've stopped behind a car at a stoplight. Once that car in front of you goes as the lights turn green, the MIOFIVE dashcam will keep note of its movement.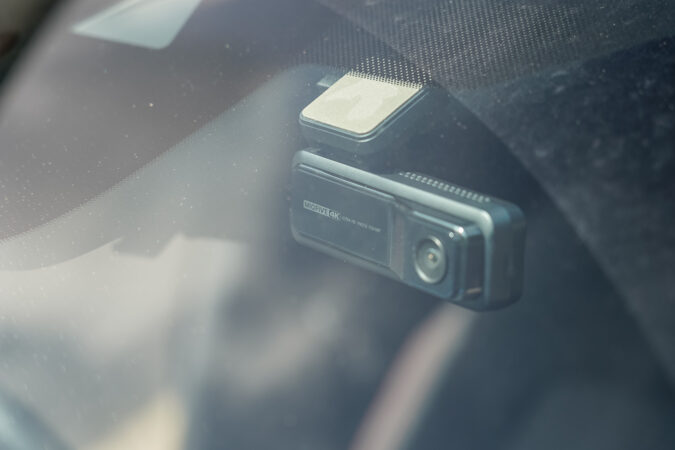 If you're still stationary after 5 seconds, the MIOFIVE will issue an alert to ensure you're in tune with the traffic around you.
The one downside, oddly enough, is a consequence of that sleek design. With MIOFIVE's intent that a dashcam shouldn't be distracting or in the way, this means that they had limited room to fit a screen on the MIOFIVE. The best you can get is a 2.2-inch display, though I can't imagine why you'd want a larger display, anyway. On the bright side, it's a very good screen with a 140-degree viewing angle.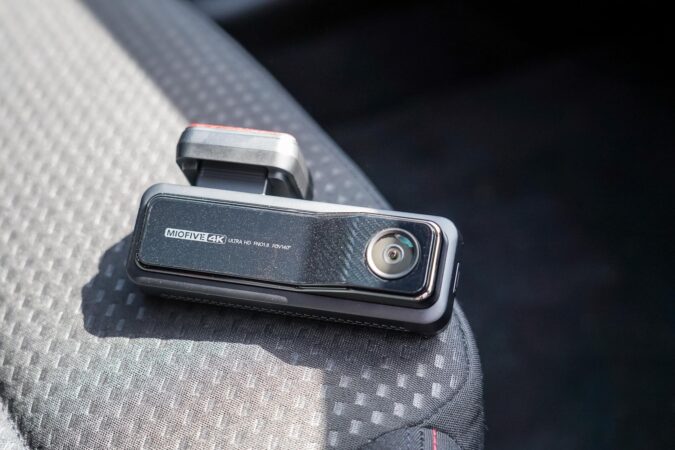 In all, MIOFIVE's new 4K dashcam is one of the best dashcams that you can get today. They've made a well-thought-out dashcam that, despite its small size, punches far above its weight. As far as some of the most crucial dashcam-related functions go – capturing footage, storing location data, keeping a log of events, etc. – it does them brilliantly.