We all love thrills, don't we? Well, there are only a handful of things that are more thrilling than riding a motorcycle. When compared to cars, motorcycles arguably offer more horsepower per dollar. But, do you want to know the most expensive motorcycle? If you are curious about that fact, this article is just for you.
Just like cars, motorcycles have different categories as well. For people that like to live at the edge of speed, there are sports bikes. Adventure bikes are for people who like to go off the beaten path. For those long highway rides, there are street cruisers. As you might have guessed, the price varies between different versions.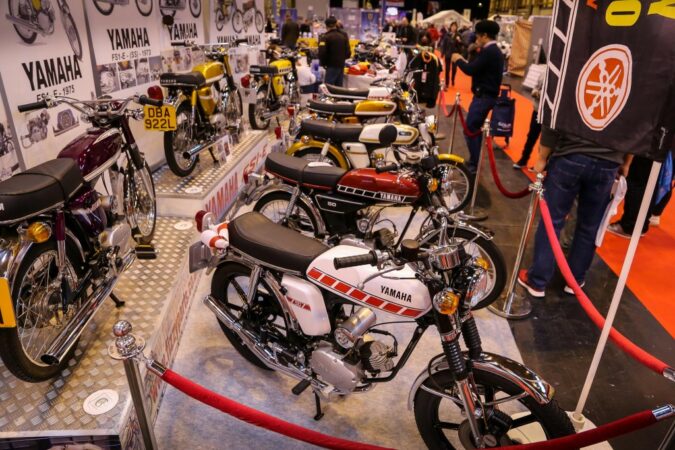 There are many motorcycle manufacturers as well. These range from luxury brands like Ducati to budget motorcycle manufacturers like Honda. The manufacturer also has an effect on the price of motorcycles as well. In this article, we will tell you everything there is to know about the price of motorcycles.
Most Expensive Classic Motorcycle
Classic cars often sell for way more money than modern cars. This is the same for motorcycles as well. Some of the most expensive motorcycles ever sold are classics from years gone by. So, to start off our discussion, let's look at some of the most expensive classic motorcycles, shall we?
1926 Brough Superior SS100 ($453,000)
This 1926 Brough Superior was one of the most powerful motorcycles of its time. It was the first generation of this model. Powering this beast is a J.A.P KTOR racing engine. The noise of this engine puts the exhaust notes of modern motorcycles to shame. The SS100 has exposed valve springs and pushrods. These exposed components are supported by a "dog ear" rocker arm. Powerful and elegant, this 94-year-old stallion deserves a place on this list of most expensive classic motorcycles ever sold.
1922 Brough Superior SS80 "Old Bill" ($469,800)
This is the second Brough on the list, and it is for good reason. "Old Bill" was the original prototype for the Brough SS80. Furthermore, this was one of the competition bikes personally owned by George Brough himself. This speed demon has a top speed north of 100 mph. This figure was unheard of at the time. In fact, "Old Bill" was the first British-made side valve race bike to achieve this feat.
The name for this particular SS80 was taken from a cartoon character (speaking of, maybe consider checking out our guide on what kinda car is Lightning McQueen) from the first world war. Bert LeVack tuned the engine of this Brough. Not only that, the frame was stabilized with the help of struts. In the end, "Old Bill" was the winner of 52 drag races at the hands of George Brough.
1939 BMW RS255 Rennsport Kompressor ($480,000)
Some of you might be surprised to hear that BMW once made Grand Prix race bikes. In fact, this exact model achieved victory in the 1939 Isle of Man TT. Not only that, but it also held the motorcycle land speed record for 14 years, from 1937 to 1951. The record-setting speed was an astonishing 173.68 mph.
The RS255 was powered by a supercharged engine. This powerful engine paired with a lightweight chassis made this one of the best sports bikes of its time. Walter Zeller built this BMW, and as a result, these are remarkably rare to come by. Suddenly, the price of $480,000 seems like a bargain, doesn't it?
1912 Henderson Four ($490,000)
In 1912, Carl Stearns Clancy rode this motorcycle around the world. Let that fact sink in for a second. The Henderson Four was truly ahead of its time. This remarkable motorcycle was produced by William Henderson. This reliable, fast, and sophisticated machine is one of the best motorcycles the world has ever seen.
1940 Crocker Big Tank ($550,000)
Just 64 Crocker motorcycles were ever built in the 1940s. This makes Crockers some of the rarest two-wheelers in the world. This particular example belongs to the second generation. It received the "Big Tank" nickname due to its large fuel tank made of cast aluminum. This, along with the improved cylinder head design makes this Crocker worth every penny of its astronomical $550,000 sale price.
1907 Harley Davidson "Strap Tank" ($715,000)
Next up on our list is the 94th Harley Davidson ever built. Additionally, it is the 37th Harley made in 1907. It is powered by a single-cylinder engine. However, this configuration is extremely rare, especially 115 years after production.
1951 Vincent Black Lightning ($929,000)
Finally, we have arrived at the entry you all have been waiting for. The most expensive classic motorcycle ever sold is the 1951 Vincent Black Lightning. This is an extremely rare motorcycle, as only 31 examples were ever produced.
The Vincent Black Lightning was the holder of many speed records in its heyday. First, it reached the mythical 150mph mark at the hands of Rollie Free. This feat was achieved at the Bonneville salt flats in the USA.  Then, Jack Ehert shattered the Australian speed record with a top speed of 141.5 mph. With this mix of speed and pedigree, there is no doubt that someone paid close to a million dollars to be the proud owner of a Vincent Black Lightning.
Now that we have got the classics out of the way, let's move over to modern times.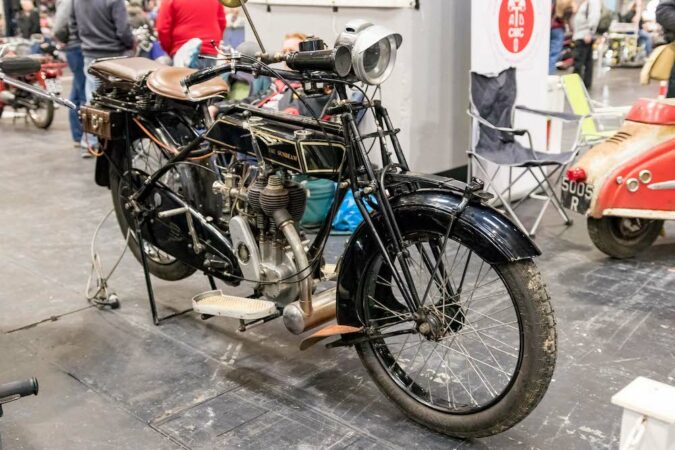 Most Expensive Motorcycle
If I asked you to guess the price of the most expensive motorcycle ever made, what would your answer be? One million dollars? Two million perhaps? Well, my friend, you are way off. In fact, the most expensive motorcycle sold for an eye-watering figure of $11 million! Wait, there's more. You will be even more amazed to hear that the manufacturer of this motorcycle is in fact a handbag company.
The motorcycle in question is the Neiman Marcus Limited Edition Fighter. Only 45 of these see-through pieces of art were ever made. The Fighter is powered by a 1966cc engine that puts out 160 horsepower. As a result, the top speed of the most expensive motorcycle is 190 mph. Neiman Marcus based this bike off of the similar-styled Confederate P120 Fighter.
However, the Limited Edition Fighter is not Neiman Marcus's first foray into motorcycles. The First Neiman Marcus motorcycle debuted in 1998. This motorcycle was produced in partnership with the Italian motorcycle manufacturer Ducati. It was called the Ducati 748L Neiman Marcus edition. Making 98 horsepower from a 748cc engine, the Ducati could achieve a top speed of 154 mph. Furthermore, only 100 of these limited edition Ducatis were ever made.
For motorcycle riders, a helmet is a must-have. Not only that, a helmet is a fashion statement as well. An article about the most expensive motorcycle would not be complete without discussing expensive helmets. So, if you are curious about the most expensive helmet, the next section is dedicated to you.
Most Expensive Motorcycle Helmet
The price of a motorcycle helmet depends on several factors. The design, materials used as well as the manufacturer are a few of these factors. With that out of the way, here are some of the most expensive motorcycle helmets money can buy.
10. AGV Sportmodular ($850)
This helmet is made by AGV, a well-known name in motorsports. It is made to be stable at high speeds and to provide the best noise insulation when riding. This helmet consists of a carbon shell. As a result, it only weighs 1390 grams. Paired with a stylish look, this helmet deserves a recommendation.
9. Shoei X-Fourteen ($890)
The X-Fourteen was made with the input of Marc Marques and Bradley Smith, who are legendary motorcycle athletes. It comes equipped with a CWR-F enhanced visor, which can absorb 99% of the UV rays you may encounter while riding. Not only that, the removable liner on the inside does a great job of absorbing body sweat. This liner is made with a mix of organic fibers and fiberglass, which makes it incredibly strong.
8. Veldt Foil Fullface ($900)
This is one of the more fashionable motorcycle helmets out on the market. The Foil full-face is made with a carbon fiber shell bound with metal. It is of a modular design and has a flip-up shield to cover your face. As a result, this full-face helmet can easily be converted into an open-faced one. The total weight of the helmet is 1,3 kg. It can be had in either pure carbon or in a silver finish.
7. Schuberth C4 Pro Carbon ($900)
Made for maximum safety and convenience, the C4 Pro Carbon is made by Schubarth, a company with a 70-year-old history in making protective gear. Made of carbon fiber, the C4 weighs a mere 1.6kg. This minimum weight makes this helmet barely noticeable to riders when it is on their head. Furthermore, the helmet is padded with an anti-bacterial lining. This lining is washable, and it ensures a perfect fit between the head and the helmet. Finally, the C4 has a built-in microphone near the cheek to increase sound clarity.
6. AGV Corsa R ($1000)
This race-inspired helmet markets the second appearance by AGV on this list. But, as this is a race helmet, it lacks the creature comforts of other helmets. This means that soft headliners and built-in microphones are out of the picture.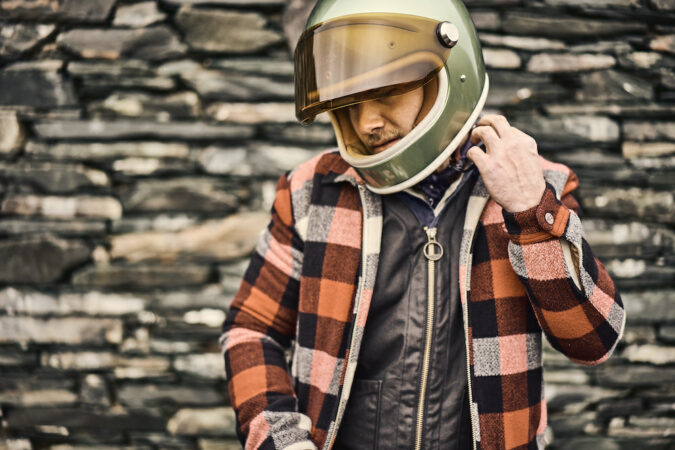 However, the Corsa R more than makes up for it with its race-oriented modifications. This helmet is extremely lightweight and provides great aerodynamics. Also, the visibility is great when compared to its competitors. For riders looking to buy a helmet with its roots in racing, the AGV Corsa R is a perfect match.
5. Arai Corsair-X ($1060)
The Arai Corsair-X is one of the best ventilated-helmets money can buy. Not only that, it is one of the most comfortable ones as well. The visor of the Corsair-X has a floating axis of rotation. Also, the VAS V MV visor provides great visibility in any weather condition. The inside lining of this helmet is comfortable and soft. Moreover, this lining is made using eco-friendly materials.
4. Headon Heroine Racer Metallic Python ($1080)
With a painted metal look, this helmet is perfect for riders who want a mix of looks and value. It has a painted metal look, achieved through baking the helmet in a patented autoclave. The shell is made from carbon fiber and fiberglass, which provides strength as well as protection.
3. Ruby Castel Shibuya ($1600)
A high-quality paint job, along with a genuine calfskin lining sets the Shibuya apart from other high-end helmets on the market. Each of these iconic helmets is hand-painted. The colors on these helmets are dedicated to the Shibuya region of Tokyo, Japan. However, you have to pay a premium to own one of these fashionable helmets. The starting price of a Ruby Castel Shibuya is $1600.
2. AGV Pista GP RR ECE DOT Limited Edition Special ($1700)
With such a long and extravagant name, it is no wonder that this helmet costs $1700. This is one of the best racing helmets money can buy. Made out of 100% carbon fiber, this helmet is one of the lightest on the market. Not only that, the helmet comes with a quick-release system as well. Metal-lined vents and an integrated hydration hose are the other race-inspired features of this helmet.
However, there is one caveat with the Pista GP. It lacks noise cancellation. This won't be an issue on the racetrack but can be annoying during day-to-day use. As a solution to this issue, a pair of earplugs is offered with each of these helmets.
1. Arai RX-7V RC Carbon ($3400)
Costing almost the same as an entry-level motorcycle, the Arai AX-7V RC Carbon is the most expensive motorcycle helmet in the world. This helmet is handcrafted and inspired by the technology used in F1 racing helmets. The exterior is made out of a lightweight carbon fiber composite. This CFC material is special, as it is the same material used to build rockets and airplanes.
On the other hand, the RX-7V comes with a top-of-the-line ventilation system as well. It consists of rigid diffusers and a rear air wing that aids with stability. Not only that, a chin guard is present to prevent turbulent air from entering inside of the helmet. All these factors add up to a figure of 11% more ventilation when compared with the previous generation of AGV helmets.
Similarly, another impressive technology used in this helmet is seen with the padding. It is top of the line and uses a Facial Contour System to perfectly fit the head of the rider. Still, if money is no object, the Arai RX-7V RC Carbon is the best helmet you can buy.
Top 10 Most Expensive Motorcycle
Previously, we looked at some of the most expensive classic motorcycles in the world. Now, let's take a look at some more modern examples.
Most Expensive Motorcycle #10 – MTT Turbine Streetfighter ($175,000)
As the name suggests, the MTT Turbine Streetfighter is powered by an interesting powerplant. In fact, it is not an internal combustion engine at all. Instead, the MTT is powered by a Rolls Royce-Allison turbine. This is an engine that is typically found in helicopters. As a result, it produces 320hp which is a monstrous figure on a motorcycle.
Besides, the MTT Turbine Streetfighter is rare as well. The production is limited to just 5 units per year. The exclusivity of this motorcycle somewhat justifies the $175,000 price tag.
Most Expensive Motorcycle #9 – Honda RC213 V-S ($185,000)
This Japanese road racer was Hondas' entry in the 2012 MotoGP racing series. Powered by a 1000cc V4 engine, this was one of the most powerful bikes ever developed by Honda. Not only that, the liquid-cooled engine was paired with a 6-speed sequential transmission that enabled lightning-quick shift times. Not only that, the RC213 was extremely lightweight as well. The total weight of this superbike was just 160kg.
Most Expensive Motorcycle #8 – Suzuki AEM Carbon Fiber Hayabusa ($200,000)
The next entry in our list also comes from Japan.  The Hayabusa held the record of the world's fastest production motorcycle for decades. This particular model was an evolution of the normal Hayabusa. Thanks to its lightweight construction, this bike could reach speeds beyond 188mph.
Most Expensive Motorcycle #7 – Ducati Testa Stretta NCR Macchia Nera ($225,000)
Designed by legendary automotive designer Aldo Drudi, this Ducati is one of the meanest-looking motorcycles ever produced. As a result, it is one of the most expensive motorcycles as well, costing a cool $225,000. This aggressive-looking motorcycle offers 185 horsepower on tap. Not only that, it only weighs 135 kg. If you are looking for a cool-looking motorcycle with plenty of power, there are only a few others that come close to the Ducati Testa Stretta NCR Macchia Nera.
Most Expensive Motorcycle #6 – Ducati Desmosedici D16RR NCR M16 ($235,000)
Next up is another superbike by the Italian manufacturer Ducati. Made out of exotic materials including titanium, avionic, aluminum, and carbon fiber it is no wonder that this is one of the lightest bikes around. As a matter of fact, the D16RR only weighs 319 pounds. At the heart of this beast is a 200hp desmodromic engine. In essence, if you are looking for a lightweight performance bike, this Ducati deserves to be on top of your list.
Most Expensive Motorcycle #5 – Ecosse Founder's Edition Ti XX ($300,000)
The letters "Ti" in the name of this motorcycle are a nod to its titanium construction. In fact, both the chassis and the exhaust system are made from this lightweight material. Similarly, the body of this motorcycle is molded from carbon fiber. The carefully handcrafted leather seat adds to the aesthetic of this beauty, cementing its legacy as one of the most expensive motorcycles in the world.
Most Expensive Motorcycle #4 – Dodge Tomahawk V10 Superbike ($550,000)
A V10 Viper engine on two wheels? Now that sounds like a toxic combination. However, Dodge thought this was a good idea when they made this half-a-million-dollar superbike. This futuristic-looking monster is capable of reaching 60 mph in just 2.5 seconds. Not only that, it has a theoretical top speed of 400mph. I don't know about you, but that gives me chills just by thinking of it!
Nonetheless, the Tomohawk is just a concept for now. So, you'll have to wait if you want to call one of these beasts your own.
Most Expensive Motorcycle #3 – Harley Davidson Cosmic Starship  ($1.5 Million)
There is one main factor that sets this Harley apart from the rest. That is its paint. This hog wears a paint job done by the legendary artist Jack Armstrong. Unsurprisingly, the art enthusiasts among our readers will surely gawk at the sight of this astonishing motorcycle.
Most Expensive Motorcycle #2 – Yamaha BMS Chopper ($3 Million)
If you are a person that loves gold, this is surely the bike for you. The Yamaha BMS Chopper is entirely covered in 24 karat gold, making it one of the most expensive motorcycles in the world. But, the fancy materials don't stop there. Even the seat is upholstered in soft, red velvet.
The BMS chopper's power comes from a 1700cc engine. However, this bike is not meant to be ridden on the road. Instead, it is made to be a showpiece that becomes the center of attention wherever it goes.
Most Expensive Motorcycle #1 – Ecosse ES1 Spirit ($3.6 Million)
At the top of our list is the Ecosse ES1 Spirit. This beauty is made entirely out of titanium and can reach speeds that exceed 230 mph. However, potential buyers of the ES1 have to take a two-week course by Ecosse just for the privilege of owning this motorcycle.
Most Expensive Indian Motorcycle
Motorcycles are a popular mode of transportation in India. There are several prominent motorcycle manufacturers in the country. Hero and Bajaj are two that come to mind.
Nonetheless, the most expensive Indian motorcycle is the Bajaj Dominar 400. This 400cc cruiser is priced at $2812.
Conclusion For Most Expensive Motorcycle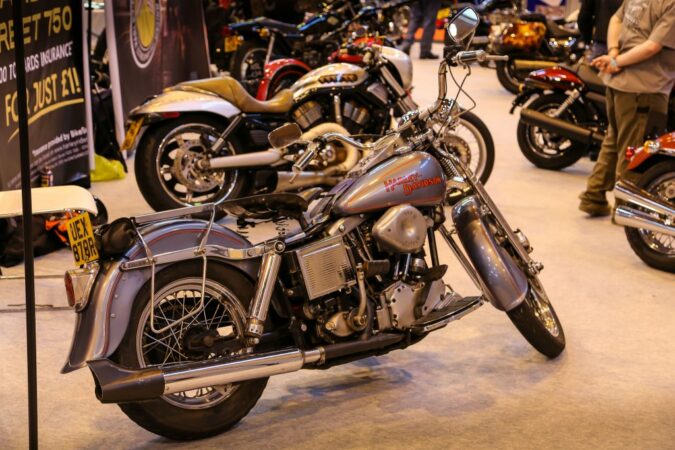 Motorcycles are a passion for many people. So, there is no wonder that some motorcycles sell for astronomical prices. In this article, we told you about some of the most expensive motorcycles in the world. Some of these motorcycles put form over function. However, there is no wonder that all of these motorcycles deserve to be remembered in history.
FAQS On Most Expensive Motorcycle
What Is The Most Expensive Motorcycle
The most expensive motorcycle is the Neiman Marcus Limited Edition Fighter. It sold for a record price of $11 million at an auction in 2012. This motorcycle is powered by an air-cooled V twin engine. Not only that, it can reach a top speed of 186 mph.
How Much Are Motorcycles
Motorcycles are one of the cheapest modes of transport in the world. The cheapest motorcycles start at under $1000. However, there are some expensive motorcycles as well. In fact, the most expensive motorcycle ever sold for a mind-numbing 11 million dollars!
How Many Bikes In The World
Currently, there are around 200 million motorcycles in the world. Indonesia is the country with the most amount of motorcycles, with an estimated figure of around 80 million.
How Much Is My Harley Worth
The price of a Harley Davidson depends on a number of factors. Model year, mileage, and model are some of these factors. However, the Harley Davidson Bucherer Blue Edition is the most expensive Harley ever. It is worth $2.4 million. On the other hand, the Harley Davidson Street 500 is one of the cheapest Harleys you can buy. It has a starting price of just $6899.