At Motor Verso Mechanics, we are your trusted partners in car repairs and troubleshooting. With over a decade of experience in the automotive industry, we have helped thousands of people fix their cars efficiently and cost-effectively.
Our Expertise
Our extensive range of articles covers a wide variety of car-related topics, including air-conditioning, batteries, brakes, electrical systems, engine repairs, suspension, and much more. We have over 3000 articles available and growing, providing detailed insights and step-by-step guides to help you tackle common car issues.
Our Commitment
Motor Verso Mechanics is committed to providing you with the highest level of assistance. We understand the frustration of car troubles and the importance of finding reliable solutions. Our team, led by Paul Hadley, a seasoned motoring journalist with a wealth of experience, is dedicated to helping you get back on the road with confidence.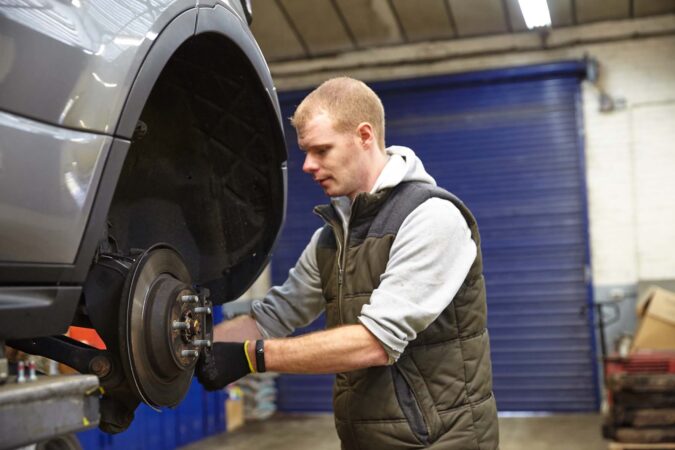 Paul Hadley has an extensive background in the automotive industry, having driven and documented hundreds of cars. His expertise and passion for cars make him a trusted authority in the field. With his guidance and our team's collective knowledge, we aim to deliver exceptional car repair advice and support.
How We Can Help
Whether you need quotes for repairs, assistance in finding a service center, or advice on troubleshooting specific car issues, Motor Verso Mechanics is here for you. Contact us at repairs@motorverso.com, and our team will promptly assist you.
Contact Us
We are available Monday to Saturday from 9am to 6pm to address your inquiries. Please note that we are closed on Sundays.
Testimonial – Reader Who Fixed Their Cars
FAQ
Q: What is Motor Verso Mechanics?
A: Motor Verso Mechanics is a comprehensive resource for DIY car repair and troubleshooting. We provide expert guidance, step-by-step instructions, and informative articles to help you fix common car issues and maintain your vehicle effectively.
Q: Can Motor Verso Mechanics help me fix my car?
A: Absolutely! Motor Verso Mechanics is dedicated to helping car owners like you resolve various car problems. Our extensive collection of articles covers a wide range of topics, including engine repairs, electrical issues, brake maintenance, and more. Simply browse our categories or use the search function to find the information you need.
Q: Do I need to have technical knowledge to benefit from Motor Verso Mechanics?
A: Not at all! Motor Verso Mechanics is designed to cater to both beginners and car enthusiasts. We strive to provide clear, easy-to-understand instructions and explanations, ensuring that anyone can follow our guides and articles to tackle car repairs with confidence.
Q: How can I contact Motor Verso Mechanics for further assistance?
A: If you encounter any difficulties or have specific questions about your car repair, you can reach out to us at repairs@motorverso.com. Our knowledgeable team will be happy to assist you and provide further guidance based on your unique situation.
Q: Can Motor Verso Mechanics recommend service centers or provide quotes for car repairs?
A: Yes! We can assist you in finding service centers in your area and even help you obtain quotes for your specific car issues. Simply contact us at repairs@motorverso.com, and we'll guide you through the process.
Q: What are the opening hours for Motor Verso Mechanics' support?
A: Our support team is available from 9am to 6pm, Monday to Saturday. We are closed on Sundays. Feel free to email us during these hours, and we'll respond to your inquiries as soon as possible.
Q: How does Motor Verso Mechanics compare to other car repair resources?
A: Motor Verso Mechanics stands out with its extensive collection of over 3000 articles, written by our team of experienced automotive experts. Our founder, Paul Hadley, a renowned motoring journalist, brings a wealth of knowledge and practical experience to the platform. We aim to provide the most accurate and reliable information to help you fix your car effectively.
Q: Is Motor Verso Mechanics affiliated with any automakers or repair service providers?
A: Motor Verso Mechanics is an independent platform and is not directly affiliated with any specific automaker or repair service provider. Our goal is to empower car owners with the knowledge and resources they need to take control of their vehicle repairs and maintenance.
Case Study – Resolving Engine Issues with Motor Verso Mechanics
Customer: John Donaldson.
Background: John is a passionate car enthusiast who takes pride in maintaining his vehicles. However, he recently encountered a perplexing engine problem with his 2012 Honda Accord. The engine was exhibiting strange noises, reduced power, and occasional stalling. Frustrated and determined to fix the issue himself, John turned to Motor Verso Mechanics for guidance.
Problem Identification: John began his search on Motor Verso Mechanics' website, utilizing the search function to narrow down articles related to Honda Accord engine issues. He discovered an article titled "Common Engine Problems in Honda Accords and How to Fix Them." The article provided an overview of potential engine issues specific to his car model, including symptoms, possible causes, and step-by-step repair instructions.
Solution: John carefully followed the instructions outlined in the article and identified the problem as a faulty ignition coil. Armed with this knowledge, he proceeded to Motor Verso Mechanics' article on "Replacing Ignition Coils in Honda Accords" for detailed guidance on the replacement process. The article provided clear diagrams, tools needed, and a step-by-step procedure to safely replace the faulty ignition coil.
Success: With the help of Motor Verso Mechanics' comprehensive articles, John successfully replaced the faulty ignition coil in his Honda Accord. The engine issues he had been experiencing vanished, and the car regained its power and smooth performance. John was thrilled with the outcome and felt a sense of accomplishment for having resolved the problem himself.
Impact: John's success story is just one example of how Motor Verso Mechanics' content has empowered car owners to take control of their vehicle repairs. By providing accessible, reliable information, Motor Verso Mechanics enables individuals like John to save time and money by tackling car issues independently. This case study demonstrates the effectiveness of Motor Verso Mechanics' comprehensive articles in guiding car owners through complex repair processes.
Conclusion: Motor Verso Mechanics' commitment to delivering high-quality, informative content has made a significant impact on car owners' ability to troubleshoot and fix their vehicles. Through their extensive collection of articles, clear instructions, and expert insights, Motor Verso Mechanics continues to empower individuals to overcome car problems and become more confident in their automotive repair skills.