Do you want to have a camper but you are a motorcycle guy? And you also want to know if it is possible that you can camp with your motorcycle? If that is the case, then I can assure you that there is a way to pull this off. And this is by getting a motorcycle camper for yourself.
Camping is probably one of the most desired activities for outdoor enthusiasts who want to experience nature and also enjoy an adventure. Because life should be lived to the fullest and you should not be afraid of living and experiencing stuff, such as learning how to live in your car.
There are campers and big RVs that are dedicated to camping enthusiasts and offer quite a lot of commodities that you need on a daily basis to survive and enjoy your life. But if you didn't know there are also RVs for motorcycles that allow you to do similar things but with your motorcycle. This is extra good if you don't want to haul a lot of stuff behind you and you want to enjoy the breeze of fresh air while you driving your motorcycle.
That's why in this article, we are going to learn what is a motorcycle camper. Then we will discuss the advantages and disadvantages of owning one. After we will cover the costs that are involved in purchasing a motorcycle camper and we will also discuss the top 5 motorcycle campers. So, let's dive into it.
What Is A Motorcycle Camper?
A motorcycle camper in simple words is an RV that you can haul with your motorcycle. These motorcycle campers are perfect if you want to have something in a small form factor that could be disassembled and reassembled in a couple of minutes.
With this type of camper, you will be able to camp anywhere you want. You just find a safe camping space that you can use and then you just stop and build your own house for the night or for the weekend if you plan to stay there for longer than one night.
They can fit two adult people with no problem whatsoever. And also you will feel comfy as hell since they are quite roomy as well. With a motorcycle camper, you will enjoy your freedom of travel with your favorite motorcycle and you will also have the ability to camp whenever you desire. These campers are that good. And they are quite affordable. But more on that later when we will discuss the top motorcycle campers.
Nevertheless, these motorcycle campers are perfect if you plan to travel across the country. Instead of paying a lot of money and renting out hotels, you can use the motorcycle camper for free.
But be aware that you also need to find a place that is quite safe where you can camp. Because you cannot park your motorcycle camper in a parking lot and camp over there. First, it is not safe and also not allowed. So, camping at a place that is designed for camping will guarantee your safety.
In the following two chapters we are going to cover precisely that in detail. Precisely, the advantages and disadvantages of having a motorcycle camper.
Advantages Of A Motorcycle Camper
There are many advantages of having a motorcycle camper. In this chapter, we are going to list them and learn what are these advantages. Knowing this will make your decision of getting a camper for your motorcycle much easier.
The first advantage is the versatility and the ease of use of this camper. This camper is quite compact and will fit in a small space for storage during the winter and when you are going to need it for camping you can just remove it from storage and attach it to your motorcycle. Then you are good to go for your trip. It's that easy.
It is easy to use. You will need half an hour maximum in order to assemble and reassemble the motorcycle camper when you reach your destination. This means less or almost no time lost in performing this practice. You reassemble the camper in a couple of minutes and then you go to your next destination. It's that easy. Perfect for trips across the country.
Not to mention that finding an RV place where you can camp is dead easy to find across the country. There are a ton of them at any of the popular camping spots. Staying there overnight will cost you a couple of dollars. But you can be sure that you are going to be safe from unwanted guests.
Also, the cost is quite more affordable than other ways of travel. Motorcycles do not spend a lot of fuel. Which means that your road trip would be quite cheap. And in addition to this, the campsite does not require an enormous amount of money to stay there overnight or for a couple of days. Overall, having a camper is an excellent idea.
Disadvantages Of A Motorcycle Camper
When discussing motorcycle campers it is also useful to cover the disadvantages of these campers because you should also know the downsides of owning one. Because it is not all sunshine and rainbows when it comes to owning one of these campers.
The first thing you should know about these campers is that they are extremely basic and do not offer you a ton of commodities. You should understand these campers as basic shelters where you can spend the night over. Or to have a small nap while you travel.
They do not offer you commodities like a regular camper or an RV does. You will not have a kitchen, TV, or toilet. So, you'll need to find your way around these things on your own. You will have to dine at restaurants or gas stations or fast food joints. For a toilet, you will also have to look for a gas station. That's how things go when you are having a motorcycle camper.

In addition to this, you should avoid bad weather. Since these campers are not made of hard materials. If there is a strong wind it could easily crumble upon you and ruin your day. That's why check the weather forecast always to not get surprised if the weather gets bad.
Also, with this type of camper, you will be exposed to thieves and other maleficent human beings that you can come across. That's why you need to find a safe place where you can spend the night over. Finding a campsite that is secured would be your best bet in order to avoid getting yourself robbed.
We have discussed the advantages and disadvantages. Now let's focus on something else that also needs to be done before you start camping.
Preparations And Things To Consider
Before you jump into it and buy a motorcycle camper. You need to be aware the camper weighs quite a bit. So, this can be a big problem for some motorcycles that have single-piston engines or similar small size engines.
To tow a camper, your motorcycle has to have a beefy engine. V-Twin preferably. Also, every motorcycle has a towing capacity and you should learn what is the maximum towing ability for your motorcycle.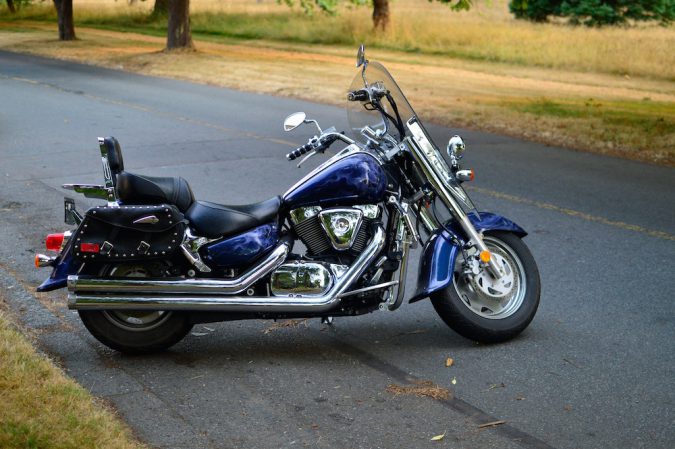 Another thing that you will need is a towing hitch. This is essential because if you do not have one, you will not be able to mount the motorcycle camper at the rear. Without a hitch, you will not be able to tow anything.
In addition to this, you need to have a proper rear signalization working. This means that you will need to connect the motorcycle and the camper through a wire. So, people can see you at the night. If you don't have a properly working signalization. There is a high chance that you will get fined. Or in the worst-case scenario, you will get rear-ended by someone and these accidents, if you are on a motorcycle, can be fatal.
It is worth mentioning that this equipment will cost you a good penny. You can expect to pay somewhere between $400 to $600 to mount these components and make your motorcycle comply with the law. In addition to this, there is the cost to purchase a motorcycle camper and that we are going to cover next.
Cost To Purchase A Motorcycle Camper
Before we dive into the top motorcycle campers that you can buy. It is worth taking some time and discuss the costs that are involved in purchasing this type of camper. Because everything is about money and without money you can't do much.
These motorcycle campers can range from $2,000 to $10,000. Depending on how much you want to spend on your motorcycle camper. But before we dive deeper into the top campers that you can buy. We first need to learn the types of motorcycle campers.
Types Of Motorcycle Campers
In this chapter, before we discuss the top motorcycle campers we will cover the types of campers that are out there. Because after all, you need to familiarize yourself before you decide on doing anything at all. Knowing the types will guarantee that you will get the product that you want.
1. Clamshell Camper
Clamshell campers are probably that will get your attention when you first go out there are looking for a motorcycle camper.
What is unique about them is that they include a full shell design. This means that you are inside safe and without any worries that someone will break in.
What is bad about their clamshell campers is that they are extremely small and almost claustrophobic. If you are suffering from claustrophobia. You are not going to like this design at all. The space inside is tiny and not particularly comfortable.
2. Pop Up Camper
Pop-up campers on the other hand are much better than clamshell campers. With a pop-up camper, you can basically build a house out of nothing.
You carry the base with you. But when you arrive at your destination, you can pop out your pop-out camper and fully enjoy it. This camper is quite roomier and you will not feel trapped like in the clamshell camper.
Here you can prepare food and have a good time with a friend or two. Overall, this will be the way to go if you want a motorcycle camper.
3. Open Camper
As their name implies, these campers are open to the air. You don't have any protection for you and your friend or partner.
You will have to place a tent on top of this camper if you want to sleep (to learn more, check out our explainer on is it illegal to sleep in your car and how to sleep in a car). Which is not ideal, to be honest. But what are the best motorcycle campers out there? In the following chapters, we are going to find out precisely that.
Top 5 Motorcycle Campers
As we hinted above, we explained everything you need to know when it comes to motorcycle campers, and now it's time to discuss what are the options for you on the market. Since there are plenty of them. We will go through some of the most popular products out there when it comes to choosing a motorcycle camper. So, let's begin with our list.
1. Easy Rider Camper
Remember that we covered the clamshell type of campers above? This is it, the Easy Rider is a six-foot clamshell camper design. This camper also has 44 inches of width and it is 630 lbs heavy.
With this type of camper, you will not have to worry to set up a tent or worry that the wind is going to blow you away. With the easy rider, you just park at a local RV park and get inside and take a rest.
This camper includes a lot of necessities that you will need on the road like an FM radio, DVD player and a small TV. Perfect for camping, not to forget the big 110-volt battery that will guarantee that you will not be left in the dark.
The downside? The downside is that it is small and if you are scared to be left in a confined space, you will not going to like it. But it is what it is, the starting price for this camper is $3,499. Which is a good deal to be honest. Now let' move on to the next.
2. Kwik Kamp II Motorcycle Tent Trailer
The Kwik Kamp II implements a pop-up design which means that you will be able to unfold it and grow the camper up to 10 feet in length and 47 inches in width. Which will be more than enough to feel comfortable while you go across the country with your motorbike. It is also 340 lbs heavy.
This camper is screaming luxury because with this camper you will have a king-size bed in your possession. And with its ingenious design, you will have around 24 cubic feet of storage space as well. With this motorcycle camper, you can be sure that you will have a perfect trip because it is so more comfortable than other campers.
But it is also very durable and the people who built it took into consideration that the weather conditions will not be perfect all the time. So, you can expect to perform quite well in bad weather. Even though it is not ideal if you have huge storms coming in your way.
The cost for this camper is $3,700, which is quite affordable if you are asking me.
3. Roadman Motorcycle Camper
This Roadman camper is solely intended for you. This means that you will not be able to fit another person in it. It is quite compact and only focused to deliver commodities for only one person.
It is 5 feet and 2 inches long and is 38 inches wide. And it is for the lightest camper one with a weight of 250 lbs. Which makes this the smallest camper that we covered by now. But this doesn't mean that it doesn't deliver.
This pop-up camper can be set up in less than 10 minutes with no problem. Also, it features an interesting design. It comes with leveling jacks. This means that you will be able to level it out on every surface because at every corner there is a pole that comes down and makes sure that the camper doesn't move.
Having this feature will guarantee that you will sleep comfortably and you will not experience any discomfort. This camper will cost you around $4,599.
4. Aspen Quality Trailers Classic Camper
Another good deal is the pop-up Aspen Classic Camper. This motorcycle camper, similarly to the previous camper that we covered is intended for a single person. This camper is 6 feet long and 47 inches wide. It weighs about 350 lbs.
This camper uses a quality metal structure that is made out of galvanized steel. Which will ensure that the camper has good durability in the years to come. Not to forget the weatherproofing which is also quite durable and can withstand the elements. Such as heat and also the rain. With this camper, you will never get wet.
Even though, depending on the weather, make sure that you don't end up in a hurricane. Because in these situations, even houses can break down. That's why pay attention to the weather forecast always when you are on a trip.
This camper also uses quality isolation from the bottom that will guarantee that no cold enters from the ground. Perfect if you go on a mountain trip. This motorcycle camper starts at $3,000.
5. Little Guy MyPod Teardrop Motorcycle Camper
The Little Guy MyPod Teardrop is the perfect option if you have more money to spend on a motorcycle camper. This motorcycle camper is a clamshell design and offers you unmatched comfort when it comes to motorcycle campers.
It is 11 feet and 6 inches long and 60 inches wide. This means that it will fit two people with no problem. But it is rather heavy, coming at 760 pounds. So, to pull this thing you will need to have a powerful motorcycle.
It is not tall by any means, but you will be able to seat comfortably in it. And it does feature an entertainment system that will help you kill some time. This motorcycle camper also comes with a 110-volt converter that would be quite enough for charging your phone and running the lights and entertainment system with no problem.
Not to mention that you can fully enjoy the AC system that is installed in this camper. All this comfort knows to cost some money though. The prices for this motorcycle camper start at $9,999. Which is the most expensive one on our list.
Does Towing Affect Engine Life?
We covered the top 5 motorcycle campers and now let's answer a question. This is quite important if you want to purchase a motorcycle camper and go on a trip across the country.
The answer is yes, it will affect the engine life of your motorcycle. Any extra load affects the life of an engine. The motorcycle is designed to carry one or two people and not a trailer. Even though some motorcycles can haul.
That's why it is of great importance to take a note on the spec sheet of your motorcycle and see how much it can carry. Knowing this will help you out choosing the right motorcycle camper for yourself.
As we mentioned V-Twin engines are perfect for this because they can deliver a lot of torque. Unlike single piston engines that are very underpowered. The bigger the engine displacement you have, the more you can tow.
Motorcycle Camper Facts:
A motorcycle camper is a lightweight trailer that converts into a sleeping area and is pulled behind a motorcycle.
They are ideal for adventurous individuals who like to travel light and still want their creature comforts.
Motorcycle campers range between $2,000 and $7,000, with an average price of $3,500.
They are effortless to maintain, and you can store them easily when not in use.
Any bike with a 1,000cc or larger engine can likely tow a motorcycle camper, but you should consult your motorcycle's documentation to verify its ability to tow.
You can get into almost any campsite with a motorcycle and tow-behind trailer, and they come with everything you need for the perfect getaway.
You can pull motorcycle campers with any car as long as you have the right connections.
Popular motorcycle camper brands include Kompact Kamp Mini Mate Pop Up Campers, Time Out Motorcycle Camper, Easy Rider Camper, Lees-ure Lite Pop Up Campers, Slipstream Trailer, and Solace Deluxe.
Prices vary depending on the model and upgrades, with some models costing upwards of $5,000.
Motorcycle campers are synonymous with adventure and offer the freedom to explore on the open road while still having the comforts of home.
Conclusion
In this article, we covered a lot when it comes to motorcycle campers and we learned everything when it comes to these utility vehicles. We learned what is motorcycle camper and what are the advantages and disadvantages of running one of these motorcycle campers.
Then we have covered the types of motorcycle campers, and as we noted there are clamshell campers and also pop-up campers. Clamshell campers are safer but they are not quite comfortable since you cannot stand up. While pop-up campers are more convenient when it comes to this. But they are not that good when it comes to protecting you from the weather.
Then we discussed the top 5 motorcycle campers. We covered two clamshell designs and three pop-up designs. We hope that you enjoyed our list.