I have this constant dilemma pulling me apart. I like old cars, with their pure simplicity and analogue nature. At the same time, I also like modern cars, along with their many refinements and creature comforts. Perhaps – if one has the money – this conundrum could be solved altogether, and RML is hard at work to make this solution a reality, launching first this autumn, and then in 2022.
In comes the RML Short Wheelbase; a 21st-century recreation of the old and timeless beauty that is the Ferrari 250 GT SWB. While sneak peeks have been shown off here and there, the first pictures of what it'll actually look like have now surfaced. According to RML's head of design, Jonathan Bowen, RML's take on the SWB will be "balanced and pretty, but purposeful and confident".
While there may be a classically-inspired V12 under the RML Short Wheelbase's bonnet to hark back to Ferrari's old Colombo motors, everything has been fettled with the advent of new tech. The entire bodywork is now made from carbon fibre, no longer steel and aluminium. The interior is intuitive, snug for the tallest or shortest of ladies and gentlemen drivers.
The Best Of Both Worlds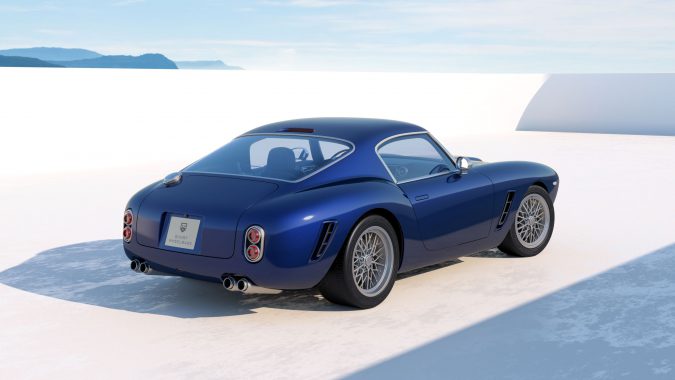 There are modern touches here and there. Even simple things like adjustable steering columns are quite appreciated, and were absent had this been an old 250. Other little details that would've been alien in the 50s or 60s were multi-adjustable seats. For these, you can trim them in your choice of leather or Alcantara. Everything has been tested to OEM standards.
More importantly, RML is strict by its 'no-plastic' rule, so you won't be grasping anything cheap in the RML SWB. Every single button, switch, or lever is made in-house by RML, and of the highest craftsmanship. Inspired too by the art of fine watchmaking, you'll find that everything within the cockpit of RML's SWB is made of machine aluminium, glass, or leather.
A lot of other space-age kit is fitted, as well. For example, there's actually good and functional air-conditioning, and a pair of cup holders. You'll also find a speedy and thoroughly designed infotainment system, which remains hidden in the central tunnel. Meanwhile, all this is seemingly juxtaposed with an old-school, and no doubt satisfying open-gated 6-speed manual gearbox.