Land Rover have announced the arrival of the next step in the Range Rover Sport line-up, the HST!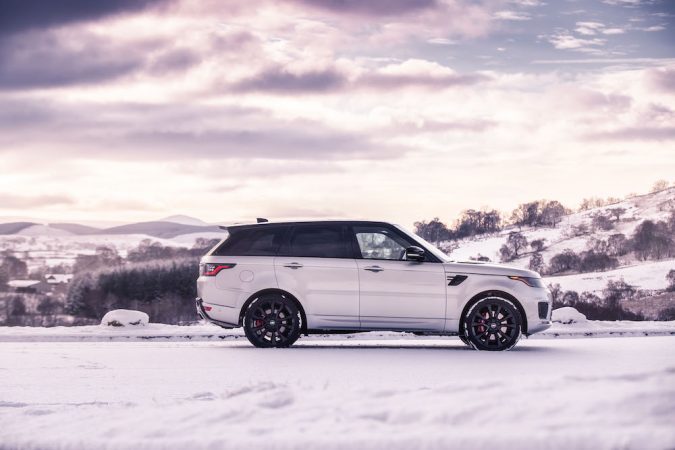 Land Rover Engineers A New Heart
Land Rover have given the HST a brand-new beating heart. The Ingenium 3.0-litre straight six-cylinder petrol engine replaces the old V6 petrol from the previous models, giving the HST a new lease of life with 394bhp under the bonnet. Capable of 0-62 in 5.9 seconds and a top speed of 140 mph.
New Range Rover Sport HST
But it's not just power Land Rover want, they've now evolved the Range Rover Sport into a much more modern machine than the previous incarnates. Land Rover have introduced some new upgrades that make the HST somewhat of a hybrid. For starters, the electric supercharger added to the 3.0-litre petrol engine is running from a 48V system, able to spool fully in just 0.5 seconds at up to 120,000rpm via a direct connection with the throttle! Put simply, turbo lag is pretty much eliminated. On top of this, the HST has a new Mild Hybrid Electric Vehicle (MHEV) powertrain. It brings with it an enhanced efficiency which translates to money savings for you when it comes to fuel, the HST has a reasonable mpg figure of 30.5 along with 213g/km CO2 emissions. This is a big step in the right direction for Land Rover, even if petrol heads like me are biting their nails knowing that everything is slowly turning electric.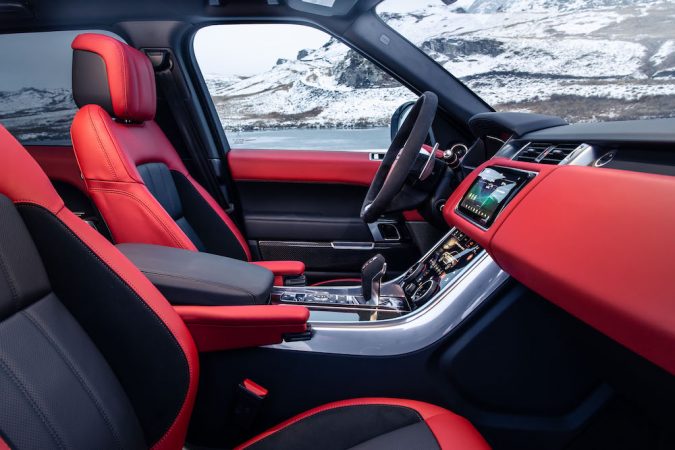 The interior is once again magnificent, taking on the ethos of "if it's not broke don't fix it" not too much has changed since the HSE other than maybe a few extra options. Personally, I think Range Rovers have the most exquisite interior out of any car on the market today, other than maybe the Bugatti Chiron, but it really is something else. I've never seen a car where the plastic plug that you clip your seat belt into looks so out of place in amongst the expensive coloured leather and large crisp display screens. I could go on for hours about the quality and finesse of the interior, but I don't want to bore you.
So, the new HST is not a show stopper in terms of performance, not compared to other models such as the Velar SVA, but it definitely defeats the previous Sport models. Land Rover should be commended for making strides to meet their promise of electrified options on all new models from 2020. After all, speed is not what Range Rovers are built for. They're for going places normal cars can't take you, while surrounding you with comfort and luxury, it seems the Range Rover Sport HST hits the mark once again.
NEW RANGE ROVER SPORT
TECHNICAL SPECIFICATIONS
400 PS 3.0L P6 Petrol MHEV
Engine type
Longitudinal / I6 / 24
Displacement
2996 cc
Bore / Stroke
83 / 92.29 mm
Compression ratio
10.5:1
Max Power
294kW/400PS
Max Torque
550Nm
Emission standard
EU6b
Transmission and ratios
8HP76 – Hydraulic system with torque converter and electronic control
1st (high / low)
5.5
2nd (high / low)
3.52
3rd (high / low)
2.2
4th (high / low)
1.72
5th (high / low)
1.317
6th (high / low)
1
7th (high / low)
0.823
8th (high / low)
0.64
Reverse (high / low)
-3.993
Final drive ratio
3.55
Fuel tank capacity (litres) (usable)
104.3
Brakes
380mm ventilated front
365mm ventilated rear
Steering
All-wheel drive system
Front suspension
SLA suspension with twin lower links, air springs, active dampers and ARB
Rear suspension
Integral link suspension with air springs, active dampers and ARB
PERFORMANCE
0-60mph (0-97km/h) (secs)
5.9
0-62mph (0-100km/h) (secs)
6.2
50-75mph (80-120km/h) (secs)
4
Top speed mph (km/h)
140 (225)
Fuel consumption (l/100km/mpg) NEDC equivalent combined (Class 2 tyre)
9.3 / 30.5
CO2 emissions (g/km) NEDC equivalent combined* (class 2 tyre)