It is not uncommon for cars in the same class to be placed side by side. Prospective buyers hope to get the best value for their money. These two cars here are increasingly popular amongst buyers in the crossover SUV market. We will make a comparison between the Nissan Rogue vs Ford Edge debate to help you make your choice.
The Rogue is a compact crossover SUV made by the Japanese automaker, Nissan. Its manufacturers fitted it with a 201 horsepower 1.5-liter turbocharged 3-cylinder engine, and it is one of the most popular Nissans. Meanwhile, the Ford Edge is an American crossover with a 250 horsepower 2.0L turbo inline-4 cylinder engine.
The contents of this article will cover the essential features of both cars. The features include engine capacity, interior, reliability, and safety systems, amongst other things. Reading through this, you will have enough information on both cars to develop a personal opinion.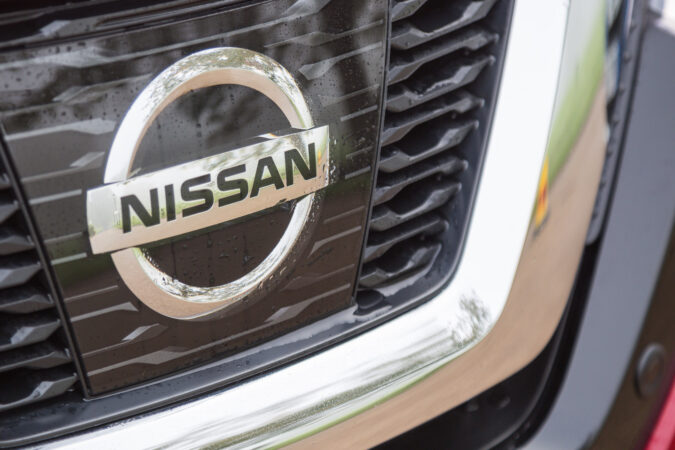 Nissan Rogue
The Nissan Rogue was first unveiled in 2007 and made available for purchase in 2008. Nissan Rogue is now in its third generation after an upgrade in 2020. The upgrade came with significant changes to its exterior design. 
With the new stylish exterior and spacious interior furnished with modern electronics, It has become one of the most popular Nissan models. It is a 5-passenger vehicle, making it an ideal family car.
Nissan Rogue is powered by a 201 horsepower, 1.5 liters turbocharged 3-cylinder engine with a fuel tank capacity of 14.5 gals. It possesses a Continuously Variable Valve Timing Control System (CVTCS) that helps drivers experience greater control.
The best part is choosing between its all-wheel drive and front-wheel drive options. The Nissan Rogue gives a sporty feel when driving due to its conventional cruise control or Pro-pilot assist.
It boasts a top speed of 116 miles per hour and can go from 0-60 mph in 8.2 seconds. It is affordable at $27,150 and has an estimated fuel economy of 27 mpg in the city and 35 mpg on the highway. The Nissan Rogue is probably one of the most affordable SUVs compared to its rivals.
Nissan Rogue Pros
The Nissan Rogue has a lot of pros than cons. Aside from being affordable, it comes with many exciting specifications to make your ride smooth and comfortable. It has a good reliability rating and fits the sporty and cargo find. Nissan Rogue has the following advantages: 
1. Good Value For Money
Buying a Nissan Rogue is never a waste of money. The vehicle is durable. It has a mileage range of 200,000 and can go higher with proper maintenance.
2. Easy To Use Driver Aids
The Nissan Rogue is an award-winning model concerning its driver aids, and it has lots of features to make your driving more manageable and safe.
These features include an automatic rear-view monitor, blind spot warning system, automatic emergency brakes (check out our guide on what is the emergency brake in a car and how does an emergency brake work), high beam assist, rear sonar, cross-traffic alert, hill start assist, and a traction control system. Oh, and you could also check out our guide on what is traction control.
3. Comfortable Interior
It is a five-seater vehicle with enough leg and headroom. The seats are leather and luxurious. The interior of the Nissan Rogue has a premium and personal feel. The maximum 43.3 front and 38.5 rear interior spaces make for comfortable leg stretching no matter where you are sitting.
4. Huge Cargo Space
The Rogue has more than enough cargo space as with many compact SUVs. The area ranges from 31.6 to 36.5 behind the passenger rows. This space depends on the car trim. However, all Rogue models always have 74.1 cubic feet behind the front row. It also has a hands-free power liftgate and a configurable cargo load floor.
Nissan Rogue Cons
The Nissan is an excellent vehicle. But, despite the stylish, comfort, affordability, and utility values of the Rogue. It has some drawbacks that make it far from perfect. These drawbacks are performance related, and they include the following: 
1. Absence Of Other Powertrain Option
The Rogue has a 2.5-liter four-cylinder engine that links to a CVT transmission. This engine-transmission setup only produces a torque of 181 lb-ft. This torque is low for any car owner looking for powertrain perks. However, the new model comes with a larger engine capacity of 201hp. But, the absence of a powertrain is the major flaw of the Nissan Rogue.
2. Noisy Cabin
Most of the Nissan Rogue models have noisy cabins. The noise is due to wind and road noise while driving. However, newer models do not have this problem (not counting the 2014 Nissan Rogue problems) as they have better noise insulations.
3. Mediocre Driving Dynamics
The Rogue's driving dynamics are pretty poor compared with other compact SUVs. Although it has an excellent fuel economy, it does not have a hybrid powertrain. The lack of a hybrid crossover makes it less attractive to most car buyers.
4. Small Back Seats
The older Rogue models have small back seats. This feature makes passengers sitting somewhat uncomfortable, especially for tall people. However, newer models have upgraded to a much bigger back car seat.
Despite these flaws, the Nissan Rogue is a great car. It combines style and luxury to give off a sport vibe while maintaining practicality. It can serve as an off-road vehicle as well as an in-city one. You can consider purchasing one of the recent models to avoid these drawbacks.
Ford Edge
According to the Ford website, the Edge's best quality might be its beautiful nature. It naturally gets noticed. This attraction is a testament to their confidence in the exterior design. The Ford Edge's first introduction into the market was in 2007, and it got a redesign in 2015. 
Ford Edge is available in 5 trim sizes, seats five passengers, and is easily one of the most eye-catching SUV cars available today. A prospective buyer can choose either of the two powertrains available for Ford Edge.
You can go with a 2.0L turbocharged 4-cylinder 250-horsepower engine with 8-speed automatic transmission. Or you can choose the 2.7L turbo V6 335 horsepower engine with 7-speed automatic transmission.
Ford Edge is an all-wheeler with no option of a front-wheel drive car. It comes with an intelligent adaptive cruise control feature that, once activated, keeps your vehicle at a preset distance from other cars. Edge has a top speed of 130 mph and accelerates from 0-60 mph in 6.1 Seconds.
Its starting price is $39,440 with an EPA rating of 23 mpg combined. From all indications, the Ford Edge is a great vehicle. A combination of exterior style and a powerful engine to back it up.
Ford Edge Pros
Ford Edge has existed long enough to acquire enough experience about what makes a great SUV. It has plenty of outstanding qualities that make it an excellent choice for a car. These qualities include the following:
1. Great Equipment List
Edge models have an awe-inspiring list of standard equipment for a smooth ride. It has LED headlights, alloy wheels, dual-zone automatic climate control, and a push-start keyless entry button. It also has a touchscreen with Apple CarPlay and Android Auto for connectivity.
2. Big Cargo Space
Edge has a low cargo room that makes it easy to load gear. The cargo has 39.2 cubic feet by the second seat row. If the second-row seats are dismantled, it has about 73.4 cubic feet of space. The space cargo is larger than most compact SUVs. You should always go for foldable seats if space is your primary concern.
3. Outstanding Performance And Engine Capacity
Ford Edge has excellent performance capacity and engine. The base engine is a turbo 2.0L four-cylinder that gives 250 horsepower. Fuel efficiency is the most attractive feature. The front-wheel drive Edges have up to 21mpg city and 29mpg highway efficiency.
The extra horsepower of the Ford Edge ST trim gives very smooth and fast acceleration. The ST trim is available in an all-wheel drive. The cabin has good insulation against road noise.
Ford Edge Cons
Ford Edge has many great qualities, but the vehicle is far from perfect. It has some flaws that ruin its perfection. These drawbacks might be one thing you do not want from a car. They include the following: 
1. Transmission And Refinement Lags
The Edge transmission does not inspire awe in most car users. The engine pairs with an eight-speed automatic. This pairing does not always offer timely transmission shifts. It is safe to say the shits can be clumsy.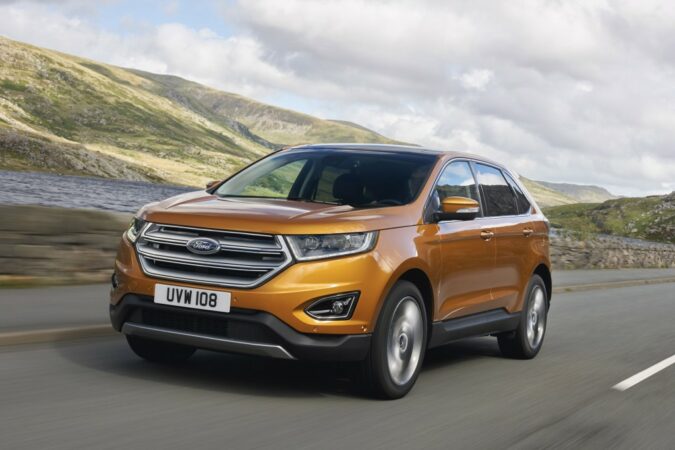 2. Visibility Impairment
The thick roof nature of the Ford Edge does not make for good visibility. The forward visibility is horrible and is a significant lack of safety traits.
3. Bland Taste In Cabin Materials
The Edge cabin is outdated and lacks classy taste. The main objection is the use of plastic and not leather. We hope for a redesign soon to address the bland taste in cabin materials.
4. No Off-Road Capability
Ford Edge does not have much off-road capacity. It is more of a family car than for adventure. The off-road abilities suck even with the availability of the all-wheel drive. If you have no plan to use it off-road, it's a good choice.
Nissan Rogue Vs Ford Edge
The Nissan Rogue and the Ford Edge are both SUVs. But that is where their similarities end. While Ford Edge is a middle-size car, the Rogue has a more compact size. They both make a good choice, but we will lay a comparison in-depth so you can make your personal choice.
Nissan Rogue VS Ford Edge: #1. Passenger And Cargo Space
The Edge is a mid-size crossover and offers more passenger and cargo space than the compact Rogue. Passengers seated in the rear of the Edge will enjoy a headroom of 40.3 inches and leg room of 40.6 inches. However, the passengers in the front enjoy less head but more leg room, with 40.2 inches and 42.6 inches.
The Nissan is the less spacious option, offering rear passengers leg room of 37.9 inches and headroom of 38.5 inches. Front passengers get a headroom of 39.2 inches and legroom of 41.5 inches. Both Nissan Rogue and Ford Edge are spacious SUVs that can comfortably seat five passengers.
Ford Edge offers about 39.2 cubic feet of space behind the rear seats. Nissan Rogue provides 31.6 cubic feet of cargo space. Both have foldable back seats that you can fold to give more room for cargo. With the rear seats folded, the Nissan Rogue offers 70 cubic feet of cargo space, which is still smaller than Ford's 73.4 cubic feet.
If you are looking for space, Ford Edge is the best option. However, This doesn't mean the Nissan Rogue is a cramped vehicle. Compared to other SUVs, it is pretty spacey and comfortable. Any of them you choose to go with during shopping or for family use will prove efficient.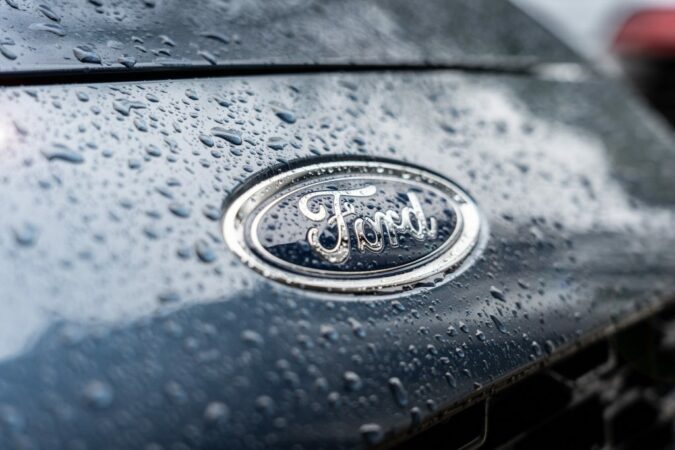 Nissan Rogue VS Ford Edge: #2. Interior Design
Both cars are comfortable, but with its zero gravity seat, Nissan Rogue is better than what Ford offers. Ford's interior feels a bit outdated compared to other SUVs. Nissan Rogue is furnished with semi-aniline leather upholstery with a bi-level dashboard. Both cars have optional heated seats, but only Ford Edge has ventilated front seats.
The Ford is practically a noiseless car. With its insulated cabin, passengers will likely not have any noise issues. Nissan Rogue is not as silent as the Ford. At low velocity, passengers may not experience noise, but with increased speed, passengers may experience a bit more noise.
You will have more visibility driving the Rogue than the Ford. The wide windshield pillars can obstruct your view when driving Ford Edge. Thick roof pillars can also block the driver's rear view. The Edge's interior designer is a simple one but could be better.
Nissan Rogue VS Ford Edge: #3. Engine Specs
Ford Edge is the more powerful SUV of the two. Its two available powertrains are more potent than Nissan Rogue. You can go for the 2.0L turbocharged 4-cylinder 250 horsepower engine with 280 lb-ft of torque. Or you can choose the 2.7L turbo V6 335 horsepower engine with 380 torque.
All Nissan Rogue third-generation models have the same powertrain. Nissan Rogue is powered by a 201 horsepower 1.5 liters, turbocharged 3-cylinder engine with 255 lb-ft of torque. Rogue allows you to choose between a front-wheel drive and an all-wheel drive. Ford Edge doesn't give this option. All Ford Edge variants are all-wheelers.
Continuously Variable Valve Timing Control System (CVTCS) is available in Nissan Rogue. An advantage of the CVT is more significant control and precision, but it could be noisy during acceleration.
Edge favors automatic transmissions, with their 250 horsepower engine having an 8-speed automatic and the 335 horsepower V6 having a 7-speed automatic transmission.
Accelerating from 0-60 mph in 6.1 seconds with a top speed of 130mph, Ford Edge is faster than Nissan Rogue. Nissan Rogue's top speed is 116mph, which can go from 0-60 mph in 8.2 seconds. This speed does not mean that the Rogue is a slow car. Compared with other SUVs, its speed is good enough for everyday driving.
Nissan Rogue VS Ford Edge: #4. Safety
Modern advanced driver assistance systems (ADAS) are available in both vehicles. Nissan is fitted with automated emergency braking, ten airbags, and blind spot warning. It has an Optional ProPILOT assist package with front and rear sonar packing, traffic sign recognition (such as what does yield mean in driving), and adaptive cruise control.
Ford Edge also has driver assistance systems such as blind spot monitoring, lane keeping assist, and automated advance braking. Option for CoPilot 360 Assist+ includes adaptive cruise control, evasive steering assist, and more advanced safety features.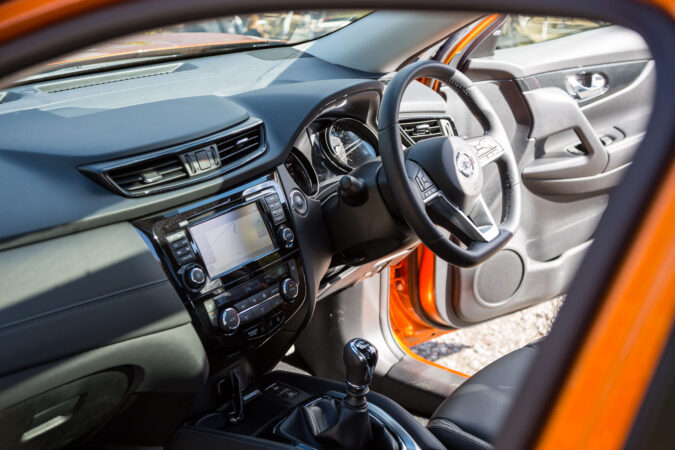 Nissan Rogue VS Ford Edge: #5. Infotainment And Connectivity Features
Nissan Rogue SUVs usually come with both Apple and Android smartphone integration software. Depending on your phone type, you can easily link to either software, and it has an 8-inch touchscreen in the car. Other infotainment features include WIFI, a wireless charging pad, ten speakers Bose audio system, and USB ports.
The most significant difference in tech features in both SUVs is Ford's 12-inch touchscreen. Every other feature is pretty much the same. It has the wireless Apple CarPlay, Android Auto, Amazon Alexa,12-speaker Bang & Olufsen stereo, remote start capability, Wi-Fi hotspot, wireless charging pad, FordPass, and USB ports.
Nissan Rogue VS Ford Edge: #6. Fuel Economy
The Nissan Rogue SUV has better fuel economy than Ford Edge. It has a gas tank capacity of 14.5 gals, an estimated 27 mpg city fuel economy, and 35 mpg on the highway. But, Ford Edge has an EPA rating of 21 mpg in the city and 28 mpg on the highway. The Ford Edge is more expensive to run.
Nissan Rogue VS Ford Edge: #7. Reliability
Repairpal rated the Ford Edge 3.5 out of a possible 5.0, ranking it 11th out of 26 mid-size SUVs considered. Ownership cost is average, with an annual maintenance cost of $611. Your Edge is not expected to break down in the first 12 months. Edmunds scored the SUV 7.6 over 10, ranking it 8 out of 12 medium size SUVs considered.
On the other hand, Nissan Rogue is more reliable. Repairpal has a 4 out of 5.0 rating, ranking it 13th out of 26 vehicles in the same category.
Nissan Rogue VS Ford Edge: #8. Pricing
Nissan Rogue is a compact crossover, unlike the mid-size Ford Edge, which is more prominent in size. Nissan Rogue has a starting price of $27,150. It is cheaper than Ford Edge.
The starting price of the Ford Edge is $39,440. You should note that Nissan gives a better value for money and is believed to be reasonably reliable.
Nissan Rogue VS Ford Edge: #9. Warranty
Interestingly both cars have a similar warranty. The limited warranty covers your car for three years (36,000 miles), while the powertrain warranty offers five years or 60,000 miles. This stipulation applies to both Ford Edge and Nissan Rogue.
Nissan Rogue Or Ford Edge… What Car Should You Go For
Having considered both cars, it is clear that they are not wide apart in most of their features. Ford Edge is the more powerful SUV with a bigger cabin and cargo space. This feature is no surprise since it is a mid-size crossover.
The Nissan Rogue is a compact crossover with better interior design and reliability and gives the best value for money. Choosing from either of them solely depends on you, the prospective buyer. It is up to you what you like.
Ford Edge is for you only if you don't mind the price and if you are looking for more power and space. For someone looking for an affordable yet reliable SUV with a comfortable interior and good fuel economy, then the Nissan Rogue is what you are looking for.
FAQs On Nissan Rogue VS Ford Edge
How Many Seats In Ford Edge
Ford Edge is a mid-size crossover with two rows and five seats. It offers good legroom and head space for both front and rear seats.
How Big Is The Ford Edge
Ford Edge has a length of 188.8 inches, a width with mirrors of 85.8 inches, and a height of 68.3 inches. EPA interior volume of 153.1 cubic feet and cargo capacity with all seats in place of 39.2 cubic feet. Ford Edge is one of the biggest medium size SUVs available in the market.
How To Open Nissan Rogue Trunk From Inside
To open your Nissan Rogue trunk from the inside, you have to switch the release lever of your lift gate. Locate the release lever cover at the bottom of your liftgate. Remove the lid and press the trunk release button.
What Is Similar To A Ford Edge
Cars similar to a Ford Edge include the Honda Passport, Jeep Grand Cherokee, Chevrolet Blazer, Hyundai Santa Fe, and Nissan Murano.
How Much Horsepower Does A Nissan Rogue Have
A Nissan Rogue is powered by a turbocharged 3-cylinder engine with 201 horsepower and a 1.5-liter engine.
Is The Rogue Or Murano Bigger
Nissan Murano is considered a mid-size SUV, while the Rogue is a compact SUV. Both are five-seat passenger vehicles with good spacing. The Murano is bigger than the Nissan Rogue.
Can A Nissan Rogue Tow A Boat
The Nissan Rogue can tow a small boat if well-equipped. It can tow 1,102 pounds.
Conclusion On Nissan Rogue VS Ford Edge
Choosing a car can be a difficult task for any prospective buyer. To make the right decision, you must consider certain factors to find the vehicle that suits your taste. More than just a fancy exterior, you have to be satisfied with other features a vehicle has. Knowing the type of car you want and the various competitors is crucial to choose correctly.
Due to individual preferences, we cannot decisively settle the Nissan Rogue vs Ford Edge argument. Different people prefer different things in cars. While some want luxury, others prefer affordability. We have presented enough details about these two cars so you can make a more informed decision.