This article was recently reviewed by car expert Paul Hadley to ensure it is as accurate and helpful as possible.
One benefit of purchasing a vehicle that is less than ten years old is that you probably won't ever have to worry about the transmission. Regrettably, this is not the case with the Nissan Versa 2013 transmission.
Automobile manufacturers may decide to issue a recall (such as the Nissan Rogue transmission recall) when problems are discovered after a vehicle has been sold.
There have been numerous concerns about transmission issues with the 2013 Nissan Versa. A few of these are:
Shaking or shuttering while in parking
Inconsistent transmission performance
A leak in the coolant hose for the CVT
We will discuss a number of these owner grievances regarding the 2013 Nissan Rogue's transmission in this article.
We'll also go through how to find out whether your car has an active recall and what to do in that case.
2013 Nissan Versa
The Nissan Versa has long been a highly-liked option for a subcompact car, and Versa's total redesign from the previous year portends well for its future.
The 2013 model receives a number of additional standard features and choices in addition to the previous year's improvements, which included a roomier cabin and a higher level of general refinement.
Sadly, the Versa lineup will no longer offer the useful four-door hatchback body option for 2013, albeit a brand-new 2014 model is anticipated by year's end.
With powertrain modifications that increase EPA fuel economy estimates to 40 mpg highway on variants with the Nissan CVT transmission, the Versa sedan is left to continue on its own.
Although the performance and handling are average, most consumers searching for inexpensive transportation probably won't be too concerned about that.
Of course, the 2013 subcompact options also included the 2013 Chevrolet Sonic, 2013 Ford Fiesta, and 2013 Hyundai Accent.
The Fiesta and Sonic were more fun to drive than the Versa, while the Accent is more affordable when outfitted similarly.
Of course, we advise comparing these models with the 2013 Nissan Versa if you're seeking for straightforward and affordable transportation.
MPG And Performance
A 1.6-liter four-cylinder engine with 109 horsepower and 107 pound-feet of torque powers the 2013 Nissan Versa. Sure this is not impressive to truck drivers but is still sufficient enough to get you from point A to Point B.
The S comes with a four-speed automatic Nissan Versa 2013 transmission as standard, although a five-speed manual is also available. All other Versas come equipped with a CVT.
The Versa sedan reached 60 mph from 0 to 10.4 seconds in Edmunds performance tests, which is standard for this class of vehicle.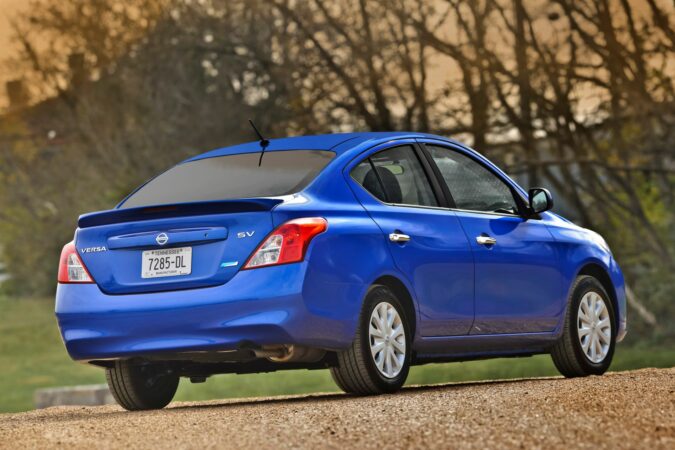 Although most of the competition has comparable figures, the EPA estimates that the fuel efficiency is an excellent 31 mpg city/40 mpg highway and 35 mpg combined.
Clearly not bad and is a great deal for someone who is looking to save on fuel but still gets an efficient daily driver that will take you where you want to go without being too harsh on your pockets.
These figures fall to 27/36/30 when using the conventional five-speed manual Nissan Versa 2013 transmission. At 26/35/30, the automatic is much less.
Safety
Regardless of the class and type of vehicle, safety is a feature that one should take with utmost importance. Luckily the 2013 Nissan versa doesn't do too badly in this department. While it is not exceptional, it does maintain the industry average for a car in its class.
Front and rear disc antilock brakes, traction and stability control, front-seat side airbags, and full-length side curtain airbags are all standard on the 2013 Nissan Versa.
A Versa SL sedan stopped from 60 mph in 128 feet during Edmunds' brake testing, which is decent for a vehicle in this class.
The Versa sedan got four out of five stars for total crash safety in NHTSA crash tests, with three stars awarded for frontal impact protection and four stars for side impact protection.
The Versa sedan received the highest grade of "Good" in frontal-offset, side, and roof strength tests conducted by the Insurance Institute for Highway Safety.
Driving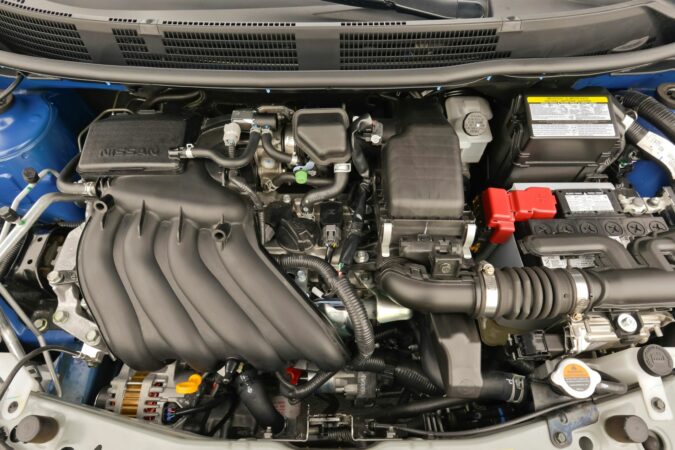 The 1.6-liter engine in the 2013 Nissan Versa isn't particularly impressive on the road, but most customers should be satisfied with its acceleration.
It is one of the most fuel-efficient non-hybrid cars on the road this year thanks to an increase in fuel efficiency of up to 40 mpg in variants with CVTs.
Around town, the CVT provides a smooth driving experience, but on the highway, if you suddenly change the throttle input, it will periodically try to find its perfect ratio and you'll feel the power surge.
Many subcompact vehicles simply can't compete with the smooth ride quality of Versa's comfort-tuned suspension.
Of course, there is a cost associated with this, mainly unimpressive handling when compared to the majority of its rivals.
The spaciousness of the 2013 Nissan Versa's interior is what immediately draws your attention. This is especially clear in the rear, where even tall adults will have unexpected space for their legs.
Even the trunk is spacious for a vehicle of this size, with 14.8 cubic feet of space for baggage even before the 60/40 split rear seatbacks, which are available on the SV and SL variants, are folded down.
The chairs up front are comfortable for short distances but lose their comfort on longer trips. The absence of a telescopic steering wheel may make it difficult for taller drivers to find a comfortable posture.
A nice touch for a car with a sticker price of around $20,000 is the availability of desirable options like keyless ignition/entry and a rearview camera. Gauges and controls are also strategically positioned and intuitive.
Trim Levels And Optional Extras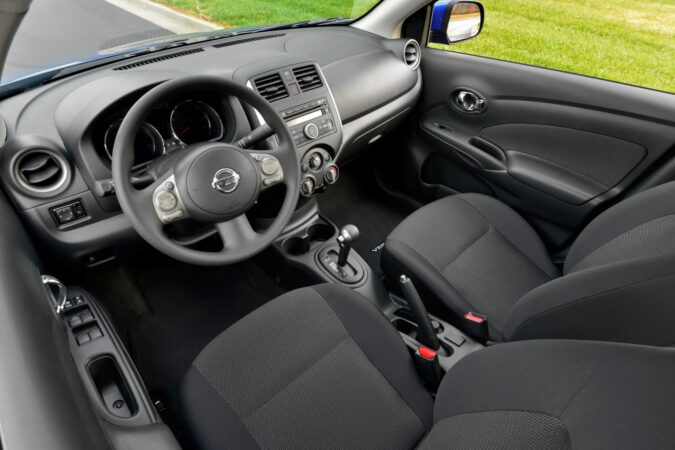 Three trim levels—S, SV, and SL—are available for the 2013 Nissan Versa sedan.
With 15-inch steel wheels, air conditioning, cloth upholstery, a height-adjustable driver seat, a trip computer, and a two-speaker sound system with a CD player and an auxiliary audio input port, the entry-level S model is very basic.
The CVT, a rear spoiler, cruise control (after figuring out how to use cruise control), and two rear speakers are included with the S Plus package.
The SV variant offers full power equipment, enhanced upholstery and instrumentation, upgraded gauges, keyless entry, and upgraded cloth door trim.
A 60/40 split-folding rear seat, Bluetooth, steering wheel audio controls, and an iPod interface are included with the SV Convenience package.
The SV Convenience option is included with the Versa SL sedan, along with 15-inch alloy wheels, foglights, keyless ignition, and entry.
A rearview camera, a small touchscreen interface, a navigation system, and a satellite radio are all included in the SL Tech package.
Nissan Versa 2013 Transmission
A continuously variable gearbox, or CVT, is used by the 2013 Nissan Versa. Versa owners have voiced a variety of common Nissan Versa problems with that CVT.
In fact, there have been so many that Nissan has taken some action to help solve the issue. Below, we'll go over Nissan's response to the problem.
The following are some of the most typical owner grievances regarding 2013 Nissan Versa CVTs:
Some owners claim that their Nissan Versa 2013 transmission behaves erratically. When the driver takes their foot off the gas pedal, they might experience unexpected acceleration (shifting up), or they experience a sudden deceleration (fast deceleration).
When the motor is running and the transmission is in Park, some owners have complained that the 2013 Nissan Versa starts to shake and tremble (basically, there's a transmission shudder).
When the car is put in reverse, the vehicle also trembles violently.
Other owners of the 2013 Nissan Versa CVT reported issues with the transmission cooling lines leaking and breakdowns.
The 2013 Versa transmission has multiple issues, but Nissan and the NHTSA have been unable to identify a particular defect that is to blame.
Also noteworthy is the fact that no injury reports as of yet in connection with the Nissan Versa 2013 transmission issues.
It's also important to remember that most transmission complaints involved cars with more than 50,000 miles on the clock.
There hasn't been a transmission-related recall because there isn't a known issue (the gearbox problems appear to vary between vehicles and have no consistent pattern).
Nissan has, to some extent, responded to complaints about CVT transmissions, though.
If you're still wary of CVTs, we do have detailed write-ups covering it to help you figure it out. That includes looking into the typical life expectancy of a CVT transmission. And, whether or not CVT transmissions are reliable, as well as the repair cost of a faulty CVT transmission.
Nissan Versa 2013 Transmission – Extended Warranty
Some Nissan Versa 2013 transmission warranties are getting an extension by Nissan.
Between 2012 and 2019, the same continuously variable transmission (CVT) was installed in a number of Nissan vehicle models.
In addition to the 2013 Versa, CVTs were the standard transmission that Nissan employed for numerous generations of the Altima, Murano, Rogue, Sentra, and Versa Note.
All of these vehicles also have a considerable number of similar complaints about the Nissan Versa 2013 transmission.
Nissan offers a standard five-year or 60,000-mile powertrain warranty on its vehicles, including the 2013 Versa.
After receiving so many complaints regarding the gearbox on the car models stated above, but being unable to pinpoint which vehicles that have a faulty transmission, Nissan chose to virtually raise its powertrain warranty on these vehicles to 10 years or 120,000 miles.
The powertrain warranty covers any repairs, towing, or replacement connected to the continuously variable transmission. Repairs do, however, have to be made at an approved Nissan dealership.
Nissan Versa 2013 Problems
1) Transmission Issues
The 2012 model (make sure you're wary of the 2012 Nissan Versa problems, too) features a transmission that is prone to breakdown. This often takes place on average after 73000 miles. The problem lies in the engine, which might cause an automobile to stop working.
As a result, owners of this model should be alert if their vehicle ever starts to make odd noises or if there are any problems with shifting gears.
This problem does not exist in the majority of Nissan Versa cars with automatic transmissions. The Versa's CVT transmissions from 2012 to 2017 are where it is most prevalent.
It will struggle to shift gears, which is one of the more common issues. For instance, you might notice how your car won't go into gear. Or, if your car won't go in Reverse, and if the car won't move in Drive.
The Nissan Versa 2013 transmission jerks while driving, which is another problem. Additionally, the tachometer gauge will leap or whine.
Even in the midst of the road, the Versa reportedly stopped suddenly, according to some drivers.
Drivers must replace the entire transmission to address this issue. If you need more context, do refer to our guide on the Nissan Altima CVT transmission replacement, as well as how long does it take to replace a transmission.
It's crucial to recognize the signs early on because this is a highly expensive repair.
Nissan addressed this problem by extending the transmission assembly's limited warranty for an additional 24,000 miles or 24 months.
Additionally, new owners get a coupon for up to $1000 or the option to lease an Infiniti or Nissan car.
2) Suspension System Issues
Up to one-third of all complaints that were recorded had to do with the suspension assembly.
It specifically connects to a damaged coil in the suspension system. This makes the car more difficult to control and may produce a squeaky or grinding noise.
Drivers must have the coil system updated to address this issue. Coil springs could be faulty. Sometimes they may even crack.
The struts might damage as a result. Or, it could tear up the tire's interior. Nissan finally issued a recall for these coils. So, there's no worry about the replacement cost for a new coil spring.
They tended to rust and disintegrate more quickly than usual.
3) Wiper issues
The Nissan Versa also has issues with the wipers (such as when the windshield wiper won't turn off), particularly the rear wipers, which can reduce sight when driving.
They can malfunction or stop working altogether. This can make it challenging to see the road in inclement weather, especially if there is a lot of rain or snow.
Cleaning the wiper blades is one approach to address this issue; see if it helps. If not, it could be necessary to replace the wiper motor.
4) Gas Spills Caused by Clogged EVAP
The Nissan Versa Notes' evaporative emission control system (EVAP) stops gasoline vapors from exiting the tank and fuel system.
When you try to fill up the tank, gas may leak out of the tank due to clogged vent tubes between the tank and the vapor canister.
As for the latter, our detailed overview of the symptoms of a bad charcoal canister (aka the EVAP canister), and the canister purge valve replacement sheds more light on the matter.
This is a common problem has many owners of first- and second-generation Nissan Versa Notes (2007 to 2019) have come across.
You'll need to clean or replace the vent tubes in order to resolve this issue.
Now, we've looked at EVAP issues aplenty, such as when you notice a 'monitor EVAP not ready' warning message on your car.
2013 Nissan Versa Transmission Problems
One of the most crucial components of your 2013 Nissan Versa is its transmission. If your 2013 Nissan Versa experiences transmission issues, it may become absolutely impossible to drive.
Your Nissan Versa 2013 transmission is the component that transfers engine power to the driveshaft, which helps turn the wheels.
Your gearbox will always perform better, last longer, and require fewer repairs if there is proper maintenance.
But if your transmission does have problems, knowing some of the most common transmission problems will help you find and solve them more quickly. The most common transmission problems are below.
Nissan Versa 2013 Transmission, Problem #1. Low Fluid Levels Or Leaks
Low fluid levels or fluid leaks are by far the most frequent transmission problems. So, make sure you acquaint yourself with the symptoms of low transmission fluid.
Such low transmission fluid levels are often a result of a leak in the transmission system itself. The seals on the driveshaft or transmission could malfunction and begin to leak fluid.
Transmission gasket seals may occasionally need replacing in order to stop transmission leaks. In some circumstances, transmission fluid may become contaminated by the coolant in the radiator.
Cross-contamination is a phenomenon that occasionally happens.
In general, gear slippage (ensure that you're familiar with what causes a transmission to slip) or delayed shifting indicates low fluid levels or fluid leaks.
You must also ensure thorough cleaning of the transmission if the fluid is seriously old or polluted. If so, you'll need to consider the transmission fluid change cost.
Otherwise, you have to be on the lookout for burnt transmission fluid, and understand the color of healthy transmission fluid.
For additional help, we've discussed how to check the transmission fluid in your car, on top of whether you should check the transmission fluid when it's hot or cold.
Nissan Versa 2013 Transmission, Problem #2. Torque Converter Problems
Numerous problems with torque converters and transmissions can result in damage to or failure of the transmission.
One of the most prevalent problems with torque converters is worn-out or damaged needle bearings. If the needle bearings become warm, you will often hear strange noises coming from the transmission when it is in drive gears.
When the car is in neutral, the transmission probably won't make any strange noises, but when it is in drive, it probably will.
If you're wondering about what is a torque converter, we've covered that before! Also, we have numerous other resources discussing torque converters.
So, do head over to our write-ups on the symptoms of a bad torque converter, and the cost of a replacement torque converter.
Nissan Versa 2013 Transmission, Problem #3. Issues With Solenoids
The solenoid controls the fluid flow through the transmission. A lack of fluid or other electronic problems frequently causes the solenoid to be faulty.
Issues with solenoids can resemble leaks or insufficient fluid levels. If the Nissan Versa 2013 transmission is slipping and there are no leaks, the solenoid is the next part to examine.
Occasionally, the clutch, which is inside the torque converter, gets stuck. When the clutch jams, the solenoid can lock up, and there could be an improper calculation of the torque converter's fluid level.
These types of torque converter clutch problems are also extremely similar to low fluid levels. Clutch problems can make the transmission excessively hot in addition to shaking the car violently from below.
In the majority of cases, you will also likely notice a decrease in the power output of your engine.
For more insight, check out our guides on the symptoms of bad shift solenoids. Not to mention, the transmission solenoid fuse, and the cost to replace the transmission solenoid.
Nissan Versa 2013 Transmission – Cost To Replace The Transmission
The price to replace the transmission on a Nissan Versa ranges from $3,500 to $4,500, with components and labor included.
Unfortunately, Nissan Versa 2013 transmission is not inexpensive. The Nissan Versa is notorious among mechanics for having transmission problems, which is even worse.
Using aftermarket parts, which are often less expensive than OE (Original Equipment) parts, is the only method to make small financial savings on this important service.
It might be a good idea to decide right now whether it is worthwhile to spend so much money on your Versa.
Used cars quickly lose value. Depending on how old your Versa is, it can be wiser financially to purchase a new vehicle.
Except in cases where the damage was due to an accident, Nissan auto insurance is unlikely to pay for the expense of transmission repairs.
In either case, we advise you to look into your auto insurance options—especially if you are shelling out a sizable sum of money for repairs.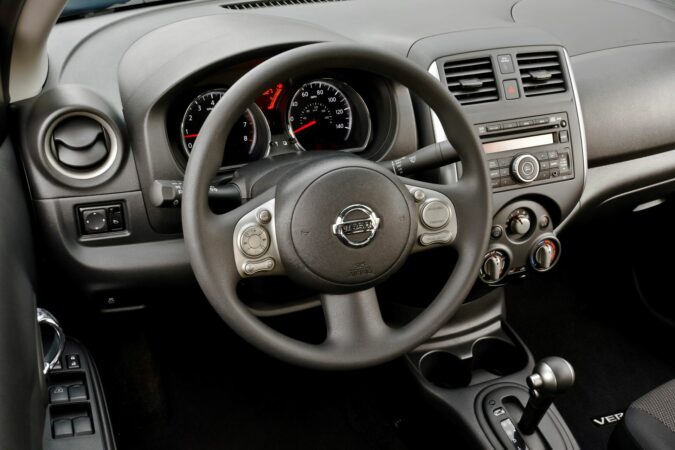 Frequently Asked Questions
Is Nissan Versa A Good Car
With the exception of a lack of agility, it's one of the most economical subcompact automobiles and doesn't have many significant drawbacks. The Versa is cozy, offers a respectable passenger and baggage room, and has simple-to-use technological amenities.
How Much Is A Nissan Versa
The 2023 Nissan Versa S 4dr Sedan is the model with the lowest price (1.6L 4cyl 5M). Its Manufacturer's Suggested Retail Price (MSRP), including the destination fee, is roughly $15,730. Other variations include the $15,730 S 4dr Sedan (1.6L 4cyl 5M).
How Long Do Nissan Versas Last
A Nissan Versa should last 200,000 miles on average. Your Nissan Versa would last about 13 years if you drive the usual 15,000 miles each year. Naturally, all of this is dependent on routine upkeep and care.