No matter what kind of cars you like, you can't deny that old muscle cars have a certain charm to them. Their big and growling V8s, sleek design, and simplicity are just some of the things that make them so desirable.
If you're just dipping your toes into the world of classic muscle cars, then you've come to the right place. This post will discuss the history of muscle cars, some of the most popular models in their heyday, and yes, we'll give you recommendations on some affordable ones to start your muscle car ownership.
Here's a table of contents to help you find the information you need:
History Of The Muscle Car
The term "muscle car" originates in the 1960s. And according to some accounts, Pontiac was the first to coin the term when they introduced the 1964 GTO. However, the roots of the muscle car date back as early as 1949, when General Motors launched their Oldsmobile 88.
GM is credited as the first company to produce the "intentional" muscle car. The aforementioned Oldsmobile 88 came with a 303 cubic-inch (5.0L) Rocket V8 from the larger Oldsmobile 98. This meant the smaller 88 had a powerful engine in its relatively compact body. And yes, by definition, it's a hot rod.
Anyway, fast forward back to the '60s, and America was experiencing the muscle car craze. Carmakers noticed that consumers had an appetite for performance and speed. And they started churning out muscle cars every year, trying to outdo their rivals by giving more power, more speed, and sometimes, at a cheaper price.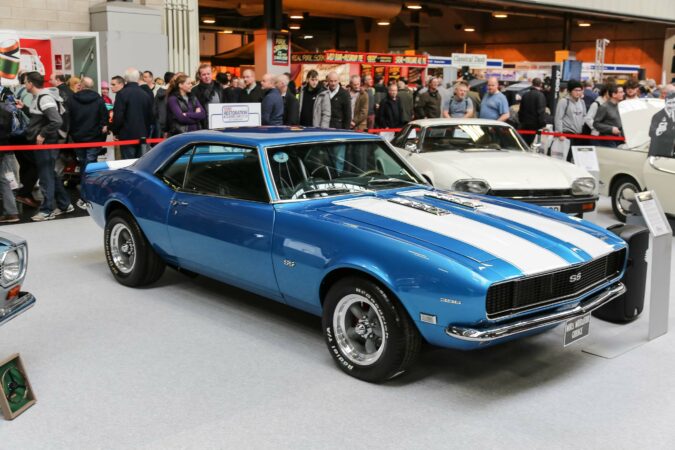 This era saw some of the greatest and most exciting muscle cars ever made. Including the Ford Mustang, the Dodge Charger and Challenger, the Chevy Camaro, and the Plymouth Road Runner. But as they say, all good things must come to an end.
End Of The Muscle Car Era
Due to the 1973 oil crisis, gas prices increased significantly (unless you're looking for what state has the cheapest gas and compare is diesel cheaper than gas). This means owning cars with a powerful and thirsty V8 no longer became feasible for many people. While they were still cheap to buy (most muscle cars were no more than $40,000 in today's money) they were no longer cheap to run.
The '70s also saw an increase in awareness of air pollution and environmentalism. Smog was becoming a serious problem, and the government and activists saw the need for emissions regulation. So, the Clean Air Act was introduced to reduce pollution and increase air quality throughout the United States.
As a result, carmakers had to detune their high-performance engines to meet these regulations. And with the technology available at the time, they couldn't make their engines as powerful as they used to be while meeting emissions regulations.
There were also growing concerns over the safety of these road-going race cars. Safety regulations and technology hadn't kept up with the growing speed of the muscle cars. Coupled with the oil crisis and emissions regulations, carmakers had to change their strategy (to learn more, check out our guide on do you need a catalytic converter).
Muscle cars used to be simple cars with an affordable price, primarily thanks to their bare-bones approach to features and creature comforts. But in the late '70s, muscle car makers started marketing muscle cars as luxury cruisers to adapt to the changing market and demand.
Some carmakers managed to survive, but many others have since died, taking their muscle cars with them. Thankfully, these few carmakers that survived are still refusing to let their legendary muscle cars die off.
The Modern Muscle Cars
Thankfully, some carmakers refuse to let the muscle car die and we can still enjoy them today. Ford in particular refused to let the Mustang die, and has been in production since 1964 spanning six generations. Others such as Dodge and Chevy have also revived their most popular nameplates.
The modern muscle car remains relatively true to its roots: big V8s with a lot of low-down torque, relatively affordable price tags, and primarily focuses on straight-line performance.
True, gone are the days of the ultra-affordable muscle cars. Back then, a lot of them cost no more than $5,000, which is around $38,000 in today's money. Meanwhile, most V8 muscle cars nowadays start from $40,000. And the 5.0 Mustang GT for example starts at a pretty hefty $53,000.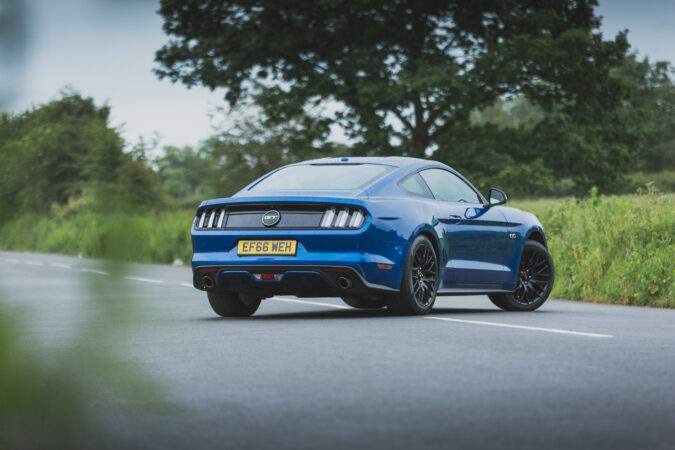 While they seem expensive nowadays, they're still often cheaper than their European rivals. You'll need at least around $70,000 to buy a European sports car with the same sort of power as modern muscle cars such as the Chevy Camaro ZL1 and Mustang GT offers.
It's true that these European sports cars typically come with more features as standard. And you'll have to admit, they usually have better build quality than American cars. But if performance is all you're after, then there's no beating the value that these muscle cars offer.
Best Old Muscle Cars
Of course, not everyone has $50,000 to spend on a car. Especially not on toy cars like muscle cars that aren't exactly practical. So, if you want a car with a powerful V8 engine for cheap, then you're going to have to look at old muscle cars.
Now, we're going to list some of the best muscle cars from the biggest manufacturers in the '60s and '70s. Note that these cars are wildly popular in the muscle car community and collectors alike. So, their value has since gone up to the point where they can be more expensive than modern muscle cars.
Don't worry, we'll list some affordable options later on. But for now, let's drool over some of the best muscle cars ever made:
Old Chevy Muscle Cars
The most popular Chevy muscle car is without a doubt the Camaro, and we'll get into that in a bit. But there were other models back then, this includes the 1970 Chevelle SS, the 1966 Chevelle SS396, the Nova SS, and of course, the Impala SS.
You'll notice that all of them have the 'SS' moniker. SS stands for Super Sport, which is Chevy's signature performance option. This usually includes interior and exterior changes, stronger shocks and struts, better brakes, and whitewall or redline tires.
The first-generation Camaro (1967 – 1969) is arguably the coolest and most desirable version of all the old Camaros. It was available with three different option trims: the RS, SS, and the ever-so-popular Z/28.
The Z/28 came with a 302ci small-block V8. This was a smaller engine than the SS, which came with either 350ci V8 or Chevy's 396 "big-block" V8.
However, the Z/28 had upgraded suspension, front disc brakes, and a 4-speed close ratio transmission as its focus was to compete in the SCCA Trans-Am Series.
You'll find the most powerful engine in the 1969 Camaro COPO 427 versions. Specifically, the ZL-1 which was intended for super-stock racing, and the 427 cubic-inch (7.0L) V8 make 430 horsepower.
The Camaro remained in production until 2002 spanning four generations, until it was revived again in 2010. The first generation remains the coolest and most desirable one in the classic car community (even among the most reliable classic cars). And the top of the line Z/28 can fetch as much as $120,000.
Chevy made only 69 COPO ZL1, and pristine specimens can fetch up to $500,000. Meanwhile, other popular Chevy muscle car models are usually above $40,000. I can feel my wallet shriveling.
Old Dodge Muscle Cars
Dodge's most popular muscle cars are the Charger R/T and the Challenger R/T, and let's talk about the bigger Charger first. Dodge introduced the Charger in 1966, sharing its chassis with the Coronet. Unlike the Coronet, the Charger was only available with two doors. And it had a sloping roofline, further accentuating its coupe and sporty look.
The first-generation Charger was available with seven different V8 engines. But the most notable version is arguably the second-generation 1969 Charger R/T, short for Road/Track. The '69 model year came with a 440 Magnum V8 as standard. And a more powerful 426 Hemi V8 was offered as an option.
Meanwhile, the Challenger was a smaller muscle car from Dodge made to rival the Pontiac Firebird and Ford Mustang. Production began in 1970, and it was available with a couple of straight-six and six V8 engines to choose from.
Much like the Charger, the Challenger was also available as a Road/Track. It came with a 383ci Magnum V8 as standard, but the 440 Magnum and the 426 Hemi were also available as an option.
Dodge makes other muscle cars as well, including the Dart, the Coronet, and my personal favorite (aside from the Charger): the 1970 Dodge Super Bee.
Most enthusiasts prefer the '68 Super Bee. But I prefer the 1970 Super Bee simply because of its striking look. The twin-loop bumper which was referred to as "bumble bee wings" by Dodge was enough to change the Super Bee's look and make it look striking and distinct from its siblings and rivals.
Old Ford Muscle Cars
We can't talk about muscle cars without mentioning Ford. They have plenty to offer, such as the '55 Thunderbird, the '65 Galaxie, '69 Talladega, and '73 Falcon, but there's one car that tops it all: the Mustang. Arguably the most popular and the face of the muscle car.
Of course, there are plenty of variants of the Mustang. And variants of the first-generation ones are arguably the most popular among enthusiasts and casuals alike.
The first Mustang came along in 1964, available with a couple of straight-six engines and three small-block V8s. The most popular model was the GT, which was an equipment package that includes a V8 engine—most commonly the 289 HiPo V8, fog lights, rocker panel stripes, and disc brakes.
The Mustang saw a redesign in '67, where it became larger and was available with big block V8s, including the 428 Cobra-Jet V8 from 1968 to 1970.
There are plenty of variants. But some of the most notable ones include the '67 Shelby GT350, the '69 Mach 1 Cobra Jet, and my personal favorite: the '69 Mustang Boss 429.
The Boss 429 was a homologation car built for NASCAR to go up against Mopar Hemi engines, specifically the Dodge Charger Daytona. As the name suggests, the Mustang Boss has a 429 cubic-inch V8 derived from Ford's 385-series engine.
Ford made a total of 1,350 Mustangs from '69 to '70. While not quite as rare as the COPO Camaro, the Boss Mustangs can still fetch over $400,000 in auctions.
Old Pontiac Muscle Cars
We think there are two notable Pontiac muscle cars: the Firebird Trans Am, and the '64 GTO that coined the term "muscle car." The first Firebird came along in '67, which was the sister car to the Camaro.
The later second-generation Firebird seems to be the more popular one though, especially the Trans Am versions. Trans Am is the upgrade package that was introduced in '69. But the most iconic one is probably the '79 model year with its rather large Firebird hood decal.
Meanwhile, the GTO was originally an option package for the Pontiac LeMans. The original '64 GTO came with Pontiac's 389ci V8 making 325 horsepower.
In 1967, the GTO's engine was upsized to 400ci (6.6L) and was available in three different specs. The most powerful version was able to churn out a very healthy 360 horsepower.
GTOs are still relatively affordable today, with most 1964 models costing around $40,000 to $60,000. But don't be surprised when you see Concours-winning specimens costing well over $100,000.
Old Plymouth Muscle Cars
Plymouth muscle cars aren't quite as popular these days compared to the other brands. Probably partly because they're now defunct, and partly because they're overshadowed by their sister cars from Dodge.
Plymouth and Dodge were both owned by Chrysler back then, and many of their cars share the same platforms and engines. For example, the Challenger and Plymouth Barracuda shared the same chassis with similar engine options.
So did the Charger and Super Bee with the Plymouth GTX and Road Runner. However, there's one Plymouth that's indisputably more popular than its sister car: the 1970 Plymouth Superbird.
The Superbird was a highly-modified version of the Road Runner. It has a slant nose and a cartoonishly-big (speaking of cartoons, consider checking out our guide on what kinda car is Lightning McQueen) rear spoiler to improve aerodynamics and rear-end grip.
It was a follow-up to the '69 Charger Daytona, its sister car with similar modifications to compete in NASCAR. As per the NASCAR rules back then, homologation cars need to be made so that the car can compete.
Unfortunately, both were short-lived. This was due to NASCAR executives banning these "aero" cars due to how fast they were. It was partly due to safety concerns, and partly due to the unfair advantage they can gain.
Plymouth ends up producing only around 1,900 of these cars in 1970, although some sources suggest there are around 2,300 of them. Regardless, they now easily fetch over $250,000. Even though the original MSRP was only around $5,500 or around $40,000 in today's money.
Old Muscle Cars For Sale Under $10000
We think $10,000 is a good budget if you want to own a classic muscle car. Any lower than that and you're unlikely to get any interesting ones, or ones that are in decent condition. Anyway, here are your options:
1984 Mustang. Certainly not as cool as the '60s Mustang, but a muscle car nonetheless. Many '80s Mustangs can fetch over $20,000, but we found one on ClassicCars.com for just $9,000.
1963 Buick Riviera. Technically a luxury car rather than a muscle car, but they came with a 401 Nailhead V8 and that's good enough for us. Pristine ones are usually no more than $20,000, and you can find ones in working condition for a little under $10,000.
1966 Buick Skylark. Essentially a sister car to the Pontiac GTO and Chevy Chevelle, the Skylark was a compact car available with several V8s, ranging from 300 to 401 cubic inches. Pristine ones can be over $30,000, but if you're lucky, there are some running ones for just a little over $10,000.
1968 Ford Galaxie. The two-door versions are well over $25,000 on average. But you can find four-door versions with the 390ci (6.4L) V8 for around $9,000.
 

View this post on Instagram

 
That's about it. Yes, there's not a lot, but with classic cars becoming more popular than ever it's hard to find old muscle cars that are below $10,000 and in working condition. Even Mustangs that are rotting away now cost $8,000.
The usual car buying tips apply when looking at these muscle cars. Such as checking for rust under the body, making sure the engine runs smoothly and taking it for a thorough test drive.
Of course, don't expect a perfect car on this budget. Just make sure there aren't problems that you're not willing to deal with, and learn how to maintain them.
Facts about Fast Muscle Cars:
The classic "muscle car" is a sports coupe made in the United States with two doors and a powerful engine.
Vintage muscle cars appeared between the 1940s and the 1970s, many with V-8 engines.
The 1970 Chevelle SS454 is one of the fastest muscle cars with a 450-horsepower V-8 engine that can accelerate from zero to 60 miles per hour in 6.1 seconds.
The 1968 Corvette was redesigned and included a version intended for racing with a 430 hp L88 engine and aerodynamic design.
Only 10 of the 2,000 1969 Plymouth Road Runners convertibles had a powerful V-8 racing engine, and it was named Motor Trend's 1969 "Car of the Year."
The 1966 Shelby AC Cobra 427 "Super Snake" is a rare model with only 23 cars that were high-performance but required skilled drivers.
The 1970 Hemi Cuda is one of the fastest muscle cars in the early 1970s with a 426 Hemi V-8 engine and a 425 hp capability.
The 1969 Camaro ZL1 commissioned by Fred Gibb Chevrolet reportedly achieved up to 425 hp with a 427ci V-8 engine.
The 1968 Pontiac Firebird 400 offered a V-8 engine, a Dearborn three-speed transmission, and staggered shock absorbers.
The topic of the fastest muscle car in the world inspires friendly controversy since some versions no longer exist in their original form.
FAQs About Old Muscle Cars
If you still have questions about muscle cars, take a look at these answers below that might be helpful for you:
What Is A Muscle Car
There are many definitions, but it's best described as American cars with a coupe body powered by a powerful gas engine which is typically V8s, rear-wheel drive, and available at a relatively affordable price thanks to their bare-bones approach to features and creature comforts. One of the most important characteristics of a muscle car is usually a powerful V8 engine with lots of torque down low in the RPM range.
Is A Corvette A Muscle Car
There's a lot of debate around this, but we believe before the seventh generation (C7; 2014 – 2019) Corvette, it was a muscle car. The C6 and older Corvettes had the right muscle car recipe: simple V8 up front, rear-wheel drive, and relatively low-tech. The C7 Corvette was far more high-tech and many regards it as feeling more like a European sports car. And of course, the current-generation C8 Corvette is a mid-engine supercar and is not a muscle car.
When Is A Car Considered A Classic
Most car collector and motoring organizations, as well as many insurance companies, will define cars that are over 20 years old to be a classic. Although some would classify them as a classic when they're 25 years or older. Additionally, anything over 40 to 45 years old is classified as an antique, not a classic car.
Is Chevy American
Yes, Chevy is an American brand through and through. Always has been, still is, and hopefully, always will be. General Motors currently owns Chevy, which is also still an entirely American brand.
What Is The Fastest Muscle Car
The Dodge Challenger SRT Demon currently holds the record for the fastest production and factory-standard muscle car. Its top speed stands at 204mph, it can do 0-60mph in 2.3 seconds, and the quarter-mile in 9.65 seconds. Note that the 2019 Hennessey Chevy Camaro ZL1 1LE Resurrection has a faster top speed of 220mph, but it's not a factory car and costs a hefty $200,000.
What Was The First Muscle Car
General Motors is regarded as the company to create the first intentional muscle car, which was the Oldsmobile 88 which had a Rocket V8 from the larger Oldsmobile 98. However, Pontiac was the first to coin the term muscle car during the launch of their 1964 GTO.
Are Classic Cars A Good Investment
They can be, but you shouldn't treat classic cars as an investment. Unlike, for example, stocks, you can't analyze how the market will behave and whether or not it will increase in value. While there's always a bit of speculation involved when investing, speculating on the classic car market is very risky, if not downright reckless. Not to mention, there are a lot of maintenance costs involved, and the profit you make might not cover that. Our advice is to buy whichever classic car your heart desires, treat it well, enjoy it, and not worry too much about whether or not you make money out of it.
Is Dodge American Made
Dodge is technically still an American company, although they're now under Stellantis, which is a multinational company that resulted from the merger of the French PSA Group and Fiat Chrysler Automobile. Also note that the current Challenger and Charger are made in Ontario, Canada. Whereas their American manufacturing plants are mostly for Jeep, Ram 1500, and powertrain production.
Old Muscle Cars: Final Thoughts
Don't lie to yourself, we all want a muscle car. They're powerful, beautifully simple, and few things are as exciting as the rumble of a classic V8 from the '60s.
Unfortunately, these cars are now so expensive to the point where they cost as much as new muscle cars. And you're left with mostly less charming muscle cars if you're on a budget.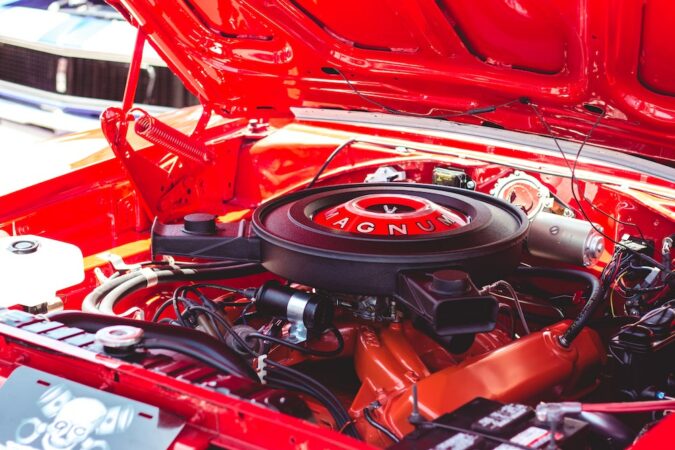 While they're tempting, no need to go out of your way to buy an old muscle car. After all, they're not a necessity. But if you think you'd be willing to spend the time, effort, and money to restore them, you might be able to get an exciting one for less than $10,000.
Mind you, restoring an old car to its former glory is not an easy task. Nor is it cheap. Something I learned the hard way when I bought a classic Mini Cooper a few years ago. In any case, hopefully, this has been a helpful beginner's guide to the world of old muscle cars.