Peugeots aren't meant to look like this. Sure, the long-established French car manufacturer has some sporting history. Notably with the 205 and 206. But Peugeot is mostly known for its practical and affordable cars. The sort of car you take to the boulangerie to buy your morning pain au chocolat. Window down and Gitane hanging from the bottom lip.
The new 308 is different. Gone is the slightly dumpy brand that has come to define Peugeot's more recent offerings. In its place is something more aggressive and more determined.
The Peugeot Lion Is Ready To Pounce
The shape of the new 308 is radically different from the rounded design of its predecessor. The car is slender in profile: the result of a 55mm longer wheelbase and 20mm reduction in height. According to Peugeot this creates "an even sleeker silhouette and more powerful stance." It's true. The car looks like a lion that's crouching down ready to pounce.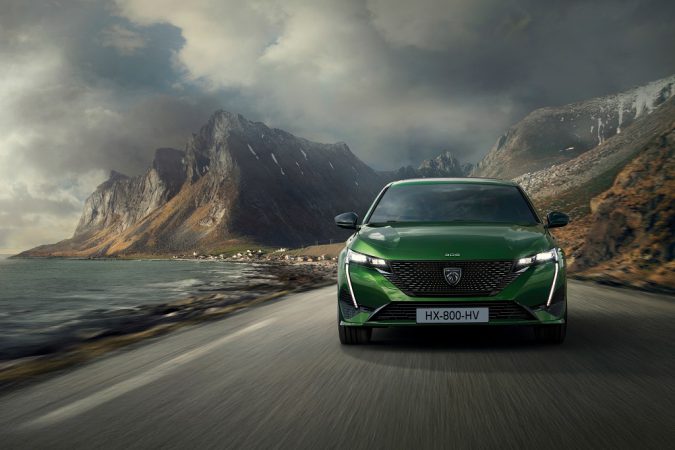 The Front End
This theme is accentuated by thin angry headlamps and a big, black imposing grille. You could be staring directly into a lion's open mouth. Which might be what Peugeot was after. Because the new Peugeot logo features a lion's head that faces the viewer head on. Eeek.
Luxury Finishes
Inside the car, the cheaper plastic offerings of yesteryear have been banished. In their place are a variety of expensive but uncomfortable-sounding trims. Think 'evolutionary mottled fabric' and 'technical mesh'.
But don't let obscure trim names and aggressive exterior styling let you think you can't drive in comfort. Because the seats of the 308 have been awarded the German 'AGR' seal of approval. (The AGR campaigns against back pain.) Options include heated seats, a multi-point massage system and 10-way electric adjustment. So that you can drive assertively and be cosy at the same time.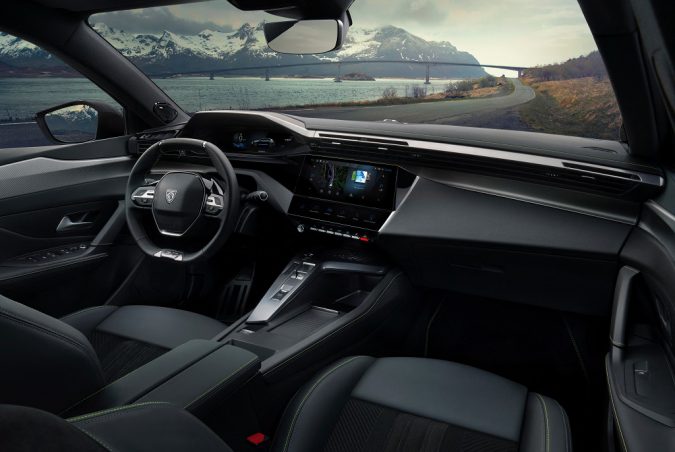 The Gadgetry
New technological features include a 10-inch digital instrument cluster, a 3D display (GT‑model only), a smart steering wheel that detects the driver's grip when using driving aids and said driving aids themselves.
Robot Help
Driving aids, by the way, basically let a robot do some of the driving for you. The 308's Driving Assistance Pack (i.e. robot assistance pack) includes adaptive cruise control, Lane Keeping Assistance, Semi-Automatic Lane Change, Anticipated Speed Recommendation and Curve Speed Adaptation. The Curve Speed Adaptation optimises the car's speed on bends up to 112 mph. But if you're doing 112 mph on the road, it would probably be useful if the car called an ambulance for you too.
Extra Features
Other selling points include (take a deep breath): 'E-call+' emergency call that gives passenger number information, location and direction of the vehicle in the lane (useful for those high-speed bends), long-range blind spot monitoring, Rear Cross Traffic Alert, High-definition 180° reversing camera with integrated cleaning nozzle, 360° parking assistance with four cameras and indexing of the rear-view door mirrors when reverse gear is selected. These are all available as standard or as options.
The Engine
Power comes in the form of either a 180hp or 150hp hybrid engine with an estimated recharging time of just under two hours with a 7.4kW charger. Alternatively, you can stick to trusty hydrocarbons with a 1.2-litre petrol engine or 1.5-litre diesel.
The new 308 will be available to buy later this year. All in all, it's a car you might be better taking racing at the circuit d'automobile than to the boulangerie.