Introduction –  Philips Brilliance Curved UltraWide LCD Display Review
16:9 has arguably been the golden standard aspect ratio monitor-wise for a very long time now. It's the pragmatic ratio, bringing full HD to the masses at an affordable price point. It also brought about 4K displays, which are the current high-end option for those with a deep pocket. However, if there's an aspect ratio that really spurs me on, it's 21:9.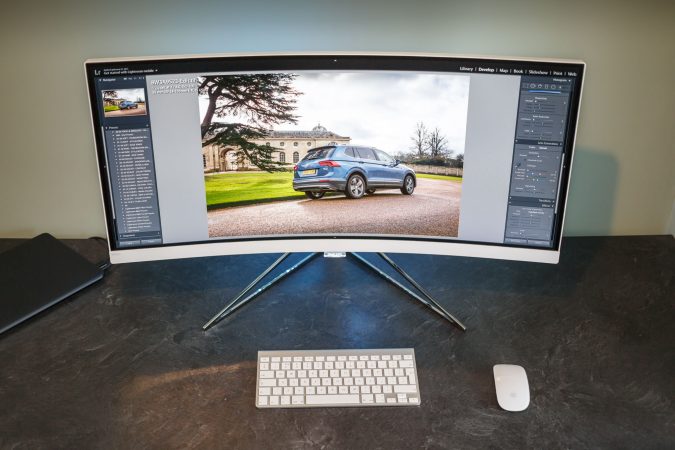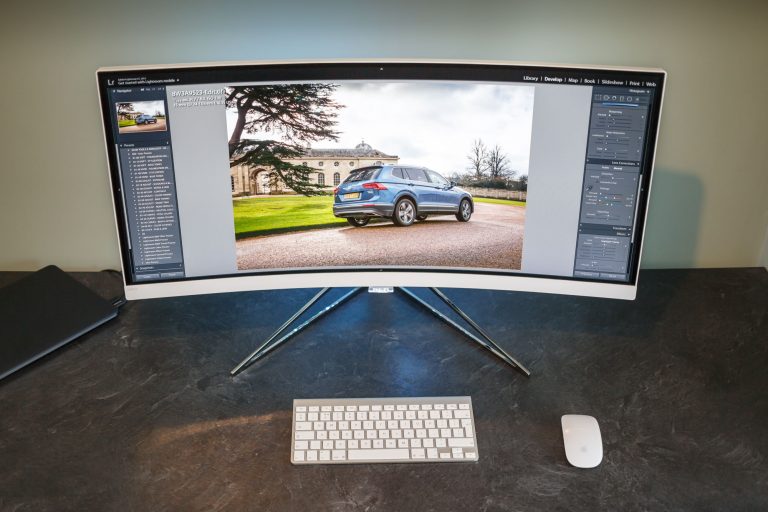 More commonly known as 'ultra-wide', this is an aspect ratio aimed more towards the professionals, albeit avid gamers also find it ideal for immersion, especially for racing games. And today we have what is potentially the finest ultra-wide display on the market right now, the Philips Brilliance Curved UltraWide LCD display, alternatively the 349X7FJEW.
Initial Impressions
What this Philips ultrawide monitor is bringing to the market is a 34″ unit capable of displaying 3440×1440 resolution. It's an 1800R curved monitor, which is as curved as you can realistically expect right now, and it also boasts a 100Hz refresh rate along with that. That spec sheet is bound to pique your interest.
Open up the massive box, and everything is relatively straightforward. Philips has included in everything you need to get started, HDMI cable, DisplayPort cable, USB cable, audio cable, the power cable, documents, and the monitor itself, along with its original stand. The screen can be tilted -5 to 20 degree and raised by 150mm on the stand. The movement itself is smooth but requires a bit of coaxing.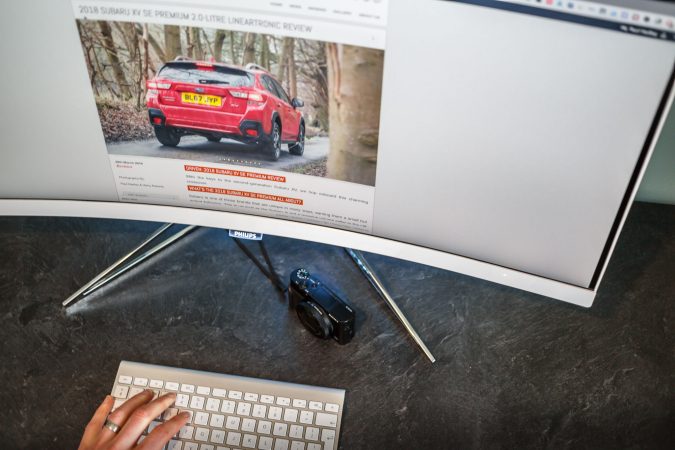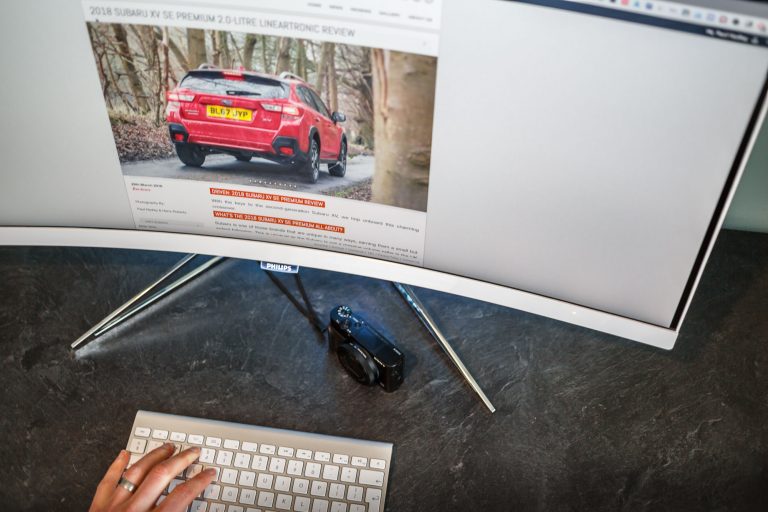 The mounting system here is standard VESA 100mm bracket, and the original mount may be a bit bulkier than you'd anticipate. However, most of the bulk is hidden behind the monitor, and it's one sturdy metal stand. It has a pretty deep footprint though, so you need a large base to accommodate it.
Otherwise, the Philips monitor sports a refreshingly bright colour scheme. Sporting glossy white plastic on more glossy white plastic, it will complement a professional workspace well. There is a small, but overt Philips logo on the bottom of the monitor that emits a white glow during operation. It can be switched off in the menus should you find it distracting.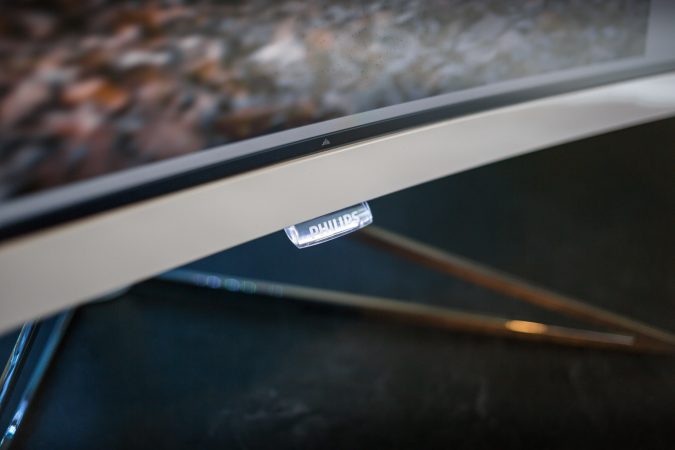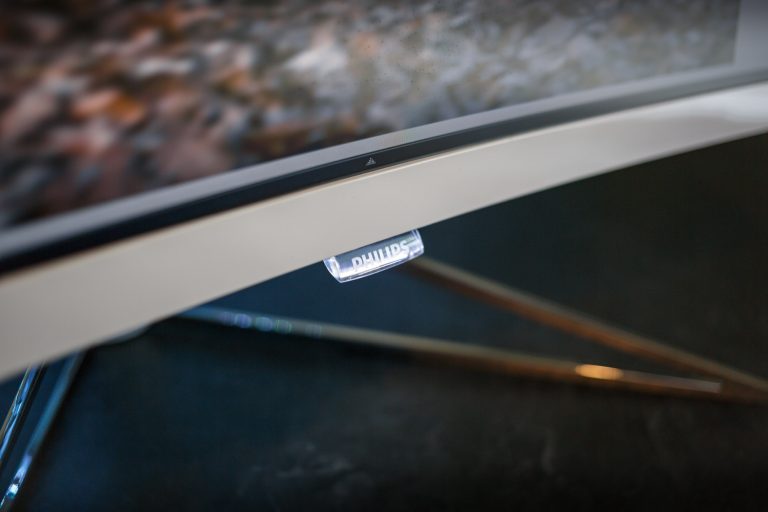 Laudably, the Philips Brilliance Curved UltraWide sports an impressive array of connectivity ports arranged abreast to each other. A DisplayPort 1.2 port, a HDMI 1.4 and 2.0 port, 4 USB 3.0 ports, one with fast charging capability, and audio ports. You'd have to use either DisplayPort 1.2 or HDMI 2.0 to make use of the 100Hz refresh rate though.
Performance – Philips Brilliance Curved UltraWide
The display is coated sparingly with an anti-glare material, which offsets the mirror-like reflections glossy panels suffer from. You'll still want to keep the screen facing away from the sun, but its a worthy tradeoff against the often muted and grainy colours matte displays deliver.
You'd also have to make do with menu controls via a four-way directional pad on the back of the monitor. It's not as bad as you might expect, as menu controls are still intuitive, better than buttons hidden beneath or on the side of bezels, I reckon. By pressing and holding it, the monitor powers on and off. Press it to bring up the OSD manual, which is straightforward to configure.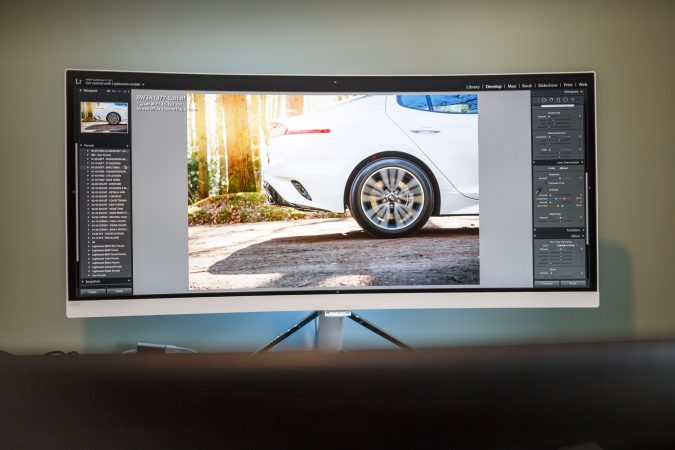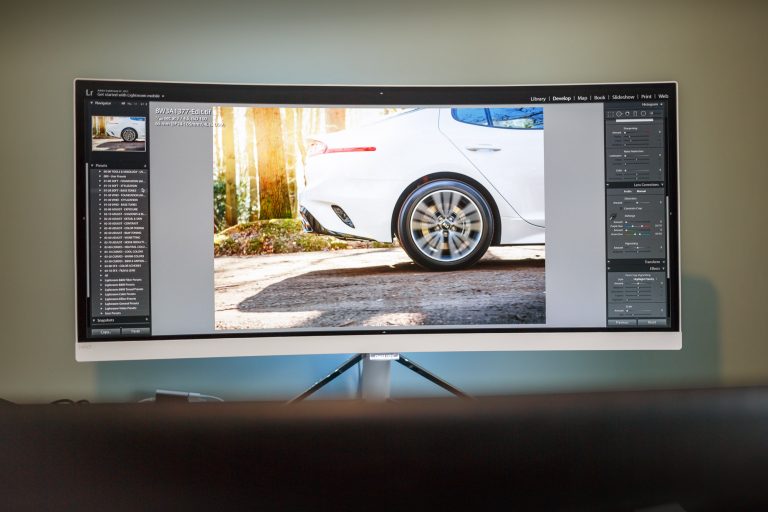 Here is the big thing, this Philips display boasts an 8-bit Samsung VA panel, which offers some very compelling benefits, but more importantly stands as a good middle ground between TN and IPS displays. What VA panels excel at especially is stupendous static contrast ratio, and Philips says this panel can achieve 3,000:1 contrast ratio.
I don't have the equipment to put that claim through its paces, but from what I can see, the blacks are ink-esque. From others with the right apparatus to truly test a monitor, they report a contrast ratio about half of what Philips claims, impressive nonetheless.
Another thing VA panels are good at is brightness, and this Samsung panel with its White-LED backlight is certainly a lot brighter than I would ever need, especially for a monitor with its curve. It does have a versatile brightness adjustment range though, handily shifting from morning use to night-mode.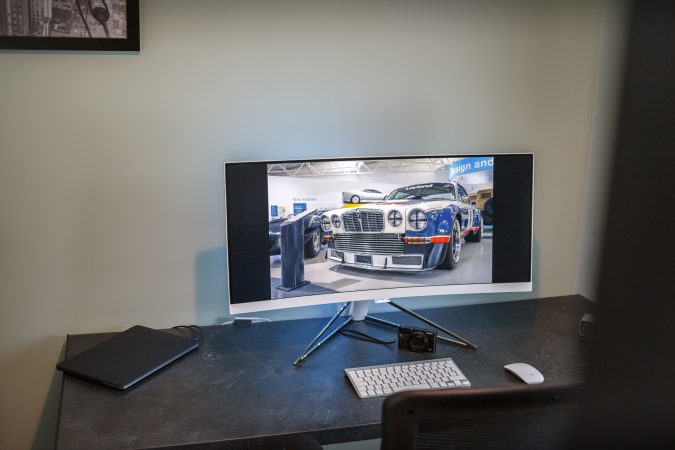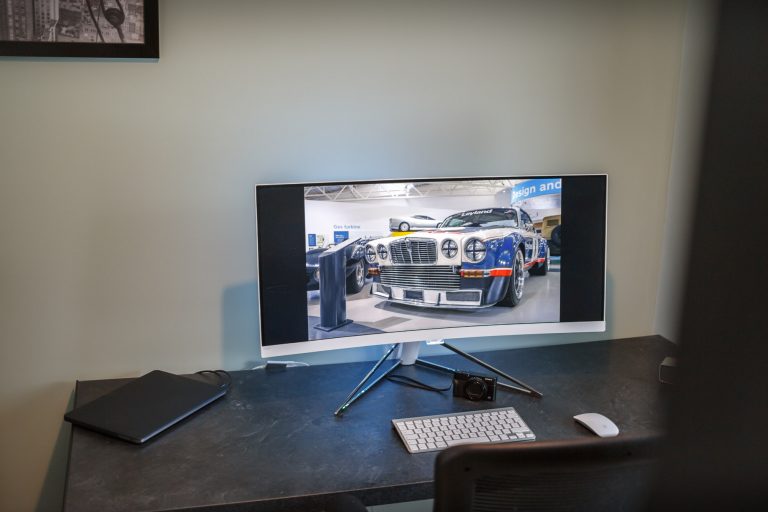 While IPS has VA beat in terms of colour coverage, it doesn't make the Philips's over 100% sRGB gamut coverage any less impressive. You'd want to keep it in its default 6500K colour profile, but this translates to a no-fuss, effortless setup that's good to use right from the get-go. Others report similar figures to what Philips claims as well.
Of course, the response time may prove to be less than adequate for some, with 14ms during normal operation. It can speed up to 4ms grey-to-grey change, which will rid most if not all noticeable artefacts.
For general use, the 100Hz refresh rate is trivial. But if you plan to game a bit, I can find that feature being appealing. Do note that the response rate drops if you run it at 100Hz though. There is also AMD FreeSync included here, which will be a godsend for AMD GPU bearers planning to game on this monitor.
Philips Brilliance Curved UltraWide LCD – Experience
I can go about all these scientific numbers and spec sheets all day, but none of that will do the Philips Brilliance Curved UltraWide justice. I can't describe the sheer amount of screen real estate you get with a resolution like this, without any bezels in between.
Editing is a real pleasure on this monitor, I found multitasking to be a breeze without the need to repeatedly minimize and bringing up windows. Want to run Lightroom and Final Cut while referencing web materials and reading documents? Definitely possible, given a capable PC.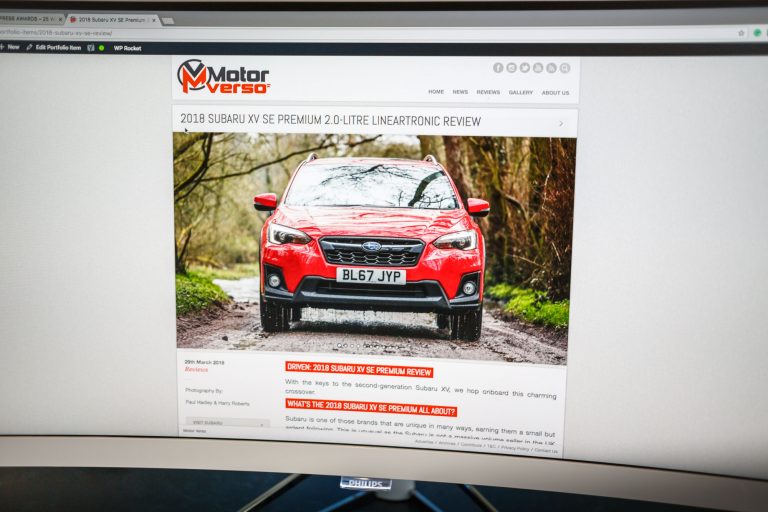 The curvature you're getting here is on the upper echelons for monitors nowadays which is beneficial for immersion. Most importantly though, it's a lot more natural to look to the sides on a curved monitor. Perhaps it's the curved ultrawide factor, but pretty much anything with the right resolution displayed on this monitor just seems breathtaking and gorgeous.
The colours are impressive, but the other Philips we tested out edges this display out. Still, I don't think you'd find much trouble editing photos on it. I do find myself favouring the ultrawide factor more though, 21:9 is just better for productivity in my opinion.
Verdict – Philips Brilliance Curved UltraWide
The Philips Brilliance Curved UltraWide is commanding around £700 on Amazon right now, is it worth it? What we have here is a 34″ curved 21:9 monitor that will bring about a brilliant workspace with plenty of screen real estate. That is to undermine its very impressive contrast representation, colour reproduction and versatility.
You can do a bit of everything on here, but photographers, videographers, and journalists alike will find it excelling at day-to-day content creation. The response time isn't astounding but will suffice for general use and casual gaming. The refresh rate is praiseworthy, combined with the fact that it offers AMD FreeSync, which wraps this up to be excellent value.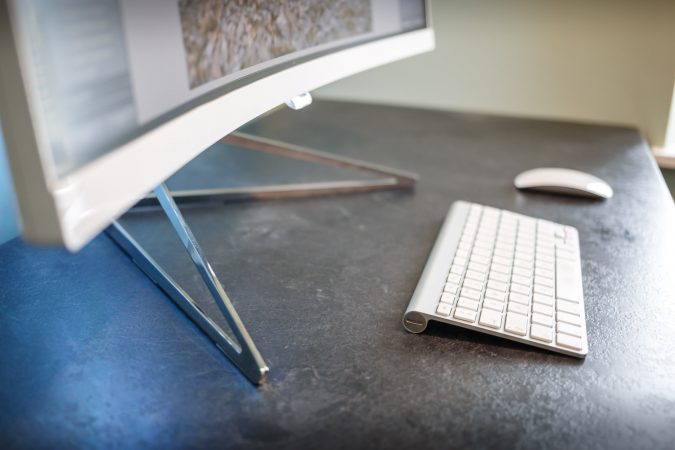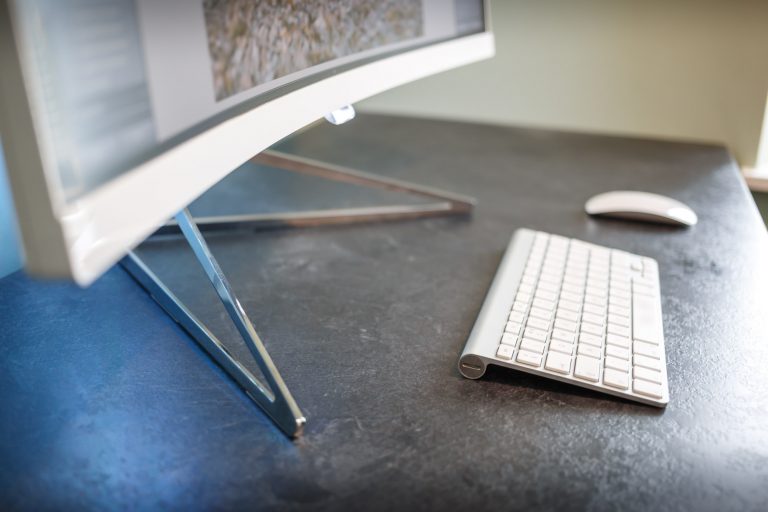 I think everyone with some money to spare, and a thirst for a 21:9 aspect ratio monitor that tackles everything quite well will be pleased with this monitor. The fact that it has accurate colours from the outset without any calibration at all is also commendable. The Philips Brilliance Curved UltraWide is worth a serious consideration for those in the market