In stark contrast to how far digital technology… Phones, computers, and the internet, among many others… Have evolved in the past 20 years alone, timekeeping as a whole has arguably not changed that much since the first pocket watches were conceived in the late 1400s. That watch you're wearing right now actually has a lot in common with your late, late, ancestors.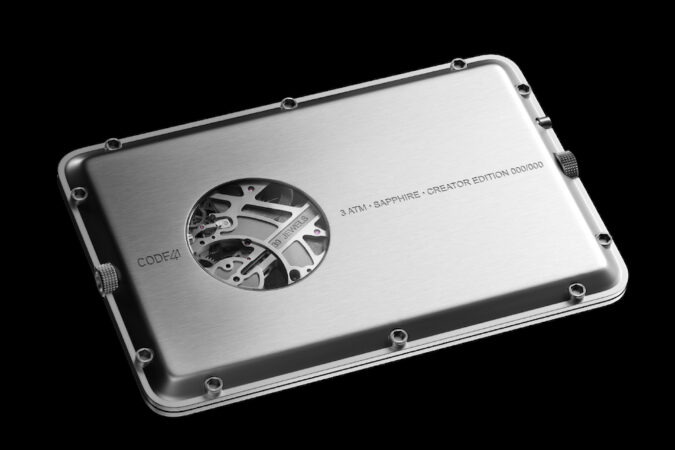 If anything, the most consequential big-bang moment since quartz watches appeared in the late 1960s would be the advent of the smartwatch era. As many benefits as it might have, it pales in comparison to the mechanical wonders that lie in the machination of even a simple wristwatch. All those springs, gears, cogs, and little things in between that make it tick.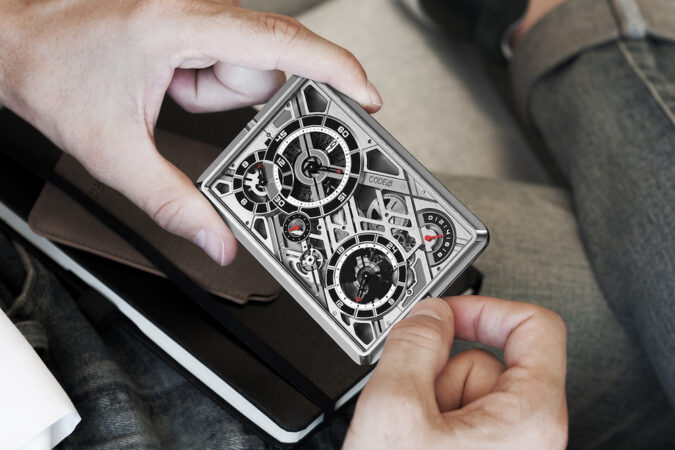 It's for this reason that many folks today still prefer getting a "dumb" watch over some fancy smartwatch. But if you're among those who still want to witness watchmakers advance over the threshold and push the boundaries of old-school timekeeping, then CODE41 is worth your attention. Avant-garde is their specialty, which is shown beautifully in its latest creation.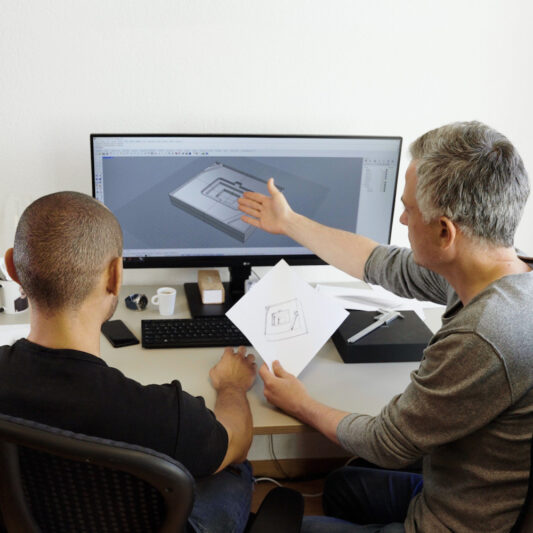 So-called the Mecascape, it's a mechanical timepiece like no other. It boasts not only a unique form factor but blending in a mix of old and new tech into one. It's the sort of mechanical timepiece that you wear not just to look or feel cool. But also, to celebrate what hundreds of years of innovation have since led us to. And, to showcase what the future holds for old-fashioned horology.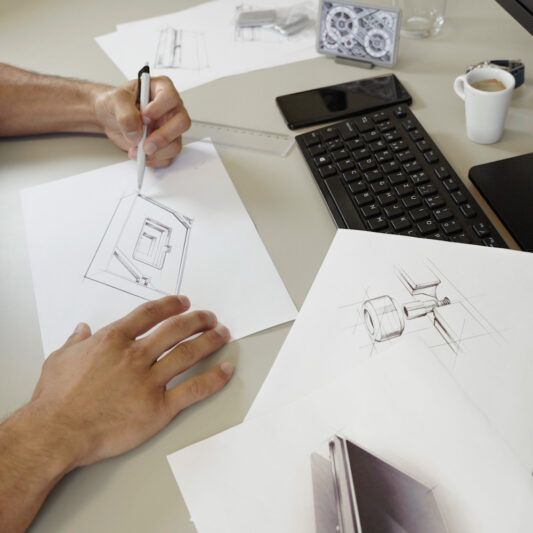 More Than Just A Simple Watch
As you might've noticed, the CODE41 Mecascape isn't a wristwatch, per se. There's already an abundance of the latter, so why not try something new? CODE41 thought the same, as they'd try to find an alternative to the tried-and-tested wristwatch or the classical pocket watch. The result here is something more akin to a smartphone or a credit card than a typical "watch".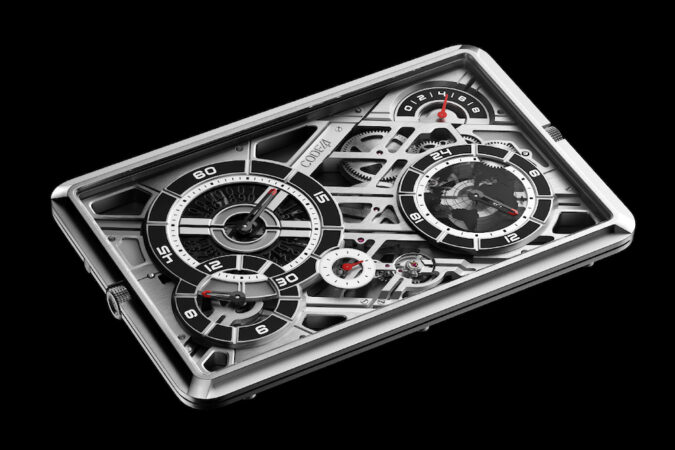 The CODE41 Mecascape is 108mm long and 71mm wide. So, its footprint is somewhat akin to an old Blackberry. Yet, unlike a phone from decades past, the Mecascape is very, very thin. At just 8mm in height, it's certainly among the thinnest timepieces around. Even thinner than most of the dress watches that we'd ooze over. Although, this did come with many challenges.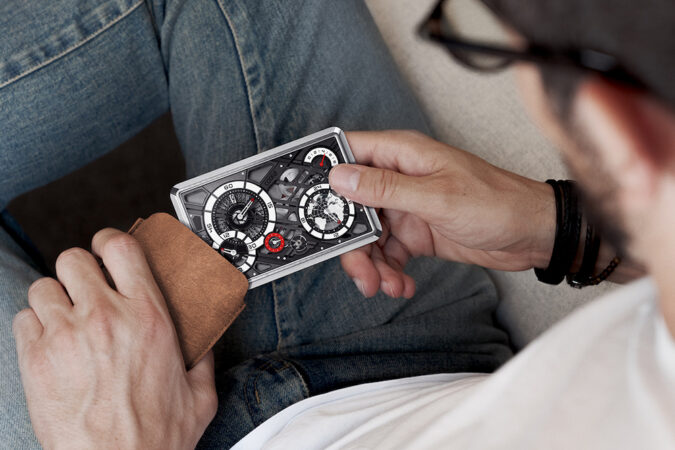 Mainly, how do you make a thin yet wide object not flex or bend? This is especially true with a watch. Even a tiny bit of torsion or flex could seriously mess up the fragile movement hidden underneath. To solve this, CODE41 went to ISEOTEC, where their 10 years of experience were quite a treat to behold. Their solution – make the Mecascape's case out of titanium.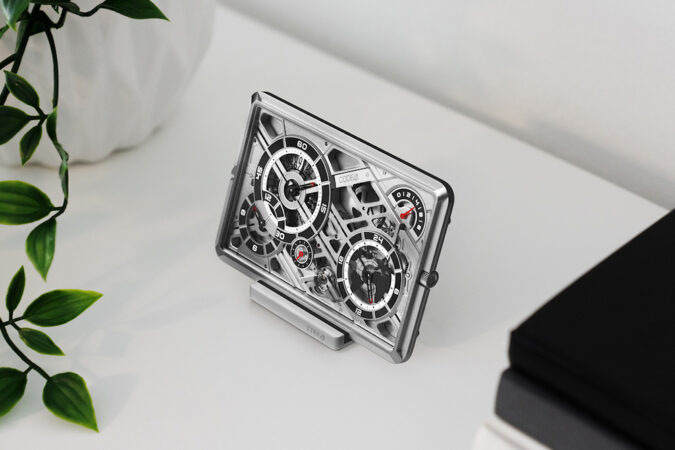 More specifically, Grade 5 titanium, which is used in the aerospace and medical industries. It can not only resist bending quite easily, but it's also resistant to corrosion and the daily wear and tear won't show up as readily, too. Speaking of, what lies beneath its unusual case when you've peeled it apart, and peered through that sapphire crystal glass, then?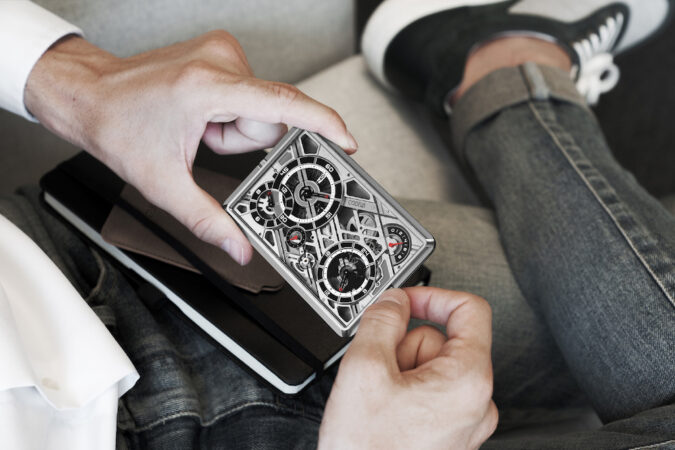 Re-Imagining Horology Itself
As thin as the case might be, the movement is even thinner still, at just 7mm thick! Naturally, you can't put a winding rotor on that, which is why the CODE41 Mecascape will come with a hand-wound mechanical movement. It's fully Swiss-made, and it's a manufacture movement, at that! The Mecascape's movement beats at a rather speedy 4Hz, or 28,800vph.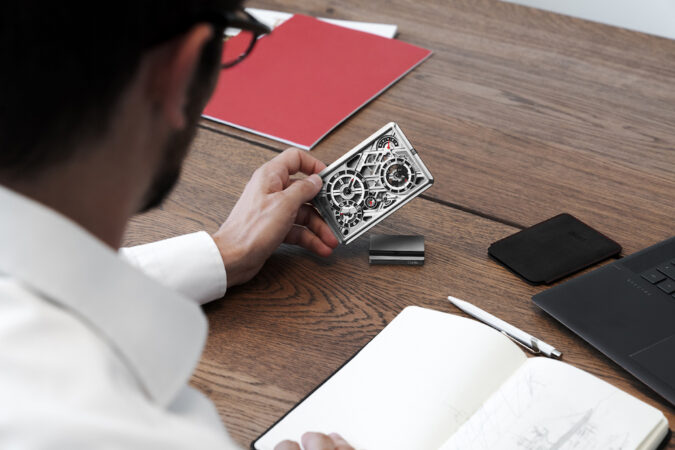 This movement consists of 39 rubies and is made up of 237 specialised and meticulously made components. Still, despite how thin the Mecascape is, it still sports an 8-day power reserve. It continues to impress given that it features a power reserve dial and a GMT complication. The Mecascape isn't merely just function, however, as it has plenty of form to flaunt.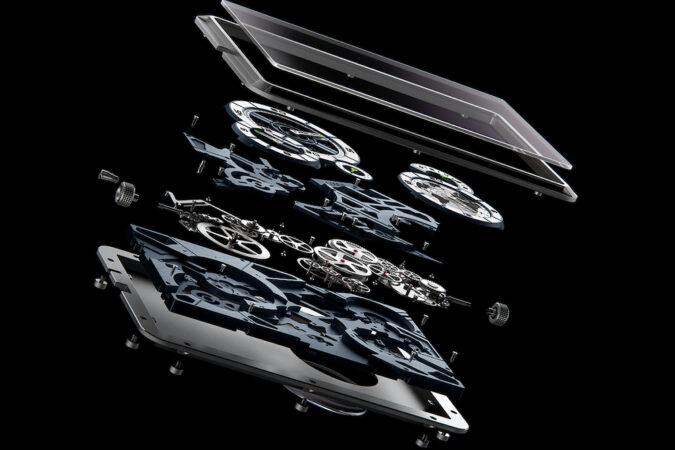 The team at CODE41 worked with Le Cercle des Horlogers in Switzerland to design as well as assemble the Mecascape's movement. But what its movement powers is a beautiful piece of horological artistry on its own. One of the highlights of the Mecascape is how the dials have been laid out, which follows the Golden Ratio principle to nail those proportions on the head.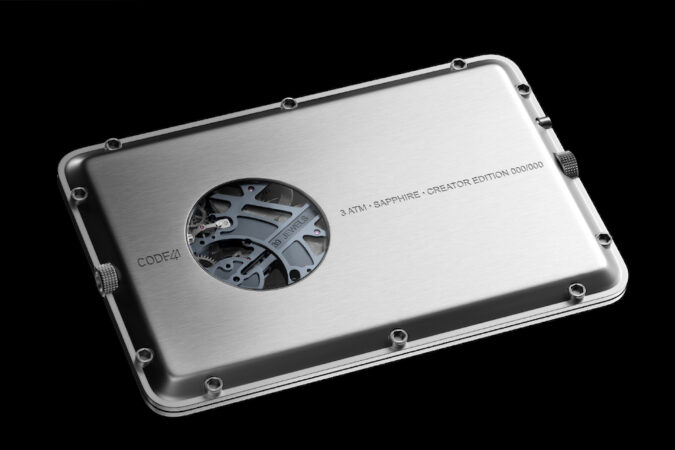 Built as a skeletonised dial, the hour, minute, and date displays are very legible, yet show off a mastery of simple and practical design. Yet, there's a distinct attention to detail and you might also notice a few of CODE41's ethos in the dial itself. Being a skeleton watch face, that'll grant you quite an ample view of the movement's complex mechanical inner workings, as well.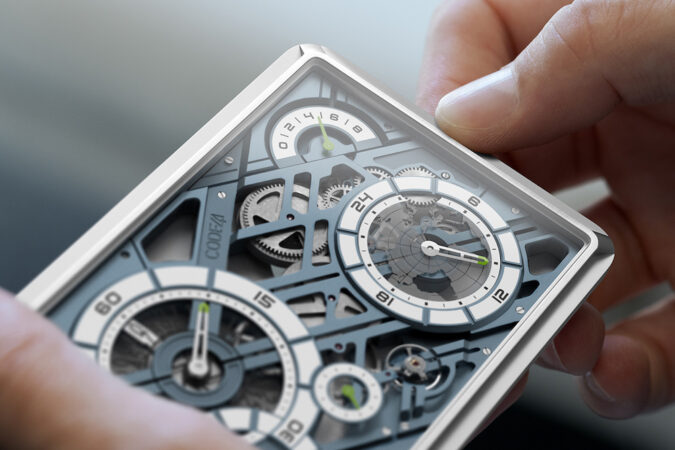 As Natural And Intuitive In The Hand
Looking good isn't enough as far as the CODE41 Mecascape is concerned. Even the etching of the world map, subtly so on the GMT disc isn't the icing on the cake, either – as neat as it may be. One of the finest traits of the Mecascape is its intuitiveness and ease of use, even though the sci-fi looks of it might scare some people away.  Do ever need to change the date wheel?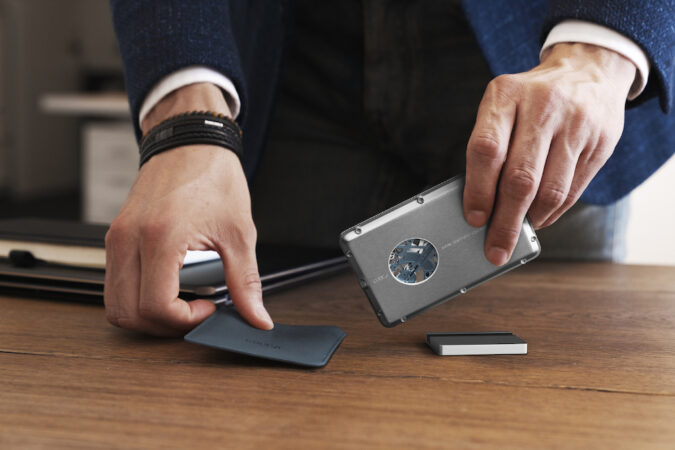 Well, just press a button, and it'll skip to the next day. Do you have to wind up the movement or set a second time zone? Well, there's not just one, but two whole crowns on either side for that – one for the home time, and the other for the GMT. All the while, the crowns have been made larger and are given a ridged surface to make them easier to grasp and hold onto.
The side and shape of the CODE41 Mecascape also make it comfy to lay down on the palm of your hand when you need to read the time. And once you're done, it's just as easy to slide it back into your jacket pocket. To further complement it, CODE41 will launch numerous unique accessories for the Mecascape, such as a leather sleeve and even a desk stand.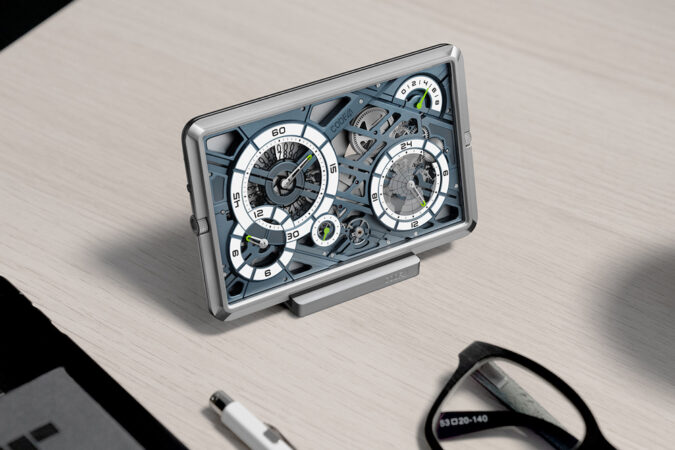 But despite how distinct it looks, the Mecascape isn't some one-percenter watch that you can only dream of. At around about €9,995 (or £9,225), it's a great price for such a distinct timepiece. If you want this fascinating and intriguing mechanical landscape for yourself, you can already join the Sublimation One (Creator Edition) preorder has recently opened.