Motorsport rivalries are endless, and that drama is the sort of high that makes racing such a thrilling event to witness. It turns out that not all racing competition is derived from wheel-to-wheel battles between drivers, or even cars. Sometimes, it's all about the splotches of paint, and the upcoming Concours of Elegance may try to open up some old, but memorable wounds.
Among the nearly 1,000 cars that will be in attendance, at least a couple of them will come from one of the most legendary marques – Porsche. They've long dominated the racing scene, from Le Mans, the World Sportscar Championship, and even rallies. The civil war is just about to brew, as period 1970s racers will come sporting their iconic Gulf and Martini racing colours.
A Battle Of The Colours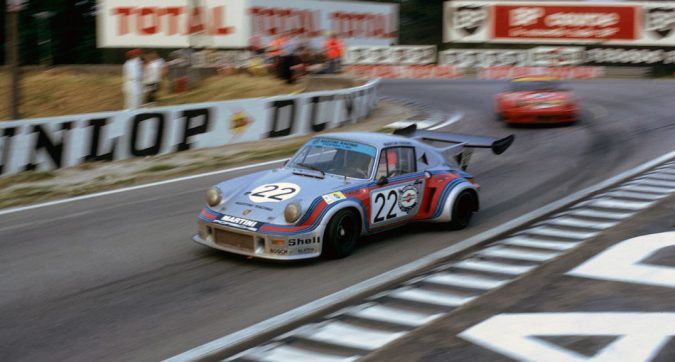 The highlight – and it's a somewhat biased decision on my part – is a 1973 911 RSR prototype car. In 1973, this Martini-liveried car won the Targa Florio. Sitting next to it is a later 1974 911 Carrera RSR Turbo, which is quite distinctive thanks to its gigantic rear wing and flared arches. This latter RSR is what cemented Porsche's prowess with turbocharging in those early days of forced induction.
Following the success of its predecessors, the turbocharged RSR stormed to a second-place overall finish in the 1974 24-hours of Le Mans. Finally, and capping off the Martini side of the family, we have the 1976 936, which later won the 1977 Le Mans. But among a family of winners, the 936 has the distinction of being piloted by the Jacky Ickx, which had a comeback story to die for.
If we're talking about Gulf-coloured Porsches, then it surely can't get any better than the 917K. This technically preceded the 936, and had a then-humungous 5-litre flat-12 engine, contributing to the 917's large aircraft carrier-like bodywork. In the Concours, we'll also get to see the 917's smaller sibling, the 1971 908/3, whose ultra-lightweight bodywork made mincemeat of tight circuits.
Aside from a spyder variant of the 908, there are a few other non-Porsche Gulf cars that you can enjoy, too. These include the aerodynamically masterful Mirage GR8, as well as oddly, an old Mercedes transporter. At some points in history, it had both Gulf and Martini colours. Talk about compromise.