Driven: 2017 Citroen C3 Flair Review
I got to test the new Citroen C3 Flair 2017, here are my thoughts on this colourful car.
What is the New Citroen C3 all About?
The C3 is a supermini produced by Citroen over a decade. Right now, it's one of the busiest segments to compete in, with many other strong options such as Ford's Fiesta, Volkswagen's Polo, and even the Mazda 2. People buy Citroens because they have a certain charm, a personality, if you would and the latest model is solid representation of that.
They've always been the quirky car maker. People that buy Citroens are like people who buys Alfa Romeos or Saabs. They always seem to know something that you and I don't.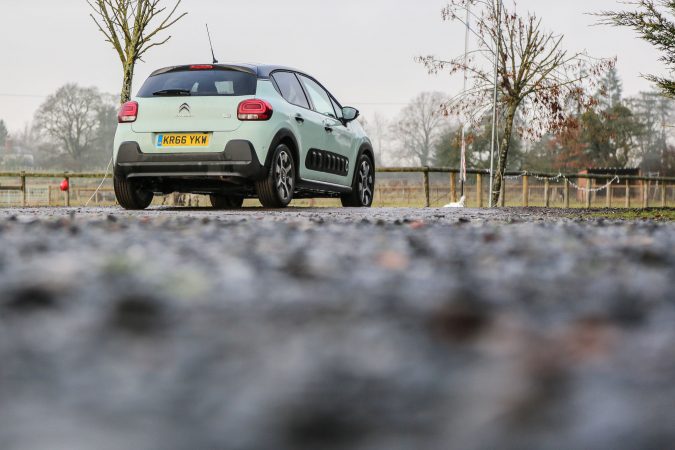 I myself have had some previous experiences driving Citroens, from the nimble C1, to the practical C4 Grand Picasso. While they were not top contenders in their segments, I always end up returning the keys a bit attached to them in the end.
Here is the new Citroen C3, a contender for the supermini segment that has actually been receiving mostly positive comments from many different reviews already.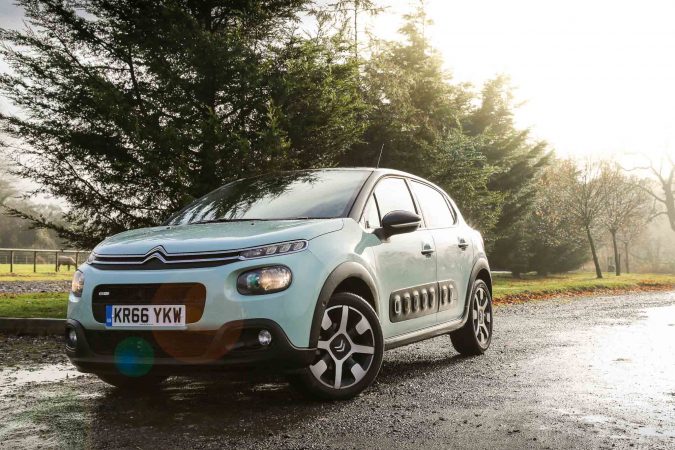 Immediately, you might notice that the C3 looks a bit similar to the C4 Cactus, with the airbumps and dynamic lines. But everything on the C3 have been downsized with the airbumps less prevalent.
It's still a very stylish and good looking car. It looks very modern, and with those slim daytime running lights it will attract quite a bit of attention even parked on the streets. Perhaps its looks won't appeal to all customers, but it's a cool looking car nevertheless.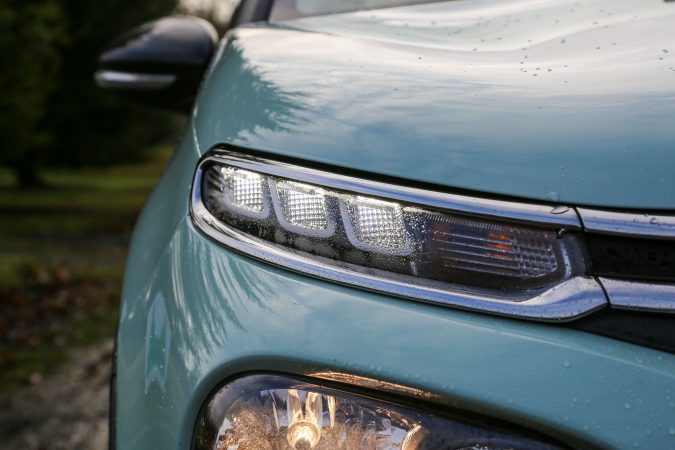 Our model is the 'Flair' trim in a quite unique but subtle colour, Citroen calls it 'Almond Green'. We also have the Onyx Black roof and 17 inch 'Diamond Cut Cross' alloys. The car has black plastic protecting the entirety of the car, so it looks rugged and ready to deal with typical city dings here and there.
It's worth noting that Citroen is big on personalisation, so you can really go to town on your own C3 with the sheer amount of configurable options available.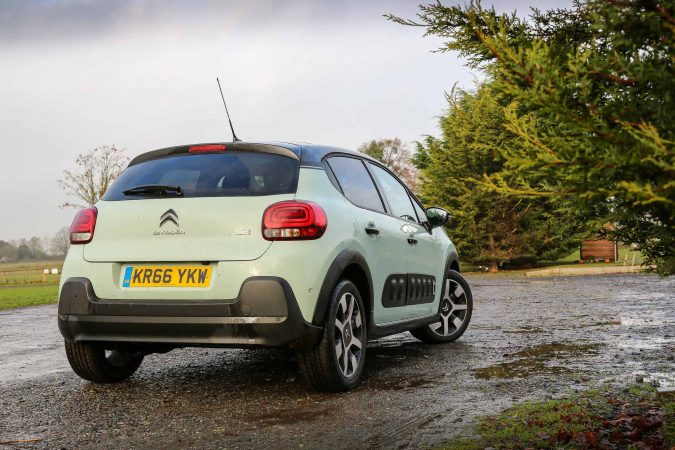 Our Citroen featured the middle of the line engine, a PureTech 110 unit. That translates to a 1.2 litre turbocharged inline-3 petrol engine putting out 110 hp and 205 Nm of torque.
Once again, delivering the power to the front wheel from the engine is a 5-speed manual unit, one we're quite familiar with in previous Citroens. This all comes in tandem to allow the C3 to do 0-60 mph in 9.3 seconds, onto a top speed of 117 mph. It achieves 61.4 mpg and puts out 103 grams of CO2 per km.
Worth noting that the C3 comes with engine options in abundance, from petrol to diesel, manual to automatic, and only on the 'Flair' would you get the signature Airbumps as standard.
How Does it Drive?
The new C3, they emphasized on comfort, practicality and style. So far, they've ticked one of them, so what about the other two? Citroen is trying to put their focus on comfort above handling, so if 'hotness' is one of your requirements, time to look away now.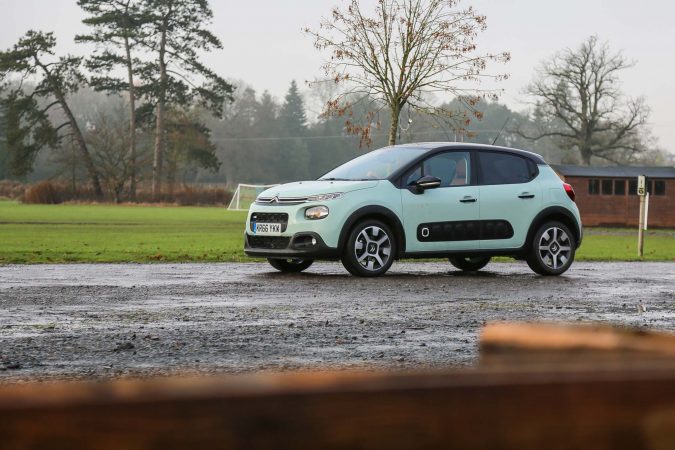 It doesn't have the suspension geometry that'll threaten Rolls-Royce into bankruptcy, but compared to the previous models, Citroen has tweaked the suspension a bit to put more focus into the comfort department and it has worked, the car is super comfy and still drives pleasantly.
Onto the engine first though, the PureTech 110 is actually quite a smooth engine, especially considering its cylinder count. It has enough power to pull the C3 along. You can definitely make swift progress with this engine.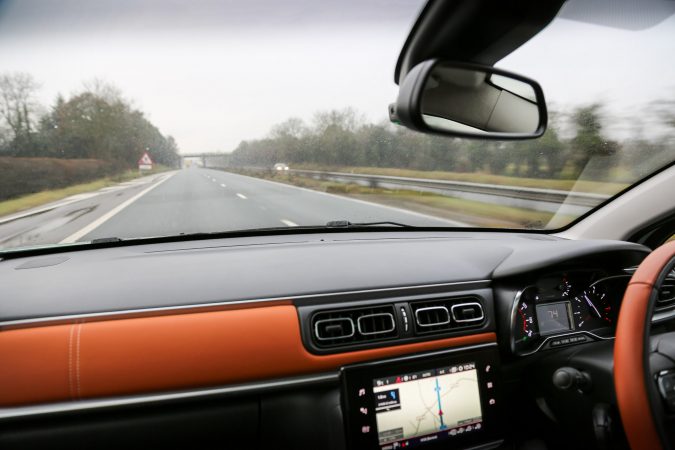 However, while the engine is quiet and smooth at the low end, when revved hard, its three-cylinder nature will show in the form of a strong hum, but I did quite like that sound.
Perhaps, for some, the BlueHDI engines, the diesel variants, will be more of their taste. As diesel engines particularly focus on low-end torque, the BlueHDI unit might be more in line with their emphasis on comfort.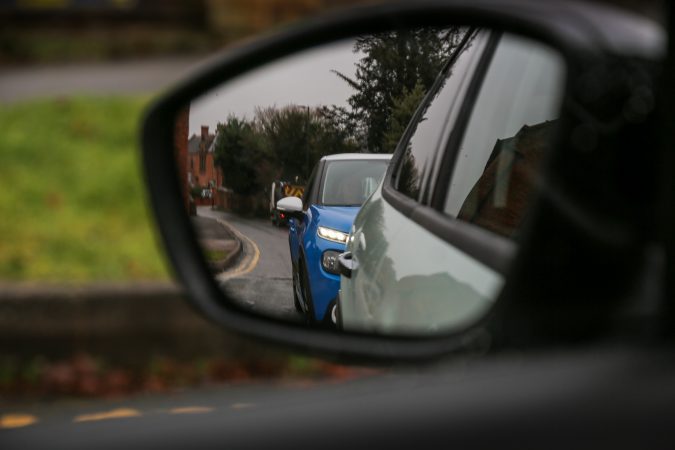 I'd like to mention that the gear box is not the most inspiring to drive but certainly suits the comfort-focused approach. The automatic version will probably be a different story though, as it's an improved unit from the previous models, with a reportedly smarter and quicker shifting. This should be available from February 2017.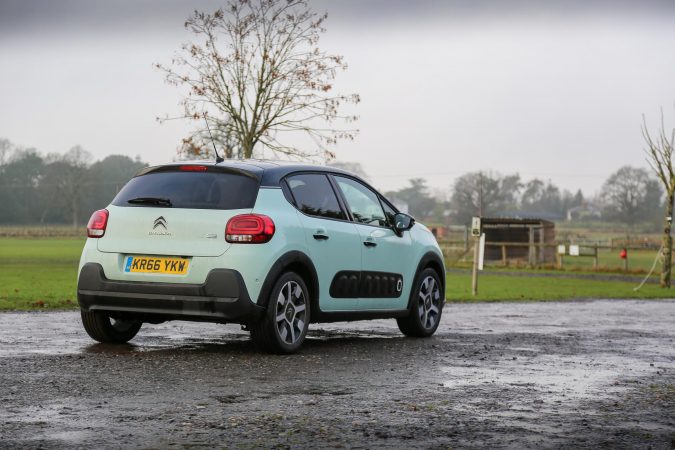 For the most part though, Citroen has achieved what they wanted to. The car absorbs bumps in the roads really well for such a small car. In the corners though, if you push it, you will notice that the C3 does have body roll, nevertheless, nothing tiring though, a good trade off for comfort I feel.
The steering, for the most part, is good. It's accurate, but not exactly the epitome of feedback. It's a quite relaxing car to drive, given that spirited driving is not your main purpose, the C3 would do very well as a city runabout. So consider the comfort box checked.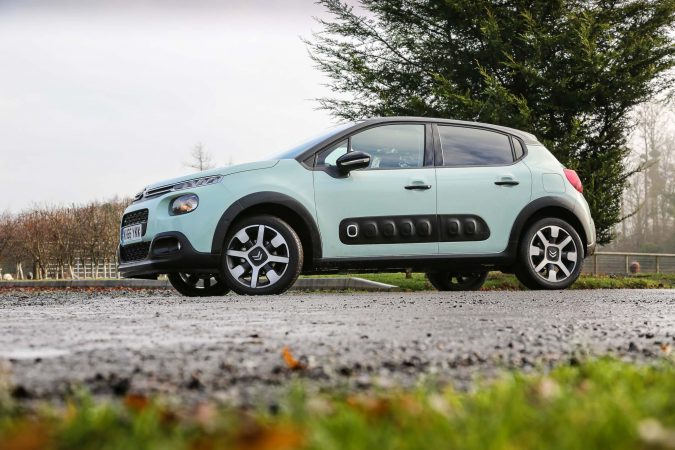 What's it Like Inside?
The next thing in the agenda is practicality. Space is a big concern for many when buying a supermini, as they feel the car will be cramped. However, Citroen is confident in their smart design and clever storage management as a workaround in the C3.
The interior of our C3 is quite unique. It's a blend of grey with contrasting lively orange. Intriguingly, however, I feel that this is actually a good looking combination. It's a minor stylistic remark to brighten up the typical boring interiors of many other budget cars, but the C3 is surely something different.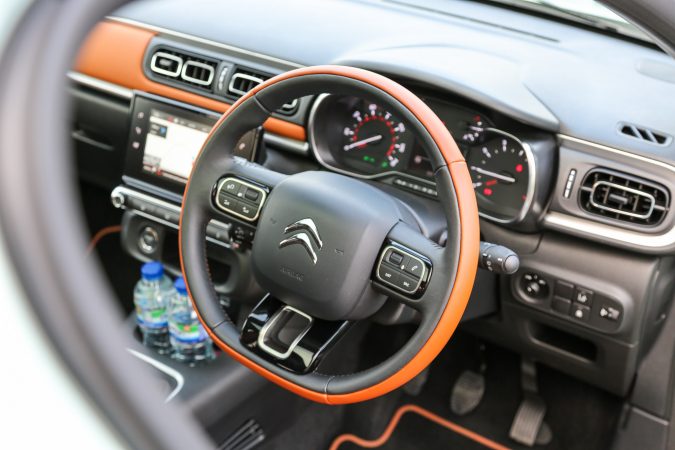 It's a welcoming interior. The colours are warm, the seats are very soft and comfy, again, displaying Citroen's focus on comfort. The steering wheel bolsters are thick and feels good to grab. The centre console is quite simple, with very little buttons.
Most of the controls are handled by the 7 inch touchscreen in the middle of the console. Again, plastic is used often in cars like these, and the C3 is no exception, however, with some smart managing, Citroen managed to keep the C3 from feeling cheap.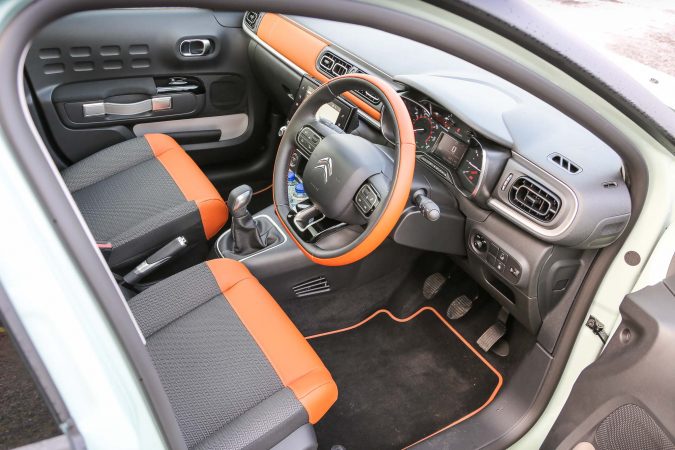 If looking at those photos don't tell you that the interior is funky, may I introduce you to the luggage style door handles. It's an interesting touch, and certainly adds that much character to the C3, telling you that this is a car that wants to go somewhere all the time.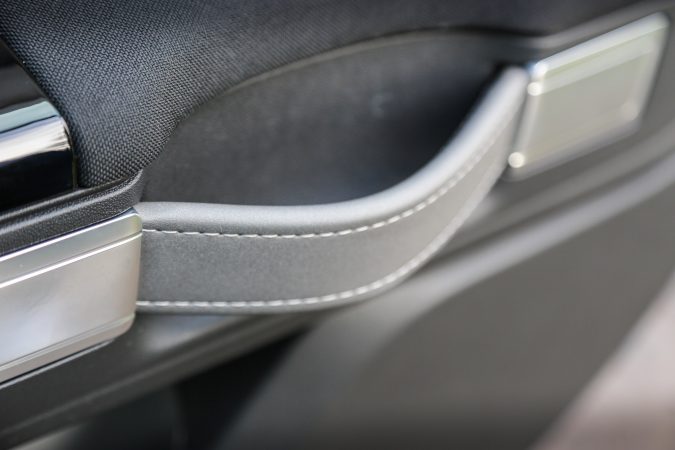 Also interesting to note is that Citroen offers something called ConnectedCAM for the C3. It is a camera fitted behind the rear-view mirror to film what you're seeing throughout your journey, and also acts as a car video recorder, recording accidents for insurance usage, which instantly is valuable on our busy roads.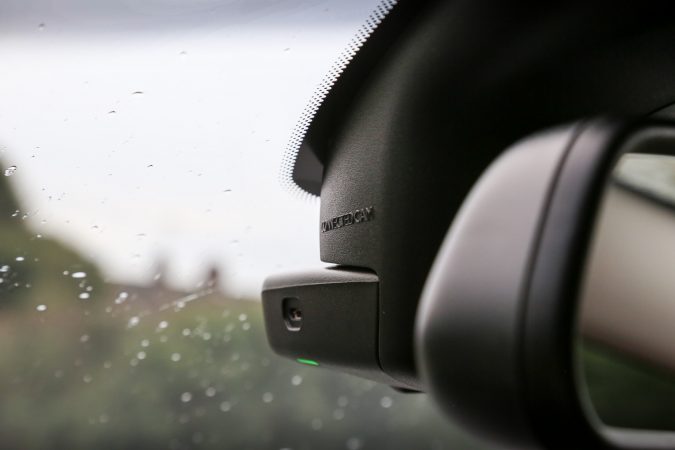 The camera also shoots decent enough quality, you can see what you need to see. It's on par with most full HD car dash cameras you see on the market today.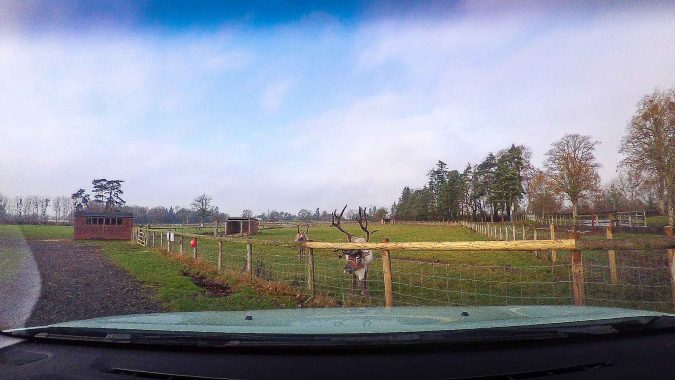 The load space of the new Citroen C3 can haul 300 litres worth of cargo with the seats up, and up to 922 litres with the seats down. This is considered to be above average in its segment, and with a lot of storage holes throughout the cabin, storage is certainly something that is offered aplenty with the C3.
The Experience
Driving the C3 I feel quite special simply because there's not many of these on the roads. The looks of the car is something that will differentiate it away from all the other common superminis. People might even talk to you about your C3 while driving it.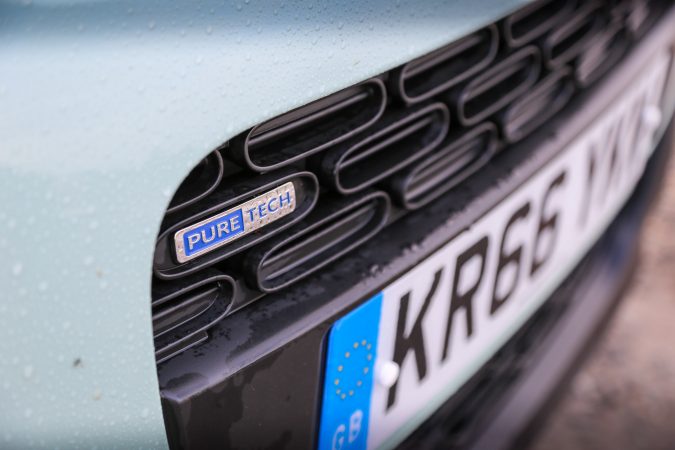 It's a great car for its purpose. It's comfy and the engine is smooth if you keep it reasonable. It's a supermini that merits your attention. Plus the cabin can seat 4 adults relatively well.
Verdict
The C3 is, as Citroen states, a fashionable car. It's a solid contender in the market, and certainly has its own niches for it to carve out a spot in the segment. It's far more interesting than many other options you can go for when you're considering a supermini, and that is why Citroen attracts certain customers.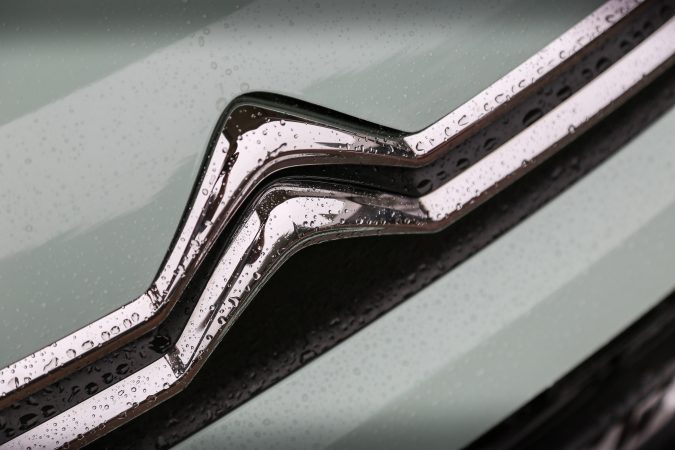 I do hope that Citroen can do well with their new lineups, if you want a supermini that'll never look boring, while offering good comfort and storage space, as well as a plethora of customisation options, look no further.
Video Highlights

Specification
2017 Citroen C3 Flair
Price: £15,995
Engine: 1.2-litre turbocharged inline-3
Power: 110 hp
Torque: 205 Nm
Transmission: 6 speed manual
0-62mph: 9.3 Seconds
Top speed: 117 mph
Weight: 1,050 kg
Economy combined: 61.4 mpg
CO2: 103 g/km
Author: Paul Hadley