2017 Isuzu – D-Max Arctic Truck AT35 Review
After one week testing out the 2017 Isuzu D-Max Arctic Truck AT35 here are my thoughts on this rugged workhorse and why you will want one.
What is the 2017 Isuzu D-Max Arctic Truck AT35 all about?
The Isuzu D-Max has been around since 2002. The pickup truck meets a direct need for large cargo transportation but still with the benefits of car-like comforts such as heated seats and a good driving position.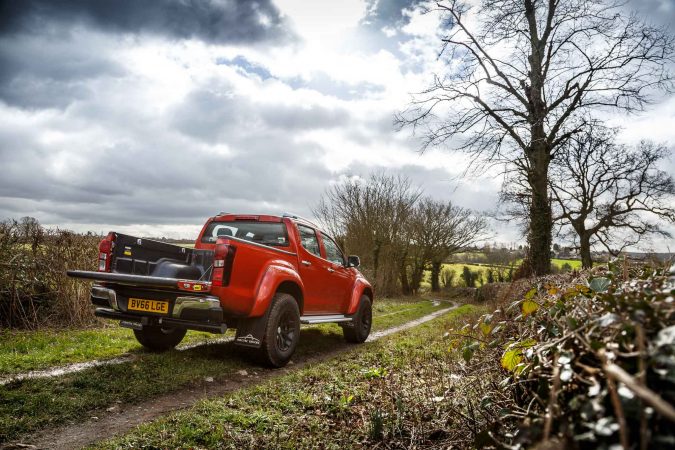 The D-Max presents a vehicle that has lots of load space, great performance, great economy, a clever four-wheel-drive system and space for 5 people. This truck ticks a lot of boxes and does so exceptionally well. However, the version we are testing here is no normal D-Max. This is the Arctic Truck AT35. It is a D-Max on steroids. Take a look at the car and you will notice huge arches, massive tyres and a lift of 125mm over the original D-Max. What a beast this car is.
Under the bonnet there is a twin turbo 2.5-litre diesel engine that creates 163 PS and a healthy 400Nm of torque. All that power drives a clever drive train that switches from 2WD to 4WD at the turn of a knob, ready for rough conditions. If you are towing there is also a low range gearbox allowing you to get the most out of the power. Thanks to typical diesel traits, it emits 220g of CO2/km and gets 33 combined mpg. During my testing this truck seemed to be shockingly economical.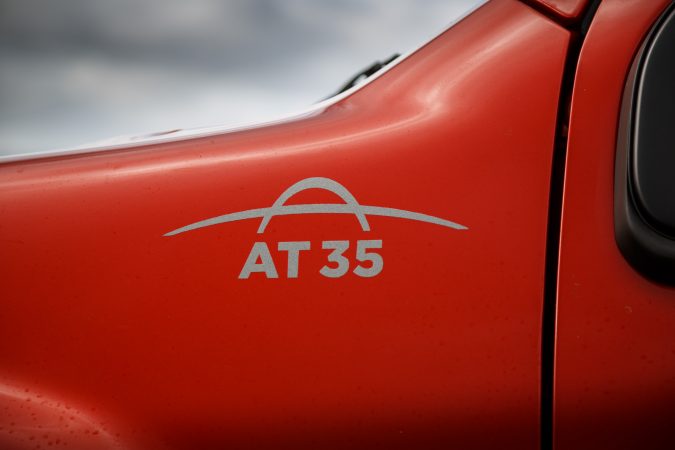 How does it drive?
To get inside the D-Max Arctic Truck you have to take a large jump, even when using the side step. Once inside you sit at a great height that can't really be compared to any car. The D-Max on test was fitted with a standard key ignition that fires up the 2.5-litre diesel engine. Stick the car into first and once moving you instantly notice that the Arctic Truck has a lot of van-like driving characteristics. Let's not forget it still has to cater for heavy cargo loads. And the suspension can be pretty hard as well. When you look in your mirrors you will notice the length of the truck goes back pretty far. This is a huge truck.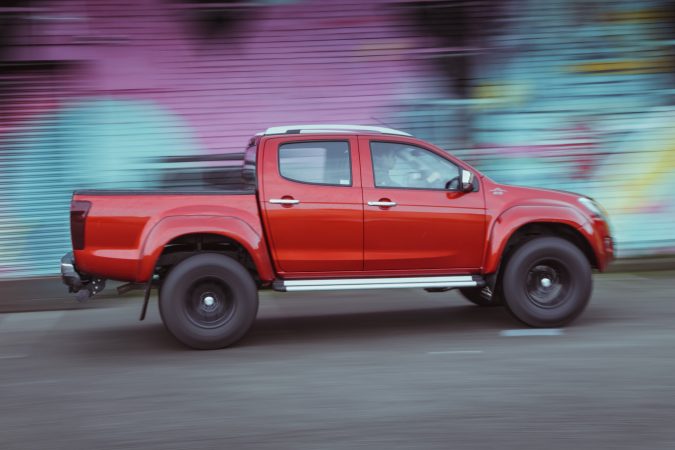 The 2.5-litre diesel engine is a punchy unit. The torque delivery from the car is extremely powerful when you are on boost and when you put your foot down the truck will get up to speed in no time after you have shuffled a couple of gears. There is noticeable turbo lag in the truck, but adjusting your style of driving will soon combat this. The engine noise is present in the cabin, but knowing how capable the truck is you can soon learn to look past this.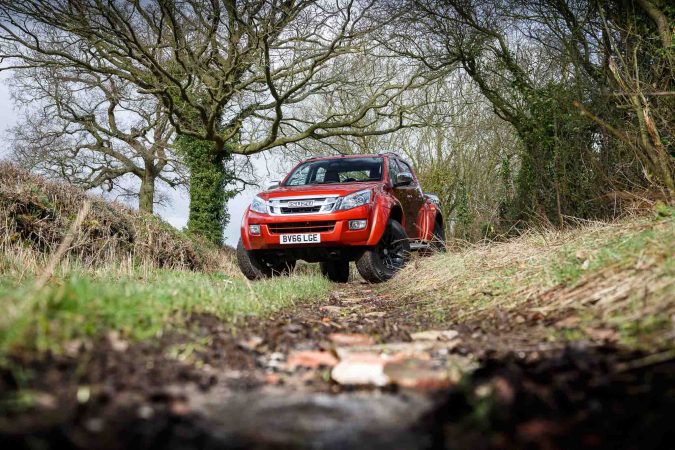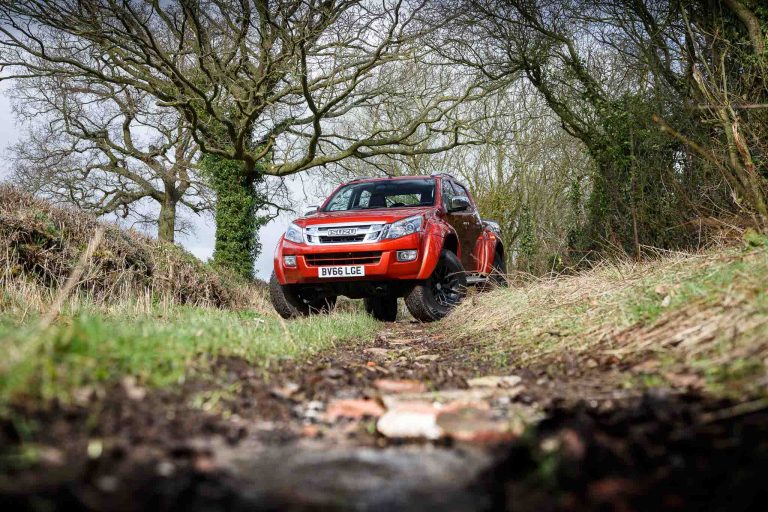 The gearbox set up in the D-Max is really good for moving the heavy truck around. On the motorway the revs sit nice and low and you have to be doing over 65mph to even think about using 6th gear, which reduces stress on the engine and makes the cabin a fair bit quieter on a fast motorway cruise.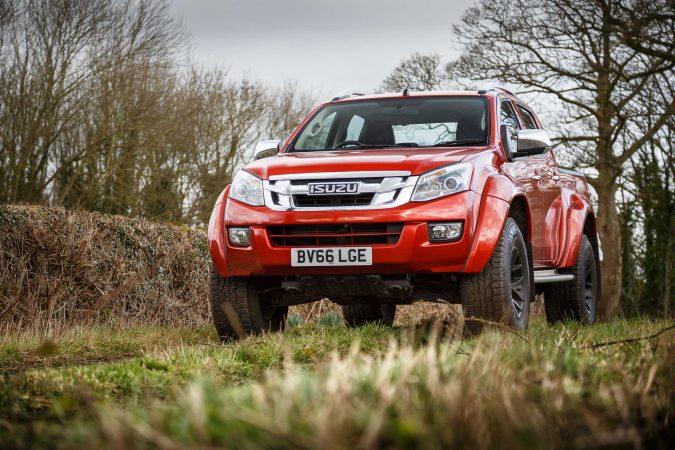 When things get a little bit rough and you find yourself off-road in the D-Max AT35 a simple touch of the drive system dial in the middle allows you to switch from two-wheel-drive to four-wheel-drive for when you are in serious trouble. On the road you will tend to use 2-wheel-drive for general use due to the better economy it offers. However, there is no doubt that the D-Max with its 4-wheel-drive system could easily take on some fairly major obstacles, especially with its knobbly tyres, as you would expect from a commercially focused vehicle.
What is it like inside?
The interior of the D-Max is basic and hard wearing as you would want it to be. The seats are wrapped in hard wearing leather which feel great to sit in. The dashboard layout is simple yet effective allowing easy operation of all the controls. There are a few luxuries but heated front seats is certainly a great option for an Arctic Truck for sure.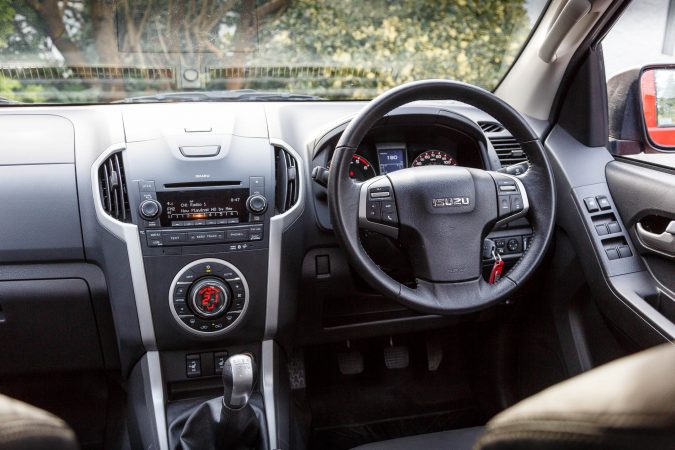 The media system in the car is very primitive, but does have bluetooth connectivity which is always a bonus. In the back, there is plenty of room whether it is for your workforce or your family.
The Experience
I think anyone who is into cars will really appreciate a giant truck even if you don't actually have a genuine reason to own one. The Isuzu D-Max Arctic Truck AT35 looks cool, it demands respect and you have more room than you will ever need in the back of it.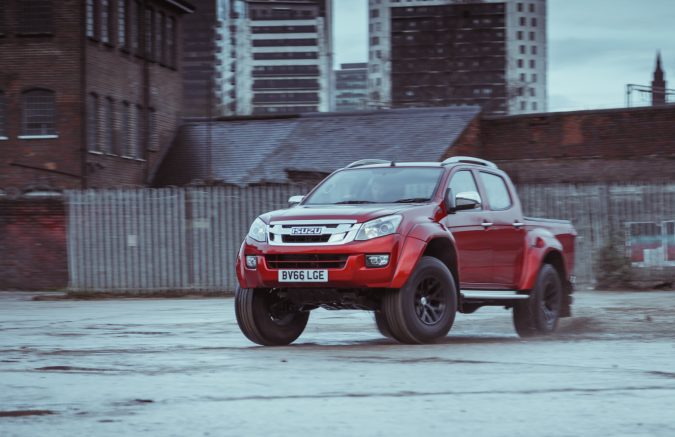 Verdict
The D-Max Arctic Truck AT35 looks and feels like the king of the pick up truck world. It can cope with a 1 tonne payload, hold 5 people in the cab all whilst taking on some very tough terrain. If this car doesn't meet your needs then I don't know what will. For me, I just love how this car looks, whether or not you need what it has to offer you will still want one.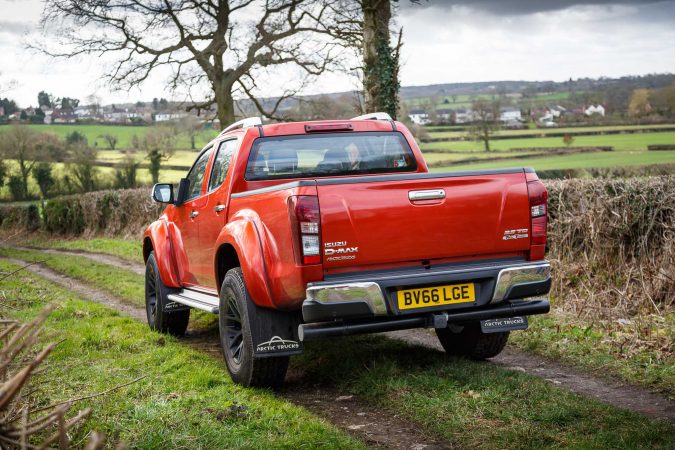 Video Highlights

Specification
2017 Isuzu – D-Max Arctic Truck AT35
Price: £34,999 
Engine: 2.5-litre Diesel
Power: 163 PS
Torque: 400 Nm
Transmission: 6 Speed Manual
Weight: 1,992 kg
Economy: 33 mpg
CO2: 220 g/km
Author: Paul Hadley