Driven: 2017 Renault Clio RS 220 Trophy Review
I had a chance to take the new Renault Clio RS 220 out for a drive. So, here are my thoughts on this hot hatch.
What Is The 2017 Renault Clio RS 220 Trophy All About?
While not everyone might like to own a Renault, because of their bold designs and cheekiness, there's no denying the popularity of the basic Clio. It was first introduced back in 1990, and boy did it hit the spot. It was almost instantaneously voted as European Car of the Year, and it really kept Renault up there as a French giant.
Maybe you aren't quite as fond of the normal Clio, as a petrolhead, you demand more than a city dwelling supermini. Well, Renault definitely thinks so too. How else would you explain the Clio Williams? One of the homologation specials that achieved cult following and remains to be consistently voted as one of the greatest hot hatch. Or the Clio V6, and the countless RS editions.
Moving on, when Renault introduced the Clio RS 200, people liked it. It handled well, and had a new efficient engine in it. People wanted more power though, as the RS 200 only had that bit more torque than the previous N/A 2.0-litre.
So Renault heard the people rioting, and responded with this, the Clio RS 220 Trophy.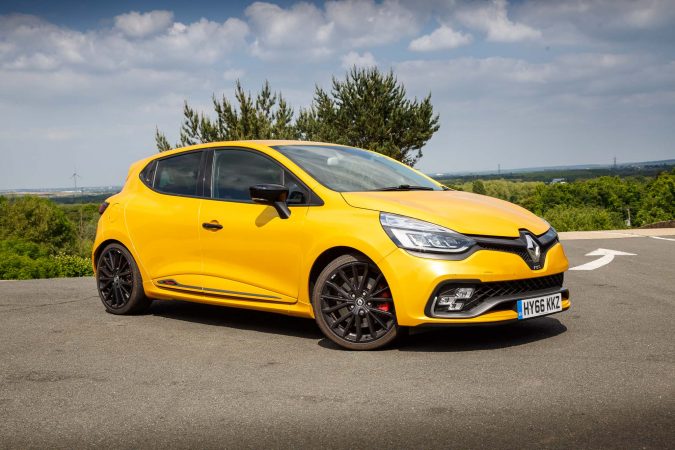 Nothing really changes from the RS 200. But then again, there's no need to. Lately, I think Renault has been putting out some pretty handsome cars, and the RS 220 Trophy is no different. Especially when painted like ours, Liquid Yellow.
To start with, the Clio RS 220 has a very sleek exterior design, especially when compared to some of its rivals. Everything is sanded off and polished to make the RS 220 an appropriately rounded and balanced car. Also, the new Clio RS is the first Clio RS to be exclusively sold in a 5-door configuration, but that doesn't mean the Clio RS looks any less sporty.
In addition to the design that we're already familiar with, there are bold and potentially controversial Trophy badges above the door sills in red. Now, you get 18″ wheels and the Clio RS 220 sits lower than before. Those are all minor touches, but features that the Trophy buyers will appreciate.
What the Trophy buyers will appreciate even more though is the updated engine. It's the same Nissan 1.6-litre turbocharged inline-4. But now, instead of the 200 horses that RS buyers are familiar with already, it has been beefed up to output 217 bhp and 280 Nm of torque. Now that's more like it.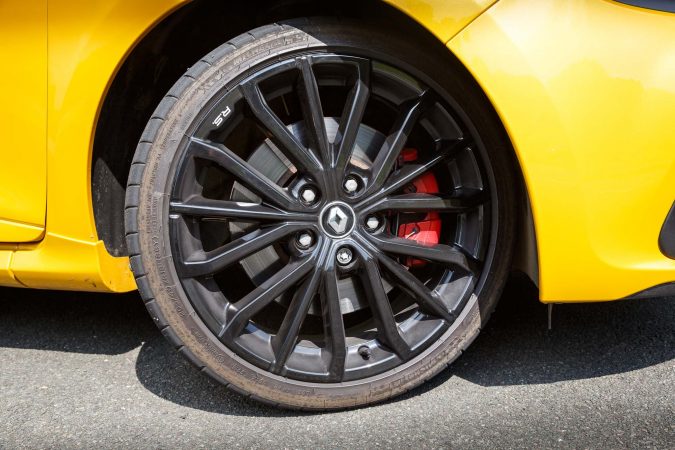 As per usual, the EDC 6-speed dual clutch is mated to the engine, and it spins the front wheels. All in all, it will propel the Clio RS 220 from a standstill to 62 mph in 6.6 seconds, onto a top speed of 146 mph.
Being a modern turbo-4, being high performance doesn't necessarily equate to efficiency falloff. The Clio RS 220 puts out just 135 g/km of CO2 and achieves 47.9 mpg. Pretty good figures. It's also slightly faster than Ford's new Fiesta ST200, that costs £300 more at base.
How Does It Drive?
The driving experience is what the Clio RS 220 is all about, as it sets out to rectify the RS 200's shortcomings. To start with, the engine. The bulk of the torque comes in the lower third of the rev range. Throttle response has been sharpened too.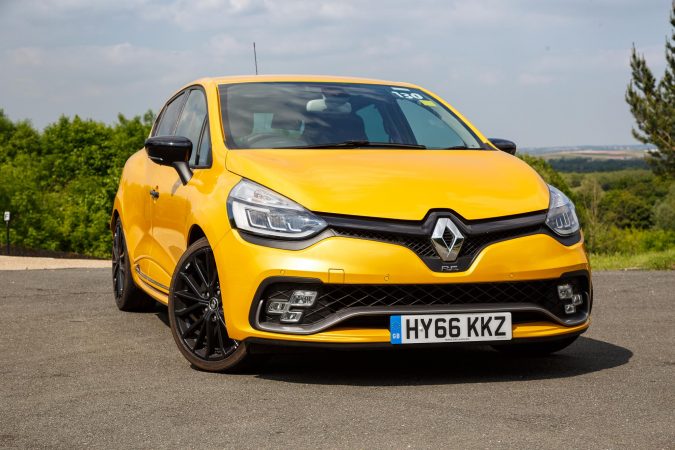 The greatest thing about this car though, is the optional Akrapovic exhaust. You'll need to shell out £900 more for it, but do it. Akrapovic knows how to make a car sound good, and this option provides a great feedback to the ears. It even pops on upshifts out of the Normal driving mode. Careful, it can be addictive.
The Clio is a solid base for a sporty hatch. Otherwise, Renault Sport wouldn't be putting out all those RS models over the years. It was a real zesty supermini that delivers driving pleasure in strong feisty punches. You'd always dream about banging the redline and satisfyingly shifting the gears into place.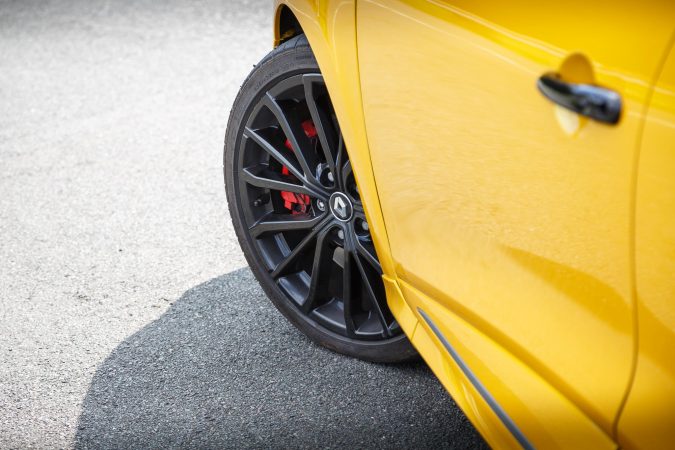 Now with faster steering, lower and stiffer suspension means that the RS 220 is even quicker and swifter on its feet. The car is always ready for all your unexpected steering inputs. There isn't torque steer to speak of, and all the gears really shift in place once you put the driving mode to 'Sport'.
It is a sharp driving car, make no mistake. Everything feels stiff and rigid, and the front end grip is plentiful. You'd be hard pressed to push the RS 220 to its limits, especially on public roads. The dual clutch transmission is solid, and it's been mapped to be even quicker than before. It brakes well, and the steering feeds you with lots of information.
Losing the manual is a fair trade off for fast drivability. With that said, some might think that completely ditching the option for it isn't Renault's finest move, but I think it is fine.
What Is It Like Inside?
Inside the Clio RS 220 is also suitably sporty, just like the exterior. The seats used in the Clio RS 220 are semi-buckets for the front. It's partially woven in cloth, but it feels nice. It's stitched in red with a red R.S. logo on the headrest for that extra bit of sportiness. The seats are comfy and hugs you nicely around corners.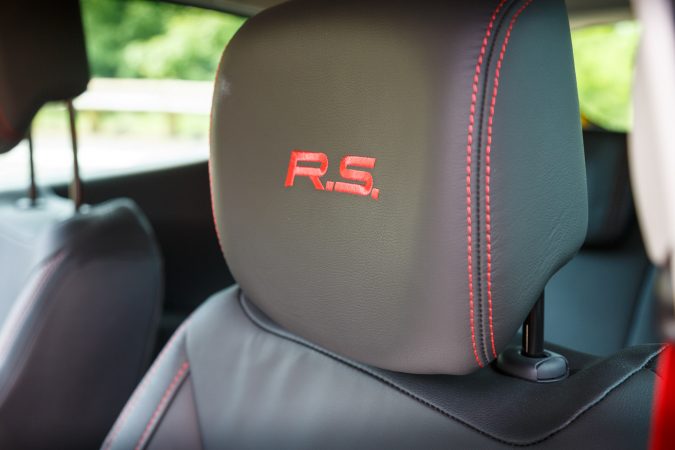 As per usual, the steering wheel is oversized. While it's leather, has the R.S. logo on the bottom and is stitched in red also. Look just behind and you will find those two nice paddles. What I quite liked though is how Renault kept the steering wheel tidy with only a few buttons on it.
The instrument cluster is great too, there is a centre LED display that showed the speed of the car. It's big and bold and easy to read. Of course, all the needles are in red. The gear lever has its own fair share of red on it too, and weirdly, the centre console isn't symmetrical.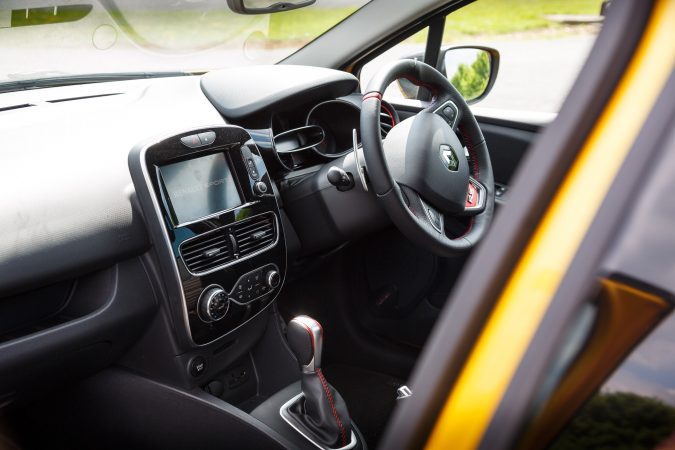 However, the 7″ infotainment system contains all the fun. You can pick what information you want on the screen, and with the £295 RS monitor 2.0, you can have it show G-forces, boost, power, and even record lap times.
The Clio RS 220 can carry 300 litres of cargo, if you fold the rear seats, it expands to 1146 litres.
The Experience
Driving a Clio RS 220 is very much enjoyable. It doesn't stick out that much around urban streets, and on the B-roads, you'd be glad that you're driving one. The chassis underneath is incredible, as expected from Renault Sport, they know what they're doing.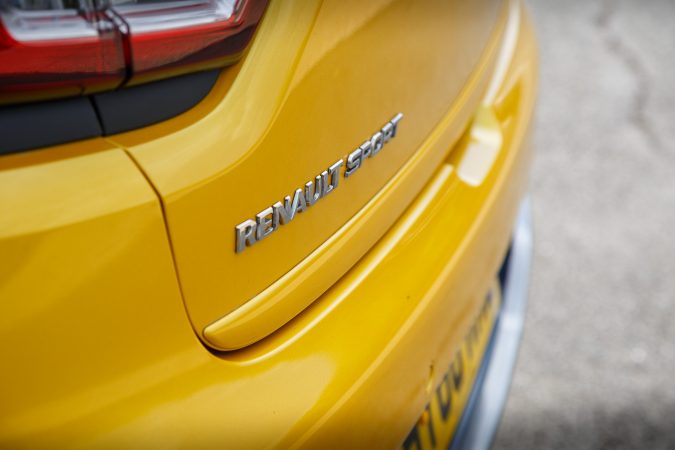 Many people will be quite satisfied with the Clio RS 220 as a daily driver. It handles exceptionally, it's well made, practical, efficient, relatively quiet, and while sporty, it is still quite comfy. In traffic, you'd definitely be glad about the EDC gearbox. Furthermore, it addresses the RS 200's lack of go.
Verdict
With all that said, I think I fell in love with the Clio RS 220. Over the years, the Clio RS has certainly grown bigger, fatter and well, better equipped. I love the EDC box and how it puts the power down.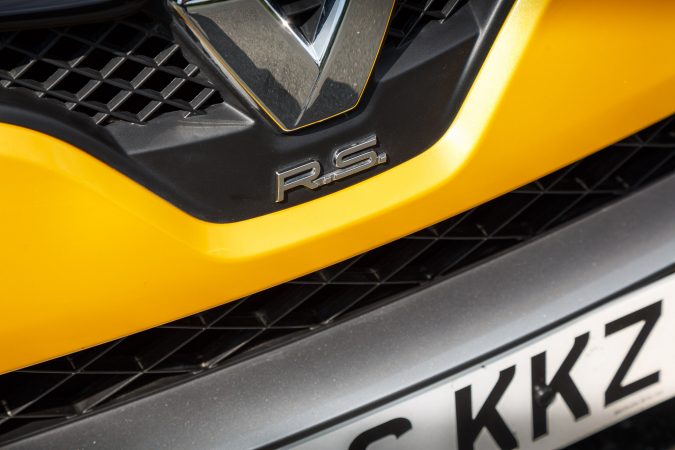 I respect Renault for daring to make changes. Maybe they'll introduce the RS 1.6 they've been teasing us on, and bring back the manual, we don't know.
It's not a cheap car, at £22,775 base, our Clio RS 220 was equipped with a few options, and that brought it up to £25,520. Competitively priced, some might say. Some buyers might just dive in, for the real hardcore folks though, they're probably still lingering for the RS 1.6.

Specification
Renault Clio Renaultsport 220 Trophy
Price: £25,520
Engine: 1.6-litre turbocharged inline-4
Power: 217 bhp
Torque: 280 Nm
Transmission: 6-speed EDC double-clutch automatic transmission
0-62mph: 6.6 seconds
Top speed: 146 mph
Weight: 1,090 kg
Economy combined: 47.9 mpg
Author: Paul Hadley