Driven: Ssangyong Korando ELX 4×4 Review
We don't see the Ssangyong Korando on the road too often in the UK, but is this 4×4 worth a look in?
What is the Ssangyong Korando all About?
The Korando is one of Ssangyong's longest lasting models, with 3 iterations over nearly 4 decades. An interesting thing to note though is that the new Korando is the first monocoque chassis production car that Ssangyong has built.
The latest Korando is a good-looking addition to the quite saturated compact crossovers market. Over the years, multiple useful facelifts, such as daytime running lights, have helped to refresh the car and bring it up to date.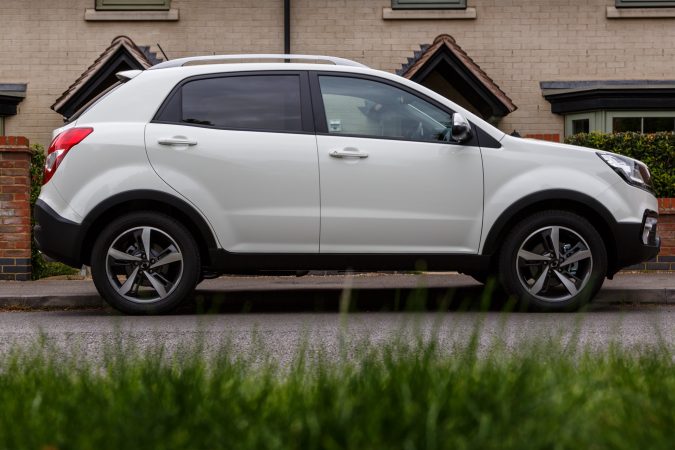 It certainly looks modern and stylish, the kind of qualities people look for in a compact crossover to roam around the city in. It's stubby and fits in with the rest of the crowd. While there's nothing wrong with how it looks, and I think it's good looking, so are many other similar cars in the segment. This means the Korando sadly doesn't stand out enough. In my opinion, you would need a livelier colour than the one we've got, which is 'Grand White'.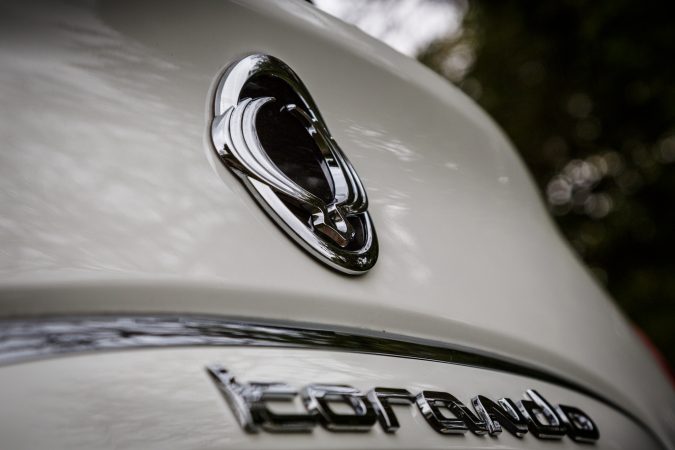 The powertrain unit in the 2017 Korando is the same as in the Musso; a 2.2 litre Euro 6 compliant inline-4 turbodiesel. It puts out 176 bhp, quite good for a car of its size, and 400 Nm of torque, plentiful even in the Musso, which is a much larger car than the Korando.
There is either a 6-speed manual or a 6-speed automatic. Our test model was the manual variant, driving the front wheels with selectable 4×4. Although powered by similar powertrains, the Korando is much lighter than the Musso at 1.7 tonnes. This means a 0-62 mph sprint of around 10 seconds onto a top speed of 115 mph.
Thanks to the lighter body, it achieves 48.7 mpg combined. and puts out 152 g/km of CO2. Not bad, but not fantastic in this segment either.
How Does it Drive?
On the open road, I can tell immediately that the Korando has its strengths in the engine. A strong diesel engine pushing this little car means it can surge pass most cars relatively well. 400 Nm of torque on tap is always a good feeling, though it doesn't last long. Again, turbo lag is sometimes noticeable, but not majorly annoying.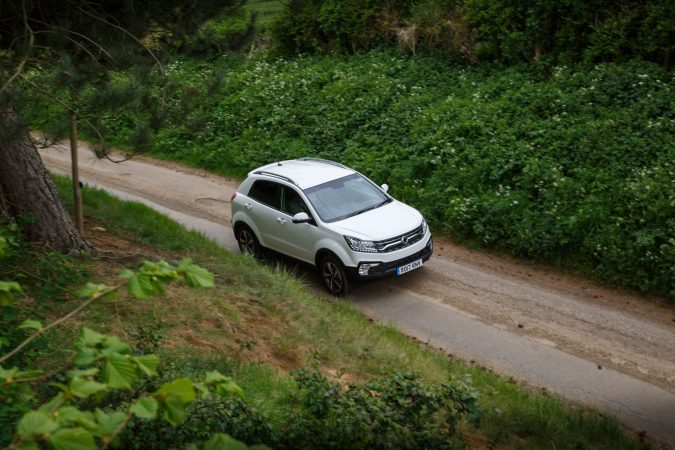 That is to be expected. However, as I was also satisfied with the Korando's performance on the main road, what's important now is the B-roads. Without a doubt, you can move the car along very comfortably and at a good pace, yet the car does feel a bit numb and lacks passion. But of course this car is all about affordable practicality and this is where it shines.
If things get tricky the ELX 4×4 Korando can be put into 4 wheel drive where it will pretty much conquer anything as long as the ground clearance allows. From a bit of testing the Ssangyong brand have certainly impressed me with some great capabilities off road.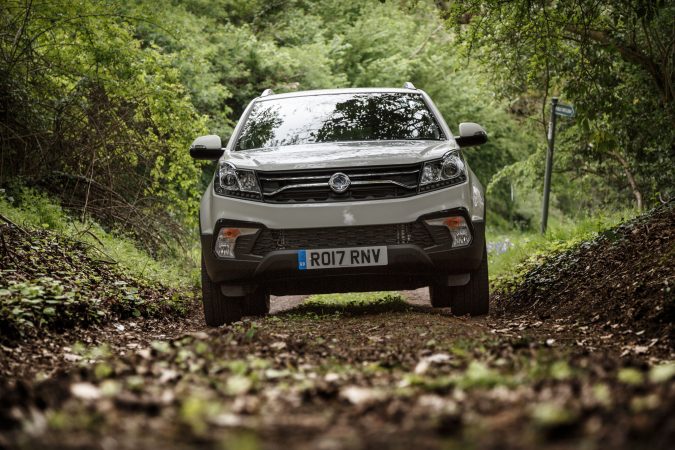 What's it Like Inside?
The interior of the Korando however, is much more conventional. It's just straight up utilitarian and practical, with all the buttons in the right places. Leather seats are available in our Korando, which is a premium touch and even the steering wheel and gear stick are nicely dressed up too.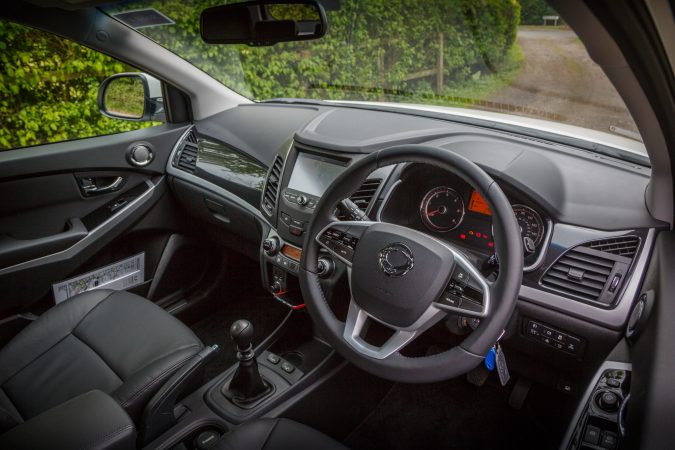 A lot of plastic is still used in the Korando, although this is to be expected given the car's price. Most buyers in this segment probably won't mind. There's now a 7″  touchscreen in our Korando, which isn't bad at all. The buttons are much more accessible to the passengers and simple to figure out. It is very apparent that the Korando is mainly made with practicality in mind, given there are plenty of storage spaces in the cabin as well.
The Experience
Driving the Korando feels really quite average, but there is simply nothing to put you off buying one. There wasn't anything that particularly stood out to me, other than the storage cabin and the punchy engine. It's not a car to be driven fast and harshly. If you take it slow, this little car is a relaxing one to drive, the ride quality is acceptable, and interior noise is very reasonable.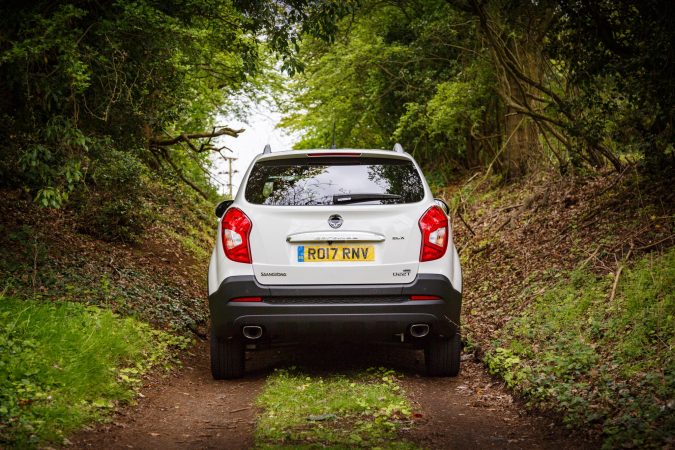 Verdict
So the 2017 Korando is ticking all the right boxes. There's nothing wrong with it and it has the distinct advantage of a low price solid 4-wheel drive. For some people, having all four wheels spinning under power is important and if you are one of those people looking for a affordable crossover, go for it. You won't be disappointed.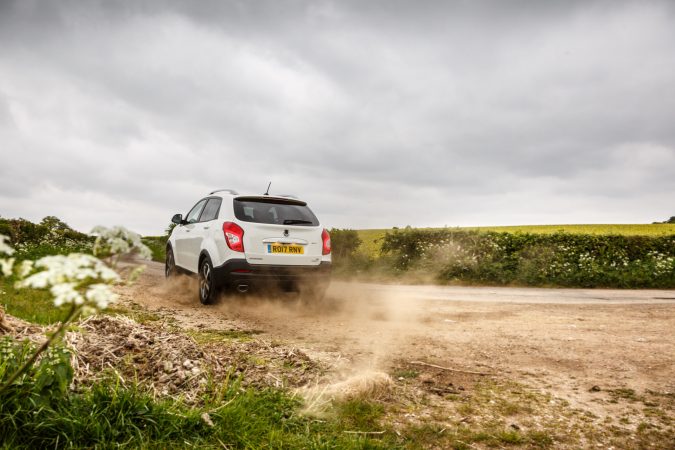 Video Highlights

Specification
2017 Ssangyong Korando ELX 4×4
Price: £22,00
Engine: 2.2-litre inline-4 turbodiesel
Power: 178 PS
Torque: 400 Nm
Transmission: 6-speed manual
0-62mph: 9.9 Seconds
Top speed: 115 mph
Weight: 1,750 kg
Economy combined: 48.7 mpg
CO2: 152 g/km