2019 Ford Ecosport Titanium Review
The SUV market is almost obscenely overcrowded and there are many variations of the SUV that have created their own niches. One of them happens to be the Supermini SUV and Ford's answer to this segment has been the EcoSport. The EcoSport made its debut at the perfect time as interest in such cars was just beginning to heat up but it somehow couldn't leave its mark in the European market.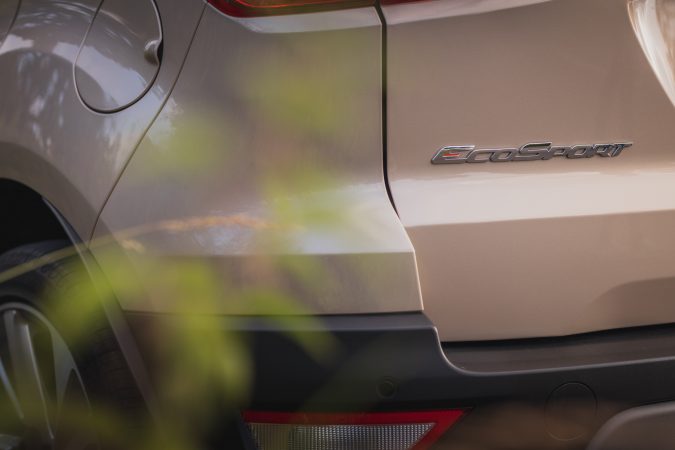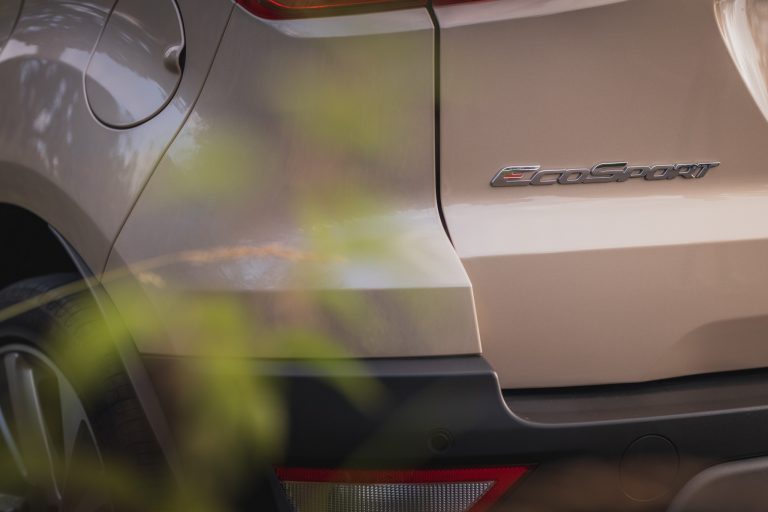 This was mostly because the EcoSports of the past were primarily meant for the Asian markets where road clearance and low fuel consumption take higher precedence over handling and equipment count. Ford has learnt from its mistakes and the 2019 EcoSport seems to be a great option on paper. I took the Titanium trim of the 2019 Ford Ecosport for a test to see if it is something worth getting interested in.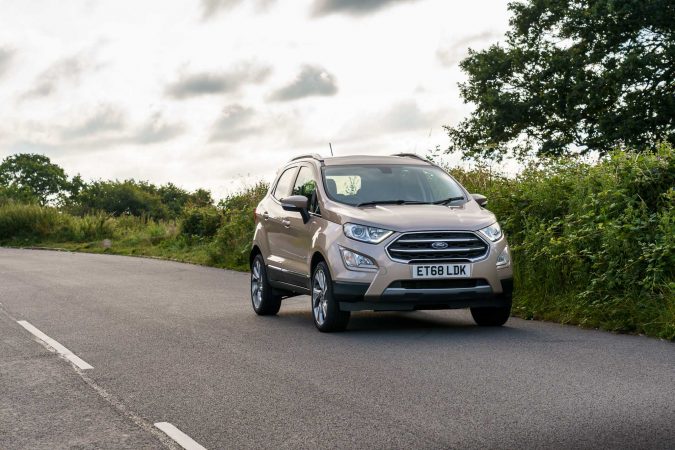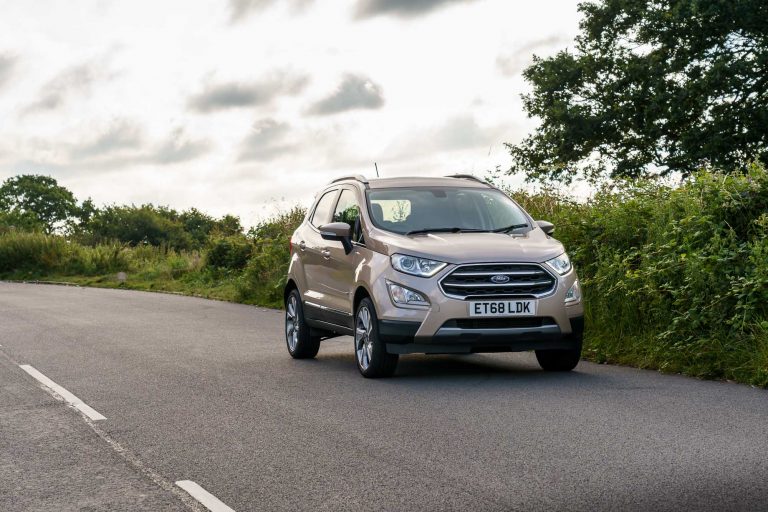 What is the 2019 Ford Ecosport Titanium about?
The 2019 Ford Ecosport Titanium is aimed at people who want an easy to ride Supermini SUV that is affordable, is economical to run and comes with decent features. It is not for the enthusiast and that is okay as most people who buy a car want something that is functional and works in a hassle-free manner. This is immediately apparent in the way it looks. This car stands quite tall and has quite an interesting appearance. The best way to describe it is by calling it unassuming. It is inconspicuous is what it is. It is not ugly and that is good enough for a car in this segment.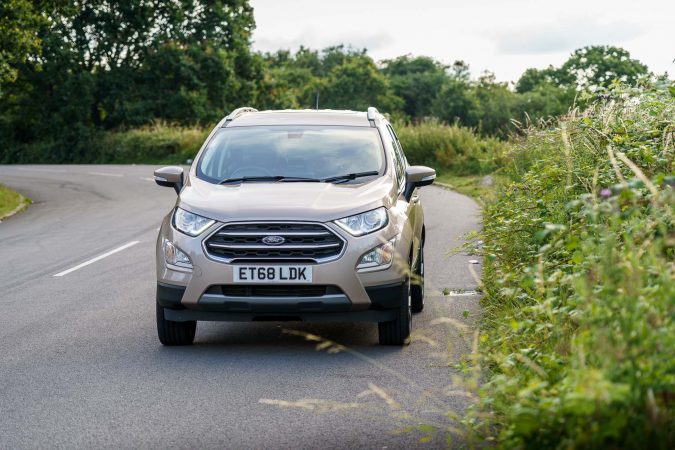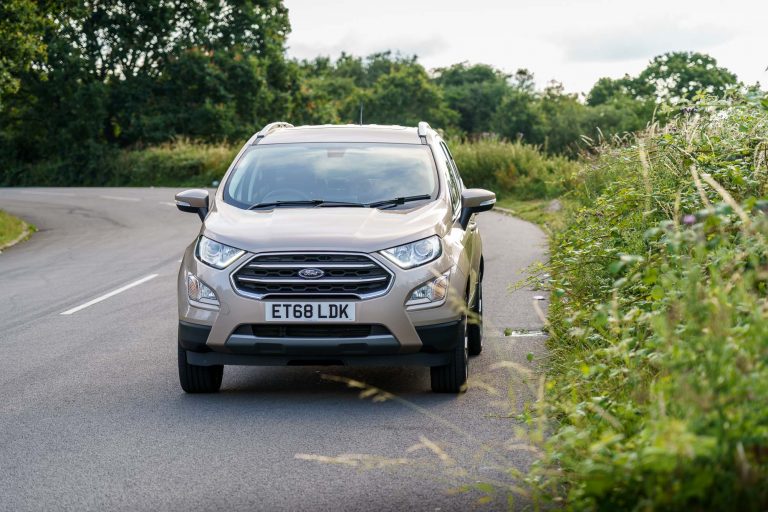 The looks send another clear message and that is that this car has been made on a very strict budget. That can often mean a disappointment on the engine side of things. The 2019 Ford Ecosport Titanium, however, is sufficiently well-equipped when it comes to the engine. The trim that I drove is powered by a 1.5-litre EcoBlue TDCI engine that can generate 125 PS of power and 300 Nm of torque, both of which are very respectable numbers. This engine is mated to a 6-speed manual gearbox. The combined fuel economy of 43.5 mpg is excellent and so is the CO2 at 140 g/km.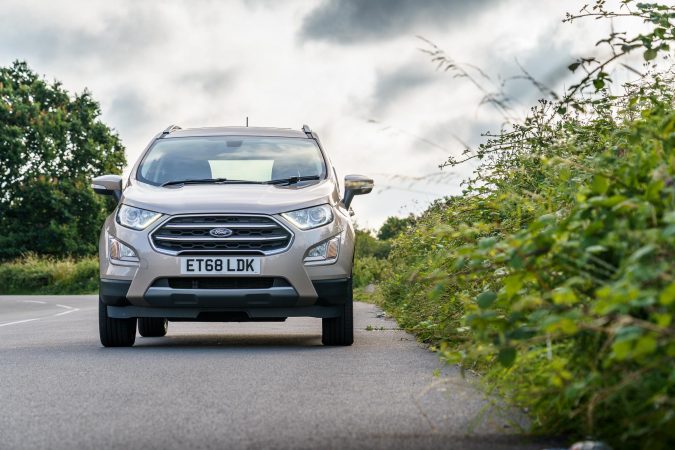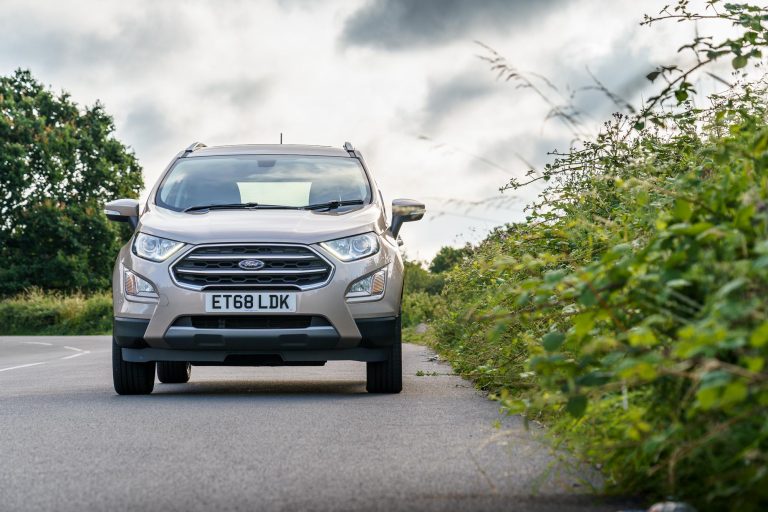 The EcoBlue engine was made for a car like the Ecosport. It is economical, offers decent performance and is durable.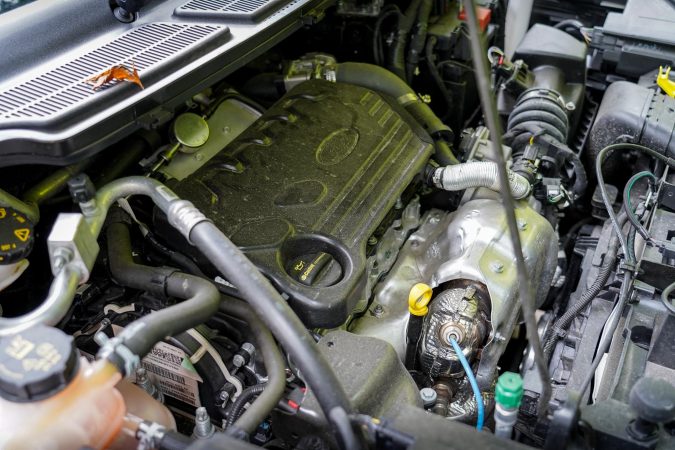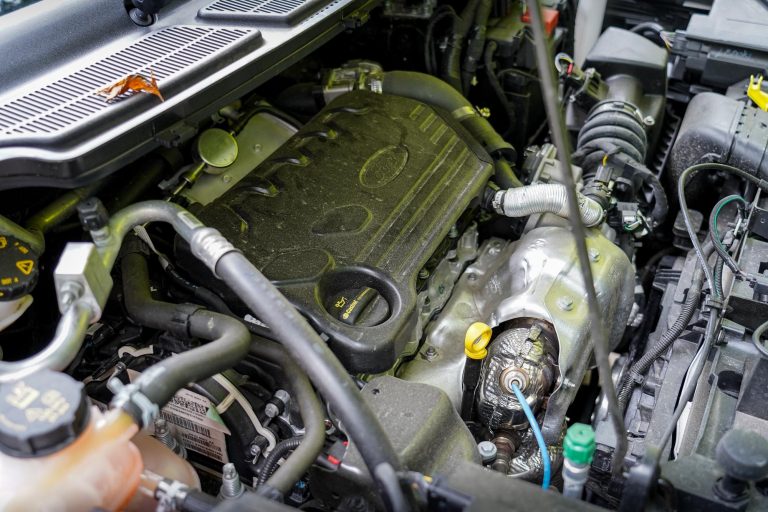 How does it drive?
I didn't expect sharp acceleration of course from the Ford Ecosport, but it wasn't half as bad as I had been picturing it to be in my head. It does feel like an economy engine at low revs as the car seems a bit reluctant to pick up speed but once you cross 2,500 RPM the car really starts shifting and moves along at a good pace, for an affordable small SUV that is. The Ecosport takes 11.3 seconds to go from a standstill to 60 mph. It has a very respectable top speed of 113 mph and the brakes are pretty good as well.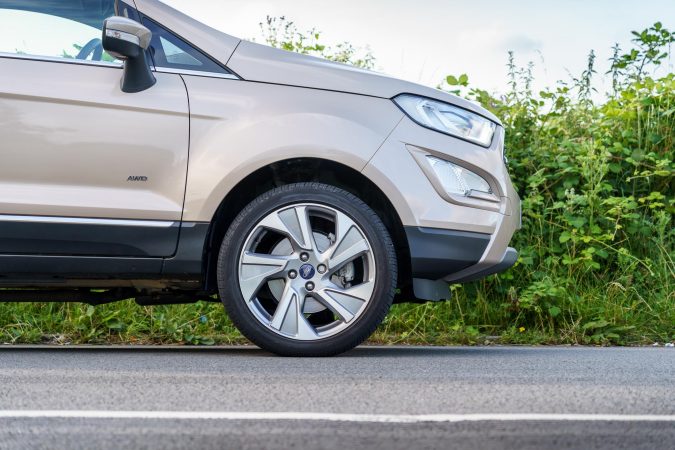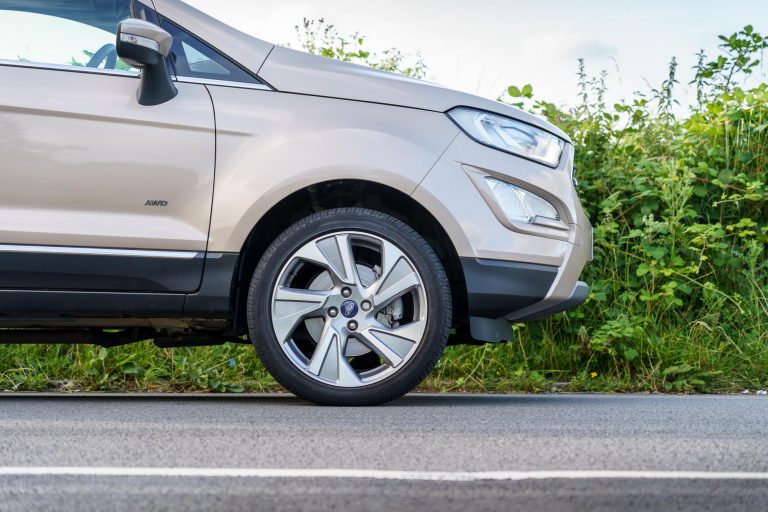 The steering is surprisingly light and that makes it quite easy to drive around for long periods of time. The handling is not that nimble though and there is a sort of detached feeling with how the car reacts to your steering inputs, but this does help enable a comfortable feeling to the car.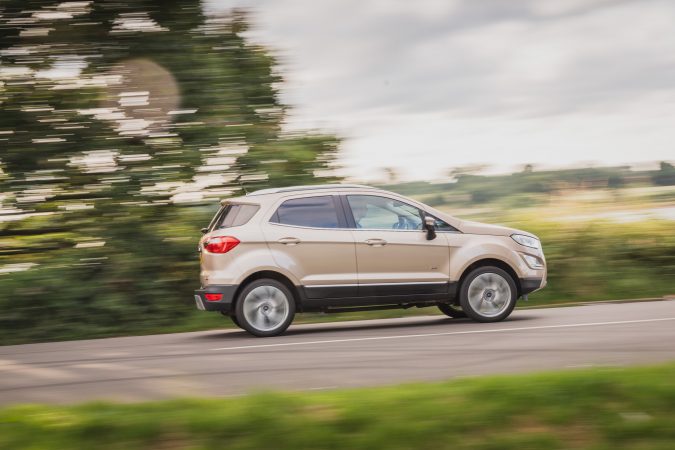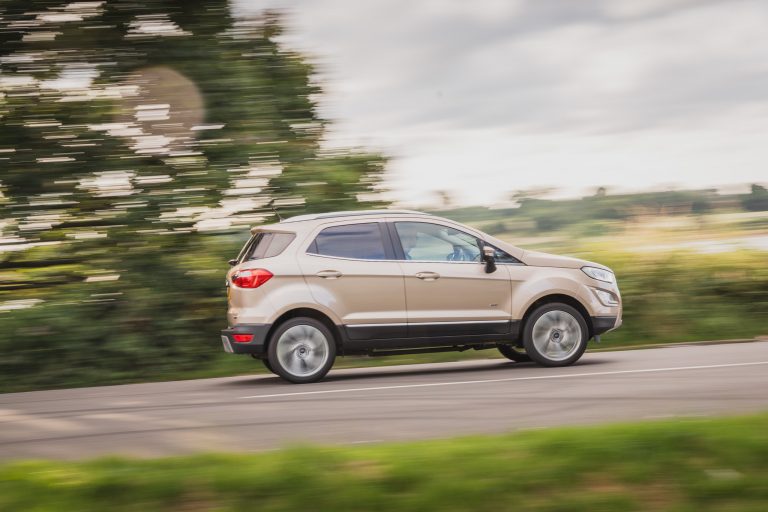 It is a tall car with good ground clearance and that coupled with suspension that is on the softer side means that you can go over speed bumps and potholes without upsetting the ride in the car, on most road surfaces the car is very comfortable.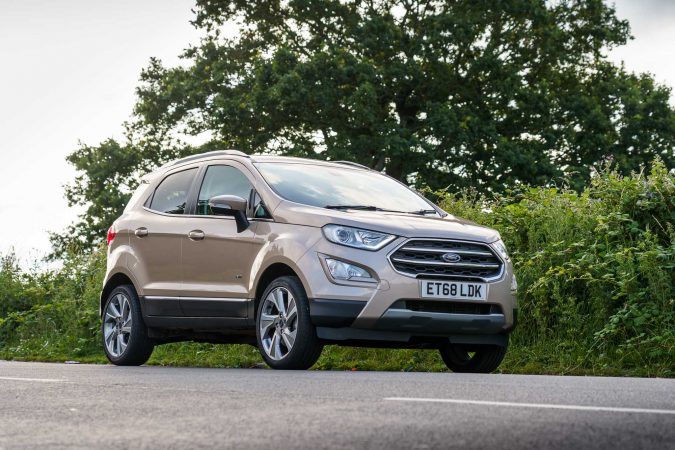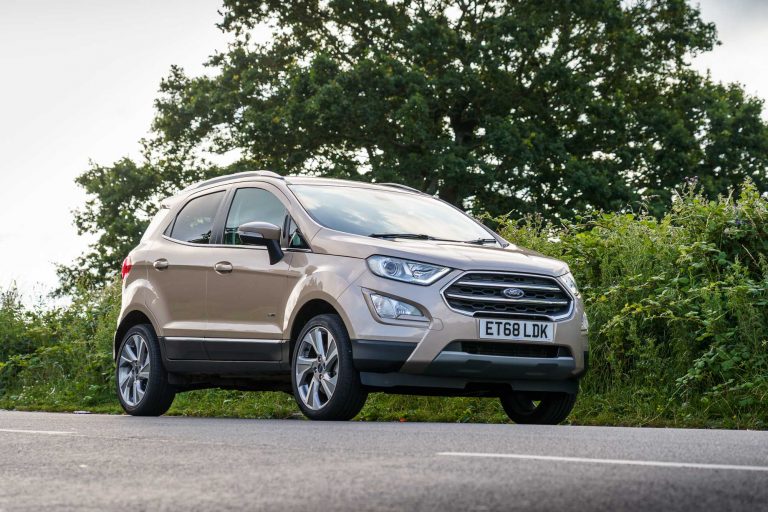 Under normal speeds, it drives just fine around corners, even being a tall car. The all-wheel-drive offers enough grip for daily driving and you gain the extra benefit in wintry weather of course.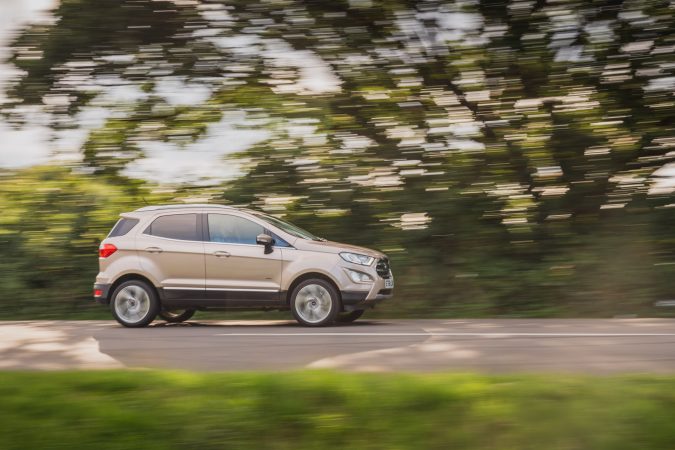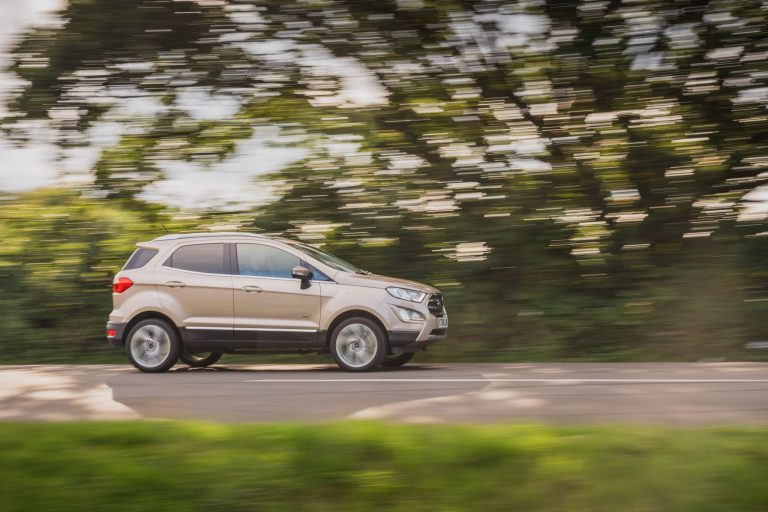 Overall this car covers off all the basics of driving exceptionally well, but with no real flair, it just gets the job done well. Another significant plus point of the Ecosport is the seating height. Getting in and out of the car is exceptionally easy, which can have a big advantage for some older or less physically able drivers.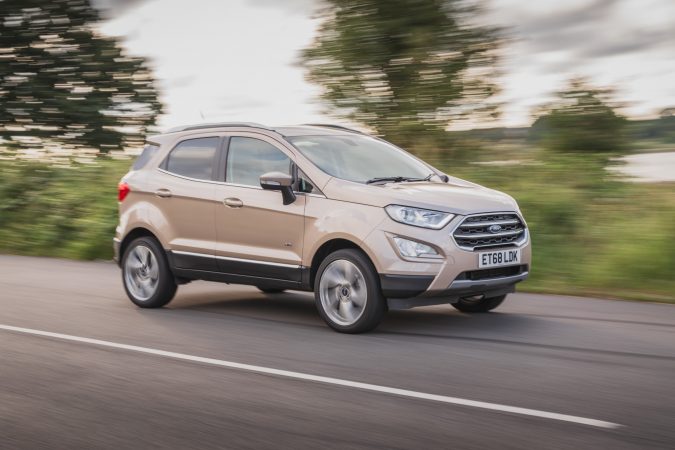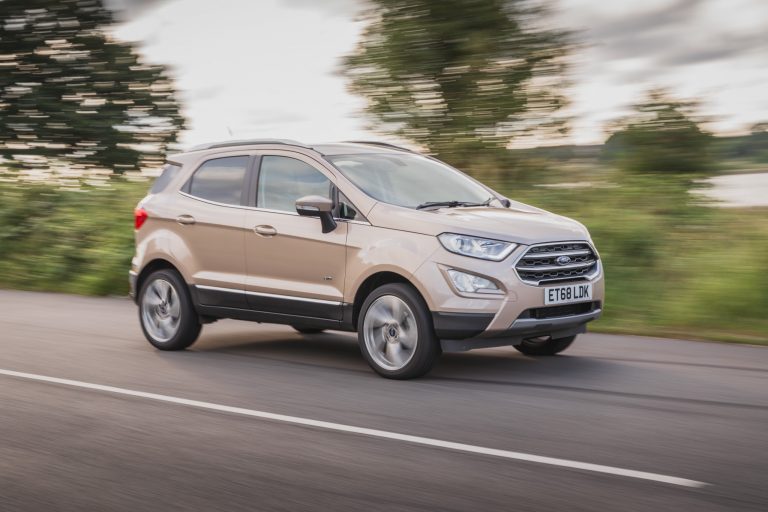 What is it like inside?
The interior of the Ford Ecosport of the past used to be really drab and gave away the fact that it was a car designed and executed on a budget. It is no longer the case with the latest version. Everything looks to be of decent quality. Starting with the instrument panel, it is a nice mix of analogue and digital that gives it a very classy appearance.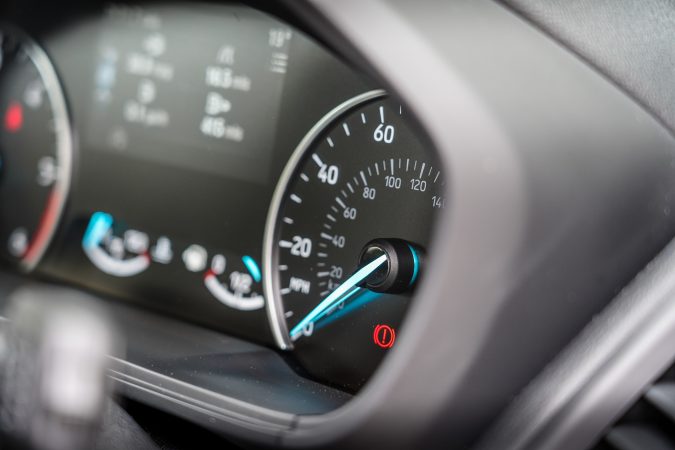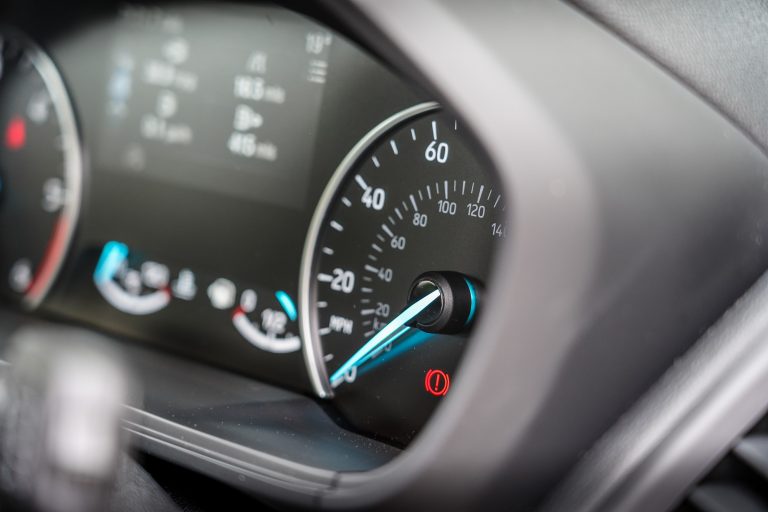 The inside is reminiscent of the Fiesta and everything actually looks quite good.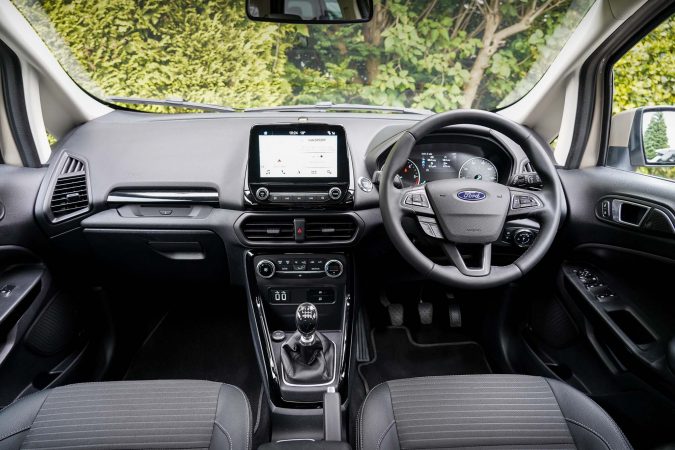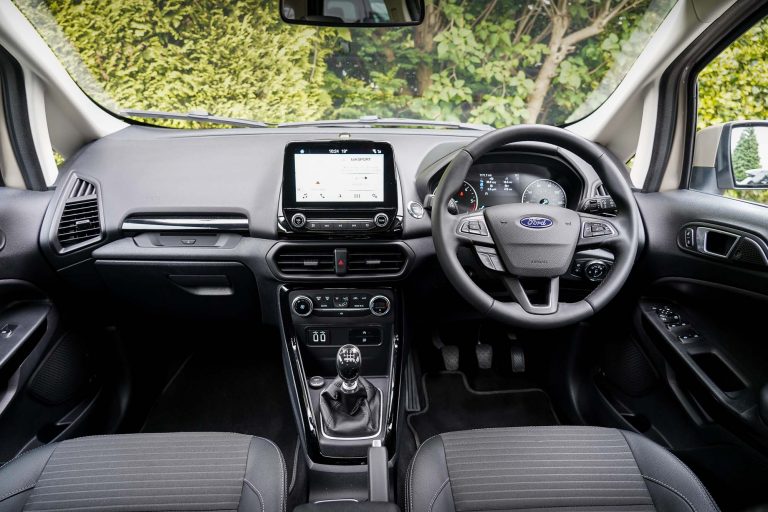 The trim I drove came equipped with the same Sync 3 infotainment centre found in the current Fiesta and it is great. At the centre of it is a gorgeous but optional 8-inch touchscreen that has an excellent interface and graphics. The standard 6″ touchscreen isn't too shabby either.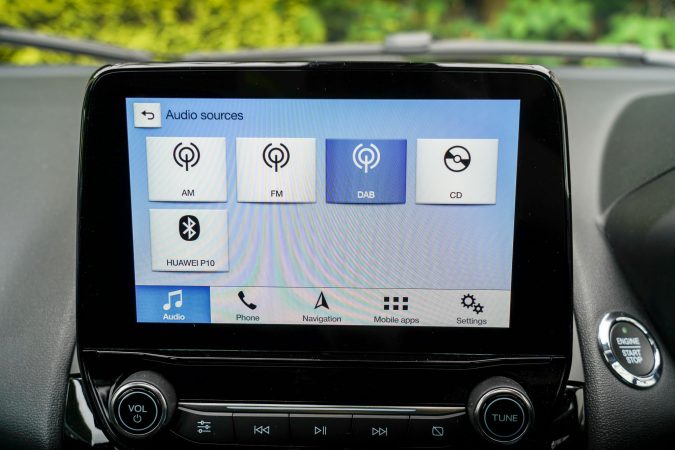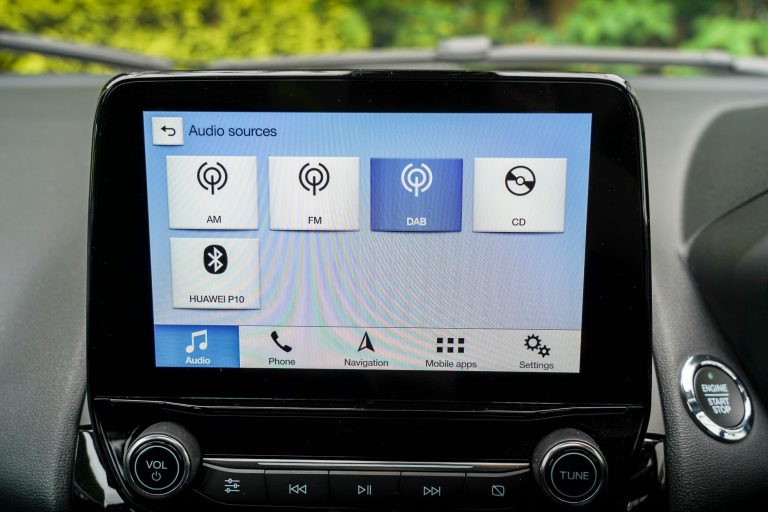 The car I drove had the optional ten-speaker B&O audio as well which actually made the car sound really premium on the inside. The rest of the inside is of good quality and everything is built to last.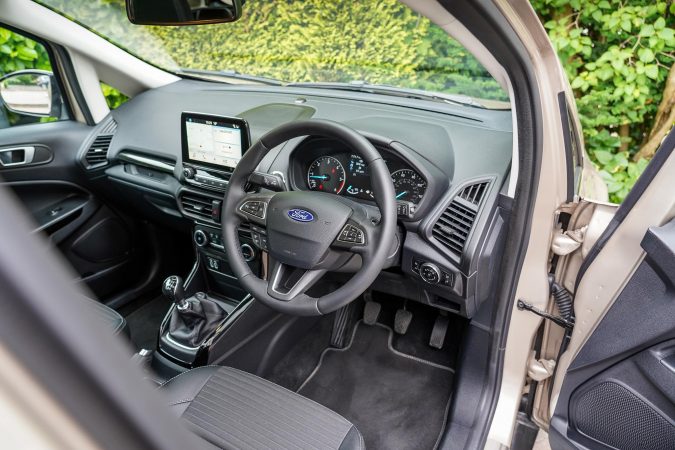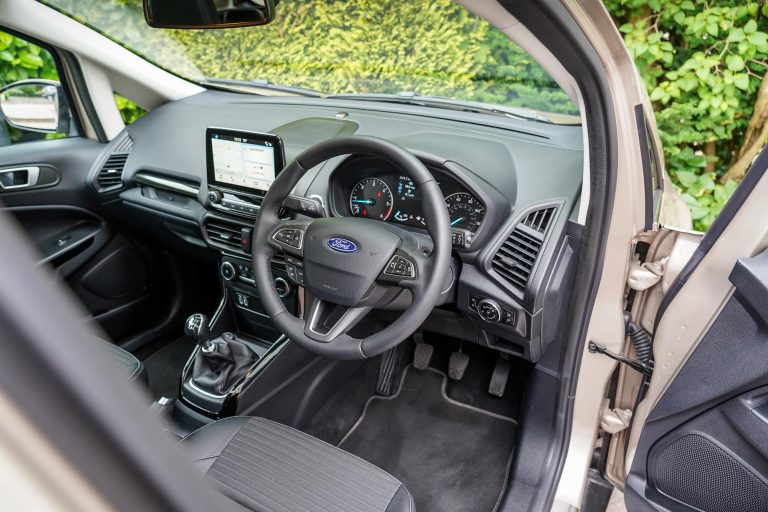 The seats are comfy and are of great quality but it is their placement that has seen some compromise. The front seats offer plenty of legroom and decent headroom but rear legroom and headroom is an issue. Tall adults can still fit into the back of this car but there is very little room to move around which can make long rides quite tedious. Kids, however, will be fine and if it is just a short drive then so will tall adults.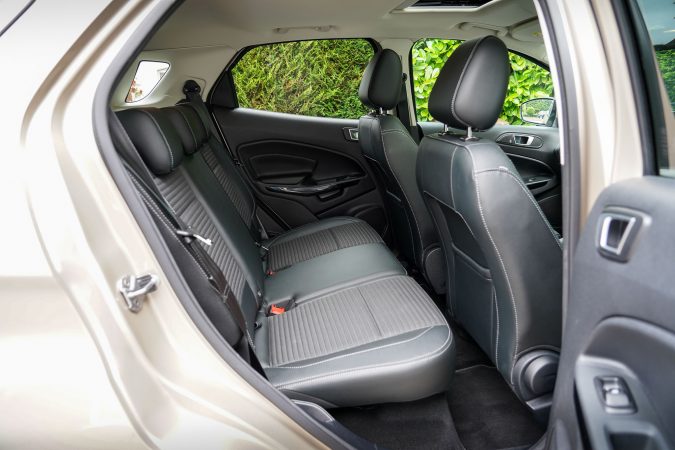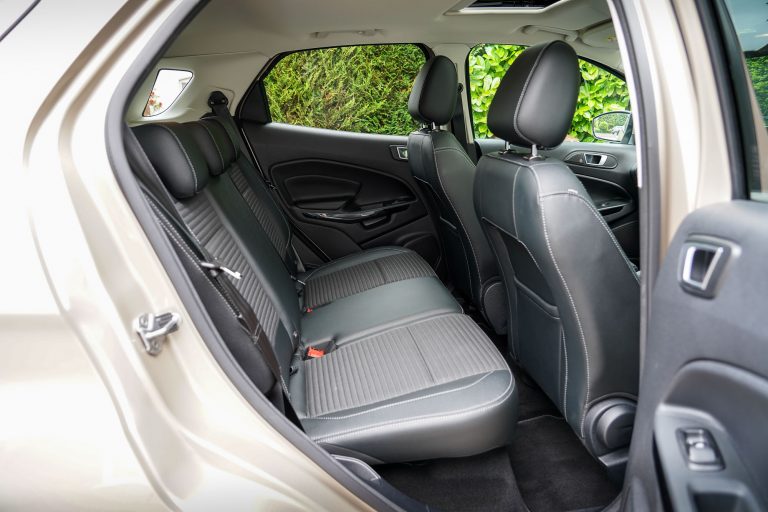 The experience
I was expecting a dull time testing the Ford Ecosport if I am honest, but it did exceed my expectations. It is surprising how much bang for the buck this car is even with all the optional extras. The previous versions of this car gave up the fact they were affordable quite easily. This one though looks and feels like something you can be happy to own.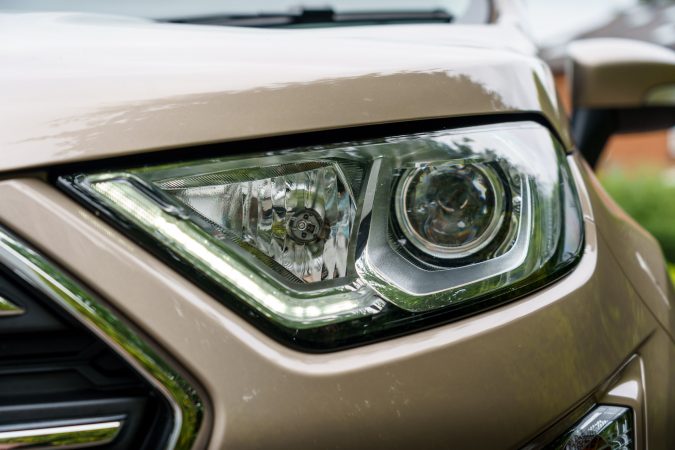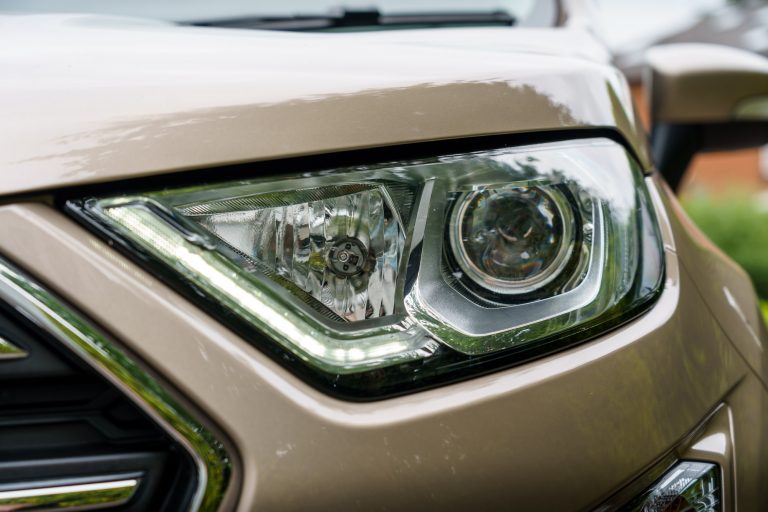 Ford Ecosport Titanium Cost
The 2019 Ford Ecosport Titanium that I tested came with a few optional extras such as the aforementioned speakers and touchscreen, an openable sunroof, 18″ wheels, and rear privacy glass and despite all that the total price was just £25,855 which is actually quite affordable for a car as decently equipped as the 2019 Ford Ecosport Titanium.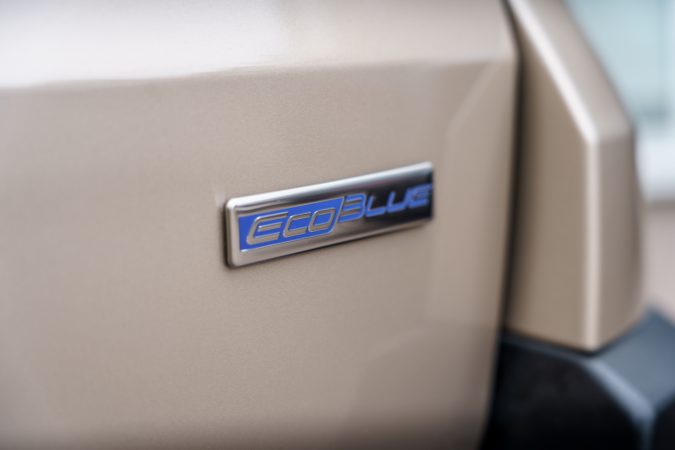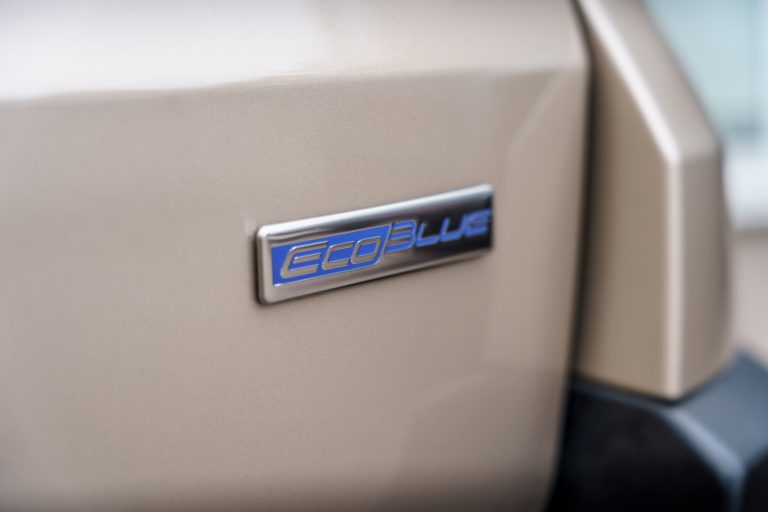 Verdict
Cars like the Ford Ecosport Titanium do not normally fill me with excitement and I wasn't expecting much out of it, but the 2019 version left me quite pleased. It is not a bad car at all and for someone looking for an affordable option that is dependable, durable and quite well-equipped for the price, then the Ford Ecosport Titanium is definitely up there with the best choices available at this price; provided the lack of an SUV like rear legroom is okay.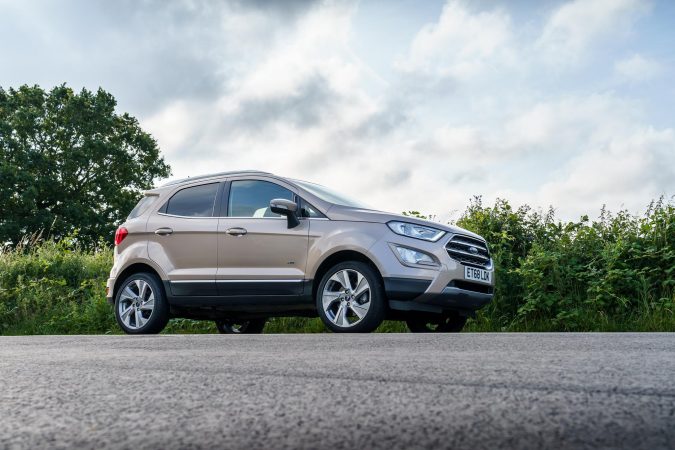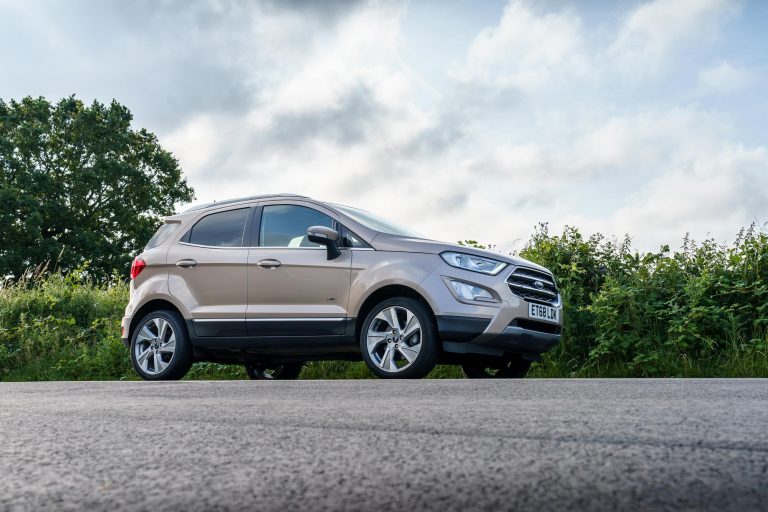 Specification
2019 Ford Ecosport Titanium Specs

Price: £25,855
Engine: 1.5-litre EcoBlue TDCI
Power: 125 PS
Torque: 300 Nm
Transmission: 6-speed manual
0-62mph:  11.3 seconds
Top speed: 112 mph
Weight: 1,520 kg
Economy combined: 43.5 mpg
CO2: 140 g/km
See more pictures of the Ford Ecosport in our gallery.