2019 SEAT Leon CUPRA Review
SEAT has the role of the youthful and dynamic brand that appeals to the younger demographic. A small history lesson is needed before delving deeper into the 2019 SEAT Leon 5dr CUPRA. The one thing that SEAT never lacked was ambition. They always tried to punch above their weight by endeavouring to make really exciting cars. They didn't always pull it off but when they did, it would produce something really enjoyable. The CUPRA badged SEAT's were the performance-oriented models made by SEAT. So a lot is riding for the SEAT side of Volkswagen on the Leon CUPRA so much so that it will soon be badged as just a Cupra. I got a chance to drive the Leon CUPRA and here is a short account of how it went.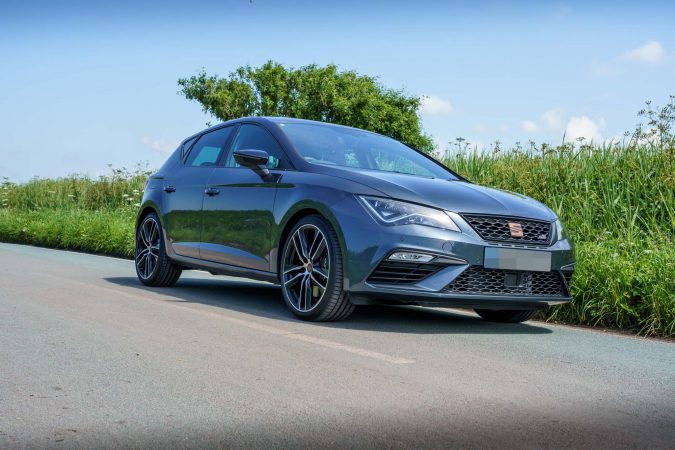 What is the 2019 SEAT Leon CUPRA about?
Performance-oriented cars often have the problem of creating a look that conveys their performance pedigree and more often than not, they end up either undercooking it or overcooking it. The Leon CUPRA manages to strike the right balance. It doesn't particularly look striking or give any blatant clues as to its pedigree but having said that, it isn't bad looking in any way either. If anything, it is a bit modest but stylish without screaming the same in your face. At first glance, it looks like every hatchback out there but look a bit closer and you will find many subtle elements that set it apart from the crowded hatchback arena.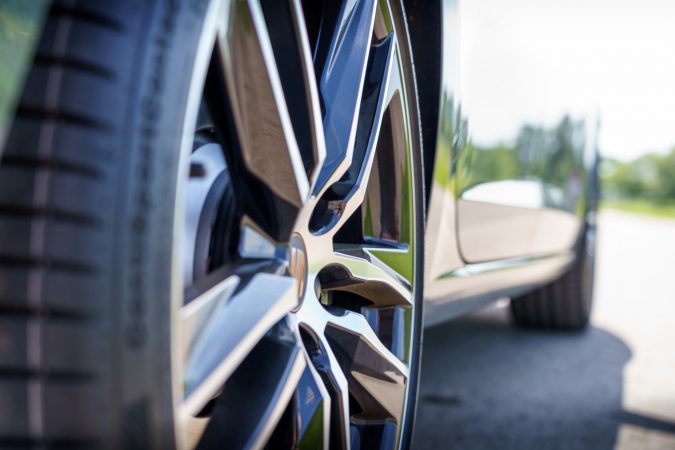 The great thing about the SEAT Leon CUPRA is that it looks brilliantly different from every angle. From the front, it looks rather dignified, from the side it looks quite sporty and from the rear, it looks quite charming and beautiful. It might not be an instant head-turner but it slowly grows on you to the point where you will keep stealing glances at it.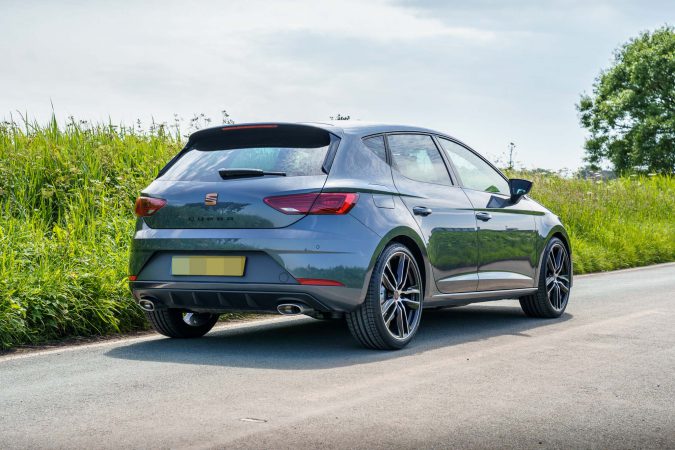 Looks while important only play a small part as the main function of a performance-oriented car is to perform and the onus of that lies with the engine powering the car. The SEAT Leon CUPRA comes with a 2.0-litre TSI engine that produces 286 bhp of power which is just amazing. This engine is mated to a 7-speed DSG gearbox which is an amazing piece of hardware.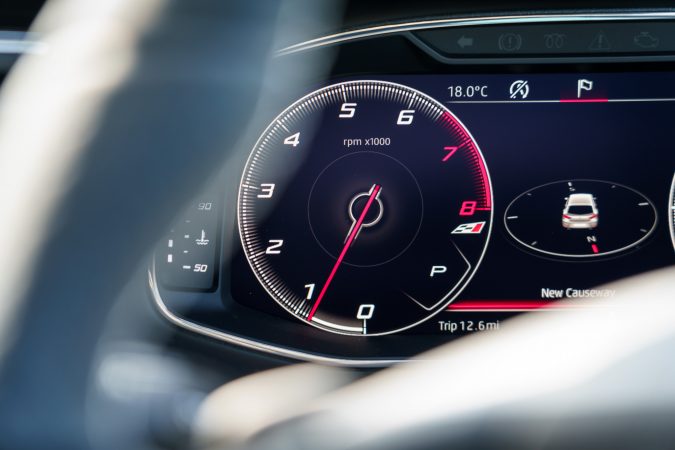 The SEAT Leon CUPRA can go from 0-62 mph in a good 6 seconds for a hatchback and tops out at an equally impressive 155 mph. It also produces 344 Nm of torque. It gives a combined fuel economy of 35.8mpg and has CO2 numbers of 149 g/km.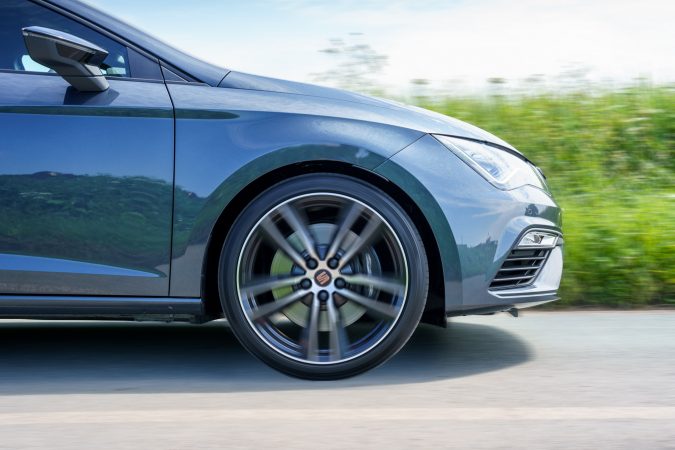 How does it drive?
The biggest reason anyone should buy a fast hatchback is for the fun-factor at a non-bank-breaking price point and the Leon CUPRA does that really well. It is packed with a lot of technology to make it easier to achieve that fun without making the car feel dangerous. The Cupra really does shift at a good pace. The DSG gearbox is such a big enabler to the performance of the car, the shifts are lightning quick.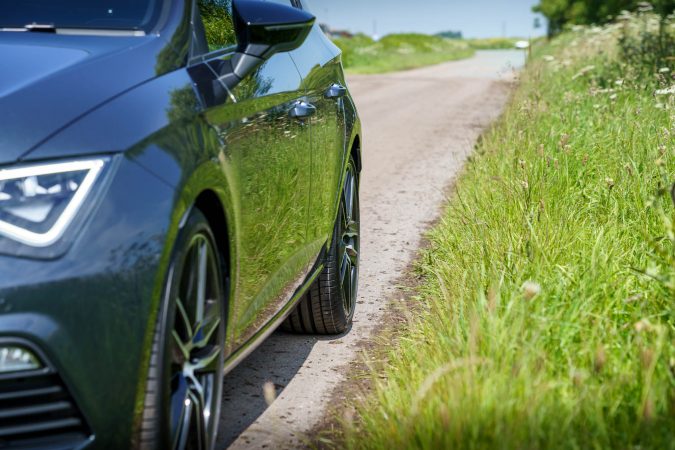 The differential is another impressive part of the package. Throw the car around a corner and it keeps gripping very well. The Leon CUPRA manages to do this by using technical wizardry in its electronically controlled, hydraulically actuated multi-plate differential. It can supply more power to the outer wheel when cornering hard which means that the car will provide the maximum level of grip at all times. The front-wheel-drive adds a lively character to this car and the CUPRA does everything a sporty hatchback should do from the driver's seat. Pushing this car to the limit felt very reassuring.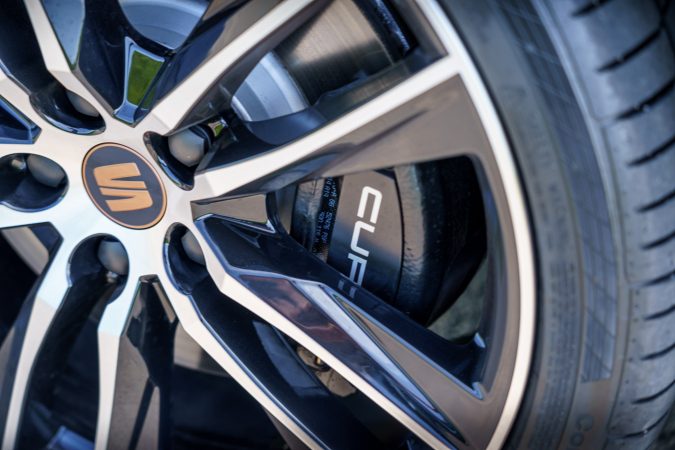 SEAT has added a Cupra mode which firms up the suspension and changes the throttle mapping, making it a bit more exciting. Often being performance-oriented comes with a price. Usually, sporty cars that are great to drive sacrifice comfort levels which can make living with it on a daily basis quite painful. Thankfully, SEAT has avoided that and has kept everything on the bearable side of things.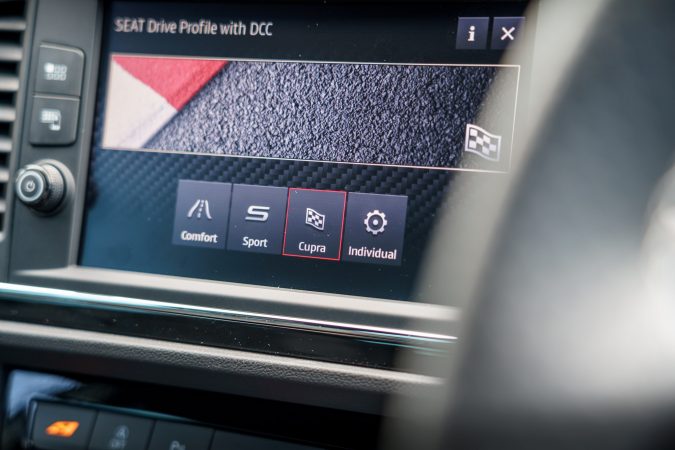 Even in the Cupra mode, the ride is comfortable enough and driving over potholes won't break your back. Overall, it is a fun car to drive that doesn't take its performance moniker so seriously that driving it comes at a massive discomfort. The biggest asset of the CUPRA is the way it handles. It is just right. There are no nervous twitches or reluctance in changing directions. It is just intuitive and the car just goes where you want it to go. The rev-happy engine is a joy both on the A-roads as well as around twists and bends.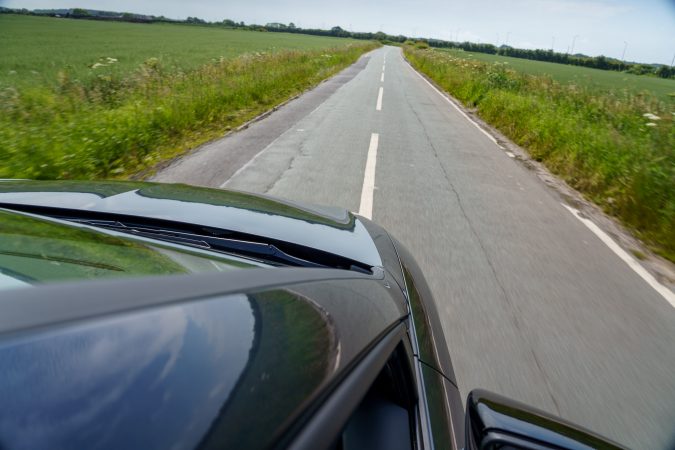 What is it like inside?
One area where SEAT has been massively influenced by the Volkswagen brand is the interior and I was glad they did. Everything looks so immaculate and functional.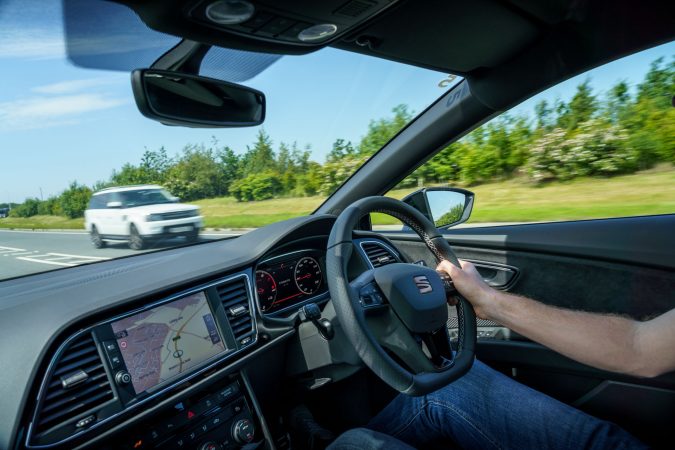 The placement of each button and knob has been given plenty of thought. The front seats are excellent and offer the right mix of comfort and feedback. The rear seats are easy to access in the 5 door variant we have here. The infotainment system is quite good as well and would appeal to the younger demographic. All the necessary connectivity options are provided and even the standard version that I drove without any optional extras felt well-equipped.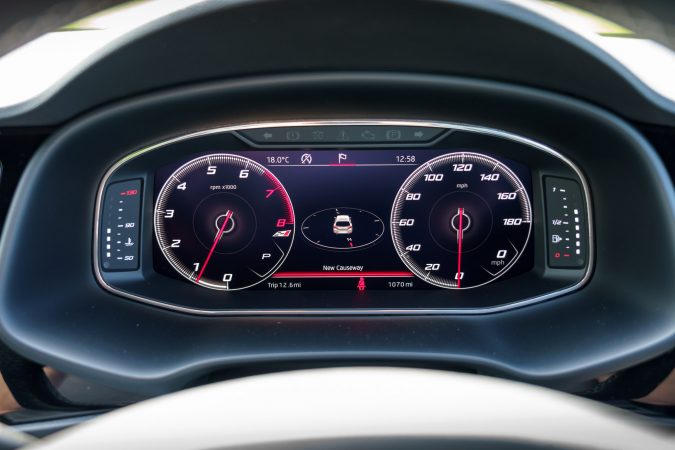 Safety features are also on par with what is offered in this segment. To put it simply, there are no complaints about how this car looks and feels on the inside.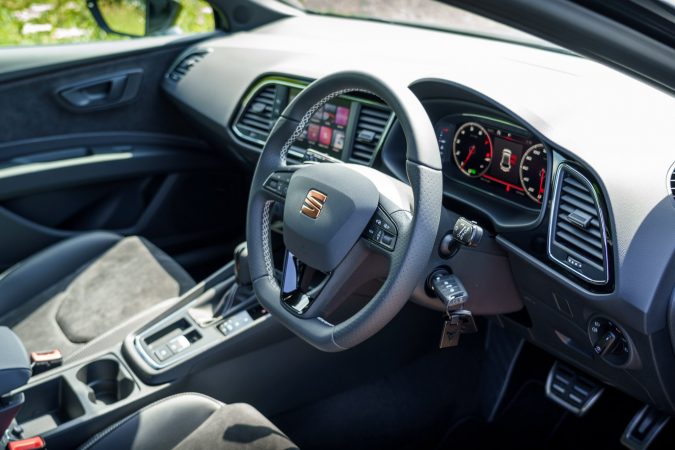 A special mention has to be made of the icon and the touchscreen display. It all looks like something you would find on a spaceship from a science fiction movie upping the cool factor of this car.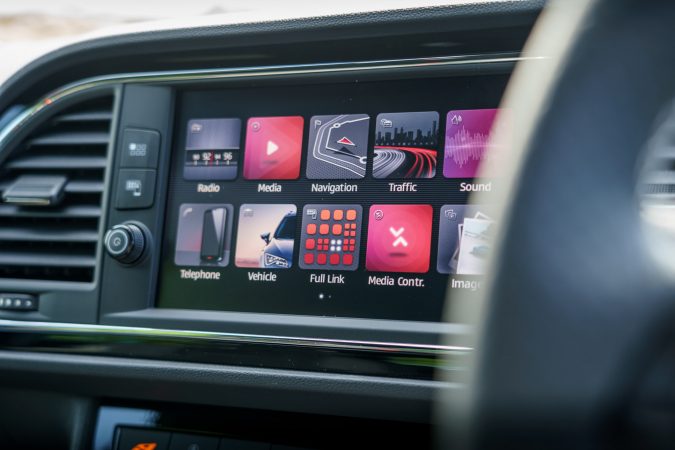 The experience
Hatchbacks these days try too hard to stand out and that can cause them to either be too performance-oriented or be too stylish for their own good. The SEAT Leon CUPRA avoids these pitfalls and keeps that essence of a hatchback which is a fun-to-drive car without demanding too much from the driver's abilities or bank account.
2019 SEAT Leon CUPRA Cost
The model that I drove – SEAT Leon CUPRA 2.0 TSI 290PS 7-speed DSG costs £29,875 which does not include any optional extras. As I mentioned earlier, even this standard version is well-equipped and nothing necessary has been left out. If you love driving, this is a well-justified price for the Leon CUPRA.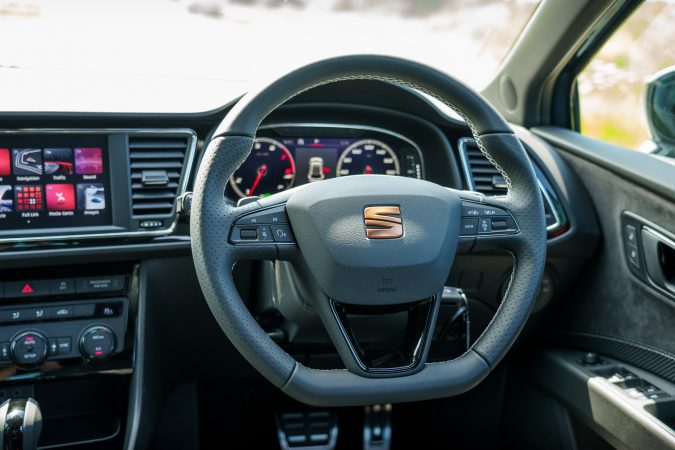 Verdict
The 2019 SEAT Leon CUPRA is one of those surprising cars that made me happy even though I didn't expect it to. It brings back the nostalgia of the fun-to-drive hatchbacks of the past in a modern and well-equipped package without any unnecessary baggage. Among the long line of hits and misses from SEAT, this is definitely a hit.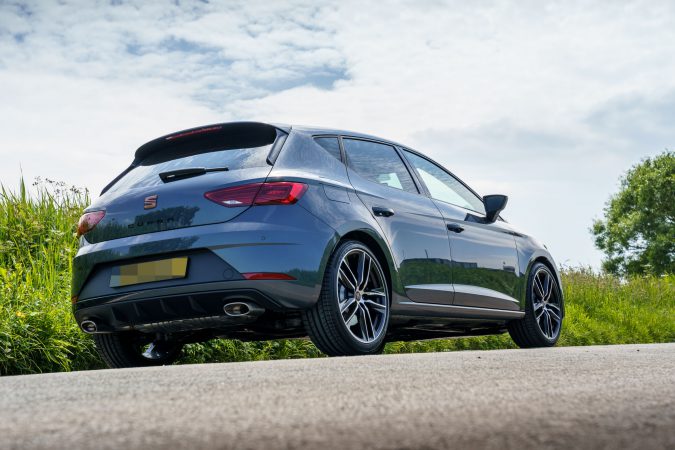 Specification
2019 SEAT Leon 5dr CUPRA Specs

Price: £29,875
Engine: 2.0-litre TSI engine
Power: 286 bhp
Torque: 344 Nm
Transmission: 7-speed DSG
0-62mph: 6 seconds
Top speed: 155 mph
Weight: 1,395 kg
Economy combined: 35.8 mpg
CO2: 149 g/km