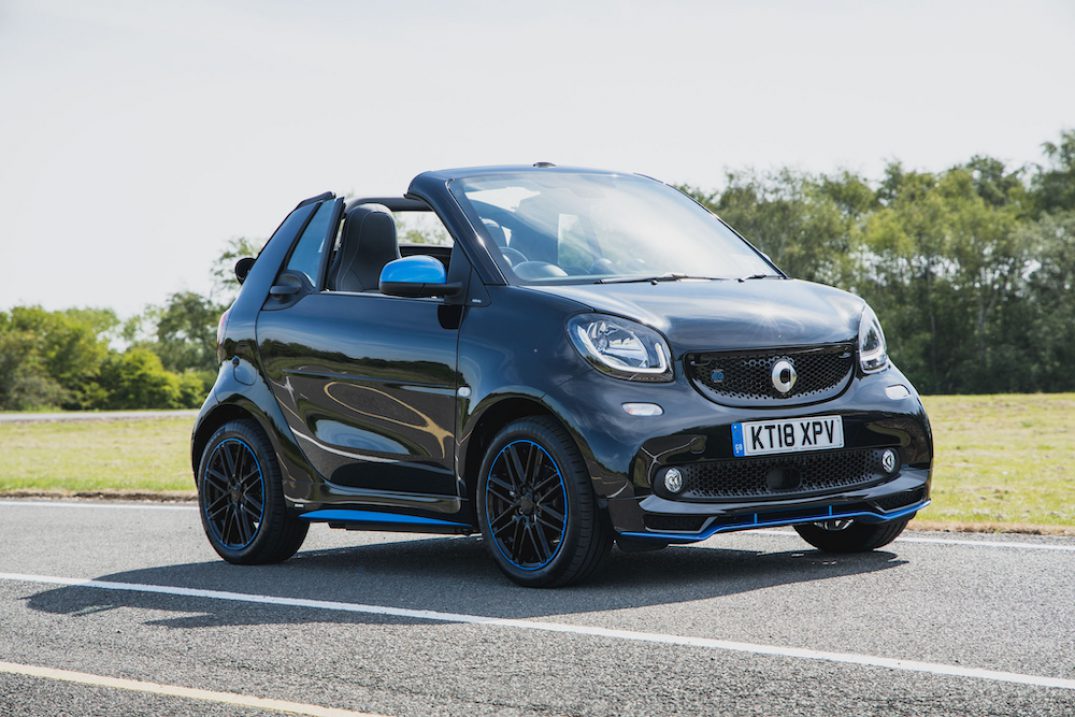 2019 Smart fortwo EQ Cabriolet Edition Night Sky Review
Small city cars make excellent EVs, partly because they don't have to cover a lot of miles, but also because they don't usually weigh a lot. Weight and high speeds kill the driving range on any EV, but obviously, the Smart doesn't have to worry about either of those too much. We recently got a chance to test drive the fortwo EQ cabriolet edition night sky model, and here are our genuine first impressions.
What is the Smart fortwo EQ Cabriolet all about?
Unlike its lengthy name, the Smart fortwo EQ cabriolet is a ridiculously tiny car. It's as close to an original Mini in size as you're going to get in today's market. It's just 2.6 metres long and only 1.9 metres wide from mirror to mirror, so it's almost as wide as it is long. It's got a square stance which reminds me of the Fiat 500 a little bit, only the Smart is that much tinier. The edition night sky model does come with several unique features.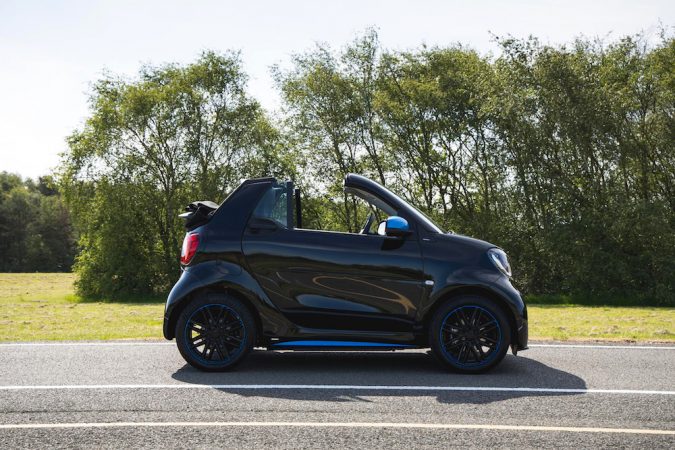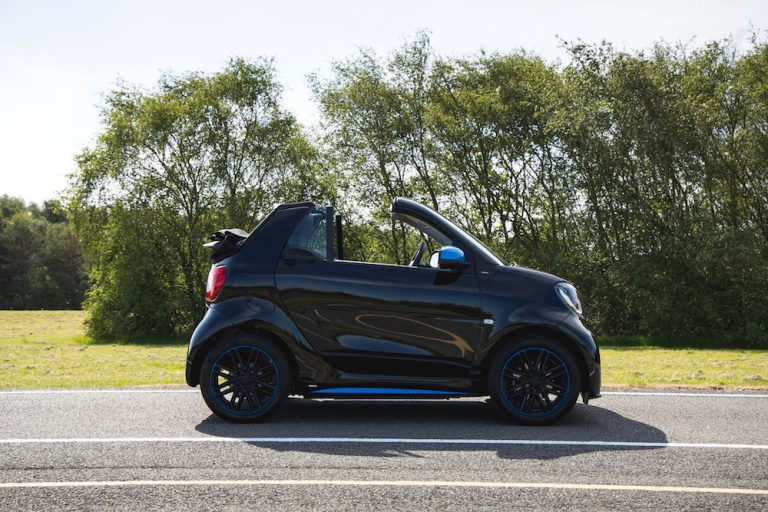 The exterior is littered with components taken straight from the Brabus parts bin, which include a front spoiler, side skirts, rear diffuser, and accent trim elements painted in high-gloss pacific blue. The wheels are bespoke 16-inch Brabus Monoblock VIII units too. I'm not a big fan of little city cars attempting to look tough and aggressive, but the fortwo EQ manages to pull it off. I wouldn't call it good-looking or even menacing, but it's certainly unique. It did manage to turn a few heads, so it does have some character.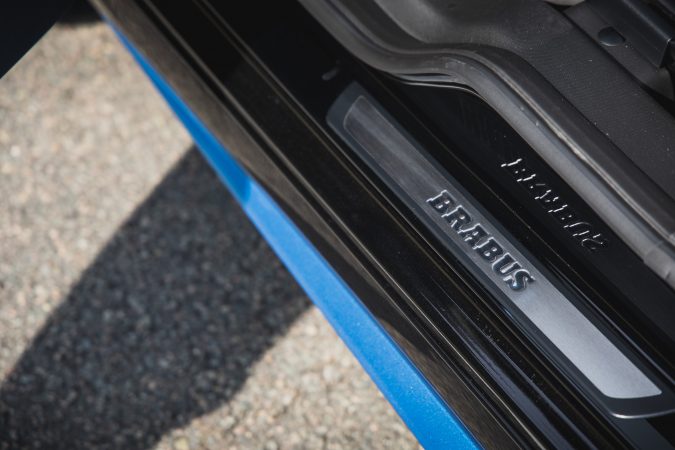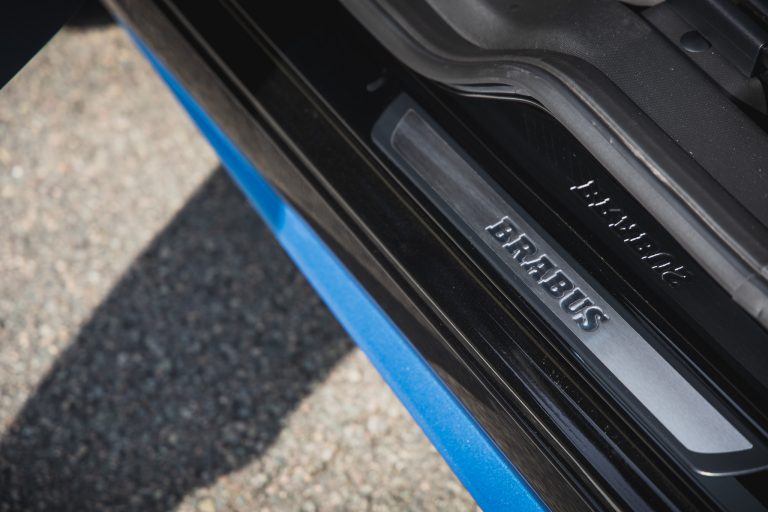 Since it's a full EV, there's no engine hiding inside the body shell, but rather a three-phase synchronous motor with 82 hp and 160 Nm of torque. Smart claims it can reach 62 mph in 11.8 seconds and top out at 80 mph, a speed which is electronically governed.
How does it drive?
I didn't expect it to be fast, but since it's so small, I thought it would at least feel nippy. The truth of the matter is that the fortwo EQ convertible weighs 1,115 kg (mostly because of its 17.6 kWh lithium-ion battery pack), so it's not a light car by any stretch of the imagination. It takes a while to get to 62 mph, but once you're there it will cruise quite happily all day long. Well, I shouldn't say all day long since it will only cover 99 miles before it needs a recharge. The 99 miles range I think is a good compromise for a car of this size that is mostly going to be used in the city. It does come with a fast-charging function though, so replenishing the battery to 80 percent (from empty) takes just 40 minutes.
You won't notice the extra weight of the batteries because you're never going to be driving it spiritedly anyway, but it does feel slightly sluggish compared to other EVs when pulling away.  The wheelbase measures in at just 1,873mm, making it extremely light and nimble. It loves car parks and it was born to scamper through city centres and narrow alleyways. As a small city car, I really can't fault it, but I still feel it would have been even better if they made it slightly more accelerative.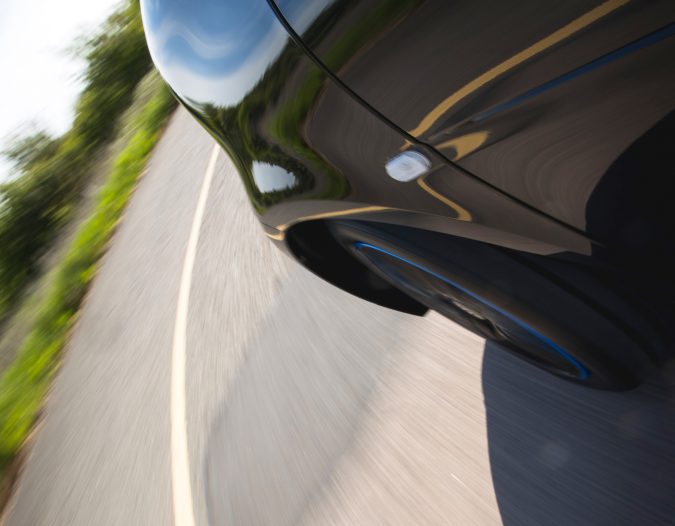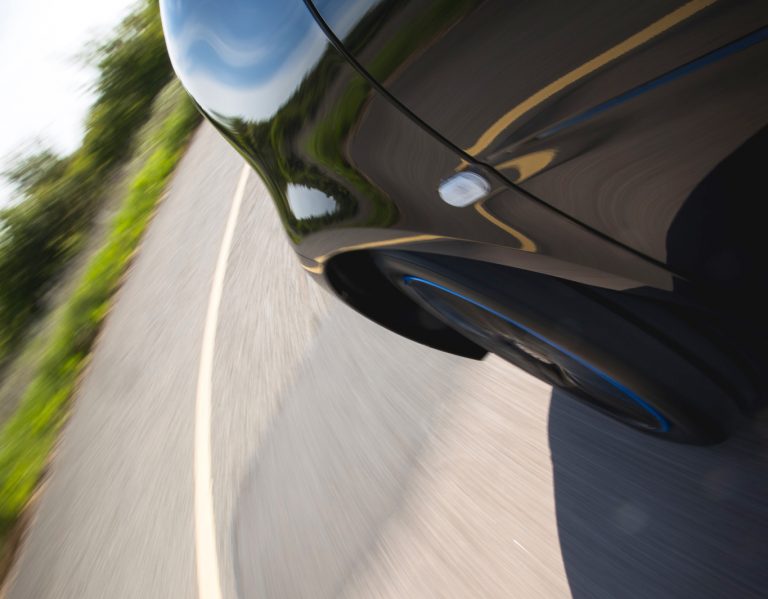 What is it like inside?
The cabin is a bit more plastic-y that what I would have wanted, but it's still not a bad place to find yourself in. They managed to nail the design though, which is giving off some Fiat 500-esque vibes in the way they've moulded the dash and mounted the infotainment screen. The seats were surprisingly comfortable too.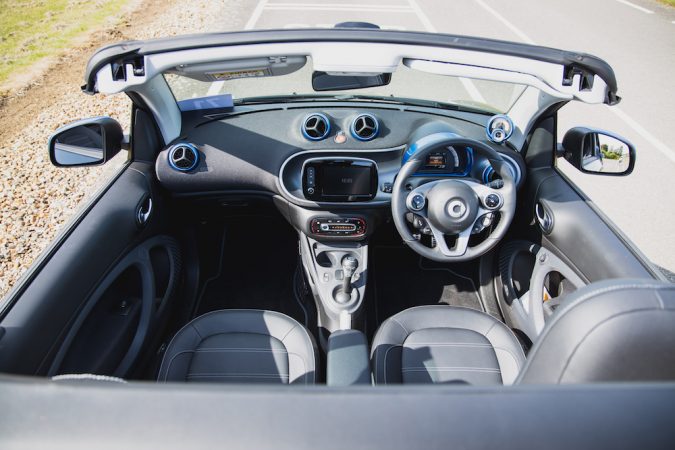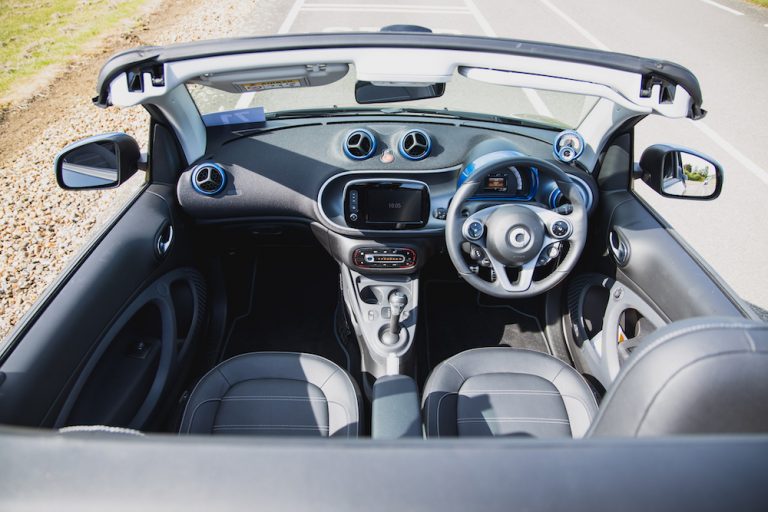 The drawback of having such a small and nimble car is no rear seating arrangement. It's strictly a two-seater, hence the name, fortwo. Boot space is minuscule, but if you're fine with just 260 litres you won't be too bothered by it. The cabin itself is well put together and it feels solid. It's just a shame they didn't use premium materials, but it is built to a cost.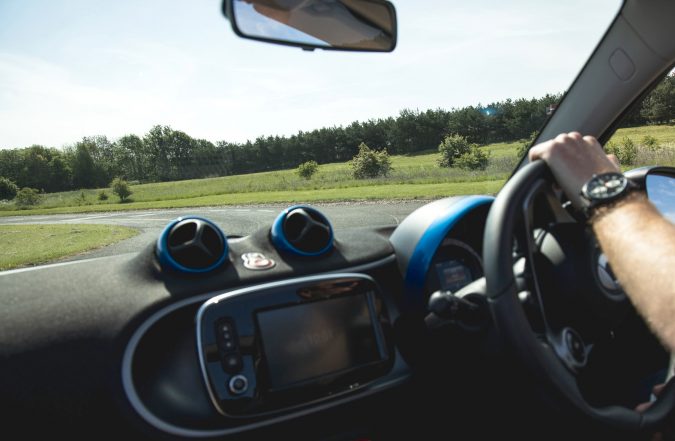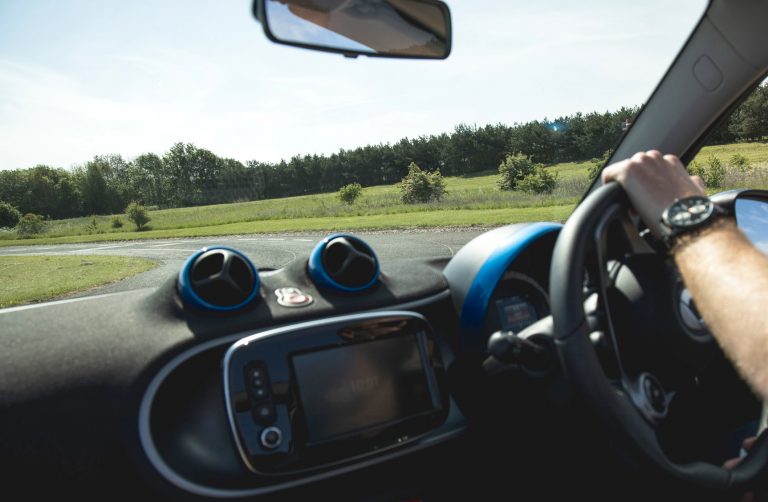 The experience
I'm not sure it's the best EV on the market, but it's definitely one of the most unique. It's a two-seater convertible which looks great and is built by Mercedes. If I'm honest, if you need to move people, you're probably better off buying a larger city car with usable rear seats. But if you are going it alone, the Smart fortwo has enough room.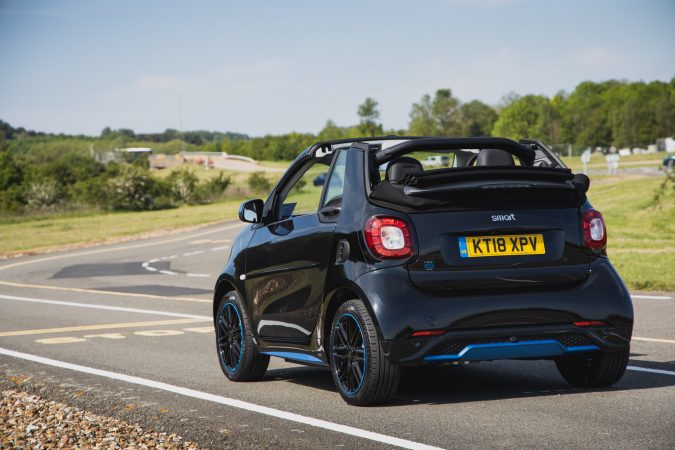 2019 Smart fortwo EQ CabrioletCost
The OTR price of £27,135 makes the fortwo EQ convertible a seriously costly proposition. The Renault Zoe we reviewed recently came in at around £19,000, and that had a range of 130 miles and usable rear seats.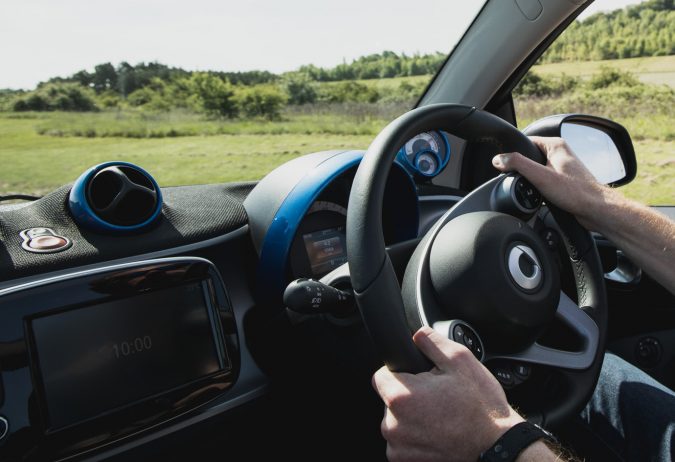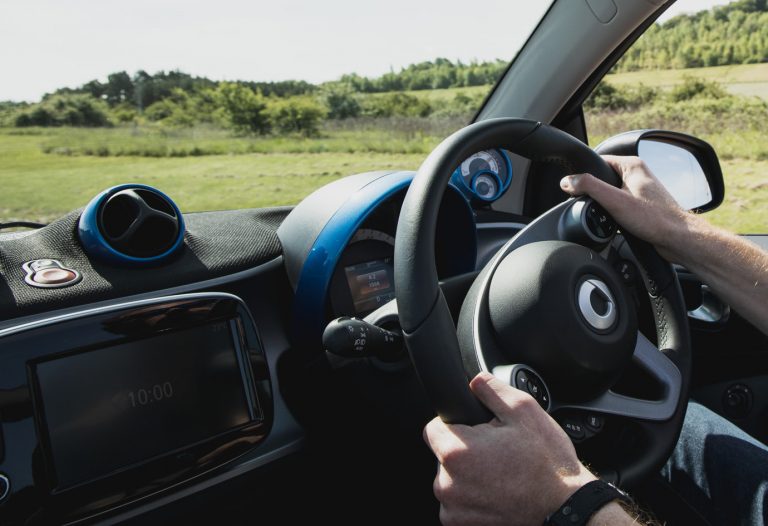 Verdict
A decent EV city car ultimately ruined by its price tag. I understand that it'll probably turn more heads than a Renault Zoe, but is it really worth £8,000 more than the Zoe given that it comes with two fewer seats and a smaller driving range? You decide.

Specification
2019 Smart fortwo EQ Cabriolet Edition Night Sky Specs
Price: £27,135  
Engine: three-phase synchronous electric motor
Power: 82hp
Torque: 160 Nm
Transmission: one gear auto
0-62mph:  11.8 seconds
Top speed: 80 mph
Weight: 1,115 kg
Economy combined:  99 miles per charge
CO2: 0 g/km