Driven: Audi RS4 Avant 2018 Review
With the keys to the latest hot estate – the Audi RS4 Avant 2018, we attempt to discover if it's worthy of the esteemed RS badge.
What's the Audi RS4 Avant all about?
The Audi RS4, in my opinion, is the sibling that often gets overshadowed by its bigger brother, the RS6. It is toned down compared to the RS6, but I reckon it offers 95% of the entertainment value at a considerably lower expense.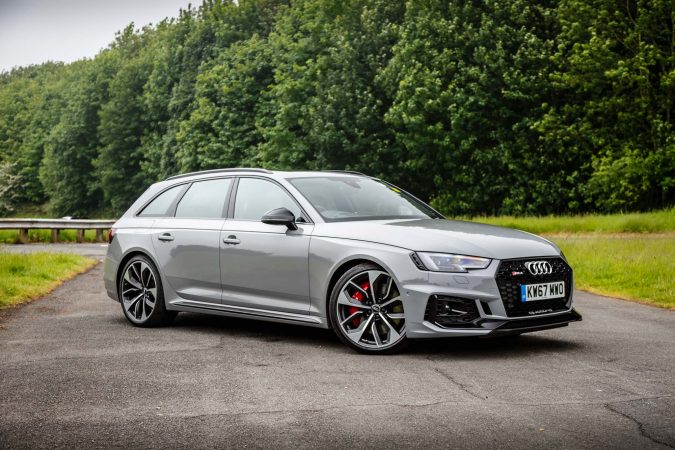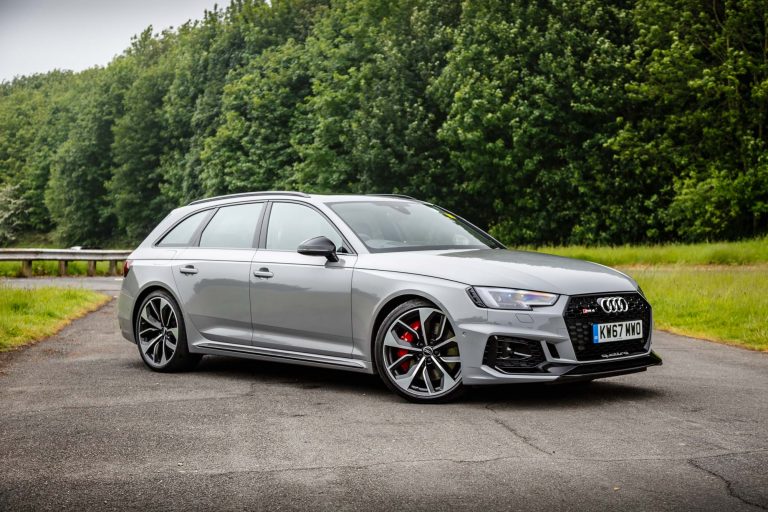 Audi is one of those marques that tends to follow the crowd, albeit adapting to the rapid shift in modern styling to keep it relevant. The RS4 Avant is a quintessential representation of this design ethos. It's a mighty looking wagon, boasting a presence some sports cars can struggle to match.
With its aggressive fascia comprised of a massive honeycomb RS grille with 'quattro' lettering and heavily emphasised skirt vents, the RS4 Avant assumes a menacing stance for an estate car. With well-defined lines and a belligerent design, Audi isn't going for subtlety here – you can definitely tell it apart from the regular A4 Avant.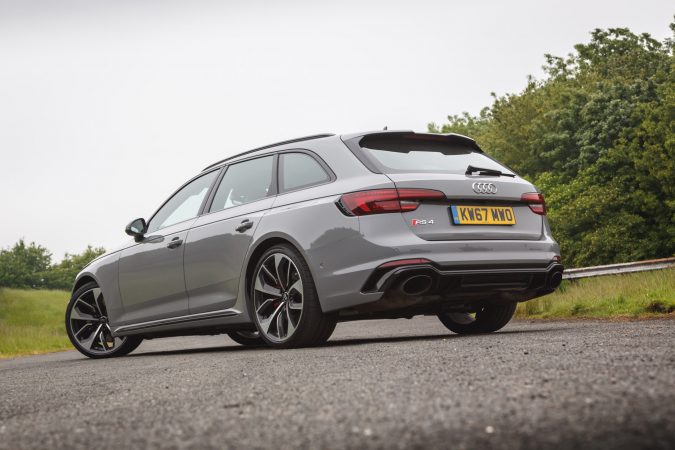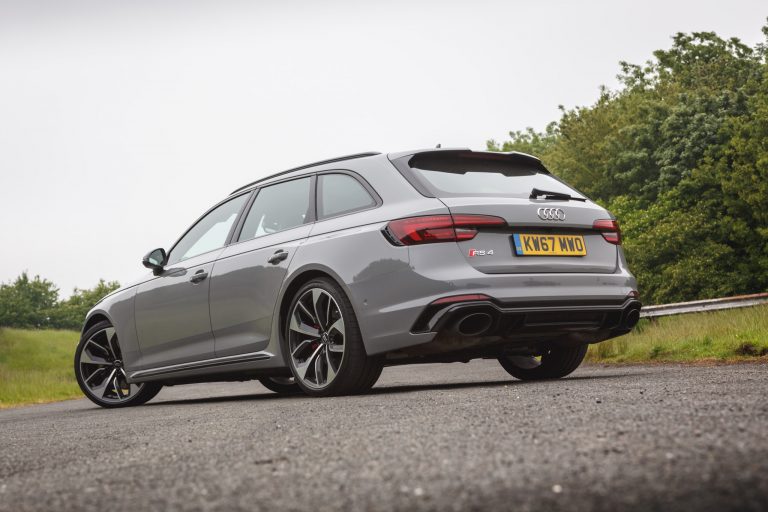 Our test model is finished in the standard Nardo Grey colour, which is the most popular choice for the Audi RS4 Avant 2018, and accentuates the contours of these wide wheel arches. Sitting on a set of 20″ 5-twin spoke edge alloy wheels, our on- loan RS4 Avant is quite the looker. Intriguingly, you can also opt for an RS4 Avant in Sonoma Green for £645, which is bound to attract the attention of passers-by.
Of course, what truly distinguishes the 'RS' models from your run-of-the-mill 'S' or 'A' models is found underneath the bonnet. Powering the RS4 Avant is a unique 2.9-litre bi-turbocharged V6 that produces 444 horsepower and 600 Nm of torque. Notably, while it sports the same horsepower rating as the past 'B8' RS4 Avant with its 4.2-litre naturally-aspirated V8, this new V6 will happily outstrip the V8 anywhere, thanks to the bi-turbo setup giving it far superior torque.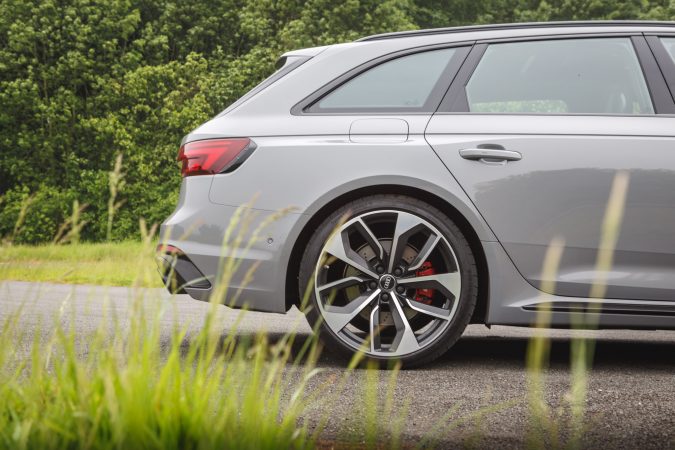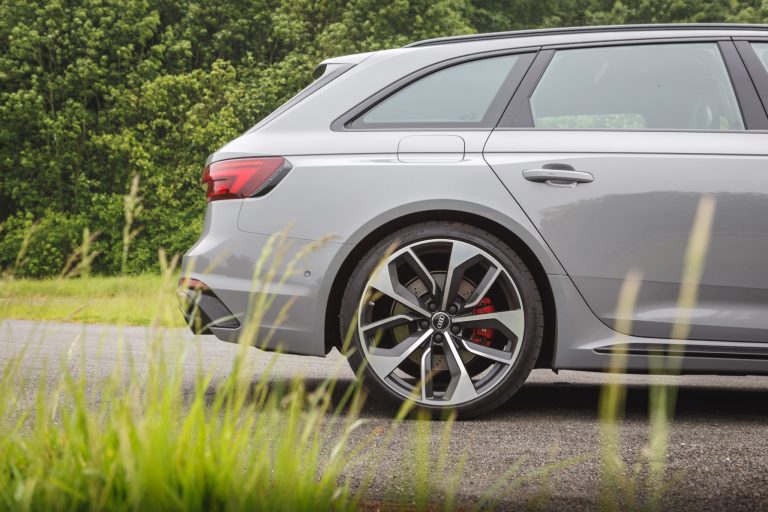 To deliver that power, the engine is matched to an 8-speed tiptronic transmission, which in turn spins all four wheels through the renowned quattro permanent all-wheel-drive system. This drivetrain will propel this practical estate car from 0-62 mph in just 4.1 seconds, with a top speed of 155 mph. Or if you choose to lay out £1,450, you will be rewarded with a top speed of 174 mph, like our test model.
The official economy rating is 32.1 mpg while emitting 200 g/km of CO2. This is quite reasonable for a hefty, 174 mph estate car that manages a 0-62mph time in 4.1 seconds.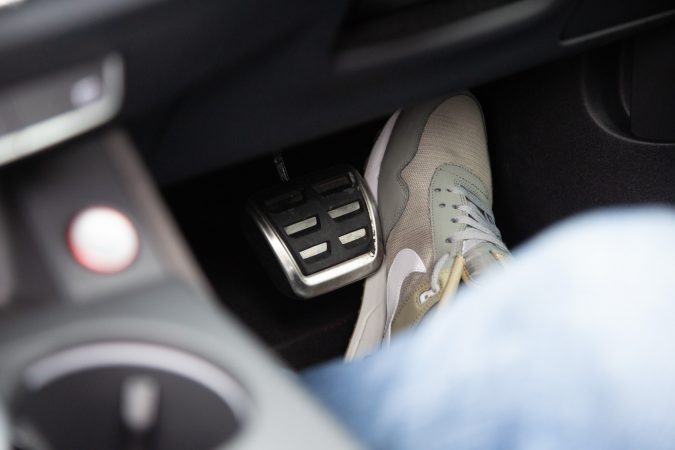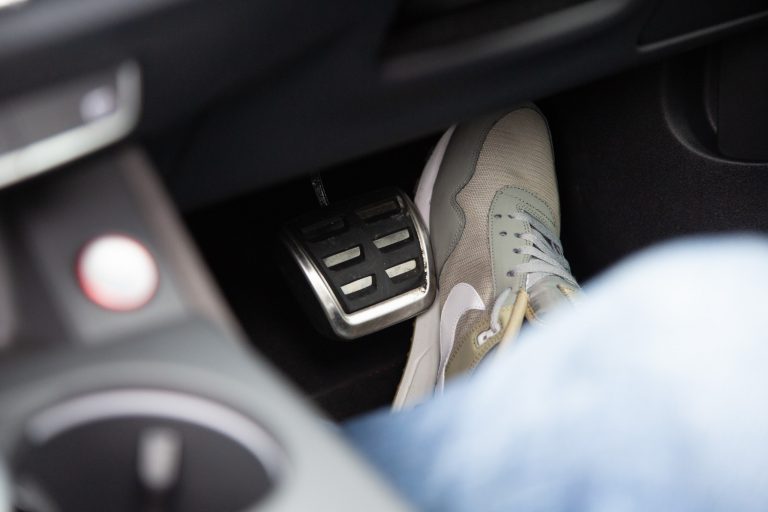 For a supposedly high-performance car, you can still spend a lot to enhance your RS4 Avant with more performance modifications. In fact, our test model has a few worth noting – RS Sport exhaust system for £1,200, and RS Sport suspension with Dynamic Ride Control for £2,000. If you intend to bring your RS4 Avant onto the racetrack, which can be both arduous and punishing, then consider forking out another £6,000 for a set of front carbon ceramic discs.
How does it drive?
As is increasingly common these days, Audi has adopted a 'hot v' biturbo setup. In fact, this is part of the reason why this V6 engine emits 600 Nm of torque over the entire rev range. Thus, the quality of the torque delivery is sensational.
Indeed, at times it feels like Audi is underplaying the acceleration prowess of the RS4 Avant here. It'll tear your face off from a standing start. There is always a subliminal urgency within, and it's all contained under your right foot. Even in fourth gear, where you would instinctively downshift in other cars, you'll swiftly double your current pace.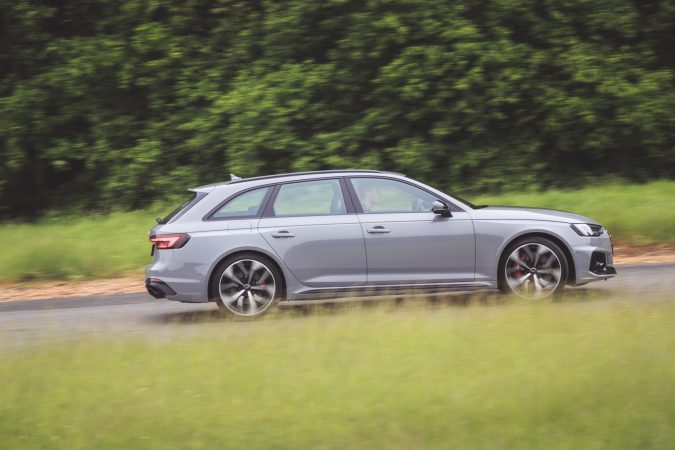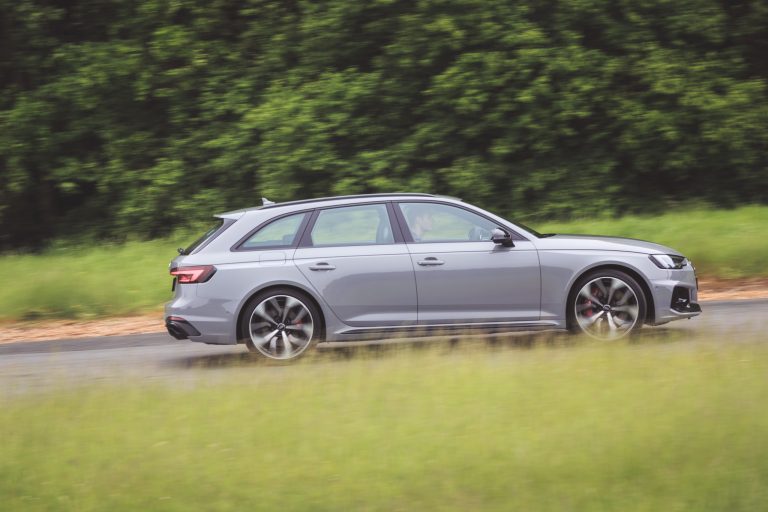 One thing that will be missed in the shift from natural-aspiration to forced-induction is the generous redline. While it can be argued that it isn't necessary when the V6 is convenient and usable anywhere in the range, this does compromise the raw, rewarding enjoyability you got from the V8.
Losing the high redline and two cylinders also affects the exhaust note. Make no mistake, the RS Sport exhaust is a cracker. It emits a trebly 6-cylinder tone that's pleasing to the ear. It is one of the better sounding V6s, but I think the original B5 RS4 sounds more vibrant.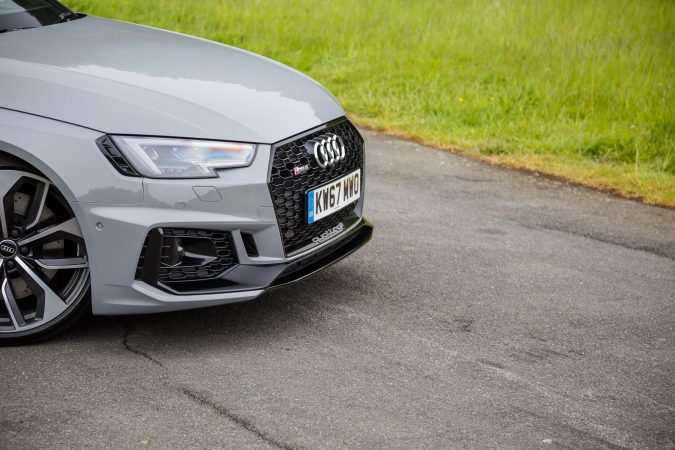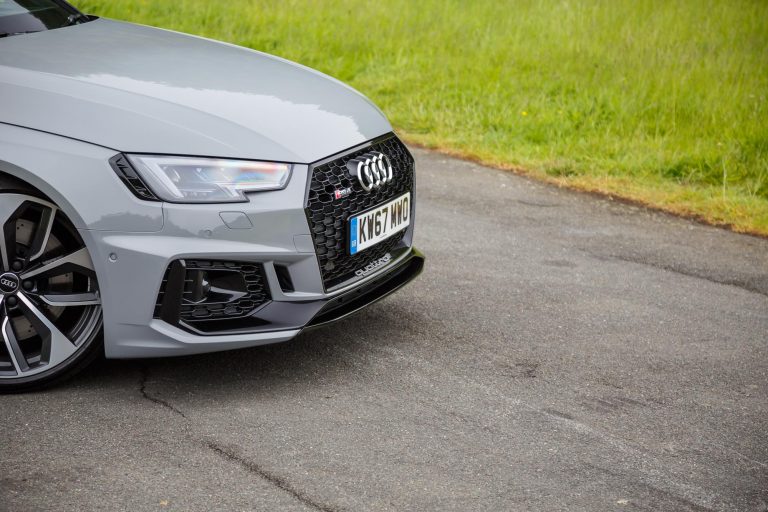 While the transmission isn't a dual-clutch unit, it's impressively prompt, with smooth and crisp shifts as you pull the paddles. You have a lot of long gears to work with that keep the engine muted, while the first four gears are ideal for supplementing the engine with a healthy reserve of torque for thrashing minor roads.
It's worth noting at this point that although the new RS4 Avant can shed up to 80 kg of weight depending on the options, its still a 1.7-tonne estate car. The quattro system is rear-biased, with Sports Differential which is torque vectoring at the rear axles. Particularly noteworthy is that Audi has dropped weight from the nose of the car, effectively shifting the balance closer to the centre.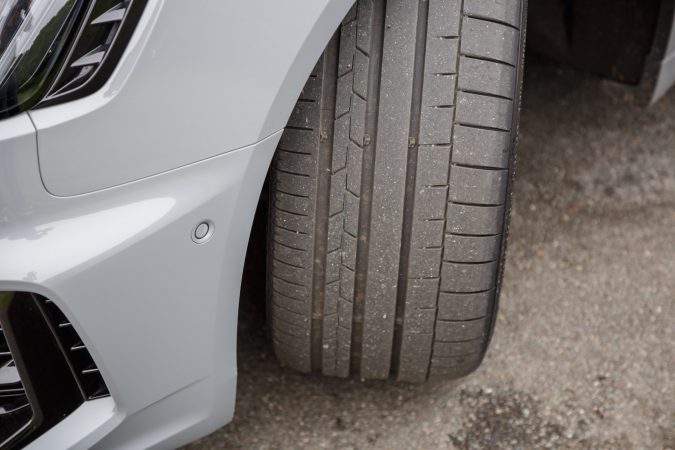 The driver inputs prompt you into pushing the vehicle harder. And you are bound to do this, due to the surefooted demeanour that the RS4 Avant exhibits. It's not agile per se, but it responds so well to keen driver inputs that sometimes it gets comical. The amount of traction it has is seemingly endless.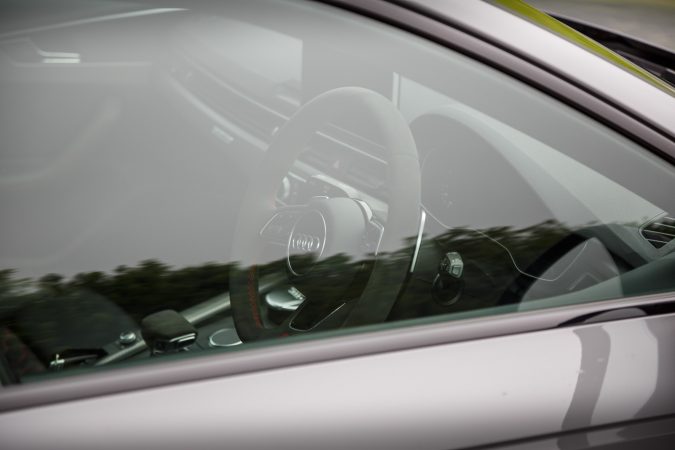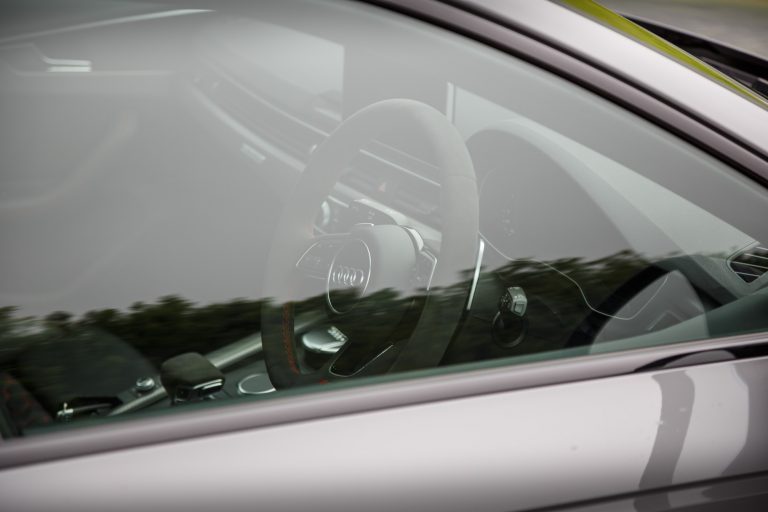 Appearing to entirely disregard its whole estate, the Audi RS4 Avant 2018 dives into corners and slingshots itself out of apexes.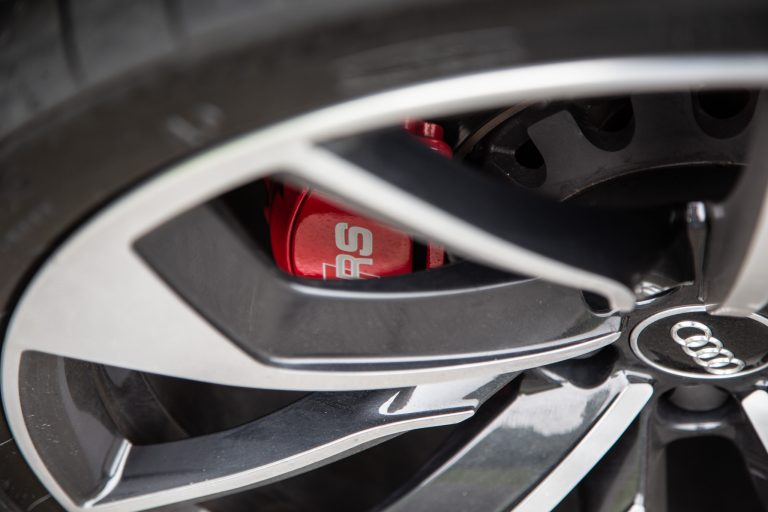 When you just kick back and relax, the RS4 Avant is a very likeable car too. The cabin is hushed, even at motorway speeds. In fact, it feels just like an A4 Avant.
What is it like inside?
Step inside, and you'll find a stereotypically German interior, but stepped up a notch. Our on-loan RS4 features Black Fine Nappa upholstery that extends to the front seats and includes the RS honeycomb motif, with additional Crescendo Red contrast stitching. Audi refers to them as 'Super Sports seats'. The inside is comfortable and easy to enter giving relative support. The front seats include massage function as standard also.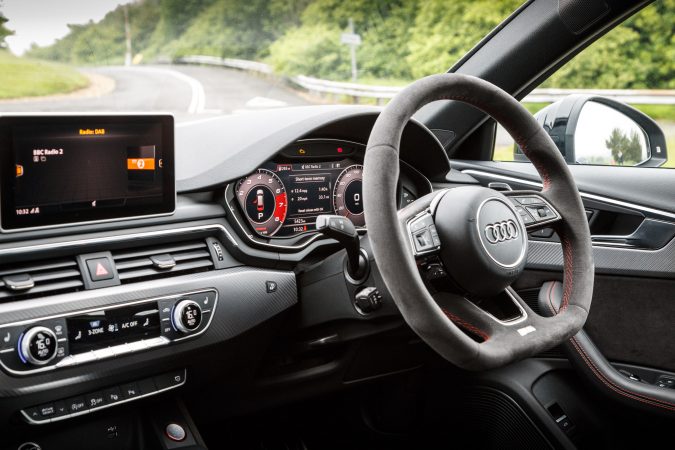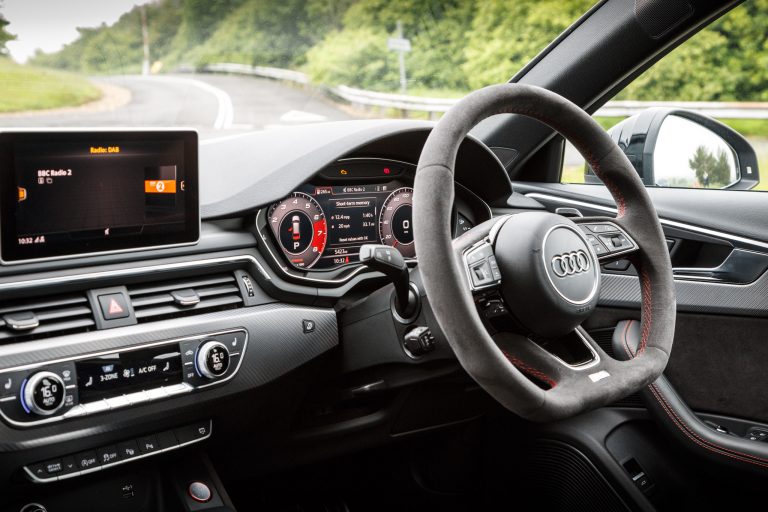 The material choice and build quality are just stupendous. With a nice melding of both leather and Alcantara, everything feels gratifying to touch. The suede Alcantara steering wheel is particularly nice. You can also opt for optional inlays on the dashboard and centre console, made of either knurled aluminium or faux carbon-fibre.
Like many other Audis, it comes with the 12.3″ Virtual Cockpit instrument cluster that's excellent to work with. There's another 8.3″ screen at the centre that provides infotainment. Strangely, accessories like the rearview camera and a heads-up display aren't as standard, and you'll have to spend an additional £450 and £900 for these respectively. Wireless smartphone charging can be install for £325.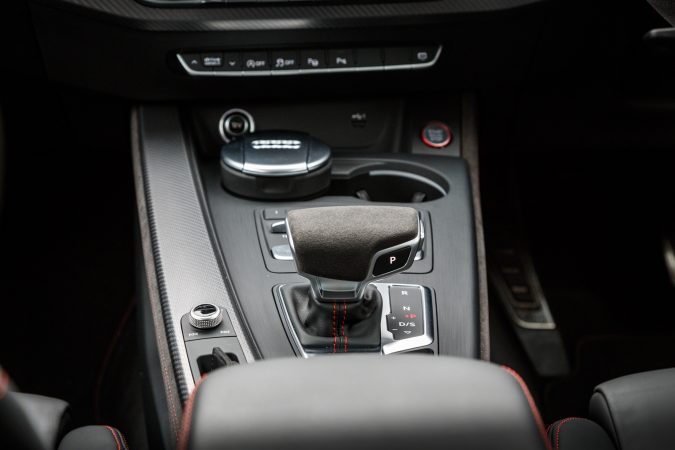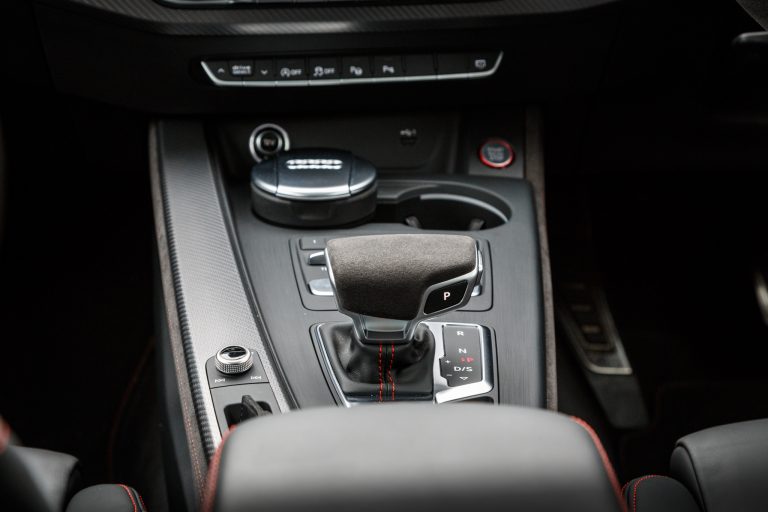 Of course, being an Audi wagon, it still offers all the space you need. Front and rear passenger space is ample, and the small item storage space offered on board is sufficient. And for any estate, a cavernous boot is a key aspect, which the RS4 Avant definitely touts. At 505-litres, it's one of the best in its segment. If you ever require more, the rear seats fold in 40/20/40 fashion.
The Experience
Driving the Audi RS4 Avant 2018 was just staggering. It goes like a bat out of hell when you need it, and its thirst for corners is unceasing. It'll haul all your cargo and three other passengers for a holiday getaway, and still manage to blitz the Nürburgring while doing that.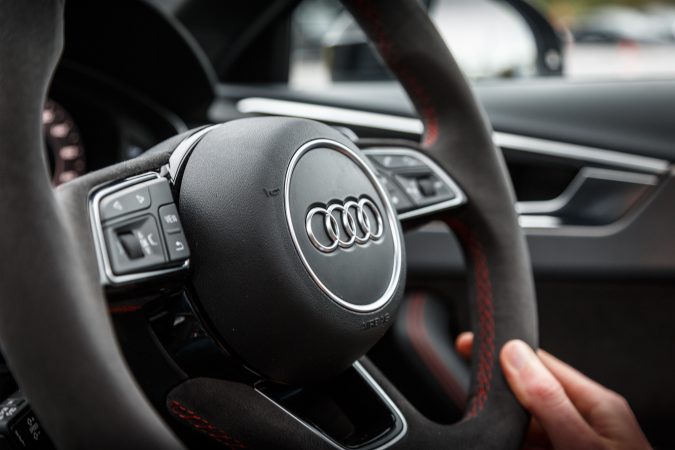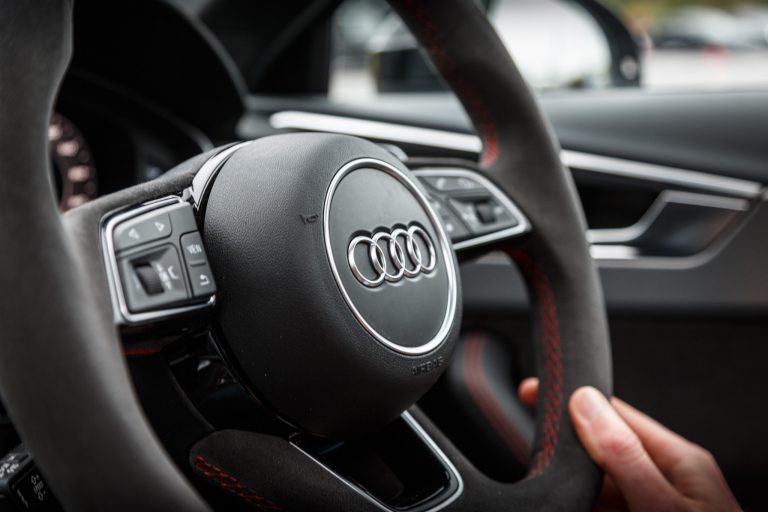 Verdict
So, is the Audi RS4 Avant 2018 worth the asking price? It's worth stating that while it starts at £59,740, ours actually came in at £80,015 with all of the option boxes it has checked. Some options will make little sense for most folks living in the UK like the raised top speed and RS Sport suspension. Regardless, you wouldn't want a base model RS4 Avant, and I doubt potential customers will settle for that.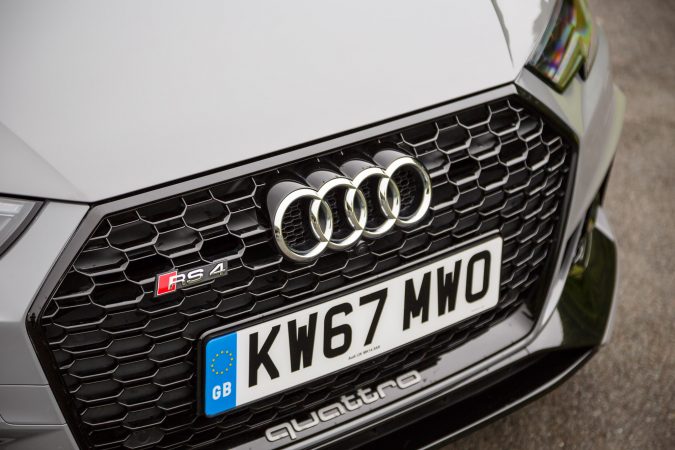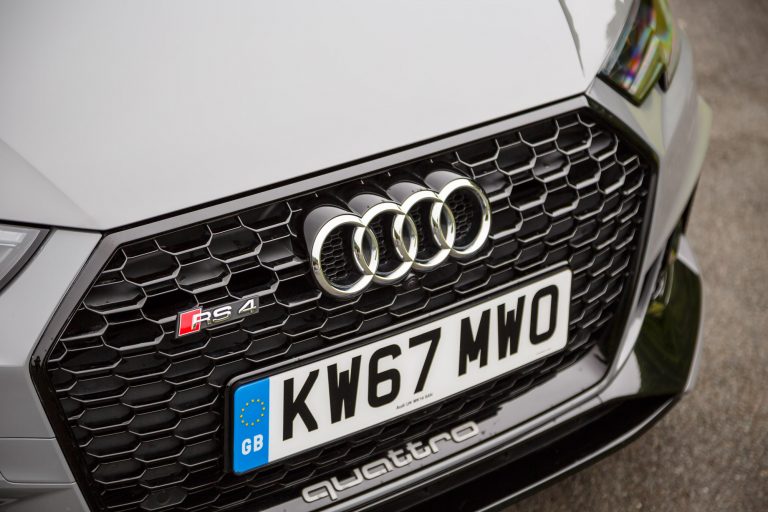 It's expensive, but I reckon that there's really nothing out there that will offer an experience comparable to the RS4 Avant. It's a pragmatic estate with an alter ego that'll startle the unaware, so there's definitely an appeal here. I do think it's perhaps too sensibly fast if that makes sense.
For everyone else though, the Audi RS4 Avant 2018 is an estate with a capacious and premium cabin that'll absolutely terrify you with its unadulterated competence. And as a pleasing extra, its surprisingly efficient, returning solid mileage with a bit of spirited drive.
2018 Audi RS4 Avant Specs
Price: Starting at £59,740
Engine: 2.9-litre biturbo V6
Power: 444 hp
Torque: 600 Nm
Transmission: 8-speed tiptronic automatic gearbox
0-62mph: 4.1 Seconds
Top speed: 155 (174 optionally) mph
Weight: 1,715 kg
Economy combined: 32.1 mpg
CO2: 200 g/km