Here's a fun fact; BMW's "ti" badging has been around since the 60s, often marking out their top-of-the-line performance variants of its compact cars. In its Italian form, that's "Turismo Internazionale", or "Touring International" for those of us who speak Anglo-Saxon. After a long hiatus, they've finally brought back the fabled and beloved moniker for its newest, and cutest, F40-generation 128ti.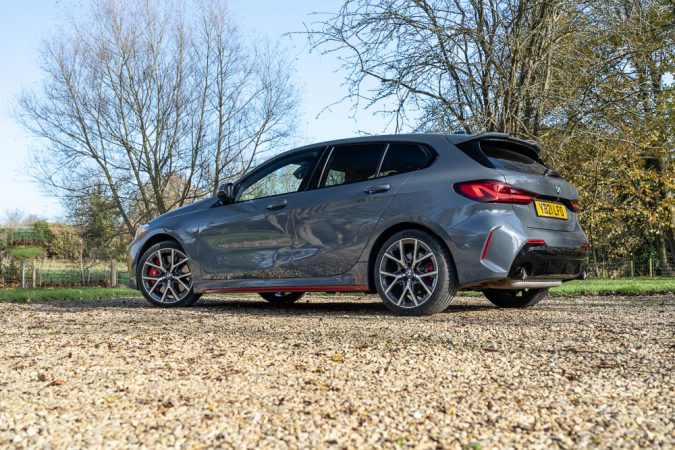 With vehicles growing ever porkier by the day, it's refreshing to see a small hatchback once again. And one of the most fascinating hatches to experience, too. The 1-series hasn't been as celebrated when looking at some of the other Teutonic hatchbacks, like the Golf. But following a rather revolutionary overhaul and redesign over the previous era, is BMW's new 128ti worthy of its prestigious branding?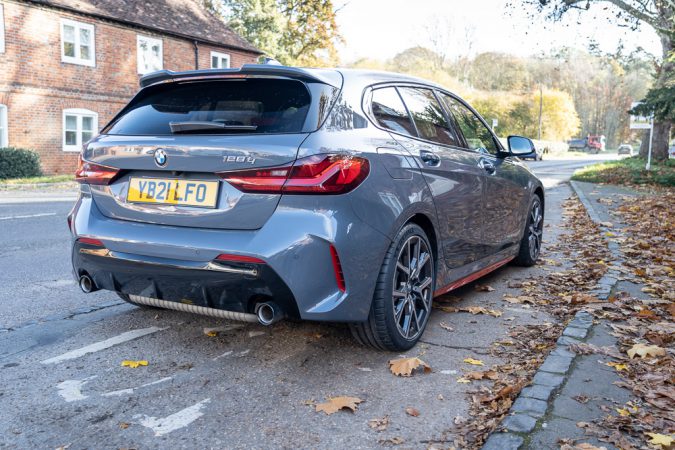 What Is The BMW F40 128ti
While its innards may have been fettled with, the 128ti's looks haven't changed much. It still carries the silhouette of the mini-BMW, as did the old 1 series. This is also one of the few models that haven't yet been given the big-grille treatment. So, its design is very much echoing that of the conventional BMW appearance. Consequently, the 128ti is rather handsome, and quite distinctive, as well.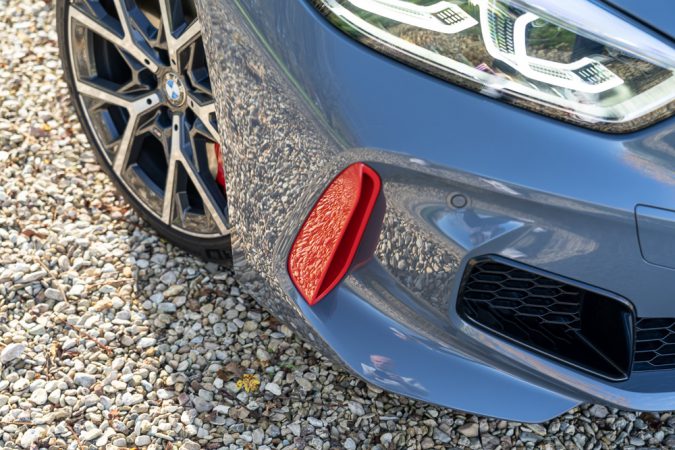 It's especially oozing with some old-school hot hatch vibes in this dark grey, contrasted sharply with some bright red decals. You'll quickly spot these flashes of rouge in a few noticeable places, like the front vents and side skirts. Furthermore, there are subtle 911-esque "ti" logos emblazoned across. The 128ti has a sharpish and athletic look, which stands out without going over the top.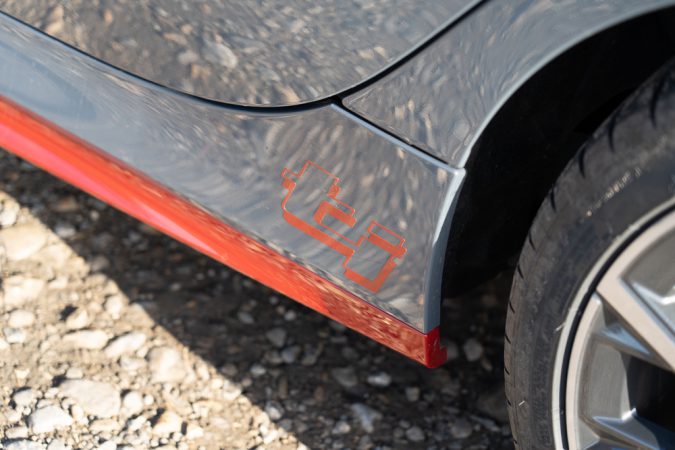 How Does It Drive?
Unlike the hotter M135i, the 128ti is what we in the industry call, a warm hatch. Oh, and that radical change we mentioned earlier that went from the old 1-series to this new generation? That would be pivoting the driven wheels from the rear, all the way to the front. Yep, that's right, this here 128ti is a front-wheel drive BMW. Soak it in, but don't despair for too long, as it's still a joyous thing to drive.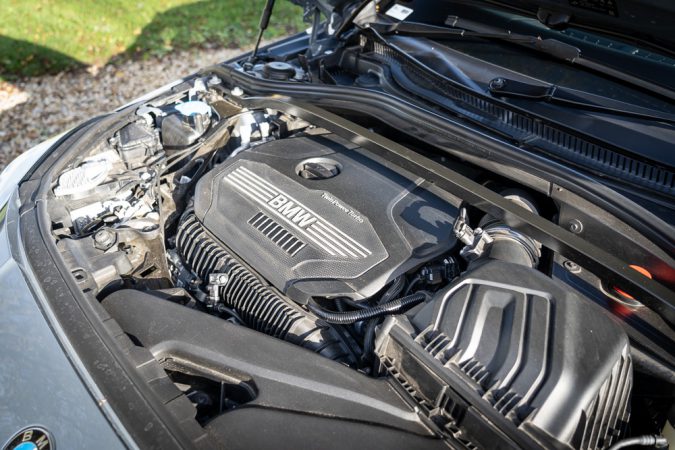 This is mostly thanks to what BMW's engineers have done under the skin. There's a revised M Sport suspension in the 128ti, which sits 10 millimetres lower than a regular 1-series. On top of that, the 128ti gets a bespoke steering setup and a tried-and-tested Torsen limited-slip differential. Despite being a cheaper model, BMW's also carried over a few things from the pricier M135i into this 128ti.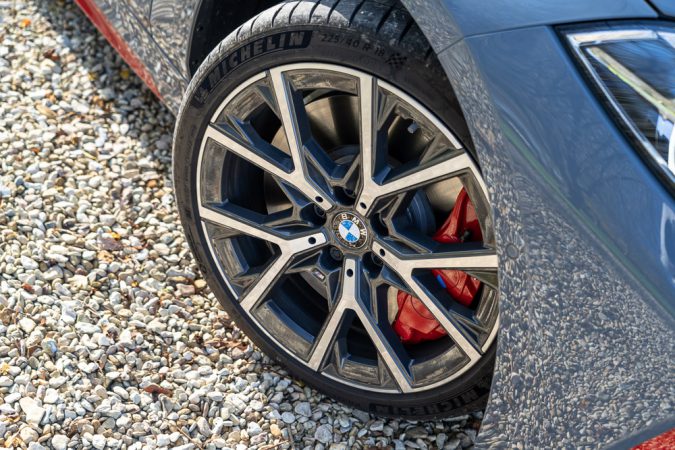 These include stiffer anti-roll bars, firmer springs, and harder shocks from the M135i. And since the 128ti is only two-wheel drive rather than the x-Drive AWD M135i, it's 80kg lighter, to boot! All of these little tweaks and tune-ups have done wonders, dynamically. Indeed, being front-wheel driven means that it doesn't have a quintessentially BMW-like driving experience that we've come to expect.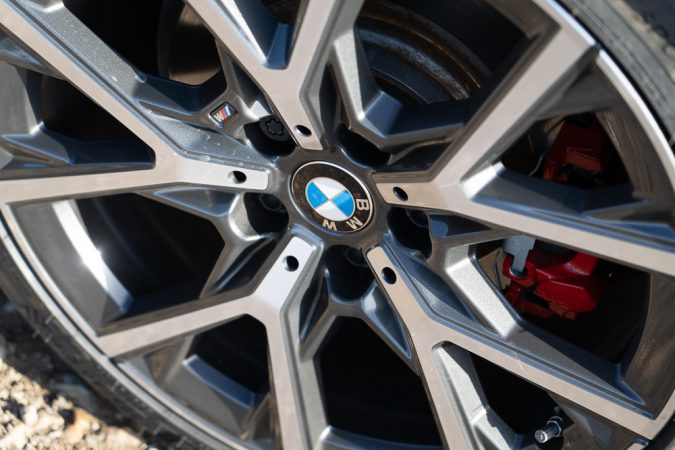 Nevertheless, it's among the better front-wheel drive systems I've come across so far. With that said, the 128ti can sometimes remind you of this. Stamp on the throttle a wee bit too hard, and you're left having to wrestle with the torque steer. It's not significant, but it's ever-present. After all, it's not as though BMW fitted a kart engine to the 128ti. You'll find a 2.0-litre twin-turbocharged 4-banger.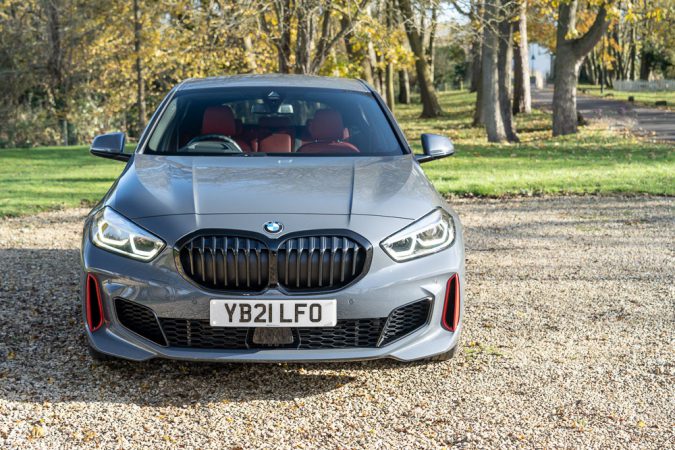 With some fettling, this is now BMW's most powerful 4-cylinder engine ever, with 265hp and 400Nm of torque. Both are mightily impressive figures for their compact dimensions. This is then mated to an 8-speed automatic, as is commonplace among BMW's. There's more than sufficient power here to play around with, and have a bucket load of fun. Plus, it's an approachable amount of power.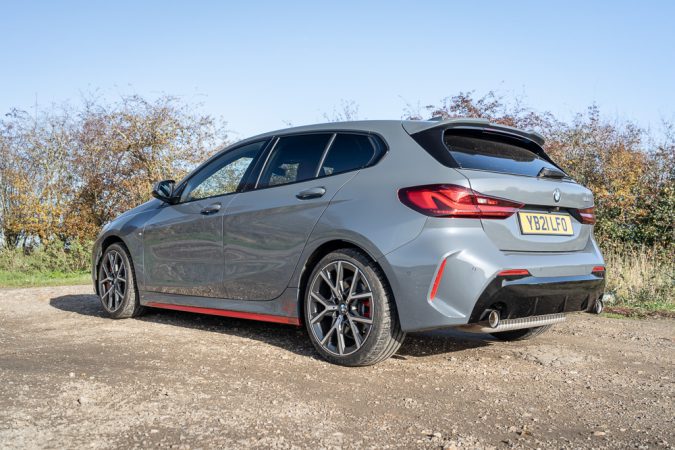 That's unlike the mega-speedy and hairy-chested M3 or M4 Competition-spec cars. With the 128ti, it won't blow your socks off, but at least you can still have a big smile on your face at a more modest and respectable pace. You can then combine it with a set of Michelin Pilot Sport 4 tyres, as well as beefy M Sport brakes. The 128ti is the first 1-series to have these brakes, which comes as standard.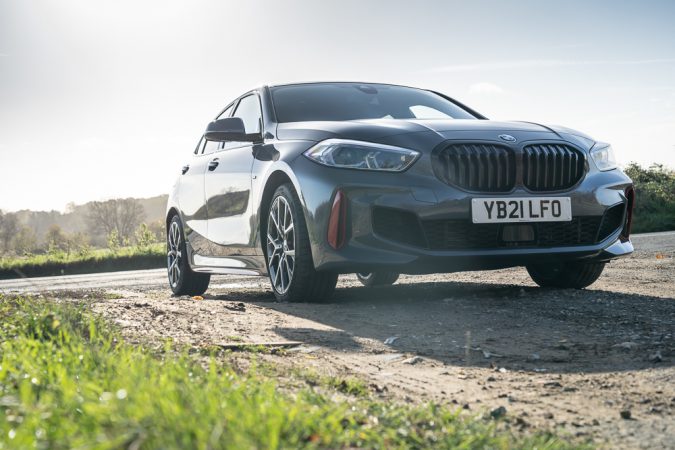 What Is It Like Inside?
Now, you might be asking… "If I want a hatch for this sort of money, why not go for a fully-kitted out Golf GTI, instead?". That is a good question, and our prompt one-word reply would be – interior. This 128ti, like any other BMW no matter the price range, gets you that lux build quality. It's a step above most other vehicles, let alone hatchbacks, in this cost spectrum. I dare say it's the best in its class.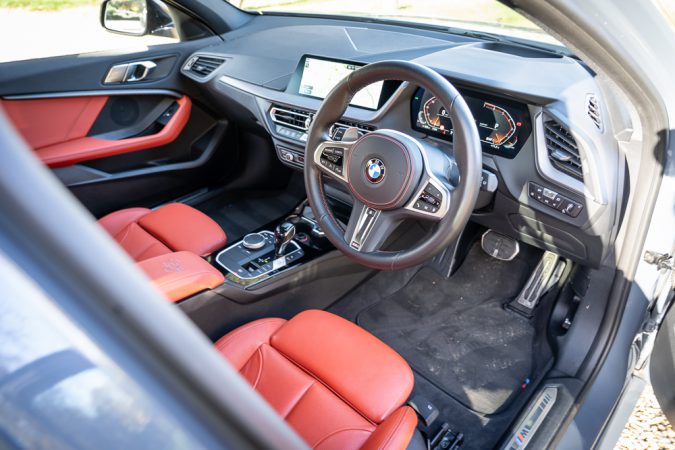 You're paying for that typically robust Germanic fitment, mixed in with sumptuous leather and hard-wearing trim. The leathers are supple, and even if you reach far down, it's hard to find even a hint of cheap plastic. As a whole, it's a fantastic place to spend time in. On top of that, it's your typically practical do-it-all hatchback that makes day-to-day commuting and life on the go much easier.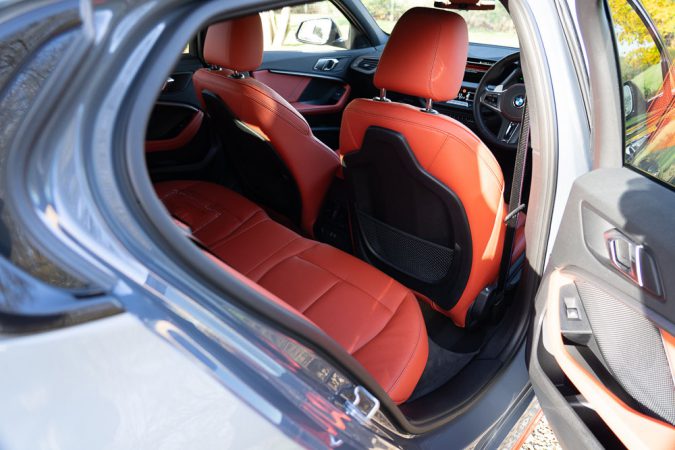 As we mentioned, these new 1-series' are all front-wheel drive, and that brings a major upside to the interior, too. The compact frontwards packaging means that BMW's freed up a lot of interior room. So, you not only get a bigger boot than before, but also a larger space for rear passengers. It's just about usable enough for regularly-sized adults. Still, those compromises do have other benefits.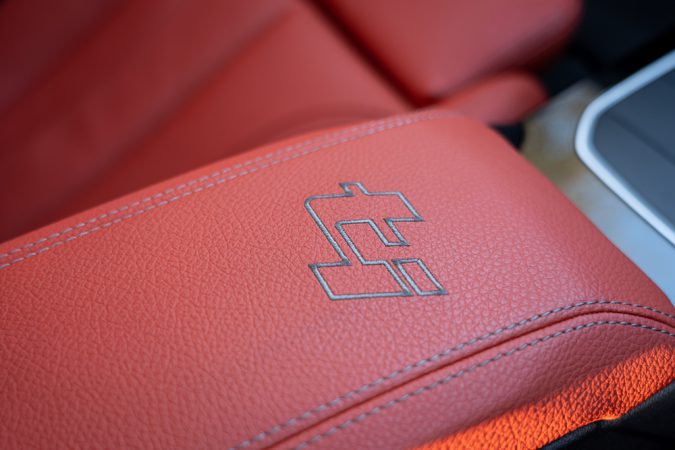 The Experience
The snug rear seating is supplemented in the front, where the 128ti has an excellent driving position. As soon as you strap yourself in, there's an immediate sporty aura. You're quickly made aware that you're sitting in something special. And, as is necessary for a sporty BMW model, there's a thickly rimmed, but tactile M steering wheel.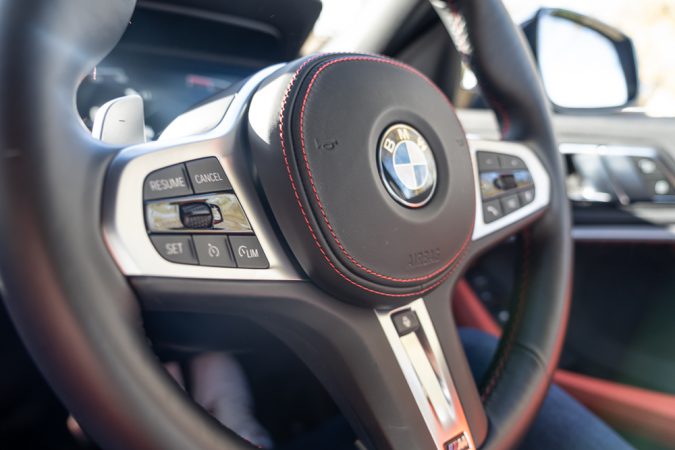 Aside from the fancy leather, it's nice to see that BMW hasn't cut corners on tech. Despite being BMW's entry-level model, you're not left using downgraded parts. Instead, there's a host of screens in here. Most predominantly, you get a sharp and responsive fully-digital instrument cluster. Look left a bit, and BMW's easy-to-use and feature-packed iDrive system is ready and waiting to help you out.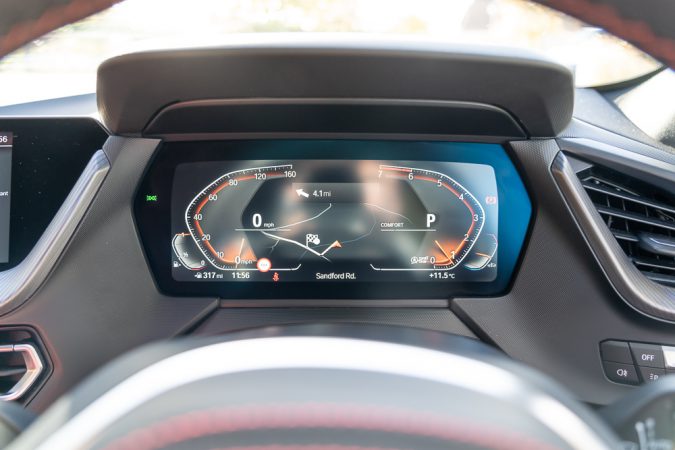 Speaking of electronics, BMW has several other geeky tricks up its sleeve that makes the 128ti such a fun little pocket rocket. The most prominent of which is their BMW Performance Control. It sounds ambiguous, but what it does, quite simply, is carefully manage the 128ti's traction. It helps to boost its agility on the limit, which works alongside BMW's ARB, which works to minimise wheel slip.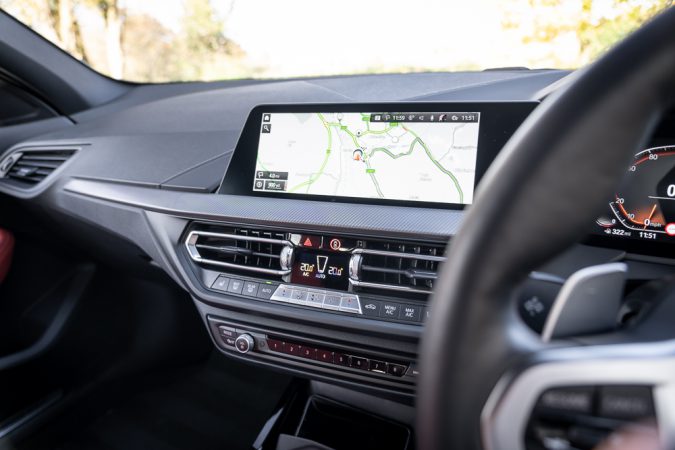 Compared to their older traction control systems, the latest crop of computers in the 128ti – as well as any recent 1-series model – can process data 10-times faster. Therefore, you'll find it working in the background more seamlessly, and maximises traction where necessary given the conditions. It ultimately has reduced the impact of a key drawback with most FWD hatchbacks, understeer.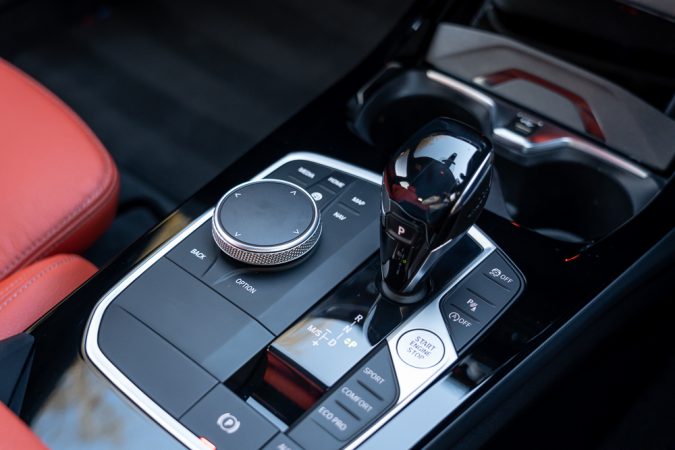 BMW F40 128ti Cost
The standard, base-spec, and nothing-optioned 128ti will set you back £31,875. As you see it here, our example costs a mighty £37,540. It's clear that the 128ti isn't the cheapest in its class, compared to an expansive world of sporting hatchbacks out there. But for what you get, I think it's more than worth the expense. That's especially so if you're more conservative with the optional extras.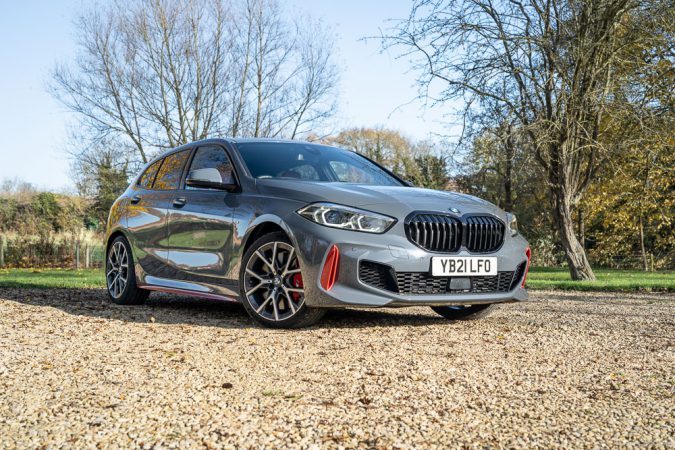 The costliest option BMW's ticked for us is the Technology Pack, priced at £1,500. It does give you a lot of nice-to-have amenities, such as adaptive LED lights, a parking assist system, and a wonderfully capable heads-up display unit. There are a few options that you can live without, such as this discreetly pretty Storm Bay paintwork, and that gorgeous wine-red leather interior.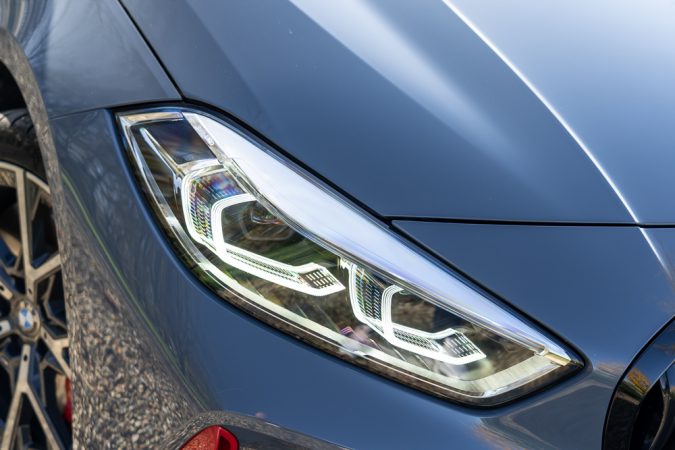 Rather surprisingly, BMW does give back quite a lot for no charge at all. For example, the M Sport brakes and racy Michelin tyres are both no-cost options. These fetching alloy wheels and a subtle rear spoiler are similarly complimentary. Of course, the folks at Munich are still keen to try and empty out your wallet. Hence, why there's an abundance of carbon-fibre trim that you can option.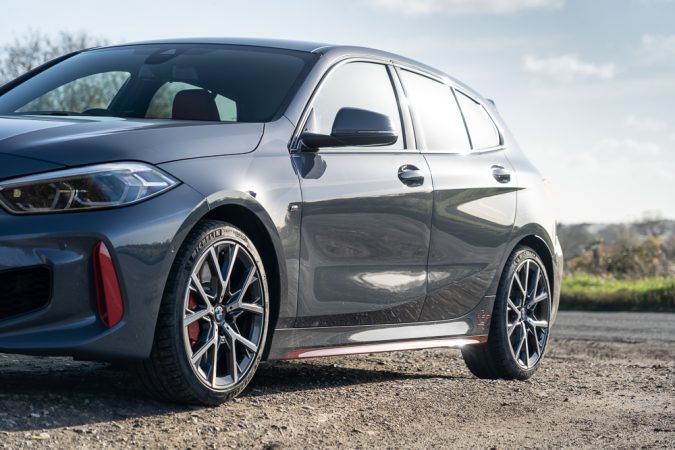 Verdict
If you're looking for a more premium yet compact go-anywhere mobile, BMW's 128ti is a brilliant all-rounder. And, it's a perfectly judged package, as well. The price is just about right, and you get a lot for the money, I think. It's handsome, with a well-appointed interior, and there's a great pleasure to be had behind the wheel. Moreover, it's a unique model that you're possibly not going to see many of.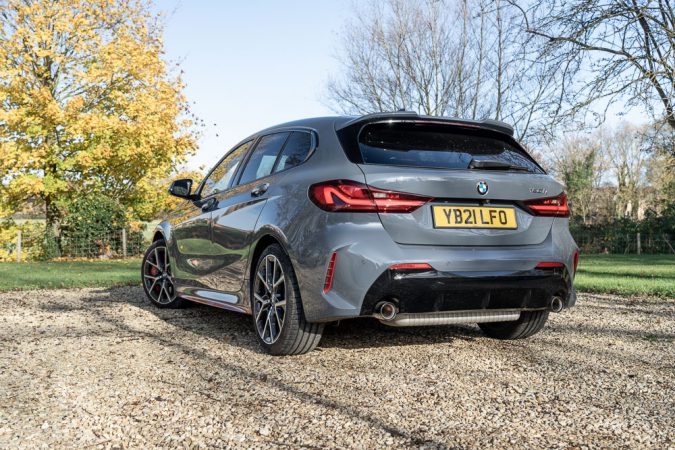 It's everything a BMW should be as a driver's car, but with most of the fat trimmed out. What you're left with is a taste of the good parts of the meat for a discount, and not much else. It's more than worthy of wearing the legendary "ti" badge, as BMW's 128ti brings its heritage to the 21st-century. The 128ti should deservedly be on your shopping list the next time you're thinking about a new Golf GTI.

Specification
BMW F40 128ti Specs

Price: £31,875
Engine: 2.0-litre Twin-turbocharged Inline-4
Power: 265hp
Torque: 400Nm
Transmission: 8-speed Automatic
0-62mph: 6.1 seconds
Top speed: 155mph
Weight: 1,520kg
Economy combined: 44.1-46.3mpg
CO2: 148-139g/km