Citroen C5 Aircross Flair Plus Review
Citroen has always been unique among car manufacturers as it tends to give a high priority to things like comfort and ease of drivability. This always meant that if you wanted something very refined and plush then you could never go wrong with a Citroen even when its rivals made cars with stiff suspension aimed at breaking track records. Citroen seems to have carried this approach over to the crossover SUV segment with the Citroen C5 Aircross Flair+. I tested the car out to find out what sort of a car it is.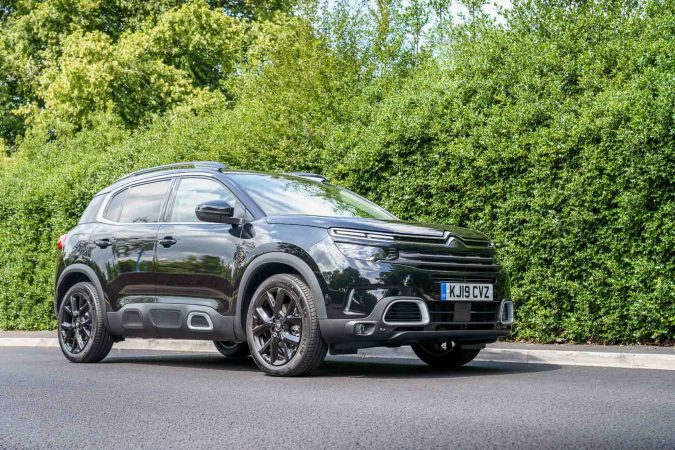 What is the Citroen C5 Aircross Flair Plus about?
The Citroen C5 Aircross is like a breath of fresh air in the world of SUVs. With every other manufacturer trying to make their cars as sporty as possible, the C5 is more for the relaxed driver who wants a practical SUV that you can live with on an everyday basis. The Citroen C5 Aircross is a well-built car that offers all the creature comforts and trustworthiness you would expect from a modern car. The car looks quite boxy on the outside. It does have plenty of road presence. There are a few subtle contours that give it a slightly nuanced look but Citroen have clearly stayed away from going over the top on this front.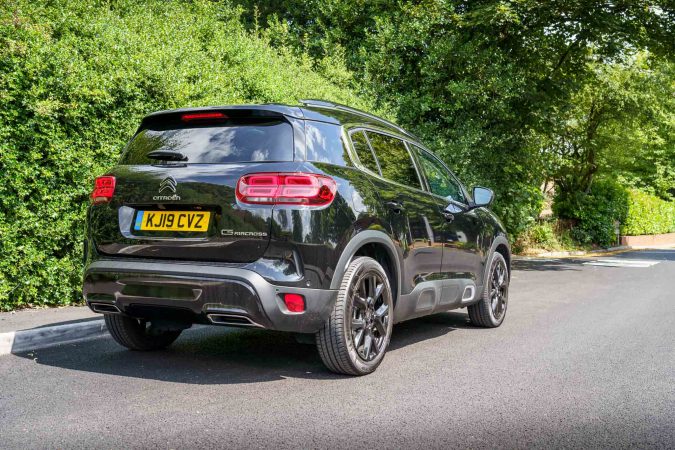 The biggest factor that decides how refined a car is, is its engine and Citroen hasn't cut any slack here. It is powered by a 4-cylinder 1.5-litre turbocharged diesel engine. There are multiple petrol and diesel variants also available for the Citroen C5 Aircross range.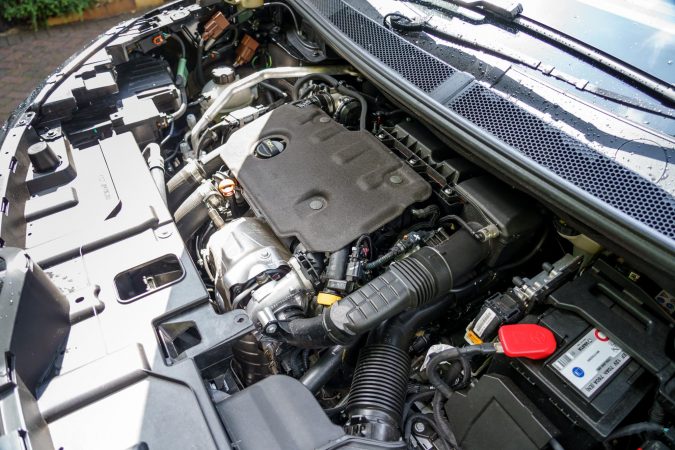 The engine in the Citroen C5 Aircross Flair+ that I tested produces 129 bhp of power at 3,750 RPM and a solid 300 Nm of torque at just 1,750 RPM. These figures again highlight the practicality of this car as you can run it at its most potent form without really having to push it. This convenience is further increased by mating the engine to an 8-speed automatic gearbox that ensures that you have enough power on tap most of the time.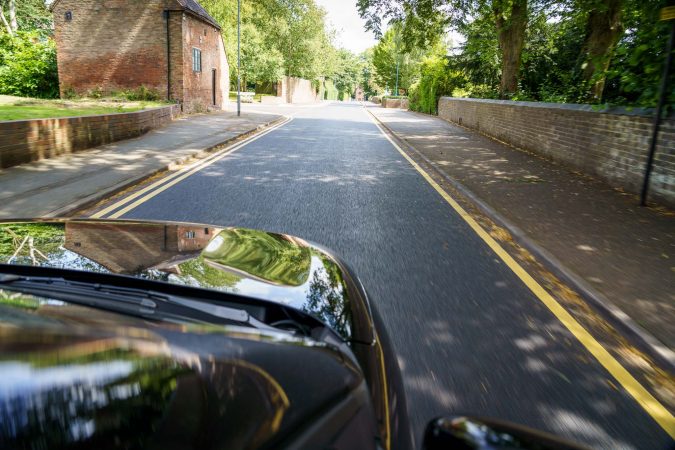 This car can go from a standstill to 62 mph in 11.8 seconds which isn't rapid but isn't too slow either. It tops out at a modest 117 mph. It comes equipped with a stop/start feature which shows in the combined fuel economy figures of 51.4 mpg. CO2 figures of 106 g/km are quite good as well. A maximum braked trailer weight of 1,250 kg and a fuel tank capacity of 53 litres complete the package.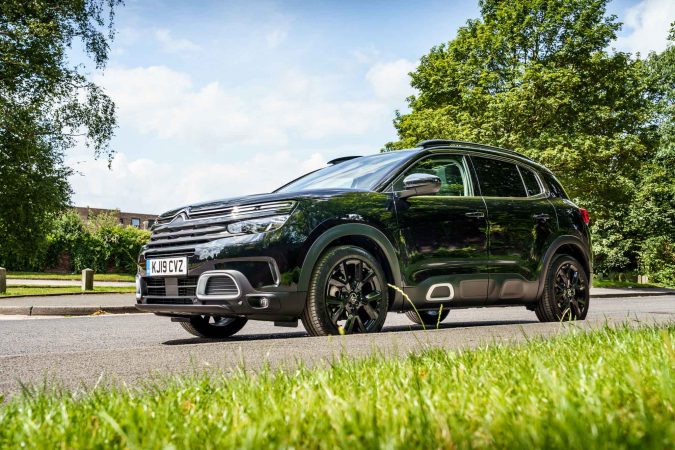 How does the Citroen C5 Aircross Flair Plus drive?
SUVs, in general, can almost feel like they are trying too hard to be sporty. The Citroen C5 Aircross Flair+ totally foregoes this approach and takes a rather relaxed attitude to the way it rides. The first thing that stood out about the Citroen C5 Aircross Flair+ was how refined it was. The engine barely made any noise even when pushed really hard.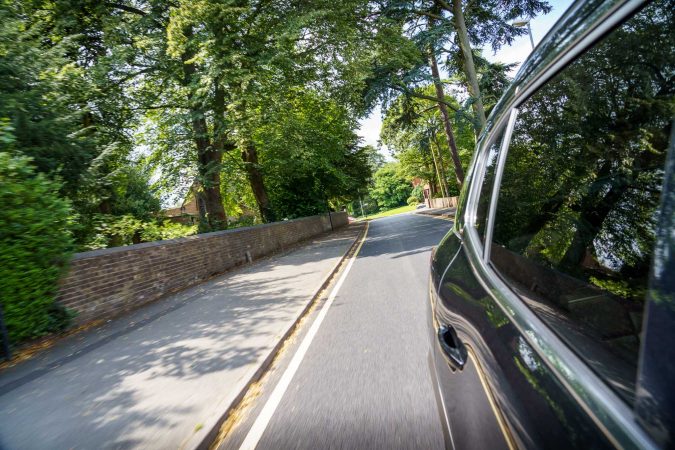 Handling was a mixed bag though. As I mentioned earlier, it is no slouch but it is not nimble either. At first, I did feel a bit disconnected with the steering as it did not feel very intuitive but I warmed to it over time. Being aggressive with the steering can easily make the car feel uncomfortable but treat it gently then driving this car becomes quite easy and effortless. The grip available is adequate and some body roll is present but it isn't too disconcerting.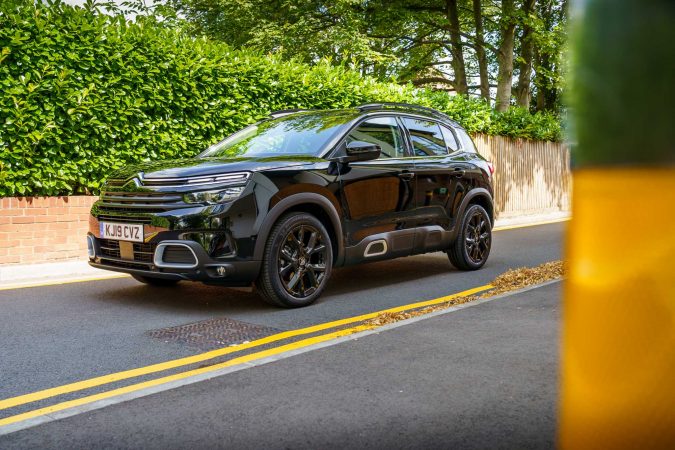 The automatic gearbox is pretty much well-mannered under most circumstances. The suspension is a different story though. It is quite soft and the ride feels cushy but only when the road conditions aren't too bad. It can glide over medium-sized potholes with ease. It has that desired comfortable Citroen ride quality.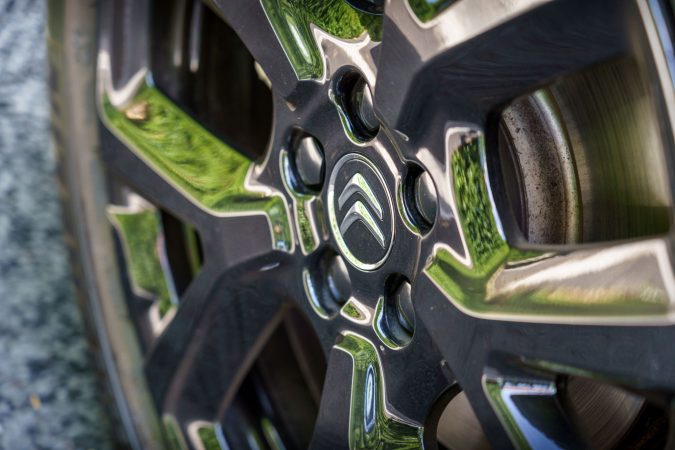 The safety features work like a treat and everything works well in conjunction with each other to make long rides quite easy and enjoyable.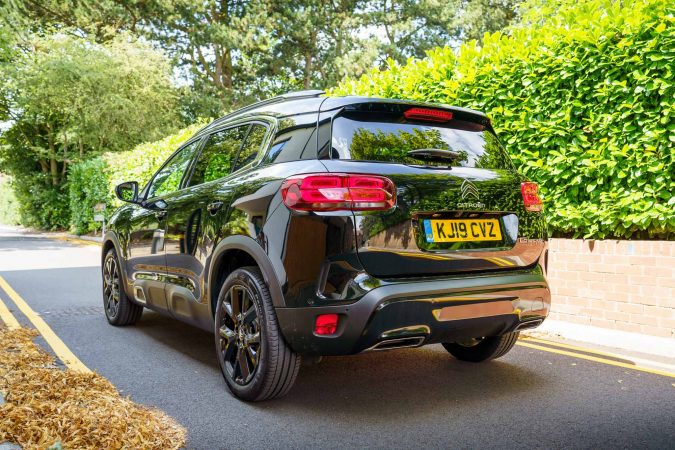 What is it like inside?
The Citroen C5 Aircross Flair+ is decisively Citroen on the inside as well. It forgoes the conventional trends for an approach that can be best described as interesting.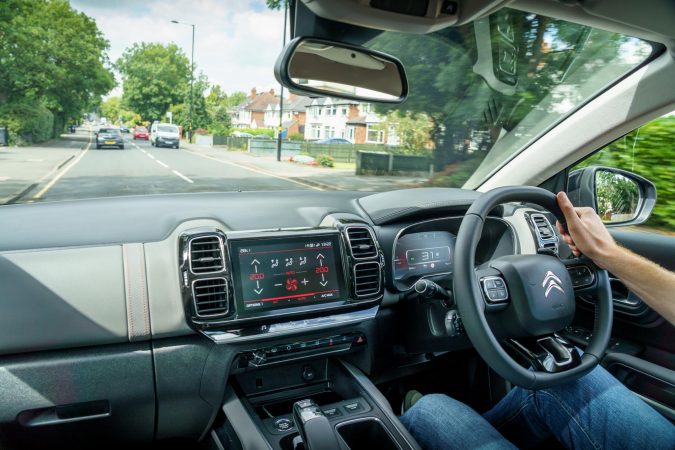 The seats look more like lounge furniture than something that belongs inside a car. The important thing though is that they are very comfortable. The headroom and legroom are very adequate both in the front and the back. Five people can travel quite luxuriously in the Citroen C5 Aircross Flair+.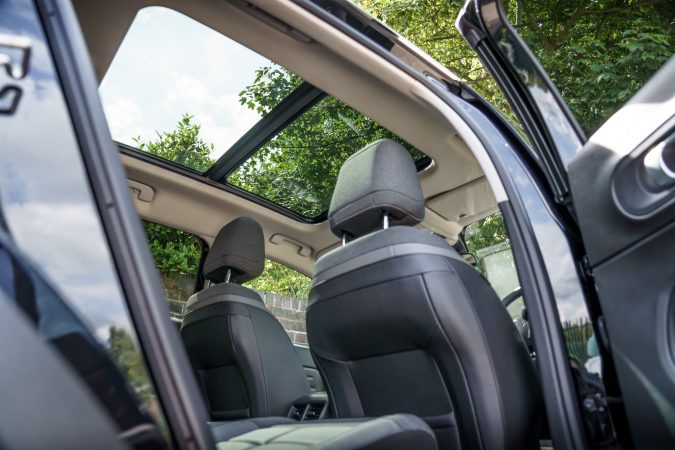 Plenty of storage options are also available in the form of a centre console bin, glove box, and cup holders. It might not look like it but the Citroen C5 Aircross Flair+ is a nice place to be in. The colour scheme is pretty neutral and looks quite classy. The optional hands-free tailgate is also quite useful, but I must say I feel like it should raise a bit higher for my liking.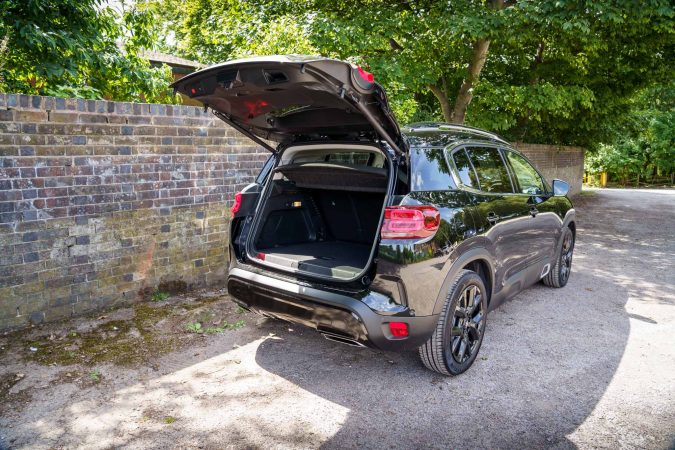 The infotainment system is good and has all the standard features you would want from this type of car – Sat Nav, DAB, Apple CarPlay. The user interface does take a bit of time to get used to but it is not something that would be too much of an issue.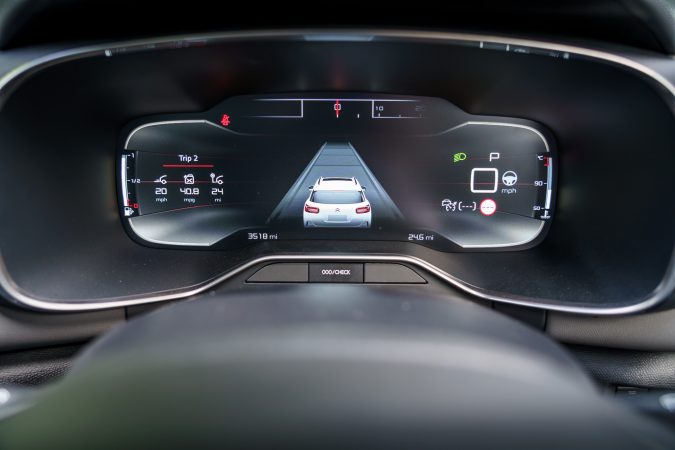 The instrument cluster looks quite cool as well. It is worth noting it allows you to cycle through a selection of different views to have the information you want always at hand.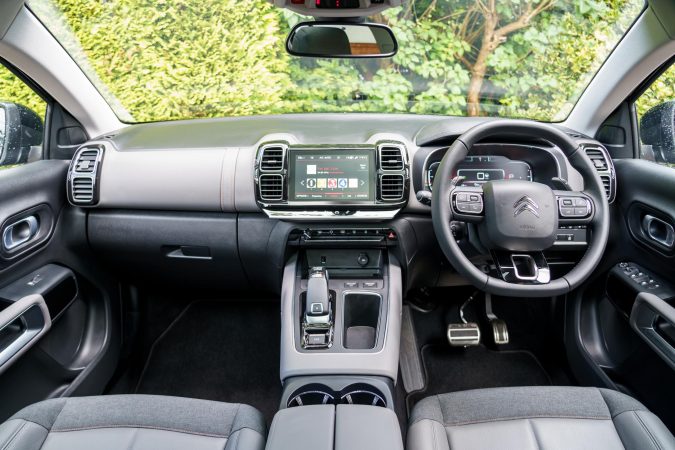 The experience
Driving the Citroen C5 Aircross Flair+ felt quite refreshing as it provided a welcome relief from the near monotony that has been established in the SUV segment. It is different and interesting and whether that is good or bad depends totally on you and the characteristics that you look for in a car. It provides a great option for those who are looking for something other than the standard fare.
Citroen C5 Aircross Flair Plus Cost
The Citroen C5 Aircross Flair+ that I tested came with a few optional extras like metallic paint, hands-free tailgate, and 19″ Black ART alloys. This bought the cost of the car from a base price of £30,830 to £32,265. This along with the decent cost of ownership this car makes it a great bargain.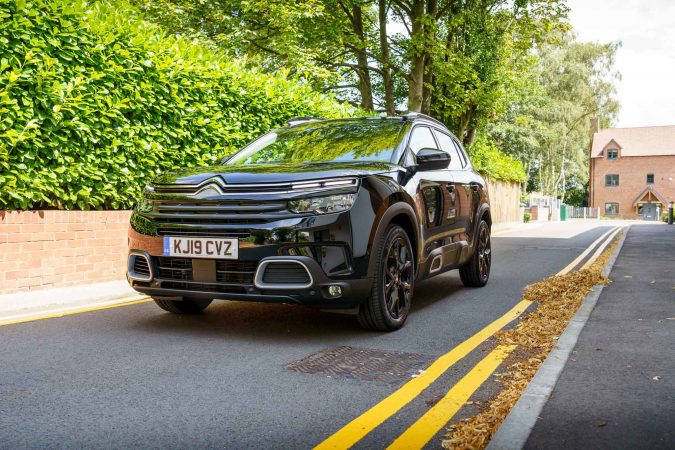 Verdict – Citroen C5 Aircross Flair Plus
Not everyone's taste in cars is the same and for people looking for something very interesting and almost bordering on the quirky side, the Citroen C5 Aircross Flair+ is a great car. It combines a lot of unique characteristics in a comfortable package and comes packed with plenty of features all at a price that makes it quite attractive.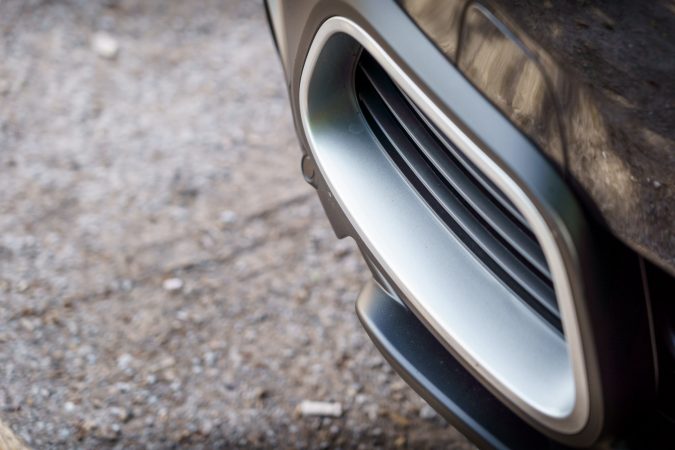 If a unique image is what you crave for in your car then the Citroen C5 Aircross Flair+ is as close to perfect as you can get in the crossover SUV segment. Don't forget that if the black on black demo car here isn't to your taste Citroen have a good range of colours to make a bright and vibrant car check out their website.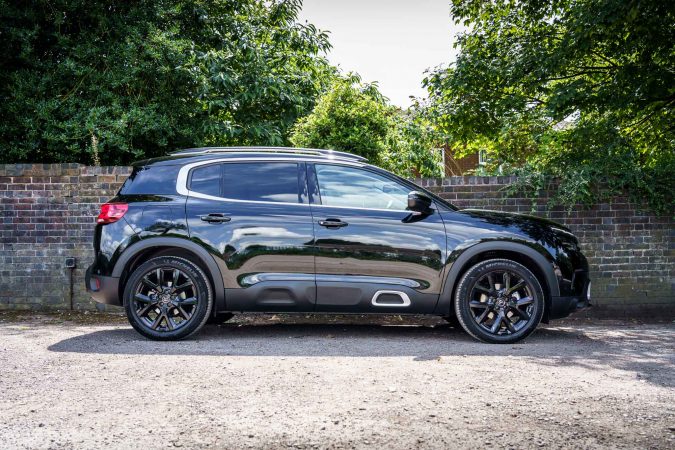 Specification
Citroen C5 Aircross Flair Plus Specs

Price: £32,265
Engine: 1.5-litre turbocharged diesel
Power: 129 bhp
Torque: 300 Nm
Transmission: 8-speed automatic
0-62mph:  11.8 seconds
Top speed: 117 mph
Weight: 1,430 kg
Economy combined:  51.4 mpg
CO2: 106 g/km
To see more pictures of the Citroen C5 Aircross take a look in the gallery.