Driven: Morgan Motors – 3 Wheeler 2013 Review
Here it is; a newly engineered modern day iteration of one of Morgan's earliest ever cars. The Morgan 3 wheeler was fabricated for personal use in 1909 by Henry Morgan and then put into production in 1911 for the general public. One hundred years later in 2011 Morgan brought back the 3 wheeler.
The reborn 3 wheeler costs £25,950 + VAT, for that you get a kerb weight of 550kg, a Mazda 5 speed gearbox and two Harley-Davidson style S&S engines in a V-twin configuration – together putting out 80bhp. This setup can get the car from 0 – 60 in 4.5s and a top speed of 115mph, which is pretty quick by anyone's standards.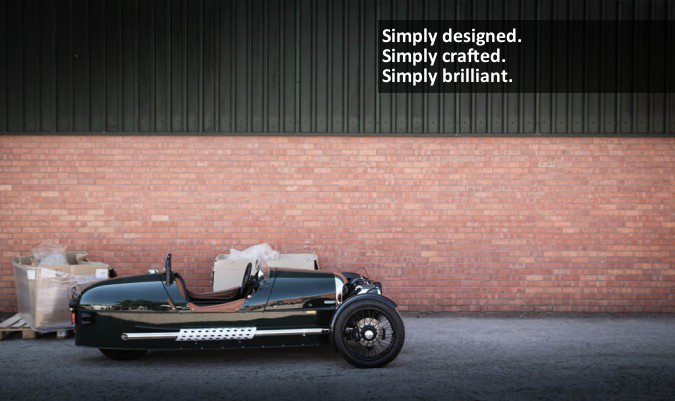 The Drive
I have to say I'm taking Morgan's word for the top speed as I'm not quite brave enough to get anywhere near it in this car – but what an exciting drive! Before you can start driving you need to get things adjusted, rather than adjusting the seat, you adjust the pedals in the Morgan. It's a 15 minute job with a few tools, but once setup; you're off, there are no doors, you literally jump!
Inside there is just enough room for two people. To start the car you use, as Morgan term it, the 'bomb release style' start button, it doesn't actually drop any bombs but it makes just about as much noise when you press it! From where you sit you can see the wheels turning and you know exactly where you are on the road, it's great visual feedback from a driver perspective.
Being rear wheel driven by a Teflon belt and pulley system, and having one less tyre than normal to the road means the 3 wheeler is significantly tail happy when it wants to be. On a dry road going into second or third you can get the back end out without too much effort, which is loads of fun! But it could catch you off guard in the wet, but to be fair, the 3 wheeler isn't a car you would use in the wet anyway as it doesn't have a roof.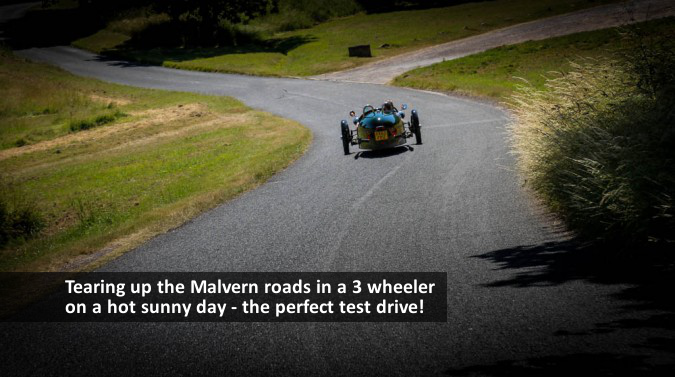 Doing any more than 40mph you will require a helmet or goggles just to see where you're going as it gets a little windy. When you drive the 3 wheeler a bit harder you can really enjoy the driving experience. It's direct, it's raw, and it's swift. It has dual side exit exhausts which make a great sound from the V-twin bike motors.The engine performance is great for the weight of the car, I have to say it feels very fast when you are behind the wheel, and you do find yourself holding on tightly as you are darting around in the Morgan. I was more than happy tearing up the Malvern roads in a 3 wheeler on a hot sunny day, it was a perfect test drive.
The 3 wheeler doesn't have the typical sports car handling feel, but it does have its own exciting underdog feel with its one wheel handicap. The Morgan also has a very unique characteristic; the use of wood allows the car to naturally absorb shocks and vibrations from the road and gives the car a flexible characteristic which is impossible to achieve in cars using metals. You can't really compare the Morgan, not to a Caterham, or an Ariel Atom, or anything really.  It's unique 3 wheeled stance and V-twin motor bike engines mean it's like nothing else I have ever driven. Nothing else can give you a similar feeling to the Morgan 3 wheeler, it is a distinctive motoring experience.
Appeal
When I was at the Morgan Motors factory for the test drive there was a customer, and his co-driver, there to collect their 3 wheeler; the pair were going to drive the newly purchased car all the way back to Slovakia. Remember this car has no roof, barely any windscreen and next to no storage space. Their trip was going to be interesting to say the least, but what an adventure. This story highlights the extremes that people will go to, to own and enjoy these exclusive cars. You simply don't see these cars on the roads, they are so rare.  They are hand crafted end to end and have true British heritage behind them.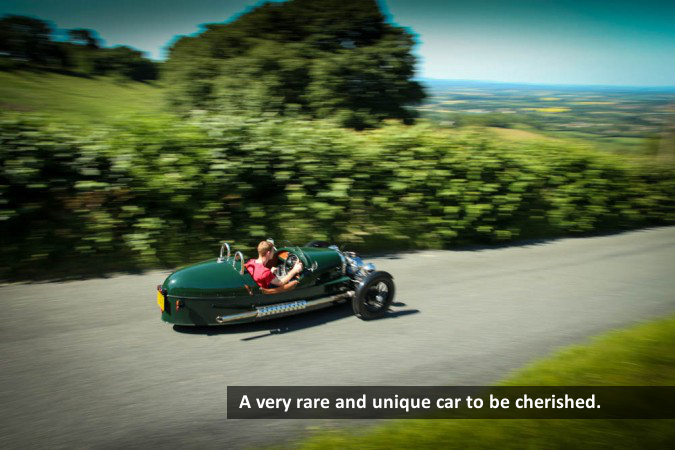 There is a 3 wheeler for everyone; they can be completely customised with different colours, designs, leathers and woods. There is even a Gulf or SuperDry designed car.  They are a great piece of machinery, a fashion statement,and amazing to look at… they are almost too good to use. And the fact that there are no two cars the same gives the Morgan a real sense of individuality.

Specification
Price: £25,950 + VAT
Engine: 1983cc 'V twin'
Power: 80bhp
Transmission: 5 speed + reverse
0-62mph: 4.5 seconds
Top speed: 115mph
Equipment:Leather seats, dash and side pads,
On sale: Now
 Author: Paul Hadley