For those of us that don't have pickup truck fever, the first Ford that often comes to mind is likely the Focus. Either known for its rally success or maybe your teacher had one, the Focus has long been a very good "car". You need a vehicle that can get you from A to B in comfort, cheap to run, decently speedy, and is big enough for a decent grocery run? Get the Focus. But SUVs are on the rise, and people seem to be loving them. So, would they bother with this, Ford's new Focus ST-Line MHEV?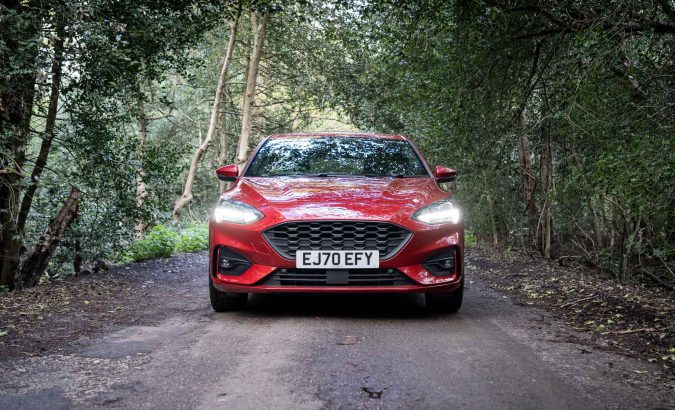 Would this be able to reel in would-be SUV or crossover customers? Well, looking past being able to sit some inches higher than everyone else, there are some good reasons why this Focus might just tempt you. It's all you need with an automobile, delivered in a package that's so very well wrapped and put together. And having that 48V mild-hybrid system works a treat too, as this new Focus here is not just fun, but efficiently so. Well then, what exactly makes this one Focus so very appealing…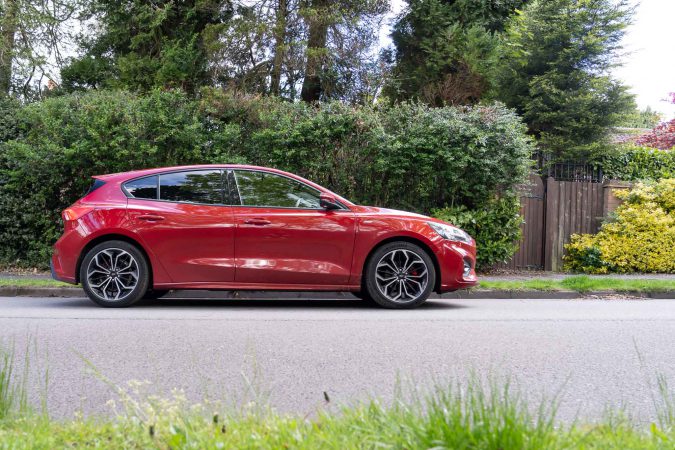 What Is The Focus ST-Line MHEV About?
First, let's take an outside view of the Focus ST-Line X Edition MHEV. A lot of words, and it backs up with a look that's subtle, yet handsome. The Focus here has the new, sharper, and somewhat more angular design language from Ford. To my eyes, it looks very good in the metal. Especially so in this bright red-orange paint, Fantastic Red, which is indeed rather fantastic. Photos don't do this spicy colour enough justice. In fact, the sharpish look even reminds me a lot of a much pricier car.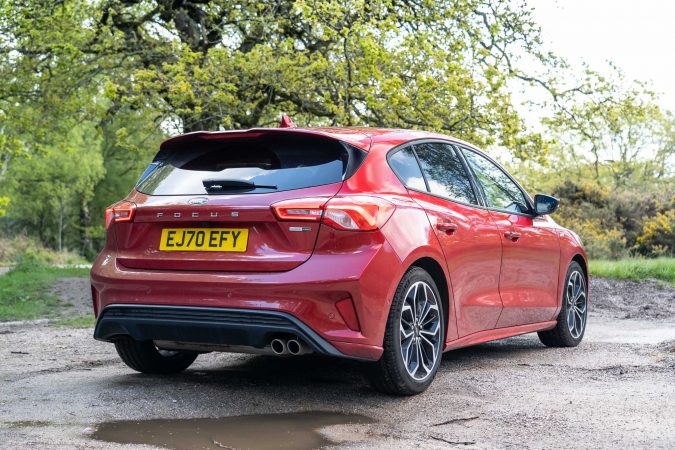 From the front, the slim and tapered headlights combined with the patterned grilled are conjuring up comparisons with the Aston Martin DBS Zagato. Along the rear, "F O C U S" is spelled out boldly for anyone that got caught up gazing at your taillights. There's a lip spoiler on the back too, which I'm fairly certain isn't functional, though it adds to the aggressive looks. On that note, being an ST-Line spec car means that our Focus here has plenty of blacked-out trim, and no visibly shiny chrome.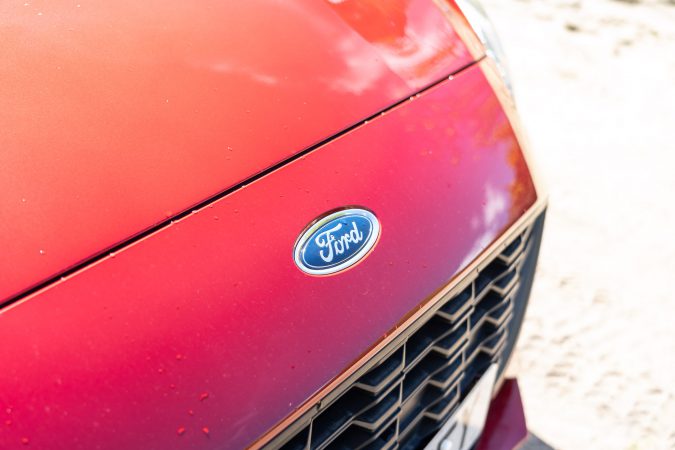 How Does It Drive?
But… Does the Focus ST-Line MHEV have the sportiness to match those passively angry looks? Pop open the bonnet, and you find yourself hurled into a nest filled with webs of hoses and lines. It's quite messy in here. Still, look deep in there and you'll find a tried and trusted EcoBoost motor. With three whole cylinders and 1-litre of displacement, this turbocharged engine mates to a 48V mild-hybrid system. The latter works more like a battery and integrated starter and generator kit. But the motor does also apply drive to the engine helping torque fill where possible and reduces emissions.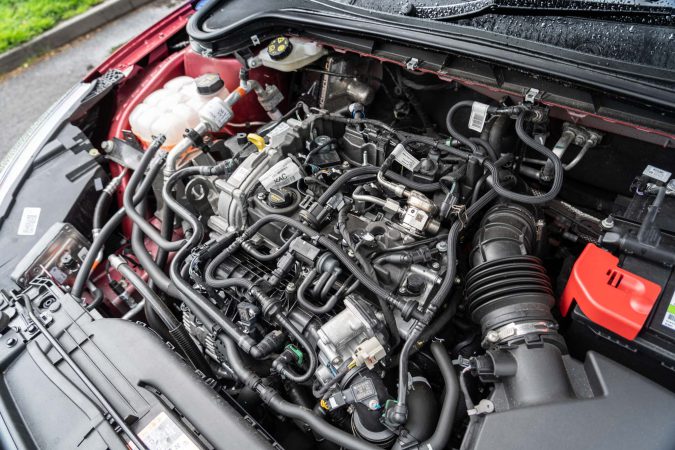 In fact, there will be a lot of parallels drawn between this, and the smaller Fiesta ST-Line MHEV that we've just tested recently. It's a similar powertrain to the Fiesta, albeit a tad fruitier on paper figures owing to the Focus' added mass and surface area. In total, our Focus here can dole out 155PS, or 153bhp. It manages a sprint from standstill to 62mph in 9.2 seconds, and onto a top speed of 131mph. A slight improvement over the smaller Fiesta, but not that much faster.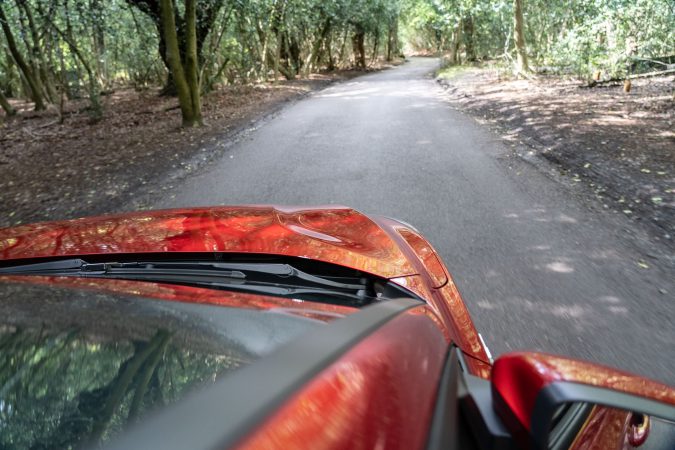 Therefore, you certainly won't feel like a speed demon riding in the Focus. The 240Nm of torques running with you are ample, though it only really gets a move on at the top-end of the rev range. Lower down, you'll have to give it the beans if you'd like to make it go. At least the aggressive stop/start doesn't get in the way of the power delivery. It engages as soon as you lift off the clutch in literally milliseconds. And yes, this has a 6-speed manual box that is such a joy to use; moderately notchy and oh-so-engaging.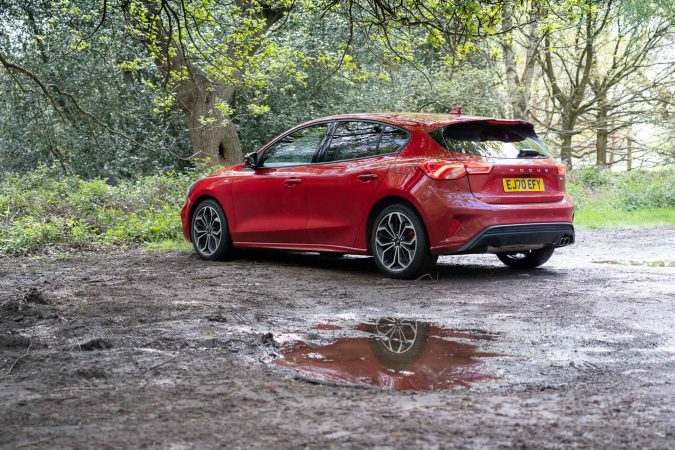 Rejoice, and we haven't even gotten to the best parts yet, either. Where the Focus shines the most is when you stuff it into the bends. It dances with you like it's on tippy-toes, darting from one corner to the other. It feels light and nimble; always keen to tackle every turn. While it's not 'hot tempered' Focus ST, the ST-Line does share some of its athletic characteristics. Although, the added weight penalty over the tinier Fiesta does make it less of a sporty hoonigan, if that's what you're after.
The steering can be rather light in feel, but this does at least make it easier to live with. That little EcoBoost engine, though it might seem trivial on paper, works wonderfully with the MHEV system. A contributor to this A+ dynamics is its suspension. Being an ST-Line, our Focus here sits a bit sportier on the ground than a regular Focus might. The uprated suspension rides a bit harder and makes it more agile. Perhaps owing to its mass, we've found that it doesn't ride as bumpily as the Fiesta did.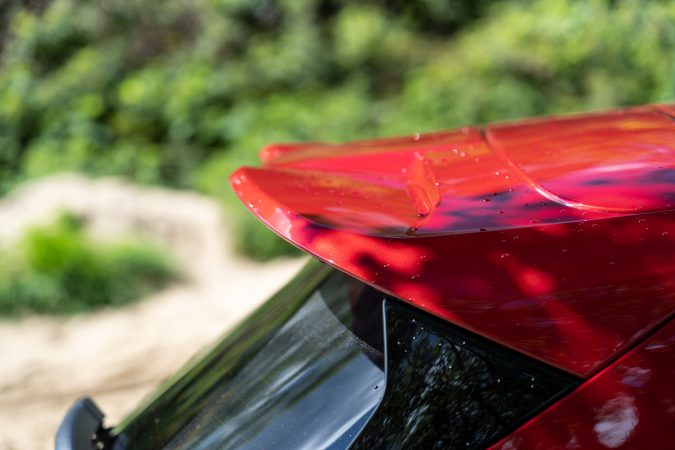 What Is It Like Inside?
The interior of the Ford Focus ST-Line MHEV is a standard affair that you'll be familiar with in any Ford. Everything is placed where you expect it to be, and it works just as well as you want it to. Neatly put together, there's not a single shake or rattle throughout our test, which is impressive. The one reason why you might spring for this bigger Focus rather than the small Fiesta is definitely interior space. Being in a Focus, it feels noticeably bigger in here than the Fiesta.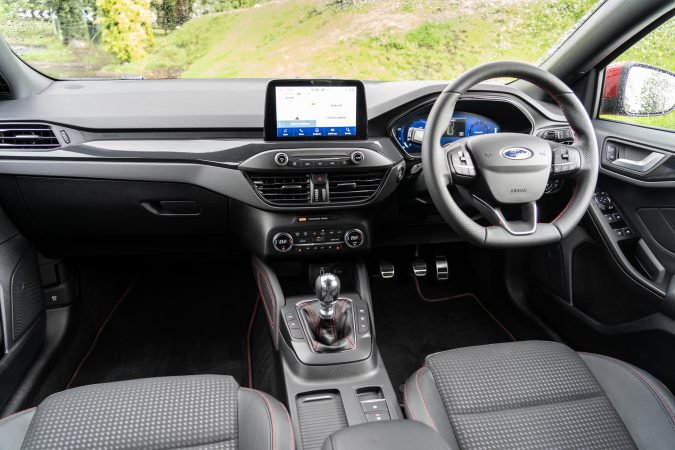 The boot is larger, and the rear passenger space is roomier, whereas the Fiesta might feel a bit cramped and compromised back there. Adults could happily sit here for long journeys. There's a completely digital dash cluster, which presents all the information you need clearly. That said, it's more basic compared to what you might find with its rivals elsewhere, and not as crispy clear for pixel count. We almost preferred having the two analog dials and semi-digital dash on the Fiesta.
The Experience
What isn't so similar with the Fiesta spec-for-spec is the technology in our Focus ST-Line MHEV. This test car example here isn't fitted with the clever adaptive cruise control and extra driver assistance kit that we sampled with the Fiesta. Although there's the normal cruise control function, we have to say that the additional aids are sorely missed, given how well they worked before. While it might sound like a minor omission, it's very helpful to have it around, more so during the mundane drives. So do consider these options when looking at buying your new car.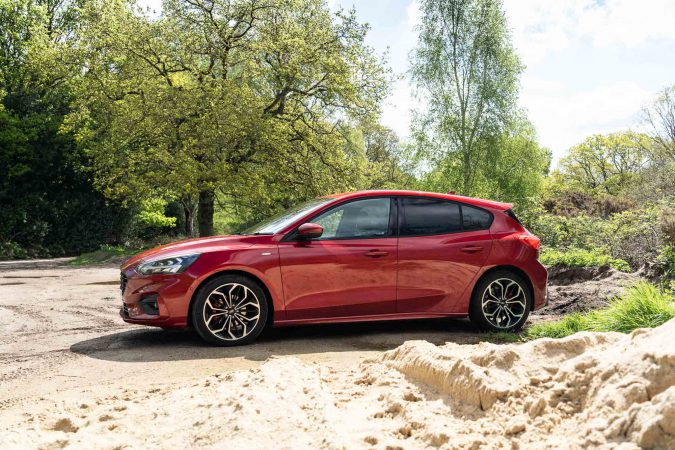 Still, at least it has an auto-parking feature. Once the sensors and computers find that an open space is big enough, it'll start steering by itself. All you need to do is modulate the throttle and braking, as well as making sure you're in the right gear. If you'd rather have the automatic gearbox than a manual, it can actually take full control of the accelerator and gearing for parking, too. Being a mild hybrid, of course, fuel efficiency is another key aspect of our Focus.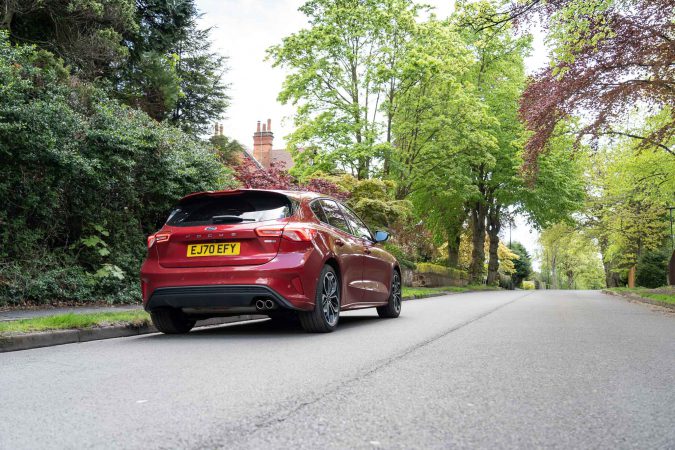 Being an all-around larger car than the Fiesta, it does sip onto a bit more fuel. Yet, it's still quite efficient, it could make a fairly big saving on your fuel bills. Ford quotes the highest fuel consumption ratings at 61.4 MPG, while the low-end sits at 44.8 MPG. Combined, it'll manage around 52.3 MPG. Admittedly, we've not once gotten it into the 60s as well as we did with the Fiesta, which can sometimes leap into the 70s. Still, the Focus can comfortably cruise around in 50s MPG, which is good.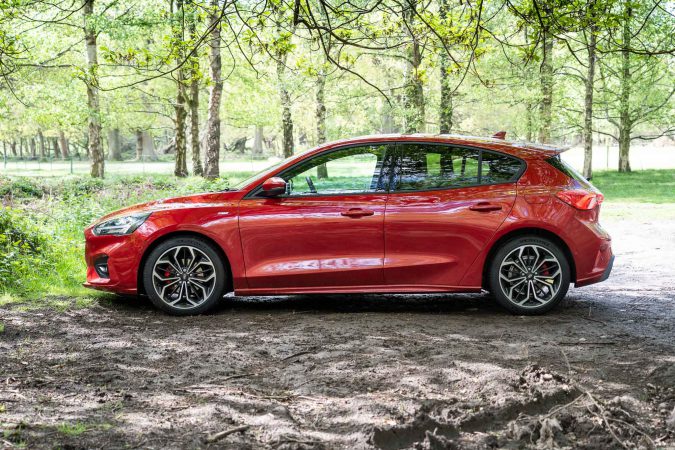 Focus ST-Line MHEV Cost
As you see it here, our Focus comes in with an on the road pricing of £28,860. It's quite a big jump from the £22,000 or so from the Fiesta we had on earlier. That said, you're getting more car in terms of size and practicality than the Fiesta. There's certainly more room for passengers and space, and a bit more power from that retuned engine. As standard, the Focus ST-Line X Edition MHEV starts at £27,160. So, you could spare a few on the options list.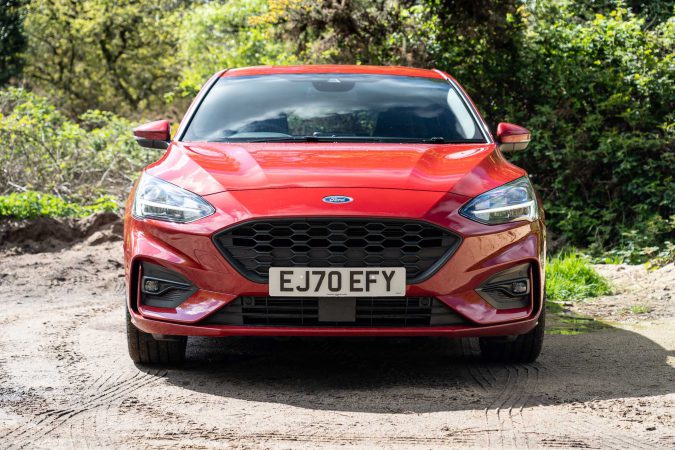 That lovely paint job that we mentioned earlier costs a whopping £800. As lovely as it is, it can save you a pretty penny otherwise. There's a blind spot monitoring system in our Focus, with cross-traffic alert and active braking. That's another £800. Another option here is the convenience pack for £500. Some of the stuff included in there is a wide-view camera for the rear mirrors, and the active parking assist from before.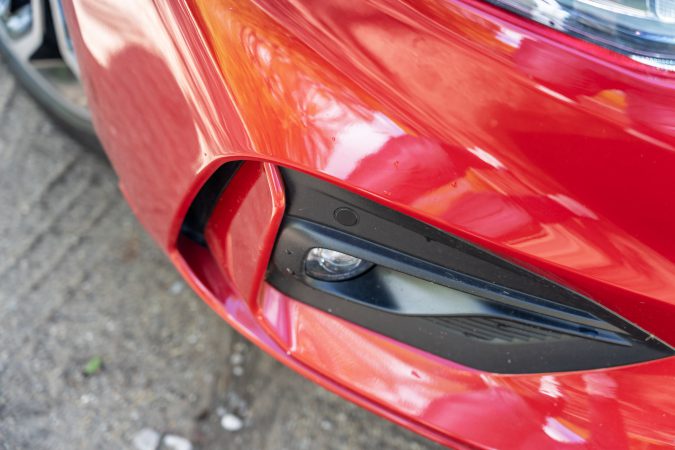 Verdict
As an everyday runabout, the Focus ST-Line MHEV never fails to rise to the occasion when we demanded it. It's very easy to live with, and there's enough room for everyone, the dogs, and some IKEA flatpacks. Having that clever mild-hybrid system enables the Focus to barely drink any fuel. Yet, it can still be nippy that you could have genuine fun with it. If you're just looking for a do-it-all sort of car, there aren't many reasons to look past a Focus. Most especially, this particular Focus.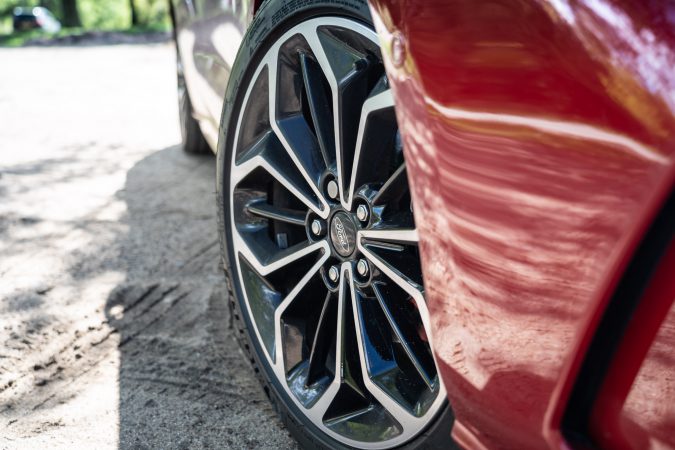 Specification
Ford Focus ST-Line X Edition MHEV Specs

Price: £28,860
Engine: 1.0-Litre Three-Cylinder EcoBoost With 48V MHEV
Power: 153 bhp (155 PS)
Torque: 240 Nm
Transmission: 6-Speed Manual
0-62mph:  9.2 seconds
Top speed: 131 mph
Weight: 1,344 kg
Economy combined: 52.3 mpg
CO2: 122 g/km