They might be a relatively new and upstart brand, but Genesis surely has come a very, very long way. I, for one, have been pretty impressed with their recent cars and was really looking forward to seeing what they could achieve with electrification. The GV60, among the brand's first EVs, left a strong impression of where Genesis's potential lies with electric cars. So, let's see if they can top that with the new GV70.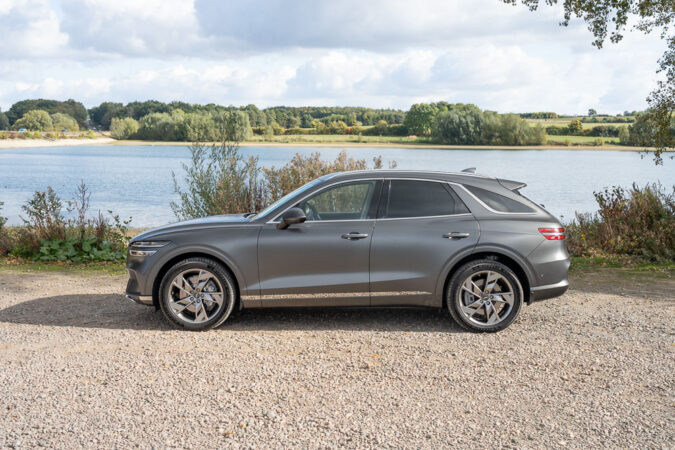 If you're a regular, you might've seen that we reviewed the GV70 not too long ago. Given how solid of a vehicle it was, I did wonder how it might turn out if Genesis swapped out its gubbins for a battery, and a motor or two. Well, wonder no more, as they've since electrified the GV70 (it's literally called the Electrified GV70) – another big step forward for Genesis. But, could it stand up to its ICE sibling?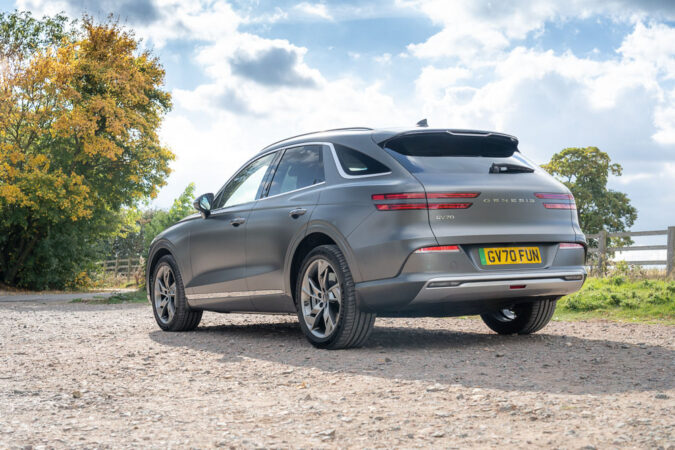 What Is The Genesis GV70 About?
From the outside, it's hard to tell that you're looking at two different cars, no? This electrified GV70 is practically identical to the regular, ICE-powered GV70. Although, what differences you may spot could be rather subtle. The best way to tell that you're looking at the electrified GV70 and not the ICE model is by looking at the grille. It shares a similar grille design, and they're equally large in footprint.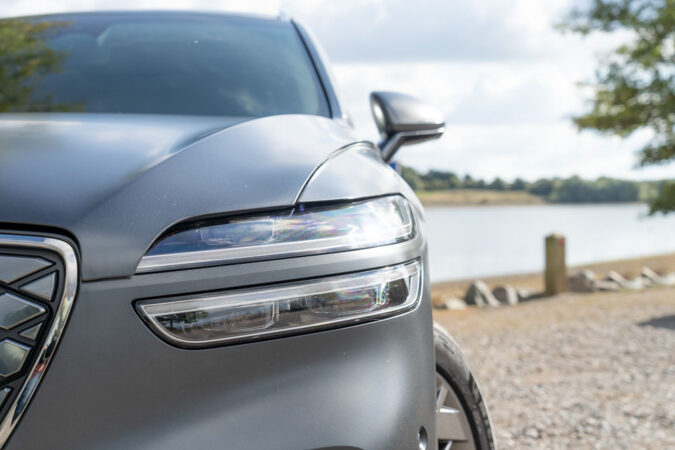 However, the electrified GV70's front grille – as is necessary, being an EV and all – is blanked out, which creates a very unique diamond-cut pattern on the front. This faux grille also happens to sneakily hide a charging port, too. As is the case with any EV, aerodynamics is a core focus of the exterior design. In fact, the GV70's bodywork has been re-sculpted in key areas, such as the front and rear bumpers.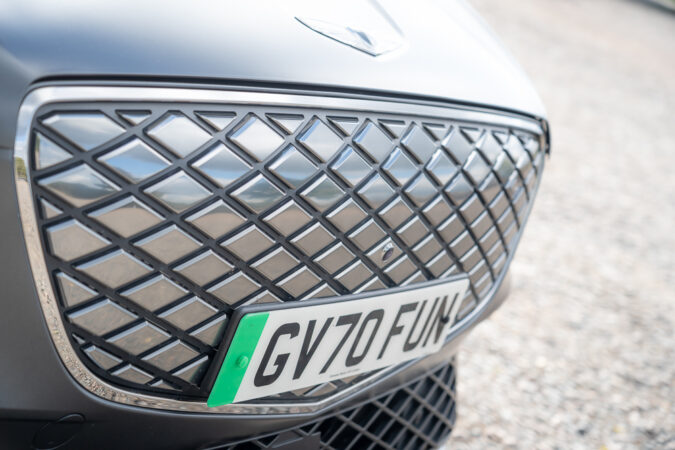 That should allow it to further smoothen out the airflow. Its vast 20-inch turbine wheels had also been specially carved to enable it to cut through the air much more efficiently. Otherwise, it's that same old GV70 that we've driven a year ago. As with every other Genesis model, their distinctive split headlight and taillight signature makes a return. Oh, and not to mention lots of chrome touches.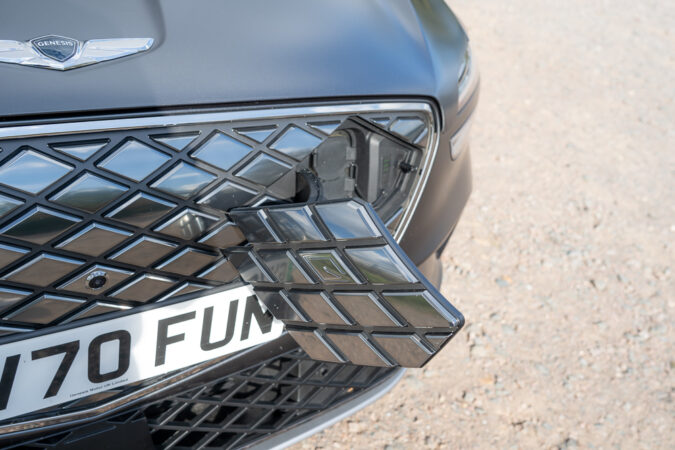 How Does It Drive?
Despite the GV70's size and heft, it features a pretty impressive powertrain that even puts sports cars to shame. For starters, there's not just one, but two 180kW electric motors front and rear, granting it all-wheel drive. Plus, each of those motors is capable of revving up to 19,000 RPM. As one unit, the GV70 has a monstrous total combined output of around 483bhp and 700Nm of torque.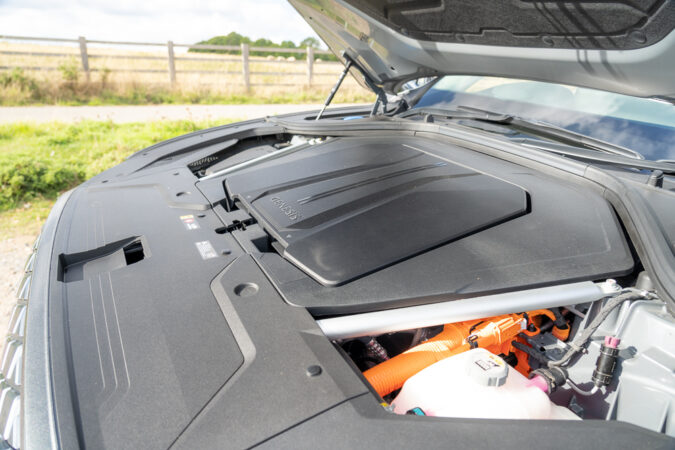 If you somehow think that's not enough, there's even a Boost button on the steering wheel. Press this, and you could unlock some extra power for around 10 or so seconds. This is handy if you're overtaking another vehicle at speed, for example. Once you press it, the GV70's already blistering 4.8-second 0 to 62mph acceleration time drops to an even speedier 4.2 seconds. Absolutely insane figures!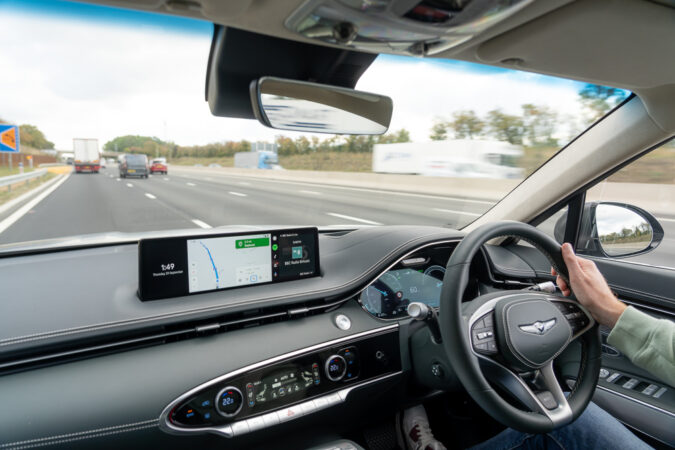 One of the benefits of using those high-revving electric motors is that you don't have to compromise between acceleration or top speed. That's often the case with most EVs. But in the case of the GV70, it could manage those smoking off-the-line sprints. Yet, handle a top speed of 146mph. But if you're not in too much of a hurry, the electrified GV70 even has a bespoke terrain management system.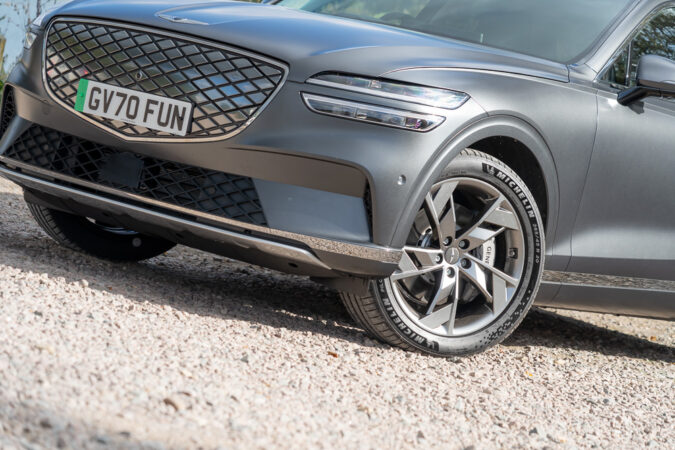 That will enable you to better optimise the powertrain for maximal traction on adverse terrains, like driving over low-friction surfaces such as rain or snow. Though, should you need to stop in a hurry, the regenerative braking tech has some unique ideas too. All you need to do is pull on a paddle on the steering wheel, and that'll let you change the strength of the regen (or just leave it on auto).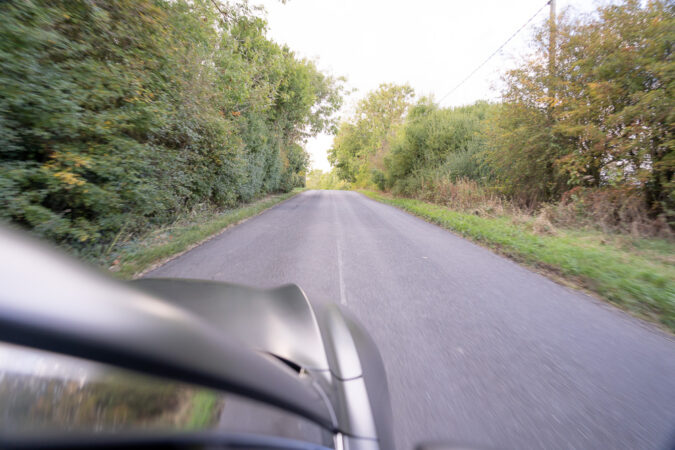 You could also pull and hold the left paddle to activate maximum regen. This is akin to you pressing the brake pedal hard, but you're instead adding more charge to the battery, with zero wasted braking power at all, just max regen. Once you do come across something on the road, the GV70 would then actively use its front-facing cameras to sense for potholes or bumps up ahead. In real-time, it could prime and set up the electronically-controlled active dampers to comfortably drive over them.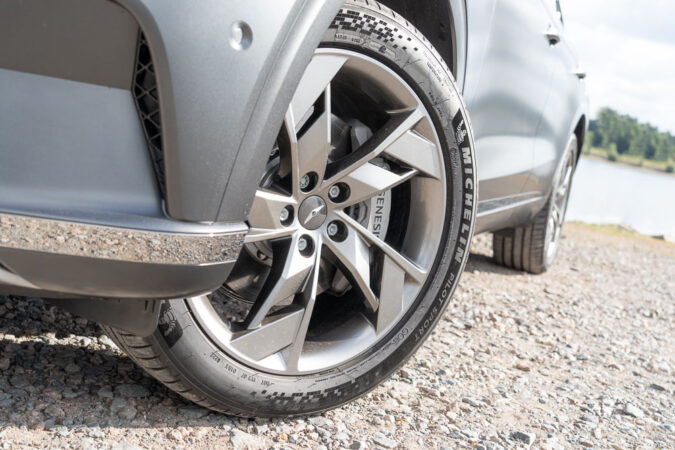 This pretty much sets the general mood of the GV70 when you're driving… It's the feeling of relaxation and eases you get behind the wheel. Being an EV, it's whisper quiet, making it beyond serene to spend a long commute in. Or, have a gentle chat with your fellow passengers. Yet, when you do give the GV70 the beans, it's shockingly quick. This is even more surprising when you consider its hefty mass.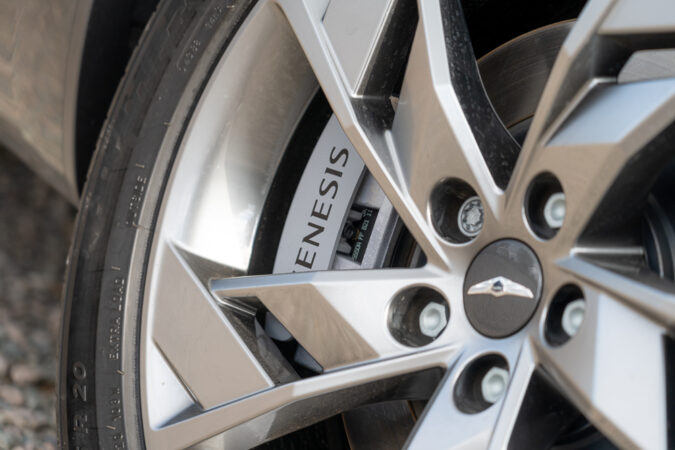 In the corners, this giant SUV can go as far as giving you the confidence to squeeze as much power out of it as you want. Then, letting you haul 2.3-tonnes worth of metal from one bend to another at speed. And when you do need to slow down, the brakes work exceptionally well. Furthermore, it does so and without showing signs of excessive fading and cooking the brakes, even after a long, spirited drive.
What Is It Like Inside?
Among the geekiest additions to the GV70 is its active road noise cancellation system, which works far better than I expected. Even at 70mph on a busy motorway, I could barely hear a whisper. In addition, it's quiet enough to a point where I'd intentionally make tapping noises on the hard surfaces in the car just to calibrate my ears with how little road noise there was. Otherwise, that cabin bathes you in excess anytime you're climbing in and out, reminding you that it's a special car.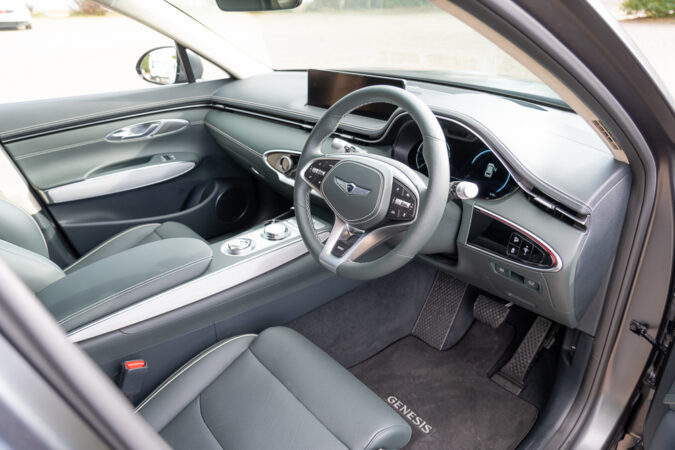 What's most impressive about Genesis is the level of attention to detail that they've put in. Everything from the metallic feel of the switchgear to the sumptuousness of the leather… And even the speeds at which the 14.5-inch central infotainment system computes are utterly fantastic. Speaking of, the tech in the GV70 is among the best that I've ever seen in any car, including its intuitive user interface.
Not to mention, its general ease of use and even the subtle 3D styling and animation on the 12.3-inch digital instrument cluster. On a more practical side of things, given how vast it appears on the outside, you can expect excellent legroom and headroom for passengers, front and rear. As well as, the GV70's cavernous luggage space, even further in the back, for all your weekly grocery runs.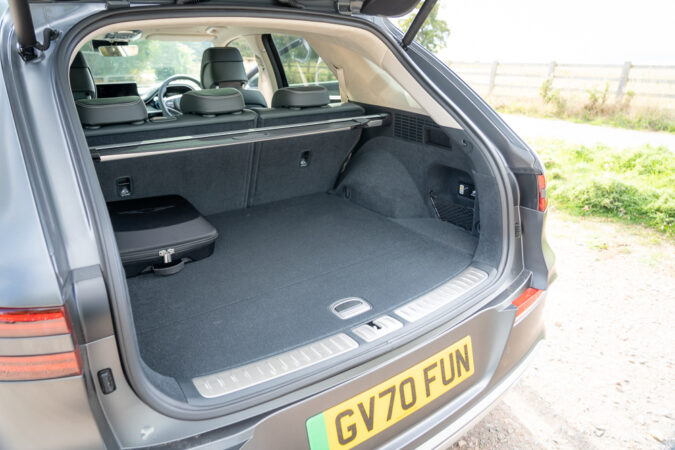 The Experience
The electrified GV70 comes with state-of-the-art EV tech that you should expect in this day and age. In addition, given its premium price tag. For instance, there's a 400V/800V charging architecture to allow the GV70 to charge more briskly and reliably. There's even a battery conditioning system and heat pump, ensuring that the batteries are ready and working at their peak when you need them to.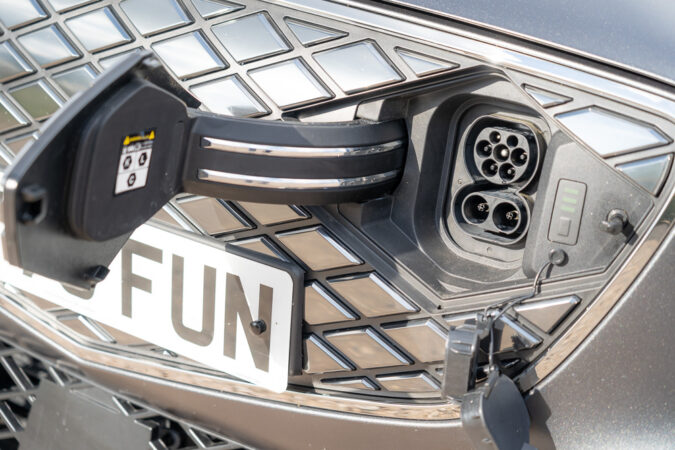 Thus, you don't have to worry about how hot they are or if the range is going to nosedive just because it's a bit cold outside. Also, the GV70 comes with vehicle-to-load (V2L). This way, you can use your new and fancy SUV as a huge battery bank, plugging in your laptop or other devices with a 3-pin connector to power them. With that in mind, the way that the GV70 charges itself up is rather clever, too.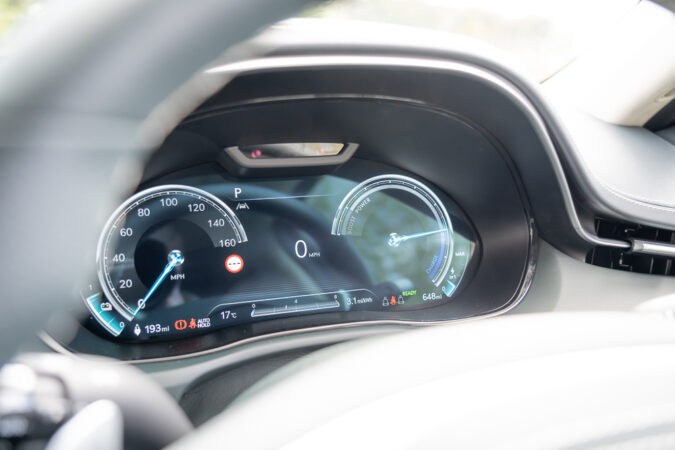 With Genesis's battery management system, the 77.4kWh battery could charge up more evenly. And, it's able to sustain high peak charging rates of up to 240kW (when plugged into a 350kW ultra-rapid charger) for a longer time. Sometimes, way up until it reaches 50% charge before gradually dropping down. Meanwhile, some EVs often spike their peak charge only momentarily before dropping.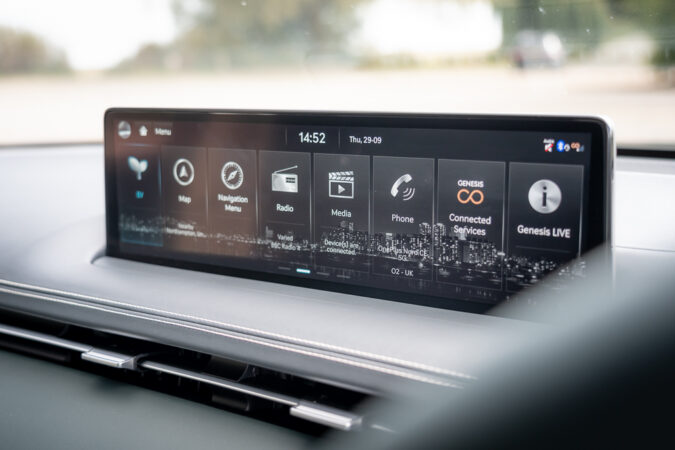 The latter not only puts more wear and tear on the battery but also impacts charging time. That's not too much of an issue with the GV70, however, and it's respectable 283 miles of all-electric range. When it comes to charging, plugging the GV70 into a 350kW ultra-rapid charger (from 10% to 80%) would take as little as just 18 minutes. Albeit, as good as those IONITY ultra-rapid chargers are, you will still need one available at the right place on your route.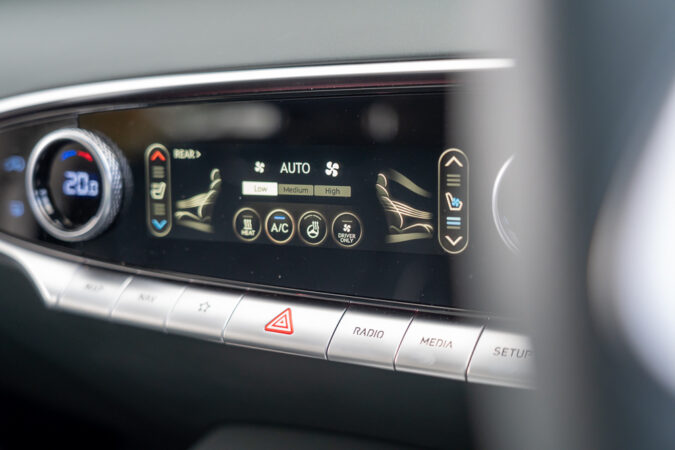 If anything, you're more likely to encounter a 50kW fast charger, instead. Even still, the GV70 would charge up (from 10% to 80%) in under 1.5 hours (specifically, it's quoted as 73 minutes). That too is very quick. Meanwhile, if you're plugging it into an 11kW home wall charger for an overnight trickle, it should take around 7 hours or thereabouts to fill it up from near-empty to 100%.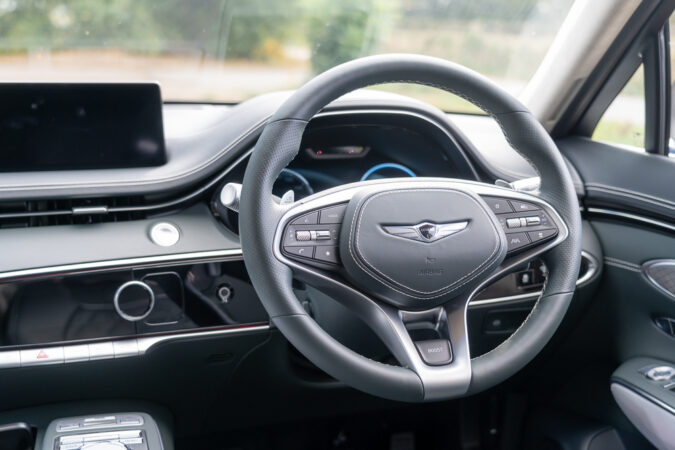 Genesis GV70 Cost
At the moment, there's only a single trim of the electrified GV70 offered here in the UK, the Sport trim. It comes in at a pricey (but justified, given what you're getting) £64,405. Still, there are some optional extras that you could pick and choose from. Such as the frankly astounding Lexicon audio system, or additional driver aids and safety systems, not to mention the vehicle-to-load system.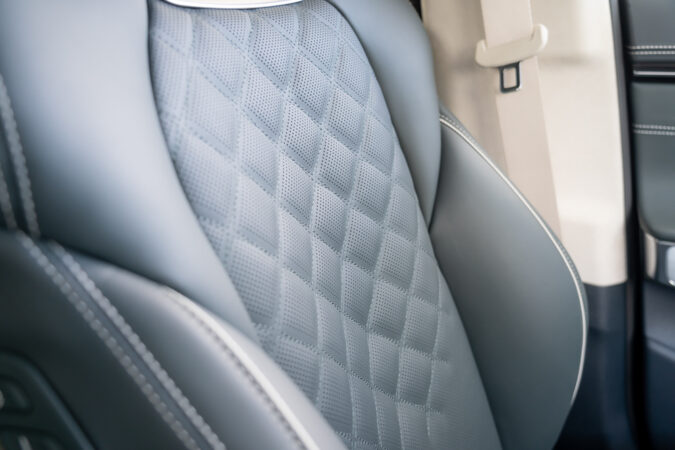 As you see here, our electrified GV70 has been kitted out to the hilt, which explains its £78,090 price tag. Nonetheless, Genesis does offer some perks to sweeten the pot a little bit. For starters, they could offer to install a wall charger at your home. And, they've also partnered with charging network providers to make the whole EV charging and ownership process that much simpler.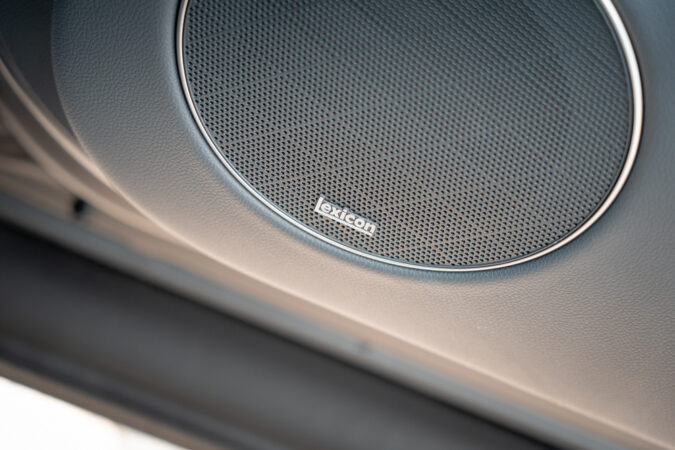 For example, Genesis is working with Shell, ensuring that you could readily access their charging stations. Moreover, Genesis is also partnering up with IONITY. With this, you'll get 5 years' worth of free subscriptions to IONITY's high-speed charging network. Normally, these subscriptions would cost an £18 per month fee. Although, you'll still have to pay for the actual electricity while charging up, but you do get a much cheaper rate being part of the subscription scheme.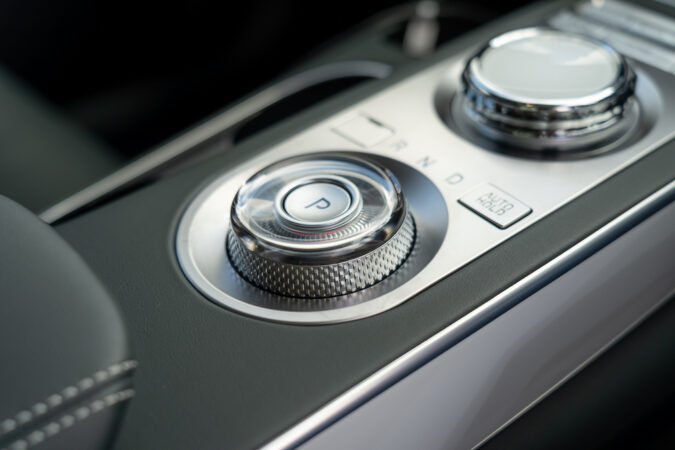 Then, there's Genesis's Charge Pass. Through this, you could more easily charge up your GV70 with more than 350,000+ public charging points. Altogether, this should be enough to help ease the high barrier of entry into an EV for the first time. At the very least, all the aforementioned perks should somewhat help to offset the high price point into getting a GV70.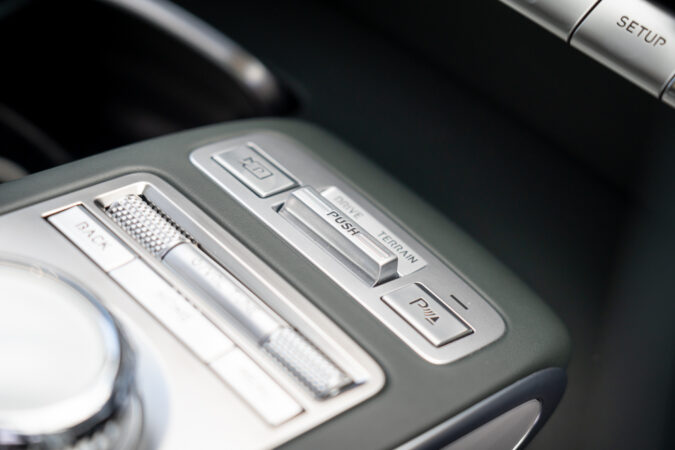 Verdict
In summary, the GV70, now having been electrified, is certainly among the best and most impressive electric SUVs on the market today. Period. Sure, there's more cachet to getting a Tesla Model X. And, you certainly won't find you have to explain your purchase if you bought an Audi, BMW, or Mercedes. But as a complete package, and a well-thought-out product, few could match Genesis's hot new offering, the electrified GV70.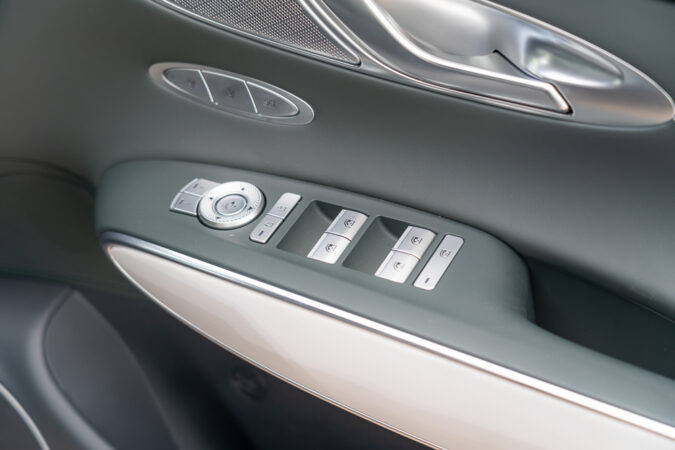 To own, drive, spend time in, interact with, and rely on, the GV70 is spot-on brilliant. I thought its ICE form was already pretty good. Nevertheless, having transformed into an electric car elevates the GV70's positives and specialities even further. It's an even better luxury SUV now than it's ever been. So, before you jump into a Tesla or something German, give this Genesis a worthy consideration.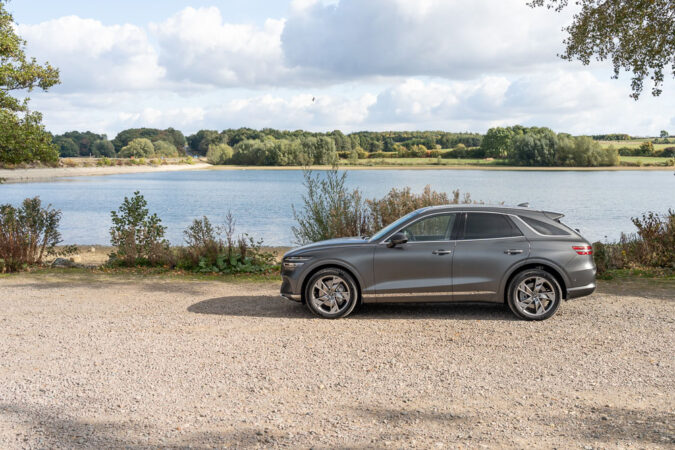 Specification
Genesis GV70 Specs

Price: £78,090
Engine: Electric, dual-motor, AWD
Power: 483bhp
Torque: 700Nm
0-62mph: 4.8 seconds (4.2 seconds with Boost)
Top speed: 146mph
Weight: 2,310kg
Economy combined: 283 miles (WLTP)
CO2: 0g/km