One of the most unfortunate – and perhaps quite ironic – sacrifices made by the automotive industry to accommodate consumers' love for giant SUVs and crossovers, is the death of the humble estate. It didn't ask for much, yet it brought us bountiful practicality, while still offering enthusiastic dynamism. They're a rare thing these days, but Genesis' G70 Shooting Brake aims to bring it back.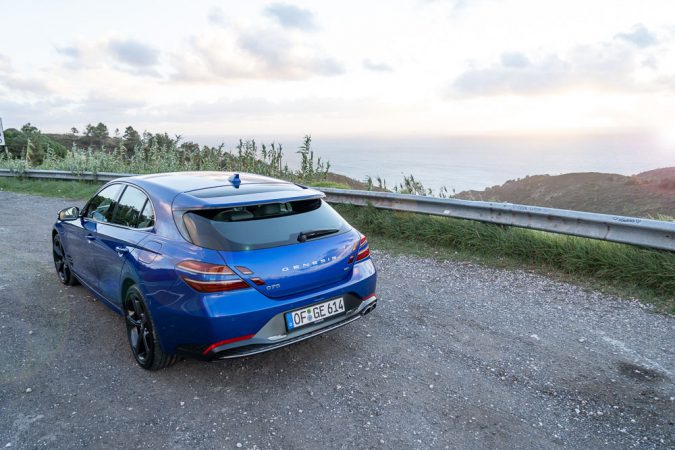 It's a rare entry into the estate market, where most others have retreated. However, it's merely one more big step into the unknown for the young but up and coming Genesis brand. We do wonder, is the G70 Shooting Brake – their first-ever attempt at making an estate – all that it's cracked up to be? Or, is it a stark reminder of why long-bodied wagons are going extinct, in the first place?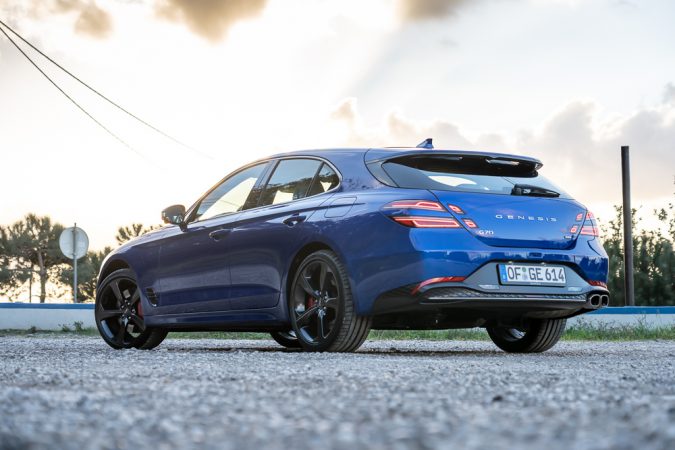 What Is The Genesis G70 Shooting Brake Sport Line About?
If station wagons are few and far between, then what about a shooting brake? A Fabergé egg is far more common than those, representing the sportiest of the estate crowd. Genesis' G70 Shooting Brake not only fulfils the typical sloping back silhouette of a shooting brake, but it does so beautifully. Just look at those rear pillars… Is anyone else here reminded of the old Subaru Impreza estate?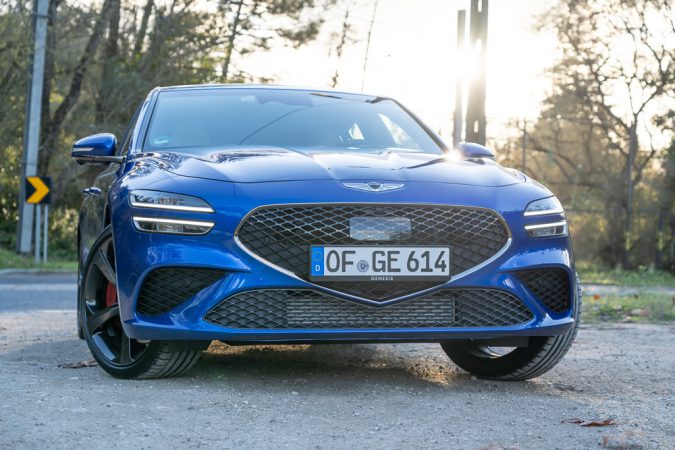 Its gorgeousness is contrasted well with some of the athletic design touches that you get in this here Sport Line trim. For the most part, it gets you dark chrome and an overall blackened finish along the exterior. In addition, it includes these lovely 19-inch turbine-style wheels to complete the fast-while-standing-still look.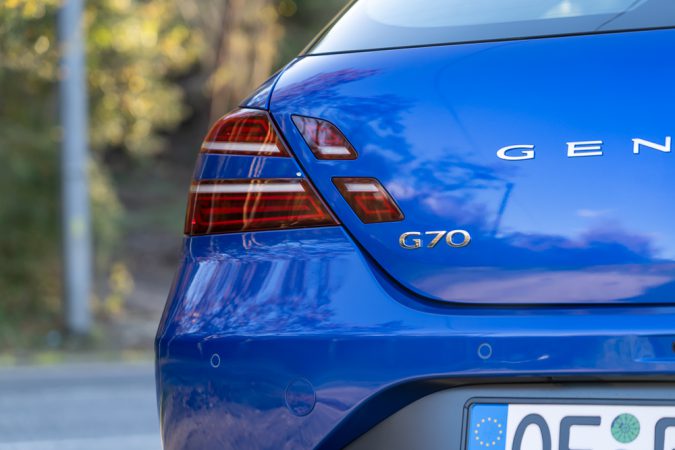 Elsewhere, the G70 Shooting Brake has the usual Genesis design language that society, in general, is quickly warming up to. I've gushed over it many a time already. Their slim, split lighting signature front to back, especially, is a very unique motif that sets a Genesis apart. Should you spot these in the rear-view mirror, you know exactly that it's no commonplace Merc or Bimmer hounding you.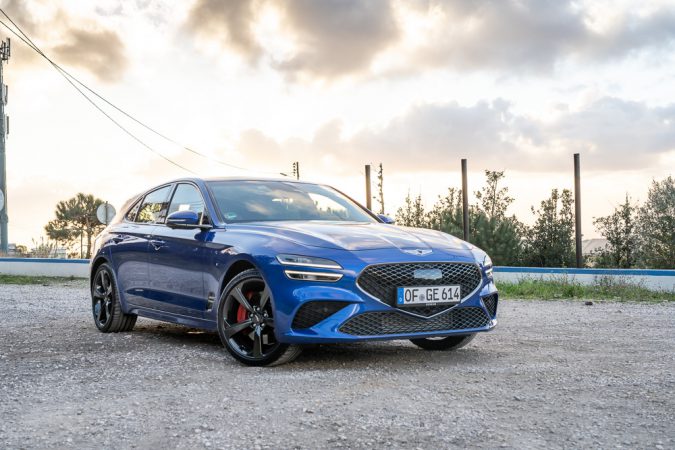 How Does It Drive?
While its parents hail from the Korean Peninsula, Genesis has taken a step further in fine-tuning the G70 Shooting Brake at the one place you go to for chasing performance – Germany. That's not much of a surprise there. Genesis' siblings at Hyundai hones its world-winning rally cars as well as N-spec performance models at their German testing grounds. So, what did Genesis do, specifically?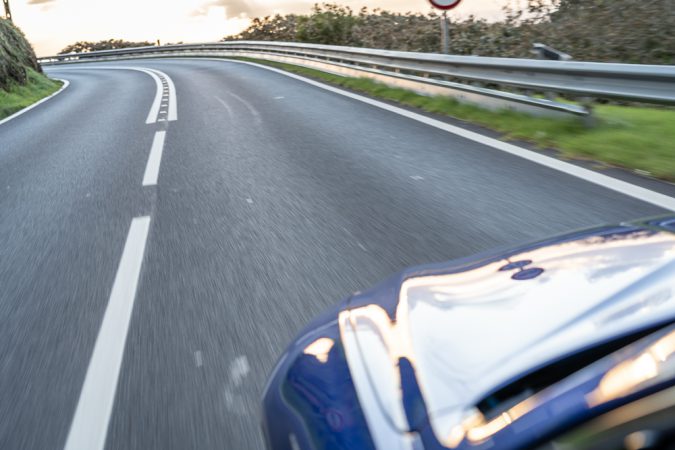 Thereabouts, the G70 Shooting Brake has continually been tweaked to find a good balance between outright pace and refined comfort. This has seen Genesis' engineers going through the braking set-up, steering systems, suspension geometry, chassis tuning, and so on. The Sport Line trim on our car here also gets a few neat upgrades to its mechanicals, in trying to gain a competitive edge.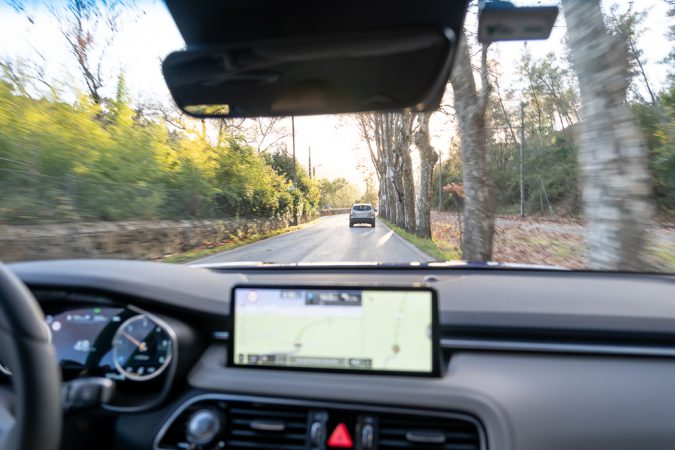 For example, you're gifted with larger, meatier Brembo brakes all-around. That's 4-pot callipers in the front, and 2-pot callipers in the rear. Moreover, and what's likely the most consequential change of all, is the inclusion of a mechanical limited-slip differential. These should aid in enhancing traction when you're on the limit. Electronically-actuated adaptive suspension is also a part of the Sport Line.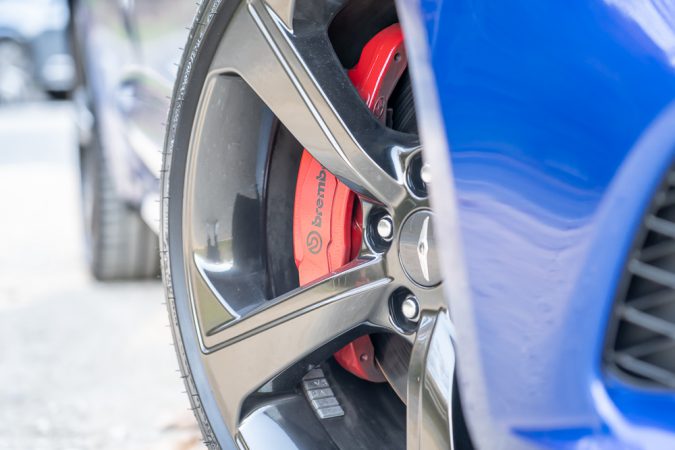 Should you opt for the petrol version of the G70 Shooting Brake (and with the Sport Line trim), you can enjoy a racy set of Michelin Pilot Sport 4 S tyres. Ours here – since it's a diesel – comes with the lesser, but nonetheless competent Pilot Sport 4 rubber, dialled a step or two back. Rounding it off, the Sport Line has a few weight-reduction measures added in, as well as a sports style exhaust.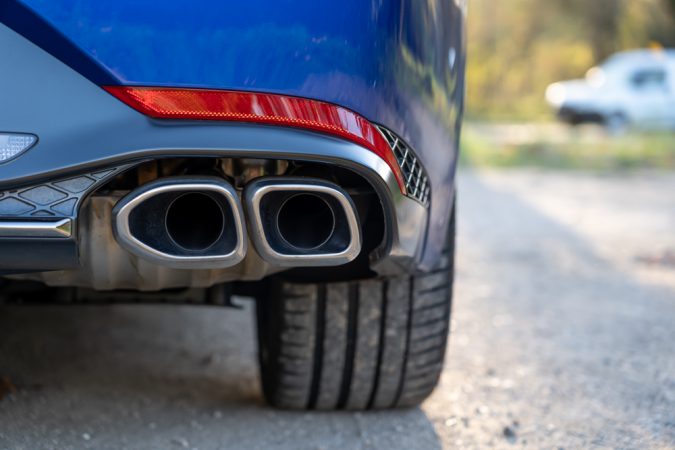 The latter shares a raspy grumble. Although to be fair, most of that sound is being piped in through the speakers. But I guess it technically works. So then, with all of this taken into consideration, is the G70 Shooting Brake a sporting performance car? Granted, its powertrain doesn't scream power, as is the case with the 2.2-litre GDI (direct fuel injection) turbocharged inline-4 diesel that we sampled.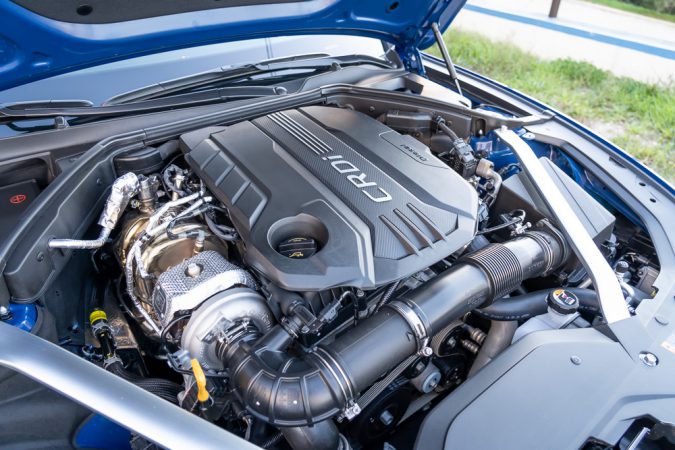 You're looking at 200PS (or around 197bhp), with 440Nm of torque. Power is sent exclusively to the rear wheels only, through a snappy 8-speed automatic. In all, the G70 Shooting Brake is just about fast enough, and not much more. In a straight line, it'll sprint to 60mph from a dead-stop in 7.7 seconds. Nevertheless, where it loses out in top speeds, it's compensated in the bends.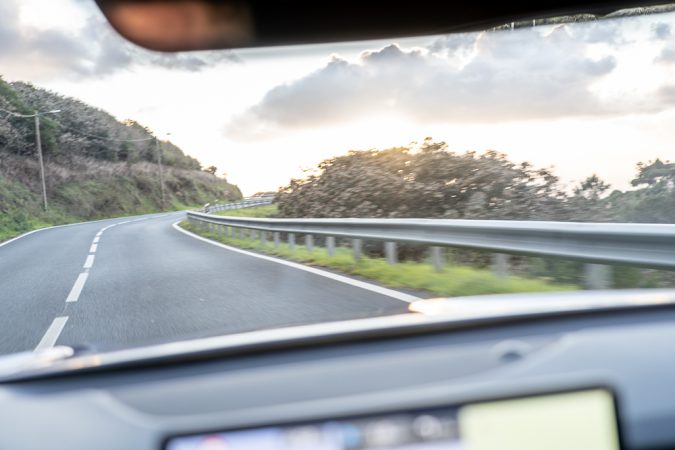 Throw it around a corner, and it handles decently well. You can sense that the engineers' hard work in setting it all up just right has paid dividends. The steering is precise, as the suspension keeps you steadily in place to power through a corner. While it wasn't designed to be a speed machine from the get-go, there's a good amount of connected feel and feedback of what's going on around you.
As with most cars these days, the G70 Shooting Brake does let you play around with varying drive modes. That said, I did find myself wanting to go back to its cushier Comfort settings most of the time. That's where its sweet spot lies. On the flip side, its top-most Sports mode felt a bit too eager most of the time. On several occasions, this might also devolve into a sense of twitchiness or a high-strung nature.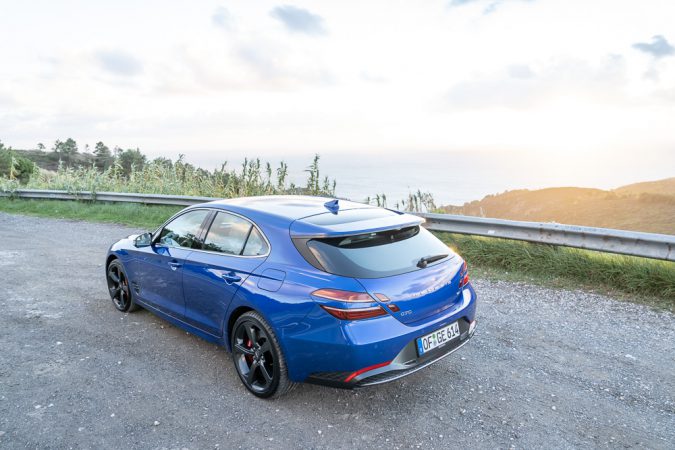 What Is It Like Inside?
With its elongated frame, all of this dynamism can be extracted even while you're ferrying an entire household with you. The benefit of an estate – or a shooting brake, to be precise – is much larger boot space. Ask, and you shall receive, with an added bonus in rear head-room over a saloon-type G70, too. If you thought the exterior was luscious, just wait until you step inside the G70.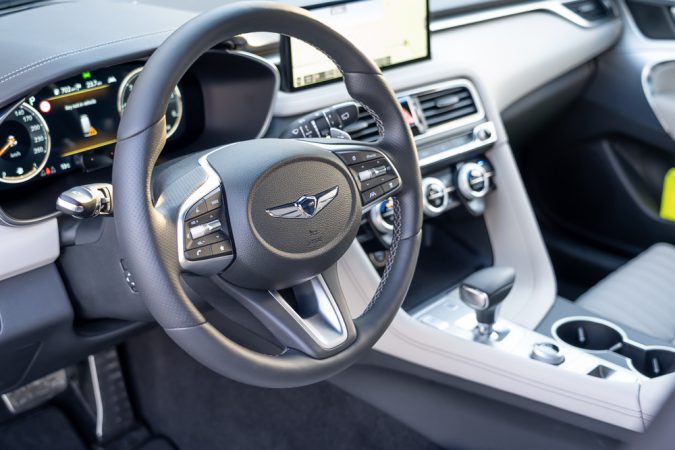 It's in the same league as a Mercedes, BMW, Audi, or even Porsche. This is otherwise quite a high praise for a marque that barely existed a few years ago. The interior of the G70 Shooting Brake is a great place to be in, with a five-star cabin brimming with premium touches. The leathers are supple and excellently stitched. The control knobs and switchgear are also pleasingly cold to the touch.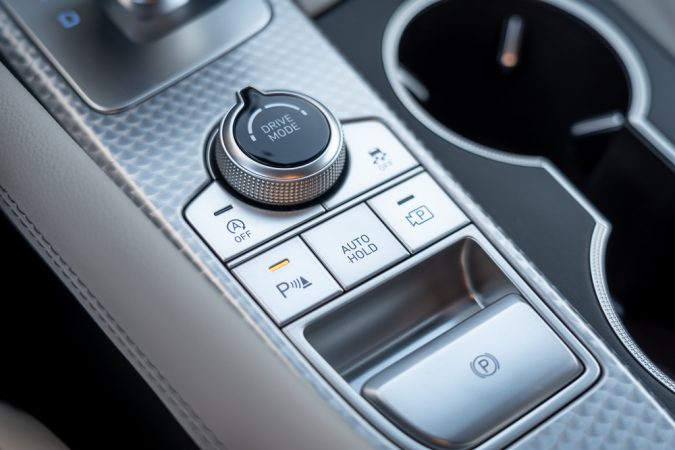 Alas, old-school craftsmanship like this isn't enough to win over the masses nowadays. Genesis can relate to this more than most could, which is why the G70 Shooting Brake has been kitted out to the teeth with technology. The 10.25-inch infotainment system is crisp, sharp, and responsive. I do think it's one of, if not the, best multimedia system out there. Then, we can take a look at the dash.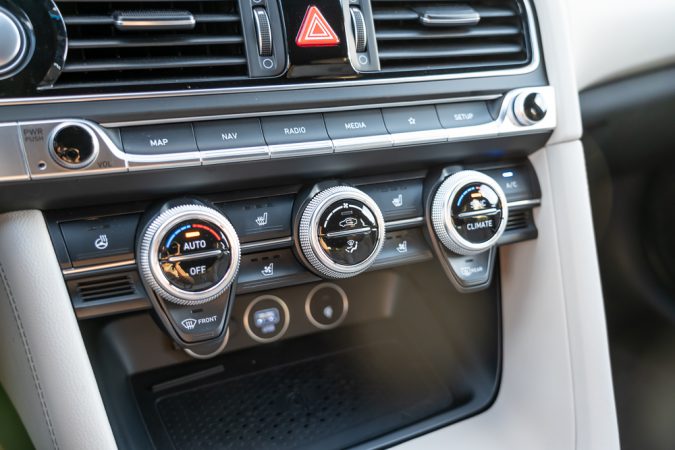 Staring back at you is a fully digitalised 12.3-inch instrument cluster. While it looks quite good as is, they've programmed a subtle 3D effect into the user interface. At first glance, it almost appears somewhat holographic to the naked eye. Judging by where your eyesight is focused towards, it can then adjust the gauges and dials to be safely in line with your gaze. Form with function, as they say.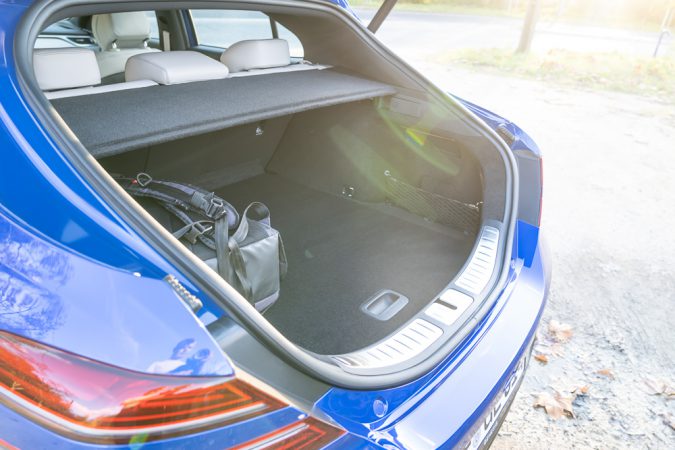 The Experience
It's these little touches where the premium cost of a vehicle like the G70 Shooting Brake can be most noticeable. Speaking of tech, we're not even close to done yet, with many other cool electronics and gadgets baked in. First up, how about we discuss its safety aids and driver assists, eh? A good place to start would be the blind-spot monitors, which have cameras mounted on the wing mirrors.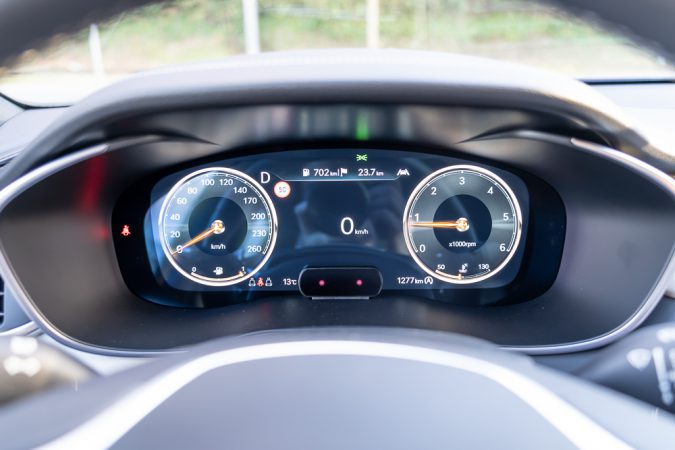 The purpose? When you're changing lanes, the cameras send a live view of what's in your blind spot to the dash. This then takes up either the speedometer or rev counter, corresponding to the left- or right-hand side of the car. It seems trivial, but in practice, it works brilliantly. We can then discuss the highway driving aids, lane-keep assist, as well as the 'smart' cruise control altogether.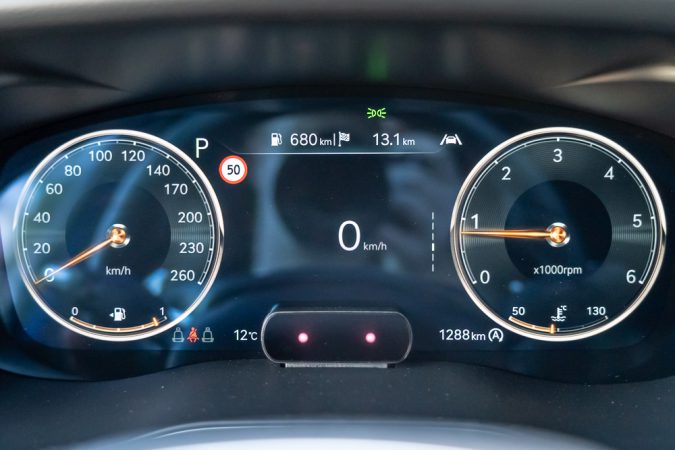 The lane-keep assist sends subtle forces to the wheel whilst helping you maintain your lane. Meanwhile, the other two systems enable you to cruise around more effortlessly. You can configure a set speed or distance from those vehicles ahead of you in a lane, then the computers will control the car for you, It even works through a turn on the motorway.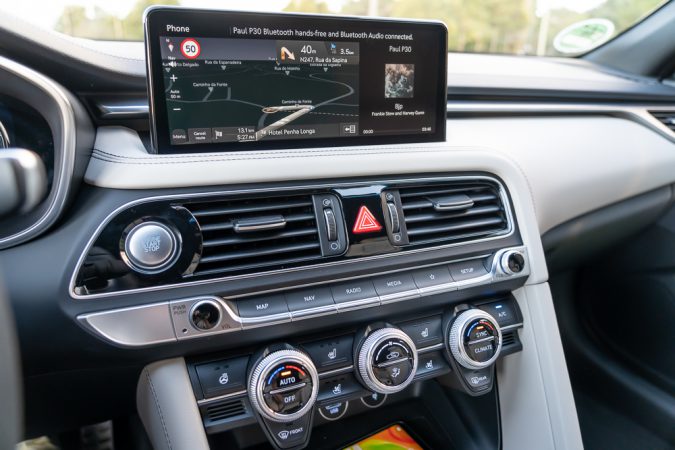 It can subsequently turn on the highway driving assist on the fly. Equally, the G70 Shooting Brake is fitted with assisted high beams, which can automatically turn on and off. Another creature comfort that makes day-to-day life with the G70 Shooting Brake easier is an automated rear hatch. All you need to do is stand close enough with the key behind the boot lid, and it'll pop open right quick.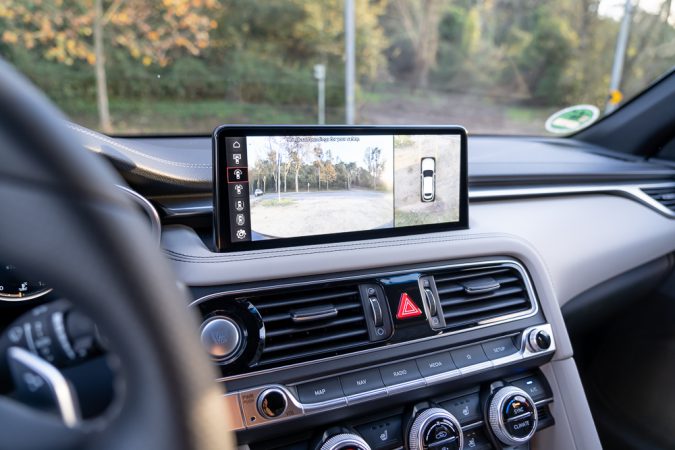 Additionally, another noteworthy piece of kit is the Lexicon 15-speaker surround sound system. The standard audio is fine, but these upgraded Lexicon units are a world away in quality. There's more aural clarity, soundstage effects, as well as the low-end bass. Paired with nice-to-haves like memory seats, phone mirroring, easy access seating, and a rear occupancy alert rounds off the experience.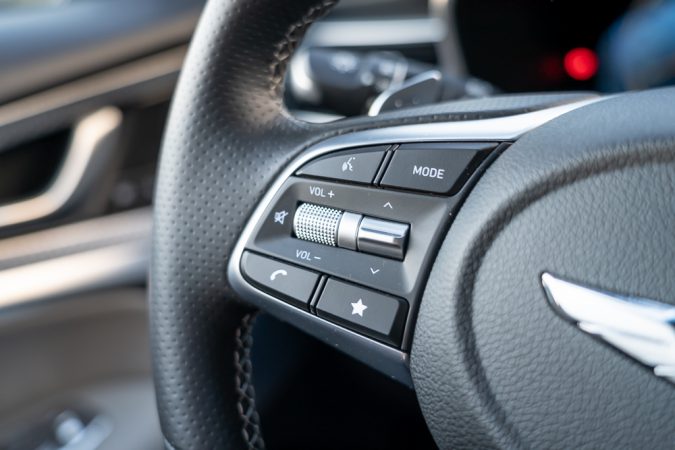 Genesis G70 Shooting Brake Sport Line Cost
As it is, the G70 Shooting Brake, in its top-of-the-range Sport Line package, has a starting price of £39,730. For that sort of cash, I think it's great value for money. That's especially once you take into account what its rivals are offering and then look back at the G70 to see what it does well. While they're a recent entry, Genesis has already brought a lot of refinement to its cars.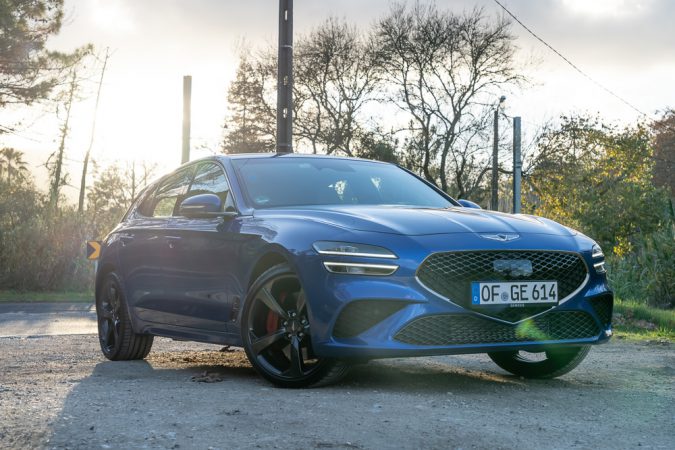 Consider the G70 Shooting Brake's modest performance, technological chops, luxurious comfort, as well as premium features. It's absolutely bang-on to compete well in this market, already flush with options. On that note, the price does begin to rise once you tick off a few more boxes in the optional extras list. The most expensive one, by far, is the Innovation Pack, for a lofty cost of £3,250.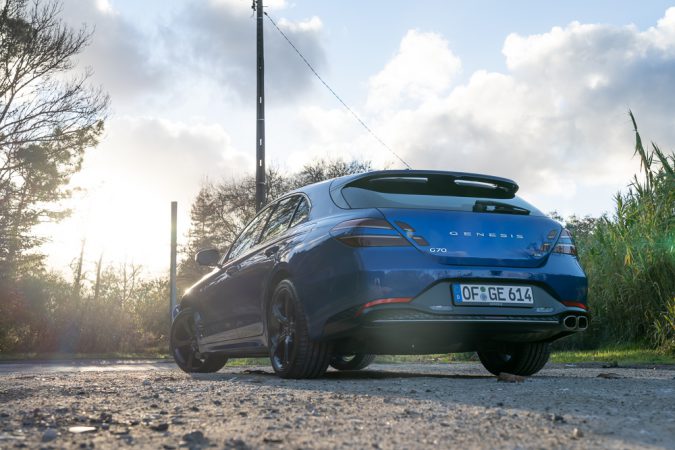 This gets you a lot of the techy bits and bobs we praised earlier. These include the 12.3-inch digital dash, a pretty good heads-up display, parking sensors, 360-degree view cameras, blind spot sensors, and a few others. If you're okay with spending a bit more than you expected, this is definitely one option we'd recommend taking up. The Comfort Seat Pack, for £1,850, is also worthwhile.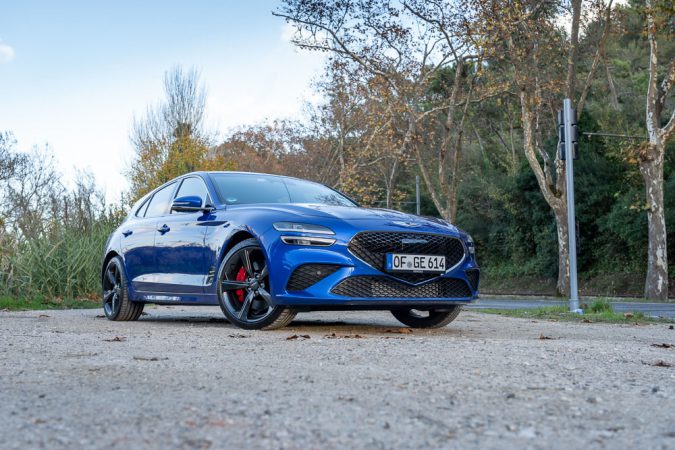 It gives you memory seats, electric lumbar and height adjustments, side bolsters, heated as well as ventilated seats. That Lexicon audio will set you back another £790 if you value good sound. A big sunroof, on the other hand, is a slightly pricier £960 option. For the most part, though, I feel that the G70 Shooting Brake already comes with most of what you need, and a bit more, by default.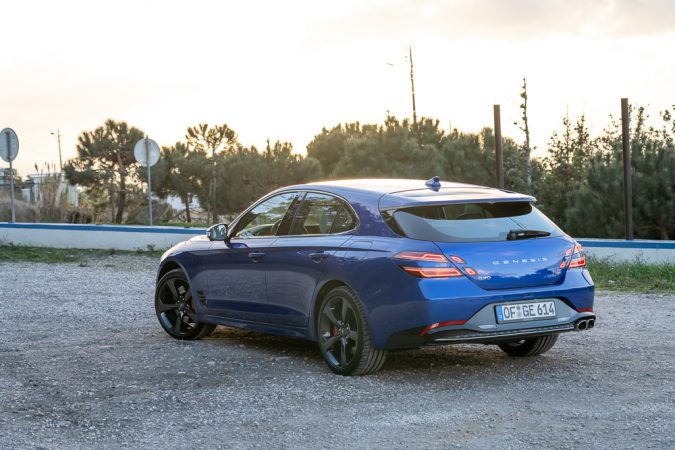 Verdict
As a package, the G70 Shooting Brake is a fantastic machine. It's a stunning looking thing that turns heads with its handsome looks and left-field brand image. On the road, maybe only those in the know will appreciate its looks and charm. However, it can still be engaging, connected, and playful at the right moment. Yet, it maintains a steely-eyed focus on day-to-day comfort and practicality.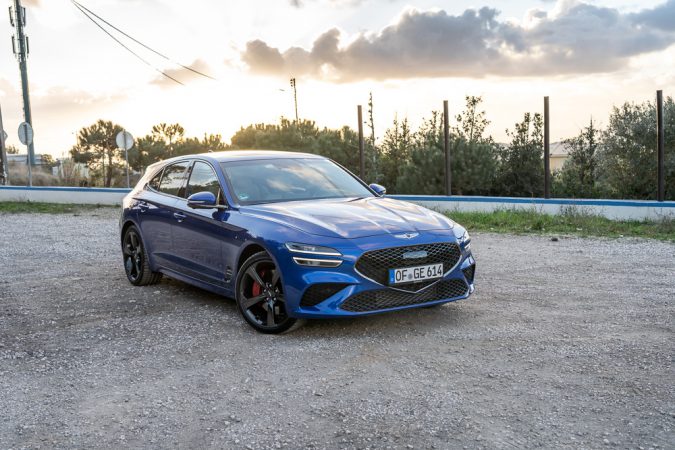 There's adequate room in the cabin and boot to play the role of the family haulier. Cosy as it may be, there's an abundance of technology to not only keep you entertained but also ensure your safety on the open road. There are few things that it can't do, and it can easily out-match its European rivals. Finding reasons you have to get a BMW, Merc, or Audi is getting harder to justify with cars like the Genesis around.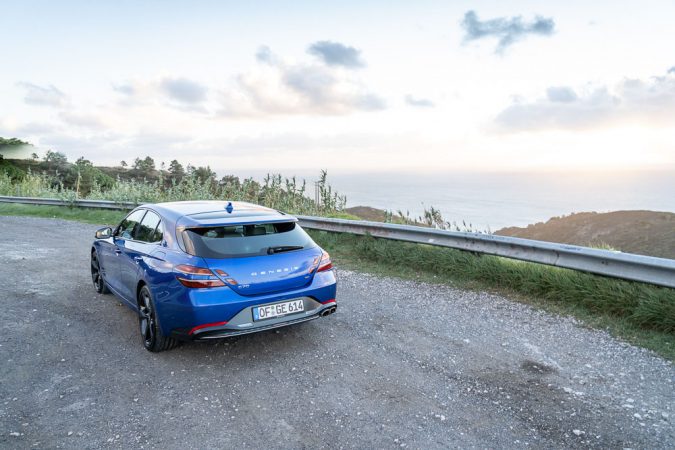 The only thing you're missing is a well-known, established, and illustrious badge. That, admittedly, Genesis hasn't yet earned in the few years that it's been around yet. Nonetheless, I think they'll quickly gain a reputation for world-class luxury cars with the steady momentum they have now. From ultra-lux saloons and mega-opulent SUVs to now making aspirational estates. So, what's next, Genesis?

Specification
Genesis G70 Shooting Brake Sport Line Specs

Price: From £39,730
Engine: 2.2-litre Turbocharged Inline-4 Diesel
Power: 197bhp
Torque: 440Nm
Transmission: 8-speed Automatic
0-62mph: 7.7 seconds
Top speed: 140mph
Weight: 1,810kg
Economy combined: 40.7-41.8mpg
CO2: 177-182g/km