The car market is going through a massive tectonic shift at the moment. SUVs are all the rage, and people just don't seem to pay much attention to regular low-slung four-doors anymore. For the few holdouts, the mid-size luxury saloon market has been dominated by the Germans in recent years. It's thus quite refreshing to see something new that stands out in this market.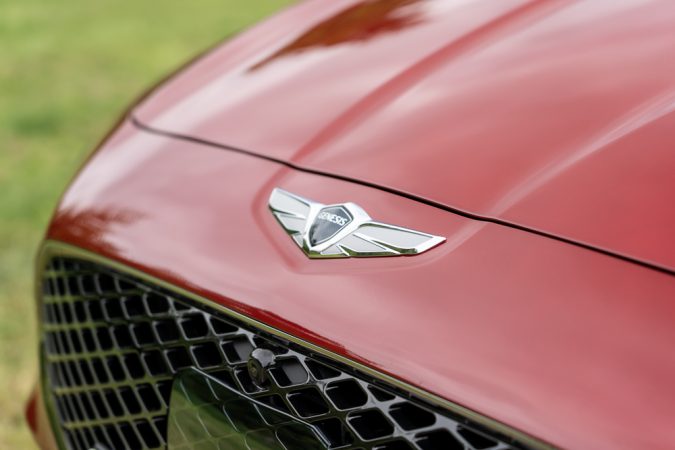 In its place, Genesis is injecting a breath of fresh air into the market with the G70 Sport Line. Genesis used to be the high-end marque for Hyundai and Kia. It's the same way how Honda had Acura, and how Toyota had Lexus. But the G70 is by no means some glitzy Hyundai with a dash of leather hither and tither. Distinct in itself, the G70 is a most left-field, yet spectacular saloon.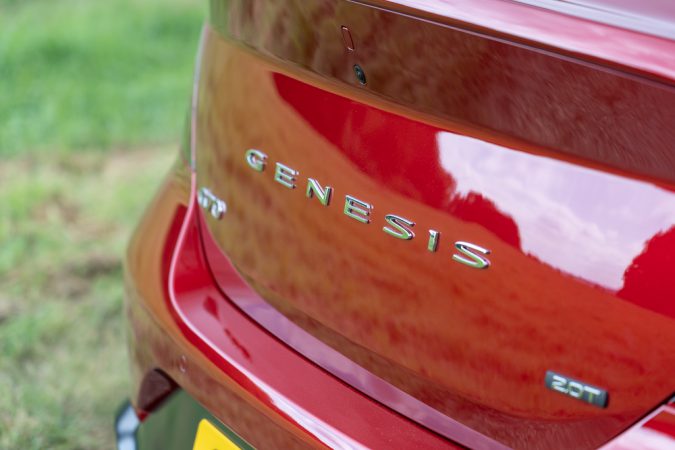 What Is The Genesis G70 Sport Line About?
They're an especially fascinating proposition here in the UK, where Genesis isn't a household name yet. Without any market presence, it's hard for passers-by to figure out what they're looking at. The first time you glance at it, you don't exactly know what it is. It's not an Audi, not a Lexus, not a BMW, nor is it a Mercedes. If you like to stand out, but subtly so, the G70 is the perfect car just for you.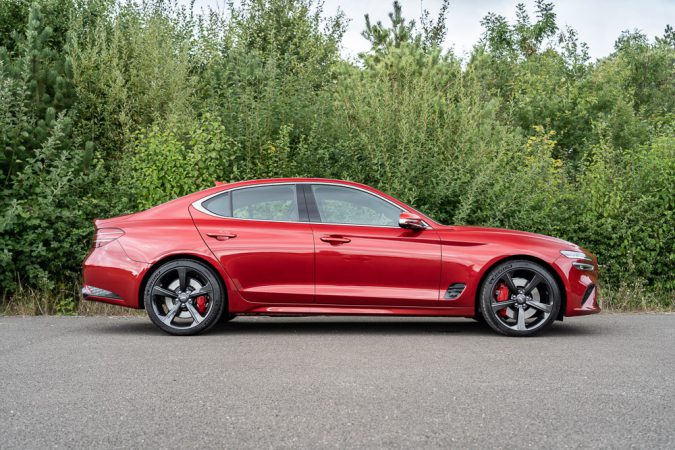 The G70 has a uniquely aspirational appearance that isn't echo'd elsewhere. Although, you'll catch the Bauhaus-like minimalist and conservative design ethos. On top of that, it's worth noting that the G70 is the most athletic car in the Genesis brand. Therefore, it needs to look the part, and this is one goal it accomplishes quite well. Overall, it's quite a handsome car, too.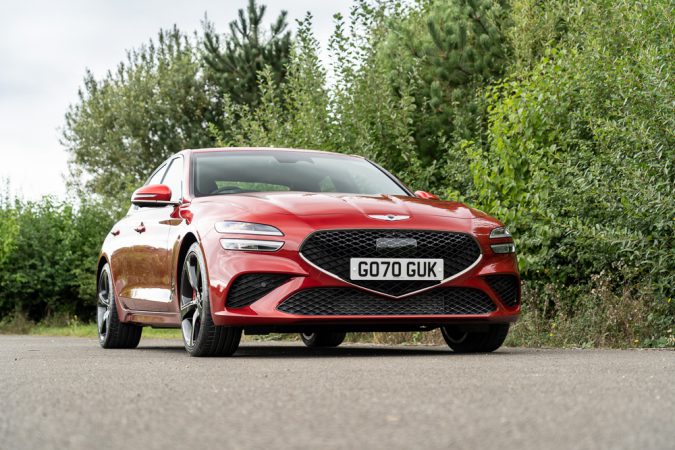 There's a muscularity hidden behind the timelessly elegant and classically inspired bodywork. They try to distinguish themselves more in the G70 with this split headlight design. It sits quite well to my eyes and lets the G70 keep itself apart from other similar saloons. These lights flank a large and a tad bit oversized grille, with a definitely-not-an-Aston-Martin winged badge.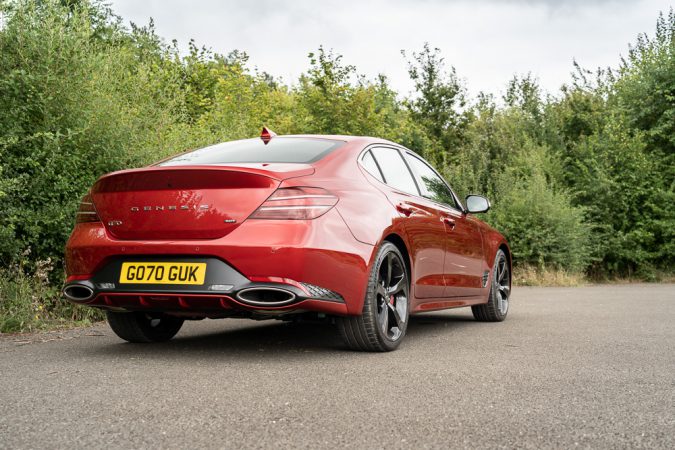 How Does It Drive?
The G70 looks related to the super-hot Kia Stinger. That said, our particular G70 Sport Line is dulled down in its spiciness by a notch or two. For a start, that V6 has been swapped out for a GDI 2.0-litre turbocharged inline-4. This should allow the G70 to muster 241bhp and 353Nm of torque. Give it the beans, and it should sprint from 0 to 62mph in a respectable 6.1 seconds.
It'll keep going until it peaks out at 149mph. Interestingly, the G70 is also rear-wheel drive, and ours has been kitted out with Pirelli Pilot Sport 4S tyres all-around. A quick look at the on-paper specs can tell us that the G70 is hardly a slow machine. It's still a sprightly car, just shy of a super saloon, with a reasonable amount of performance for day-to-day driving. It's no hot rod, but it's decently quick.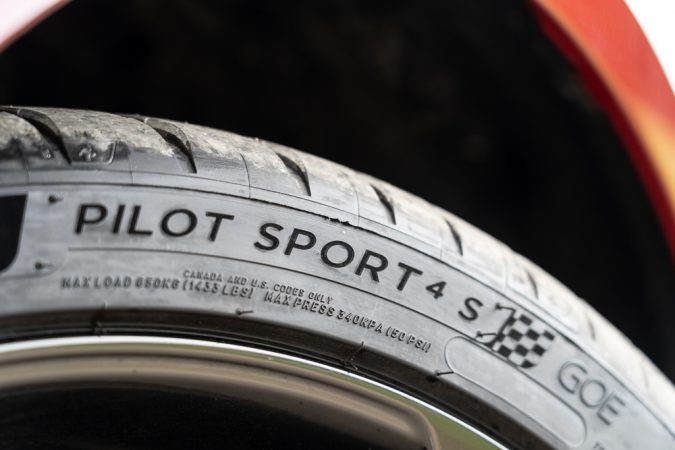 That should be fitting for the G70's grand touring credentials. It pulls really nicely, and that creamy smooth engine is mated to an 8-speed automatic. The latter changes gears quickly, and it does it so seamlessly. Again, it's no M3, so there's none of that power-sliding action or smoky burnouts going on. But for most of us in the real world, its athleticism is sufficient.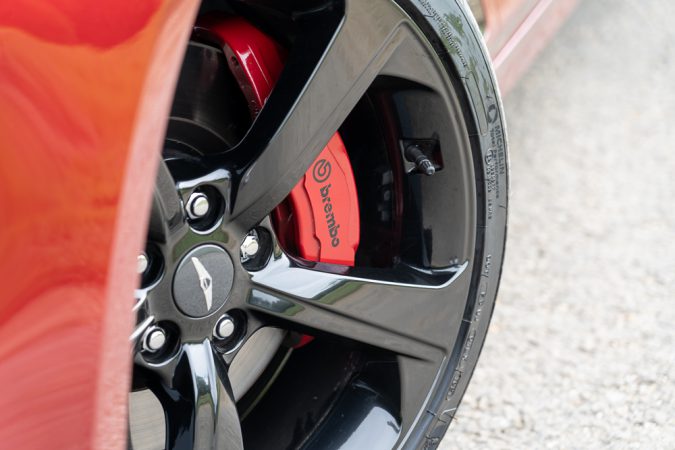 If you want to tweak its driving characteristics, there are selective drive modes that you can play with. In Sport, however, we found the G70 Sport Line to be a bit too fidgety and twitchy. It's as though it's trying a bit too hard to be sporty and exciting. In the end, it's neither as convincing nor as effective as the engineers may have intended. Personally, we'd rather keep it in its Comfort mode.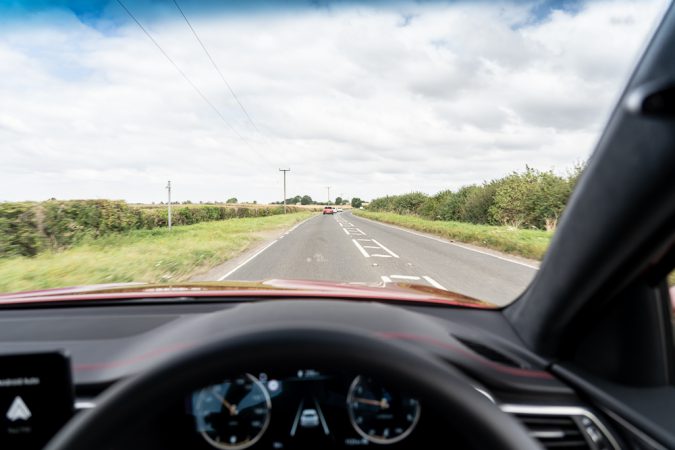 Here, the G70 makes a great cruising and commuting car. Should you want a bit of engagement, you can pull onto the paddle shifters. It's not a great experience, but we may have been a bit too spoiled with the delicious column-mounted shifters that the Giulia Quadrifoglio had. Putting that aside, the steering itself feels rather light in the G70, and is rather fitting for its use case.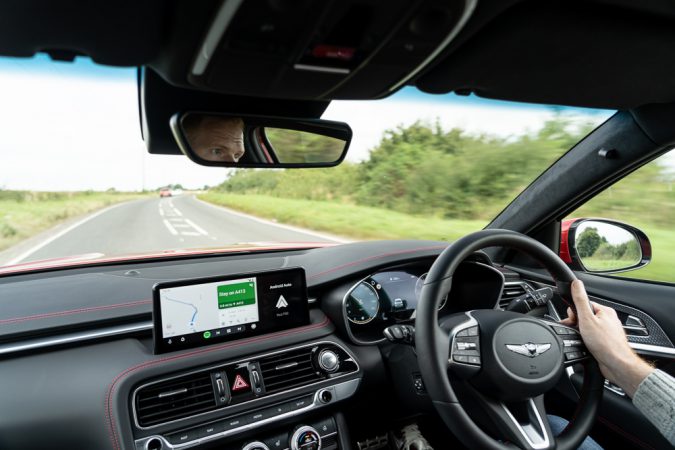 It's a breeze to manoeuvre the G70 around narrow streets or tight parking spaces. The downside is that it lacks excitement or a sporting feel at times. There's little feedback or communicativeness through the steering wheel or your backside. This puts it a step down perhaps from an equivalent 3-Series or Giulia. Nevertheless, the G70 is a great commuter car, with a hint of boost on occasions and is most certainly comfortable.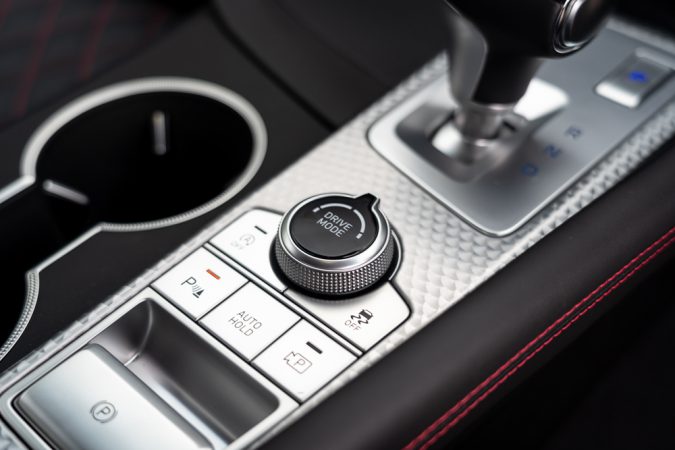 What Is It Like Inside?
If you've been inside a lot of the more recent Hyundai or Kia cars, then the G70's cabin might spring up some déjà vu. The general layout has familiarity in style between them. With that in mind, the G70's interior is naturally a significant step-up in luxury compared to a typical Hyundai or Kia. Every surface is soft and cushiony to the touch, the quilted leather is high quality, as well.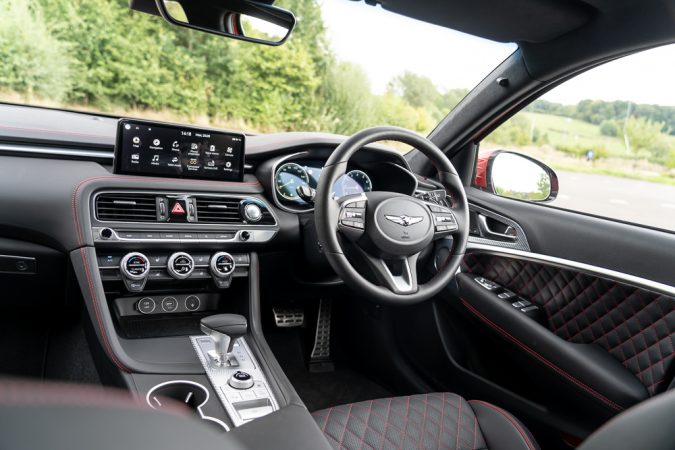 The luggage space is decent for its class, as is the rear legroom. Elsewhere, aluminium and metal trim are abundant, which is no doubt a sensory joy. There's an overall Mercedes-ness in how the G70's interior space is designed. In the middle, you're greeted with a 14.5-inch floating display for its infotainment system. It's mostly shared with its Hyundai and Kia counterparts, admittedly.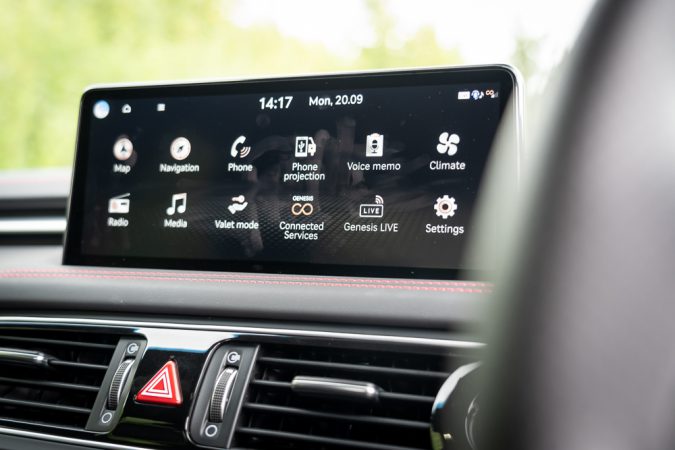 Although, there's certainly a bit more splash of bling in the user interface to reflect its price point. As with those other similarly-programmed systems, the G70's kit works exceptionally well. This ease of use is thanks to how well laid out it is. On top of that, the screen itself is crispy clear and is just oh-so responsive to every input. This is before we move onto the digital dash, which is equally smart.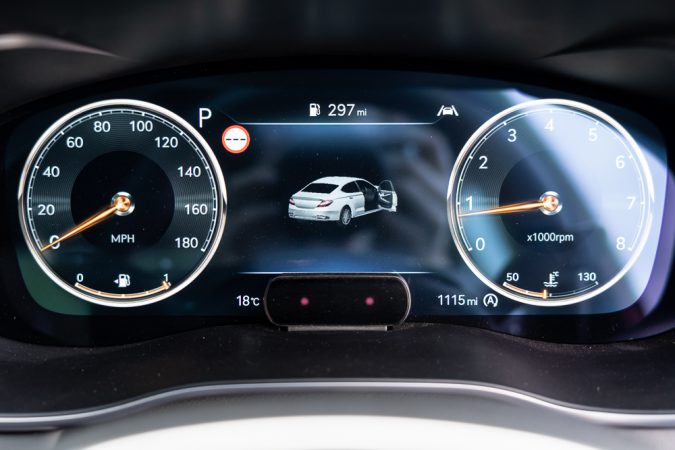 The G70 impresses once again with this being the first digital instrument cluster that we've come across which has a useful 3D effect. At its base, it's a pretty cool gimmick and makes for some great eye candy. In addition, it's incredibly functional, too. For example, it can actually pick up where your eyes are staring at, and it can adjust the display to maximise the 3D effect.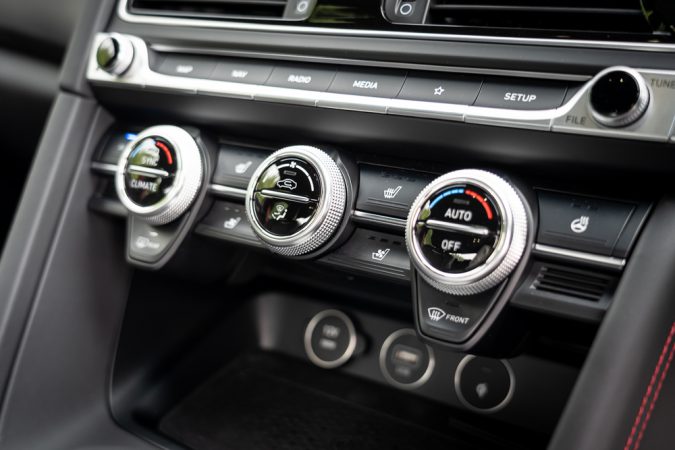 The Experience
Speaking of the technology, we're a bit shocked (in a good way, mind) with just how amazing some of the tech is on the G70. Genesis is really flaunting us their Silicon Valley chops, despite being fairly new to the game. It's a key focal point for the brand's future, and their showing here is mightily impressive. This G70 has what we believe is the best implementation of blind-spot monitoring.
Whenever you indicate, the cameras display your blind spots inside the dash on either side. It works even better than expected and is a great improvement to make checking your blind spots that bit easier and safer. Then, there's the cross-traffic collision avoidance alert. It's a bit of a mouthful, but it works wonderfully to warn you of oncoming traffic as you're backing out of a parking space.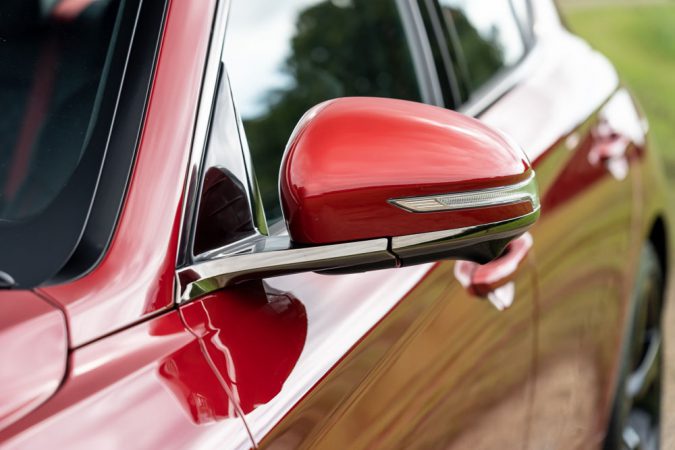 We also have an evasive steering assist, that makes use of the numerous sensors dotted around the G70. It can detect obstacles such as your fellow cars, pedestrians, or cyclists. When it detects that a potential collision is waiting to happen, it can control the steering to help avoid problems. Even the little things like the exit safety warning have been implemented in a helpful manner.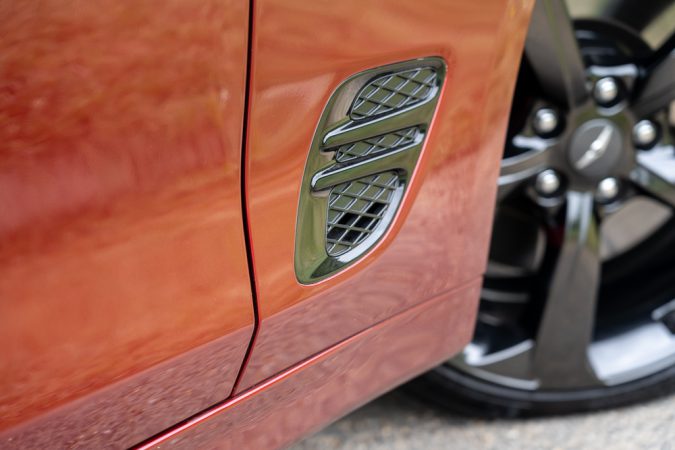 When you're opening the doors onto traffic, it'll chime at you to prevent the door from getting smashed. This feature isn't new, but parents ought to take note, as there's a fantastic bonus with this system. If your child in the back is trying to open the doors, it can actually block the rear doors from opening altogether if there's incoming traffic. As a package, this could be a lifesaver.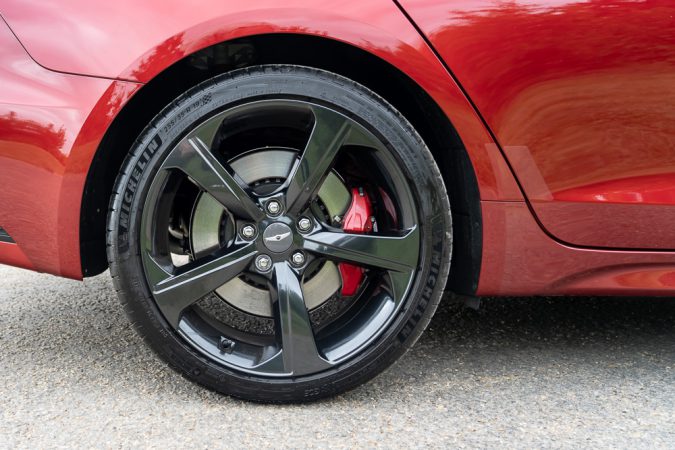 Genesis G70 Sport Line Cost
The Genesis G70 Sport Line starts at £40,480. As you see it here, our particular car is spec'd out to around £49,590 OTR. The lion's share of optional extras goes out to the Innovation Pack, which is a whopping £3,250. It includes some of the safety and techy features that we just gushed over earlier, so it's a price worth paying if you can afford it.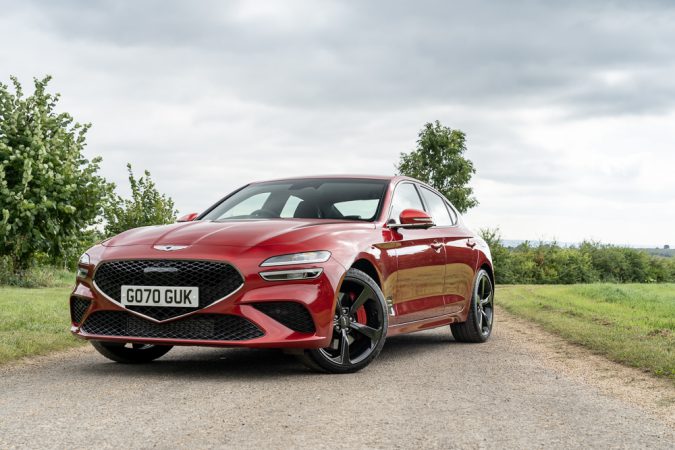 Comfort seats and Nappa leather add another £1,850 and £2,470 respectively. There are several other options here and there, like these 19-inch wheels and a sunroof. £790 for the Lexicon audio is very much worth the money, given the crystal clear and rich listening experience. This delectable Havana Red paintwork is, as lovely as it may be, a £750 extra.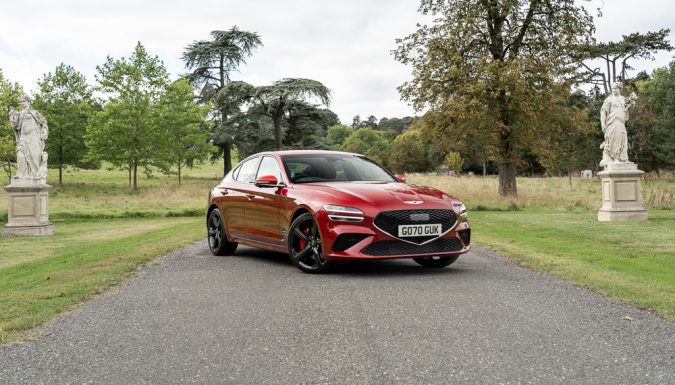 If you happen to get one, there's a pretty good warranty available, the so-called Genesis' 5-year care plan. It includes a 5-year warranty coverage, servicing programme, and roadside assistance. On top of that, you get 5-year's worth of courtesy cars, as well as GPS mapping and other miscellaneous OTA updates. That's quite an appealing and competitive package.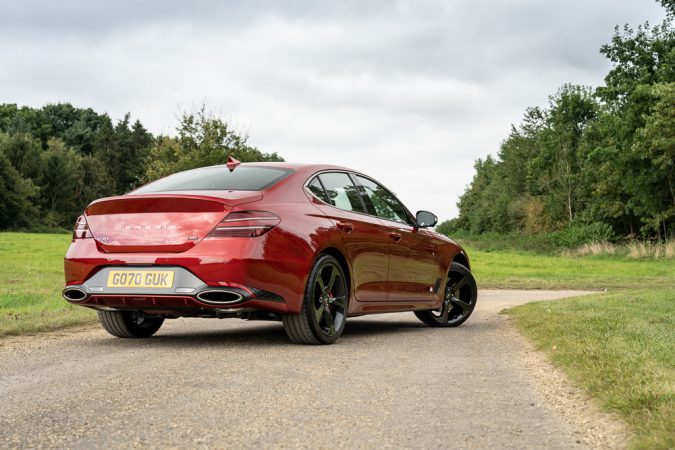 You also have that peace of mind that the G70 isn't going to bankrupt you down the line. Over these past few years, Genesis has consistently sat at the top of the reliability rankings. Thus, you can have the confidence knowing that your G70 Sport Line might not leave you stranded with thousands of pounds worth of repairs in the future. This dulls the asking price a fair bit.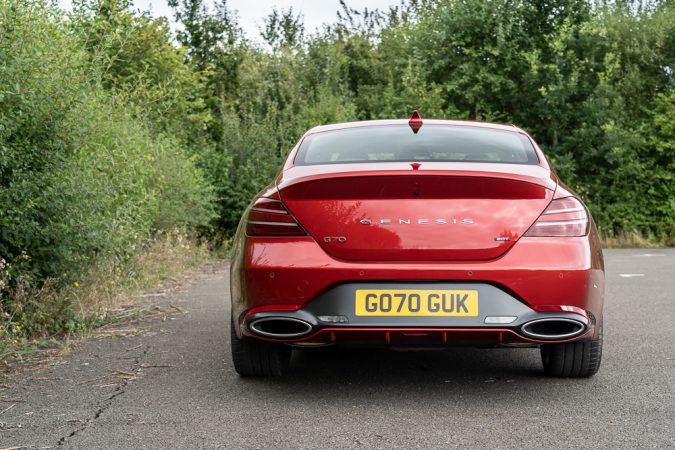 Verdict
The Genesis G70 Sport Line is not a good mid-size saloon. In fact, it's a GREAT one. Where it falls a tiny bit behind on sportiness, it makes up for it elsewhere. Your driving experience will be nothing short of cosy and relaxed, with an air of refinement and elegance as you head out to town. Stamp down harder on the go-faster pedal, and it has sufficient performance to move you along.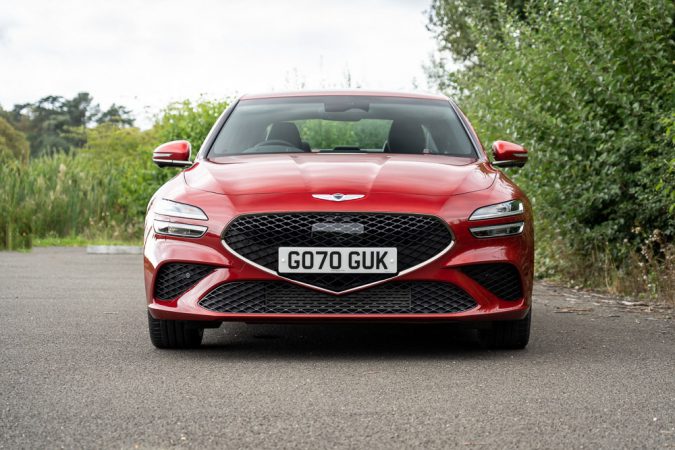 Elsewhere, the G70 is built marvellously well, with ample luxury touches to remind you that you're driving something expensive. It's a very handsome car and is distinctly and likeably quirky. On top of all this, there's the magnitude of safety and nice-to-have technology that makes life that much safer. It's reliable, presents great value for the money, and is a fantastic package overall.

Specification
Genesis G70 Sport Line Specs

Price: £49,590
Engine: 2.0-Litre Turbocharged Inline-4
Power: 241bhp
Torque: 353Nm
Transmission: 8-Speed Automatic
0-62mph: 6.1 seconds
Top speed: 149 mph
Weight: 1,675kg
Economy combined: 33.66mpg
CO2: 182g/km