We've been lucky enough to drive Hyundai's foray into the exciting world of performance more than a few times before. We've had i30 Ns thrown into the gauntlet both on and off the track, as well as having tested the fastback model, too. As far as the i30 N goes, our conclusion has always been the same… It's an absolutely brilliant hot hatch, flaunting the legacy of Hyundai's motorsport prowess.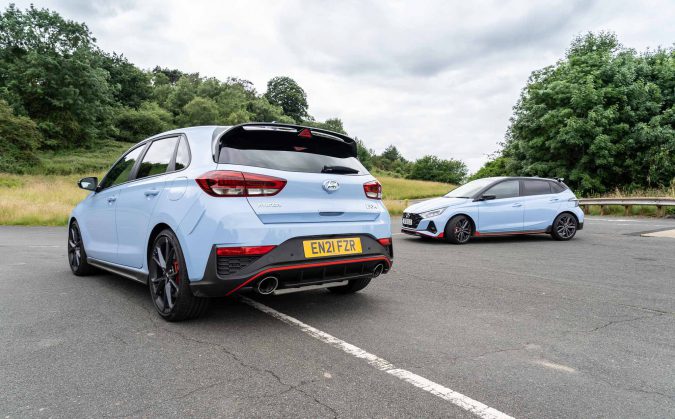 Our i30 N here has been facelifted, with small yet meaningful updates all-around. With every minor tweak, we once again see the DNA of Hyundai's experiences in rallying and touring car championships. On the outside, you may have to squint hard to see the changes. But they're there. The new Hyundai i30 N has a redesigned front and rear fascia, side skirts, and diffuser. Mainly the aero bits, then.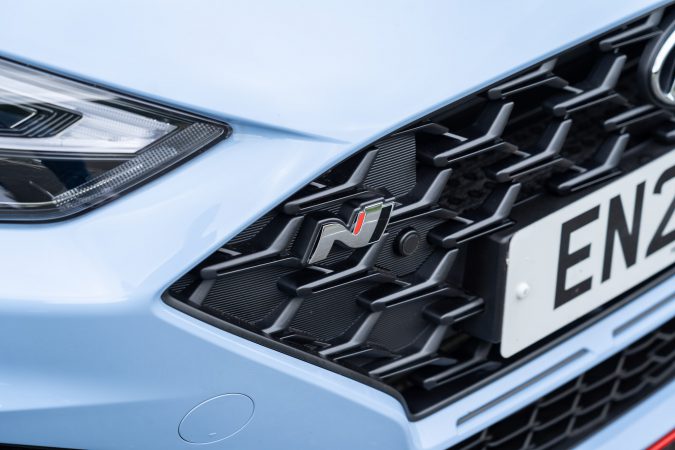 The reworkings have improved aerodynamics, cooling, and have contributed to less turbulence and drag from before. Elsewhere from the bodywork, the rest of the i30 N has gone through a diet. The forged alloy wheels, in all their 19-inches of glory, look more aggressive. Crucially, they're also lighter, bringing a noticeable impact later on thanks to reduced unsprung mass by a whopping 14.4kg.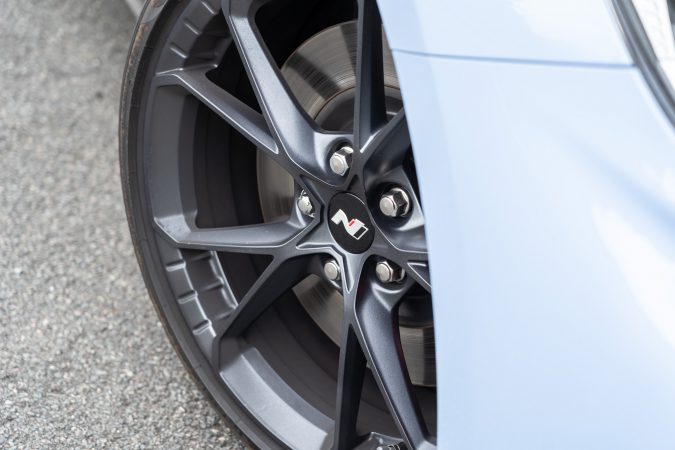 What Is The Hyundai i30 N About?
Although, you'll have to peer behind its skin to see where the differentiations truly lie. The biggest change is no doubt the introduction of a new 8-speed dual-clutch gearbox, whereas the old i30 N was exclusively sold with a 6-speed manual. Unfortunately, we've not yet tested the DCT option, so we weren't able to try out all the geekery and tech at work that Hyundai's engineered in place.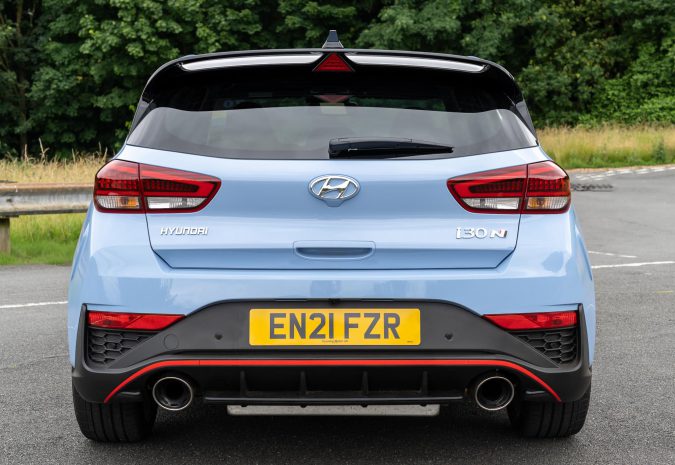 You can literally tune the response, acceleration, torque, and feel of the DCT while on the fly. Alas, we'll stick with the old-school 6-speed manual for now, and what a joyous thing it is. It has no fewer smarts than before, with an automatic rev-matching system built-in. The engine that powers it has gone through a number of evolutions as well, as it can now output more power and torque than before.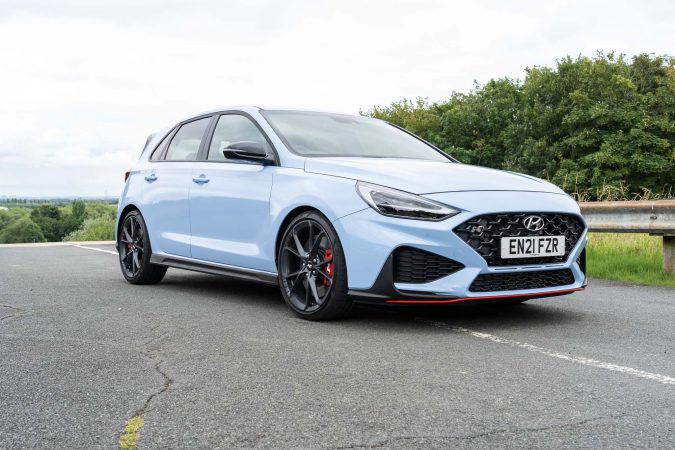 We have a redeveloped 2.0-litre T-GDI turbocharged motor up front, with a grand total of 280PS and 392Nm of torque under your right foot. The power delivery has been recalibrated, enabling you to enjoy more horsepower and torque at lower RPMs. This has made the i30 N more responsive, with a speedier 0 to 60mph sprint in just 5.9 seconds, before topping out at 155mph.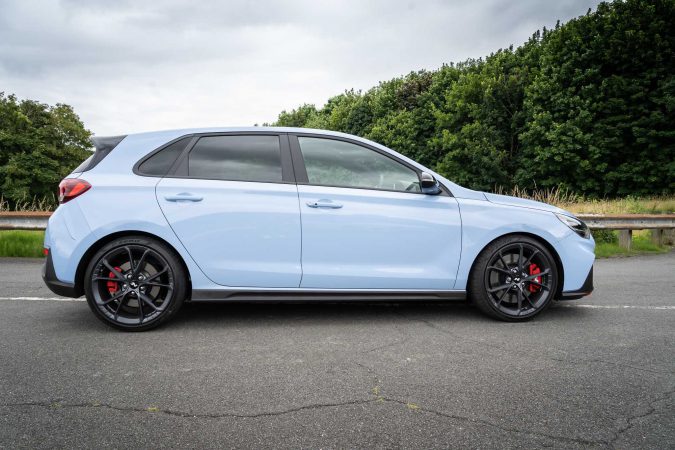 How Does It Drive?
If you're familiar with the Civic Type R, then you'll know that it's the gold standard in the art of hot hatch dynamics for handling and performance. By comparison, the i30 N is not as sharp and is a tad softer at the limit. But given all the clever work that's gone underneath – not to mention after having taken feedback from the i30 N TCR touring car – it's more approachable and fun.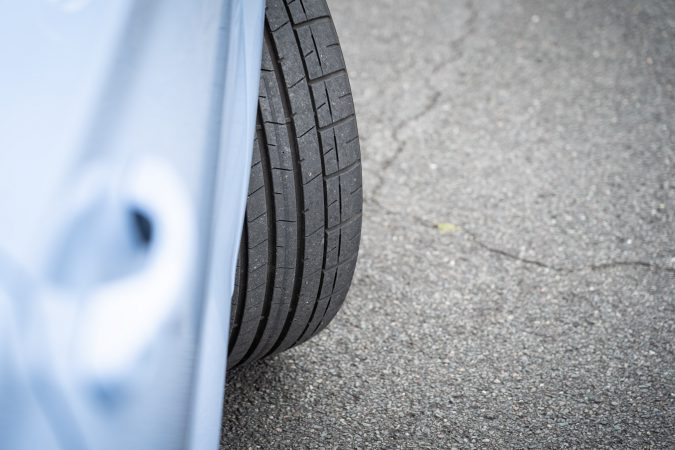 The Type R demands that you're very technical and serious about how to approach a corner. The i30 N, meanwhile, intends to fill your lungs with giggles, and put a huge grin on your face. It's a car that you can chuck into a corner at speed, and trust that it'll pull you out alive on the other side. Under all this, Hyundai has fitted the i30 N with an E-LSD (electronic limited-slip diff) on the front axle.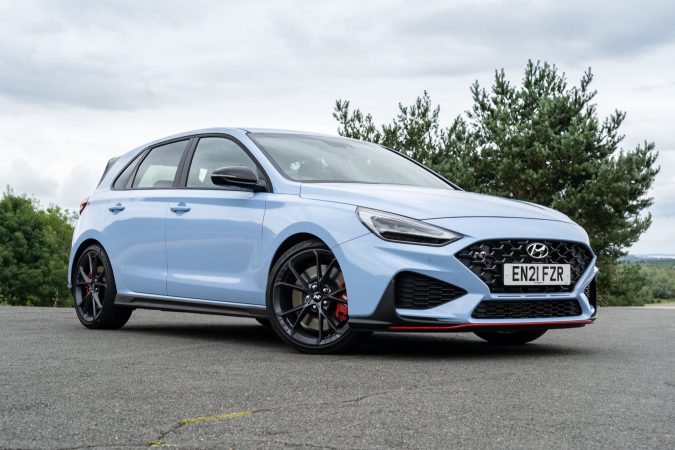 Combined with the masterfully programmed traction and stability control programmes, it manages the grip beautifully. The i30 N can provide you with bountiful amounts of traction when you need it, which is helped given the fact that it doesn't weigh much to begin with. That manual box is a pleasure to use, clicky and tactile to shift into place. When paired with the rev-matching logic, it's a weapon.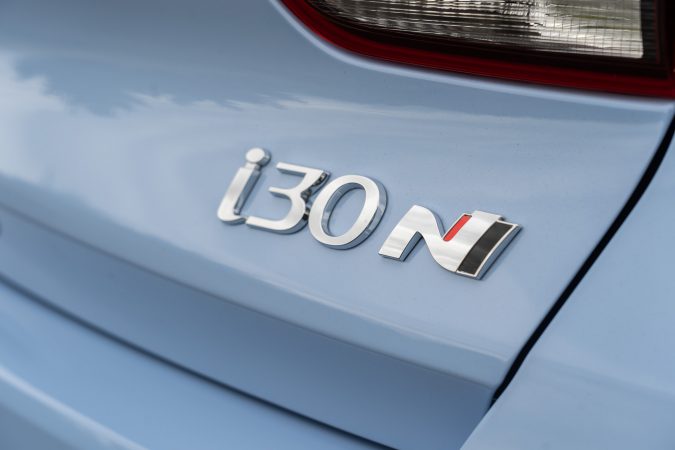 What Is It Like Inside?
The interior is mostly the same as what we've encountered before, which is to say it's a nice place to be. The cockpit feels very focused, as all your attention is being directed towards the driving. This is exactly the sort of atmosphere you'd want in a very hot hatch. In the middle, there is a 10.25-inch infotainment system, which is very easy to use and responsive to your inputs as with other Hyundais.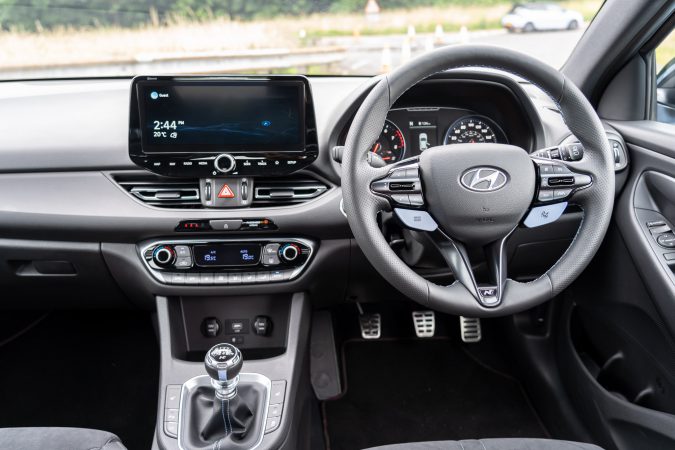 You could also use this to view a variety of performance metrics, with updated graphics on your G-forces, as well as timers to check and see how you're doing on your laps. Best of all, Hyundai has put a lot of attention to detail on where it matters most in the i30 N. The steering wheel is an example, where you can easily access driving modes through those large buttons.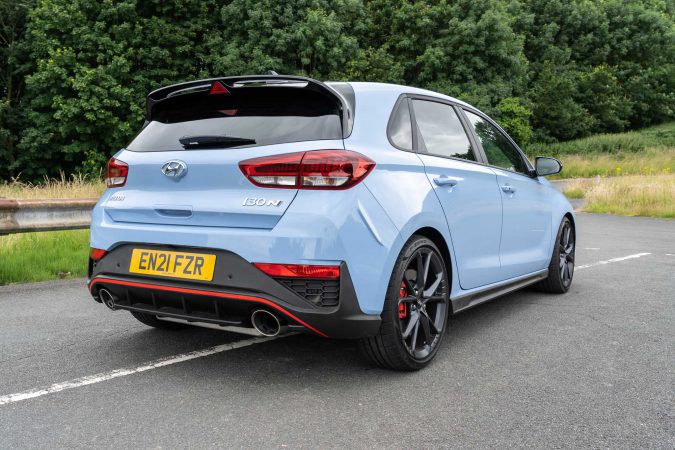 The Experience
While yes, it may have some inspiration from a touring car, the i30 N is by no means harsh in the real world. It's more GT than outright track racer, unlike its rivals such as the Type R. The design, although aggressive and angry in certain angles, is still far more subtle than other look-at-me hot hatches. The i30 N is therefore a great car to comfortably cruise and commute with day-to-day.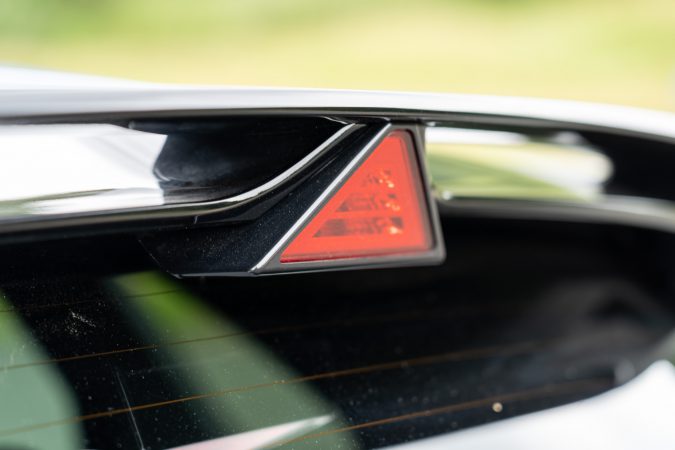 Nevertheless, and if you're feeling a bit naughty, it does sound quite good when you've opened up the exhaust. It has a variable sports exhaust, which sounds dignified and civil most of the time. But you could just as easily switch the twin pipes into its full shouty wake-up-the-neighbours mode to get all the pops, bangs, and crackles as you bang it off a limiter.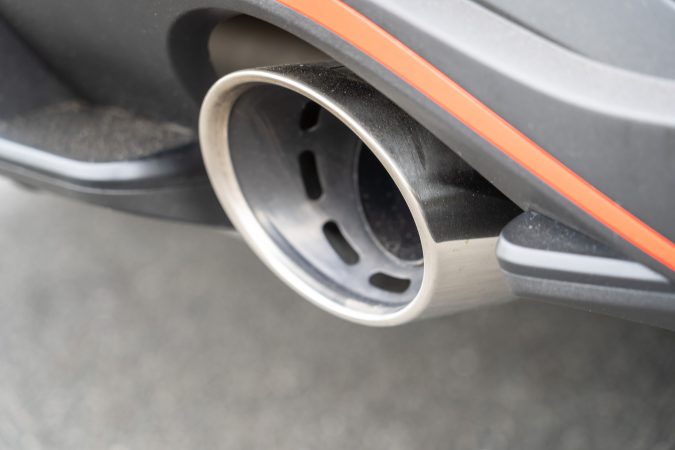 Hyundai i30 N Cost
The Hyundai i30 N is arguably better value, as it's cheaper than most of the competition. It has a base price of £33,745, and only really has two major optional extras. This being a lightweight set of sports seats for £600.00, and special Performance Blue or Shadow Grey paintwork for £585.00 each. As standard, it comes with the 6-speed manual, with the DCT being a roughly £1,500 addition.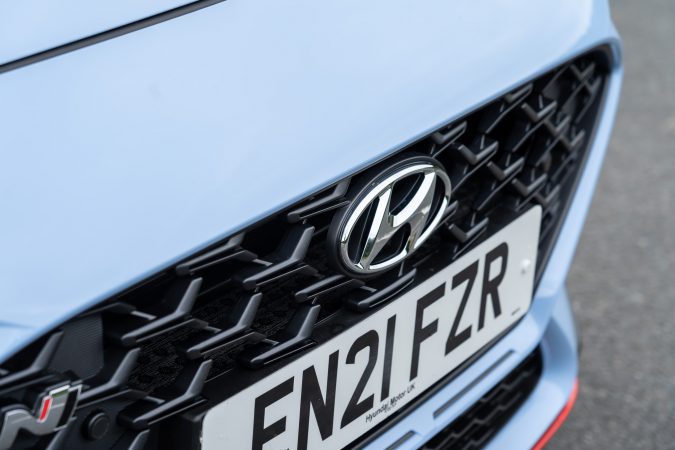 More fascinatingly, and apart from already good regular road-going warranty, the i30 N has a 5-year unlimited mileage warranty service. This includes, mind you, coverage for track days. It is comforting, knowing that you can use your car to the fullest and still know it is covered.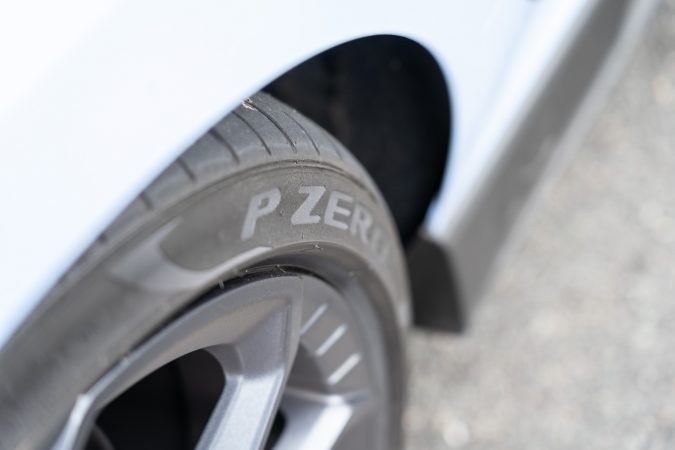 Verdict
The i30 Ns we've driven before has always been a blast to drive. However, this new facelifted update is even more fun. The dynamics are slightly improved thanks to the changes here and there, especially with its reduction in mass. You can certainly feel it in the corners, aided as well by a healthy appreciation in horsepower and torque down low in the rev range. The i30 N remains to be a great all-rounder in the hot hatch category, and you now have a DCT to choose from, too.

Specification
Hyundai i30 N Specs

Price: £33,745
Engine: 2.0-Litre T-GDI Turbo Four-Cylinder
Power: 280PS
Torque: 392Nm
Transmission: 6-Speed Manual (8-Speed DCT Optional)
0-62mph: 5.9 seconds
Top speed: 155mph
Weight: 1,419kg
Economy combined: 35.3mpg
CO2: 182g/km