Isuzu's popular D-Max range has long been regarded as among the finest pickup that you can get on the market. However, it's had a major refresh as of late. So, could this new D-Max, in its top-end V-Cross trim, be just as great?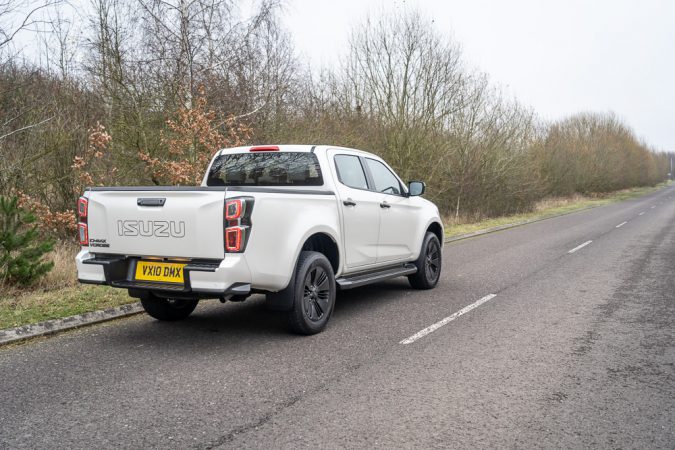 On the surface, one could almost fail to see how it's at all related to the old D-Max, barring the huge Isuzu branding plastered all over. But by all accounts, it's a thorough reworking of the tough and tumble formula of the outgoing D-Max, but brought up to date. In the standards of the 2020s, the outgoing D-Max would've been laughably old-fashioned. So, how does it fare in a world mad over trucks?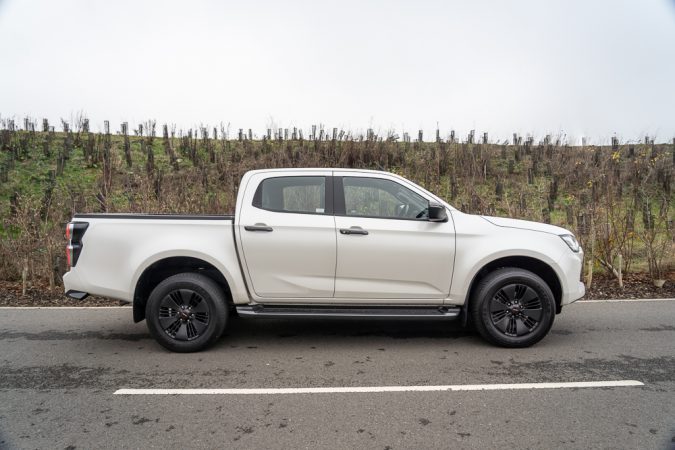 What Is The Isuzu D-Max V-Cross About?
Specifically, the V-Cross trim is the top-of-the-range model in the D-Max range. In other words, it's the most premium, luxurious, and passenger-focused among its stable of commercial, working-class trucks. You could, of course, still get a barebones D-Max for its utilitarian roots on its own. Nevertheless, the V-Cross pack may prove appealing to those who might want to waft along fashionably away from the worksite.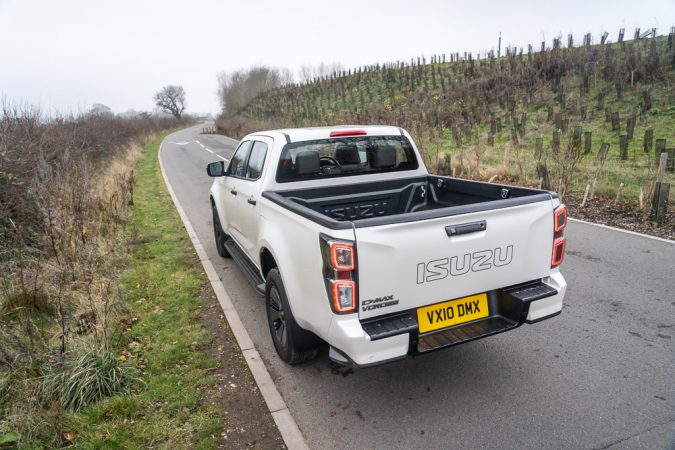 With that in mind, it isn't shy to show off a more upscale appearance. Opting for the V-Cross, you'd get fancier bits and pieces like metal side steps, gunmetal alloy wheels, and a sportier exterior design package. In particular, I really like the look of its blacked-out grille and side mirrors, for that slightly aggressive edge. Elsewhere, it's bold and muscular.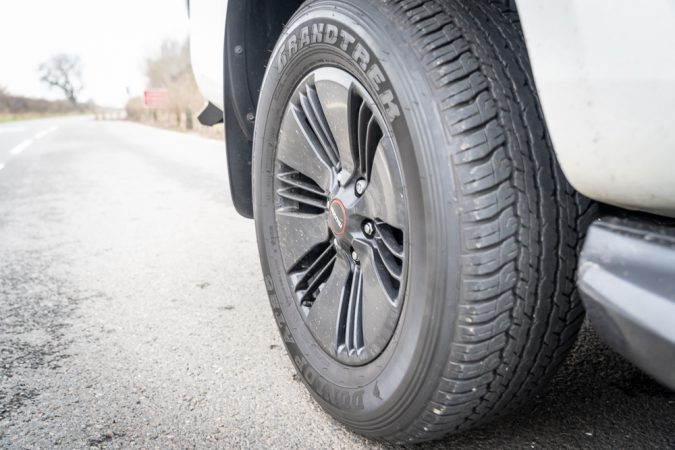 The sharp body lines and imposing front-end should make that readily apparent. Walking around it, there are subtle touches here and there to bring the D-Max up to date. The most noteworthy is the set of LED headlights, which normally aren't worthy of mentioning in 2021. But then again, a D-Max from just a year ago was fitted with subpar halogen bulbs that barely lit up the road.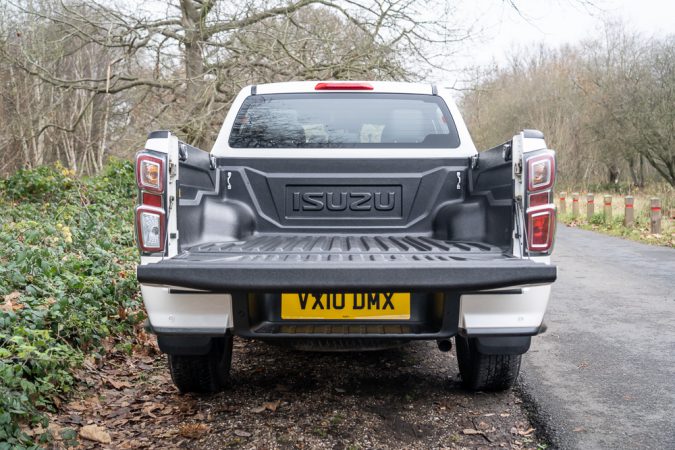 How Does It Drive?
Having discerned that Isuzu's made significant headways with designing the new D-Max, how does it feel once you get behind the wheel? While the V-Cross might seem all lux and suited up, it's still that same D-Max underneath. Hence, it's as hardy and capable as a work truck as any D-Max deserves to be. If we look at the skeleton, the D-Max sports a stronger, reinforced chassis for optimal rigidity.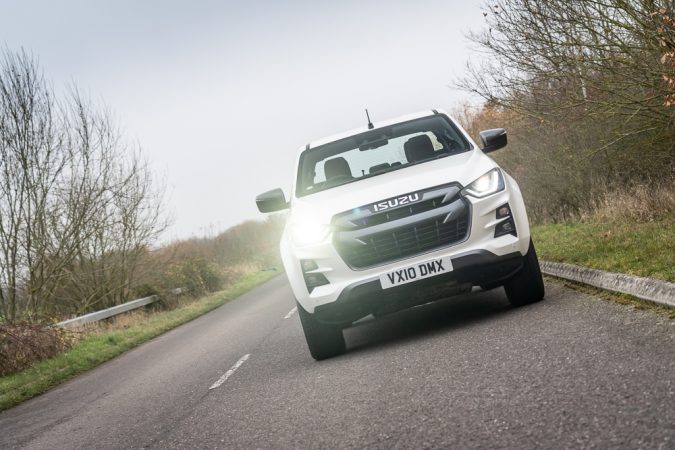 This ought to improve both safety, as well as on-road driveability. Although, the most noteworthy bit of kit on the new D-Max is its "shift on the fly" four-wheel drive. With a selectable drivetrain, it will allow you to rapidly switch between two and four-wheel drive. Not to mention, the addition of a 4WD low mode that may prove quite handy for low-traction surfaces when the going gets tough.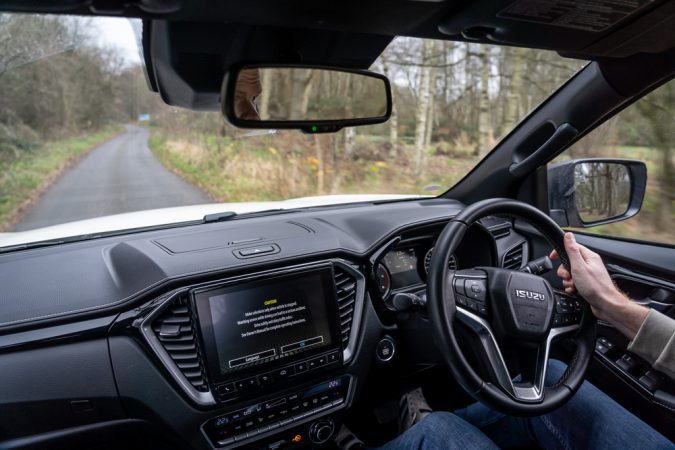 On top of that, the new D-Max features additional settings such as a hill start assist, as well as a hill descent control. Better still, the D-Max comes standard with a rear differential lock. Combined with the 4×4 system, even this high street V-Cross can, in practice, handle off-road terrain incredibly well. The revamped 1.9-litre turbo-diesel inline-4, with Euro 6D compliance, is more than up to the task.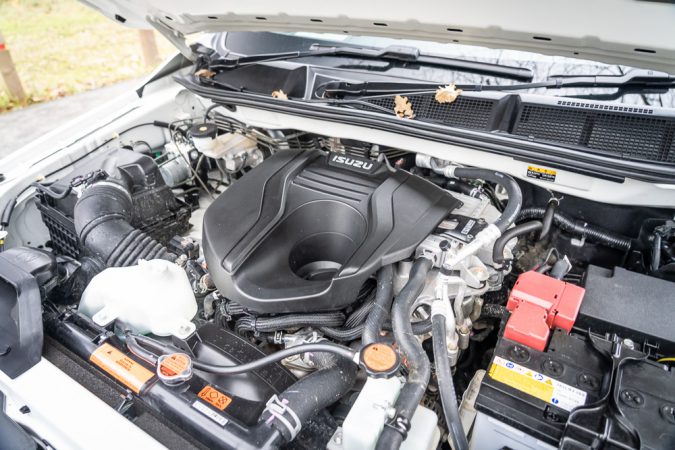 Sure, 164PS and 360Nm of torque don't make it an F150 Velociraptor. Moreover, and once you've stepped outside, the engine emits a somewhat gruff note. This is expected from what's otherwise a commercial truck. Nevertheless, it's a brilliant engine for what it's made for. There's an abundance of torque and pulling power on the low-end to heave along whatever you're hauling with ease.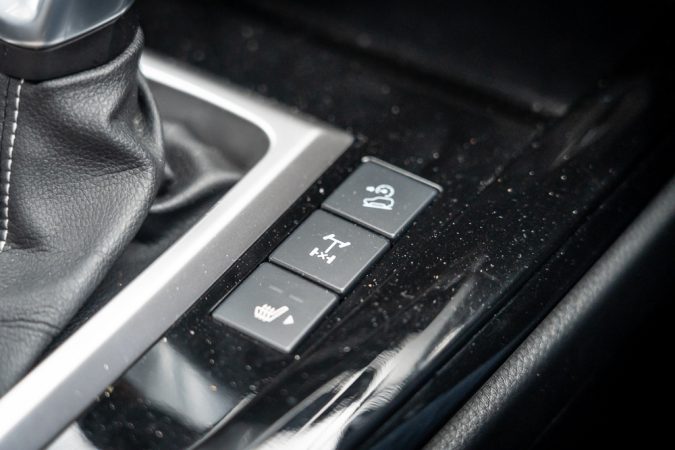 You could option the new D-Max, including the V-Cross, with either a manual gearbox or choose the 6-speed automatic we have here. It shifts along smoothly and quickly, up to 25% faster than the old D-Max, in fact. The rest of the D-Max still feels like a big truck when it comes to driving it, though. It puts you quite high up, so it certainly wallows and pitches in the corners or over bumps on the road when driving without a payload in the back.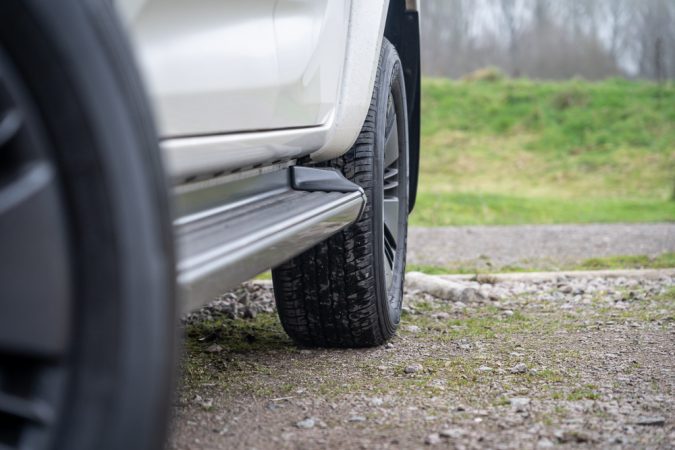 Isuzu did mitigate all that body roll with a retuned suspension front and rear. So, it certainly doesn't feel nearly as bad as the previous model. Although, the ride should level out evenly once you start to lug around more cargo in the back. Despite the size and heft, however, the controls are rather light. The steering and brakes, for example, don't need a lot of muscling to move, and they work well.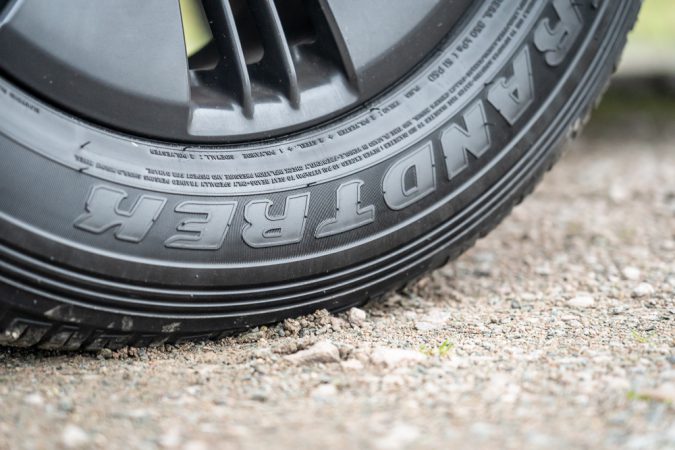 You may think that a gargantuan truck like the D-Max might prove troublesome to drive, but it isn't the case at all. Visibility all-around is fairly decent, aided by a set of reversing cameras and parking sensors. As such, manoeuvring it around town, tight parking spaces, or narrow streets shouldn't be any harder than most smaller vehicles. To live with and commute day-to-day, it's shockingly good.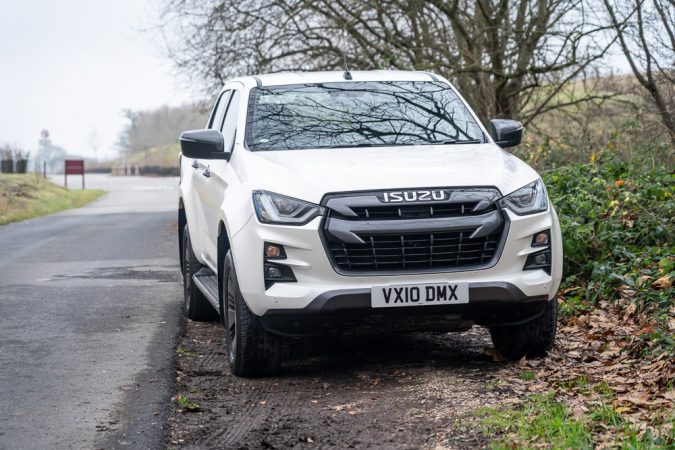 The D-Max V-Cross doesn't feel like a daunting beast to drive. As we mentioned earlier, the D-Max is a strong contender when you find yourself off the beaten path. But stick mainly to A and B roads, it can be relatively quiet and relaxing. When you're not working the engine hard, it hushes down, with minimal vibrations or road noise. The suspension is cushy, and could comfortably waft you along.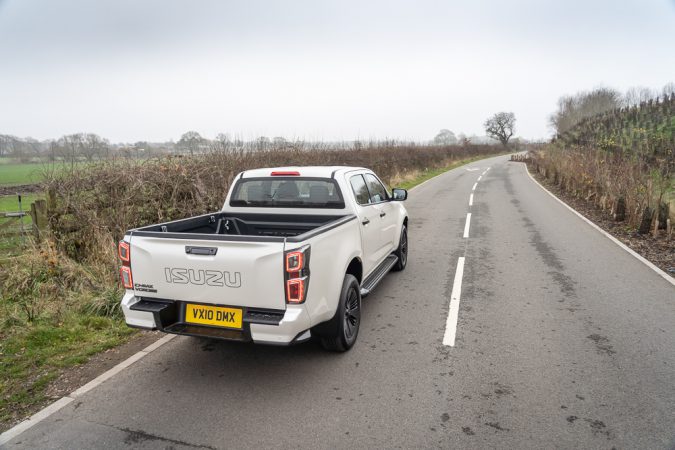 What Is It Like Inside?
Isuzu's redesigned D-Max marks its biggest leap forward compared to its ancestors when it comes to cabin quality, as well as technology. Indeed, and especially if you opt for the V-Cross trim, it's worlds ahead compared to the barebones nature of prior D-Max models. Complementing the lush leather trim, I'm happy to report that the seats are heated, which is most appreciated given the weather.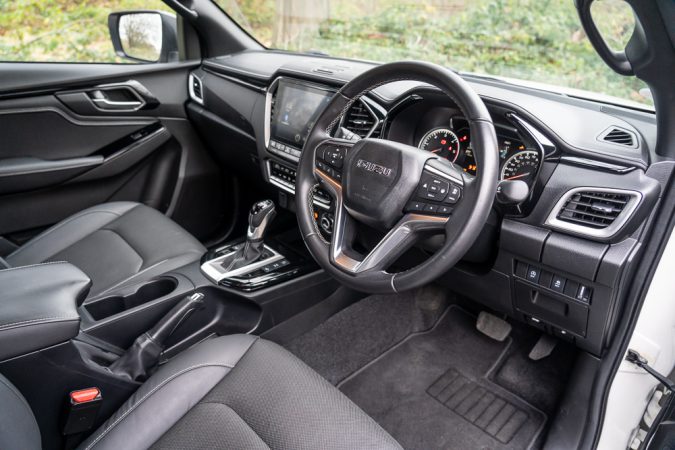 Additionally, you'll find a massive 9-inch infotainment system taking up the bulk of the dashboard. It sports all the bells and whistles you might expect, such as Apple CarPlay and Android Auto. Beneath that, there's a row of physical switches that feels merely a step down from a full-blown Mercedes. Within eyesight, there's a brand-new 4.2-inch display in the dash, flanked by two analogue gauges.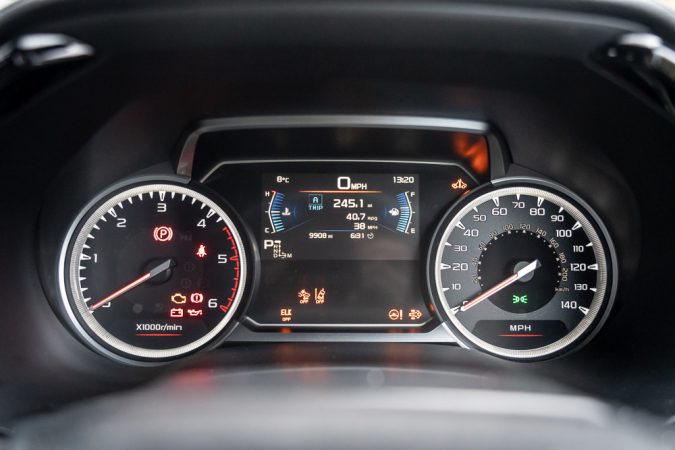 It's most useful for flashing information on the fly, especially when you have all these new gadgets to play around with. But more on that later, as we remark how suitably spacious the interior is, and it's a great place to spend time in. Yes, it's a double-cab, but given how vast the cargo bed is, I expected compromised rear legroom. On the contrary, you could snugly cram in even taller adults back there.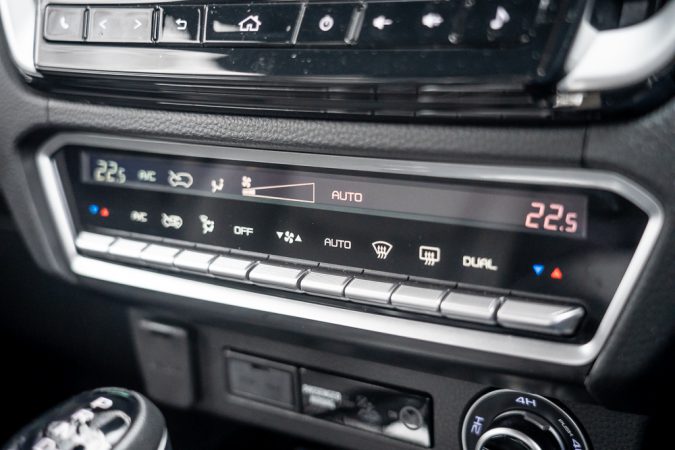 The Experience
Speaking of tech, Isuzu is fairly proud of what they've been able to programme into the reworked D-Max. Besides all the electronics you'll be fiddling about with on the inside, you're also surrounded by a plethora of driver aids and safety systems. This is a pretty big deal, as the previous D-Max models never had this much gadgetry before. Now, these come standard on all new models, like the V-Cross.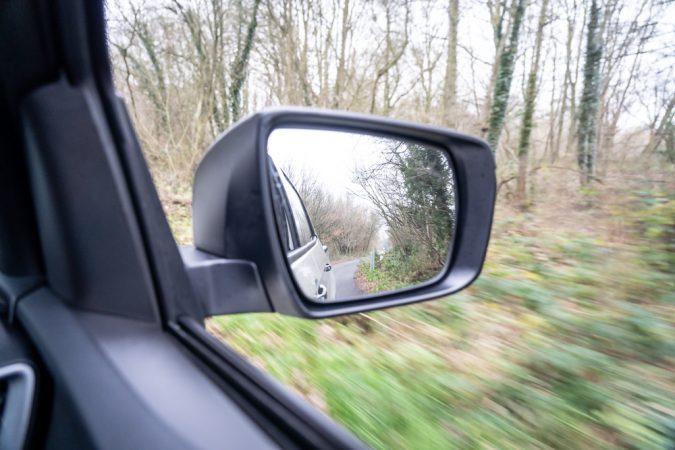 It rewards you with nice-to-haves, such as front and rear parking sensors and a reversing camera, as we highlighted before. Moreover, its suite of radars and cameras include functionality such as adaptive cruise control, lane-departure alerts, lane-keep assist, forward collision warning, emergency braking, blind-spot monitoring, rear cross-traffic alert, traffic sign recognition, intelligent speed limiters, etc.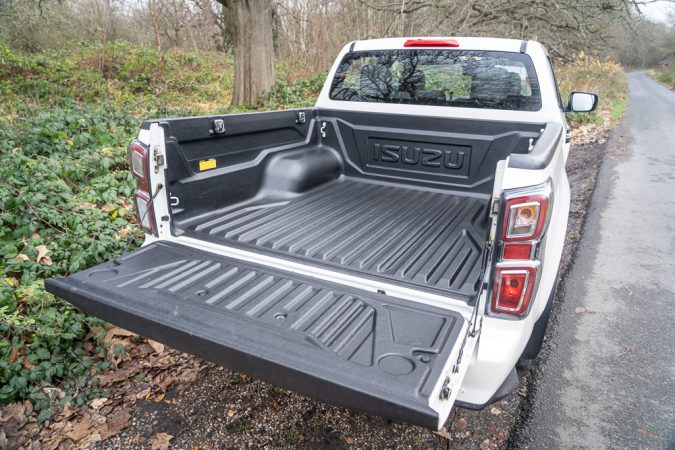 I dare say these alone are a fantastic USP for buyers to pick the new D-Max over the old one. If we're to talk about the more practical side of things, we're happy to note how fuel-efficient it's been. After a long 450-mile drive, we could still manage upwards of 40mpg, which is beyond respectable. Once we factor in the large fuel tank, you won't likely have to stop by for a fill-up all too often.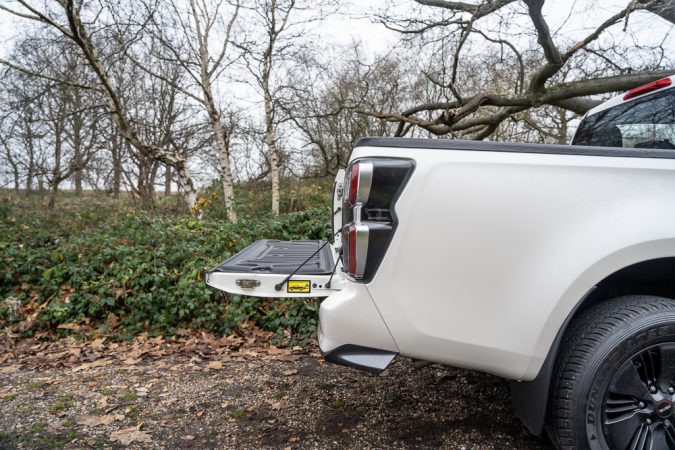 In the rear, the load space is vast enough for all your haulage needs, and you can option lockable bed covers or rolling shutters if you see fit. With minimal intrusion from the rear wheel arches, you'd have little trouble with capacity. More on the numbers, the D-Max can haul just over 1-tonne payload in the back. Plus, it offers you a bountiful 3.5-tonne towing capacity, with a trailer sway control, to help out.
Isuzu D-Max V-Cross Cost
Its commercial siblings start at an affordable £21,009, but as you can expect, the cushier V-Cross has a slight premium over that. £31,259, to be precise, for one with a manual box, or starting at £32,759 for the automatic. This puts it on a very competitive side of the market, given its rivals, and is a fairly attractive price for the package. You'll also have to bear in mind the warranties you get.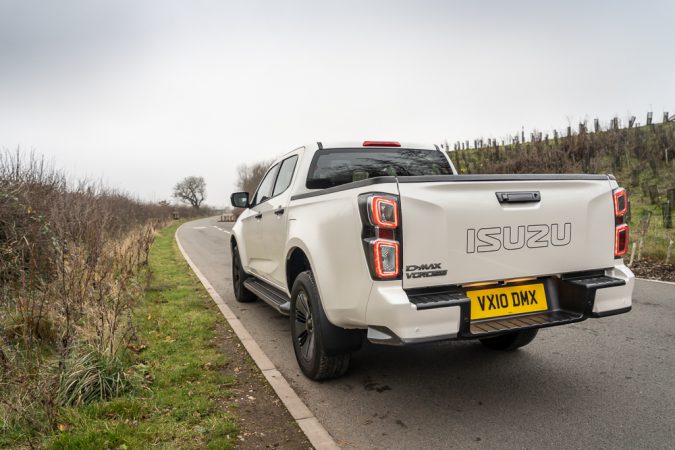 Isuzu hands you a lengthy 5-year (or 125,00-mile) warranty, and five years of roadside assistance for UK and EU-based customers. On top of that, and since you'll possibly be using it as a work truck, you also get a 12-year anti-corrosion warranty. As far as options go, most of the fitment mentioned thus far come as standard. Albeit, they may differ depending on what transmission option you choose.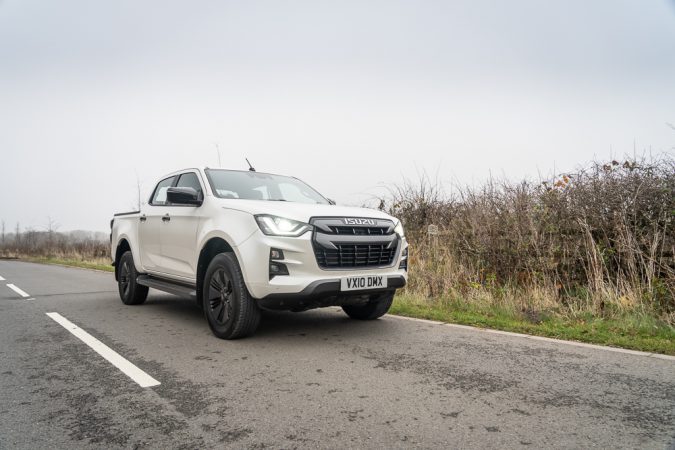 Verdict
If your trade and profession require you to drive a truck, this typically leads to some compromises. At least, that was the case back in the old days. They were precarious to drive at speed, feature the bare minimum in creature comforts, felt terribly agricultural and unrefined, or are otherwise a pain in the backside to drive around town.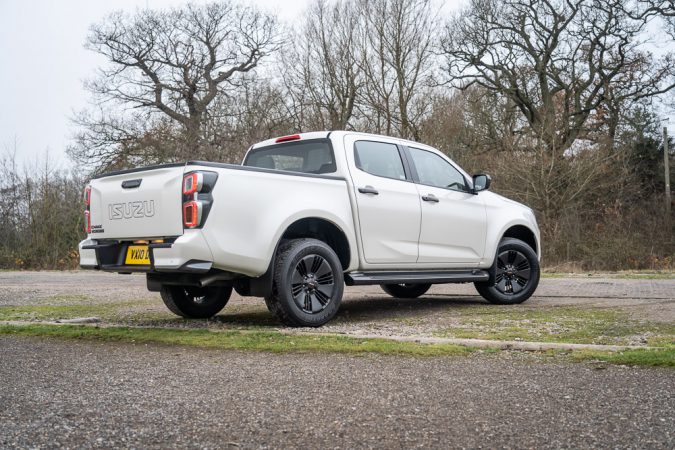 Thankfully, you'll no longer have to put up with this in 2021, and it's proven by how capable the Isuzu D-Max V-Cross has been. It has an excellent do-it-all ability that's great to drive, yet carries ample tech and comfort to keep you both cosy and safe on the road. Refinement and efficiency are turned on by default, and even if you don't explicitly need a pickup, it's still a remarkable daily runabout.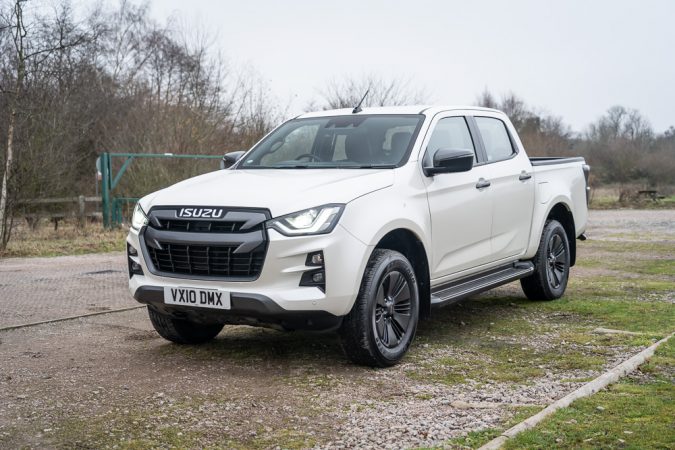 Specification
Isuzu D-Max V-Cross Specs

Price: £32,759 (Automatic)
Engine: 1.9-Litre Turbo-Diesel Inline-4
Power: 164PS
Torque: 360Nm
Transmission: 6-Speed Automatic
0-62mph: 13.0 Seconds
Top speed: 112mph
Weight: 2,030kg
Economy combined: 30.7mpg
CO2: 241g/km