The simply-named GT is distinct in McLaren's line-up of hardy road-racers. First and foremost, the GT is, as the name might suggest, a grand tourer above all. It abstains from the out-and-out, hardcore track day monsters that McLarens typically are. It is, by my reckoning, the most daily-able of the lot. But is this necessarily true, as the McLaren GT has the difficult task of balancing both sides of its personality?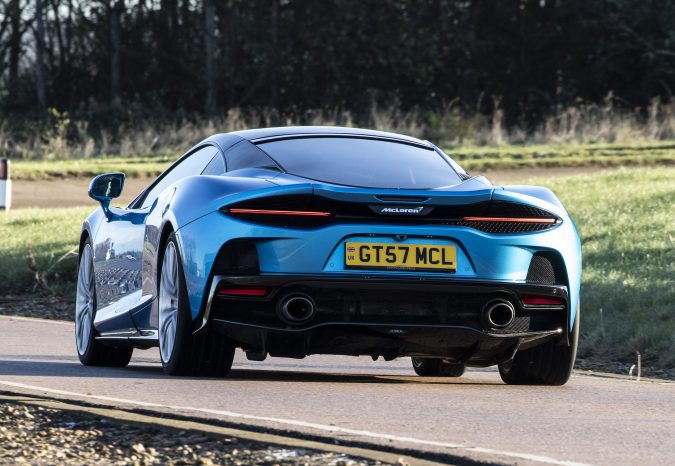 Could it satisfy the needs of grand touring, while also putting down the razor-sharp athleticism that its makers at Woking are known for? Or, is it a matter of compromise, neither being comfy nor practical enough for a GT… While also being far too dialled back to be called a McLaren in the first place? If we had just one place on Earth that could make or break the GT, Millbrook's Proving Grounds is it.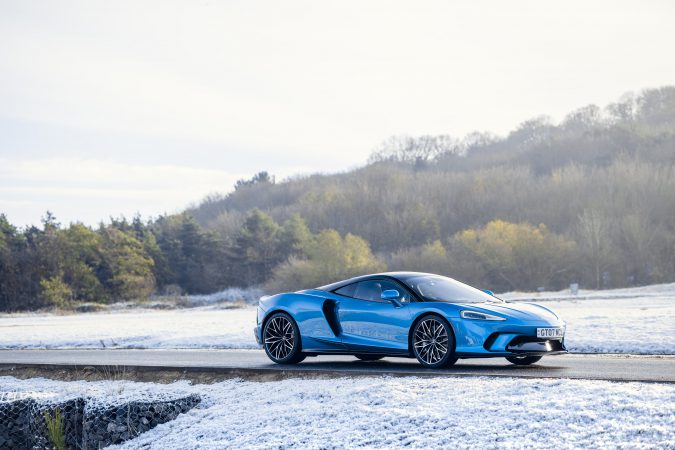 There, with its many challenging twists, turns, and undulations are baptism by fire for any vehicle. The alpine track should be more than enough to shake out the dynamics of the GT, where lesser cars have broken under the strain. And once the smooth tarmac ends, the usually bumpy British B-roads around the local area would expose if McLaren's GT really is worthy of its badge. Or not?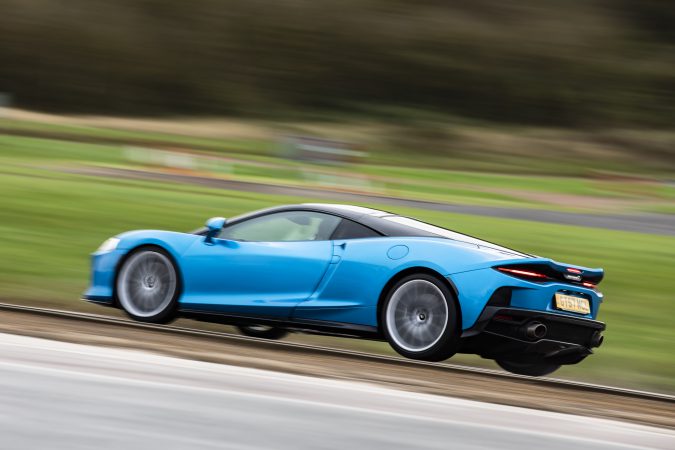 What Is The McLaren GT Luxe About?
At first glance, there's nothing about the McLaren GT that calls it out for being a softly-tuned version of its popular siblings. It has a typically McLaren aesthetic, whose design is quite distinctive and rather noticeable anywhere you go. Although, the GT does soften the otherwise sharpish aggression as well as look-at-me aero a notch or two down. Still, it's a very pretty thing, especially in this blue paint.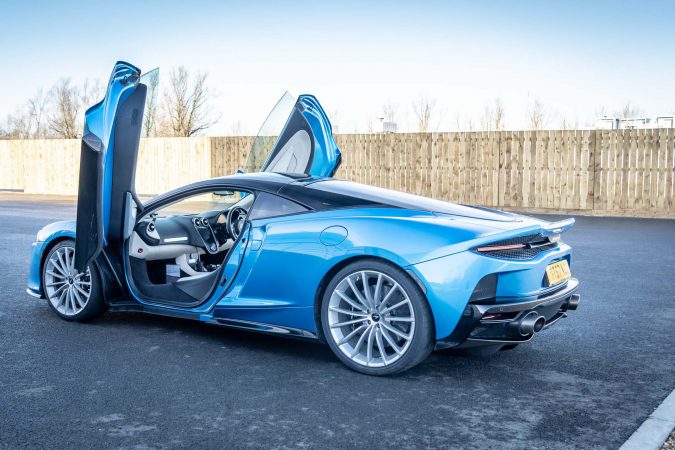 Consequently, you're getting a classically elegant beast that hides much of its true potential under a silk dress. It's one of those cars that'll age well, I think. While it may not shout and scream as one will find a McLaren to oftentimes do, the GT exudes an awe-inspiring presence that turns heads. Perhaps, it won't manage it as vigorously or as "wow, look at that!" that a 720S might, for instance.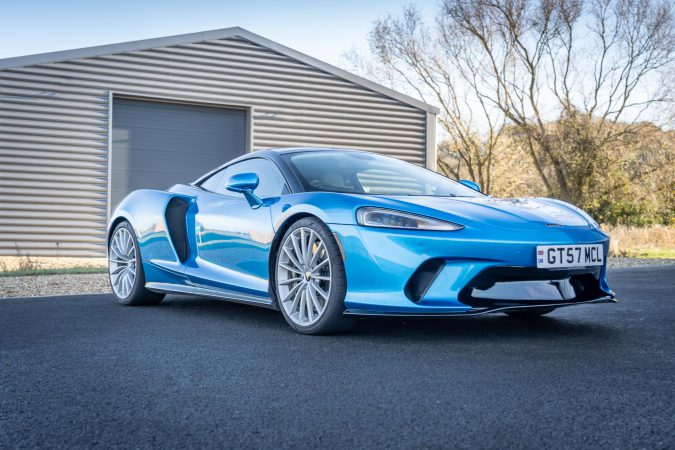 Nevertheless, it looks as tailored for a red carpet event at the opera house, as it is for a date around the Nürburgring. The GT maintains a muscular appearance, with a shrink-wrapped bodywork that is echoing of how enthusiastic it is to hit a set of bends. Look closely at the brawny sculpture, the large vents and intakes, or its subtle nod to aerodynamics, and it may give you a clue as to its abilities.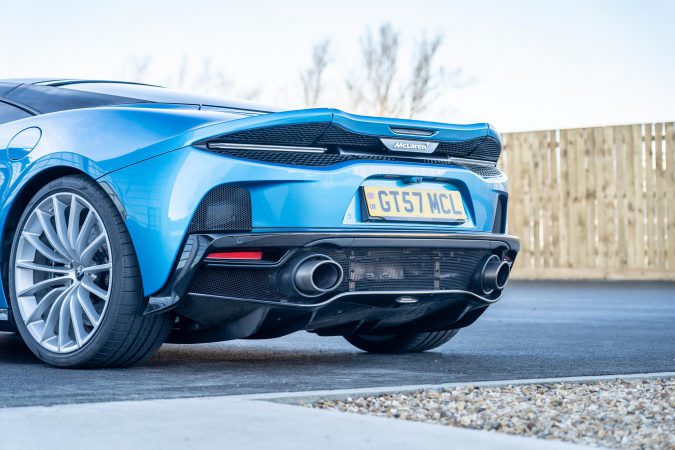 How Does It Drive?
The weather during my drive isn't what you'd call, ideal. In fact, it's more North Pole than your usual English countryside. The scenery is frosty, the morning was covered in a blanket of ice. Then, the low 4-degree air is courteous enough to paint a crystalline veneer onto the tarmac. This, incidentally, could play a key role in breaking the McLaren GT's dynamics, more than anything. That… Didn't happen.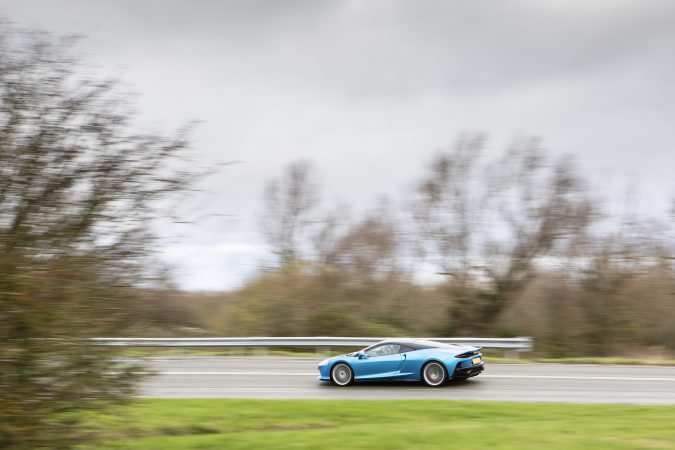 To be fair, I wasn't hammering it at speed into the corners, tossing it around at every turn. But despite all that I could throw at it, never once did I upset the rear wheels on the handling circuit. Even with the cold and wet road, McLaren's exclusively rear-wheel driven GT is able to put the power down mesmerizingly well. It's almost a magic trick, given how much power is passing through those Pirelli P Zeros, given the conditions.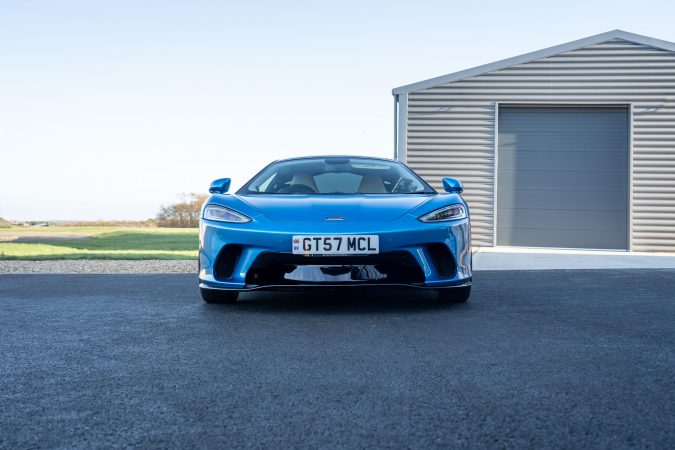 Let's take a moment to remind ourselves that while the GT is a cushier McLaren, it still has a similar potent powertrain as the rest of its family. This, of course, is McLaren's mid-engine, twin-turbocharged, 4.0-litre V8. In the GT, it pumps out a near as makes no difference 612bhp, and another healthy addition of 465lb-ft in torque.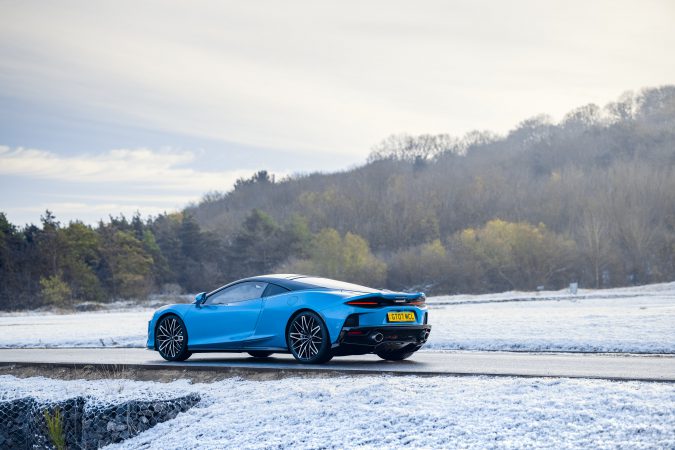 Sure, you can get the traction loose if you press the go-faster pedal hard enough. On longer straights, a stab of the right foot did light up the rear-end. But once it got going, the GT had little trouble rocketing into the horizon. A sprint from 0 to 60mph takes no more than 3.1 seconds, which is bonkers for a RWD ground tourer. It'll then keep going until it tops out at a blistering 203mph.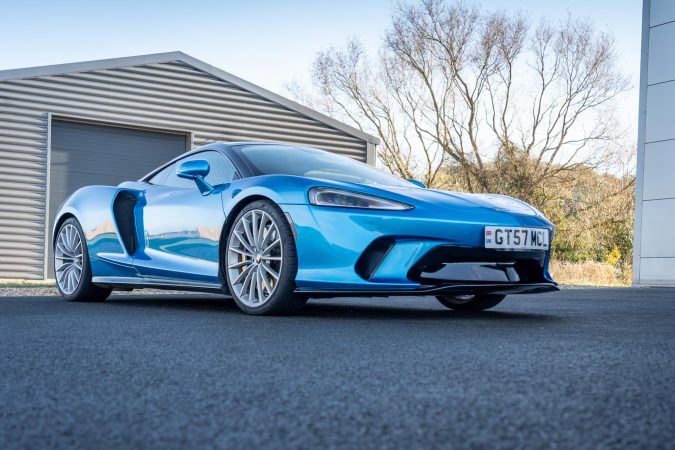 If the outright speeds are starting to terrify you, the brakes should handily put you to a stop. I had the GT up to around 150mph, and a hard punch on the brake pedal shaved off all that speed in an instant. An interesting point to note is how racecar-like the brake pedal is – quite stiff to press the whole way through. To top it all off, don't even get me started on its handling, as it's utterly mind-boggling.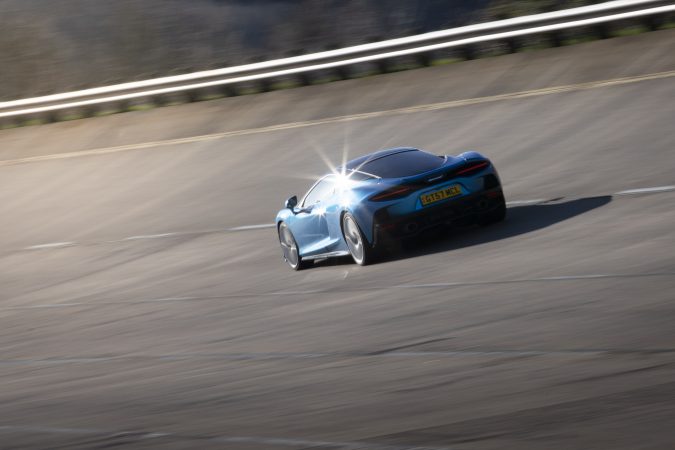 At this stage, I was steadily making my way to the more challenging bits of Millbrook. What can't be sufficiently described with words alone, but I'm more than happy to praise, is how McLaren's kept the driver's car feel in this apparently toned-down GT. There's an abundance of feedback from the car as it dances around beautifully in even the sharpest of turns. Best of all, none of it feels filtered or numb.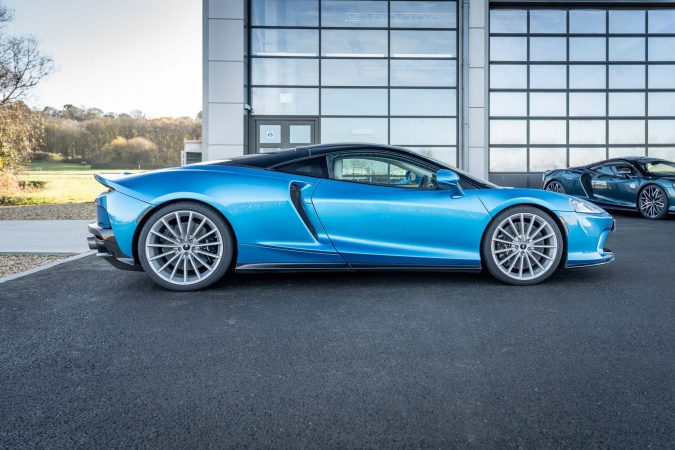 Namely, the Woking folk decided to keep the electro-hydraulic steering, which McLaren was adamant to keep, and all the better for it. There's an incredible amount of information transmitted through that rack. As light and sharp as it may be, the steering never left me unaware or clueless as to what's going on underneath. Tactility all-around is a joy too, such as the solid "click" of the paddles.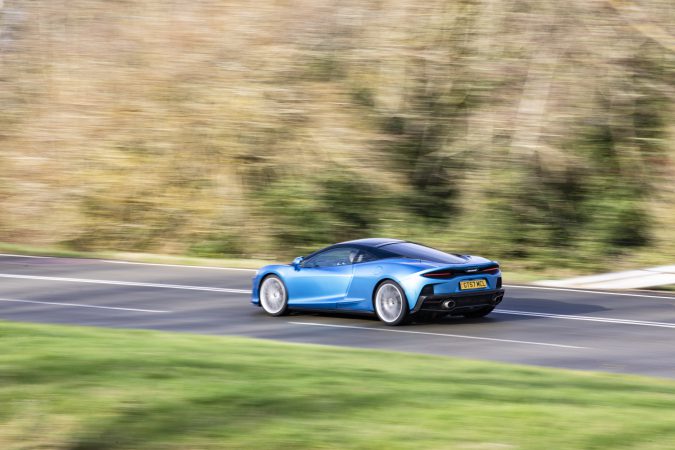 Those shifters are in charge of the uber-fast, but ultra-smooth 7-speed automatic that shovels power along seamlessly. The suspension is magnificently well-tuned. It's stiff and balanced enough to tackle Millbrook's many changes in elevation, as well as pitching into the tight corners. Yet, it can remain poised, effortlessly soaking up the more unpleasant stretches of tarmac when you go looking for them.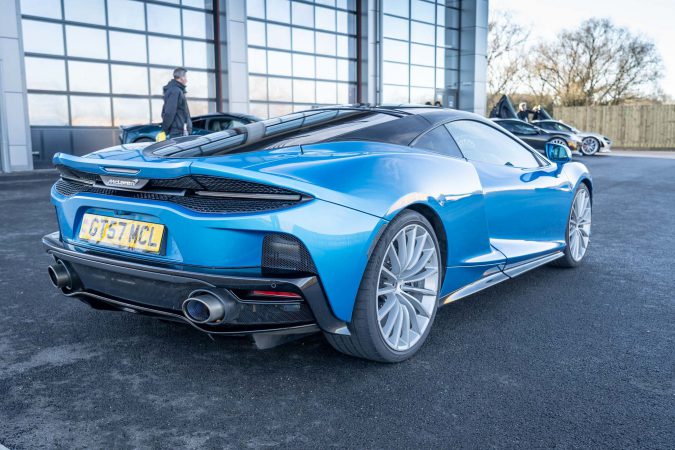 McLaren's most prized and lightweight carbon-fibre tub chassis makes a return in the GT. As a result, it remains taut, no matter how badly the terrain wanted to twist it into a pretzel. Dynamically, it's a proper McLaren, with top-notch handling, albeit a tiny bit pared back compared to its hardcore sporting siblings. Nonetheless, the GT is the one car that you'll have bucket loads of fun with on that 1,000-mile road trip.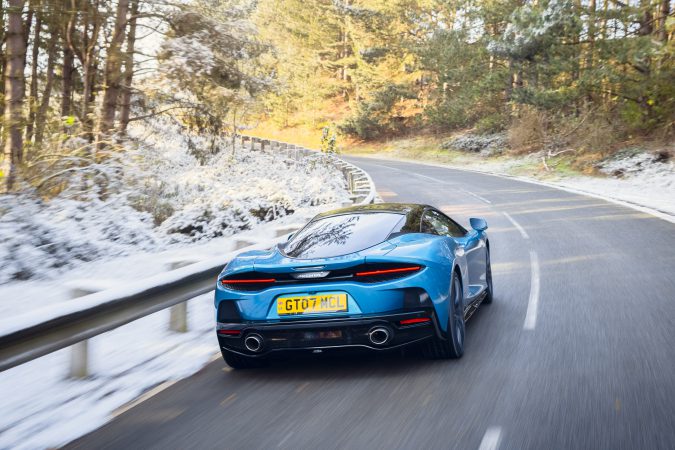 Even at lower, more responsible, and legal speeds, its natural keenness is still a pleasurable, as well as rewarding experience. I dare say that the GT's performance credentials, as scary as it might seem on paper, is also quite accessible. You could happily lend this to someone who's never driven a supercar before, and with a hint of caution, could manage the excess of power without a problem.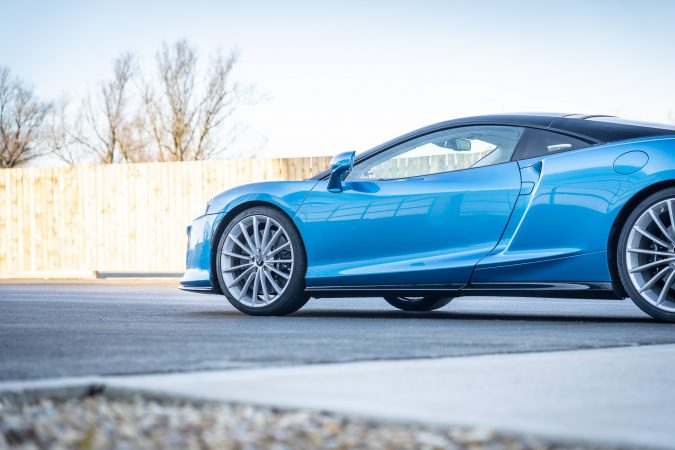 What Is It Like Inside?
Given its touring focus, the namesake McLaren GT no doubt has to outshine its stablemates with its interior. For a supposed long-distance cruiser, a spartan and barebones cabin won't do. Thankfully, it sports quite a lovely lounge to spend those long hours in. It still reminds you, naturally, that the GT is still a McLaren. The driving and seating position is low, and you have a cab full interior space.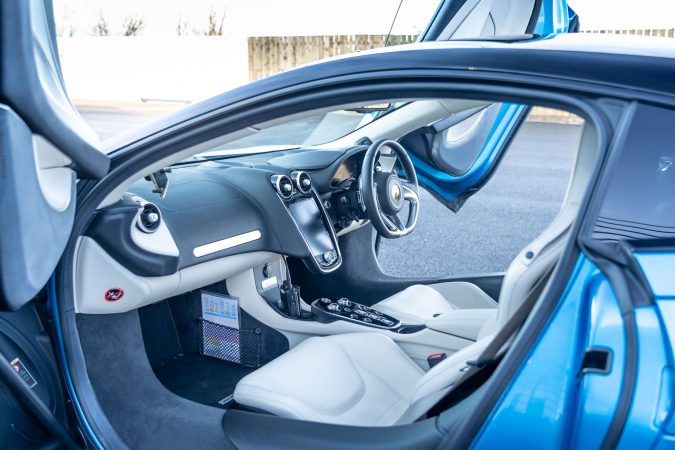 All of the instrumentation wraps around you like the cockpit of a fighter jet. That's not to mention the scissor doors; a flashy way of telling you (and others) that you're sitting in something truly special. If compared to the more thoroughbred McLarens, the GT has fewer Alcantara. Instead, substitute it with supple leather. The switchgear too, with its metal knurling, are quite nice to fiddle about with.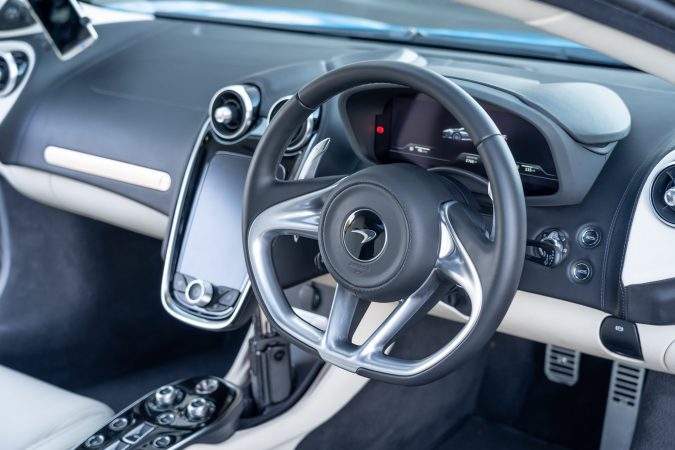 Another impressive aspect of spending time in the GT is the airiness around you. Its glasshouse feels immensely expansive, in stark contrast to many other supercars out there. The tablet-style infotainment works decently well enough. As it's not as racy as its brothers and sisters are, the GT omits the trick flip-up dash, using a more conventional fixed-in-place unit in its place.
In the back, you'll find a modestly large parcel shelf sitting atop the engine. Alas, this does mean that you can't stare at that marvel of a motor. In effect, at least there's a sizeable amount of storage space for a large suitcase or two. It's perfect for a him-and-her weekend getaway. Or, maybe tie down a pair of skis or golf clubs back there, and the GT can ferry it around just fine without intrusion.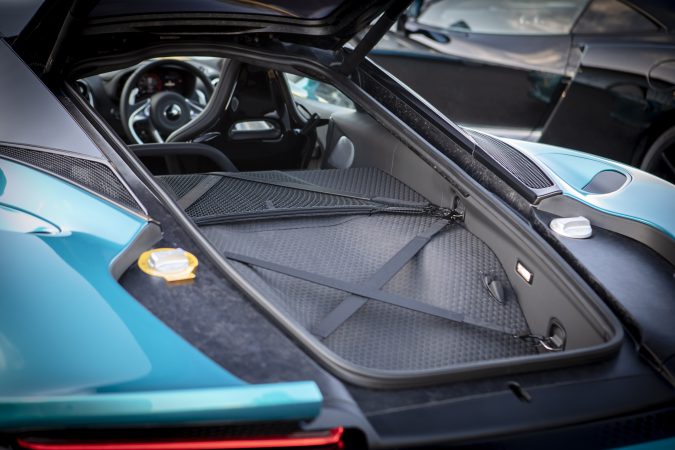 The Experience
There are subtle touches that remind you of how much McLaren positions this as a usable daily driver. If you've been here a while, you'll know that I've had quite a lot of seat-time with the first-generation Audi R8. Plenty of commuting hours were sunk into that Audi, besides treating it as a project car. By comparison, the GT is surprisingly easier to live with, even with the more mundane aspects of life.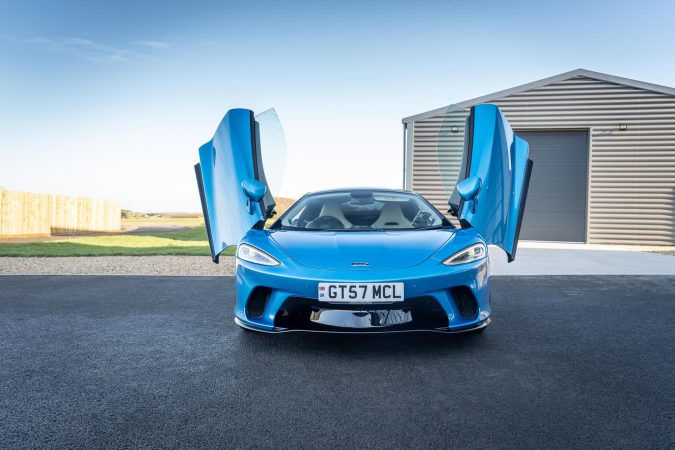 The ride height, for example, is perfectly high enough to clear kerbs, speedbumps, and steep inclines without difficulty. The addition of a nose lift makes this all that less nerve-wracking, especially in a carbon-tubbed supercar. Its scissor doors, on the other hand, may be showy, but it does have some practical benefits. Ingress and egress are easier, even once flanked into a tight-ish parking space.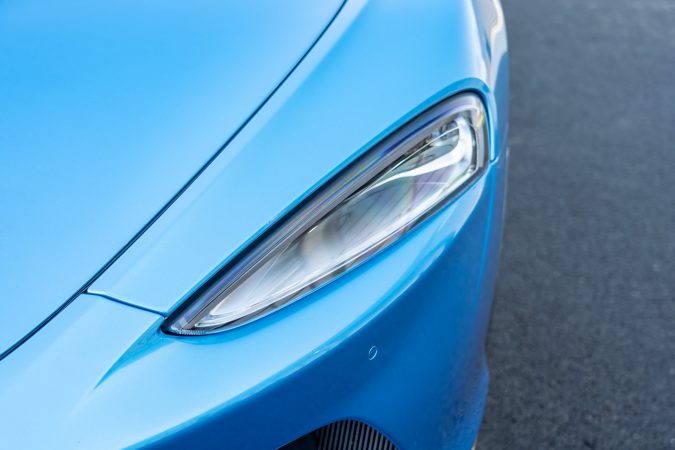 The side sills as well, have been redesigned to be slightly less cumbersome to climb over. Moreover, the C-pillars, while still a core part of its carbon-fibre frame, has a glass cut-out. All the better to see out of and around those blind spots, they said. It's worthwhile making mentions of the McLaren GT's drive modes while we're here, letting you pick and choose the experience that gets your blood going.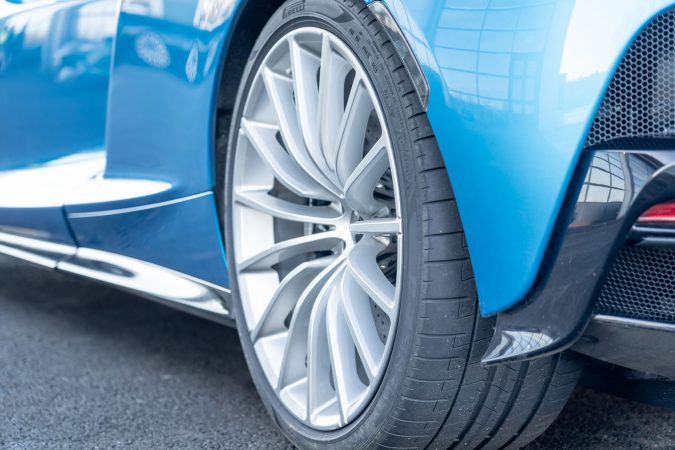 Furthermore, it splits the dampening and power into separate settings. in other words, you could have as twitchy as a pure-blooded supercar as you'd want. All the while, being able to waft along in serenity in its comfiest suspension setting. Dial it back down further, and the engine hushes away and hides in the background. In this mode, the GT is cosy, and no harder to drive than most cars are.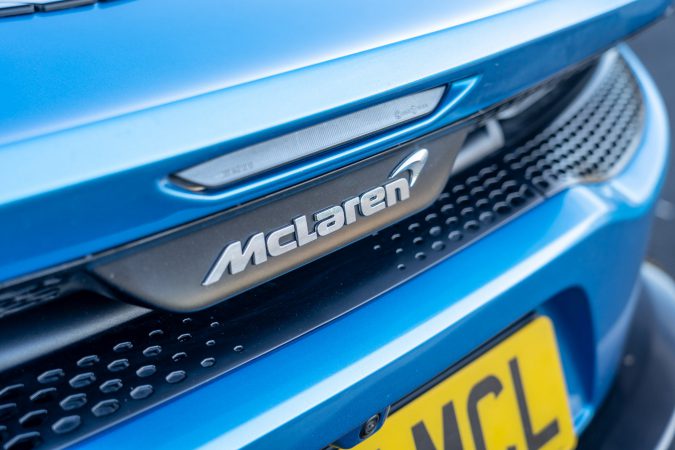 However, twist the knob all the way up, and it awakens from hibernation, ready to pounce. It makes this clear with the sound the GT makes, singing out a technical symphony at a top of the throttle. I'd say this is one of the best exhaust notes I've heard yet. There's a sophisticated V8 rumble to its tune, with a myriad of lovely turbocharged whooshes and waste-gate sounds to delight your ears.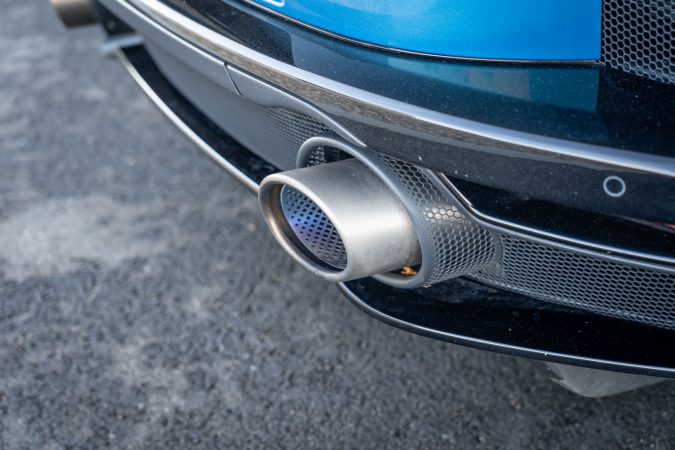 McLaren GT Luxe Cost
The McLaren GT starts at a lofty base price of £163,000. Tick a few boxes in the options list, and it can ramp up as quickly as it accelerates. The Luxe pack, in particular, nets you plenty of creature comforts that you may want in a grand tourer. You get heated memory seats, ambient lighting, premium leather seating and headliners, on top of the knurled aluminium knobs. Then, we get to the MSO fitment.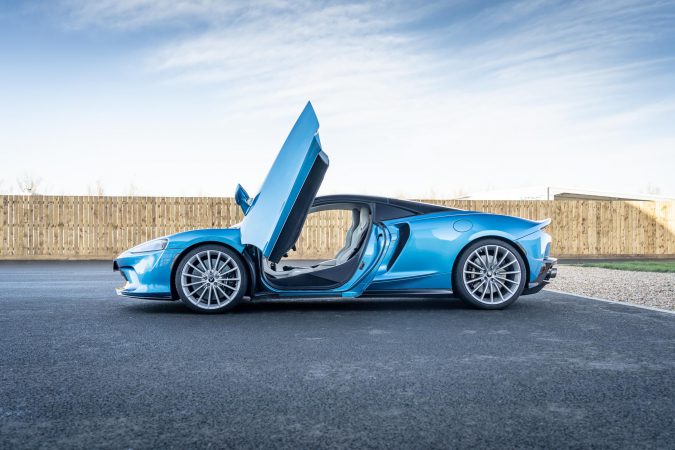 This Ludus Blue paintwork is a costly £6,750. Meanwhile, a panoramic roof, which contributes much to the openness of the cabin, sets you back another £4,950. For the price, the GT stands toe-to-toe with other, more established marques in the grand touring space. The most notable ones are the Bentley Continental GT, Aston Martin DB11, or the newer Ferrari Roma, among many others.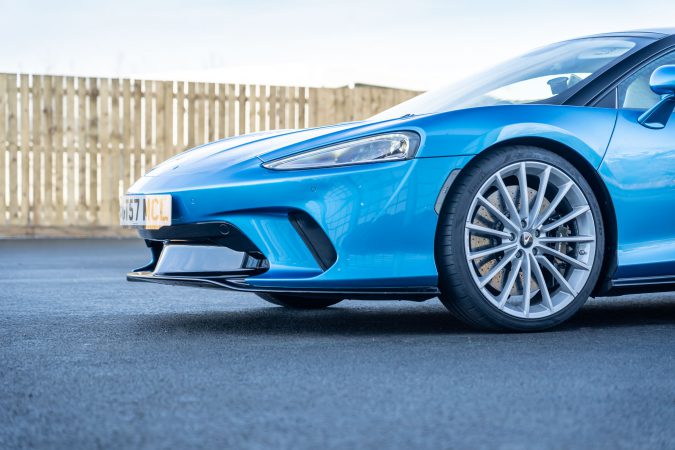 One could argue that these traditional (and front-engined) GT cars are much comfier, with decorative and luxuriant interiors, and are more elegant to cross continents with. That's not an unfair assumption to make. With that being said, McLaren's idea of a mid-ship, part-time supercar, grand tourer still gets you pretty close to that magic carpet ride. Nevertheless, it hides a fantastic party piece.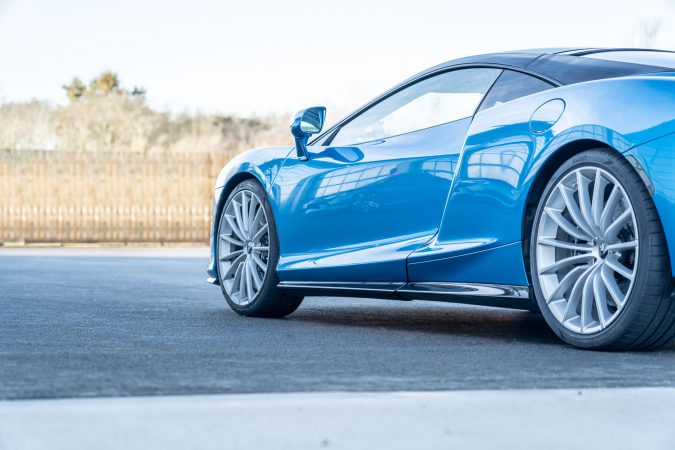 As you meet a stretch of twisty, complex, and challenging roads, the McLaren GT can beat its newfound rivals any day of the week. Given McLaren's experiences in the sportier end of car-building, the GT has a deft sense for dynamics, with mountains of power at your disposal. The way it balances both ease of use and comfort, altogether with trailblazing speeds is absolutely breath-taking in every way.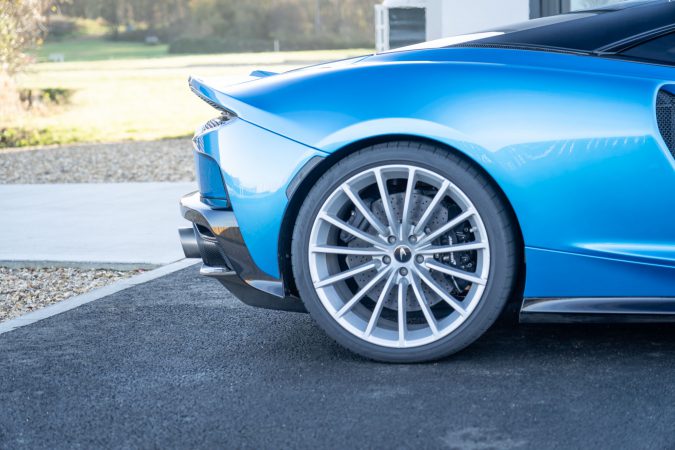 Verdict
Few cars are able to put a grin on my face as broadly as the McLaren GT can. Its athleticism on the limit is superb, as is its straight-line speeds. In addition, you have that tactility of the steering, as its suspension and chassis dances beneath you. The sound it makes as well is an eardrum-tingling aural pleasure that I'm more than happy to listen to all day. Excitement is a commodity delivered in spades.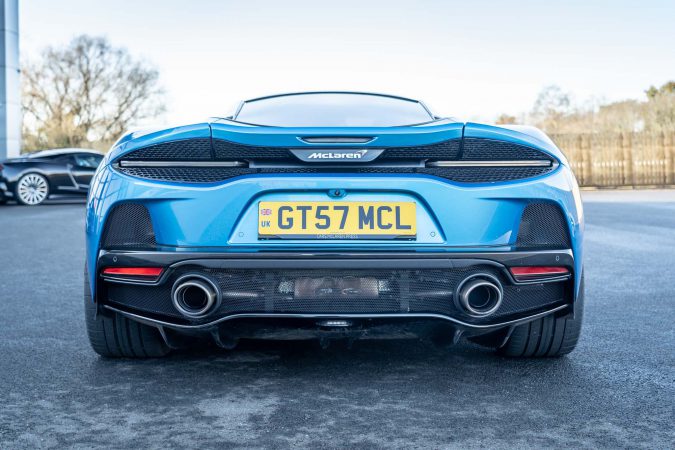 Besides all that, the GT is just as capable of pootling around town at low speeds. It's supremely easy to live with every single day and doesn't present the spine-breaking compromises as supercars generally do. McLaren's first attempt at making a luxury GT is a stunning achievement. In all, you'll find no other tourer that's as neatly balanced, while still offering mid-engine adrenaline rushes, as the McLaren GT.

Specification
McLaren GT Luxe Specs

Price: £163,000
Engine: 4.0-litre, mid-engine, twin-turbo V8
Power: 612bhp
Torque: 630Nm
Transmission: 7-speed automatic
0-62mph: 3.2 seconds
Top speed: 203mph
Weight: 1,530kg
Economy combined: 23.7mpg
CO2: 270g/km