Driven: 2016 Peugeot 108 Allure TOP! Review
As a city car driver, I've been wanting to test out some modern city machines for a while now. Recently I've been able to do just that, in the form of the 2017 Peugeot 108 Allure TOP!.
What's The Peugeot 108 Allure TOP! All About?
The Peugeot 108 Allure TOP! is a successor to the 107 – and like it's elder, it has been built as part of a joint project between Peugeot, Citroen and Toyota. If you buy the Citroen you get the C1, and if you buy the Toyota you get the Aygo.
Like the 107, the 108 Allure TOP! shares all of its inner workings with its French and Japanese cousins. They all have the same engine, chassis, drivetrain, suspension and interior. In fact the only differences are body work and styling.
Speaking of styling, I really like what Peugeot have done with the 108. In white it presents itself well with sharp looks and curvy lines. Sitting on those 15 inch alloys, and with a noticeable absence of unpainted plastic it looks a hell of a lot smarter and more sophisticated than the original 107. It really does look more premium than it is.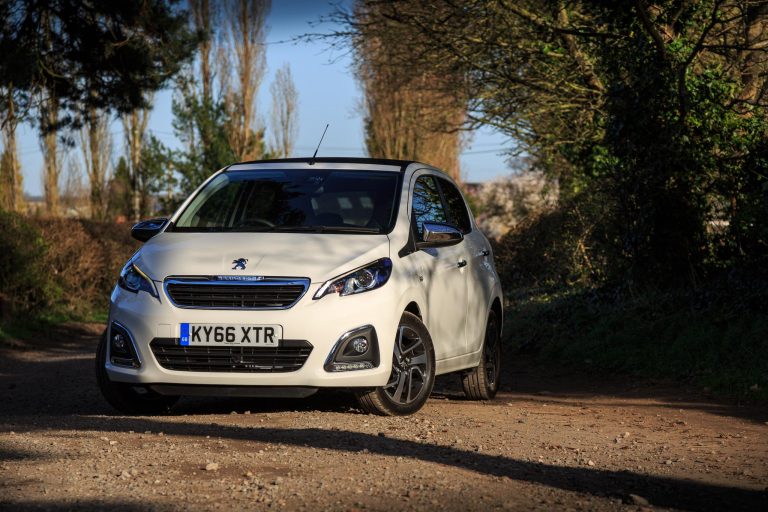 The car we had on test was the upper-mid-range Peugeot 108 Allure TOP! model. It comes in below the top-spec GT Line and special Roland Garros edition, and above the base level Access and Active. To set it apart from the base levels, the Allure comes with 15 inch alloys as standard, along with chrome wing mirrors, front fog lights and auto headlights. Along with all this, you've also got tinted rear windows, a reversing camera, and Peugeot's keyless start system, Open & Go.
Personalisation is available for many interior and exteriors parts when configuring a 108. Some of these include the floor mats, key fob cover, and dashboard decals and go all the way to roof, bonnet and side decals.
It can also be had with the optional 1.2 litre Puretech engine developed by Peugeot. This produces 82 hp, 20% more power than the standard 1.0 litre Toyota unit, and with more torque too at 116 Nm. And with only 865 kg to pull around, having that extra 20% power makes this a seriously nippy car.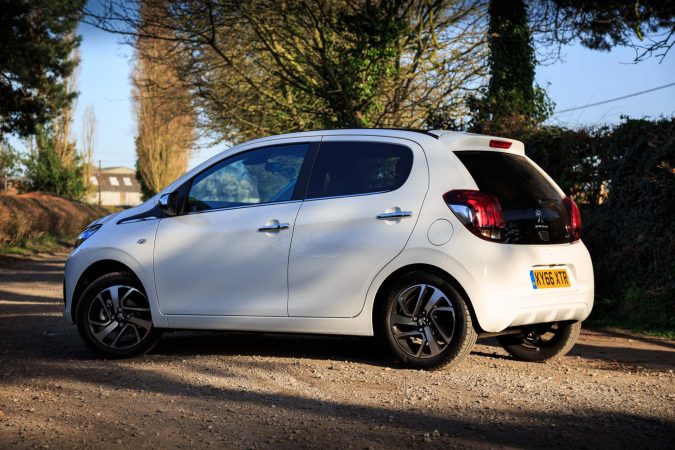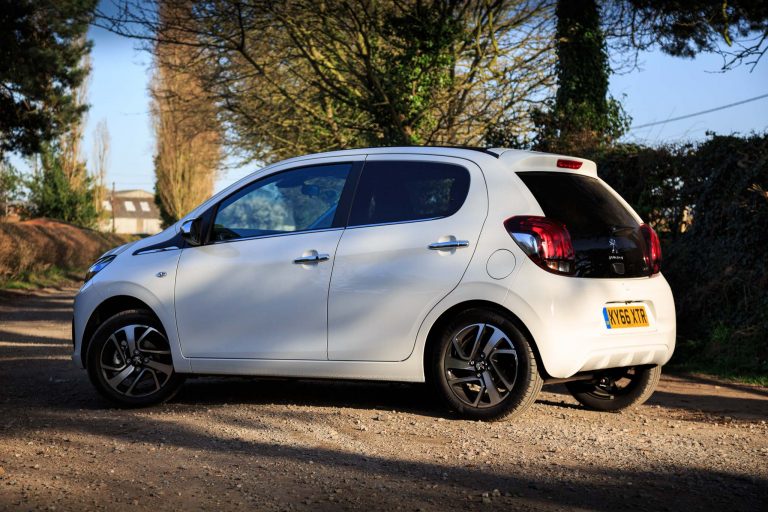 Running costs are also superbly low. Taxing this car will cost you nothing, as the engine puts out just 99 g/km of C02 so it falls into that 'free tax' category. You'll also be getting around 65 mpg too, and filling this car up from empty will cost you little more than £30 usually. Cheap cheap.
Insurance-wise, the 108 Allure falls into category 11E, meaning cover is going to be fairly reasonable for most people.
Along with running costs, the car itself is relatively inexpensive. Our Allure model will cost you £13,200 – but the base level 108 starts from just £8,000 which makes it great value, as I shall now explain.
How Does It Drive?
Driving the 108 is an extremely easy experience. For starters, to get moving, all you need to do is push the start/stop button thanks to keyless start in the Allure.
Out on the road the 108 gets up to speed pretty quickly thanks to the larger engine with extra torque, to the point where it does feel fast and sprightly. That 1.2 is no doubt punchy, accelerating in lower gears is something you'll want to keep doing, and if you keep the revs high it'll pull quite well at higher speed too, which is ideal for overtaking. What I like about the 108 is that it feels faster than it is. The car is so small and it actually takes 11 seconds to hit 60, but from inside you really don't notice this.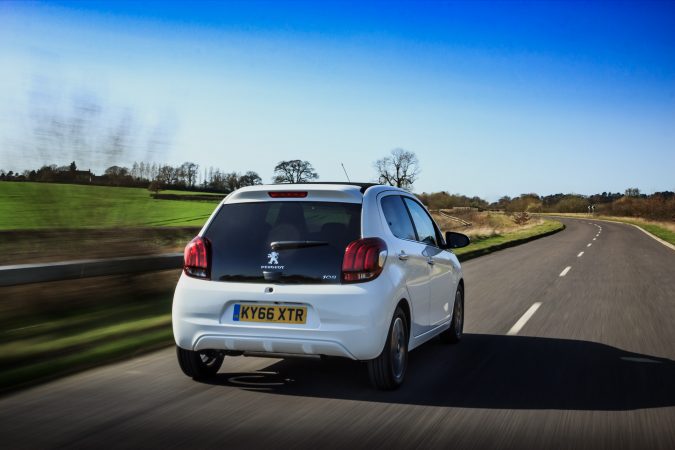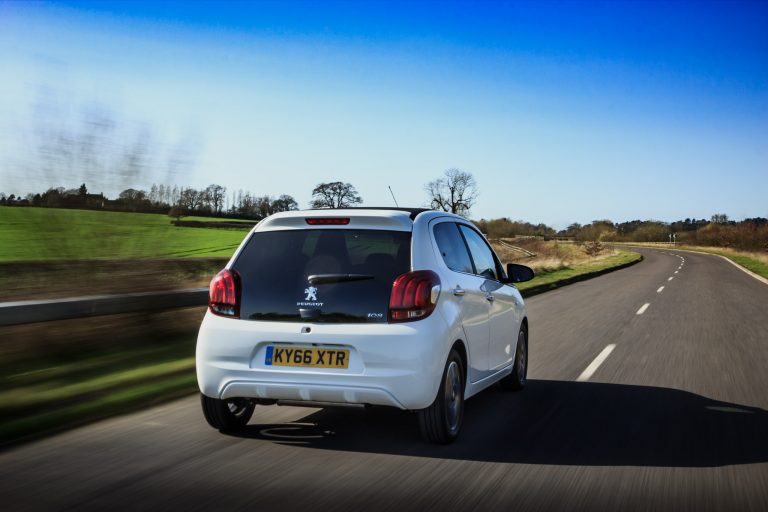 However the engine isn't exactly refined when driving hard – vibrations can be felt directly through the pedals and also through the wheel too – and by planting your foot you'll hear the 1.2 L pulling you along with quite a rough, almost diesel-like sound.
This isn't to say it isn't fun though, the 108 does offer a rewarding experience for the spirited driver. Thanks to it weighing less than your average laptop and having an extremely light steering rack, it'll happily dance around on B-roads on a Sunday afternoon.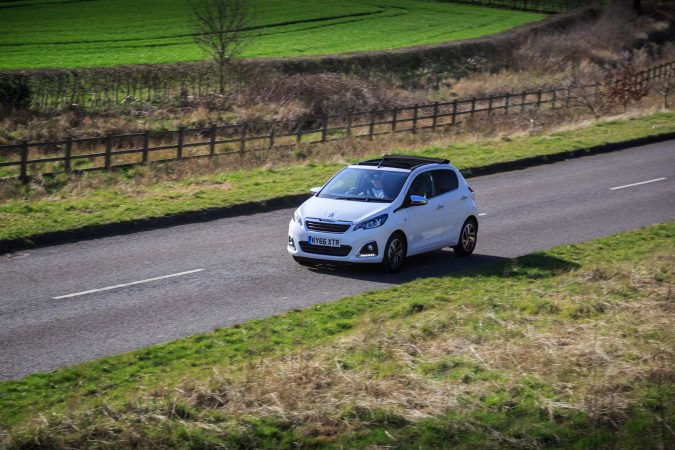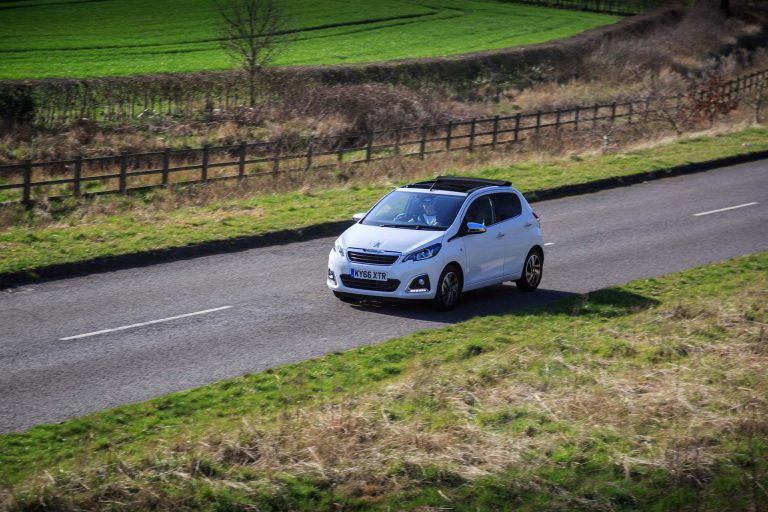 As good as it is out in the country lanes, where the Peugeot 108 Allure really shines is in town. I tested the 108 in a local town and it was just brilliant – I may have enjoyed myself more darting in and out of gaps more than cruising in the country. Having such small dimensions and the wheels right on the four corners of the car makes for an almost go-kart like experience.
The quick, light steering and small wheel means changing direction is effortless, and the updated suspension setup, while not being too hard, reduces body roll at low speed so you can really chuck it around – all whilst staying super-composed. Adding to the 108's arsenal are two bits of tech that are relatively new to cars like this. The Allure TOP! comes with Active City Brake and the Lane Departure Warning System which is amazing on such a small car.
In town, if you need to park, you're in the perfect car. From what I can remember, the original Aygo, C1 and 107 seem to have started the whole 'flat rear end/glass tailgate' thing with city cars. Every city car worth having since then has had a vertical tailgate with minimal rear overhang.
This signature characteristic, coupled with the reversing camera makes this one of the easiest cars to park and manoeuvre I've ever driven.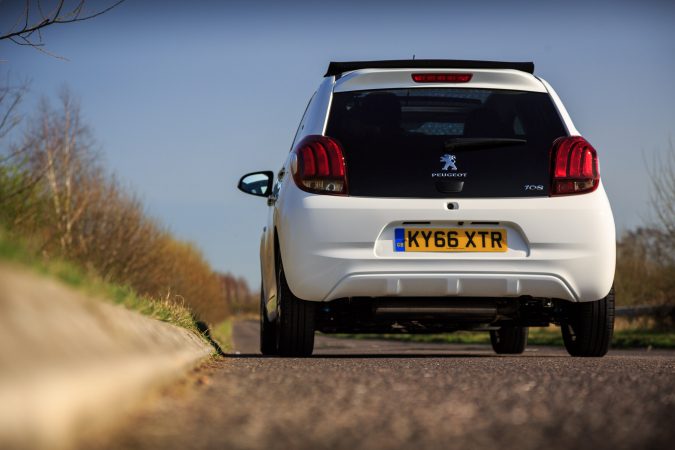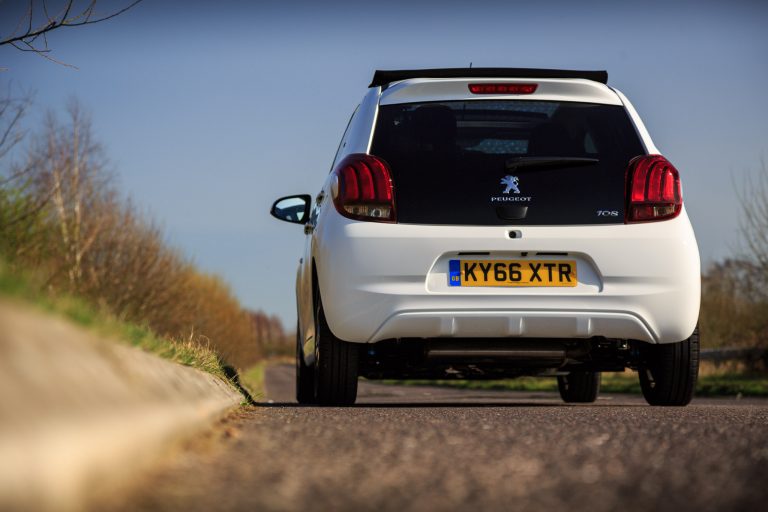 What's It Like Inside?
Now, being a affordable car, you get an interior that reflects that in certain ways – but you can tell which bits Peugeot have spent their money on, because those bits really are good. Allow me to explain.
My only real negative point about the interior is the materials used on the dash and the door panels. No way of sugar-coating it, it's just hard plastic. A bit scratchy, and terrible at insulating, so as you're driving you'll have wind noise, road noise and engine noise to compete with. However, you'll get used to it pretty quickly and eventually you won't notice it.
The rest of the interior, well, it's just as you'd expect. It's functional more than anything, with plenty of cubby holes for items and as funky as you'd expect a new city car to be. Most of it is customisable too – when configuring your 108 you have the means to end up with an extremely bright interior if you so wish.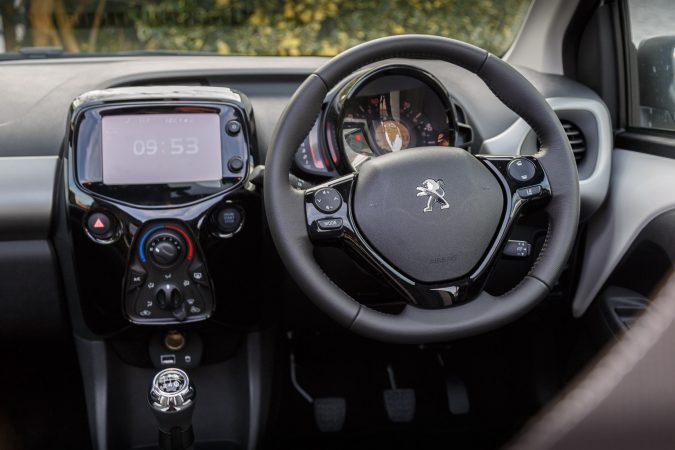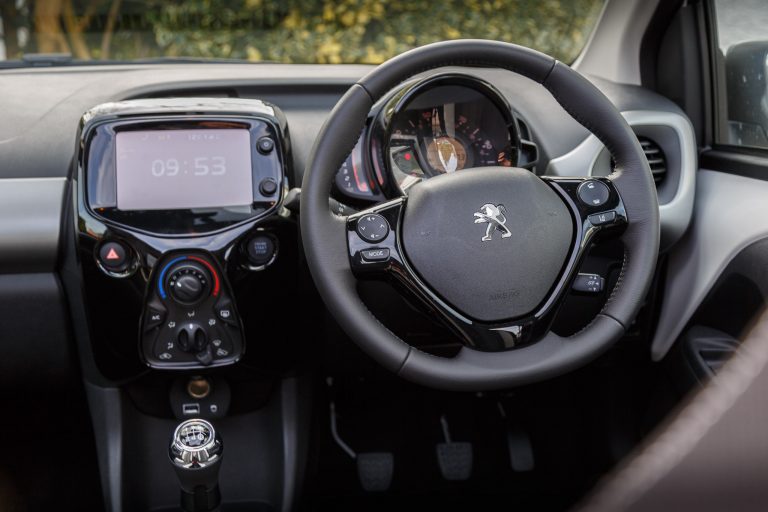 At the centre of all this sits a brilliant 7 inch touchscreen infotainment system with integrated DAB radio and Bluetooth. In the higher models it's also a sat nav, but in this car it isn't included. Regarding the infotainment system, I was very pleased with how smooth and intuitive it was. It felt like an actual, responsive touchscreen too, I wasn't having to jab 14 times at the screen to select and option or browse through menus. Having a piece of kit like this in a car of this class really is wonderful.
I'd also like to note that all the main heater/volume controls are actual buttons and switches which I really appreciated. This is probably due to costs but I did appreciate being able to adjust the heater or airflow without having to navigate digital menus.
Above your head you'll find the large canvas roof that slides back, retracting almost all of the roof from above you. This is operated from a switch next to the interior light. This really is a great feature, especially on hot days however it means wind noise is increased when driving.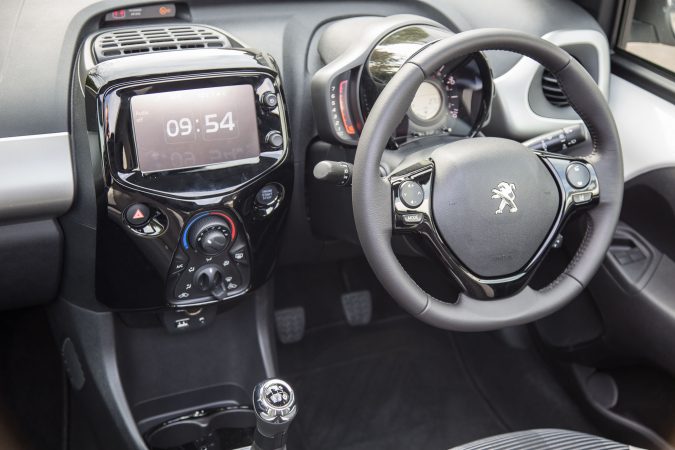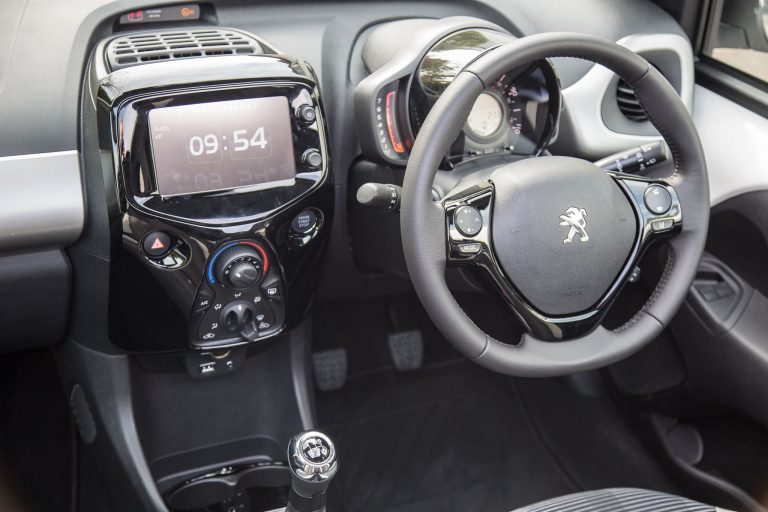 In the front seats, the driver and your passenger will have plenty of room for both your legs and heads. No issues up front. However in the back, for reasons I shall explain shortly, there is not plenty of room. There is less room in the back of the 108 than there is in the original 107. To be literal, anyone over 6 ft just won't fit without them resting their head on their knees.
Even with the front seats slid forward, they'll still find themselves viewing the world at a 45 degree angle, as they'll be hitting their head on the roof. Not ideal.
The reason there is so little room in the back, is because there is more room in the boot. 40 litres more, to be exact. Where as you had 140 L in the 107, you now have 180 L in the 108. This is useful for obvious reasons, however I'd have preferred less space in the boot, with more space for passengers.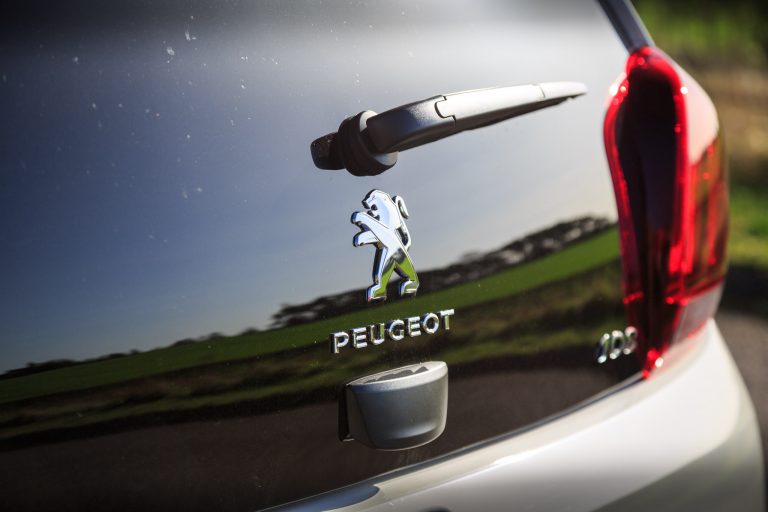 The Experience
I'm a big fan of city cars – the 108 certainly is a good one. As great as the lower-spec models are value-wise, I have to recommend a mid-range model like the Active or Allure. Having the extra comforts and especially that more powerful 1.2 litre unit, really makes a world of difference in a car so light.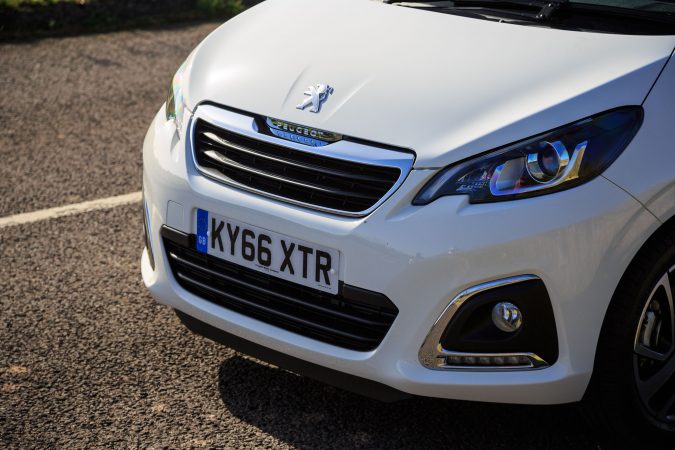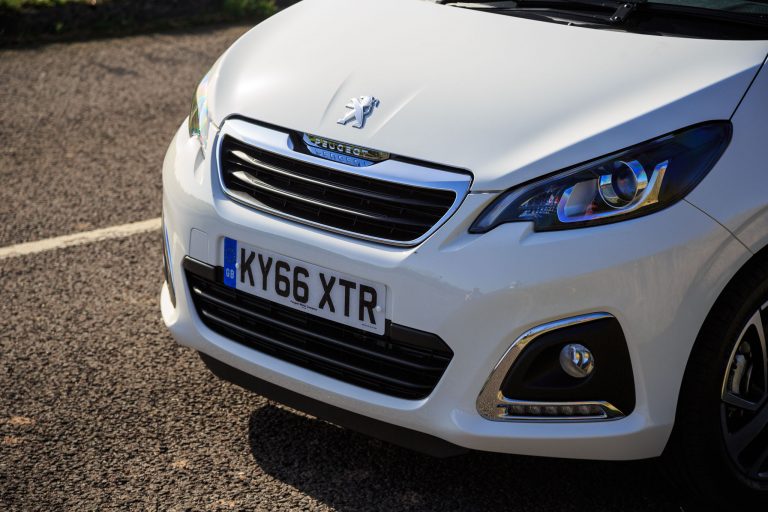 Verdict
The Peugeot 108 Allure TOP! has proved its worth to me. Its a hugely efficient, very reliable, fun and cheap runaround. Couple that with sharp looks, fancy technology, and solid build quality – and you've got a fine little city companion.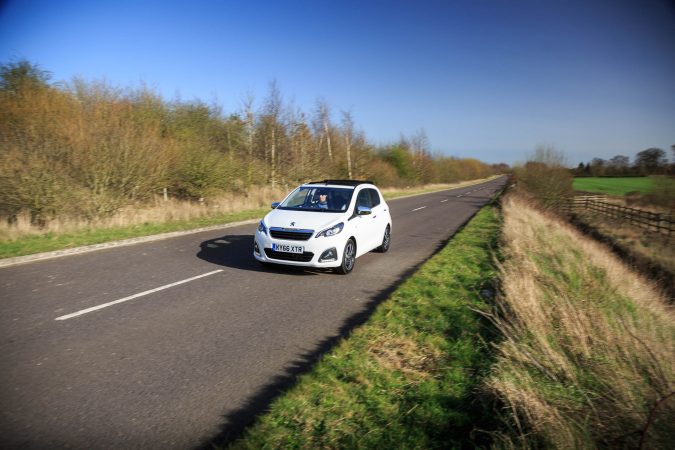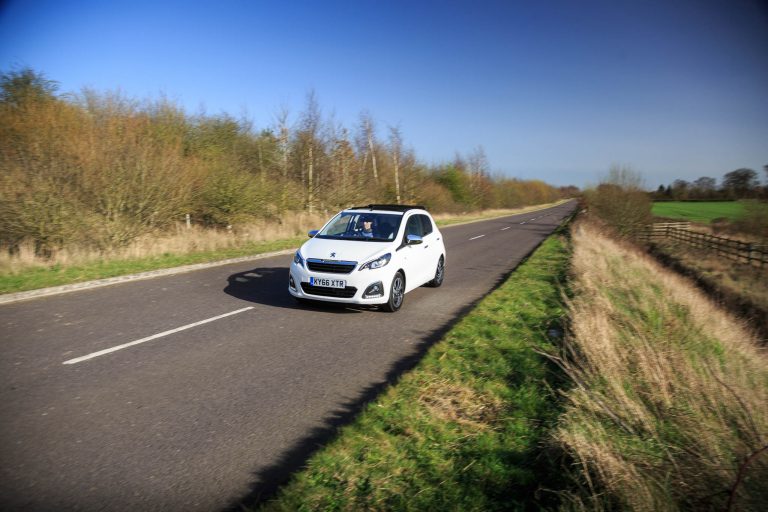 Video Review
2017 Peugeot 108 Allure TOP!

Price: £13,205
Engine:1.2-litre inline-three
Power: 82 hp
Torque: 116 Nm
Transmission: 5-speed manual
0-62mph: 10.9 Seconds
Top speed: 106 mph
Weight: 865 kg
Economy combined: 65.7 mpg
CO2: 99 g/km
Author: Daniel Barnett