Back in the day, Polestar used to churn out some truly mad creations as Volvo's skunkworks division. They dabbled in everything from fine-tuning Volvo's touring racers, to adding a sporty bite into what would otherwise be a bland old family runabout. Now, however, they've gone from utter insanity to becoming a vanguard for electrification. The Polestar 2 is their most recent foray into the EV space.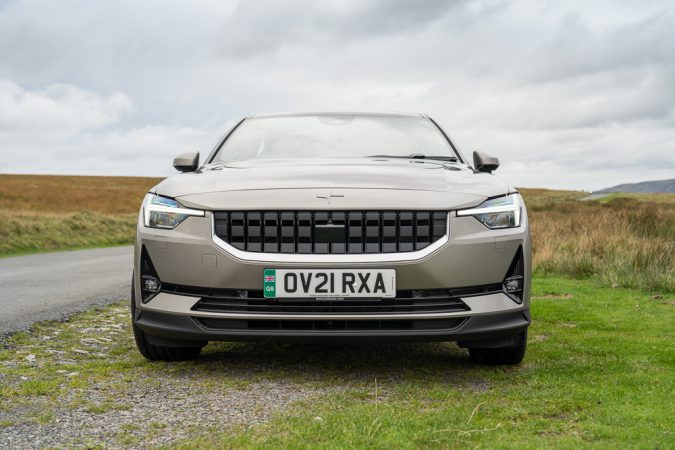 Sure, it might not be as eye-catching of a splash as the Polestar 1 . Though as handsome as a two-door grand tourer might be [insert any P1800 flashbacks here], there are only so many who could cash out six-figure cheques for one. But as Polestar's entry-level model, the Polestar 2 would put the same pizazz into the hands of more folks. So, they must get this right.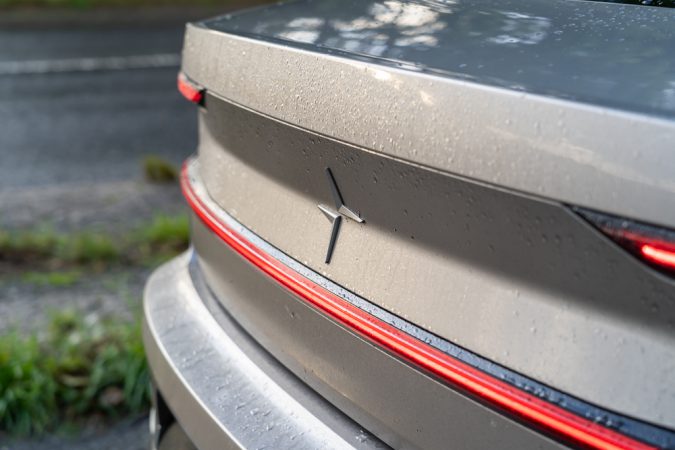 Well, did they? For a start, our example here has quite a mouthful of a name attached to it. It's wise that we break it up a bit to make things easier as we go along. We have both the long-range battery and dual motors for that extra boost. More on those later. Oh, and this here was optioned with both the Pilot and Plus Packs, respectively. It's been quite kitted out waiting for us, to say the least.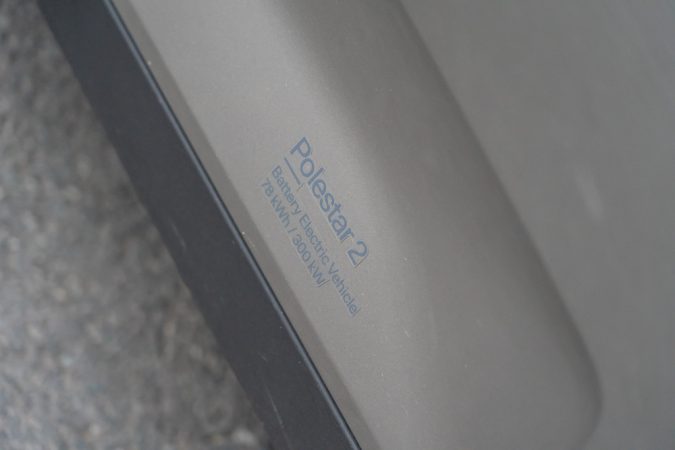 What Is The Polestar 2 Long Range Dual Motor Pilot Plus About?
What better way to assess a car as pivotal as the Polestar 2 like the impression it makes at a glance. Appearance-wise, the Polestar 2 is nothing short of fascinating to gaze at. It has that typically Volvo-like design language. This is then accompanied by its minimalism, sharpish and angular bodywork, and striking visual cues. One example is those Thor's hammer lights; a very Volvo touch.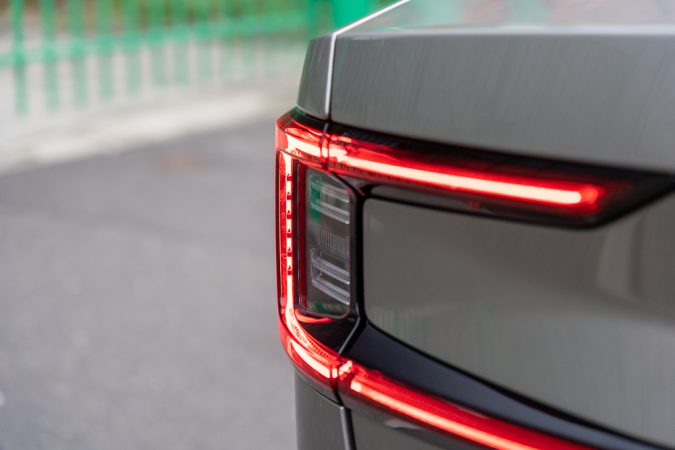 Interestingly, the Polestar 2, despite having a saloon-like silhouette, sits a tad higher than a common four-door. There's a bit of jacked-up SUV thrown into the mix, like what Audi did to the Allroad. As a whole, the Polestar 2 is refreshingly different in its looks. This is most welcomed in a world where all cars look practically the same. It catches intriguing and curious attention from passers-by, too.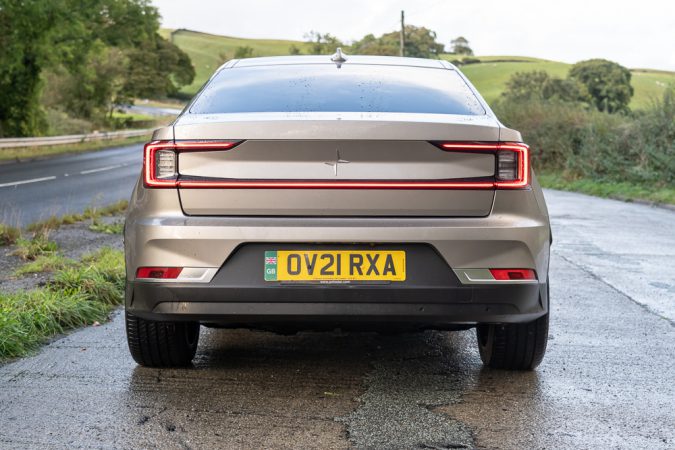 How Does It Drive?
Nevertheless, the Polestar 2 isn't just about the good looks. The one optional Pack that we did miss out on was the Performance package. It was forgone in our press car for the more daily-driver and friendly Pilot and Plus Packs. That Performance Pack would've been a fun addition, which additionally spices up the tail-end of the Polestar 2 include bigger brakes, and Ohlins adjustable suspension.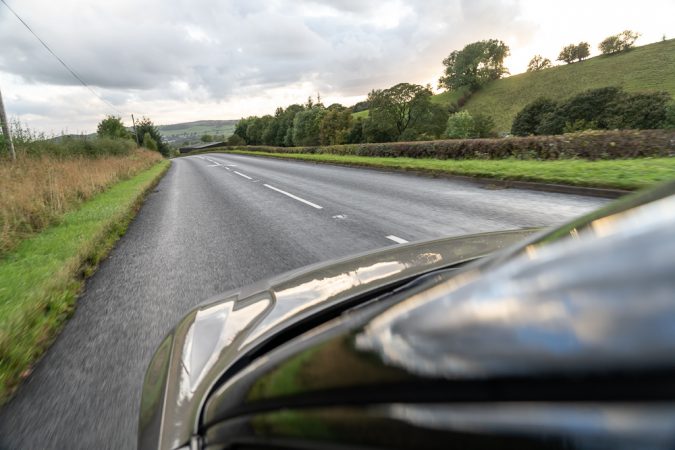 Alas, let us not assume that this supposed tamer car isn't as sporting. Far from it, as we still had to recalibrate our brains around what just happened. With the dual motors in the top-range spec, it has all-wheel drive. It can output a combined 408hp, which is mightily impressive in an "ordinary" passenger vehicle. Officially, Polestar quotes a 0 to 60mph sprint time of 4.7 seconds.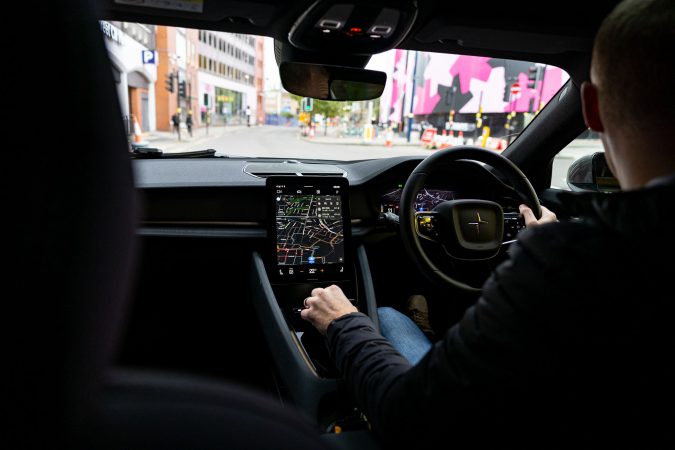 This pits the Polestar 2 against some of the faster performance cars on the block even today. Now, and as shocked as we were, we didn't get the chance to properly time that sprint. That said, we're fully convinced that the Polestar 2's actual acceleration is much faster than that. At least, it felt like a sub-4 or mid-3 second run. It'll keep on pushing until it tops out at 127mph.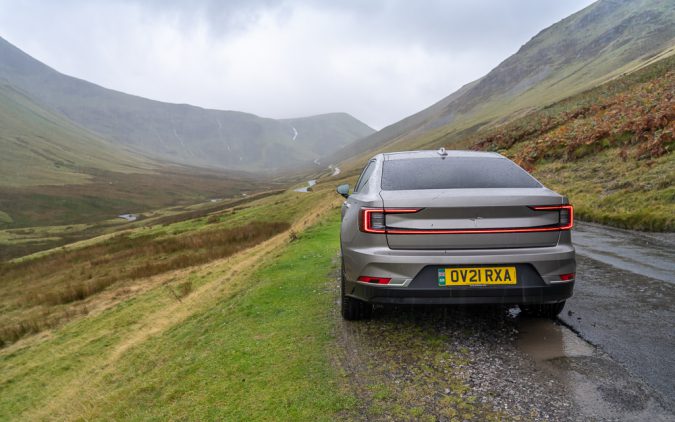 Even once you've already gotten up to speed, the way it puts the power down is mesmerising. One of the specialties of electric cars is the way they manage traction. It doesn't matter just how greasy and wet the roads are. The Polestar 2 does just that, with a grip that wears down the brainpower of any mere mortal with its speed. 300kW of power somehow feels even more substantial.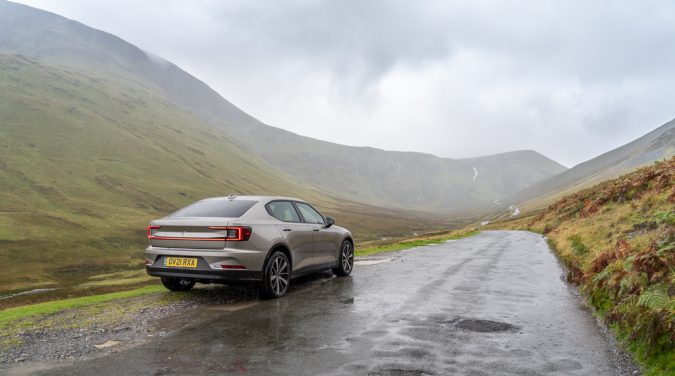 Straight-line speeds are unquestionably quick, with ample amounts of traction, too. Plus, with an EV like this not having to wait on the gearbox, power delivery is creamy smooth. Torque is explosively rapid at the low-end, as it evenly builds up, and is readily available at a tap of your right foot. And despite this being a few classes down from a thoroughbred racer, it inspires confidence in the bends.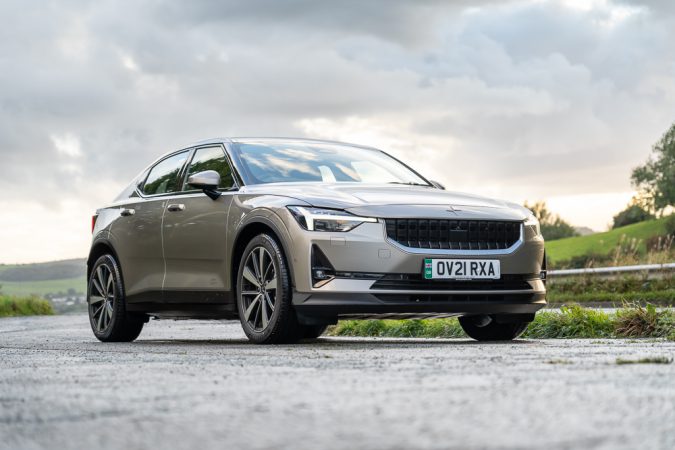 The way it handles a corner is nothing short of amazing, given its intent. All those batteries are sat down low in the car, which helps when you chuck it into a turn. It can then muster up quite a lot of pace at the end of said corner to sink you into the seats. There are some adjustments to play around with, though. Namely, the steering, where you can switch between Light, Medium, and Heavy.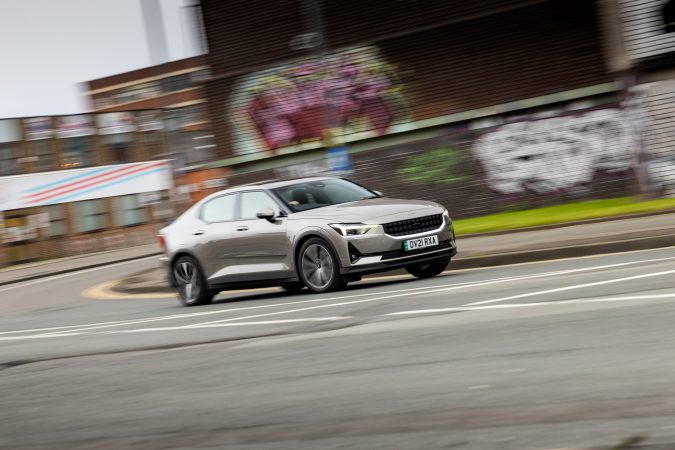 In our view, the Light steering is the best compromise for more sporty driving. Although, that might be a matter of taste. It gives you that tiny taste of feedback and doesn't feel too heavy in any of the corners you come across. Meanwhile, it stops decently well with the standard-fit brakes. It's not a lightweight car by any means, with the Polestar 2 tipping the scales at 2.1-tonnes.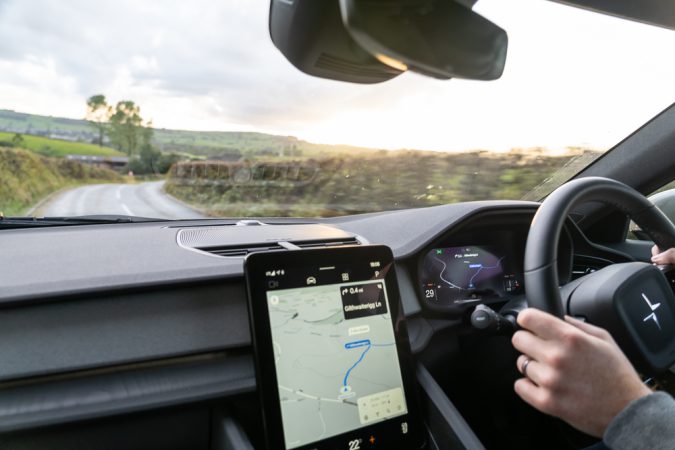 What Is It Like Inside?
The whiff of Volvo gets even stronger once you step inside. It's immediately apparent where Polestar got their base design from. That said, it's no bad thing. After all, Volvo makes some of the best interiors of any mainstream automaker today. There's a spaciousness in the airy cabin, as it clothes and wraps around you in sumptuous – yet sustainably suited-up and vegan-friendly – materials all-around.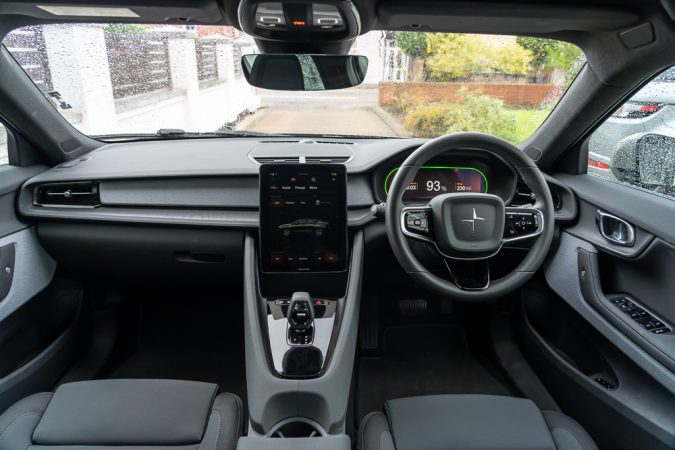 We're still not sure about the glossy finishes, though. These catch specks of dust and fingerprints like there's no tomorrow. Still, it's a great place to spend time in. Its airiness and simplicity would make the Polestar 2 a fantastic family cruiser, we'd reckon. In day-to-day commutes or motorway cruises, it's serene, quiet, and lush. This is plenty usable too, which is evident as we move on to the screens.
Right in the middle, you have a large infotainment built on Google's software. With that close-knit integration, it's pretty much a second, larger, companion smartphone. Even the home screen is akin to what you might find on a tablet. You can say, "Okay Google" to trigger the voice assistant. Or, you could interact with your smart home devices, check in on your Google services, and so on.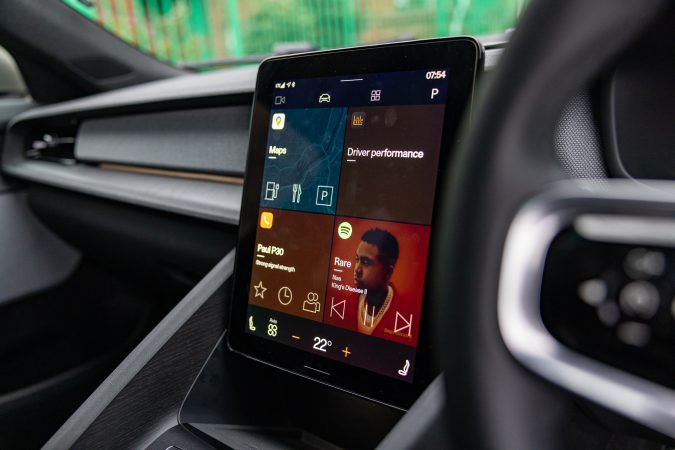 As a side effect, this extremely sophisticated system is buttery smooth to the touch. It responds to all inputs with immediacy. Whether that's turning on the heated seats, managing the aircon, or tuning up your radio. In a nutshell, it's not a stretch to call this the best infotainment system today. Staring back at you is another screen, as the Polestar 2 is fitted with a fully digital driver's display.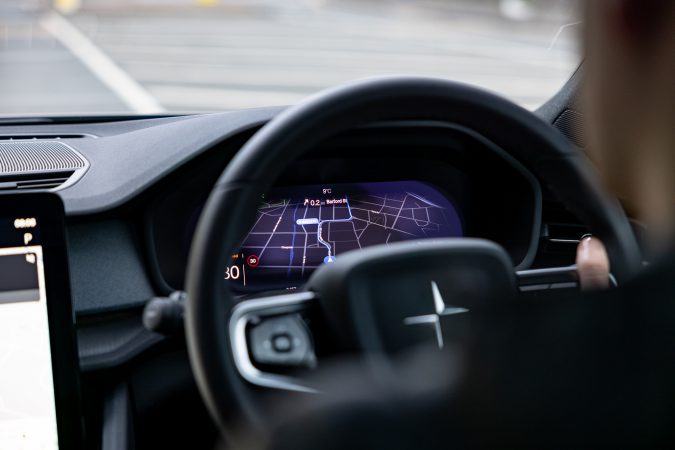 Just like the Google infotainment, the digital dash has a wonderfully pleasing user interface, as well as top-notch usability. You're mostly left with a big map to stare at, with extra titbits like your range or speed. Once again, Polestar – and Volvo's – in-car tech is a yardstick that other carmakers will but barely see, let alone beat. There are some surprising quirks, no doubt, like the gearstick.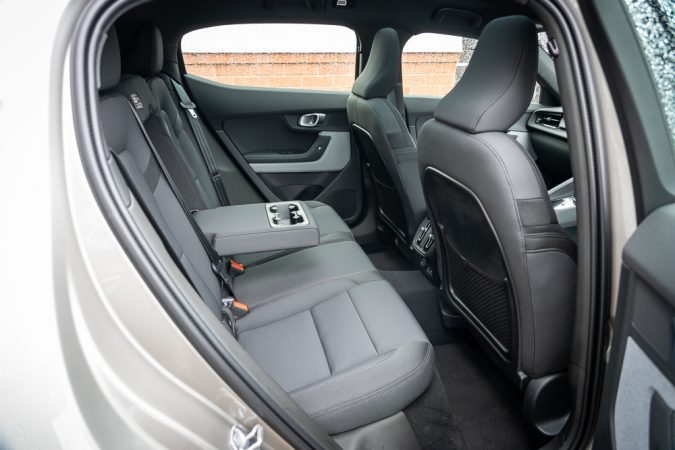 For an EV, this architectural shifter knob is one of the most pleasing ones we've used in a while. A bit further back, the rear legroom in the Polestar 2 is respectable for its size. With its saloon-like shape, you do have a hatchback-style boot, which is nonetheless rather large. There's a frunk too, which could be opened as though you're popping the bonnet. It's perfectly small enough for the charging cables.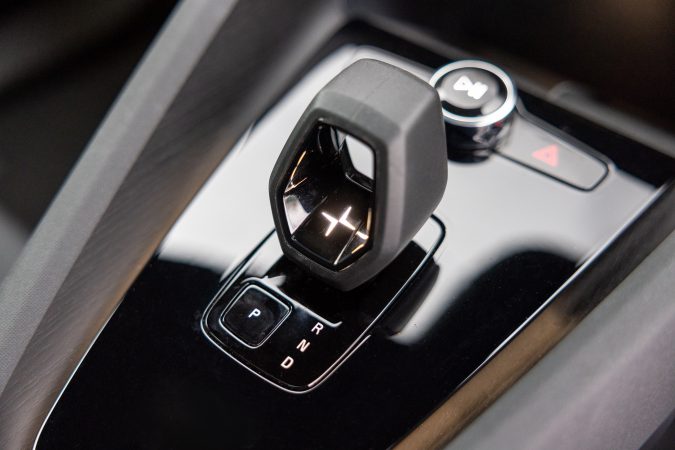 The Experience
Speaking of, a key factor that'll make or break the Polestar 2 – as it does with every other EV – is the range. Remember, we have the Long Range battery pack, with all its 78kWh of lithium-ion glory. As per WLTP figures, Polestar claims you can get 292 city miles. In summation, our side of the story is more than glowing. This is great news, which should please the more range anxious among you.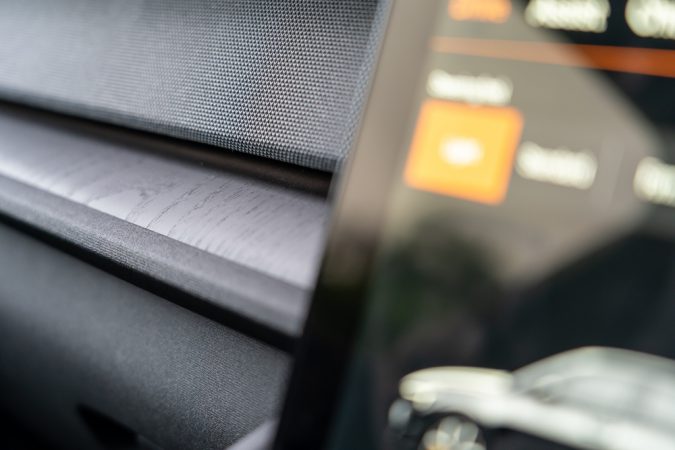 In the real world, and with a set-it-and-forget-it sort of driving style that we approach with any EV, you can easily get 250 miles out of it. That's at the very least. Practice a bit more hypermiling and caution with the go-faster pedal, and 280+ miles is achievable, certainly. We stretched the Polestar 2's legs with a round-trip from Birmingham to the Lake District. That's roughly 160 miles each way.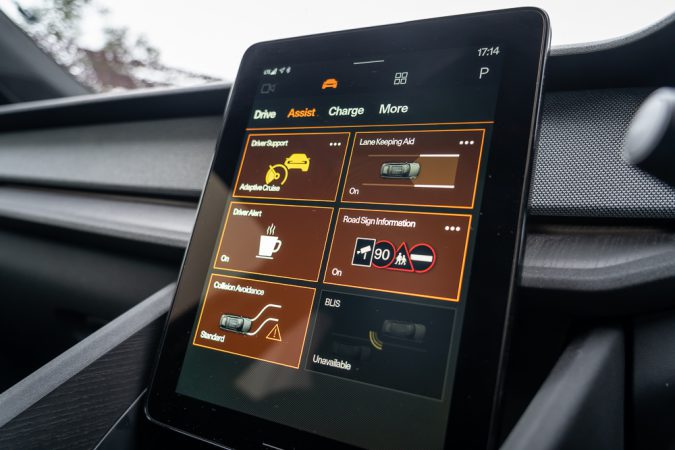 Within the one week that we drove the Polestar 2 around, we drove at least 600 miles in total. So, we have a pretty good idea of just how solid the Polestar 2's batteries and powertrain are. When we're at home and at the stop-off where we were staying, we kept it topped up using a 7kWh wall charger. It worked perfectly well with our Rolec home charger kit that we installed last year.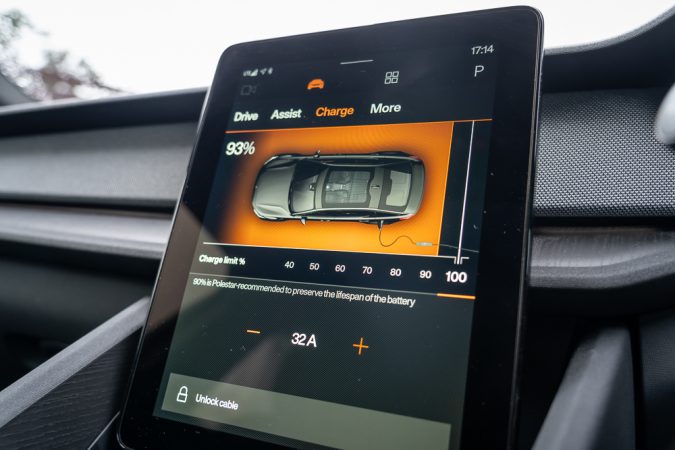 With some quick maths, it should take just around 11 hours or thereabouts to top the Polestar 2's batteries from dead flat. It's just that easy; a testament to just much simpler EV charging has gotten. A quick overnight charge should have it ready for another sprint come morning. Of course, there are rapid chargers at most motorway service stations. But charging at home you might not need them.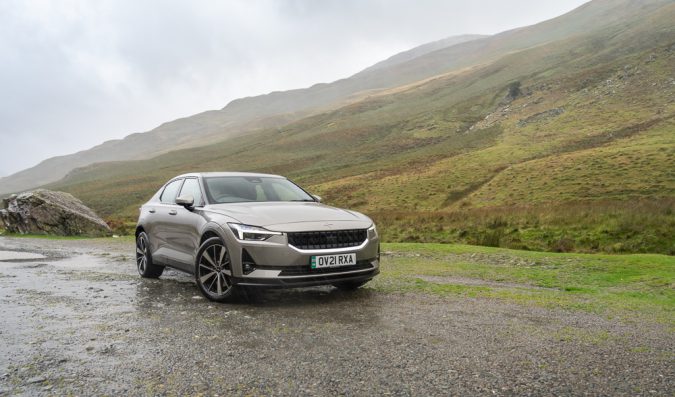 Give it 20 or 30 minutes on a rapid charger, and you should get another 50% of the charge from the Polestar 2's batteries. Despite how hard we drove it – with the headlights blaring at full, cosy heated seats, and electronics abuzz – and having driven through truly abysmal weather, it's hard to kill its batteries. You could also set a charge limit as well, which helps to preserve the battery's longevity. This means daily charging to 90% and only charging to 100% when you know you are going on a long trip.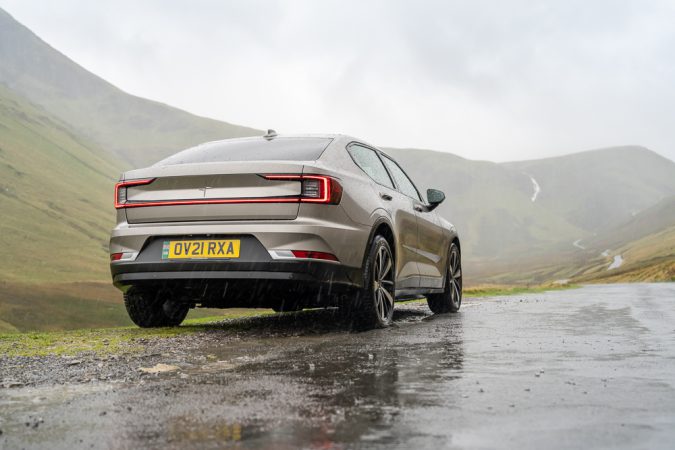 Polestar 2 Long Range Dual Motor Pilot Plus Cost
This is the top-of-the-line trim in the Polestar 2 range. It starts at a moderately reasonable £39,900. That said, the price rapidly spirals up and away as soon as you tack on the nice-to-haves. That long-range battery and dual motor setup are an extra £6,000 over the smaller battery and single motor. The optional Pilot pack is another £3,000, but given what it includes, we do think that's worth it.
Having shared its underpinnings with Volvo, the Pilot pack is a culmination of the world's best safety systems and driver aids. For instance, you have adaptive cruise control, lane-keep assist, blind-spot monitoring, cross-traffic alerts, 360° cameras, and parking assist. It even has clever LED headlights that shine brighter and precisely to where you're turning, but also prevents dazzling other drivers.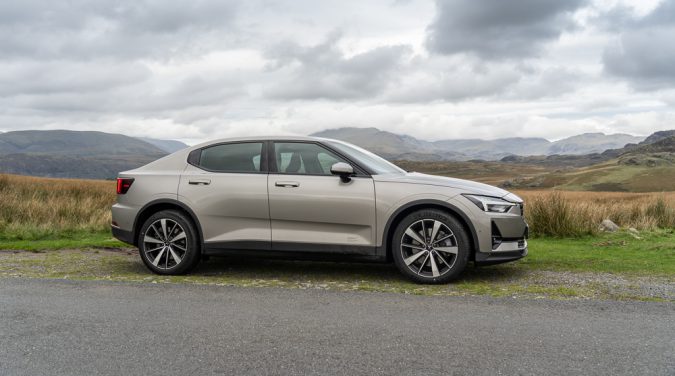 The Plus pack will set you back £4,000 on top of that. This is the more premium add-on, as it brings you booming and crisp Harman Kardon, lovely trim, and a panoramic glass roof. Additionally, you also get an energy-saving heat pump for the interior climate control. Other options on our example include the £500 metallic paintwork, which disguises dirt and muck rather neatly, we think.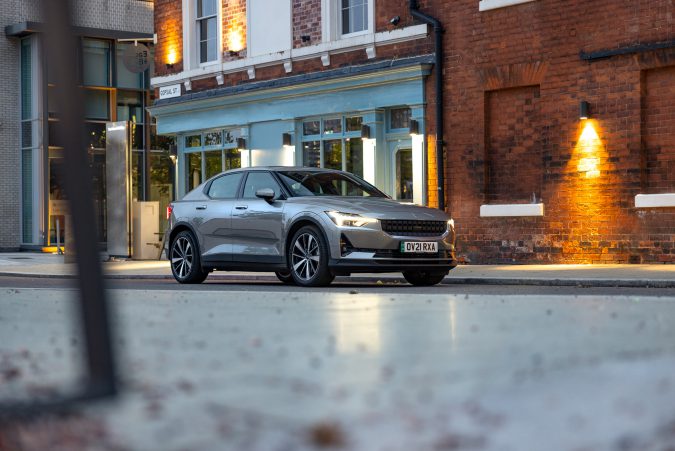 Verdict
It's a lot of money for the Polestar 2 Long Range Dual Motor Pilot Plus – try saying that quickly ten times – without a doubt. Yet, the Polestar 2 is also one of the most well-rounded, well-designed, and well-thought-out cars of its generation in the EV space. If you're thinking about that shiny new Tesla, there are more than a few reasons why you should spring for one of these instead.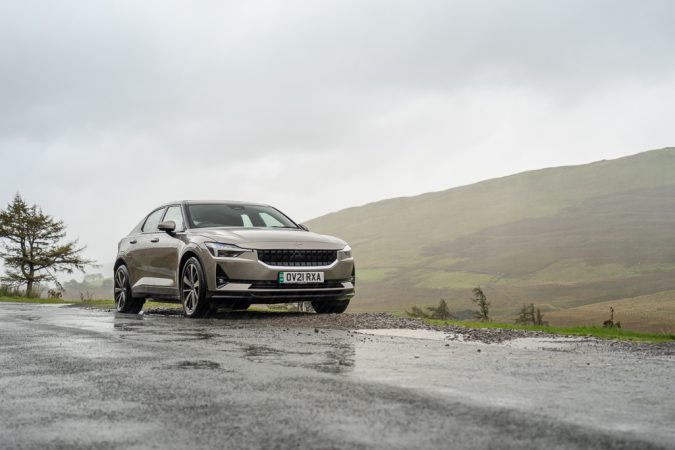 It's handsome, with performance to light the world on fire, a comforting interior cabin, ease of use and techy amazement aplenty, and it has an impressive EV range. The Polestar 2 is a fantastic do-it-all car. It can waft you along effortlessly for those tiresome daily commutes. Yet, it can double as a great grand tourer. Taking it up to the Lake District left us in awe of both the scenery and of the Polestar 2's capabilities.

Specification
Polestar 2 Long Range Dual Motor Pilot Plus Specs

Price: £58,900
Engine: 78kWh Dual Motor
Power: 408hp
Torque: 660Nm
0-62mph: 4.7 seconds
Top speed: 127mph
Weight: 2,123kg
Economy combined: 292 miles (WLTP)