Skoda Kodiaq Review 2018 2.0 TDI 190 PS 4×4
Here we have Motor Verso's Skoda Kodiaq review. We've been given the opportunity to test out the all-new 2018 Skoda Kodiaq Sportline, and here are our thoughts on Skoda's entry into the lucrative mid-sized crossover market.
What is the Skoda Kodiaq Sportline all about?
The Kodiaq is a very recent vehicle, initially being incepted in the year 2016. Made to capitalise on the growing crossover market segment with the help of the giant Volkswagen Auto Group, the Kodiaq is one of Skoda's most expensive models yet.
Of course, for folks looking for a solid premium mid-sized SUV, they have a range of compelling options to choose from. Thus, the Kodiaq needs to be more than just different to genuinely contend on a level field, does it have what it takes?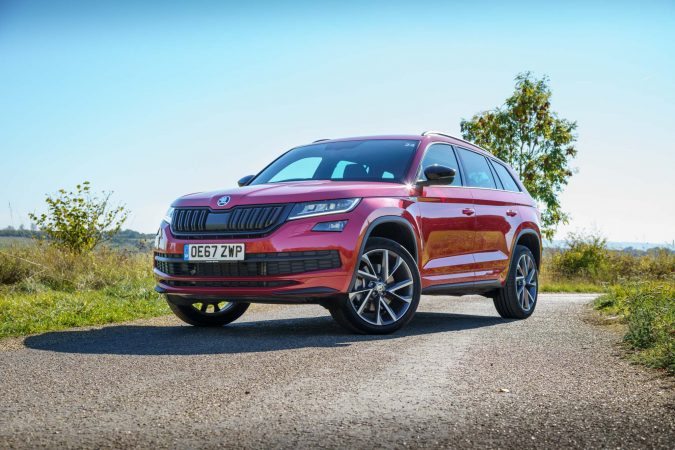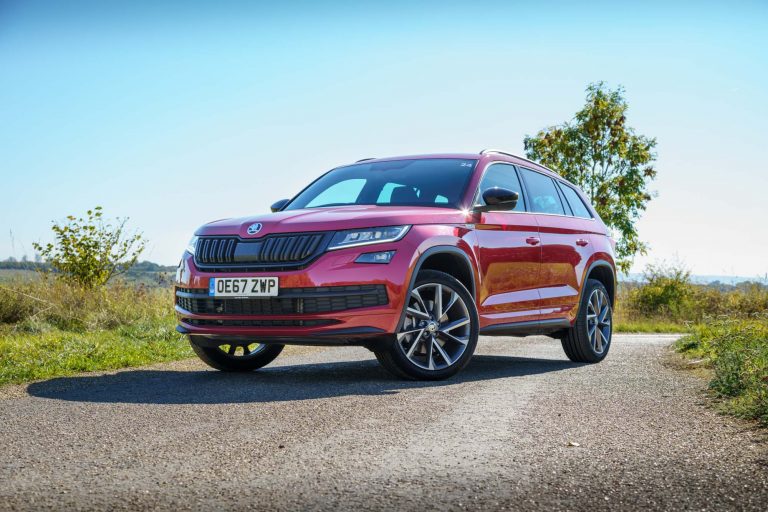 Much like all other recent Skoda vehicles, the Kodiaq closely adheres to the sleek Skoda styling language. With its svelte and smart lines, Skoda has infused that bit of contention into the otherwise stale crossover shape.
Again, like the Superb Estate, I can definitely see reminiscence of Volkswagen here and there. However, Skoda has sculpted a quite recognisable shape in a market filled with all-too-familiar designs.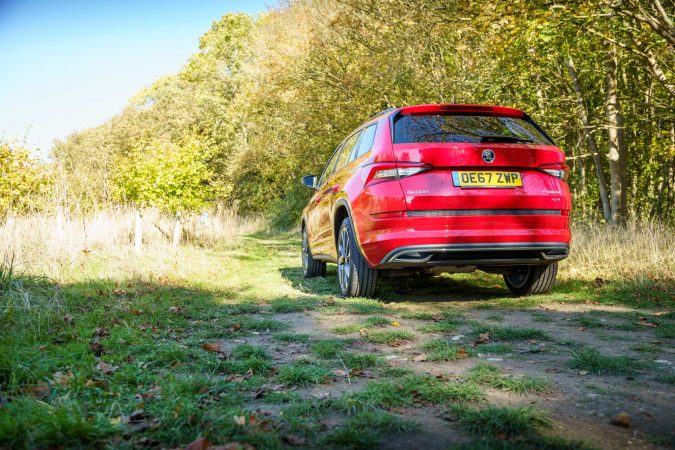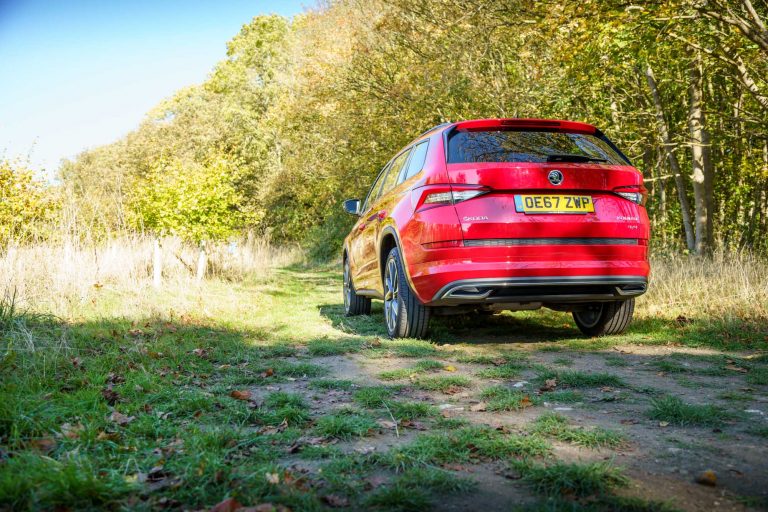 Our test Kodiaq, painted in £380 Velvet Red Metallic, a vibrant shade of fiery red and sitting on 20″ Vega Anthracite alloys courtesy of the Sportline package looks very assertive, and impose quite the road presence.
Despite the large stature and aggressive styling though, you'll only find a modest 2.0-litre TDI turbodiesel inline-4 underneath the bonnet that puts out 190 PS and 400 Nm of torque. It's the most powerful diesel variant you'll find on the Kodiaq.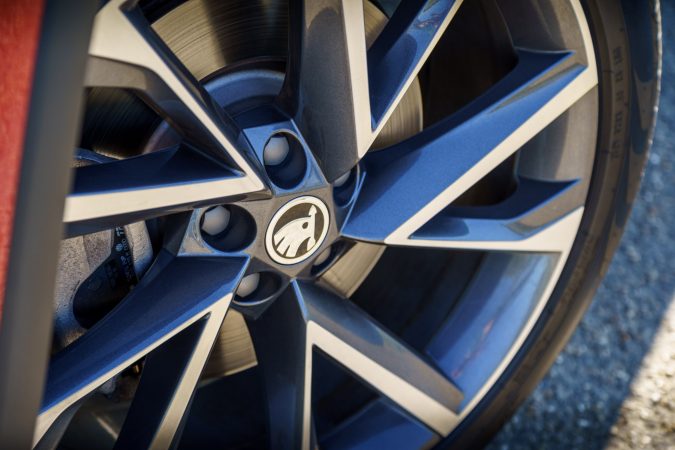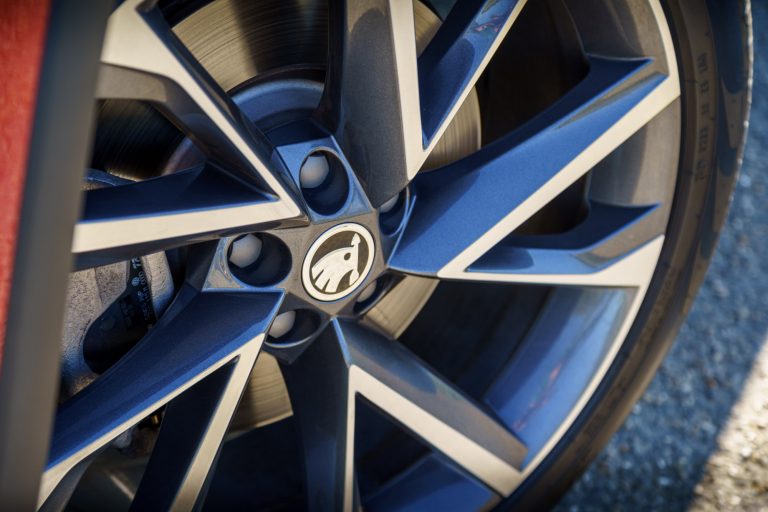 Then, all that torque is delivered to a 7-speed dual clutch automatic transmission that, in our model, delivers power to all four wheels. This drivetrain propels the Kodiaq from 0-62 mph in a respectable 8.8 seconds, onto a top speed of 129 mph.
Although it is a heavy mid-sized crossover, the diesel engine musters 49.6 mpg while putting out 152 g/km of CO2. It is quite competitive for the segment.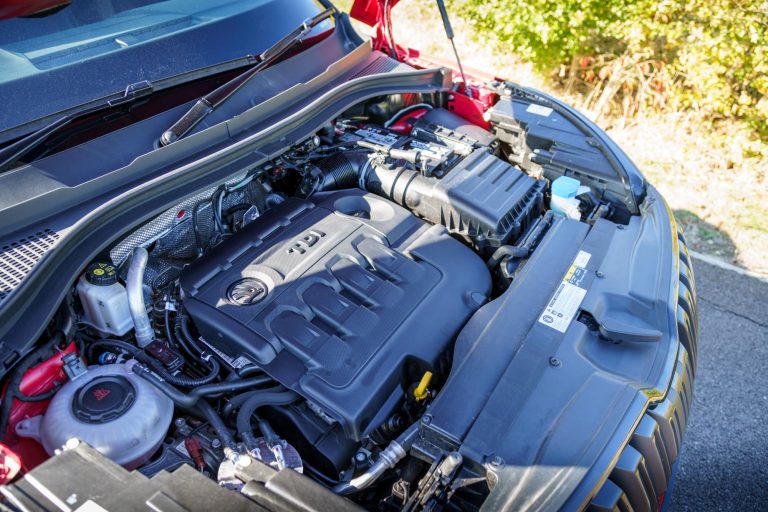 If you opt for the diesel, you'll have to make do with the 2.0 TDI engine at varying output levels, starting from 148 hp and 340 Nm of torque. Petrol options are that bit more eclectic, with the most powerful being the 2.0 TSI engine. No V6s here. Front-wheel drive variants are available with a handful of engines.
Skoda Kodiaq Review – How does it drive?
You'll find this engine quite often comfortably nestled within Volkswagen's global MQB platform. There's really not much to complain about the engine, it makes great mid-range torque that'll lug the Kodiaq along at a reasonable pace nonchalantly.
It's quite a brawny engine with a hint of turbo lag, but the boost threshold means that it'll be at its most effective at around 2000 rpm onwards. There's little point pushing it over 3500 rpm though, as the powerband quickly plummets.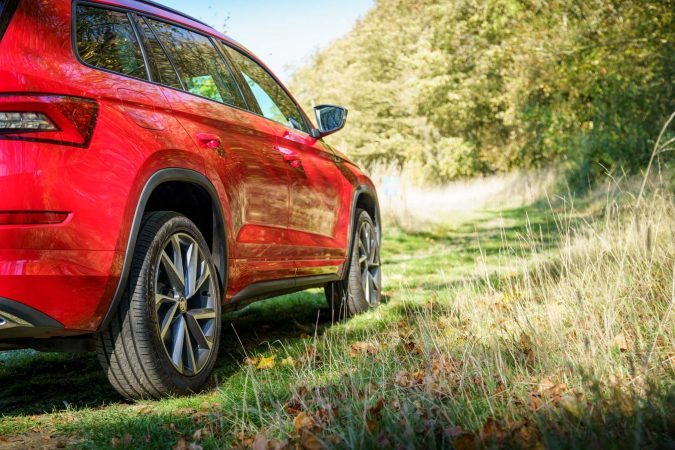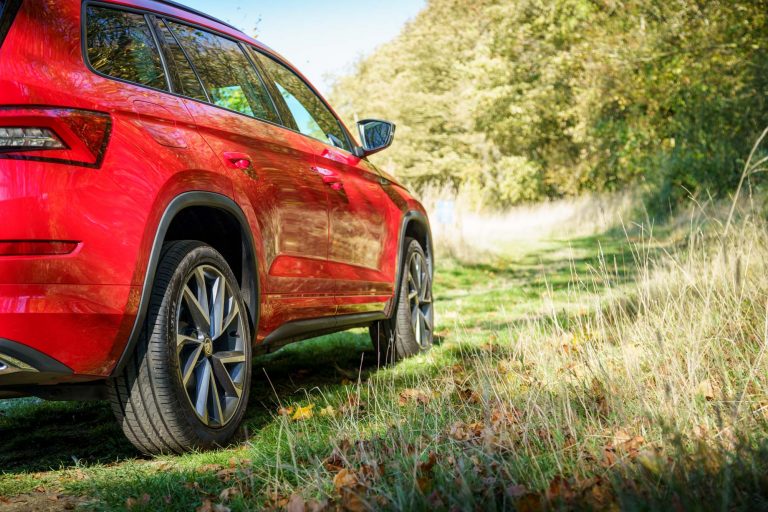 It is quite well-known by now that the 7-speed DSG transmission is tremendous. Providing prompt and smooth shifts, the transmission works well even when left to its own device whether if you're overzealous or leisurely.
Riding on the well-documented MQB platform by now means that most VAG folks would know what to expect from the Kodiaq. Although it's worth noting that the Kodiaq is ever so slightly heavier than the Tiguan due to its extra seat and 4WD.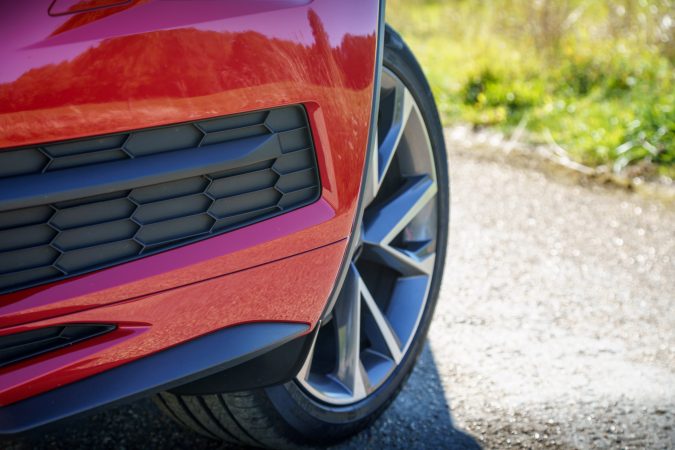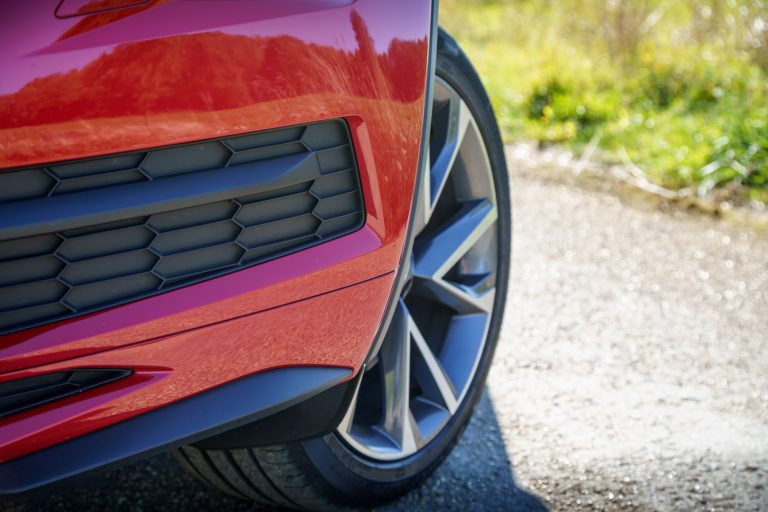 Regardless, on the whole, the Kodiaq manages corners remarkably well. With a decorous manner, it'll confidently rotate itself around corners without much trouble.
It is responsive and sharp which instils plenty of driver confidence around a tight B-road. Putting it into Sport mode further exemplifies the trait. That said, I do think that the weight of the bulky Kodiaq does hinder its composure somewhat at particularly sharp bends, but I do like how it has been setup.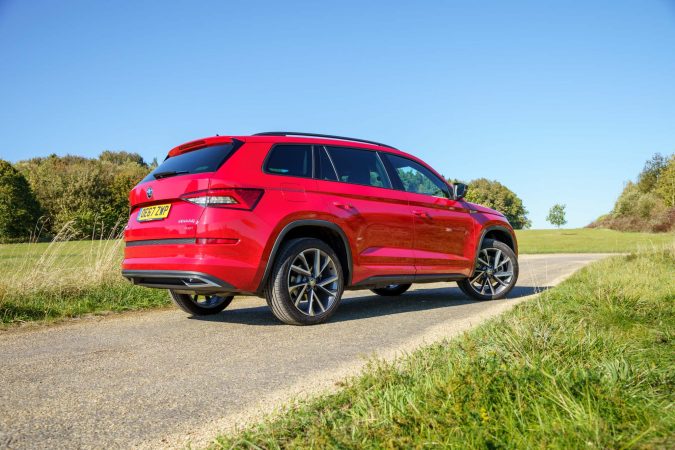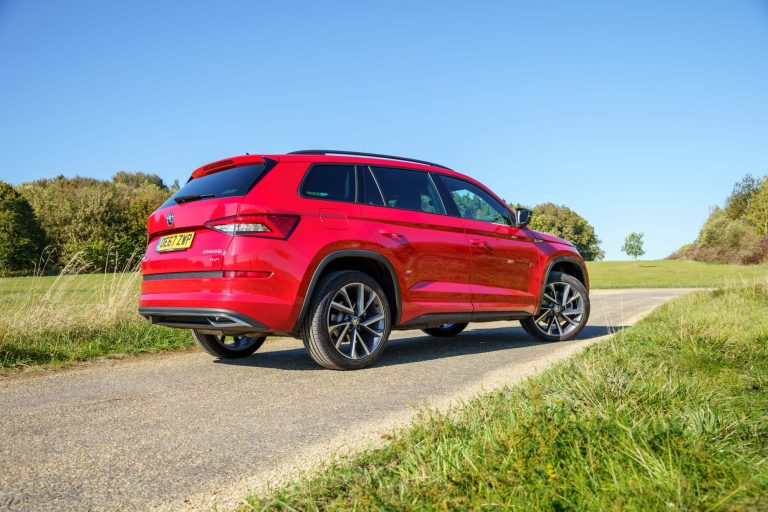 The 4WD system does endow the Kodiaq with a firm grip so it claws into corners and maintains a clean line throughout. The front and rear are well balanced, leading to a good driving experience.
What I would recommend though is to just keep the Kodiaq in Comfort mode, where it truly is the most at home. In Comfort, the Kodiaq can better cope with mid-corner road imperfections that can sometimes upset the car in Sport mode. Part of it may be due to the additional handling aptitude imbued by the Sportline trim.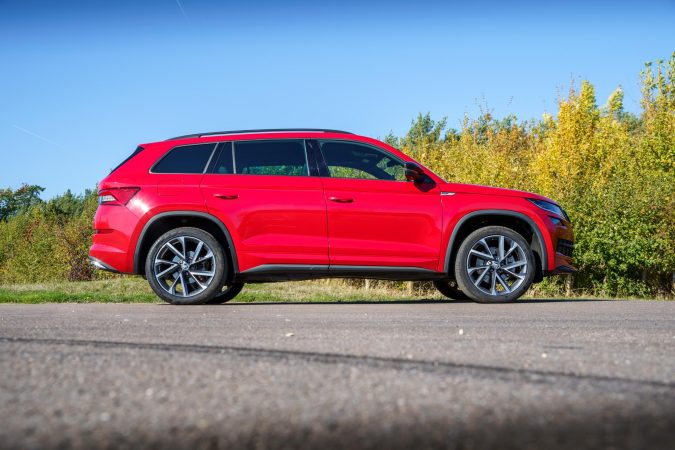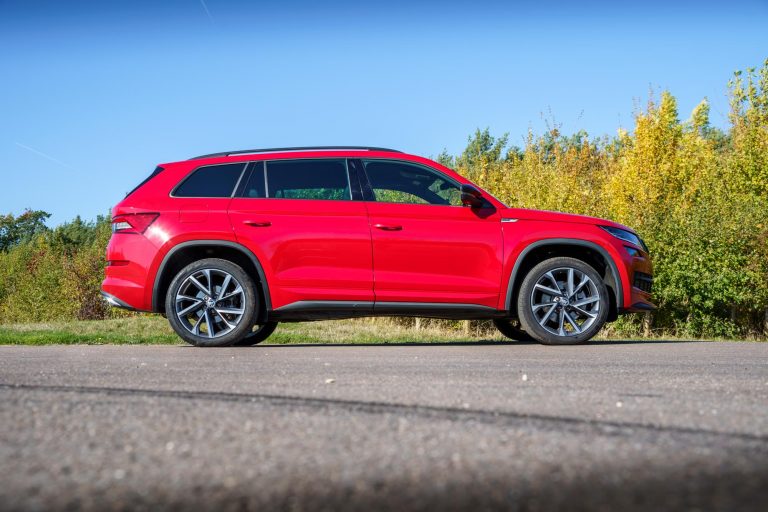 What is it like inside? – Skoda Kodiaq Review
Move inside, and it is rather impressive. Spec the Sportline trim and you can expect sports seats with Alcantara melded with leather upholstery that feels absolutely stupendous. They're also easy to get into and provides plenty of bolster support while being accommodating enough for long journeys.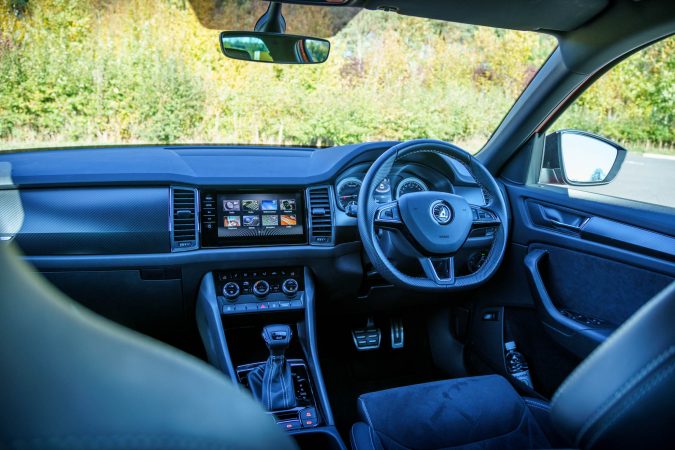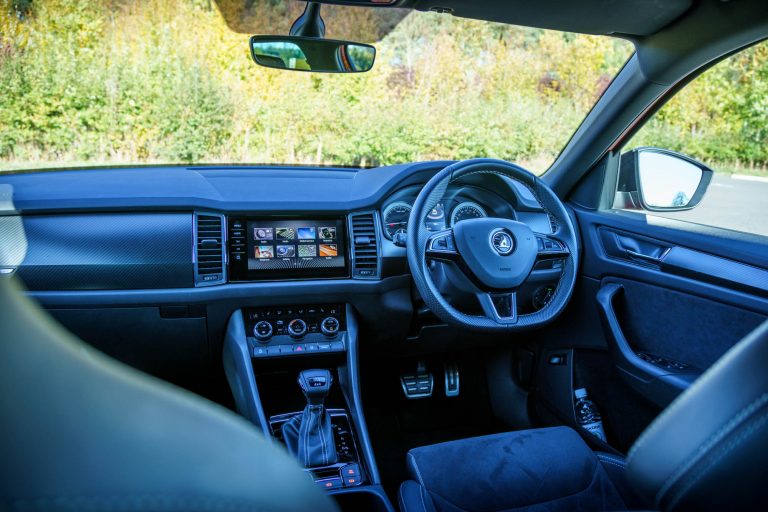 The build feels plenty robust, and while you can notice some harsh plastics here and there, the material choice is generally satisfactory. You'll notice the carbon fibre effect dashboard inlays too, which is also part of the Sportline trim. Pleasingly the inlay also pops open to serve as a glovebox when you push it.
Found embedded inside the centre console is the 9.2″ Columbus satnav touchscreen infotainment system we're familiar with from the Superb. It's very responsive with intuitive controls that make it a joy to use. On the bottom of that, you'll find the dual-zone climate control buttons.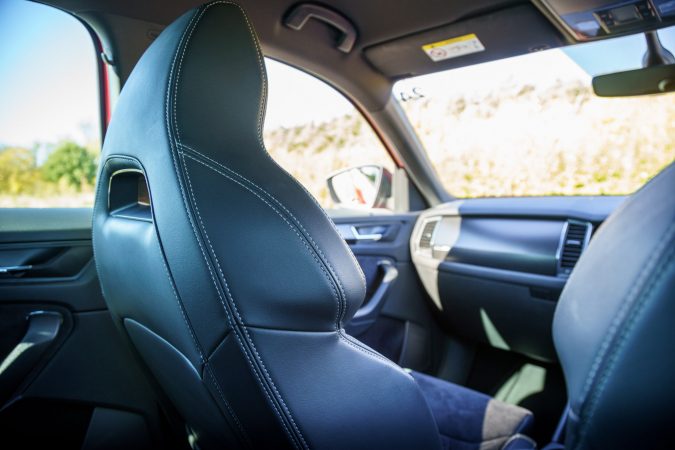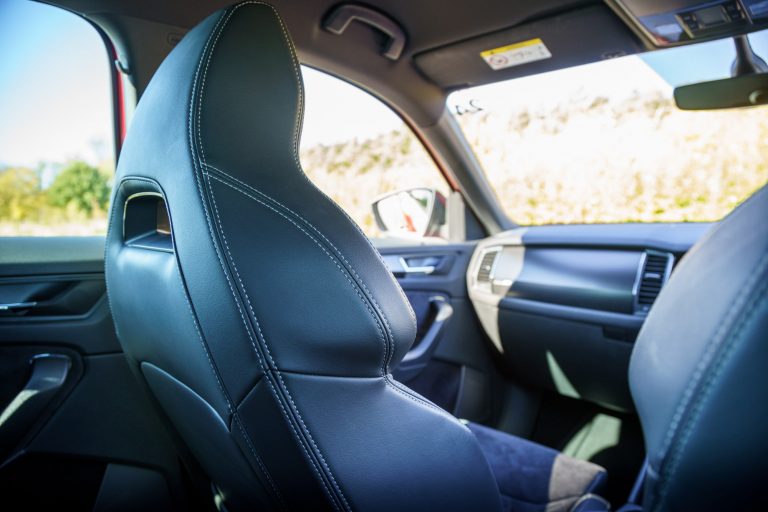 It is an absolutely massive car on the inside too. Front passenger room is splendid, with loads of small item storage littered about the cabin. The seats are easy to climb into, and visibility is incredible.
Move to the rear, and it tells the same tale. It is very spacious with ample headroom and acres of legroom even for tall people. The middle seat is raised with a hump on the floor, but you can absolutely seat 3 adults abreast in the back without much issue. The rear seats can also recline and slide forward backward.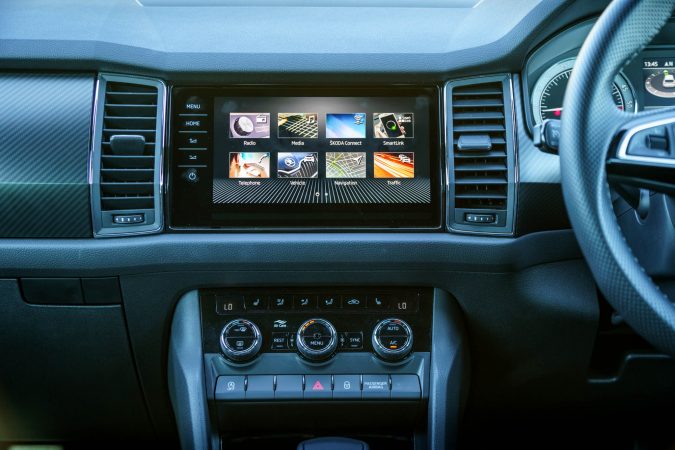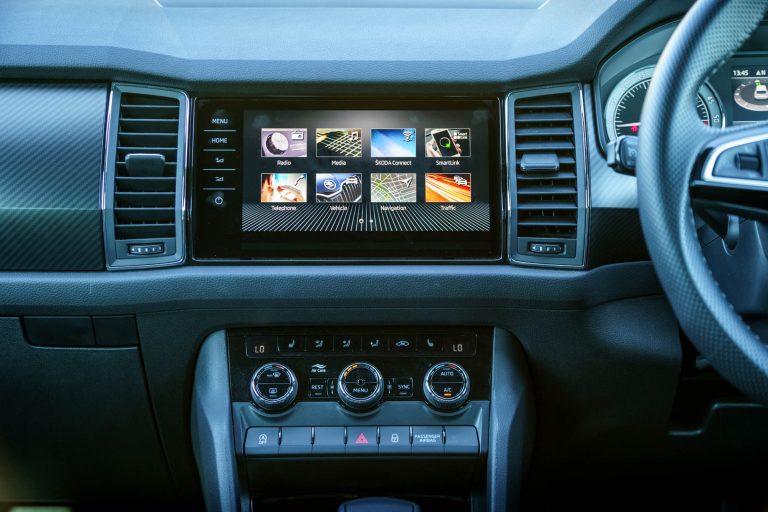 If you opt for the 7-seater option, like our test car, you'll find that the rearmost seat does compromise a bit on headroom. Kneeroom can be a struggle, but it'll be fine for adults for short journeys with the rear seat moved forward a tad.
In the 7-seater variant, the rear boot space is alright at 270-litres, just about comparable to a compact hatchback. Fold the rearmost seats down though and you can expect a 630-litre boot. In its 5-seater variant, the Kodiaq has a cavernous 720-litre of cargo capacity.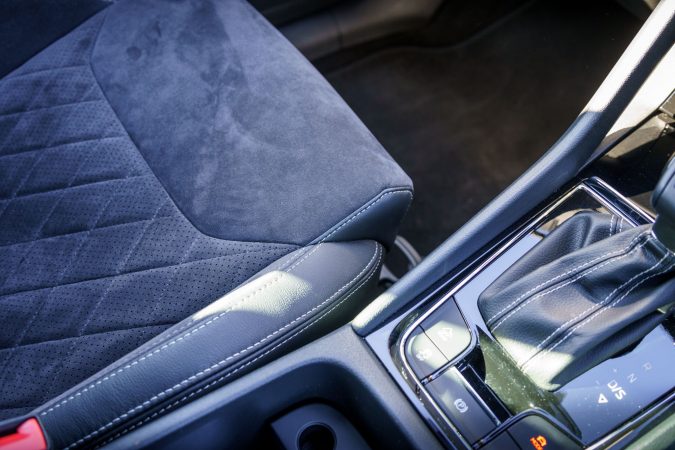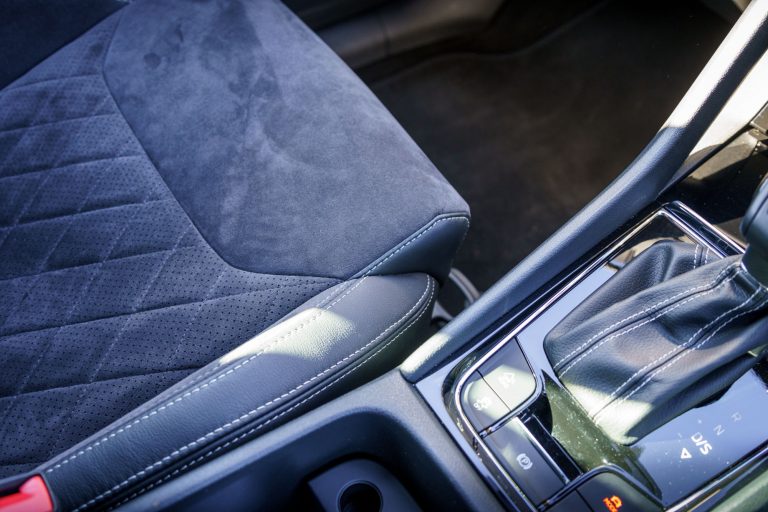 Strangely, for a car so centric on being family-friendly, it only has one USB charging port, that I could find (I could be wrong). There are 12V ports to supplement though, but it'd be nice to see a factory solution instead.
The Experience – Skoda Kodiaq Review
Overall, driving the Skoda Kodiaq was an enjoyable experience. It's a big, comfortable cruiser that'll haul plenty of passengers and cargo around without breaking a sweat.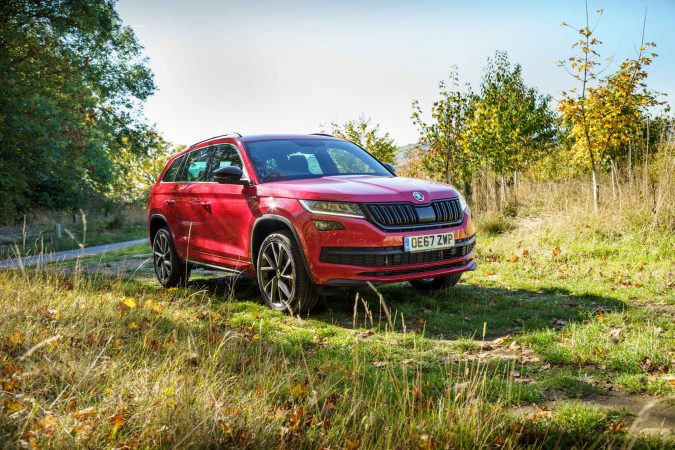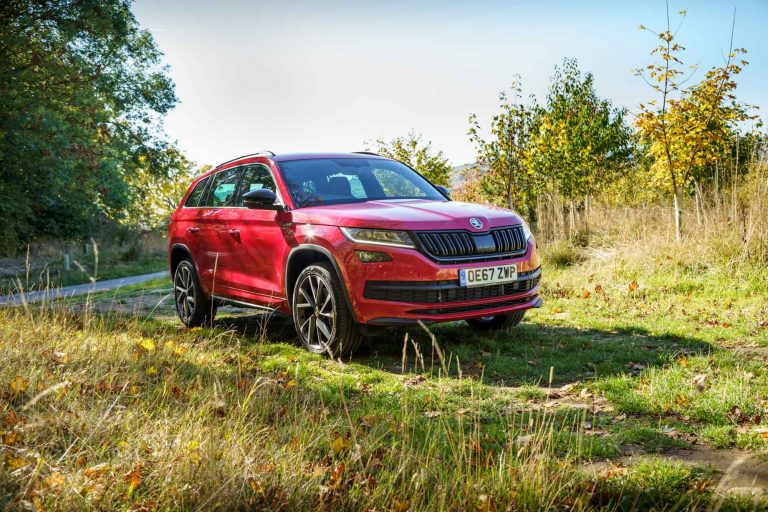 And I do think that in terms of interior quality, Skoda has really caught up onto Volkswagen. It's not quite there yet, but it is rather impressive nevertheless. Although I do really hope Skoda gets the VAG virtual cockpit soon though, as compared to other similarly priced entry-level premium crossovers, the Skoda's paltry little information display looks dated.
Skoda Kodiaq UK Price
If you want a Skoda Kodiaq Sportline like ours, with the vivid red paint, you'll have to be prepared to shell out £37,970. However, you really don't need the Sportline trim, in fact, I reckon the Sportline forsakes Skoda's main ethos of comfort over flair and style.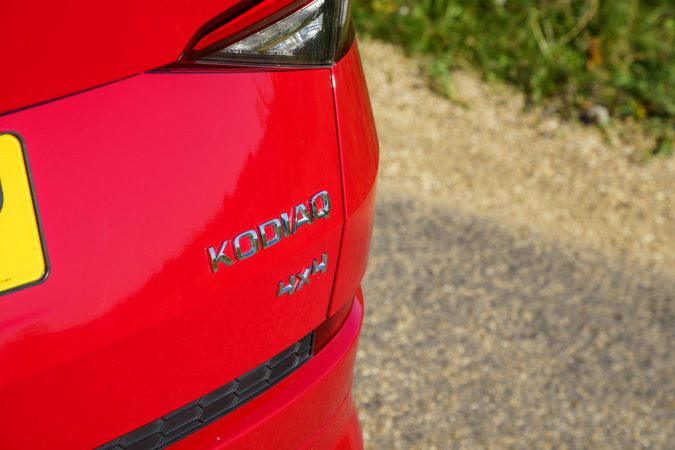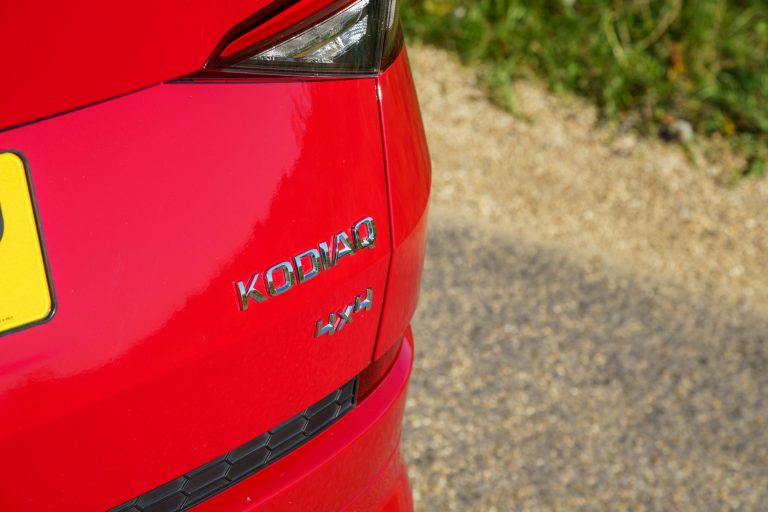 Therefore, what I would recommend is to go for the SE L trim, which comes with these stylish headlamps, infotainment system, and welcoming amenities. Yet the wheels will be smaller. Pick the 2.0 TDI 150 PS with the manual 4×4 drivetrain and the 7-seater model will come in at £32,465. It'll still be very pragmatic, but forsaking these sporty enhancements should yield a better ride.
Verdict
Overall, the Kodiaq is a very agreeable crossover that has a unique spot carved out in that it is value for money. What you are getting here is a VAG crossover with 7-seats at a relatively affordable price point.
Being a Skoda, it still has all these strangely appeasing Skoda attention to detail. You'll find an umbrella tucked away in the front doors, a magnifying glass/ice scraper attached to the fuel door and a detachable boot lamp that's also magnetic.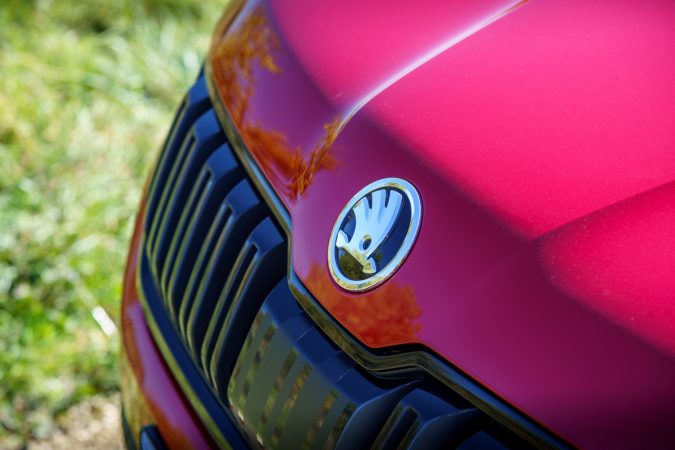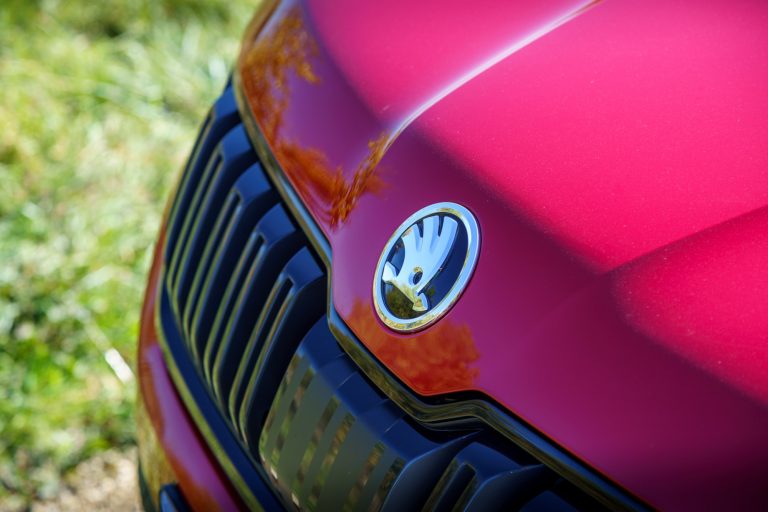 It is a spectacular value proposition, and undoubtedly a respectable family crossover. And for most folks living in the UK right now, Skoda seems to have launched the right car at just the right time.

Specification
Skoda Kodiaq Review – 2018 Sportline 2.0 TDI 190 PS 4×4 Specs
Price: From £37,590
Engine: 2.0-litre TDI turbodiesel inline-4
Power: 188 hp
Torque: 400 Nm
Transmission: 7-speed DSG dual clutch automatic
0-62mph: 8.8 seconds
Top speed: 129 mph
Weight: 2,510 kg (gross weight)
Economy combined: 49.6 mpg
CO2: 151 g/km