If you've been here for a little while, you might've noticed that we've already driven the new Suzuki S-Cross not too long ago. And no, you're not experiencing a case of déjà vu, as the S-Cross that we have here is similar… But not exactly, when you look under the bonnet. That S-Cross which we experienced first-hand back in December was a mild-hybrid variant. It's a great powertrain, offering decent power and respectable fuel economy.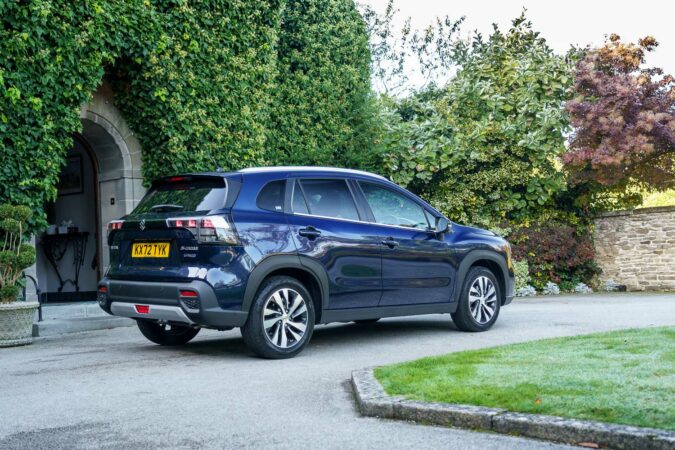 Although, we did wonder at the time, just how far Suzuki could've pushed the S-Cross if it had a far meatier hybrid system. Perhaps, one that could leverage its electrification a bit more, not only adding horsepower into the mix. But, award you with even greater MPGs, and improve the driveability much more beyond what the MHEV could achieve. Well, this S-Cross Ultra "Full Hybrid" didn't disappoint…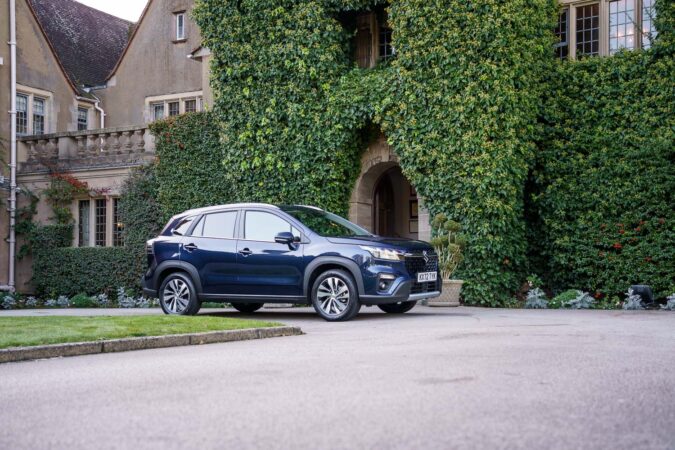 What Is The Suzuki S-Cross Full Hybrid Ultra About?
Looks-wise, this "Full Hybrid" model (more on that later) is practically identical to the mild-hybrid that we drove late last year. The only key differentiator, if you're looking for one, is the inclusion of a small "hybrid" badge on the rear. Overall then, it's a very conservative-looking car, with no excess bling and flash to speak of. But as a practical, do-everything sort of vehicle, it does look rather handsome.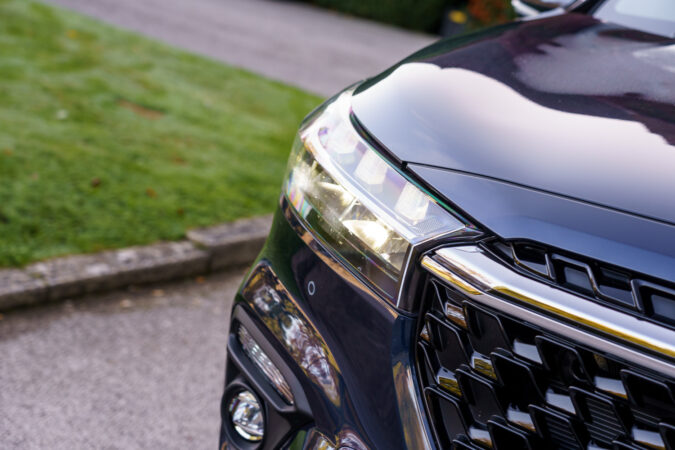 Crucially for us here in the UK, the S-Cross, despite being one of the larger Suzuki models, it's still fairly compact. As such, you shouldn't have too many issues with trying to manoeuvre it around town. Or, parking it in a tight space, or driving it down a narrow country lane. In addition, it also weighs a little under 1,400kg, which plays a huge role in the respectable MPGs that you'll get.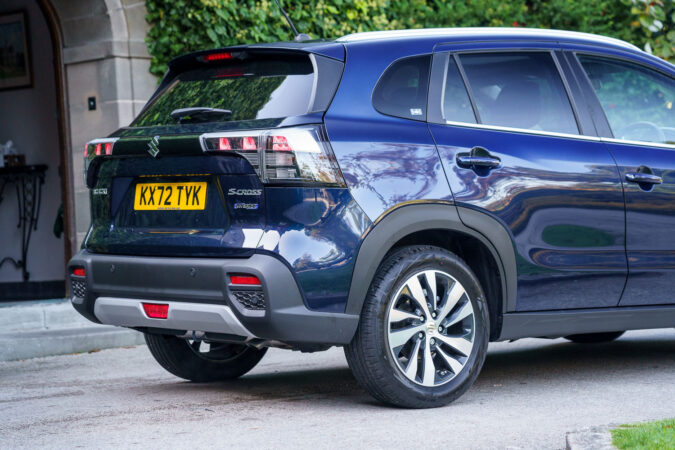 How Does It Drive?
The powertrain underneath is what Suzuki calls a "full" hybrid. Specifically, this S-Cross comes with a 140V hybrid system, compared to the 48V mild-hybrids that Suzuki sells alongside it. And to be clear, a full-hybrid isn't the same as a PHEV, as you can't plug this one in and charge it. Nevertheless, you'll find a relatively small battery pack (it's just under 1kWh) placed in the rear, placed under the boot floor.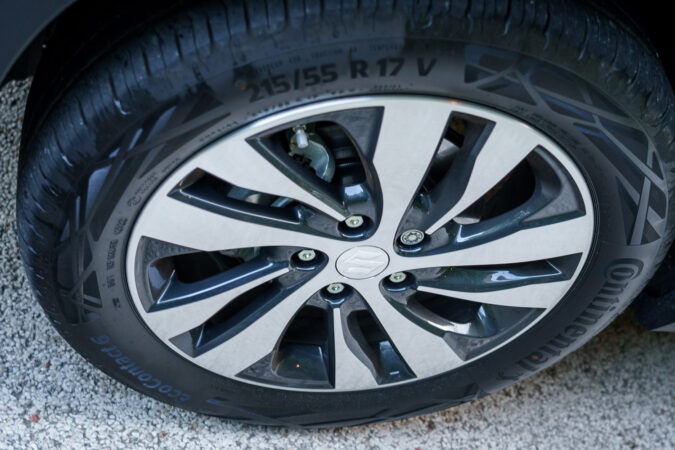 This then powers a singular motor bolted to the side of the engine, which provides it with additional propulsion. Speaking of, the S-Cross Full Hybrid comes with a familiar 1.5-litre naturally-aspirated 4-cylinder engine. Together with that electric motor, power is driven through Suzuki's 6-speed AGS. It's basically an automated-manual transmission (and you drive it just like any other automatic).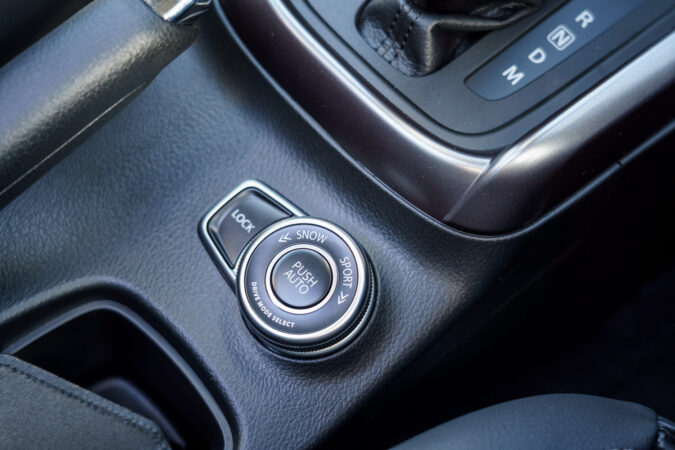 The S-Cross Full Hybrid could be configured either as a front-wheel drive (in the lower-tier Motion trim). Or, as we have it here, fitted with Suzuki's ALLGRIP all-wheel drive system. With that in mind, you can also alter how that ALLGRIP AWD behaves with a variety of drive modes. For the most part, it's front-wheel-driven. When it senses a loss of traction, it'll then redistribute power across all four wheels.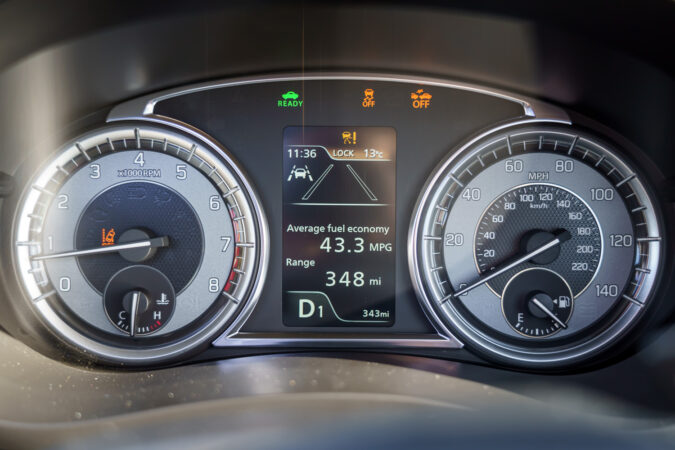 Ordinarily, you're better off setting the S-Cross in its AUTO mode, which is the most fuel-efficient one to choose. Nevertheless, you could also bump it up to SPORT. This gives you optimal engine response through clever torque distribution and grants you sharper handling. Then, there's SNOW, which can then prioritise its use of that AWD system as much as possible to afford you maximal traction.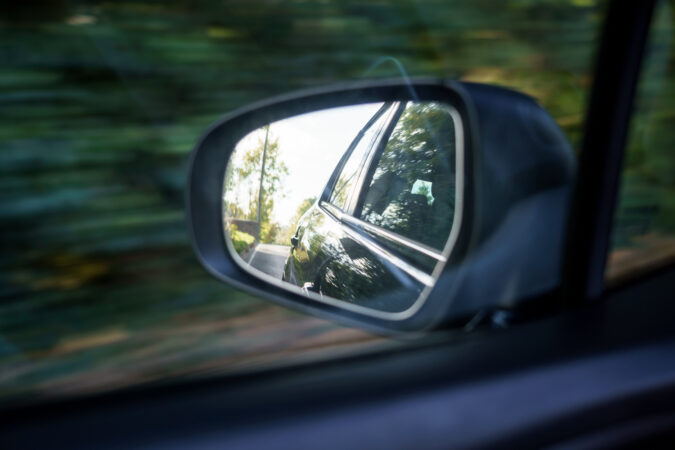 Especially, while driving on slippery or wet roads, such as when it's snowing outside. This makes the S-Cross a great all-weather, all-season car. Finally, there's even a LOCK mode, which cleverly utilises the S-Cross's differential to get you unstuck if you've somehow driven it into a snow bank or a pool of mud. Or, if you've gotten yourself between a rock and a hard place while you're off-roading.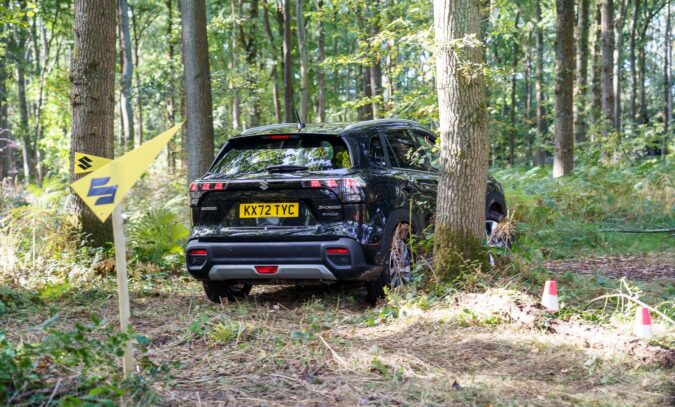 With that in mind, you'd be surprised at how good the S-Cross is at off-road driving, despite it looking like a typical urban-bound crossover. Even with a set of road-going tyres (not off-road tyres), and with manufacturer-spec tyre pressures, it can easily handle modest gradients. Additionally, driving through a 1-foot-deep mud pool, and trekking through the woodlands – which shows you just how good ALLGRIP is.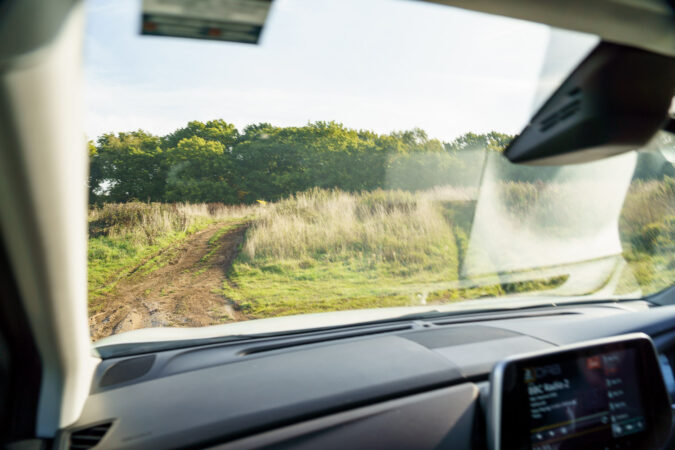 Still, the S-Cross Full Hybrid is no speed demon, with 115PS (around 113bhp) and 138Nm of torque to play around with. Granted, that full hybrid system does supplement this with another 24.6kW (about 33bhp) and 60Nm of extra torques. As a whole, the S-Cross is a very easy-going car and one that you can drive without too much of a fuss… Just jump in, hit the starter button, and get going right quick.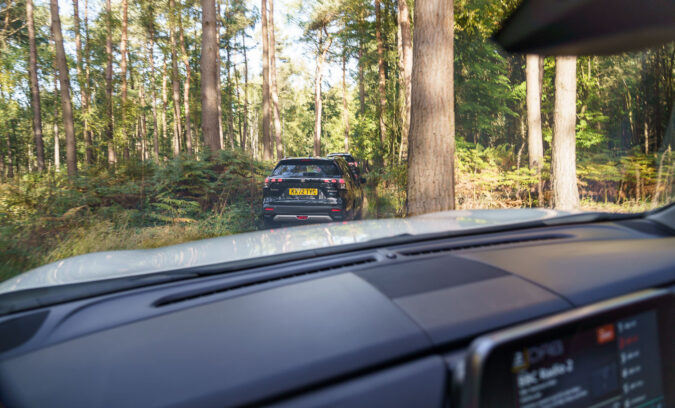 You won't have to dwell too much over that hybrid system either. Leave it be, and the car intelligently manages to keep the battery charged up and controlling propulsion. The flow and transition between the engine and the motor are also smooth and seamless. At lower speeds, you can feel the benefits of a hybrid when it comes to smoothening the driving experience, and adding a bit more power if needed.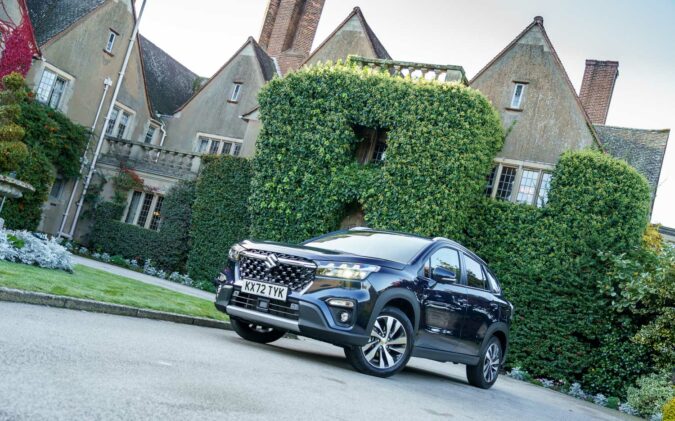 For example, let's say you're changing gears in the S-Cross Full Hybrid. There's always going to be a slight gap between shifts, as you wait for the engine to fill in that power void. But with the full hybrid system, it could compensate for this gap with instant torque and power from the electric motor while the engine gradually comes online again. The ICE-hybrid dynamic here is very well-thought-out.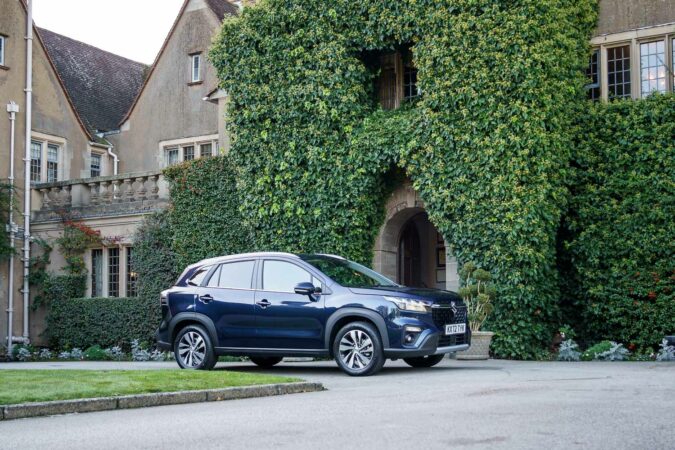 What Is It Like Inside?
The Suzuki S-Cross is now techier than ever. These days, you're able to get the S-Cross with connected services bundled in. Meaning, you can now connect your car via an app, which you can then use your phone to have direct access to the S-Cross. Mainly, you're able to view your fuel levels, look at its trip information, lock or unlock the doors, as well as the location of where you last parked your car.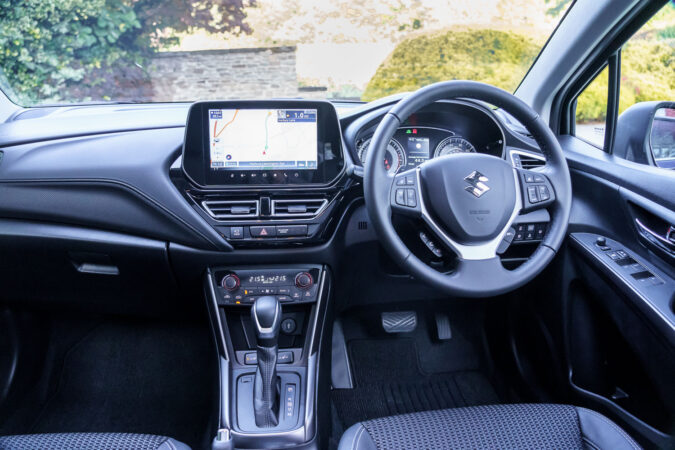 Through the Suzuki Connect app, you can get alerts, such as whether you've left your lights turned on, and more. To make things even easier down the line, when your S-Cross inevitably gets older, you can also be notified about warning lights through the app itself. Moreover, you could then beam all these diagnostic reports back to a Suzuki dealer, allowing you to easily diagnose and fix the issue.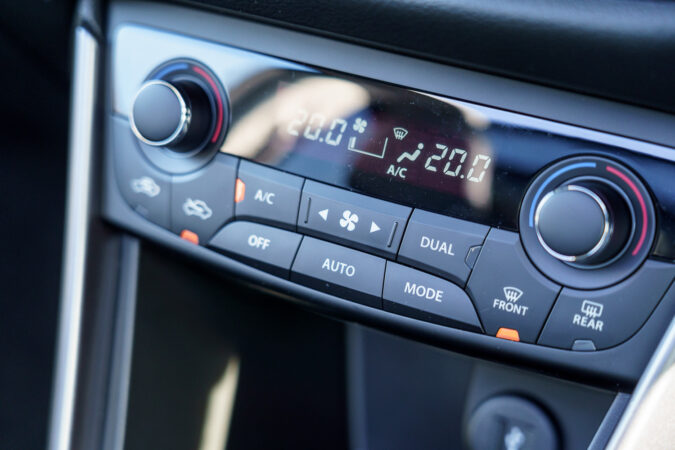 Should you plan on letting your teenage kids drive your car, you may consider setting curfew hours or putting a geofencing alert through the app, too. And, not to mention setting up a security notification, just in case. By default, you'll get 1 year's worth of free connected features courtesy of Suzuki Connect. If that doesn't work for you, then you might instead be attracted to the S-Cross's interior features.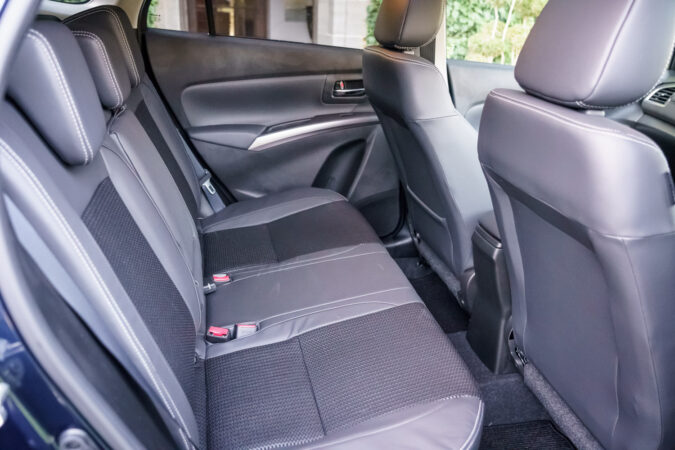 For the more practical side of things, rear legroom and headroom are pretty good. As is, the fairly big boot. Albeit, it's a tiny bit smaller than the MHEV variant, thanks to the battery. The rest of its cabin has a greater focus on function rather than form. But you still get materials, and all the tech you need as standard. For a car to comfortably rely on to commute from A to B, it's a nice and functional cabin, I really enjoyed being behind the wheel of this S-Cross.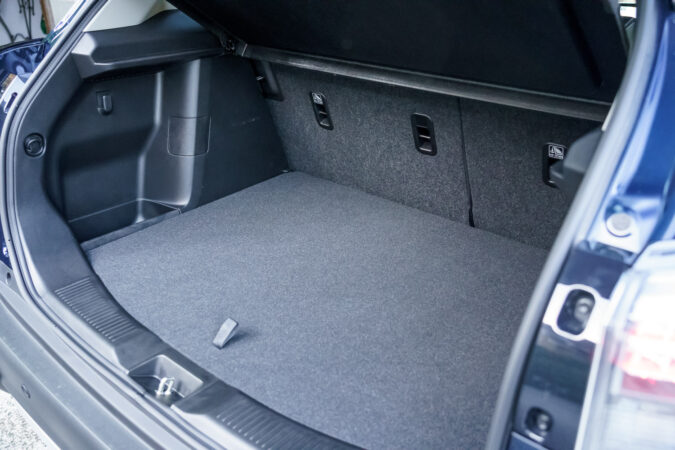 The Experience
The Suzuki S-Cross Full Hybrid comes with an abundance of active safety systems and driver aids. For instance, there's a brake assist system, adaptive cruise control, blind spot monitoring, lane departure warning, lane keep assist, rear-cross traffic alert, traffic sign recognition, and more.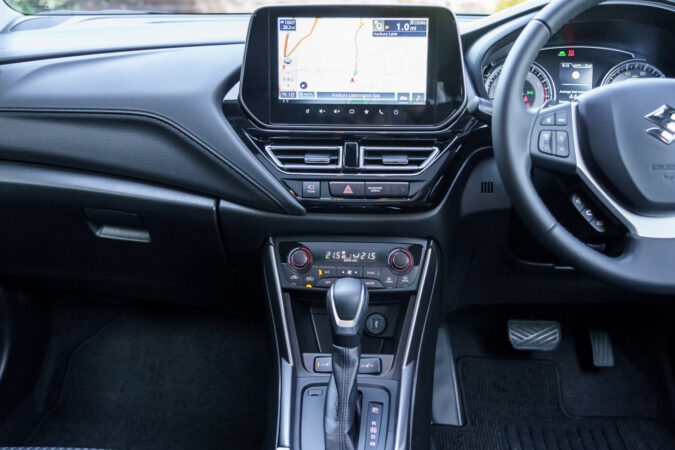 That's certainly a major plus point for Suzuki and the S-Cross – some of its rivals often charge extra to get at least some of these fitted onto your car. Concerning fuel economy, the S-Cross would do about 48.7mpg, as per its official figures. Or, in the low to mid-50s mpg, if you're gentler with the throttle. A pretty achievable figure, I'd say, in the real world, which is pretty great for a non-plug-in hybrid.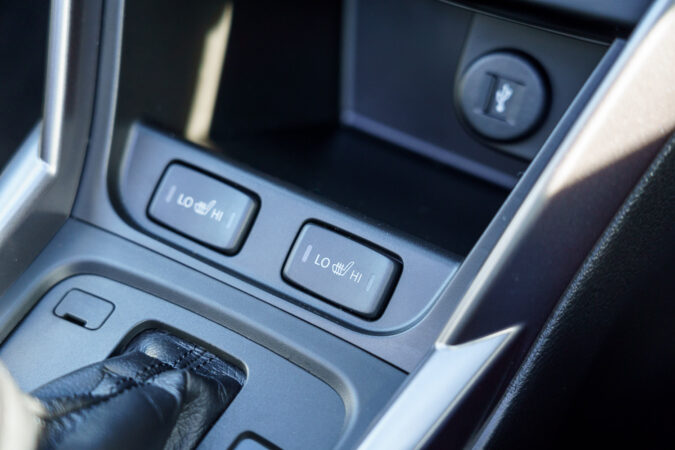 Now, if you really want better MPGs (and don't mind missing out on its supreme all-wheel traction for adverse weather or going off-roading), then you should get the two-wheel drive variant. This one can readily net you 50mpg or beyond. Or, upwards of 60mpg if you're very careful with the go-faster pedal. With that being said then, which S-Cross trim should you pick – the Motion, or the Ultra versions?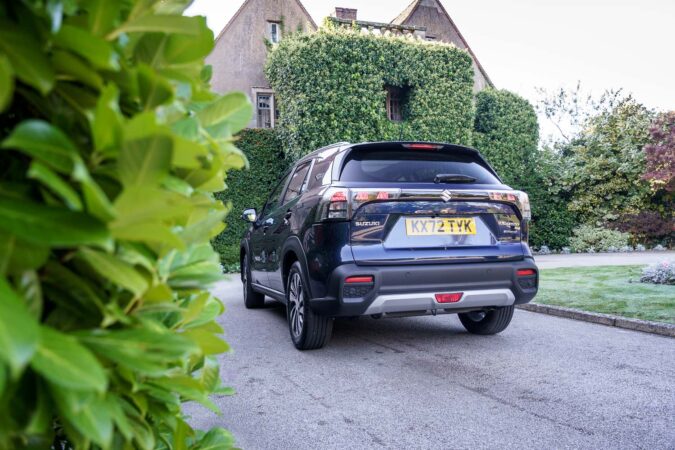 Suzuki S-Cross Full Hybrid Ultra Cost
The base Motion trim (specifically, for the Full Hybrid S-Crosses) starts at £26,749. Whereas, the Ultra trim will set you back £31,549, which is what we have here. Opting for the Ultra trim mostly gives you premium, luxury nice-to-haves, such as leather seats, a panoramic sunroof, as well as the lovely 17-inch alloy wheels. On top of that, you get a bigger 9-inch infotainment display (compared to 7 inches).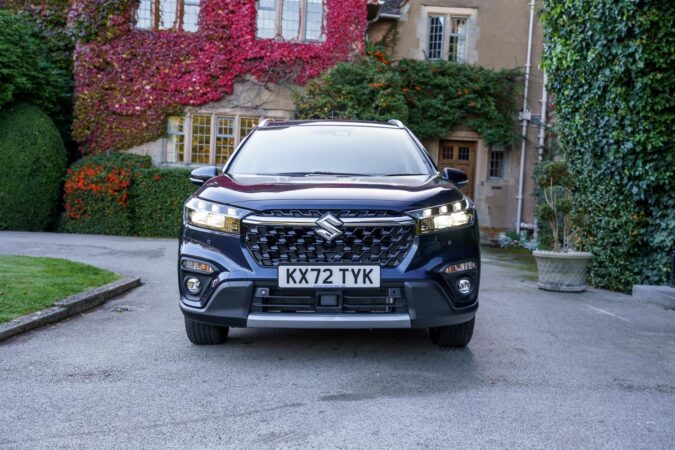 In addition, you'll also get access to a 360-degree view parking camera. Which, isn't as high-definition as some others out there, but it's good enough. And, a built-in satnav system. Though, one of the key upsides of going for the Ultra trim over the Motion is the addition of that ALLGRIP all-wheel drive system. This feature alone provides lots of value over the Motion trim and is well worth the price.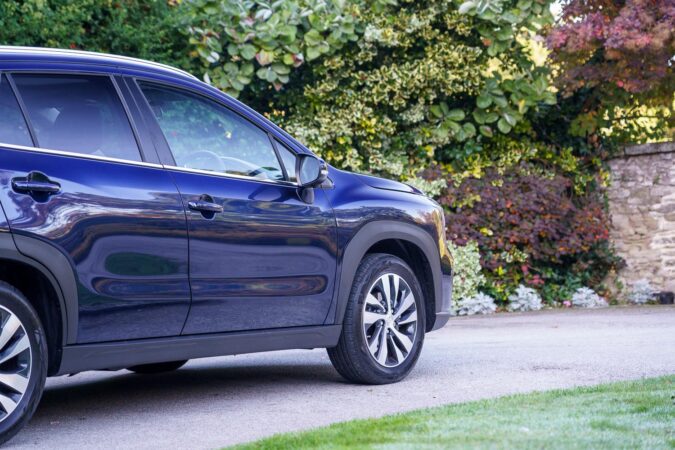 Still, Suzuki's pricing model, regardless of which trim you choose, is very enticing. Even the Motion trim has so much kit and features included, given its list price. Other automakers usually charge you to get the added features which Suzuki now includes by default. That also goes for the options list for the S-Cross, which only charges you extra for different paint finishes.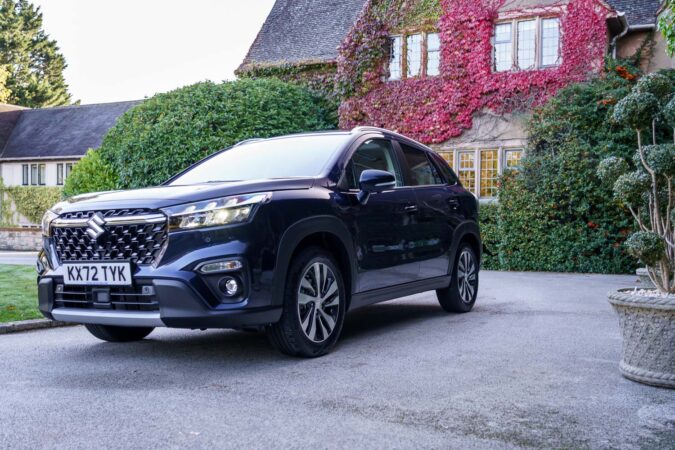 Verdict
In summary, the S-Cross Full Hybrid is as good of a complete package as you can possibly get for any car at this price. While we praised the S-Cross MHEV not too long ago for offering maximal bang for buck, the Full Hybrid is even better. It most certainly justifies the cost, if you're looking for something with that much more refinement, especially with how that 140V hybrid transforms how it drives.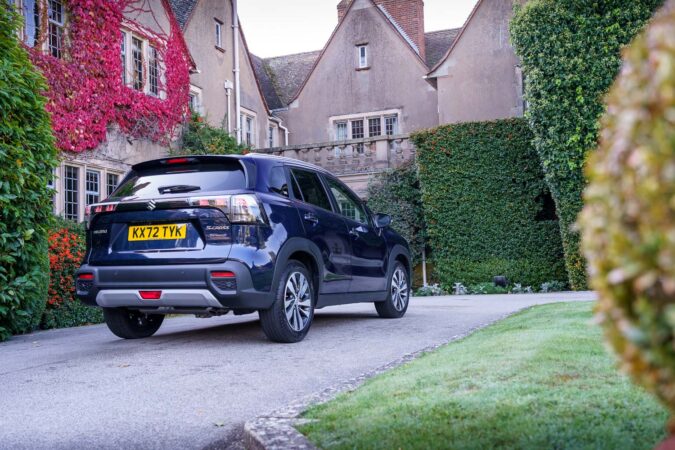 Having that relatively potent electrified powertrain rewards you… Not only with lower fuel economy, but it could also make the day-to-day driving experience smoother and more effortless. The way the motor works to supplement its engine and can also go into an all-electric mode for occasions like creeping at a standstill is a major boon. If all you need is a reliable and dependable commuter, look no further than the S-Cross Full Hybrid.

Specification
Suzuki S-Cross Full Hybrid Ultra Specs

Price: £31,549
Engine: 1.5-litre inline-4 with 140V hybrid
Power: 113bhp (+33bhp from an electric motor)
Torque: 138Nm (+60Nm from an electric motor)
Transmission: 6-speed automated manual
0-62mph: 13.5 seconds
Top speed: 108mph
Weight: 1,378kg
Economy combined: 48.7mpg
CO2: 132g/km