Okay, before you get too excited, be sure to double-check the title. No, this isn't a super-hot GR Yaris that tickles the enthusiasts' heartstrings and rekindles the magic of old homologation specials. This here is Toyota's mass-market sibling for the rally-honed GR – the Yaris Hybrid Dynamic. It might not be able to garner as much excitement, hype, craze, or wow factor as its blood relation.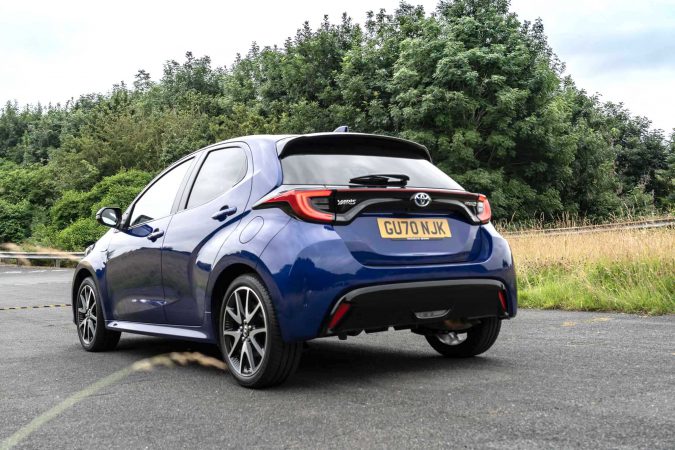 But this will be – we believe – a far more important car for Toyota. Now hybridised, the Yaris here is made to be its bread and butter in the UK market. We're sure then that the boffins have done all the maths and marketing analysis to make this as good as it can be from the average consumer's point of view. This being practicality, usability, efficiency, and making an easy car to live with day-to-day.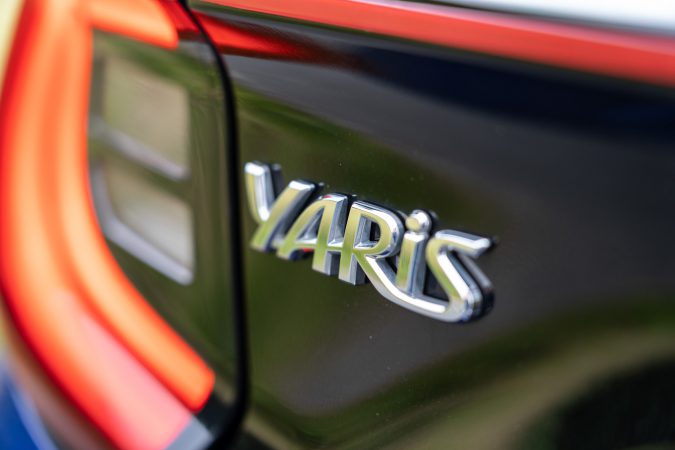 What Is The Toyota Yaris Hybrid Dynamic About?
But has Toyota made that work with the Yaris Hybrid Dynamic? Well, it certainly looks attractive. For an economical city car, it has a surprisingly aggressive and sporting appearance. There are hard edges and sharp creases here and there, somewhat hinting at this other, sportier Yaris. As a whole, it's still got a friendly and approachable face, even if our little Yaris wants to act tough.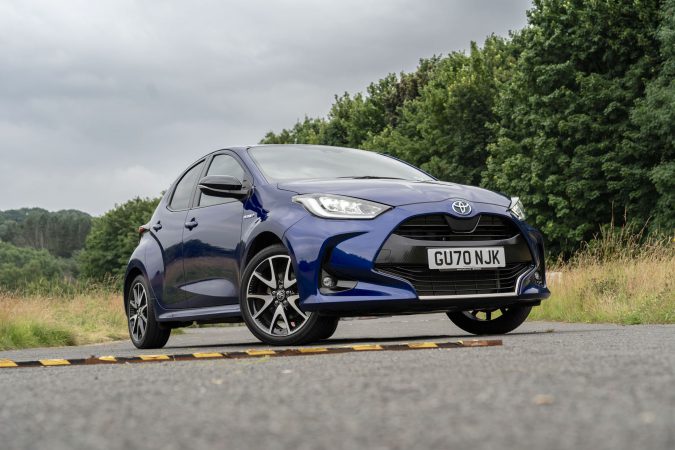 "Cutesy but a little bit spicy" is the best way we can describe it. That's one point for design, then. How about what's underneath the skin? Well, we have a familiar 1.5-litre inline-3 cylinder, and as the name suggests, is paired with an electric motor up front. Altogether with the engine, the hybrid powertrain can manage 114bhp and a total of 141Nm of torque.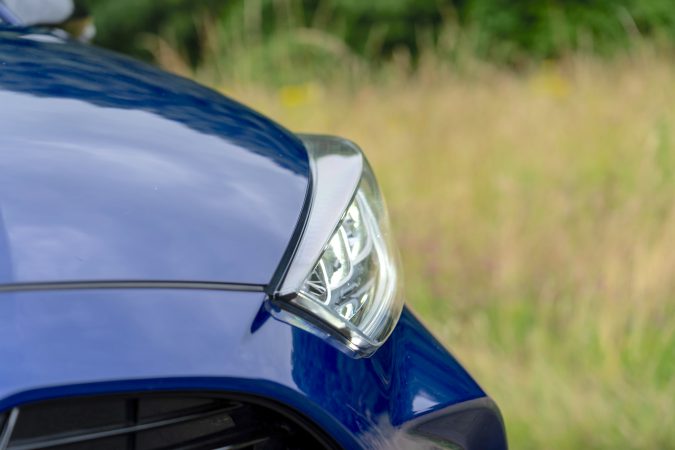 How Does It Drive?
It can sprint from 0 to 60mph in a relaxed 9.7 seconds, before topping out at 109mph. So, it's not a speed demon, that's for sure. You won't have to drive for long to realise that this Yaris Hybrid (in its Dynamic trim) isn't anything like its racier and rally-honed GR sibling. That said, our cute Yaris here drives well. That's to say it's quiet, refined, and plenty comfortable for everyday driving.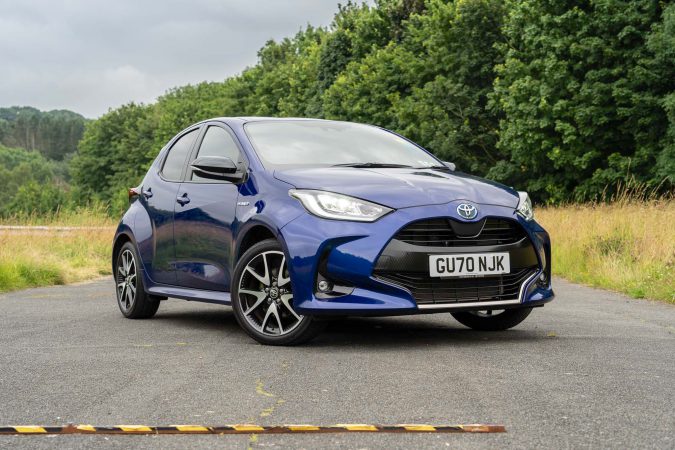 We can imagine that this would be a joy to commute with back and forth. As a city car, it's made to be easier to live with, too. Visibility is excellent, and we imagine it won't be hard to park it, either. Push it a tad harder, and you can start to hear a bit of that 3-pot burble. Speaking off, all the power is being sent through an e-CVT gearbox. It's a huge upgrade from previous CVT transmissions, too.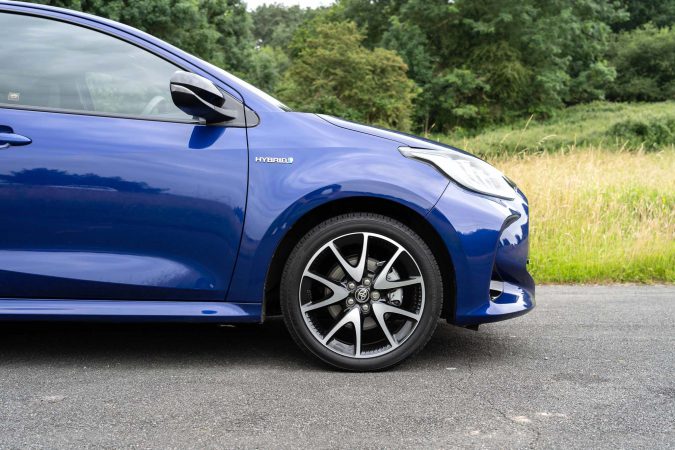 There's none of that sluggish rubber-banding effect of waiting for the power to be sent along to the wheels. It's not instantaneous by any means, but this e-CVT is more sprightly than before. Coupled with a burst of electric torques from the battery pack hiding underneath, and you can get off the line quicker than you might think. Although not sporty, it's not exactly a slow-poke.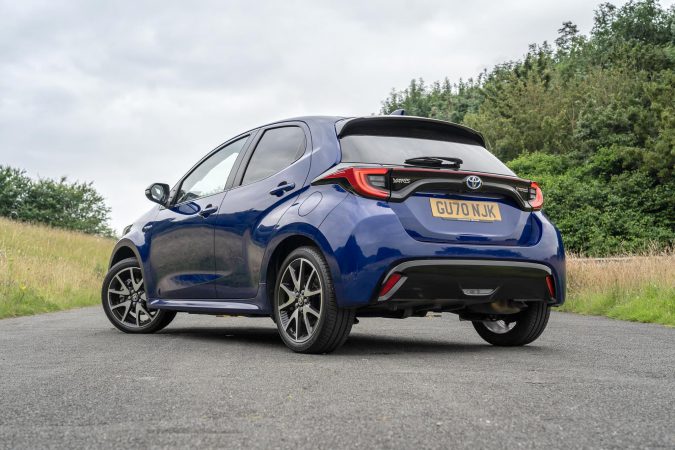 What Is It Like Inside?
One benefit of this not being a GR is that you have four doors, and plenty of actual usable space in here. You have to bear in mind that Toyota's using an all-new TNGA-B platform to build the Yaris Hybrid Dynamic. This makes it slightly shorter overall, but is wider and taller. However, Toyota did lengthen the wheelbase by 50mm to give you more room in the cabin and boot.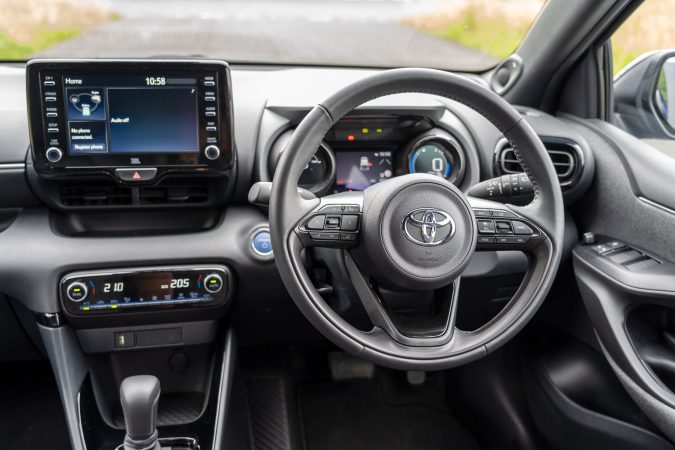 Indeed, there are ample amounts of space in here. Back onto the tech department, the Yaris doesn't flaunt the most bleeding edge of info technology. You have one (relatively small) infotainment screen, analogue dials, and another tiny screen in the dash. Nonetheless, it's all utilitarian and functional, plus it works better than many touchscreens would.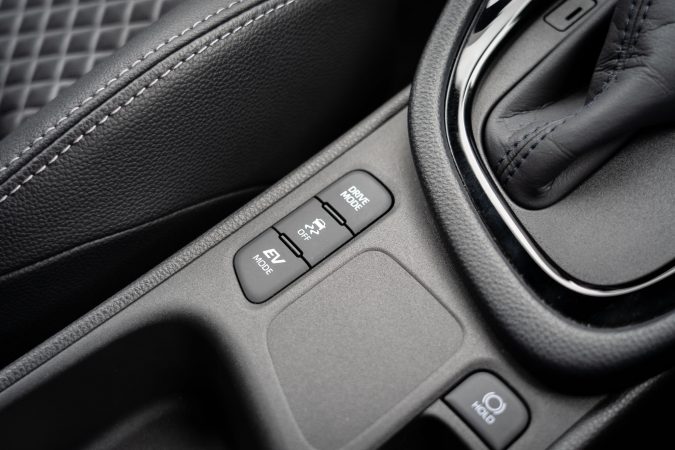 Hard, physical buttons and knobs are still easier to find and play around with when you're driving, if carmakers are listening. Overall, the interior, while not avant-garde, is laid out well. The text on the screen, for example, isn't overly colourful or eye-popping, but is easy to read. The really clever electrics and gadgetry could only be seen once you peek under the hood.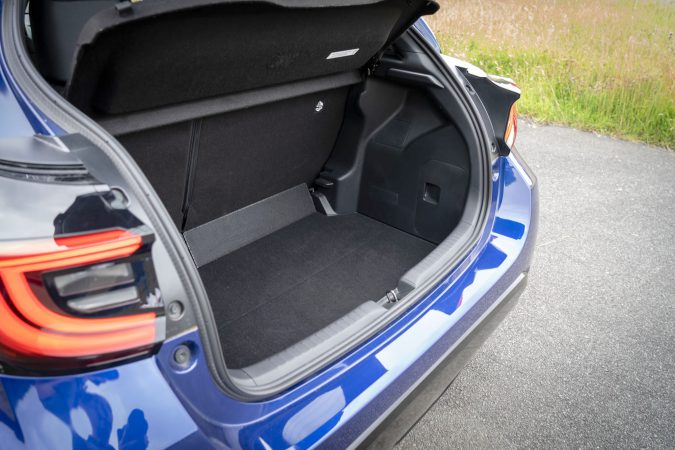 The Experience
Now, we can move onto the hybrid-y aspect of this new Yaris. Toyota calls this a "full" hybrid rather than a "mild" one, on the basis that they can run on EV power exclusively more of the time before the ICE engine kicks in to provide added power. Our Yaris Hybrid Dynamic has a new battery pack that offers a higher output capacity, and faster recharge times.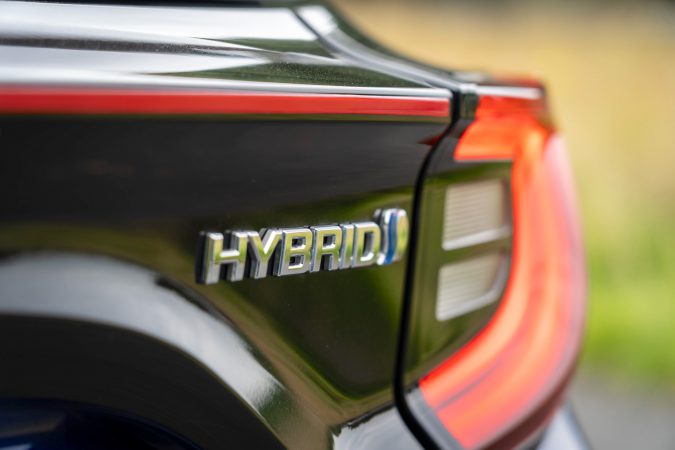 You can select this by clicking on the "EV Mode" button, as the engine shuts down and the batteries kick in. This would be perfect for more mundane driving over shorter distances and slower speeds, like trundling with stop-and-go traffic. All the while, it can recuperate a few more watts and volts with the generative braking system.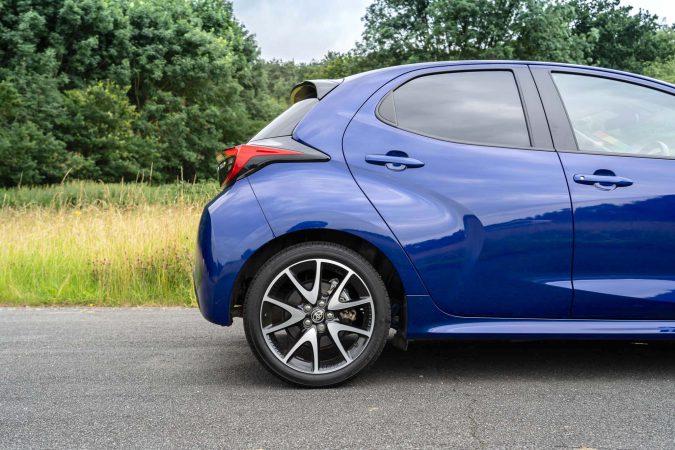 In certain conditions, you can drive it on EV-only mode with the batteries working alone up to 80% of the time… Assuming you have enough of a charge in them. And, you can haul the Yaris Hybrid to 80mph before the engine needs to start back up. The quoted WLTP fuel consumption is a lofty 65.5mpg, and you can definitely bet on 60+mpg for much of your daily driving.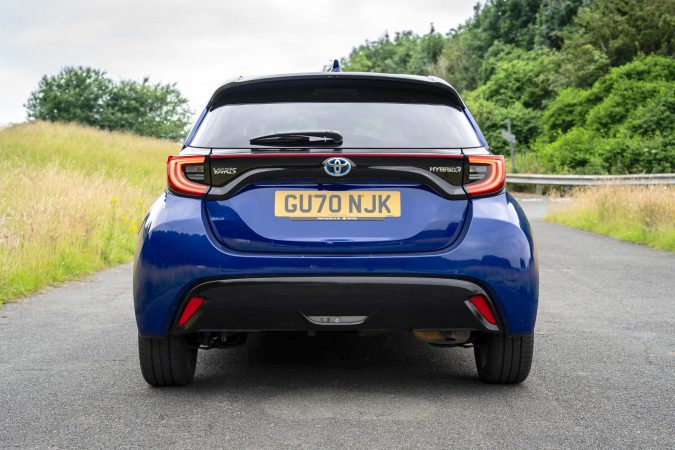 Toyota Yaris Hybrid Dynamic Cost
Our Yaris Hybrid test car, with the Dynamic trim attached, has an OTR sticker price of £21,920. For that money, it's a reasonably spec'd car, too. The only option that we've got ticked is a £585 metallic blue paint that you can certainly make do without. This is one of those cars that you can expect to come with a lot of kit for the base price, and you really don't have to look too deep into the options list.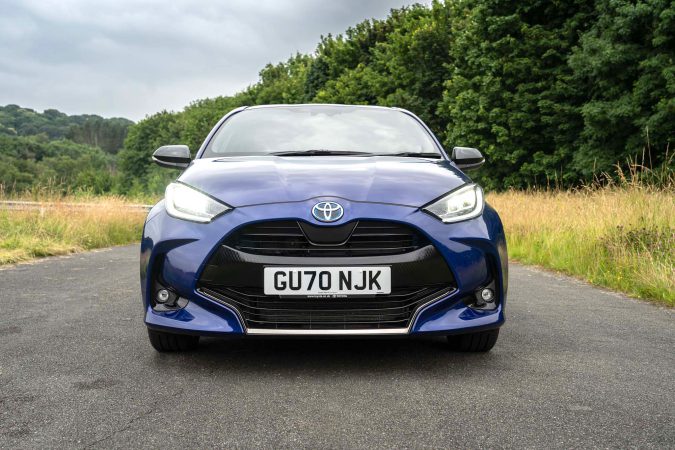 Another big win for it would be the cost of ownership, which we imagine could make this quite a cheap car to run. As standard, there's a long 5-year (or 100,000 miles, whichever comes first) warranty for some peace of mind. This being a Toyota, we also have the assurance that it's not going to break in half anytime soon.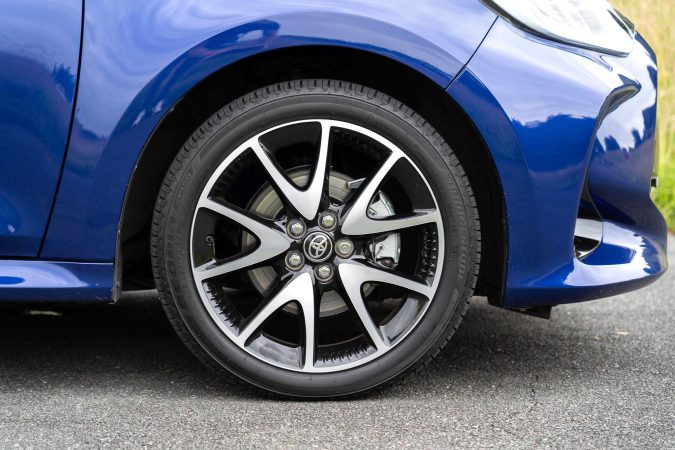 Verdict
Overall, the Yaris Hybrid Dynamic meets all of its target requirements, and adds a bit more on top of that. It's practical and usable, with a lot of interior space – given the diminutive dimensions – and tech that you both enjoy and trust without any frustration. It's not uber-fast, but it's got some poke for a bit of fun to take you hither and tither in great style.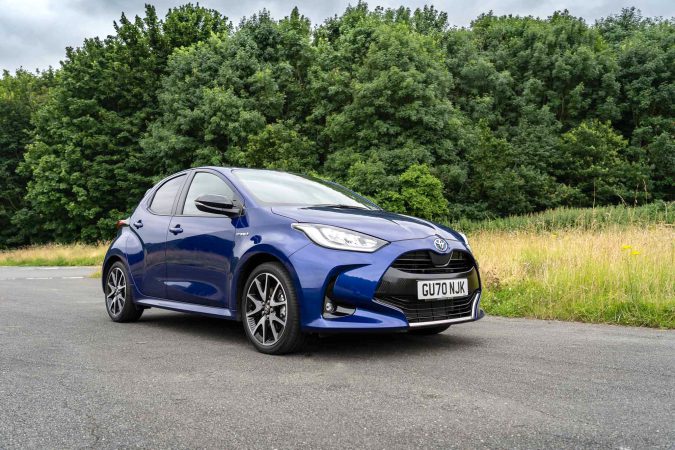 As a car to own without any headaches, it's built well and is cheap to run in terms of fuel bills and potential maintenance woes. Efficiency too, is a great highlight of the clever hybrid system in this updated Yaris. It's as close to an EV as you can get, but still have the assurance that a tried-and-trusted ICE engine is ready to back you up. Overall, it's a great little package.

Specification
Toyota Yaris Hybrid Dynamic Specs

Price: £21,920 (OTR)
Engine: 1.5-litre, Inline-3 Cylinder, Hybrid
Power: 114bhp
Torque: 141Nm
Transmission: e-CVT
0-62mph: 9.7 seconds
Top speed: 109mph
Weight: 1,085kg
Economy combined: 65.6mpg
CO2: 98g/km