Track it – Get It Out of Your System!
I enjoy the fact that although I don't own a Lamborghini, Aston Martin, or Ferrari, at least they are never too far away when you feel like having a blast in one. Every now and then you just need to get the speed demon out of your system; and there is no better way to do that it than taking someone else's performance car around a track until the tyres need changing.
There are lots of locations around the UK where you can get a real super car track experience for the price of a night at the pub. Really fast cars can be found at your fingertips; Nissan GTRs, Ferrari 430s, Lamborghini Gallardos – you name it you, can drive it.
So why are these experiences so popular?
We all know that super cars cost a fortune to buy, they depreciate enormously after signing your name and you need a second mortgage to run one. So super car track experiences are where you can have the most amount of fun for the minimum amount of money. When you put it into perspective depending on the track and day your attend you can have a few laps in a Lambo and then a few more in an R8 for less than a ticket to see Arsenal play a game of football. So with that in mind I'll be looking for a season ticket at the track this year I think!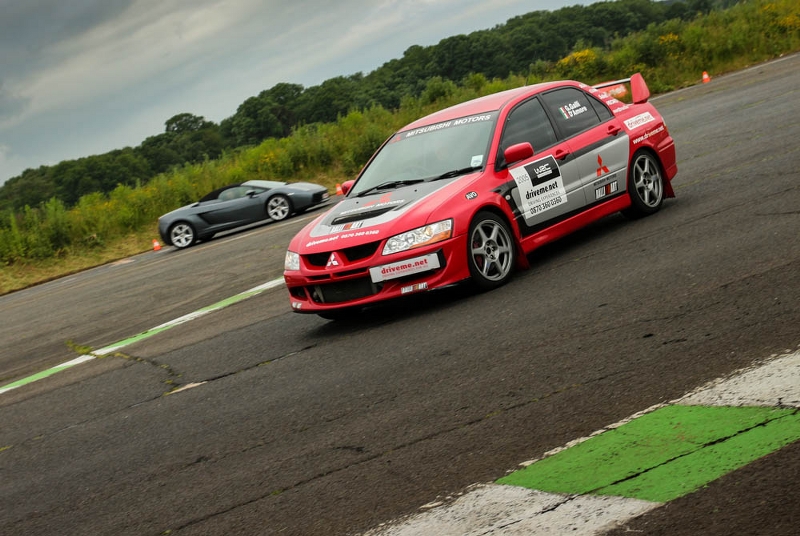 Guaranteed Fun!
My favourite car of the day is interestingly the Evo, there are two things I really like about the Evo, firstly it is ridiculously cheaper than everything else in its performance bracket, secondly it is so easy to extract performance from the car. With its clever 4 wheel drive system and super powerful 2.0-litre turbo engine, I was chasing down the bigger players on track and having just as much fun. Plus I hate to admit it, but I do love the sound of the dump valve venting between gears, it makes it sound really aggressive whilst launching the car down the straights. Any novice will have more fun and faster lap times in an Evo than a Ferrari on their first day at the track. After a bit of practice they will then easily be able to explore the more tail happy cars.
There is lots of fun to be had on the track! Tell us about your experiences in the comments below.
Full Gallery
Author: Paul Hadley