In this article, I'll be doing a quick overview Prize Drive, a motorsport-themed competition website.
Click the link to head over to their website.
What Is Prize Drive?
Prize Drive is a competition website that focuses specifically on motorsport. 
You have to be aged 18 or over.
When you arrive on the homepage, you'll be greeted by a fanfare of adrenaline-boosting photos, tempting you into entering a competition.
You'll have to make an account before you can enter for anything. The prizes include anything from a Car Jacking kit to a fully-funded season in the Focus Cup. Yes, literally. At the time of writing, these competitions are open for you to join and cost £2.50 and £9.73 per ticket, respectively.
Once you've got yourself set up, you can buy tickets for as many competitions as you like. There's a limit to the number of tickets you can own to keep it fair for everyone. Prize Drive's choice to impose this limit is a good sign, showing us as the customers that it's not just all about the money. They want people to have a good time, too.
What Could I Win?
Clearly, the answer to this depends on when you're reading this article. 
Currently their are 6 active competitions.
8 Drawer Motor Sports/Tool Flightcase

Karcher K5 Pressure Washer & WD2 Vacuum

 

Win A Day In A Focus Cup Racecar

Fully Funded Race Season In Focus Cup Championship

Milwaukee M18 High Torque Impact Wrench M12 Inflator M12 Torch Kit Full Set

Car Jacking Kit
I have no doubt that no matter when you're reading this, there will be something going on that will interest you.
To go to the list of Live Competitions, follow the link.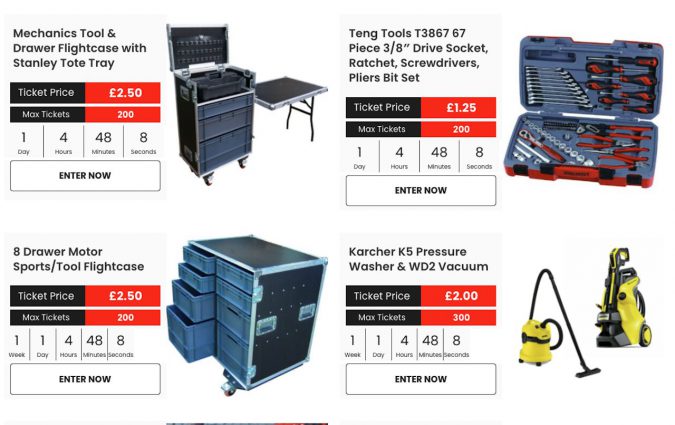 How Do I Enter A Prize Drive Competition?
You can buy tickets for a competition by buying them through the website.
How Is A Winner Chosen?
Prize Drive uses the random number generator from Google to choose a winner. You can watch the draw live on Facebook to see if you've won!
Winners are chosen at the following link: https://www.facebook.com/prizedrive.
It's imperative to keep your details up to date – your phone number and email address. 
Once you've won, there's a period of 21 days in which Prize Drive will try to get in touch with you. If they can't, they state that they "reserve the right to re-run the draw and pick a new winner".
Is Prize Drive New?
Prize Drive was set up very recently.
The winner's page currently only boasts two people, both of whom won prizes in competitions that ended in March 2021.
Just because it's new, that's no reason to be put off. In fact, it's probably worth getting in on the action before everyone else finds out about it and wants a go.
Are There Any Risks?
As with any competition website, you should be careful not to get carried away. Buy tickets for a laugh, but don't take it too seriously.
Competition websites don't fall under the restrictions of the 2005 Gambling Act, so you should always be careful not to get carried away.
Read a complete list of the rules around this here.
As with everything, you should also read the Terms and Conditions and Privacy Policy here.
Should I Give Prize Drive A Go?
Why not?
Just treat it as good fun and head over to Prize Drive to enter any competition that takes your fancy.