If you own a car with a set of alloy wheels, you will know that over time, through contact with potholes and kerbs, you may damage a wheel. We often talk about refurbishing alloy wheels but what really goes on during that process?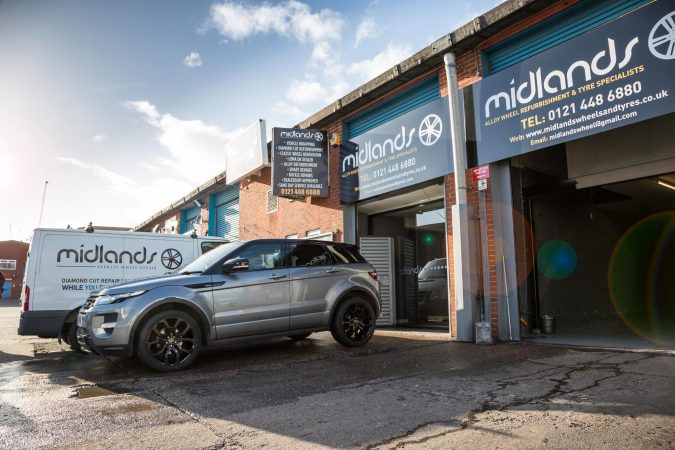 Working with Express Wheel Repair we took a look at the process used to bring a damaged wheel back to showroom condition again.
How to Refurbish Alloy Wheels – The Process
Below is a summary of all the care and craftsmanship that goes into correctly refurbishing an alloy wheel to the highest standard.  Continue reading to find out more information about each stage.
Wheel removed from the car and inspected for damage.
Chemical stripping.
Sandblasting and sanding preparation.
Heated in oven to prepare for painting.
Painted.
Heated in oven to dry paint.
Left to cool and dry.
Quality check.
Tyres fitted and balanced.
Wheels fitted back on the Car.
Wheels Removed From The Car And Inspected For Damage
Before any work can be carried out on an alloy wheel, it is essential to confirm what damage needs to be repaired first. At Express Wheel Repair an initial inspection was carried out on each wheel, with particular attention paid to the kerb marks. Once the tyre has been removed, it can be thoroughly assessed for buckling or cracks. This might mean additional work would need to be carried out to correct the wheel. You would be advised if this is required.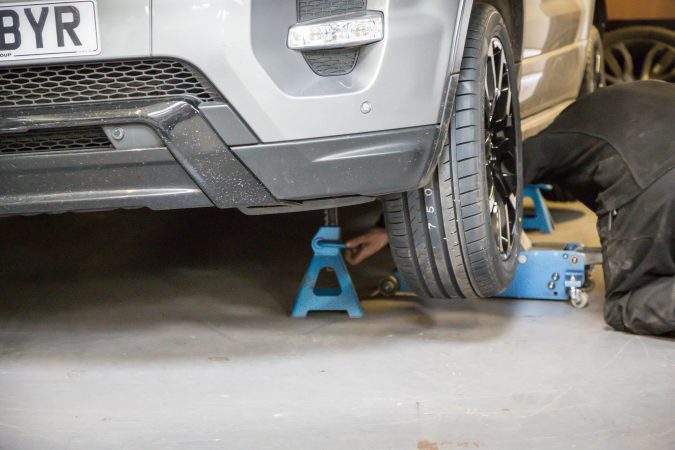 Chemical Stripping
With the tyres removed, the original coating on the wheel will need to be taken off. This is done by a chemical strip. Each of the wheels are dipped and soaked in a mixture of chemicals to remove the original coating, brake dust, oils and any contamination from the wheel.
Sand Blasting and Sanding Preparation
After the chemical strip, any damage to the wheel will be carefully sanded down leaving a smooth finish.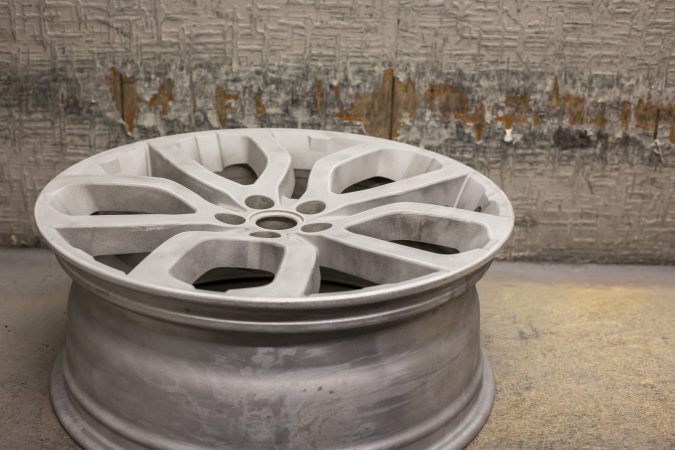 Next, the alloy wheels go through a thorough sand-blasting process that will finalise the preparation stage. They are now completely free of the original coating, which gives a perfect base for the new paint.
Heated in Oven – Primed For Painting
The wheels then need to be primed for painting. Being an alloy, the wheels are naturally cold. They are heated in a large walk-in oven for around 30 mins to prepare them for painting. The wheels can be heated up to 220c.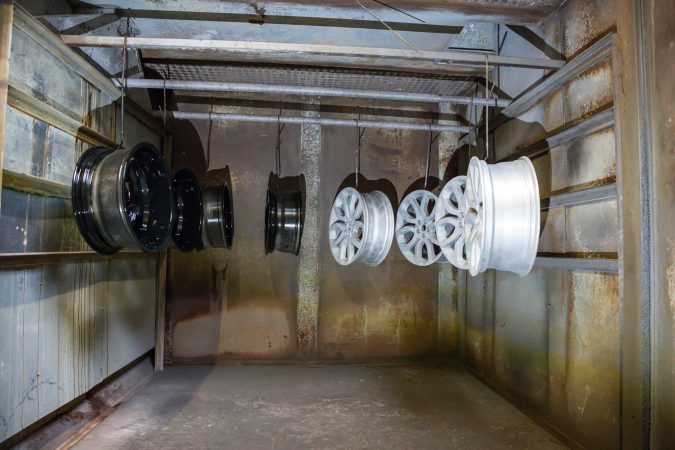 The Wheel Painting Process
The alloy wheels are removed from the oven and transferred straight to the painting bay.
This is a purpose-built area with constant extraction, which makes for easy painting. They are hung up and the wet powder coat is applied to the hot alloy wheels using a paint gun. Because of all the preparation beforehand, the paint forms a nice smooth surface on the wheel, when fired from the air gun.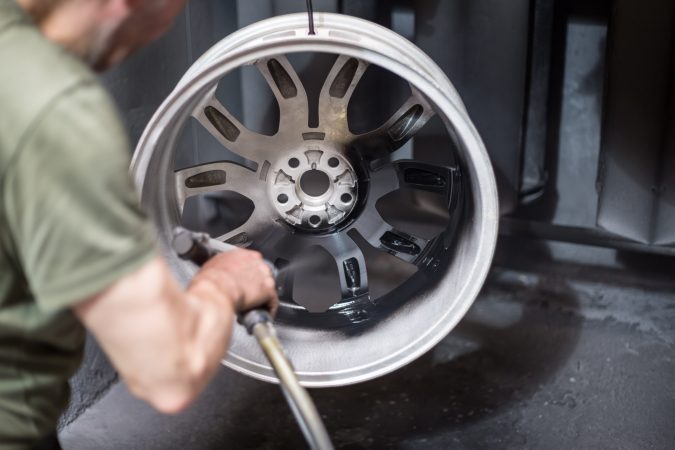 You can see above, the clever process of fresh paint being applied to a clean wheel. Instantly they look new again.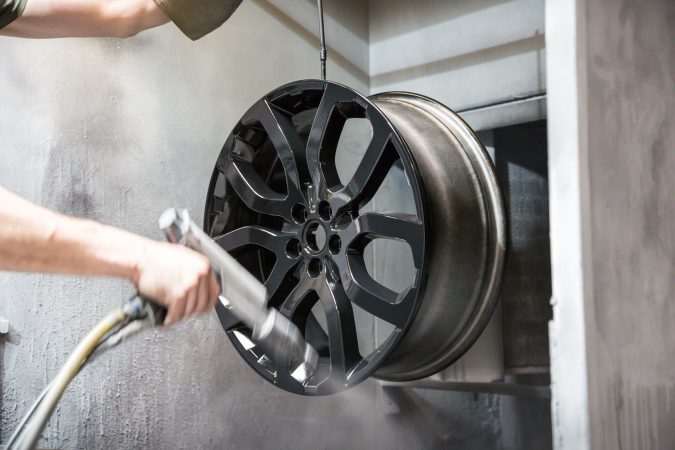 Heated in Oven To Dry
The alloy wheels are painted one at a time and then put back in the oven to dry for around 30-40 minutes. This accelerates the drying process and allows for a hard and robust paint surface on the wheel from day one.
Cooling and Drying
The alloy wheels are removed from the hot oven and hung up to allow further cooling and drying. It took around 20-30 minutes for the wheels to cool down before they could move onto the next part of the process.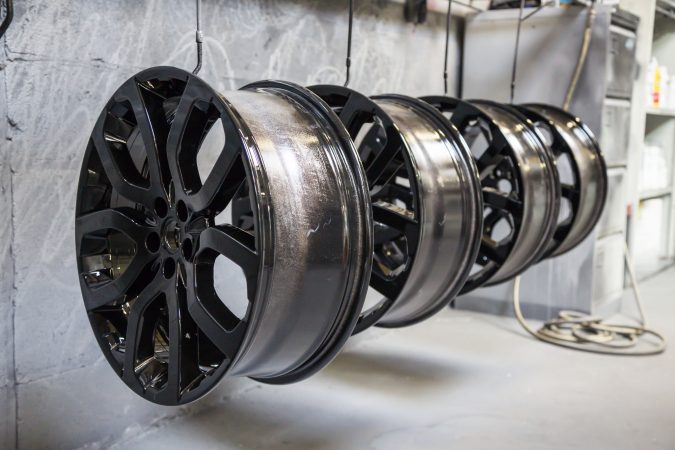 Quality Check
Now that they have been painted and cooled down, each wheel is carefully checked for any flaws in the paintwork.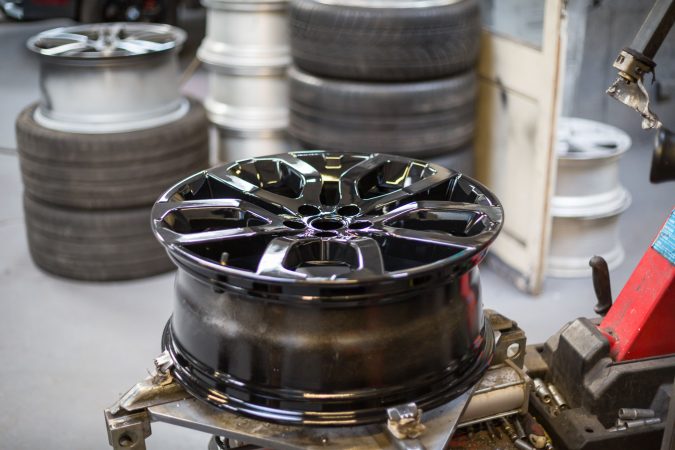 The examples I watched during the process were flawless, but sometimes additional coats may be required for certain wheel styles or colours.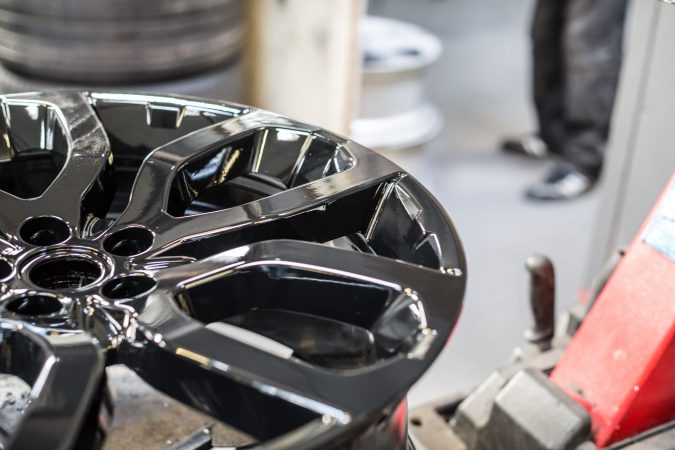 Tyres Fitted and Balanced
With a completely fresh wheel, all that is left is to fit the tyre back onto the alloy wheel. Of course, as the wheels have been refurbished, the tyre is fitted very carefully with all the correct tools to ensure the wheels are not damaged during this process. Next, the tyres are inflated and balanced.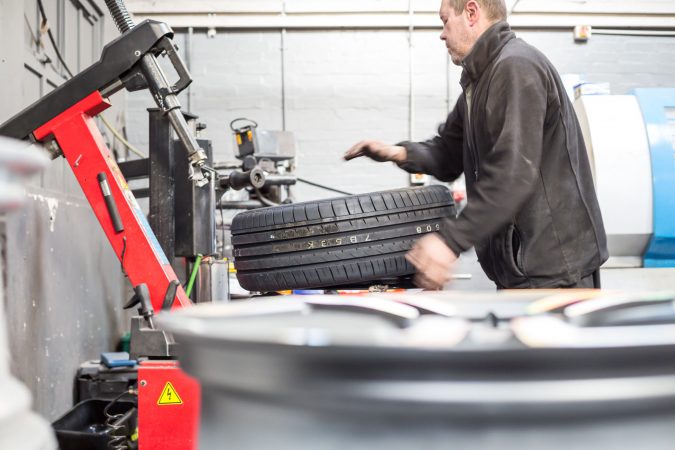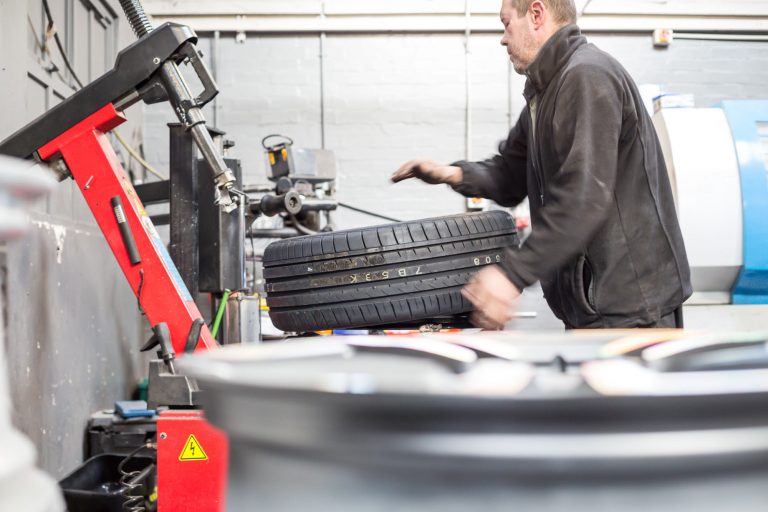 Putting The New Wheels Back On the Car
The wheels are then bolted back onto the car ready for the customer to see them in all their glory.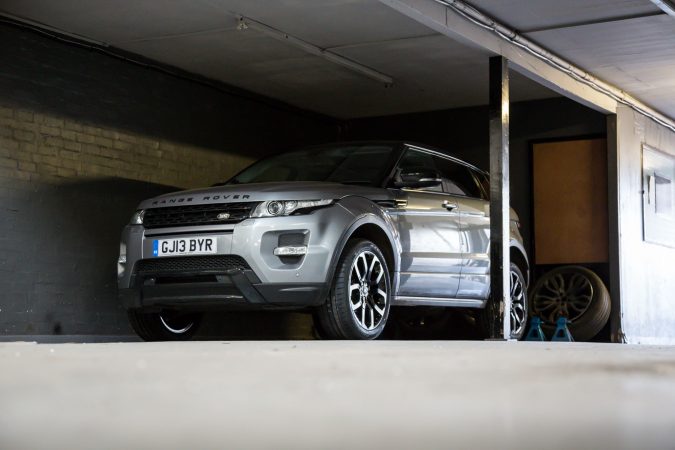 Aftercare for Refurbished Wheels
To keep the wheels looking great, it is advisable to steer clear of any harsh car washes, power washes and chemicals. For the first two weeks in particular, be gentle when maintaining your wheels. You need to allow additional time for the surface of the wheel to set fully to keep that perfect finish for longer.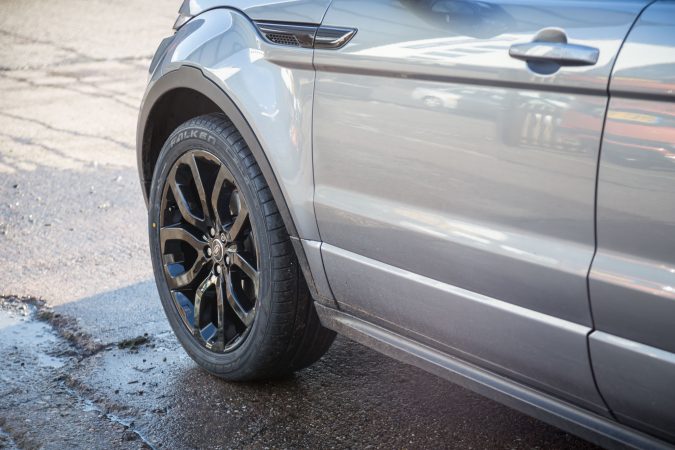 Verdict on Alloy Wheel Refurbishment
I often look at the alloy wheels to get an overall idea of a car's health. They often show how the vehicle has been driven, how it has been maintained and if it has been cared for. The cost of getting your alloy wheels refurbished is a small price to pay when compared to the increased value of your car after it has been done. The Range Rover Evoque wheels we had refurbished here were four years old and now look factory fresh again, all for a fraction of the cost of a new set of alloy wheels.
To find out more about alloy wheel refurbishment in Birmingham, continue reading below.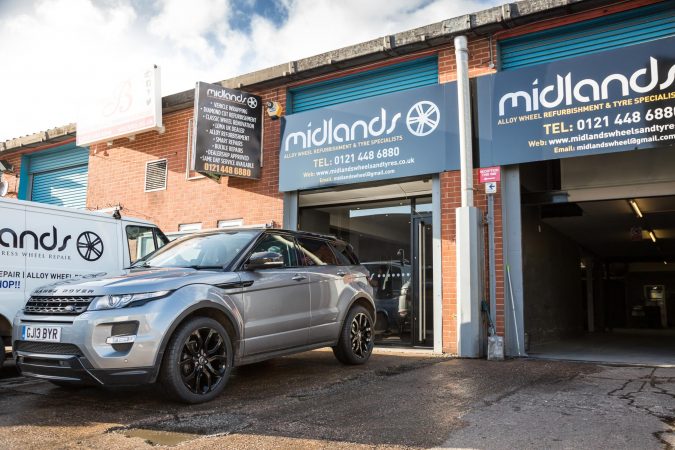 Express Wheel Repair Offerings
Express Wheel Repair offer a range of finishes for alloy wheels aside from the hardwearing powder coat finish that we went for during this test. Below are some of the other options that the specialists offer:
Diamond Cut
If you are looking for that custom look on your alloy wheels, Express Wheel Repair offer a diamond cutting service.
This gives a crisp, premium finish to the alloy wheel of your choice.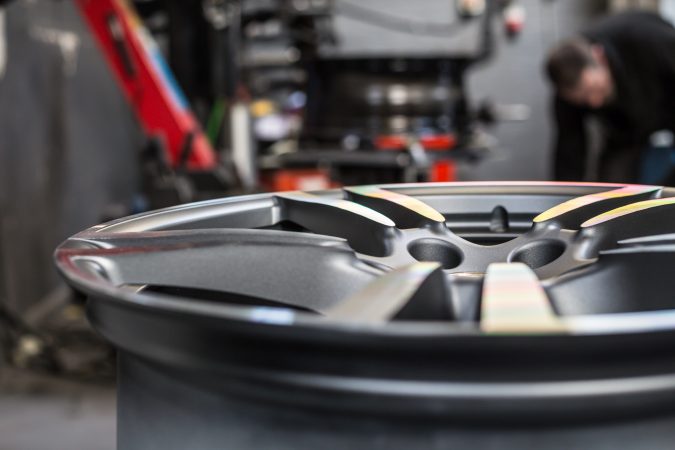 Polished Rims
If you are after a more stylish polished rim, that is no problem. A set of classic wheels can be altered, giving a unique look which sets your vehicle apart from the rest.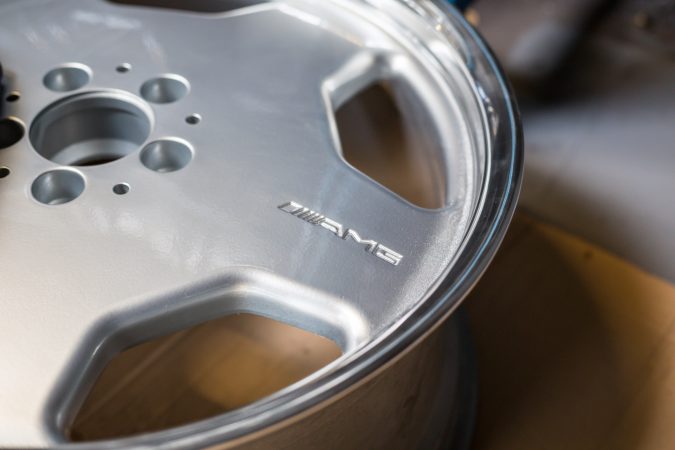 Coloured Rims
It is becoming more common in the modified car scene to go a little wild with a custom colour alloy wheel. The good news is that the options are endless, with lots of different colours available to make your model stand out.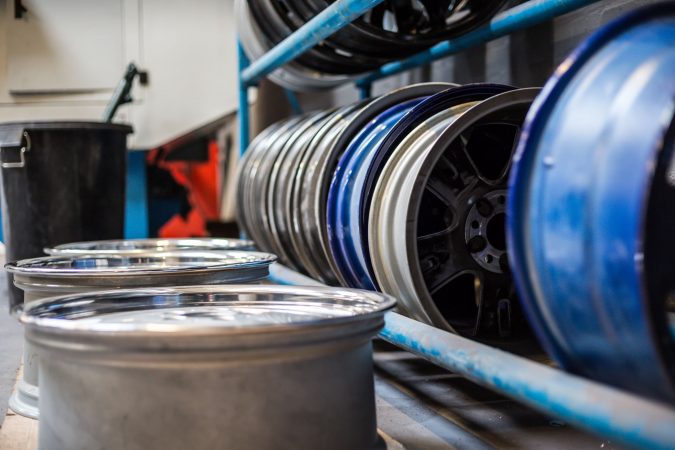 A Range of Alloy Tints
If you want a certain type of grey or silver, there are many tints to choose from, suited to each customer.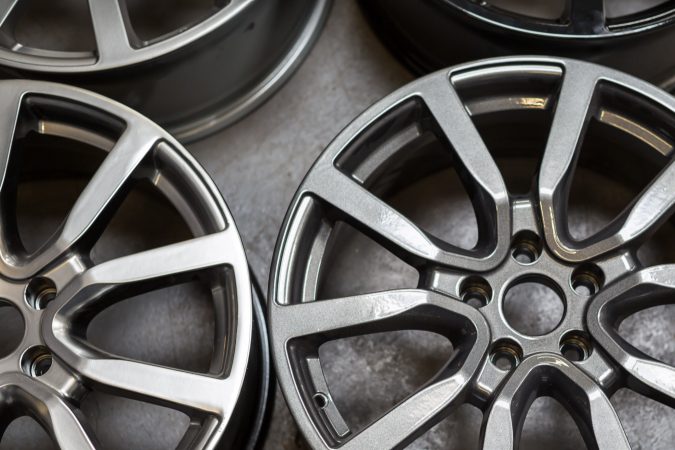 Premium, Prestige and Performance Wheels
Express Wheel Repair can cater to everyone's needs, no matter how expensive your wheels might be. If you want a professional job done on your Rolls-Royce, Bentley or Porsche, they have years of experience and will restore your wheels back to total health.