US consumers have a large appetite for trucks right now. From small trucks to full-size trucks, we just keep buying them to the point where the best-selling vehicle in the US is now a truck. And two name stands out: Ram Rebel and Ford Raptor. So, who wins in this Ram Rebel vs Ford Raptor battle?
If you've been thinking of buying one of these performance trucks, this post will help you decide between the two. Or if you just want to enrich yourself with knowledge and fun facts about these trucks, you can stick around too. Here's all you need to know about Ram Rebel vs Ford Raptor:
Ford Raptor vs Ram Rebel
Both the Ford Raptor and Ram Rebel are offroad-oriented trims of each truck. Note that the Raptor R is a completely different beast, as it focuses more on speedy offroading. And Ram's rival for the Raptor R is the Ram 1500 TRX. So we won't be discussing the Raptor R here.
Additionally, the Rebel is available with two engine options. But to keep things fair, we'll be comparing the Rebel's 5.7L version against the Raptor. So, let's take a closer look at the Raptor first:
Ford Raptor
We'll start with the Ford Raptor. Note that 'Raptor' is the nameplate that Ford uses for the high-performance versions of their trucks and SUVs, including the Ranger pickup truck and the new Ford Bronco. But of course, we're talking about the F-150 here.
The F-150 Raptor has been around since 2010. It was first offered with either a 5.4L Modular V8 or a 6.2L Boss V8. Then the second generation was introduced in 2017, and it came with the second-generation 3.5L twin-turbo V6 EcoBoost engine.
The truck is currently in its third iteration and comes with the same 3.5L EcoBoost V6 as standard. But there's an optional 5.2L Predator V8 in the Raptor R for those who crave more power. As mentioned, the Raptor R is a different beast and not comparable to the Rebel. So, we won't be discussing that any further and focus on the standard Raptor with its 3.5L EcoBoost engine.
Also, note that the Raptor only comes with a Crew Cab and short bed configuration. The bed length is 66 inches or about 5 feet 5 inches. Now, onto the more details about the powertrain:
Drivetrain & Performance
As mentioned, the Ford Raptor comes with a 3.5L twin-turbo V6 EcoBoost engine. Specifically, the second-generation "D35" engine has more power and better reliability than its first iteration. The two-timing chain system eliminates the unreliable and weak assembly problems in the first generation.
It also uses a combination of port and direct injection, as opposed to the direct injection system in the older version. This reduces carbon buildup in the intake manifold, and you won't need to clean it as often. We think this is one of the best Ford F-150 engines ever.
Anyway, the Raptor's EcoBoost makes 450 horsepower and 510lb-ft of torque. This gets you from 0 to 60mph in a very brisk 5.2 seconds. For context, that's faster than some small sports cars and hot hatchbacks such as the Toyota GT86 and the MINI Cooper S.
The fuel consumption isn't great though, despite being a smaller and turbocharged engine. This is mostly because it's the high-performance version of the engine. So, it will only do 14mpg city and 18mpg highway.
For context, the standard 3.5L EcoBoost can do 18mpg city and 24 mpg highway. And the larger 5.0L Coyote V8 can do 17mpg city and 24mpg highway.
The top speed is limited to "just" 120mph. And we think that's plenty fast enough for a truck this size. Overall, it's a good engine despite the thirst. Some might not like the fact that a full-size truck has a turbo V6 instead of a V8, but this is one of Ford's best engines no matter how you look at it.
Towing Capacity
The Raptor probably isn't the truck for you if you're going to tow very heavy loads. Its maximum tow capacity is 8,200 lbs, which is still a lot but less than the maximum tow capacity of other F-150 models. And as you'll learn later on, the Ram Rebel can tow more.
Still, 8,200lbs is plenty to play around with. This would be enough for most small to medium campers, fishing boats, or livestock trailers. But this is definitely an offroad truck, not a working truck.
Interior & Features
You pay a lot of money for the Raptor, so what do you get inside? Quite a lot, actually. You get heated & ventilated power leather front seats, a leather steering wheel, a 12-inch infotainment screen, and adaptive cruise control among other features.
It would take way too long if we were to list them all down. But overall, the Raptor has a lot of equipment as standard and a lovely interior to be in. The Limited trim will probably feel more luxurious, but the Raptor won't feel cheap either.
We took a look at their configurator and didn't really see any optional extras or packages that we thought were necessary. The optional Bang & Olufsen speakers would be nice, but probably unnecessary if you're not an audiophile.
Other than that, the only thing we would consider is the Tow Technology Package which includes a 360-degree camera, trailer assist features, a trailer brake controller (for more context, check out our guide on how to adjust trailer brakes), and a smart trailer tow connector.
Reliability
Ford's reliability track record isn't exactly stellar. But the F-150 lineup has been the exception since the twelfth generation. Mostly thanks to Ford abandoning the problematic Triton V8 engines.
Since then, the engines available for the F-150 are a couple of EcoBoost engines, a Coyote V8 (largely the same engine as in the Mustang), and a Powerstroke turbo-diesel V6 which has been discontinued since 2021.
 

View this post on Instagram

 
All of them—including the 3.5L EcoBoost in the Raptor—have had stellar reliability. The first-generation EcoBoost had timing chain issues, but the second-generation D35 in the Raptor has since resolved that.
Of course, the current Raptor is only a year old. So, there's a chance that these problems just hadn't had a chance to show up. But if the recent trends are anything to go by, then the Raptor should be a very reliable truck (just like the most reliable sports car).
Raptor Truck Price
The Raptor truck starts at $70,555. And we think the Raptor is already an excellent truck in its standard form. However, there are optional packages that you might be interested in. To truly get the "best" Raptor, we think you'll need to include these packages:
Raptor High Equipment Group – $4,755.
Raptor 37 Performance Package – $5,250.
We think you'll still be happy even without those packages above. But adding those will truly upgrade your Raptor and turn it into a much better truck.
The High Equipment Group includes a Torsen differential which will help it handle better in various conditions. It also adds the Bang & Olufsen sound system, second-row heated seats, wireless charging pad, and the tow package among others.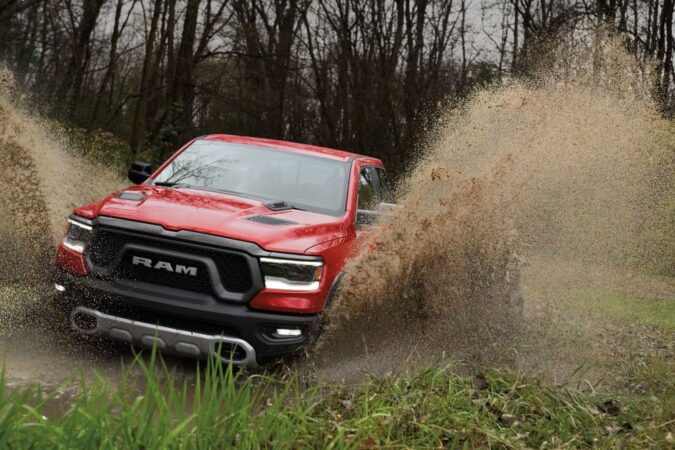 Meanwhile, the Raptor 37 package adds a set of 37-inch tires, 17-inch bead-lock capable wheels, and sport-tuned shock absorbers for better on-road and off-road capabilities. Again, completely optional, but a nice thing to have if you're serious about offroad performance.
This brings the MSRP to a very hefty $80,560. Whether or not that's worth it, that's up to you. But note that this is the MSRP from Ford; dealers are likely to charge quite a bit more than this due to current market conditions.
Ram Rebel
Ram started introducing the Rebel trim in 2016. As mentioned, this is their offroad-focused trim. You get a set of 33-inch Goodyear Wrangler tires, tow hooks, LED headlights, and several cosmetic upgrades as standard.
You can have the truck as either a 4×2 or a 4×4, but it's only available with the Crew Cab and 5'7″ short bed. If you're planning to haul a lot of things, the Rebel trim might not be for you.
Prices start from around $54,000 for the 4×4 model. But this comes with the standard 3.6L Pentastar V6 making just 305 horsepower. For a fair comparison with the Raptor, you'll need to be equipped with the 5.7L V8 HEMI, which brings the price to around $56,700 before other options. Anyway, here's the Ram Rebel in more detail:
Drivetrain & Performance
So the engine you want is the 5.7L HEMI V8. This engine makes 395 horsepower and 410lb-ft of torque, that's 55 horsepower and 100lb-ft of torque less than the Raptor.
It's less power, but then at least you have a V8. Everyone has to admit that V8s—especially good ones like HEMI—have a certain charm to them. The rumble, the grunt, the power delivery. They do it differently in a way that a turbo V6 just can't replicate.
It should be noted that whichever engine you choose, the top speed of the Ram Rebel is the same. They're all limited to just 118mph, the difference is in how fast they reach that and how much gas they burn while doing it.
Speaking of which, the 3.6L can do 20mpg city and 25mpg highway. Meanwhile, the 5.7L will do 15mpg in the city and 21mpg highway. So, the Hemi will do much worse than the Raptor, especially in the city. But if you care about the fuel consumption, there's a 3.0L diesel available.
Ram also offers a mild-hybrid version of the Hemi, called the eTorque. Power and torque remain the same, but Ram claims that it will do 15mpg in the city and 22mpg highway.
Note these figures are EPA estimates, and the Rebel with its chunky offroad tires is likely to consume more fuel due to the increased rolling resistance.
Ram Rebel Towing Capacity
Even though the Rebel loses in terms of power and torque, it can tow more than the Raptor. The standard 5.7L Hemi can tow up to 11,610 lbs. If you need slightly more than that, the eTorque version is rated at 12,750 lbs.
The 3.6L Pentastar will only be able to tow up to about 7,000 lbs. But if you were to get a diesel, the Ram Rebel can tow up to 12,560 lbs. So, aside from the Pentastar, the Rebel can comfortably tow more than the Raptor.
Note that towing capacities sometimes differ depending on the truck's configuration and packages. And the numbers above are the theoretical limits of each engine. You'll need to inquire with the dealer for the specifics.
Interior
Ram trucks generally have really good interiors with the top-notch build quality. But this being the offroad-oriented trim, the Rebel isn't exactly the most luxurious feeling.
Black cloth and vinyl seats are standard, and the luxury leather seats will cost you around an extra $1,500. You also get the sad-looking 5-inch touchscreen infotainment display as standard. Upgrading this will cost between $1,600 and $3,200 depending on the package you choose.
Overall, it's not very impressive. But considering it's much cheaper than the Raptor, this sort of thing is expected. If you don't mind the lack of features, we think it's still pretty good for the money.
However, if you just can't live without the luxury, you can add the Rebel Level 2 Equipment Group. This adds a larger 8.4-inch touchscreen with Apple CarPlay, heated front seats and steering wheel, power-adjustable pedals, and many more. The package's a little pricey at $3,245, but we think this is a must-have if you want a luxury-feeling truck.
You can also go further and add the Rebel 12 Package. It's a $1,625 option and gets you leather seats, a 19-speaker Harman Kardon sound system, and a massive 12-inch touchscreen. Not necessary, but the package is a pretty good deal.
Ram Rebel Reliability
The Ram Rebel is a very reliable truck much like the Ford Raptor. Whether you choose the 3.6L Pentastar or the full 5.7L Hemi V8, they're both durable and reliable engines.
However, the eTorque Hemi V8 is a relatively new engine and has only been around for about three years now. While it's still the same engine, we currently have no idea how reliable the hybrid system is. Nor how expensive it would be to fix. So, you should be wary of that if you're interested in the eTorque version.
 

View this post on Instagram

 
What we do know is that the Ram wins over the Raptor when it comes to running costs. RepairPal estimates that the average annual repair cost for Ram 1500 trucks is around $691. Meanwhile, the Ford will cost around $788 on average.
Both come with a 3-year/36,000-mile limited warranty, and a 5-year/50,000-mile warranty though. So, for the first five years, you probably won't have to worry too much about costs.
One more thing we should note, avoid the 2019 model year if you're going to buy a used Ram Rebel. This model year was quite problematic and had a lot of electrical and steering problems. But if you're buying new, there are very few complaints about the latest generation.
Ram Rebel Price
The Ram Rebel starts at $51,385 for the 4×2 version and $54,885 for the 4×4 version. As mentioned, this gets you the standard 3.6L Pentastar V6 engine and not a lot of features.
The standard Rebel does the job: it will go offroad, and it will tow a lot of things. But since we're comparing it to the Raptor, we think we need to spec it up so it's more on par. Here are the options and packages we think should be added to your Ram Rebel:
5.7L HEMI V8 – $2,975.
Rebel Level 2 Equipment Group – $3,245.
Rebel 12 Package – $1,625.
Comfort and Convenience Group – $695.
Advanced Safety Group – $1,695.
Those packages bring features like adaptive cruise control, power leather seats, a larger infotainment display, and other features to the Rebel—many of which are standard in the Raptor.
 

View this post on Instagram

 
If you've been keeping track, all that adds up to an MSRP of about $65,120. Around $5,000 less than the base Raptor, and around $15,000 less than our preferred spec for the Raptor.
Of course, like the Raptor, note that this is the MSRP on Ram's website, and dealerships may charge a lot more than this due to tough market conditions.
Ford Raptor vs Ram Rebel
Both the RAM Rebel and Ford Raptor represent the pinnacle of American off-road truck performance. Yet, while both claim the same terrain, they offer distinct experiences. Here's an in-depth look to help you choose between these two off-road giants.
Ram Rebel vs Ford Raptor, Considerations #1: Performance Under the Hood
Right off the bat, both trucks boast impressive power. The Ford Raptor typically runs on a high-output V6, delivering a perfect blend of power and efficiency. On the other hand, the RAM Rebel often offers a V8 option, bringing that classic throaty growl and a surge of power.
But it's not just about the raw numbers. While the Raptor focuses on speed and agility, the Rebel leans more towards torque and towing capabilities. So, if you're after a speedy desert runner, the Raptor might edge ahead. But for hauling and raw power, the Rebel stands tall.
Ram Rebel vs Ford Raptor, Considerations #2: Exterior and Build
Looks matter, especially with trucks of this caliber. The Raptor showcases an aggressive stance, wider fenders, and an unmistakable Ford grille. Meanwhile, the Rebel offers a rugged yet refined aesthetic, with its bold RAM front end and striking design cues.
Both trucks are built tough. However, the Raptor's frame is designed for high-speed off-road antics. In contrast, the Rebel emphasizes durability, especially when tackling rough terrains at lower speeds.
Ram Rebel vs Ford Raptor, Considerations #3: Interior Comfort and Tech
Slide into the driver's seat, and differences start to emerge. Ford's Raptor provides a sporty, tech-forward environment. Its infotainment system, often praised for its responsiveness, offers an array of features that tech-savvy drivers will love.
However, the RAM Rebel is no slouch. It combines luxury with utility. Premium materials, expansive screens, and intuitive controls make it a plush place to be. Plus, RAM's Uconnect system is among the best in the business, ensuring you're always connected, even off the beaten path.
Ram Rebel vs Ford Raptor, Considerations #4: Off-Road Capabilities
Now, for the juicy part. Both these trucks scream off-road prowess. The Raptor is renowned for its Baja-inspired capabilities. With its unique suspension system and terrain management, it soars over dunes with ease. Its high-speed desert-running capabilities are legendary.
But the Rebel counters with exceptional rock-crawling abilities. Its air suspension system, combined with robust skid plates and off-road tires, ensures it conquers challenging terrains effortlessly. In rough patches, where precision and power are crucial, the Rebel shines.
Ram Rebel vs Ford Raptor, Considerations #5: Price and Value
When investing in such trucks, you expect value. Both don't come cheap, but they offer a lot for the buck. The Raptor, with its performance-oriented setup, appeals to thrill-seekers. Its resale value also remains strong, a testament to its lasting appeal.
The RAM Rebel, however, provides a blend of luxury and performance. Its towing capacity and luxurious interior can justify its price tag for many. Furthermore, RAM has consistently improved its reliability scores over the years, making the Rebel a worthy long-term companion.
Both the RAM Rebel and the Ford Raptor offer outstanding packages. Your choice boils down to preferences. Do you lean towards high-speed off-road adventures or value rock-solid towing and a touch of luxury? Either way, you're in for a treat. As always, test drives can help you feel the differences firsthand. And remember, no matter which you choose, the open road (or off-road) awaits.
Ram Rebel vs Ford Raptor: The Competition
If you fancy neither the Rebel nor the Raptor, Ram and Ford aren't the only ones in the truck space. Here's a quick look at some other trucks you can consider over the Rebel and Raptor:
Chevy Silverado 1500 ZR2. The highest Silverado trim comes with 33-inch Goodyear mud-terrain tires, lifted and performance suspension, and a 6.2L EcoTec3 V8 engine. Prices start at around $70,195 before options.
Toyota Tundra TRD Pro. Highest trim of the new Tundra, with 18-inch wheels and 33-inch all-terrain tires, Fox suspension dampers, rear-locking differential, and crawl control. The engine is a 3.4L V6 hybrid, starting from $67,505.
Nissan Titan XD PRO-4X. Their offroad trim includes Bilstein shocks, an electronic rear locking differential, and all-terrain tires. Equipped with a 400-horsepower 5.6L V8 and MSRP starts at $57,120.
The Chevy Silverado is probably your best option of the three. Plenty of trim options, and the ZR2 is a very capable truck with lots of positive reviews. Note that the ride isn't quite as good as the Ram, and the interior doesn't feel quite as posh as the Ram Rebel or the Ford Raptor.
Meanwhile, the new Toyota Tundra is a great-looking truck and we love how it looks. The TRD Pro trim is better than ever, but it's not quite as light or agile as its rival. Nor is it very spacious.
The Nissan Titan, well, we kind of just put it there to fill the list. Admittedly the V8 engine's quite good, it's comfortable and well-equipped. But it can't put a candle against the other offroad-oriented trims on this list. And there's also Nissan's questionable reliability.
Ram Rebel VS Ford Raptor: Frequently Asked Questions (FAQs)
Any more questions about the Ram Rebel vs Ford Raptor? Here are some answers you might find helpful:
How Much Can A Ford Raptor Tow
The Raptor will tow up to 8,200lbs, regardless of whether it's the 3.5L EcoBoost or the 6,2L supercharged V8 Raptor R. Not the best truck for towing, but you still tow plenty of things with 8,200lbs.
Is Ford Better Than Dodge
This heavily depends on which car or truck model you're looking at. We can't give a definite answer as this has to be examined on a case-by-case (or technically car-by-car) basis. Ford has a wider range of cars, whereas Dodge now focuses mainly on muscle cars and SUVs. Both are also about equal in the aftersales service satisfaction according to J.D. Power. Also, note that Ram is now a separate company, albeit still under Stellantis ownership with Dodge.
What Is The Ram Equivalent To Raptor
This depends on which Raptor you're talking about. The standard Raptor with its 3.5L EcoBoost engine is equivalent to the Ram 1500 Rebel, as both of them are offroad trims. However, if you're talking about the Raptor R with its supercharged 6.2L V8, then the Ram equivalent would be the Ram 1500 TRX. Both are V8-powered trucks with speed and offroad performance in mind.
Are Ram Trucks Better Than Ford
It often comes down to which trim level you're considering. But Ram trucks are often seen to offer better value than Ford. Mainly because of their build quality and better ride comfort.
What Truck Competes With The Ford Raptor
The 3.5L EcoBoost Ford Raptor competes with the Ram 1500 Rebel, Chevy Silverado 1500 ZR2, and the Toyota Tundra TRD Pro. Meanwhile, the only rival for the Raptor R is the Ram 1500 TRX. General Motors currently has no contender in this 700+ horsepower truck class.
Ram Rebel VS Ford Raptor: In Conclusion…
So, Ram Rebel vs Ford Raptor, who wins? We think the Ram Rebel wins this one simply thanks to the value that it offers. As mentioned, we tried speccing the Ram up to our liking, and it was still significantly cheaper than the Raptor.
Despite its cheaper price, the Ram Rebel offers plenty of features, a decent amount of power, and good offroad prowess. We just don't quite see the value of the Ford apart from its Raptor branding.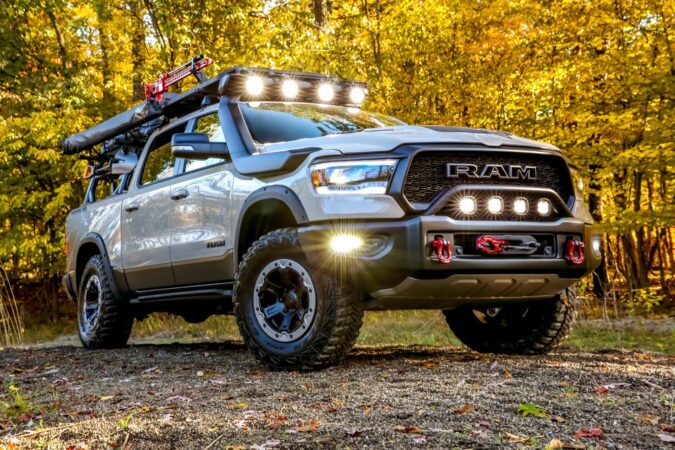 Before you decide, take a trip to both a Ram and Ford dealership. Ask if a test-drive unit is available, and take it for a thorough test drive. If not, then at least take a look at the insides and see which one you like better. We can only tell you so much, and in the end, it's up to you to decide.
Hopefully, this Ram Rebel vs Ford Raptor article has been helpful for you. Or at the very least, has been entertaining for you to read.