RAM V6 vs V8? The engine is one of the most crucial elements to consider when choosing a car. It is your truck's engine and has a big impact on the ride, cost, and mileage. Both of Ram's amazing engines, which are located on either side of the spectrum, will give you a plethora of helpful features to power your vehicle for the duration of its life.
Both engines are mated to an eight-speed TorqueFlite 8 gearbox, which is standard on all Ram 1500s. With TorqueFlite's eight gears, superior acceleration is possible, especially at lower speeds. There are no jerks on the road because shifting is effortless.
As you press the accelerator, a smooth and increasing power surge is felt through your RAM. Regardless of the engine, you select, you can be sure that the best transmission on the market will give you the highest possible performance.
The RAM V6 vs V8 comparison will be given in this article.
Dodge Ram 1500
When looking for a new vehicle, one of your top priorities should be the engine, namely how much power it produces and how much it can tow. The 2022 Ram 1500 offers five different engine options, including the standard 3.6 Pentastar V6, two 5.7L Hemi V8 engines, the EcoDiesel V6, and the TRX-exclusive 6.2L supercharged Hemi V8.
Here is some performance and towing information to assist you in determining which Ram 1500 engine is best for you.
RAM 1500 Specs
With a maximum payload capacity of 2,320 pounds and a maximum towing capability of 12,750 pounds, the 2022 Ram 1500 light-duty pickup offers performance for the way you want to utilize your truck.
Expect a wonderful in-cabin experience as well, complete with luxury touches, comforts, and conveniences that you and your passengers will surely appreciate. Check out the five engine choices available for the 2022 Ram 1500. Make certain that the trim you select has the engine you desire.
5.7L Hemi
The 5.7L Hemi V8 is an option to think about if you want a powerful V8 engine in your new truck. The 5.7L Hemi is durable thanks to its cast-iron block and aluminum alloy heads. Still, it's also effective thanks to its multi-displacement system, fuel conservation technology, and variable valve timing.
The 5.7L Hemi V8 engine, which is an update for the 2021 Ram 1500, offers a staggering 395 horsepower and 410 lb.-ft. of torque for you to play with on your regular commute. Installing this engine under the competent Ram 1500's hood makes it simple to find power and accuracy. This enormous engine can get 15 mpg in the city and 22 mpg on the highway. With a towing capacity of up to 11,610 lbs, the Ram 1500 is just as outstanding overall.
5.7L Hemi With eTorque
A 48-volt, 12-cell lithium-ion battery that drives a belt-start generator substitutes the conventional alternator in the eTorque mild hybrid system attached to the 5.7L Hemi V8 engine. This mild hybrid system produces 130 pound-feet of launch torque, which is ideal for moving a large trailer.
Another engine option for the 2021 Ram 1500 is the 5.7L Hemi V8 with eTorque, which offers an ideal 5.7 Hemi horsepower of 395 and 410 lb.-ft. of torque. The RAM 1500 eTorque mild hybrid system, which has the same specifications as the 5.7L Hemi V8, adds to the engine's performance and fuel economy capabilities.
The best-in-class 4×4 highway driving range is provided by the 17 MPG city and 23 MPG highway fuel economy of the 5.7 Hemi specs. Best-in-class towing of up to 12,750 lbs. is also included with the 5.7L Hemi V8 engine with eTorque.
3.6L Pentastar V6
The Pentastar V6 is a balanced engine that serves as the base engine for the majority of the Ram 1500 family. It has an aluminum block and heads made of aluminum alloy, and it uses wide-range variable valve timing and two-step variable valve lift. These Hemi eTorque specs produce 90 pound-feet of launch torque.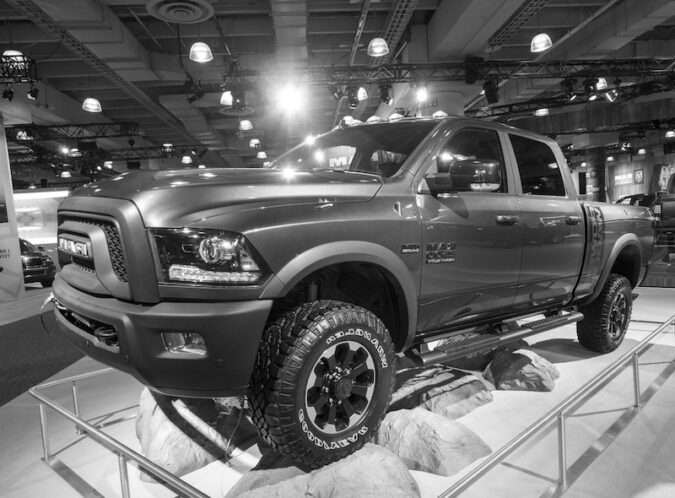 3.0L EcoDiesel V6
The Dodge Ram 1500 Diesel's EcoDiesel V6 is the engine to choose if you want high torque figures and the best fuel economy. A maximum torque of 1,600 revolutions per minute (rpm), which is much less than that of gas engines, is produced by the cast-iron engine block, which can withstand rigorous operations.
You may learn more about the 1500 RAM EcoDiesel specs, here. This enormous engine has 260 HP and 480 lb-ft of torque, giving you a maximum RAM 1500 EcoDiesel towing capacity of 12,560 lbs.
6.2L Supercharged Hemi V8
The enormous 6.2L Hemi V8 is the engine of the Ram 1500 TRX. The twin-screw supercharger releases an almost instantaneous burst of torque that propels the TRX from 0 to 60 mph in only 4.5 seconds. The 6.2L Hemi engine has a 14,600 rpm maximum engine speed and is constructed with a cast-iron engine block, a forged-steel crankshaft, and induction-hardened bearings.
RAM RcoDiesel Years To Avoid
2003
2010-2013 (5.7-liter V8)
2014
2015
2016
Each of these years has experienced its fair share of issues and recalls. Not every truck will run the danger of having problems, depending on the drivetrain option. Depending on the chosen drivetrain, some of the issues can also affect the RAM 2500 and upwards.
5.7 Hemi Problems
The four most frequent 5.7 Hemi issues are, in no particular order:
RAM V6 vs V8 HEMI Problems #1: Engine Tick
Our main concern here is faulty lifters and seized lifter rollers. This appears to be the most prevalent and significant contributing factor to the Chrysler 345 Hemi engine ticking issue. Some speculate that the multi-displacement technology is to blame because it appears to be most prevalent in models made in 2009 and later.
It is reasonable. In the end, the issue is probably due to insufficient oil supply to the lifter rollers, which causes a seizure. The ticking noises are produced when the lifter makes contact with the camshaft lobes. Shavings appear in the oil as a result of the metal-on-metal contact. The oil filter should capture the majority of shavings and stop further harm if discovered quickly enough.
RAM V6 vs V8 HEMI Problems #2: Bolts For The Exhaust Manifold
Broken exhaust manifold bolts are the most frequent issue with the 5.7L Hemi. Some claim to have encountered this issue repeatedly. The bolt on the rear passenger-side manifold frequently fails first. Many believe that because of how hot this area of the engine and manifold is, the rear bolts fail first.
According to the theory, the manifold actually warps in the direction of the back, which leads to bolt failures. There isn't much else to say about this problem with the 5.7 Hemi. However, one intriguing discussion topic brings us back to the engine tick. Broken manifold mounting bolts could be the real reason for some 345 Hemi ticks.
There is little doubt that the failure point for the ticks we mentioned above differs. However, you should examine the exhaust manifold bolts first if your Chrysler 5.7 engine is ticking. Usually, it's a more frequent failure, and fixing it is considerably simpler and less expensive.
RAM V6 vs V8 HEMI Problems #3: Multi-Displacement System (MDS)
The 5.7 Eagle Hemi engine (2009+ update) uses multi-displacement technology to turn off 4 cylinders while driving. It's a fantastic technique to increase fuel efficiency and pollution. There is nothing wrong with MDS at first glance.
The powerful 5.7-liter displacement is still available when you need or desire it. The engine is indeed more effective when you don't, though. Manual deactivation of the MDS is an option for the 5.7 Hemi.
On the other hand, several owners of 345 Hemi engines worry about the MDS. Engine operation occasionally seems to be forced or unnatural in the system. There is also some dispute regarding cylinder deactivation's potential impact on the 5.7 Hemi lifetime.
RAM V6 vs V8 HEMI Problems #4: Engine Misfires
It's not really accurate to refer to misfires as a prevalent issue. Misfires are frequently the result of other defects, such as lifter roller failures. As a result, it serves more as a symptom than a problem in those situations. However, routine maintenance items might also lead to misfires. The 5.7L Hemi spark plugs are the main concern here.
The Hemi contains 16 spark plugs. It gives aged, worn spark plugs plenty of room to malfunction. Internal problems such as lifter rollers, defective injectors, ignition coils, etc. Spark plugs, however, are a simple maintenance item that is simple to overlook.
Difference Between V6 And V8
What distinctions do a RAM V6 vs V8 engine have besides the number of cylinders? To help you decide which is best for you, we'll go down their distinctions as well as some of their benefits.
RAM V6 vs V8: What's A V6 Engine
The V6 engine has a reliable, portable size. V6 engines have been used since the beginning of internal combustion engines. Despite being straightforward, it is often lighter and less expensive to create.
V6 engines have more power and run smoother than four-cylinder engines. One of the main advantages of switching to a V6 engine is fuel efficiency. Last but not least, compared to their V8 counterparts, V6 engines might offer more stability and better handling.
RAM V6 vs V8: What's A V8 Engine
In general, V8 engines provide more power and acceleration. V8 engines are therefore said to be compatible with the majority of muscle cars. Your car can offer you a lot of steady power if you use it mostly for carrying and towing.
The driver may feel the engine's ample vigor and power just softly depressing the accelerator, which is just one of the numerous benefits of getting into a V8-powered vehicle to enjoy a polished and opulent ride along with faster acceleration and superior performance.
V6 Pentastar
2011 saw the introduction of the DOHC 24-valve 3.6 Pentastar V6 engine. It has sequential multi-port fuel injection, dual Variable Valve Timing (VVT), aluminum block and heads, and these features. The engine has a 3.6-liter displacement, a 3.62 in the bore, and a 3.31 in stroke. The device has a compression ratio of 10.2:1.
The Pentastar V6 engine produces 305 horsepower at a speed of 6,400 rpm. At 4,800 rpm, 269 lb-ft of torque is produced. 6,800 rpm is the redline.
1. Reliability
For many drivers, the Pentastar V6 engine is a trustworthy option. Customers and critics alike have praised its technical capabilities and performance attributes. The same potential issues could, however, occur with any engine.
The Pentastar V6 engine's oil consumption after extended use is one of the most often stated criticisms. As time passes, many drivers have noticed that their engines use more oil than they should, which in certain circumstances might cause major issues.
The noise level of the Pentastar V6 engine is another potential issue. Some drivers have noted that their engines are louder than they anticipated, and if this is not fixed, it may be inconvenient or even dangerous.
2. Fuel Mileage
The Pentastar V6 engine's fuel economy is one of its primary selling factors. The Pentastar V6 is predicted to get roughly 19 mpg in the city and 28 mpg on the interstate in terms of fuel economy. However, these numbers can change depending on a wide range of variables, including the kind of vehicle you drive, your driving style, and even the weather.
Hemi V8
The third generation of the Hemi V8 engine is currently available. It had a 5.7-liter displacement, 3.917-inch bore, 3.578-inch stroke, and 90-degree cylinder bank layout. It can generate up to 395 horsepower at 5,600 rpm and 410 lb-ft of torque at 4,000 rpm. The engine has a compression ratio of 10.9:1.
Willem Weertman, a Chrysler engineer, invented the engine, which made its debut in 1951. Due to its hemispherical combustion chambers, it was given the name Hemi. The combustion chamber is no longer exactly hemispherical in shape, however, this allows for a larger compression ratio, which increases power output. One of the most widely utilized engines in modern vehicles, the Hemi V8 engine has continuously improved.
1. Reliability
Although the Hemi V8 engine is renowned for its durability and high-performance levels, it can have issues just like any other engine.
The piston slap of the Hemi V8 is one frequent problem. This is the time when the piston is moving up and down in the cylinder and making a knocking sound. It can be resolved with an overhaul or replacement because it is typically brought on by the piston becoming loose in the cylinder.
Failure of the head gasket is another issue that can impact the Hemi V8. When this happens, coolant and oil mix because the gasket that keeps the cylinder heads attached to the block fails. This needs to be corrected right away because it could damage the engine.
Generally speaking, the Hemi V8 is a dependable engine that has been installed in a wide range of automobiles over the years. It is renowned for its strength and longevity, but like any engine, it is not immune to issues.
2. Fuel Mileage
The hemispherical combustion chamber architecture used by the Hemi V8 enables more thorough burning of the fuel/air mixture. As a result, power and efficiency are boosted.
The Dodge Ram 1500 gas mileage is good according to the engine of its size and power. The engine can actually achieve up to 23 mpg on the interstate and 17 mpg in the city in newer variants.
Of course, a number of variables, such as your driving style and vehicle weight, may affect your actual mileage. However, the Hemi V8 is unquestionably a viable option if you're seeking a powerful engine that is also somewhat fuel-efficient.
Dodge RAM 1500 EcoDiesel Reliability
Considering the size of the vehicle, the diesel engine is reliable and achieves reasonable fuel efficiency. Your 1500 EcoDiesel should endure for a very long time if you are able to maintain your regular maintenance as well as other things like fluids, suspension, and general upkeep. Some owners claim that this figure is in the range of 200,000 and 300,000 miles.
Ram eTorque Problems
Your Ram vehicle will benefit from three separate benefits when you use an eTorque: better battery fuel economy, more towing capacity, and increased payload capacity. Therefore, it is clear why people adore installing eTorque in their Ram pickups.
But regrettably, there will inevitably be some ram truck eTorque issues following installation. Some problems can be resolved right away, while others could take up to two weeks to resolve.
RAM V6 vs V8 eTorque Problems #1: Turns Off Automatically
When your Ram vehicle has eTorque, you can notice that while you're driving, the ignition mode will suddenly change from run to ACC (Adaptive Cruise Control). However, because ACC automatically turns on, this issue hardly ever results in serious accidents. It will notify you that your engine has stopped and you are in ACC mode if you are driving your truck at high speed and the engine stalls suddenly so you can park it securely.
RAM V6 vs V8 eTorque Problems #2: eTorque Only Operates When The AC Or Ventilated Seats Are Off
Among the several 2020 Ram eTorque faults, this one is the most prevalent. The AC or ventilated seats won't operate while the eTorque is on, and vice versa. When one of these is active, a notification stating that the eTorque is inoperable will appear on the computer screen.
RAM V6 vs V8 eTorque Problems #3: eTorque Suddenly Stops Working
Older eTorque models are most frequently affected by this issue, though occasionally newer ones as well. It might happen as a result of RAM eTorque battery issues. With the new eTorque, your truck may occasionally spend a month in the garage.
As a result, the battery may become damaged from being hooked to the truck and not being used for a long period. Even if you bring an eTorque battery that is fully charged, you may find that after operating the vehicle for a time, the eTorque motor abruptly shuts off.
RAM V6 vs V8 eTorque Problems #4: EVIC Displays Wrong Battery Voltage
The EVIC may report an erroneous battery voltage as a result of using the eTorque. It can indicate a lower voltage than what you actually drive on.
Dodge RAM V6 vs V8
Considering all we've said so far, we can consequently draw the following conclusions:
RAM V6 vs V8 Reliability
In general, the Pentastar V6 is thought to be more dependable than the Hemi V8. This is so because the Pentastar V6 is a more recent engine model and hasn't had as much time to accumulate issues.
On the other hand, because the Hemi V8 has been around longer, it has had more time to develop problems. Hemi, on the other hand, might be claimed to be a versatile and durable product given that it has been in production for decades with numerous adjustments.
RAM V6 vs V8 Fuel Economy
Compared to the Hemi V8, the Pentastar V6 offers superior fuel efficiency. This is so because the Pentastar V6 burns less fuel due to its reduced size. On the other hand, the Hemi V8 has a bigger engine and uses more fuel.
RAM V6 vs V8 Applications
Pentastar V6 engines are mainly seen in smaller cars like sedans and crossovers. In contrast, the Hemi V8 is usually found in larger vehicles like trucks or SUVs. This is because, in contrast to the Hemi V8, the Pentastar V6 just lacks the power to propel a larger vehicle.
RAM V6 vs V8 Performance
Both the Pentastar V6 and the Hemi V8 are robust engines, but they serve different performance objectives. The Hemi V8 is, by nature, a powerhouse. This engine offers more torque and horsepower, making it a prime choice for those needing a truck for heavy lifting, towing, or rugged activities.
On the other hand, the Pentastar V6 offers enough power for daily driving and lighter tasks. Its performance, while impressive, leans towards a smoother ride and less brute strength.
RAM V6 vs V8 Towing Capacity
Towing is a crucial consideration for truck buyers. Given its superior horsepower and torque, the Hemi V8 generally offers a higher towing capacity than the Pentastar V6. If towing heavy loads is a regular part of your truck's duties, you might lean towards the V8 option.
In contrast, lighter towing or occasional hauling situations make the V6 a viable option. Always check the manufacturer's specific towing guidelines for each engine option to ensure you get the capacity you need.
RAM V6 vs V8 Initial Cost and Maintenance
Budget considerations are always paramount. In most cases, opting for the Hemi V8 will see a higher initial cost compared to the V6. The increased size and power of the V8 naturally elevate its price point. Additionally, maintenance costs for the V8 might be slightly higher due to its intricate components.
Meanwhile, the V6 is typically more affordable in both purchase price and maintenance.
RAM V6 vs V8 Sound and Driving Experience
For automotive enthusiasts, the sound of the engine can be a selling point. The V8, with its deep and throaty roar, often appeals to those who love a more aggressive driving sensation. On the other hand, the V6 offers a quieter, more subdued experience.
The driving feel differs too. The V8 provides a more raw, connected sensation, especially during acceleration. However, the V6 promises a smoother, more balanced ride for everyday use.
RAM V6 vs V8 Environmental Impact
Environmental considerations are becoming increasingly important. While both engines have undergone tweaks and upgrades to meet environmental standards, the V6 has an edge in terms of emissions. With its smaller size and better fuel efficiency, the V6 typically produces fewer emissions than the V8. For environmentally-conscious drivers, this could be a deciding factor.
Choosing between the Pentastar V6 and the Hemi V8 is more than just a question of power. It's about understanding your driving needs, budget, and personal preferences. Whether you prioritize performance, towing capacity, cost, or environmental impact, both engines have unique strengths. Remember to consider each factor carefully and test-drive both options before making a final decision.
RAM V6 vs V8 Resale Value
When considering a vehicle purchase, it's prudent to also think of its resale value. Historically, trucks with V8 engines have often retained a higher resale value compared to their V6 counterparts, particularly in markets where towing capacity and performance are highly valued.
For buyers who see their vehicles as an investment and might consider selling in the future, this is a factor worth considering.
RAM V6 vs V8 Insurance Costs
Insurance rates can vary based on the type of engine a vehicle has. V8 engines, recognized for their higher performance and increased risk of accidents (due to potentially aggressive driving), might have a higher insurance premium.
On the other hand, the V6, seen as more of a daily driver with adequate power, might attract slightly lower rates. It's always a good idea to get a quote for both models before purchasing.
RAM V6 vs V8 Weight and Handling
The engine's weight can significantly impact a vehicle's handling and driving dynamics. Generally, V8 engines are heavier, which can influence the truck's center of gravity. While this might offer better stability during towing, it could also make the truck feel less agile in tight corners. The V6, being lighter, might offer a nimble feel, especially in urban environments.
RAM V6 vs V8 Parts Availability and Customization
Given the longer history of the Hemi V8, there's an extensive market for aftermarket parts and customization options. Owners looking to modify or customize their trucks might find a wider range of options for the V8. The V6, although newer, is catching up in this regard, but might not have as expansive a selection just yet.
RAM V6 vs V8 Fuel Type and Efficiency
While both engines primarily use gasoline, advancements in technology have seen certain V8 engines being offered with flex-fuel capabilities, allowing them to run on a mixture of gasoline and ethanol. This can offer some cost savings and potentially cleaner emissions. However, the specific fuel efficiency can vary based on the type of fuel used.
Every driver's needs are unique. From performance and towing to insurance and customization, the choice between the Pentastar V6 and the Hemi V8 involves many considerations. It's essential to be well-informed and consider the long-term implications of your choice, whether it's about day-to-day driving, financial aspects, or environmental impact.
As always, consulting experts and conducting personal research go a long way in making the best decision.
Truck Engines: Pros of V6 and V8 Engines
V6 and V8 engines are named based on the number of cylinders in the engine; V6 has six cylinders, while V8 has eight cylinders.
Modern engines now have unique systems that bridge the power gap between V6 and V8 engines.
V6 engines are seen as more flexible and often more economical than V8 engines.
V6 engines typically offer better gas mileage compared to V8 engines.
V6 engines have fewer moving parts and are cheaper and easier to maintain.
V6 engines are smaller and lighter than V8 engines, offering better handling.
V6 engines can be supercharged to offer competitive power outputs.
V8 engines offer the highest power ceiling, making them the better option for daily hauling and towing.
V8 engines provide better speed and acceleration when hauling, with less strain on the engine.
V8 engines can haul more weight more often than V6 engines, with less strain on the vehicle.
RAM V6 vs V8: Frequently Asked Questions (FAQs)
Here are some popular FAQs:
How Many Cylinders In A V6
It has a combined volume of 3.5 liters in a six-cylinder V6 engine. This six-cylinder engine, which has two extra cylinders compared to a four-cylinder, is more potent and smoother and is probably aimed at consumers who want a performance and fuel economy that are well-balanced but also have extra power available when needed.
What Does V8 Mean
An eight-cylinder engine with a V configuration is known as a V8 engine. It has two sets (or banks) of four cylinders installed on the crankcase, and all eight pistons are connected to the same crankshaft.
What Does V6 Mean
A V6 engine has two banks of three cylinders with six cylinders arranged on the crankcase, typically at a 60- or 90-degree angle to one another.
What Is eTorque
When a vehicle is traveling at low speeds, Ram eTorque collects braking energy, stores it, and then uses it to support the engine. Ram eTorque, which works similarly to regeneration technology seen in hybrid vehicles and provides efficiency without compromising power, is exceptionally rare due to its use in truck models.
How Much Horsepower Does A 5.7 Hemi Have
The Ram 1500's 5.7-liter Hemi V8 engine, which generates 395 horsepower and 410 lb-ft of torque, is the most powerful engine option available.
What's A Hemi
The term Hemi described an engine with hemispherical combustion chambers and rounded, as opposed to flat, piston tops. Due to the combustion chambers' hemispherical form, it is possible to use larger valves to enhance air intake and exhaust flow as well as spark plug location, resulting in more complete combustion and increased power output.
How Many Cylinders In A V8
Eight cylinders make up a V8 engine, one for each spark plug beneath the two valve covers on either half of the engine.
Is The 5.7 Hemi A Good Engine
The 19-year production history and a large number of delighted owners are evidence that the 5.7L Hemi is a good engine. If some of the issues we've spoken about don't arise, it should be able to travel more than 200,000 miles without issue.
What Does Hemi Stand For
Hemi, which is a shortened version of the word hemispherical, refers to an engine type with a hemispherically shaped combustion chamber.
Is A V6 Engine Fast
V6 engines are found in some of the fastest vehicles on the road today. Sporty, expensive sedans, powerful luxury automobiles, and even real supercars are among these fast, V6-powered cars. Top speed or the time from 0 to 60 mph is used to define what is fastest.
Is Dodge Getting Rid Of The Hemi
Hemi V8 engines and Dodge performance vehicles are a potent mix, but according to the CEO of Dodge, the Hemi will soon be replaced by electrified variants. The majority of automakers are currently moving toward electrification, according to Autoblog, because of the pressure surrounding emissions regulation. The CEO of the Dodge brand, Tom Kiniskis, claims that it won't happen anytime soon. It is anticipated that this generation will last until late 2023. However, the next generation of Dodge vehicles will probably feature a hybrid design.
Is A V6 Faster Than A V8
The V8 can generate more power, which allows your car to accelerate much more quickly.
Are V6 Engines Good
V6 engines are more powerful and have smoother running when compared to four-cylinder engines. One of the main advantages of switching to a V6 engine is fuel efficiency. Additionally, compared to their V8 counterparts, V6 engines might offer superior handling and more stability.
Are Hemi Engines Reliable
The Hemi family of engines is generally fairly dependable; however, no engine is completely trouble-free. For instance, the Hemi tick is the most noticeable problem with the 5.7 Hemi engine, which has been manufactured for almost 20 years. Failure of the lifter bearing led to this problem. Even though it occurs more frequently in vehicles with increasing miles, it is a fixable issue and does not have a significant negative impact.
How Long Do Dodge Rams Last
When properly maintained and not overworked, the Ram 1500 pickup truck may go between 200,000 and 250,000 miles before needing to be replaced.
RAM V6 vs V8: In Conclusion…
In conclusion, the Pentastar V6 is a fantastic option if you're looking for a dependable engine with good gas mileage. The Hemi V8 is a great option if you require an engine with a lot of power that is also suitable for large cars.
Despite the fact that the Pentastar V6 only placed better in one of the three areas than the Hemi V8, your decision should ultimately come down to how you want to use your engine, your driving habits, and the type of vehicle you have. As a result, the final decision is mostly based on your personal preferences.