Looking for reliable used cars? We've got some suggestions for you! We've compiled some of the most reliable used cars that you can consider for your next purchase. To make it easier, we broke it down according to the car segments to make it easier for you to find what you might want.
Buying Used Cars: An Important Note
Before we start, there's something you should note: every secondhand car is different. You can buy two virtually identical cars with the same make and model, from the same year, with the same specs, and yet these two can be very different cars.
Why? Because used cars have lived very different lives. One car may have had an owner that meticulously taken care of it. Detailing the car every couple of years, making sure to not miss any scheduled maintenance, and perhaps even going the extra mile by driving carefully.
While another may have been owned by someone completely clueless about cars. Missing maintenance, and even postponing repairs that lead to further problems developing in the car.
For this reason, no matter how good the reliability rating is, you have to do your due diligence and make sure you're not buying a lemon. We'll let you know our tips for buying secondhand cars at the end of this article. But for now, let's take a look at the reliable used cars you should consider:
Reliable Used Cars: Compact Cars
We start with cars in the compact hatchback and sedans segment first. These are ideal for the bachelors and bachelorettes that need a small, simple, reliable car to commute with. However, these options are also very good for those with a small family and want an affordable reliable car:
Toyota Corolla
Of course, we start with the Toyota Corolla. After all, few carmakers are quite as reliable as Toyota. In fact, we should note that most of the cars on this list are going to be Japanese.
Anyway, the Corolla is hardly the most exciting car you can buy. But when it comes to affordable and reliable used compact cars, it's one of your best bets. But surprisingly, some models actually score average in terms of reliability. For example, as recently as 2015, the Corolla scores a 3.5 out of 5 in J.D. Power's reliability score.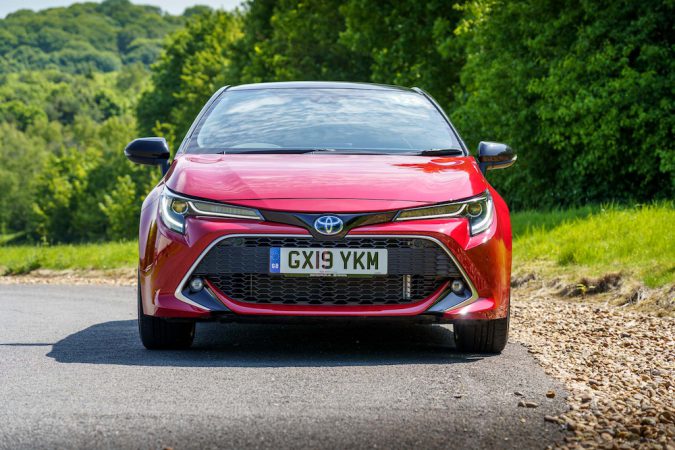 However, other model years are much better. The 2013 model year for example scores a perfect 5 according to J.D. Power. Newer models from 2018 onwards also have better scores, with RepairPal giving them a score of 4.5 out of 5.
The Toyota Corolla usually has a comfortable ride, but its interior is a bit drab and performance isn't exactly its strong suit. However, overall it's a very good reliable car. But you might want to avoid some model years such as the early 2000s ones, 2009, and 2014 models as owners report excessive oil use in them.
Additionally, the 2003 and 2009 models seem to have transmission problems. Aside from that, there doesn't seem to be any serious widespread problems. As for price, 2013 models cost around $13,000 on average. While newer 2018 models cost $18,000 on average, including the hatchback models.
Mazda 3
Mazda's reliability has been very good in recent years, and the Mazda 3 is one of their best offerings. Like recent Corollas, the Mazda 3 is also available in both sedan and hatchback form. And with a reliability score of 4 out of 5 from RepairPal, we had to recommend the Mazda 3.
Be sure to avoid the second-generation version though (2008 – 2013). Specifically, ones with the manual transmissions, as they're known to have clutch issues and Mazda often refuses to honor their warranty. But the third-generation Mazda 3 is reliable and is one of the most exciting cars to drive in its class.
Early model years of the third-generation Mazda 3 will cost you around $13,000, with newer models costing as much as $25,000. If that's a little out of your budget, the second-generation cars are around $9,000 on average. But again, avoid the manual transmission version like the plague.
Honda Fit
Unlike the other two, the Honda Fit only comes in hatchback form. The car has been around for a while, and they're largely very reliable with Consumer Reports giving the 2019 model a rating of 5 out of 5.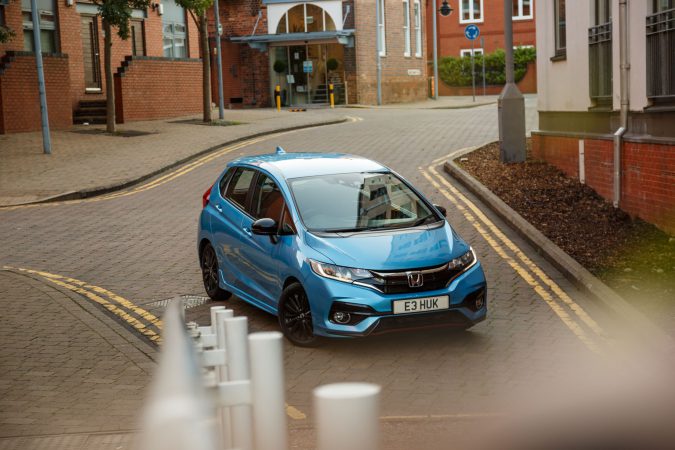 You might want to avoid the 2007 model due to power steering problems. And the 2015 model receives a lot of complaints due to uncomfortable seats. Aside from that, the Honda Fit doesn't seem to have any widespread issues.
All Honda Fits come with a 1.5L engine, with either a 5-speed manual or CVT transmission to deliver power. Newer ones will cost anywhere between $15,000 to $22,000. But 2011 models and older cost $9,000 on average.
Reliable Used Cars: Sedans
These sedans are a bit more expensive than the compact cars we mentioned above. However, they offer more luxury, bigger engines, and more space for better comfort. Here are our top picks:
Toyota Camry
Of course, we start with another Toyota. But the Camry has been around for a while now, and with so many models to choose from, which one should you go for? Well, it seems the 2015 model onwards is your best bet. Toyota seems to have fixed all of the Camry's shortcomings since 2015, and they're a very well-rounded, reliable mid-size sedan.
You might want to avoid the 2007 – 2009 models as owners report excessive oil consumption. Meanwhile, the 2012 – 2014 models are also reliable with no major reliability issues. However, Consumer Reports noted in their review that there was a lot of wind noise in the cabin for these model years, which can be a nuisance.
Price? They start as low $14,000 for the 2015 model, but the price will vary depending on the trim level (if you want to learn more, check out our explainer on what does SE mean on a car) and mileage. Still, this is quite close to the Corolla's and Mazda 3's price, making the Camry a compelling option.
Honda Accord
Don't like the Camry? Then consider its arch-nemesis: the Honda Accord. The two are very similar in terms of equipment and luxury. However, the Accord has a sportier ride. This makes them slightly less comfortable, but more enjoyable to drive.
They're also very reliable, especially since 2012. However, owners of the 2013 Honda Accords have reported transmission problems, so be wary of that. But it seems it's nowhere near as bad as the transmission problem they have in the mid-2000s.
If you're interested, early 2010s models cost $12,000 on average, while 2015 models and later are usually above $16,000.
Toyota Avalon
Looking for something larger and more upscale? Consider the Camry's bigger brother: the Toyota Avalon. We took some time in deciding whether this spot should go to the Avalon or its Lexus counterpart, the Lexus ES.
While the Lexus ES carries more prestige thanks to its badge, the Avalon represents better value. While reviews are mostly positive, consumers haven't been happy with their Lexus ES according to Kelley Blue Book, with a consumer rating of just 3.6 out of 5 which is the worst among luxury vehicles.
For that reason, this spot goes to the Avalon, which has a reliability rating of 4 out of 5 from RepairPal by the way. However, avoid the mid-2000s models as they have engine oil sludge issues. Aside from that, the Avalon doesn't seem to have any widespread problems.
Used Toyota Avalons cost around $18,000 on average, although more recent ones are still above the $20,000-mark.
Reliable Used Cars: Crossover SUVs
Crossover SUVs are the way to go for buyers that needs more seats in their cars or just need more space in general. They don't typically offer great offroad performance, but they're more versatile than sedans:
Toyota Highlander
Honestly, it's impossible to get away from Toyota when you're talking about reliability. While not all of their cars are trouble-free, they're just generally more reliable than any other car in the market.
While there are compelling options such as the Hyundai Santa Fe, Subaru Outback, and the BMW X5, your safest bet is still going to be the Toyota Highlander. But the Highlander has been around since 2001, which model should you buy? Here's a video to help you decide:
The second-generation (2008 – 2013) version is probably your best bet all around. It's more refined and younger, so it's likely to have fewer problems. While the third generation will feel more refined and more like a new car, prices are still above the $20,000-mark. The second-gen Highlander is anywhere between $4,000 – $6,000 cheaper than that, depending on the trim level.
Hyundai Tucson
Looking for something more compact? There are plenty of options out there. The Toyota RAV4 is a sensible option (granted, you should be wary of the 2007 Toyota RAV4 problems), the CR-V also isn't half bad, and the Mazda CX-5 is one of the more exciting crossovers to drive. The VW Tiguan is also a reliable car, which is a surprise considering VW's reliability rating is in shambles. But you can't beat the Hyundai Tucson when it comes to reliability.
Specifically, the 2015 Hyundai Tucson has a perfect reliability rating from J.D. Power, making it a compelling option for buyers looking for a reliable crossover SUV. It may not be the most exciting SUV to drive, but it's relatively well-equipped, comfortable, and affordable with an average price of around $13,000 on the secondhand market.
Hyundai's reliability has been excellent in recent years, especially since 2015. Moreover, the warranty is transferable. Hyundais come with a 10-year/100,000-mile powertrain warranty, and it's transferable – albeit with some conditions. You can read more about the warranty transfer here.
Reliable Used Cars: Trucks And SUVs
The Highlander is probably the perfect option for those looking for a family SUV. But what if you need to haul a lot of cargo? What if you need more offroad performance? Here are some of your options:
Toyota Tundra/Toyota Sequoia
The Tundra is Toyota's take on the American full-size pickup truck. Might seem weird to recommend the Tundra over actual American trucks, but it is a compelling option. Decent interior, good looks, and plenty of power for offroading and towing.
Which model should you go for? The 2010 – 2012 model years are good options if you're looking for a truck in the $10,000 – $15,000 price range. Meanwhile, the 2013 – 2015 model years are also good options and reliable, with slightly better equipment to make it feel more modern. Price will range between $15,000 – $20,000 for these model years.
Meanwhile, if you need seven seats rather than a cargo bay, the Sequoia is the SUV version of the Tundra. It's built on the same platform, so they're just as capable offroad and reliable. Older models from the mid-2000s cost $8,000 on average. While newer ones such as the 2012 models will set you back anywhere between $22,000 – $30,000.
Ford F-150
Okay, we can't talk about American trucks without actually mentioning an American truck. When it comes to reliability, you can't beat the Ford F-150. There are plenty of engine options, and even the V6 engine from the 2015 model year is plenty powerful.
If you're looking for an American full-size truck, it doesn't get any better than the Ford F-150. Check out this F-150 buying guide:
The 2015 model year has a reliability rating of 3.5 out of 5 from J.D Power, which is above average for the industry. Prices for the F-150 vary greatly depending on the spec. But the base model XL SuperCab can be as cheap as $13,000, while the higher-end trims are still around $23,000.
Toyota Tacoma/4Runner
If you're looking for a mid-size truck or SUV instead, then the Toyota Tacoma or 4Runner is your best bet. Like the Tundra and Sequoia, the Tacoma and 4Runner share the same platform and engines.
You really can't go wrong with any model year when it comes to the Tacoma and 4Runner, but your safest bet will probably be the 2015 model year. However, these cars are in high demand nowadays, and they cost anywhere between $20,000 – $35,000. You may be able to find a base model for under $20,000, but they're few and far between.
If you're willing to go a bit older, consider the earlier generations. Any model from 1994 – 2005 has high-reliability ratings and is safe to buy. While some models still cost around $13,000, you can find some lower-end trims for under $10,000.
Reliable Used Cars: Sports Cars
Okay, now we get to the exciting stuff. Looking to spoil yourself with a sports car? Here are some of your most reliable options:
BMW 2-Series
German cars are usually quite reliable, especially when compared to Italian cars, but they're no match for the Japanese when it comes to reliability. And so, this is the first – and only – German car on this list. And boy, what a car.
The 2-Series in the US comes in two guises: the 228i and the M235i, both available with xDrive (all-wheel drive). The 228i is an excellent car; it's well-equipped, has good looks, and is fun to drive. But the M235i comes with the excellent 3.0L turbo inline-six engine with 322 horsepower, which is massively fun to drive.
We recommend looking for the 2015 model and onwards, as the 2014 model is known to have timing chain issues, specifically with the 228i model. The base 228i is around $18,000 on average, while the M235i is anywhere between $28,000 – $32,000.
Mazda MX-5 Miata
Reliable, stylish, and fun to drive. If this is what you want from a sports car, look no further than the Mazda MX-5 Miata. The Miata has been around since 1989, spanning four generations. And you can't go wrong with any of them, as they all have solid reliability with no widespread issues.
The first-generation (the NA) is the most desirable, and therefore quite expensive at around $15,000 on average. Meanwhile, the second-generation (the NB), has largely the same underpinnings and is slightly cheaper at around $14,000 on average.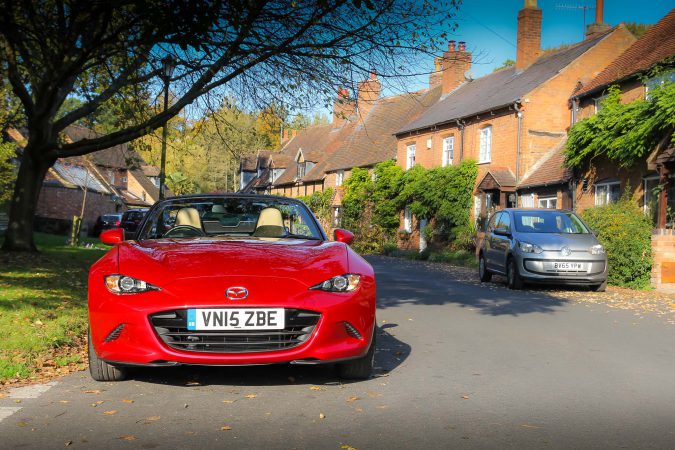 The third generation (the NC) meanwhile is the cheapest, costing around $11,000 on average. But this is widely regarded as the generation that strayed away from the Miata's philosophy of being a lightweight and fun-to-drive sports car, it's still a good option though.
And finally, the current generation also scores very high in terms of reliability and is a return to form for the Miata. But even 2015 models will still cost you around $25,000.
Reliable Used Cars: Electric Cars And Hybrid
Now we turn to cars that are a lot less exciting: electric and hybrids. Electric cars can be exciting, but you're not going to see any here. Anyway, here are some reliable options:
Nissan Leaf
If you're hoping to see a Tesla on this list, then sorry to disappoint you, Telsa isn't exactly reliable. When it comes to reliable used electric cars, then the Nissan Leaf is your best bet. It has high-reliability scores, it's cheap to run, and is fairly comfortable.
The downside of the Leaf is that the range is limited to just 75 miles for earlier models. So it's going to be ideal only as a commuter or an urban runabout, definitely not a road trip car. You can pick one up for around $11,000. Before you buy an electric car, we recommend reading our tips on buying an electric car.
Toyota Prius
We did a lot of research and we wanted to give you a more interesting option for reliable used hybrids other than the Prius, but we really can't. We considered the Chevy Volt, some Hyundai hybrids, and more. But when it comes to reliability, you just can't beat the Prius.
There are plenty of model years to consider, but the 2015 model seems to be the best one with a perfect 5 out of 5 reliability score from J.D. Power. You can pick one up for around $18,000.
Reliable Used Cars: Minivans
Most people buy crossover SUVs nowadays to serve as a family car as they're spacious and more versatile. But if you want something more comfortable, then minivans are still where it's at. Here are your options:
Honda Odyssey
The Honda Odyssey is a good choice, as long as you avoid the 2004 – 2010 model years. These model years have absolutely dismal reliability ratings and should be avoided at all cost. After all, what's the point of buying a family car if it isn't reliable?
Instead, look for a low-mileage 2015 model instead as they have perfect a reliability score according to J.D. Power. Lower mileage ones will cost you around $24,000, but it's not uncommon to see Odysseys with high mileage and costs under $20,000.
Toyota Sienna
The Sienna doesn't have that much to offer against the Odyssey, except maybe that it looks better. Not that usually matters for minivan buyers. However, we seem to be able to find more low-mileage Siennas than the Odyssey, so you might want to consider that.
They cost about the same as the Odyssey, with low-mileage specimens costing above $20,000. While the higher-mileage ones are often below the $20,000-mark.
Reliable Used Cars: Buying Tips
As mentioned earlier, no two used cars are the same. Even when they're the same make and model from the same year with the same trim, they can end up very differently. Because of this, you have to research and inspect the car thoroughly to make sure you don't buy a lemon. Here are some quick tips from us:
Ask for the service history. If it has complete service history, it's a big plus point for the car.
Do a thorough test drive. Take your time, drive the car (respectfully, of course), and see if you can spot any potential issues or any weird noises from the car.
Check all the features and amenities. See if all the lights work, check if the power windows work and they all roll down with no problem. Also, check if the entertainment system has any issues, and cycle through driving modes (if the car has any) to make sure there are no problems.
Do a pre-purchase inspection. You can ask a trusted mechanic or a dealership to do this, and there are online services available as well. They usually cost no more than $250.
If you happen to find a car without a title, check out our guide on buying a car with no title.
Facts: Used Car Shopping Tips and Unexpected Reliable Cars
The Long-Term Quality Index (LTQI) is a collaborative effort that studies the reliability of used cars, and it now includes data on over 1.4 million vehicles that have been independently inspected by certified mechanics.
Sports cars and roadsters, such as the Mazda MX-5 Miata, the Chevrolet Corvette, the Mercedes SL-class, and the BMW Z3 and Z4 convertibles, outperform many well-known reliable models like the Toyota Camry and Honda Civic (also, check out our guide on are Honda Civic reliable to learn more), according to LTQI data.
Care-conscious owners and strong powertrains are two big ingredients that help sports cars and roadsters provide outstanding reliability over time.
Cars with reliable reputations can still be rolling money traps, and a 10-year-old Camry is just middle-of-the-pack, according to LTQI data.
The Honda Accord has had good years and bad years due to chronic transmission issues that took several years to resolve, according to LTQI data.
Volkswagen is a damaged brand, but a quality vehicle at a discount can be found if you stick with a manual transmission (just like a manual transmission RAV4) and an engine that doesn't have a turbocharger or direct injection.
Unpopular cars can be reliable and dirt cheap, and spreading your search to these cars can yield a quality vehicle at a lower price.
Badge-engineered siblings can be even better deals, such as the Suzuki Equator, which is a version of the mid-size Nissan Frontier truck with different badging that's cheaper than the Frontier while offering the same level of quality.
When shopping for a used car, it's important to invest time in questioning the owner and make condition a priority.
Don't talk yourself out of buying a car that's fast and fun because sometimes the best deals are in unexpected places.
Reliable Used Cars: Wrap Up
Those are our recommendations for reliable used cars! Of course, there are plenty more options out there, but these are some of the most reliable used cars we can find and compile for you. But bottom line, Japanese cars are typically the most reliable, and Toyota, Honda, and Mazda usually tops the list when it comes to reliability.
In any case, before you decide, make sure to test the car and do a pre-purchase inspection. Even cars with the best reliability rating can still turn out to be a lemon!