Ahead of the 2017 Formula One season, the Renault Sport Formula One team have launched their new R.S.17 in London. It will be the first Formula One car to be designed from its inception by Renault Sport Racing's two locations in Enstone, England and Viry-Châtillon, France.
What's new This Year?
Rather a lot it seems. The R.S.17 will be the first Formula One car to feature the company's brand new R.E.17 power unit and will feature no parts carried over from the R.S.16. The teams at both locations worked from the ground up as a response to the newly revised regulations being imposed on teams this season. Some these regulations have led to changes including the car being 200 mm wider and 20 kg heavier overall. In turn, this means the car will generate a great deal more downforce, decreasing the potential maximum speed of the car but lowering the overall lap times through increased cornering speed.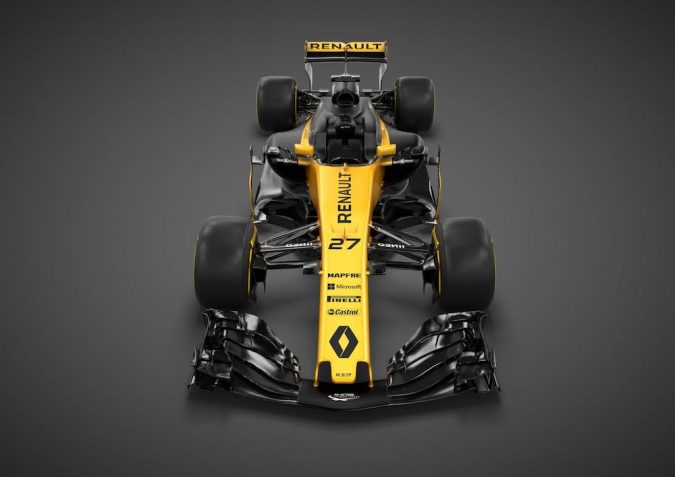 The announcements didn't stop with the R.S.17. Renault Sport Racing also announced that Sergey Sirotkin would be their third and reserve driver for the season alongside the already announced Nico Hülkenberg and Jolyon Palmer, who joined Renault last year. The 2017 Renault Sport Academy line-up was also confirmed, with Jack Aitken contesting the GP3 Series, whilst MaxFewtrell, Jarno Opmeer and Sun Yue Yang will contest the Formula Renault Eurocup in a 30-car-grid.
2017 Plan Of Action
There were a plethora of high profile faces from Renault Sport Racing present at the London launch, all of whom expressed the belief that 2017 was the year for Renault to step it up a notch in Formula One, including Jérôme Stoll, President and Cyril Abiteboul, the Managing Director.
Jérôme Stoll described the R.S. 17 as a "beautiful car" and expressed his excitement for Renault Sport Racing's new partnership with BP and Castrol, but Stoll's most telling statement was of his expectations for the year ahead. He explains that they "want to take a definite, tangible step forward in performance and results. Fifth position in the Constructors' Championship is our goal". This would be quite a dramatic improvement on last year's ninth place in the Constructors' Championship.
Cyril Abiteboul made some very decisive comments, stating that "We are the fastest growing F1 team and we now need to prove our performance on track. Our objective is to score points at every round."
So it seems that Renault Sport Racing are gearing up for a successful year. We will have to wait and see if their hard work pays off with the 2017 Formula One season starting at the end of March in Melbourne.