Looking to rent a garage to work on a car? Perhaps you reside in an apartment building that prohibits people from working on their vehicles in the parking lot, or maybe your house has either no garage or a small garage. Regardless of the reason, you can work on your own automobile at a DIY auto shop, peer-to-peer rental garage, storage facility, or parking lot. Your selections will change based on where you live because no national chains provide rental garage space.
You want to learn how to do your own auto maintenance, but you lack the necessary tools or knowledge. Or perhaps you have some mechanical knowledge but lack the necessary garage space. This article is appropriate for you. Do not be alarmed, my dear gearheads; there is a solution in the form of DIY garages you may rent.
DIY Garage
A DIY garage will rent out garage space so you can bring in a car and work on it, much like how musicians might reserve a recording studio. Obviously, the operation of the business varies from case to instance, but you can search to rent a garage to work on a car on sites like Garage Time. Some even have full-sized lifts, so you may raise your car off the ground without using a jack or jack stand. You don't even have to lay on your back to repair it.
There are mechanics among the staff in addition to the machinery. So ask them for help if you have any urgent questions or need any direction. However, they might charge more for their time if you require a mechanic to guide you through the procedure.
So, you're determined to get the equipment and assistance you require to complete whatever task you're trying to achieve. But how much will it set you back?
How Much Does It Cost To Rent A Garage
Again, this will depend on the specific circumstances, so check to see if there is a DIY garage nearby first. Large downtown parking spaces can be rented for up to $150 per month, while suburban locations can be had for $50 to $100 per month. Your location is crucial, just like with any rental opportunity.
Rentable parking spaces and garages can be found all over if you know where to find one. They are accessible to locals and commuters and can be used for general storage or vehicle use. Their garages are approximately 4.9m long by 2.33m broad on the inside. Its width is 2.14 meters. These dimensions were obtained from Newtown garages.
Renting a garage will run you:
The cost of vehicle storage for city residents is $11 per week (VAT-free), or $15 per week for general storage.
Local residents usually pay $15 per week.
Businesses or non-residents: $20 per week
Renting a parking place will set you back:
Rent for council housing: $10 weekly
Local residents: $12 per week
Businesses or non-residents: $17 per week
Where Can I Work On My Car
Meanwhile, here are some options on where you can work on your own car…
Rent A Garage To Work On Car, Option #1: DIY Auto Mechanic Shops And Garages
A DIY auto shop or garage is one of the safest and most equipped solutions for self-servicing your vehicle. These businesses provide hourly or daily vehicle bay rentals. Some of them provide you with specialized equipment, lift assistance, and even hourly access to on-staff mechanics.
The main drawback to this solution is that there aren't always DIY garages. Searching for "DIY vehicle repair [city name]" will help you identify a garage in your neighborhood. This should show all if there are any garages in your city or nearby.
The cost will vary depending on the length of time you rent a garage to work on a car and the facilities the garage offers. The standard fees in the garages mentioned above are approximately $30 per hour, $125 per day, $360 per week, or $600 per month.
Rent A Garage To Work On Car, Option #2: Private Garage Rental
Consider renting a space directly from the garage owner if there isn't a local DIY auto shop.
For instance, Garage Time provides a network of public and private garages where users may rent out space and equipment. Filtering options include things like workbenches, painting supplies, mechanic assistance, and car lifts.
Rental possibilities comprise:
Per hour: between $10 and $60
Everyday: $50 to $150
Every week: About $300
Monthly: between $150 and $1,000
Additionally, peer-to-peer marketplaces like Facebook Marketplace and Craigslist are good places to explore bay rentals. If you're refurbishing a car, peer-to-peer rentals frequently include long-term rental choices as well as flexible payment schedules.
Be aware that when renting space directly from an owner, you might choose to or be required to sign a liability waiver or formal leasing agreement. If you hurt yourself while working in the rental space, damage your car, or harm the garage, this will shield both you and the owner from a lawsuit.
Rent A Garage To Work On Car, Option #3: Storage Units
Your car can be kept in a storage unit, some of which allow you to repair it there.
These facilities are perfect for large or long-term projects because you may store the car and any necessary parts or tools for a weekly or monthly rental cost.
If you need to use any power equipment, make sure to verify the amenities of the unit before you rent a garage to work on a car because some storage facilities lack electrical outlets. Additionally, lacking lifts, storage units are unable to address all repairs. Public Storage and CubeSmart are two national storage corporations that provide vehicle storage.
Before doing any maintenance on your car, be careful to ask permission from the storage facility; not all places will let you work on a car. For instance, Life Storage forbids it because of the insufficient power, the loudness, and the potential for spillage, smoke, and odors, among other reasons.
Rent A Garage To Work On Car, Option #4: Parking Garages
You might be able to work on your automobile in a public parking lot for a quick maintenance task like replacing your oil, spark plugs, or air filters. Always inquire if the property management or business owner will permit you to do little repairs in their parking lots. Public parking lots, such as those at auto parts stores, might not care as long as you aren't engaged in any labor-intensive activities and don't create a mess or bother others.
You might be able to use the parking lot at your place of employment with your employer's permission. It is up to the individual manager to decide whether to allow consumers to do this because none of the businesses, including AutoZone, Advance Auto Parts, and Walmart, have an internal policy that permits this.
If a store does let you park there, be mindful not to spill anything or leave anything behind out of consideration for the property manager and other customers.
Rent A Garage To Work On Car, Option #5: Contact A Friend
This could be a fantastic alternative for you to employ to fix your automobile if you have a friend who owns a garage. Using a friend's garage, you can be confident you won't be bothering anyone or breaking any laws. You might offer to work on their cars if they need it if they seem a little apprehensive.
Rent A Garage To Work On Car, Option #6: Auto Shops With Self-Service
You could be surprised to find a self-service car shop nearby if you do a little research. It might not be as well known or convenient as some of the other possibilities. It's a special service that lets you rent a garage to work on a car to fix your automobile on your own, with assistance, or have it fixed by the company. Your needs will vary depending on the service you choose, so doing your homework will be helpful.
Make sure you have a few key tools on hand if you intend to fix your automobile, whether you have a garage or not. The job you'll perform probably won't be suitable for a typical toolbox.
Rent A Garage To Work On Car, Option #7: Local Community Centers or Clubs
Local car enthusiast clubs or community centers often have resources or spaces available for members to work on their vehicles. Joining such groups not only offers a place to work but also connects you with knowledgeable individuals. They might give insights, tips, or even lend a helping hand. Inquire within your community or look online for any local car clubs that may have a dedicated space for members.
Rent A Garage To Work On Car, Option #8: Vocational Schools
Many vocational schools or community colleges offer automotive programs. Occasionally, these institutions might rent out their automotive labs during off-hours or weekends. This provides an excellent space, often equipped with tools and lifts, to work on your vehicle. Plus, students or instructors may be available for guidance. However, always check with the institution first regarding their policies and rental fees.
Rent A Garage To Work On Car, Option #9: Mobile Garage Units
With the rise of the gig economy, some entrepreneurs have started mobile garage services. These are large vans or trucks, fully equipped with tools, that come to your location. While typically meant for professionals to offer services, some might rent out their units for DIY mechanics. This option is especially useful if you lack a good space to work but have all the necessary skills.
Rent A Garage To Work On Car, Option #10: Farm or Barn Rentals
In more rural areas, farmers or landowners might have large barns or sheds they're willing to rent out. These spaces can be ideal for car projects, especially if you're restoring a vintage model and need long-term storage. The rates are typically more affordable than urban alternatives, but ensure the space is secure and suitable for your needs.
Rent A Garage To Work On Car, Option #11: Temporary Pop-Up Tents
If your project is short-term and the weather's on your side, consider using a pop-up tent or canopy. While this isn't exactly a "rental" in traditional terms, buying a sturdy tent gives you a shaded, somewhat protected area to work on your car in any open space available to you. It's essential to ensure you're permitted to work in your chosen location, and always be aware of the environment: clean up any spills promptly and avoid leaving any waste behind.
Rent A Garage To Work On Car, Option #12: Driveway Rental
Some people with long driveways or extra parking spaces offer them for rent. Websites like JustPark allow individuals to list their available driveways for others to rent, typically for parking. However, with permission, you might find someone willing to let you use the space for car repairs, especially if the project is quick.
In conclusion, there are numerous options available for car enthusiasts looking to work on their vehicles without owning a garage. It's crucial to consider the nature of your project, budget, and location when selecting the best fit. Always communicate clearly with any rental provider, ensure you have the required permissions, and respect all rules and guidelines. Your car project should be an exciting endeavor; with the right space, you'll be on the road in no time!
Garage With Tools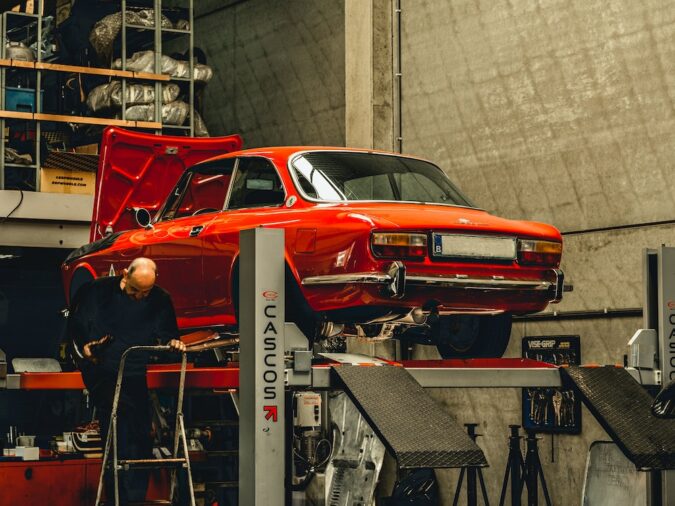 This item will be very useful when you are working on your car.
You will need pliers to do any electrical repairs because a car has many electrical components.
To tighten nuts to the required torque, use a torque wrench with a clicker.
A wrench is a crucial addition to your collection of mechanical tools.
Both your garage and your home can benefit from these.
A dead blow mallet occasionally represents the only option when extracting jammed bolts.
You may need good light to see what you're doing because you can labor into the night, especially in the winter.
Regular work gloves are preferred to latex or non-latex gloves since they are disposable. Every project may be completed with clean gloves.
Bundling cables and wires away from hot and moving components is an excellent use for zip ties.
A multimeter is essential for determining whether you have a hot wire.
Using an impact wrench helps speed up the process of removing lug nuts.
Regular cleaning and lubrication are required for mechanical moving parts.
Use a drip pan or, at the least, cardboard to collect the oil and fluids coming from your car.
Any oil or liquid that escapes the drip pan will be absorbed with the help of cat litter or desiccant.
Electrical Tape and Duct Tape
Duct tape is said to have a million various applications, so always carry a roll with you. Wires benefit from the usage of electrical tape.
When working on your car, this contains all the requirements for your particular make and model plus, occasionally, job-specific instructions.
Where Can I Go To Work On My Car
A parking lot can be an excellent substitute for a garage. Select one that is vacant in your community. Or, even better, use the parking lot of an auto parts store. In this manner, you'll have simple access to replacement parts in the event that you discover you're lacking a few essential tools.
A Common Area Or Storage Space
A DIY shared space or rental garage are more options. It's likely that a location like this won't object if you temporarily store your automobile there.
The woods can be a good place to work on your car if you live in the country or have a friend or relative who does. To keep your car clean while the process is going on and keep it from becoming bogged in the mud, make sure to have plywood and tarps on available.
Bring a portable generator if you need electricity to complete the task. Additionally, you can use surrounding trees to assist in lifting your automobile and any other big objects you'll be dealing with.
A Friend's Driveway Or Garage
Ask a friend if you may borrow their driveway or garage to work on your car. Bring all the required equipment to complete the service task if they give you the go-ahead. And make sure to have cleaning products so you can finish up before you go.
Make sure you have everything you need in a car repair kit if you intend to take care of your automobile yourself to ensure a smooth process. No matter where you work, remember to research the right manner to dispose of auto fluids to avoid polluting the environment.
Where Can I Work On My Car If I Live In An Apartment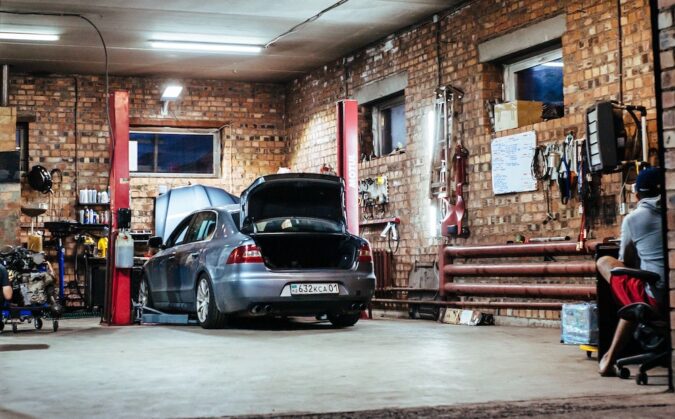 A DIY auto shop or garage is one of the safest and most equipped solutions for self-servicing your car. These businesses provide hourly or daily vehicle bay rentals.
Consider renting a space directly from the garage owner if there isn't a local DIY auto shop.
Your car can be kept in a storage unit, some of which allow you to repair it there.
You might be able to work on your automobile in a public parking lot for a quick maintenance task like replacing your oil, spark plugs, or air filters.
Can You Rent A Car Lift
Drive the car slowly to the lifting platform, then neutralize the gear shift. Before the lift, lock all of the doors and check that no one is inside the car.
You must fasten the wheels or the elevator's arms to the appropriate points of connection for the second step. Here, you should pay attention to the kind of car lift you have. Whether the elevator is symmetrical or asymmetrical determines where the two post-car lift lifting points are located.
Secure the arms to the car's base and check that it is stable before doing so. It might be challenging to use the two-post lift, and you must ensure the car is balanced correctly.
Once you are certain that it is strong enough to withstand the weight of the automobile, start the lift. Look around to ensure it is properly positioned after being elevated to the necessary level. Ensure there are no impacts or shakes after the automobile is above the auto lift since they could cause it to tumble.
Where To Work On Car Without Garage
You may save a ton of cash by learning how to fix the parts on your car yourself. However, it can be challenging to perform those DIY repairs if you live in an apartment or a house without a garage. If you don't have a garage, here are some options to consider for where to get your car fixed:
Auto parts retailers
Contact a friend
Local shop for vehicle mechanics
Hire a storage unit
What Can You Do In A DIY Garage
The quick answer is that you can accomplish anything if you know how to do it (or if the mechanics can assist you). You may switch out the transmission, replace the headlights, and add fluids as necessary. If you have the appropriate tools, you can complete the following maintenance and repair chores on your own.
1. Brake Pads
Between $35 to $150 can be spent on brake pads. However, replacing them can cost $300 or more at garages. You should complete this maintenance operation quickly because if the brake pads are allowed to wear down to less than 1/8 of an inch, they may harm the rotors, necessitating more time-consuming and expensive repairs.
2. Battery
Replacing a car battery is an easy process. This project is essential if you don't want to be late for work or an appointment and end up stuck somewhere, or even worse, having to jump-start your car at home.
On average, car batteries cost between $75 and $125. However, replacing them can cost an additional $100 from mechanics. Simply detaching the cables, installing the new battery, and reattaching them in the right order completes the replacement procedure.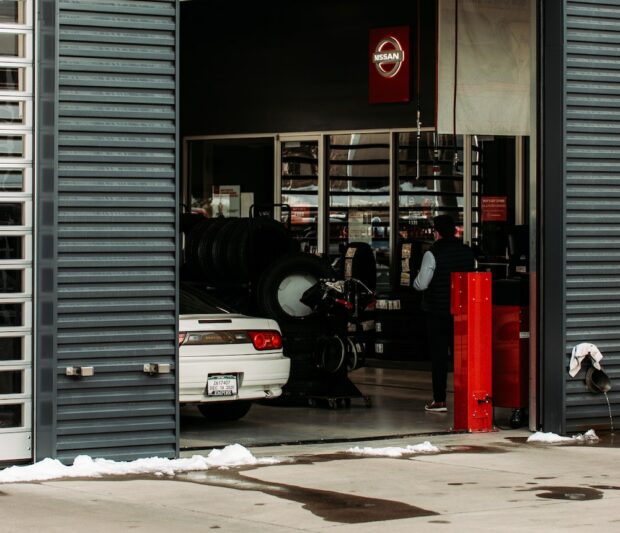 3. Change Of Oil
A racket, a wrench, and a funnel are used to change the oil. Synthetic oils can occasionally go 7,500 to 10,000 miles between changes. While conventional oil needs to be changed every 3,000 to 5,000 miles. Although a lubricant change often costs twice as much at garages, high-quality synthetic oil can cost between $20 and $30. One thing to keep in mind is that the oil filter must also be replaced while changing the oil.
4. Maintenance Of Tires
The safety, fuel economy, and general performance of your car are all impacted by proper tire care. A gauge to check your tire pressure is necessary but not very complicated. Most gas stations provide air to fill tires that are under-inflated. With puncture repair kits, which range in price from $10 to $20 and come with everything you need to patch a flat, you can mend a tiny tire puncture.
5. Bulb Headlight/Tail Light
Headlight and taillight bulbs are crucial for nighttime driving and warning other road users. When these lights fail, you normally have to replace them in accordance with state driving requirements. If you don't, you risk receiving a traffic ticket.
The cost of a headlight or tail light might vary, but a halogen bulb typically costs $15 to $20. You can replace the bulb yourself using a wrench or screwdriver as long as the wiring and housing are undamaged.
A DIY garage is an excellent place to start if you want to get into the car maintenance industry. Establish a name for yourself among the mechanics and make a few new pals. Take that step and surround yourself with smarter individuals if you're afraid of damaging your car.
Rent A Garage To Work On Car: Frequently Asked Questions (FAQs)
Here are some popular frequently asked questions about trying to rent a garage to work on a car…
How Much For A Car Lift
A typical two-post vehicle lift with a weight capacity of about 10,000 pounds typically costs between $2,000 and $3,500, which is roughly the same as a four-post auto lift with a lesser weight capability. If you want to stack two automobiles in addition to one, choosing a four-post auto lifting solution in the 10,000-pound weight category will typically cost a few hundred dollars more.
What Is A Gearhead
One who is knowledgeable or passionate about the construction and operation of mechanical things, particularly cars.
Where Can I Store A Car That Doesn't Run
The best place to store a car is in a garage. This will shield it from the weather and maintain a reasonably constant temperature. Consider parking the automobile in a public storage facility if you don't have a garage and can find a place to stay for a fair price. Consider purchasing a waterproof car cover to keep the car clean and dry if you must leave it outside.
Can You Work On A Car In A Storage Unit
Storage facilities cannot be utilized as a mechanic's shop except for performing simple repairs on a running car.
How To Find A Garage For Rent
The first step is to look through locals' internet classified advertising. Excellent resources include Gumtree, Oodle, PennySaver USA, and Sell.com. Craigslist also lists hundreds of garages for rent. You can narrow down the results by size, price, location, and other factors.
Can You Rent Tools From AutoZone
Any AutoZone store can assist you in selecting the appropriate tool and retrieving it from behind the counter. When you return the tool for a full refund after using it for as long as you'd like, they ask for a deposit equal to the instrument's purchase price.
How Much Does It Cost To Rent A Garage
Large downtown parking spaces can be rented for up to $150 per month, while suburban locations can be had for $50 to $100 per month. It all comes down to location, just like with any other rental decision.
Advantages of Renting a Private Garage for Car Storage
When it comes to car storage, there are a variety of options available, from parking on the street to storing in a public garage. However, renting a private garage can offer a number of advantages that make it a worthwhile investment for car owners.
One of the main advantages of renting a private garage for car storage is the added security it provides. With a private garage, you can rest assured that your car is safe from vandalism, theft, and weather damage. Many private garages also come equipped with security features such as alarm systems and surveillance cameras, further increasing the level of protection for your car.
Another advantage of renting a private garage for car storage is the flexibility it provides. Unlike public garages or parking lots, which often have strict operating hours and limited availability, private garages are typically accessible 24/7, allowing you to access your car whenever you need it. This can be especially helpful for those who work unconventional hours or have unpredictable schedules.
In addition to the security and flexibility offered by private garages, renting a garage can also provide cost savings in the long run. While the upfront cost of renting a garage may be higher than other car storage options, such as street parking, it can ultimately save you money by preventing damage to your car from weather, vandalism, or accidents. Additionally, many private garages offer monthly or annual rental agreements, which can provide significant cost savings compared to short-term parking or storage options.
Overall, the advantages of renting a private garage for car storage are clear: added security, flexibility, and cost savings. While it may require an initial investment, the peace of mind and convenience offered by a private garage can be well worth the cost in the long run.
Rent A Garage To Work On Car: In Conclusion…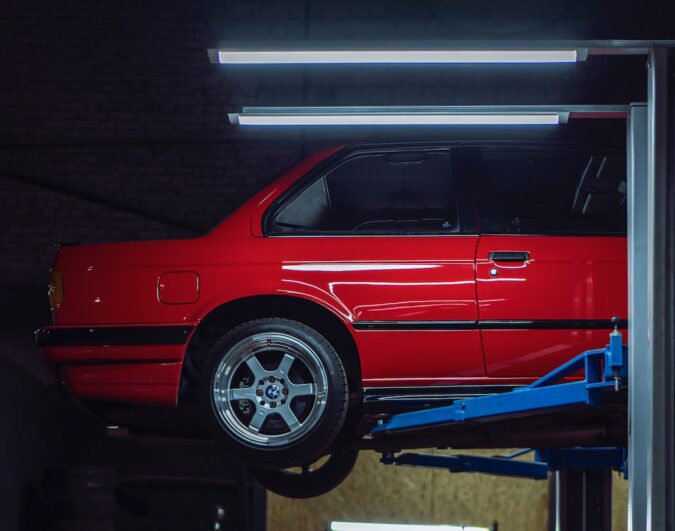 When we find ourselves in a house or apartment that is unable to provide us with the usual drive-in space, the solution that comes to the rescue is to rent a garage to work on the car. Everybody has a car and a project requiring a place where we can get messy. And the storage space would be quite useful.
Although it has its advantages, a garage is not a requirement for every home. Many people choose not to keep their cars in garages, particularly if they use them frequently during the day or if they use them for most of the day. Many people wish to work on their automobiles, but they lack the space and resources to do so, and the majority of rental agreements expressly exclude this activity. Why not rent a garage to work on a car by the hour instead?