If you are a Land Rover Range Rover Evoque owner, then it is a matter of time before you may need to consider replacing your door lock mechanisms. Alas, this is unfortunately common, leaving owners puzzled over how to replace Range Rover Evoque door locks.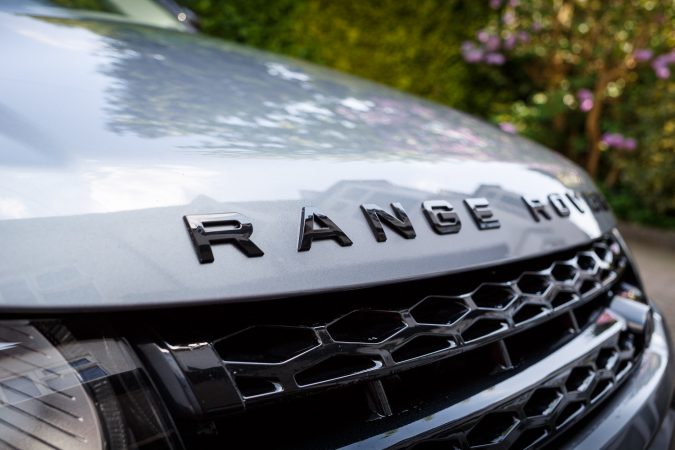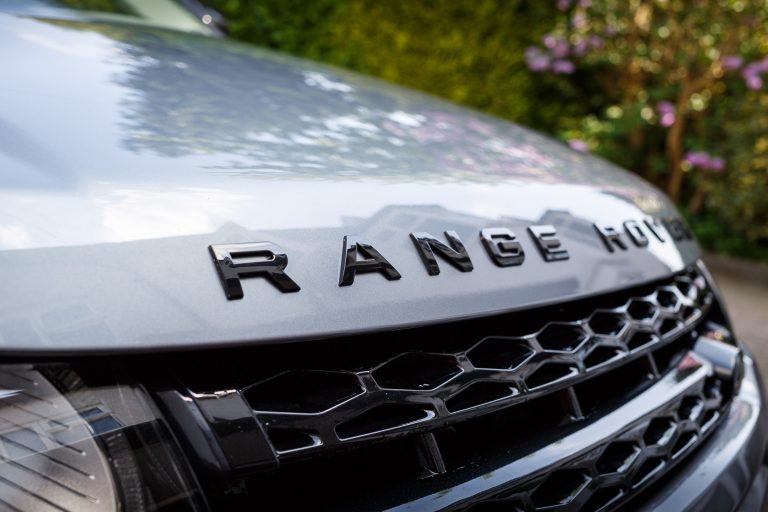 Alas, over time the locking mechanisms begin to wear out and may no longer be capable of either locking or unlocking the doors of the vehicle. This can sometimes manifest as an intermittent fault which then grows over time to a complete failure. 
Part List To Replace Range Rover Evoque Door Locks
We have looked around online to find who stocks these locks. There will change from time to time, but please see the below. Double-check the part numbers etc for your exact car, model and trim.
Front Passenger Lock – Amazon
Front Driver Lock – Amazon
Rear Left Lock – Amazon
Rear Right Lock – Amazon
Pack of all 4 locks – Amazon
Solution For Replacing Range Rover Evoque Door Locks
To resolve the problem, you should replace the locking mechanisms of the affected doors. You can either get a Land Rover specialist to do this for you, or you can do it yourself. I personally managed to carry out this task myself as an amateur mechanic, and it took me an average of one hour per lock, without rushing.
Here is the overview of the replacement process:
Remove the door card
Disconnect cabling
Remove the inner door card
Remove screws from the lock
Disconnect cabling and lock
Refit
Test
Get A Professional To Replace Range Rover Evoque Door Locks
If you don't have time or the ability to do the work yourself. Call JMB Services on 0121 296 7820  – They can carry out the work using the original parts.
Location: Unit 8 Century Industrial Estate, Shady Lane, Great Barr, Birmingham, B44 9ER
Without Keyless Entry – Parts and Labour (Estimated cost)
1 x Lock – £180
4 x Locks – £650
With Keyless Entry – Parts and Labour (Estimated cost)
1 x Lock –  £225
4 x Locks – £820
Do It Yourself With Our Step by Step Video
We have created a full-length video running through the process from start to finish showing you how to replace one of the locks on your Range Rover. This could save you hundreds of pounds by giving it a go yourself with our guidance.
We purchased the locks, spent time disassembling, filming and reassembling the car and then created a step by step video so that it is easy to follow. Anyone that has used a screwdriver before should be able to complete the lock install if they follow our video guide.
If you fitted your locked yourself and saved yourself some time and money please let us know in the comments. Should you be able to donate even a small amount as appreciation please use the donate button below. If we can help with your installation leave a comment.
The Process Of Replacing Range Rover Evoque Door Locks
1) Remove The Door Card
The door card needs to be removed to allow access to the lock. Open the door. There are 4 screws to be removed (see image below). Please note beforehand that all the screws are covered with plastic inserts that will need to be removed by either using a small thin screwdriver or a blade.
Inside the door Release Handle (Yellow)
Underneath the door Pull Handle (Red)
On the edge of the door (Blue)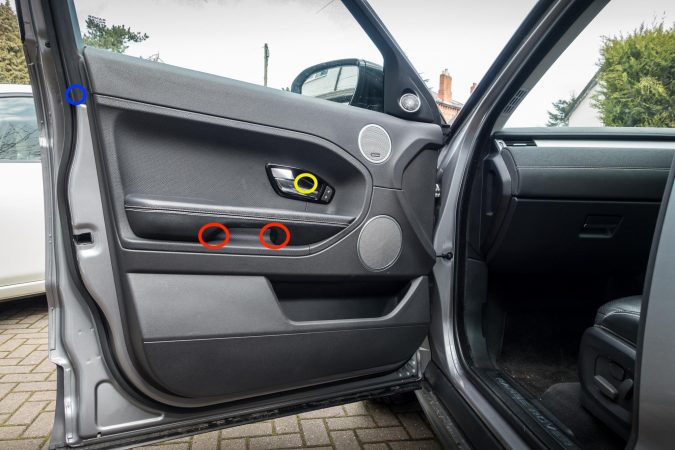 Once the screws have been removed, the door card then needs to be pried away from the door. There is a risk of damaging the paintwork here, so I would recommend using a selection of plastic lever bars.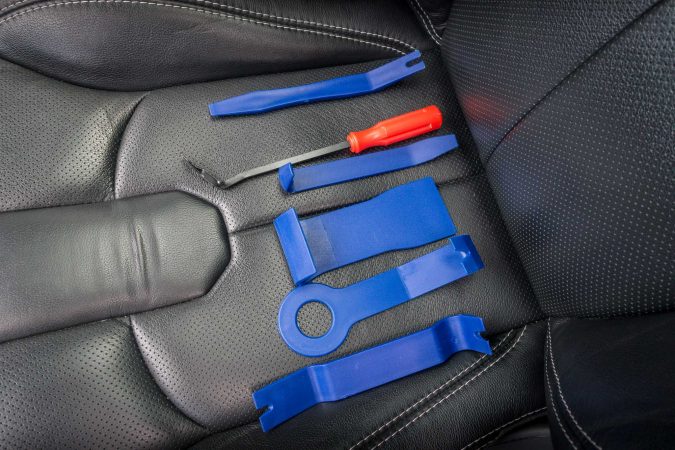 Place a lever bar between the door card and the metal part of the door, then use two levers to force the door card's clips out of the door's holes. Work your way around the edge of the door, while being careful not to damage the clips. Please note that the card will be removed outwards from the door itself and does not need to be pulled up.
2) Disconnect The Cables
Once the door card has been removed, you will need to support it whilst you remove all the cables (see image below). This can be done with one hand if needed, and you need to be careful not to break any of the connectors.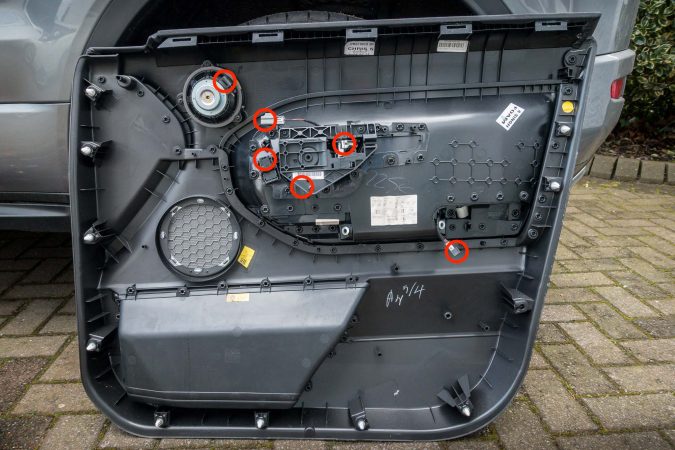 3) Remove The Inner Door Card
Before removing the inner section of the door card, there are two cables that need to be disconnected which are highlighted in yellow below (see image below).
Next, you will need to remove the 12 screws around the edge of the inner card (Red).
Once removed, you will notice the card is held in place with a sticky seal. Once again, you will need to use a plastic lever tool to separate the two parts.
As it comes off, you will need to run the door handle cable through the trim and turn the inner door card downwards.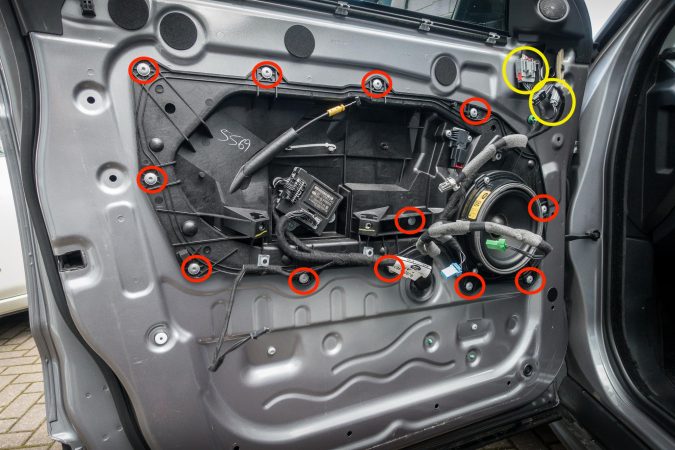 Once this is done, you can leave the card hanging. Be careful not to damage the exposed speaker.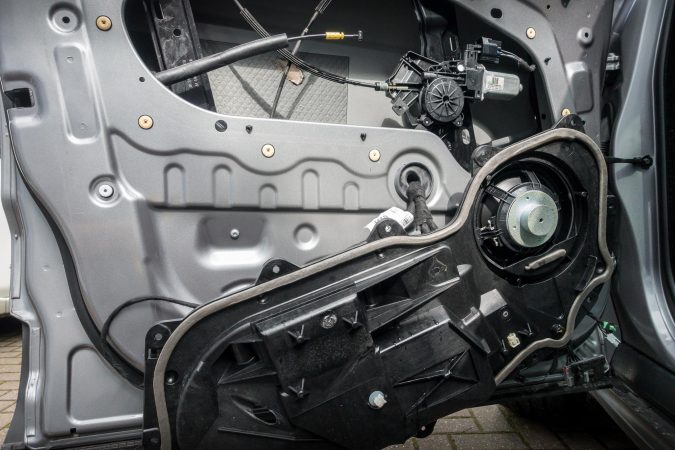 4) Remove The Screws From The Lock
Before removing the screws, reach inside the door and disconnect the power connector from the lock.
Next, look at the end of the door. Where the locking mechanism sits, there will be 3 screws. Remove all 3 of these allowing the lock to hang only by the internal cables.
5) Disconnect The Cables And Remove The Lock
Depending on which door you are working on, there will be two or three cables to disconnect:
The internal door handle cable
The external door handle cable
The manual key operation cable (My testing was on the passenger door)
Removing the cables is very complicated work and difficult to explain. I would recommend using a torch inside the door to carefully examine how the cables are fitted, so you can safely remove them and refit the cables to the new lock. The cables need to be properly aligned to be disconnected and reconnected so please don't hesitate to take your time.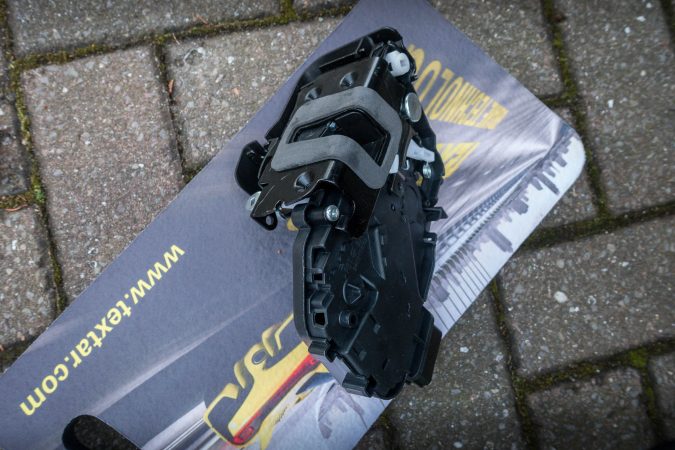 6) Refit The New Locking Mechanism
Next up, simply repeat the procedure in reverse. I would advise reconnecting the door open cables first, before attaching the lock to the door again, as it is much easier to handle.
7) Testing The New Lock
Once everything has been reassembled, before shutting the door, make sure you check that the lock has been unlocked, otherwise you may risk damaging the lock or the door.
Check that it locks, deadlocks and unlocks without any issues.
Finally check all the switchgear that was disconnected (electric windows, mirrors, lighting and speakers etc).
Once you've fitted your locked yourself and saved yourself some time and money please let us know in the comments. Should you be able to donate even a small amount as appreciation please use the donate button below. If we can help with your installation leave a comment.
FAQs On How To Replace Range Rover Evoque Door Locks
If you're still unsure, perhaps our FAQs here on how to replace Range Rover Evoque door locks might help…
How Do You Manually Lock A Range Rover Evoque
The driver's side section of the lock has a small plastic part that can be removed to open up a physical lock that you can turn.
Do Range Rovers Lock Automatically
Drive-away locking automatically locks all of the doors when the vehicle reaches a set speed. This can be turned on and off.
Car Door Lock Replacement Cost UK
Replacing a car's door locks is surprisingly expensive, owing mostly to the labour required. It's especially the case if your vehicle has a complex security system or adopts keyless entry. However, the actual costs vary from one make and model to another. For Range Rover Evoques, replacing a single door lock usually costs around £200. Nevertheless, replacing all 4x door locks on your Evoque could skyrocket to anywhere from £600 to £800 and beyond.
Replacement Caravan Door Lock
Ah, but what if you have a caravan, instead? Unlike cars, most caravans don't usually have any sophisticated keyless entry systems or security lock-outs. In most instances, caravan door locks are very similar to regular barrel-style door locks that you'll find at your home. Most often, you'll find caravan-specific replacement door locks for around £30 to £50 on average. Yet, this is for a complete set to lock your caravan, including the handle, keys, locking cylinder, and so on.
Car Door Lock Repair
Should your car doors have issues with locking, there are plenty of repair services out there. For starters, just Google "car door lock repair UK", and you'll find a plethora of technicians nearby that can help. They can aid with issues such as your car door getting jammed, or stuck, or if the locking mechanism is broken. Perhaps, maybe the door locks are sticking, fail to latch properly, or prevents you from locking it. Certain locksmiths could also help with your ignition, too.
Car Door Latch Mechanism
If your car's door fails to close or lock properly, the latching mechanism is often the first to be blamed. You can find the latch located within your car's door assembly. With it there, it can more easily engage an anchoring point, often called a striker. You'd find this anchor or striker attached to the main body of the vehicle. As you slam the door, that latch will close in and lock itself around the anchor or striker. Thus, keeping your door locked and secured. To open it, all you need to do is operate the door handles. As such, that's how you actuate the latch.
Approved Tools
These tools have been tried and tested by our team, they are ideal for fixing your car at home.