The Legend Lives On
Porsche Deutschland, in collaboration with Volkswagen Commercial Vehicles, is breathing life back into a cherished tradition. The legendary Renndienst ('race service') buses, which were instrumental in Porsche's racing success from the 1950s to 1970s, are making a comeback in the Porsche Carrera Cup Germany and Porsche Sports Cup Germany.
However, they return with a twist – these iconic support vehicles are now fully electric, based on the Volkswagen ID. Buzz.
The Electric Reincarnation
Fans of the original Renndienst buses, which served as mobile service stations, bringing mechanics, tools, and spare parts to the track, can look forward to a modern reinterpretation of the cult classic. The new fully electric ID. Buzz, in its dark red coat and sporting the 'Renndienst' lettering, is a nostalgic nod to its legendary predecessors.
Despite the technological shift, the essence of the original remains intact. The new Renndienst ID. Buzz is a high-performance and sustainable commercial vehicle that is well-equipped to handle the demands of everyday work, both on and off the track.
Nostalgia Meets Innovation
"The history surrounding the T1 and T2 Porsche Renndienst buses is unique. Like the Porsche race cars they accompanied, the red buses also achieved cult status. We are building on this and reviving the partnership in a very contemporary way: still dark red, but now also noticeably quiet – because they are electric, with the ID. Buzz as a basis," says Lars Krause, Member of the Volkswagen Commercial Vehicles Board of Management for Sales and Marketing.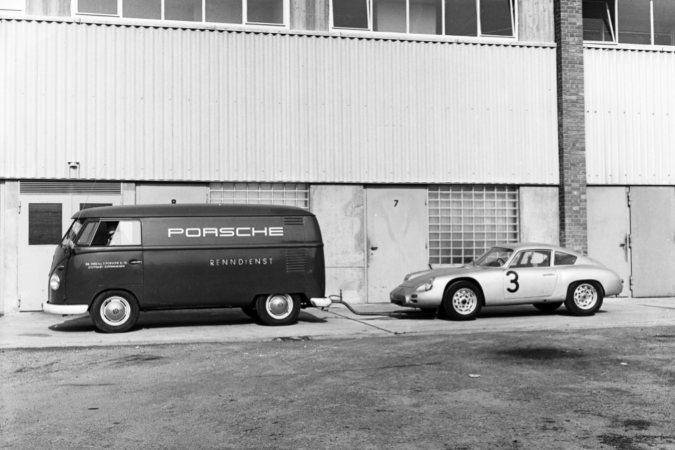 The Revival Journey
The two ID. Buzz made their debut at the first race of the Porsche Carrera Cup Germany in Spa-Francorchamps. Alexander Pollich, CEO of Porsche Deutschland GmbH, shared his excitement about the revival of the legendary Renndienst bus. The electric buses, in their new racing design, will accompany and support the Porsche teams throughout the upcoming races.
A Brief Look Back
The Renndienst bus legacy started in 1954 when the Porsche works team, lacking a suitable vehicle to transport tools and spare parts, converted a VW bus for the purpose. Over the years, the red vans, known for their reliable air-cooled engines, became an integral part of the team – as much a symbol of the Porsche works team as the legendary Porsche 904, 908, 910 and 917 cars they supported.
A New Chapter
In the 2023 season, the Porsche Carrera Cup Germany will take place across four European countries. The electric ID. Buzz buses will be there every step of the way, adding a touch of nostalgia while embracing a sustainable future.
Who knows, in a few years, these new models may well join the original Renndienst buses in museums and the garages of Porsche collectors. We can't wait to see where this new chapter leads.