If you are the owner of an RX8 with an engine failure, fret not, you're not the sole person. Otherwise, why else would an RX8 LS swap be as popular? In fact, the RENESIS found in the RX8 is an engine known to fail. This is especially true when the owner doesn't pay enough attention to care for it.
It's important to note that the failure rate of the RENESIS is exaggerated. It was an entirely new engine with design oversights, just like many other first-gen engine innovations. Being such a common sports car riddled with rumors of constant flooding and premature engine failure, it's also a very accessible platform.
Thanks to that, RX8 prices have been driven way down. And new owners of the RX8 may not understand how to maintain the RENESIS properly. In fact, the low barrier of entry often ends up with new owners downplaying the care the RENESIS needs. Therefore, this typically results in a painful lesson in the way of a cooked RENESIS.
Whether your RX8 engine failed on you or if you bought one as an empty canvas, an engine swap might be a viable solution. RX8s are some of the most common platforms people used to perform engine transplants and for good reason.
Mazda RX8 LS Swap
It's a rear-wheel-drive platform, opening it up to an eclectic range of engine options. It also has a generously proportioned engine bay that can accept different engine configurations without needing major bodywork. Finally, it's a relatively recent, common, and affordable car to buy with a rather taut chassis.
One of the most common engine swaps carried out for the RX8 is the LS swap. The primary reason is that many RX8s are bought over to the US and the LS engine is ubiquitous there. It's also such a well-understood engine that commonly receives the engine swap treatment.
It's a joke that everything that has been brought to the US will have an LS engine swapped into it at some point. However, there are many qualities that people adore in the LS, and for those handy at fabricating an LS engine might be easier to source than the RENESIS.
Thanks to that, the LS swap for the RX8 is regarded as the simplest and easiest engine transplant. The difficulty is relative of course. It's still an engine transplant, which is a major job by any metric. However, it's the most well-documented swap, and there are swap kits available to reduce the fabrication work. If you have a good spec RX8 then a new engine can put new life into the car.
LS Engine Information
Even General Motors understands the popularity of the LS as a donor powertrain It's even sold as a crate engine for keen modders in their project cars. That said, what does the swap entail, and why is the LS engine so revered?
LS Generation 3 (1997 – 2007)
For the rest of the world, other than Australia, the LS engine is largely unknown. LS refers to the nomenclature used by General Motors for their post-97 small-block V8 engines. GM refers to the prior and latest generation of their V8 as the LT.
It's a bona fide clean sheet design forsaking the aging LT engines. The idea is simple –  make a reliable, compact, and lightweight V8 engine that produces good power and torque. It's an all-new engine powering and introduced alongside the all-new Chevrolet C5 Corvette.
Because the LS family is absolutely massive, the engines are colloquially referred to as LSx engines. The x refers to the specific configuration of the engine, but because nomenclature consistency is somewhat blurry here, it can be perplexing for outsiders to understand the family.
LS Generation 3 Specs
The major departure for the LSx family of engines is the fact that it utilizes aluminum cast blocks. This massively cut down the weight of the powertrain when paired with the aluminum cylinder heads. GM has also ditched the distributor ignition in favor of the modern direct ignition system.
Despite technically being from the same family, the LSx engines can vary significantly in terms of displacement, output, and characteristics depending on their application. That said, the most common LS engines are actually the iron blocks Vortec engines that were put in trucks and SUVs. These have very rigid engine blocks, albeit with much more weight too.
It's recommended that you stick with the LS series, as you'd want to reduce as much weight from the nose as possible. The Gen-3 engines are down to the LS1 and LS6, both are 5.7-liter V8s. The LS1 is most commonly found in the C5 Corvette and post-refresh fourth-gen Camaro. The Corvettes had the LS1 with the most output though, at 350 horsepower and 475 Nm of torque.
The Z06 C5 Corvette and CTS-V received the mighty LS6. It's a very different beast altogether, with numerous modifications made to improve output. You can expect around 400 horsepower and 522 Nm of torque from the LS6. This is the most powerful variant of the 3rd-gen LS.
LS Generation 4 (2005 – 2020)
By 2004, GM realized the need for further modernized and higher output V8s. The main purpose of the gen-4 engines is to refine and innovate upon a solid foundation. Thus, GM incorporated VVT and cylinder-shutoff technology into the gen-4 engines.
This proved important, as these engines had provisions to support up to 7.4-litre of displacement. Electronic throttle bodies are also standard on the gen-4 LSx. The first to spearhead the new generation is the LS2 engine. It's once again introduced alongside the then-new C6 Corvette.
The LS2 is a direct successor to the LS1. It had more displacement (6.0-litre), similar head casting to the LS6, and a higher compression ratio. This pushed output to 400 horsepower and 542 Nm of torque. GM also improved torque delivery throughout the engine operating range.
By 2008, Chevrolet knew the Corvette needed more grunt to remain competitive. Introducing the LS3 as the new Corvette default engine, it featured a larger bore to displace 6.2-liters. Along with revised, tougher block casting, larger rectangular ports, and multiple other performance enhancements. This pushed power output to 430 horsepower and 575 Nm of torque.
LS Generation 4 Specs
There's also the LS7 engine, which is an absolute behemoth with 7.0-liters of displacement. GM sold aftermarket-purpose LS7s as the LSX crate engines. These produce over 500 horsepower and 637 Nm of torque. And while it seems quite unfeasible, people from Dyno Torque have fitted the LSX454 into an RX8 before. But they are some of the best in the business of V8 conversions.
Despite that, Chevrolet deemed the LS7 to be inadequate at propelling their halo Corvette. The manic Corvette ZR1 received the elusive LS9. It's based on the LS3, which had thicker cylinder walls appropriate for forced induction. Displacement remained at 6.2-liters but is now supercharged with a sizable 2.3-liter Eaton Roots-type supercharger. This pushed horsepower all the way to 638, and torque to 819 Nm.
It also developed a variation of the LS9 dubbed the LSA specifically for the Cadillac CTS-V, HSV models, and Chevrolet Camaro ZL1. Intriguingly, GM also sold the LS9 as a crate engine, but in limited numbers.
So Which LS To Buy?
It's fair to say that I've barely scraped the surface of the LSx family of engines. People on a tighter budget have gone with the truck engines, but these are actually bulkier and require more work to fit in the RX8. The generation 5 LT engines can also fit the RX8. But the prices of LT engines are quite high, and it's more work to fit one in the RX8.
Commonly, people go for the LS1 or LS2, which are easier to source. These swaps are also well documented. That said, most agree that the engine you go for depends on your budget. All the LS engines have great potential to make a lot of power, so if you find a great deal for an LSx/transmission set, go for that one. You're going to need the rest of your budget for the swap.
The T56 6-speed manual is the default transmission of choice for most folks. If more power is intended, the T56 can be built to handle it. You can also source a TR-6060 6-speed which supersedes the T56. The TR-6060 also features external shifter linkages that can be made to fit the stock RX8 shifter location.
That said, if you're keen on building your RX8 into a cruiser, automatic transmissions can be used as well. The 4-speed 4L60 is a common candidate for that, but even the 6-speed 6L80 (to learn more, check out our overview on the 6L80 transmission life expectancy) has been made to fit the RX8. It all boils down to your personal goals.
Things To Consider Making The Swap
Once you've found your engine and transmission, you now have to decide on the differential. If you're sticking to the LS1 engine, then there's the option to use the stock Mazda differential. It's going to weigh less, free up much more space for exhaust routing, and should be more affordable.
However, if you decide that you're going to need more power, then you have to ditch the stock Mazda differential. The Ford 8.8 differential is the default option. It's commonly used for LS swaps, it has been proven to survive nearly 1000 horsepower and it's quite common. As a bonus, the gearing is appropriate for a torquey V8 engine, which translates to better fuel economy and drivability.
RX8 LS Swap Kit
Unless you intend to make all the fabrication work yourself, there is a multitude of swap kits available to make your life easier. You're still going to need to make modifications for the installation, but it's going to save you hours of labor.
Two of the earliest kits sold are from V8Roadsters and LS1RX8. Both are well-regarded and reputable kit suppliers. V8Roadsters is known for its very well-built kit that's been proven countless times. Their kit is more appropriate for late-gen LSx engines. V8R has built its reputation in supplying quality swap kits for MX-5s.
LS1RX8 specializes in RX8 LSx transplants and boasts a community solely for its LS swap kits. Its kit is based on the early Camaro LS1 engines. Either will require you to find the specific parts or make modifications needed to fit the engine though.
Depending on which kit you go with, you might need to find additional parts to make the LS fit properly. You only need to tell your kit supplier what exact drivetrain configuration you have, and they should be able to advise you on that. V8Roadsters also offers a complete turn-key package that includes everything you need aside from the drivetrain.
But other than that, some of the other things that you need to worry about include:
RX8 LS Swap Consideration #1: Steering Rack Relocation
A hurdle that you will encounter is the oil pan. The LSx oil pan will protrude over the RX8 steering rack, thus requiring a relocation. There are steering rack relocation kits out there that drop the steering rack about 2 inches to clear the oil pan. With this method though, you're going to affect the steering geometry. Therefore, you need a bump steer kit to correct that, which LS1RX8 sells.
The other method is to go for a hydraulic power steering rack conversion. In the V8Roadsters kit, the steering rack from the NC Mazda MX-5 is used in lieu of the stock electric unit. This saves approximately 35 lbs in weight. With their core conversion, the rack can be made to fit under the oil pan with the stock fluid ports.
RX8 LS Swap Consideration #2: Front Sway Bar Spacers
Next on the agenda is the front sway bar. The stock RX8 sway bars won't clear the ancillaries of the LSx. LS1RX8 offers sway bar spacers to relocate the sway bar. The V8Roadsters kit has integrated sway bar mounts designed to work with CTS-V accessory drives.
RX8 LS Swap Consideration #3: Delete The Stock Power Plant Frame
By switching to the LSx transmission, you're going to need to delete the stock RX8 power plant frame (PPF). The stock RX8 transmission and differential are mounted with the PPF as a single rigid unit. Deleting the PPF means you're going to need custom transmission and differential mounts. Both kits have provisions for the transmission mount but sell the differential kit separately.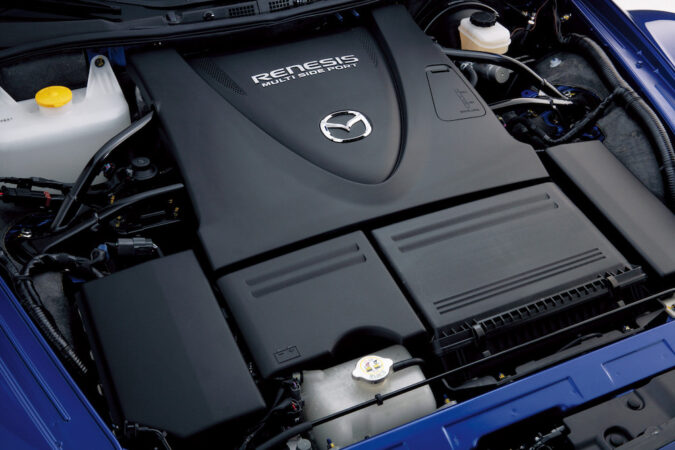 RX8 LS Swap Consideration #4: Custom Propeller Shafts
You're going to need custom propeller shafts to mate the transmission to your differential of choice. Fortunately, it's possible to make your own measurements and have a propeller shaft made to fit your needs. It's also possible to buy it straight from the kit providers. They both provide ready-made driveline kits for 8.8 Ford differential conversions.
RX8 LS Swap Consideration #5: Fuel Pump Upgrade and Headers
Another important supporting mod to note is the fueling system. The stock Mazda fuel pump will not adequately provide for any LSx engine. You can seize the opportunity to upgrade to a beefier aftermarket fuel pump that'll provide room for upgrades. Also, the stock LSx headers will not fit into the RX8. You'll either have to mock up one yourself or purchase one from the kit suppliers.
RX8 LS Swap Consideration #6: Wiring Harness
Furthermore, you'll have to figure out the wiring harness for the car. It'll be a lot of reading and time spent figuring out how to mate the LS PCM to RX8 electronics. You'll most likely have to retain the stock RX8 ECU with its sensors so the instrument cluster works. The kit suppliers also sell a pre-built wiring harness that can save you time, and a crank trigger mounting to retain the Mazda crank angle sensor for the gauges.
RX8 LS Swap Consideration #7: Battery Relocation To Trunk
Because the LSx engine takes up so much more real estate than the RENESIS, you have to reposition the battery. Typically, people move the battery to the trunk, as it's the only other sensible location. You can wire up your own battery relocation or just buy a relocation kit from the kit suppliers.
RX8 LS Swap Consideration #8: Cooling, Fans, A/C, Brakes
Then you just have a few remaining sundry items you're going to need. You need wires, coolant hoses, heater hoses, cooling fans, and custom A/C lines. The LSx is a heavier engine, albeit not by much. Thus, it's recommended that you upgrade your suspension setup to handle the additional power and increased heft. Bigger brakes are also recommended for more stopping power.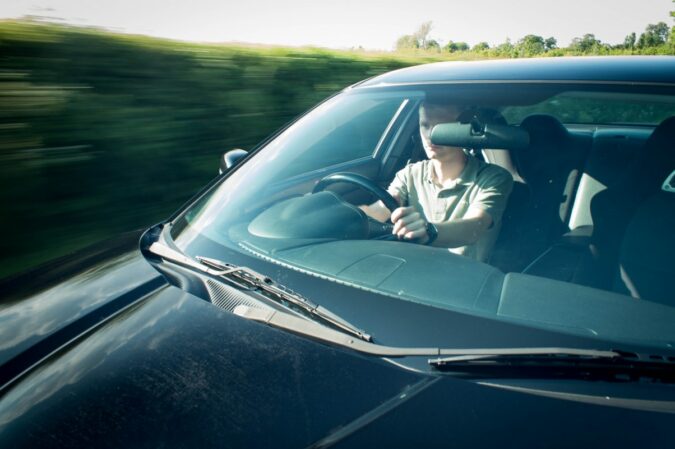 RX8 LS Swap Consideration #9: You Will Be Cutting Into Your Car
If you really intend to swap an LSx into your RX8, know that it won't remain in a complete piece. For the manual, you need to enlarge your clutch master cylinder hole some. The front battery brace and ABS pump mounting brackets have to be cut. You're going to need to cut the shifter hole too. New holes also have to be drilled into the vehicle frame to install the transmission subframe.
RX8 LS Swap Consideration #10: Engine and Transmission Go In Separately
It's tricky to install the engine and transmission together at once. Therefore, it's recommended for you to segregate them and install them separately. If you have a 2-post hoist, then you can install the engine and transmission into the subframe first, then drop the car onto it.
RX8 LS Swap Consideration #11: Keep The Stock Radiator and Oil Cooler
Surprisingly, the stock RX8 radiator provides sufficient cooling efficiency for the LSx. You can keep the stock radiator and just modify the hoses to fit the LSx engine. You can also repurpose the stock RENESIS oil cooler for the LSx engine. Though an oil cooler isn't essential for those who don't intend to track their car.
RX8 LS Swap Overall
Overall, swapping the LSx into an RX8 isn't exactly a simple task. However, if you have done major repair work before and are handy with tools, then it's not too difficult. Being well-documented is an enormous advantage too. You're not treading new ground here, so there are people out there to answer your questions and provide pointers. Engine swaps are also an excellent opportunity to hone your fabrication skills.
Those who are interested in the swap should also search for build threads. This post and this post provide an insight into what's involved in one of these swaps. And we have a big post on all the popular RX8 engine swap options.
Why Choose The LS Over A RENESIS?
The easiest engine swap to carry out for an RX8 is another RENESIS. However, there is valid reasoning behind a V8-powered RX8. And the thing is that it's not an entirely performance-driven decision. Believe it or not, there is pragmatism behind a V8-powered RX8.
For one, it's broadly agreed that the LSx engine is more reliable than the RENESIS. Being an engine that requires a lot of attention, RENESIS failure tales are what drive most people to perform an engine swap. People like the rest of the RX8 and its availability, but not the engine.
Thus, it only makes sense that one wants to replace the RENESIS with the venerated LSx engine. It's not as frail, with many people reporting an excess of 300,000 miles on their stock LS performing only basic maintenance. Parts are also readily available and affordable.
More Performance Thanks To An RX8 LS Swap
Moreover, the LSx engines provide more performance than the RENESIS. Being a big displacement V8, it has loads of torque down low which is what rotary engines struggle with. Swapping to the LSx drastically transforms the RX8 into an effortless 4-door sports cruiser. It can also feel more refined, as the RENESIS requires you to strain it to be rewarding; while the LSx can supply torque-on-demand.
If you demand more performance, then the LSx is also a very mod-friendly platform. As opposed to the RENESIS, which even now has a relatively experimental aftermarket scene. People have done pretty much everything with the LSx engines and made all sorts of power. The recipe is time-proven, so there's little new ground that needs to be tread. It's even possible to twin-turbocharged an LSx and fit it into the RX8.
Finally, the LSx addresses another issue of the RENESIS. There's no way around it, the RENESIS is still a thirsty engine despite Mazda's effort to remedy it. Rotary engines burn a lot of fuel to make power. The LSx meanwhile paired with the long gearing can greatly improve the RX8's fuel efficiency. LS1RX8 reports peak mpg at 26 highway with a double-overdrive T56 transmission.
Worth Getting An RX8 LS Swap?
That said, the LSx swap is not one to be downplayed. It's not exactly the easiest job, and you have to commit fully to the swap. This means properly budgeting for the entire swap, accounting for everything involved in an engine swap. Most projects are abandoned halfway through simply because conditions changes and people discover they've bitten off more than they can chew.
Crucially, if you want your RX8 to remain a genuine sports car, then the RENESIS is still the better option. It both weighs less and positions better in the RX8's engine bay. Swapping the LSx into the RX8 will turn it into a front-engine rear-wheel-drive sports tourer. And without the proper supporting handling mods, an LSx-powered RX8 might feel lazy.
Did you notice the body kits in the videos above? We have a full guide on which body kit is best for your RX8, check it out.
Why Not Use Other V8s?
The other side of the coin is always this, why not use other V8s? It's definitely plausible, as people have fitted other V8s into the RX8 before. The common alternative is the Toyota 1UZ, which is commonly found throughout the world.
The brief answer is that the LS engine provides a good compromise between weight, dimensions, availability, power, and reliability. The 1UZ is a respected engine in its own right, but it's a taller engine because of its quad-cam setup. This means that more work is required to tuck it underneath the low-slung bonnet.
The tuning potential of the LSx engines is also frankly startling. Very few other engines are as mod-friendly as the LSx engines and that's why it's the performance engine of choice for many. However, outside of the US, the availability of the LSx engines is dubious.
Hence, the UZ engines are alternatives that most European and Asian countries end up with. The tuning potential isn't up to par compared to the LS, but the UZ has all the V8 characteristics. And you can find a UZ for not much money these days. It's also spectacularly reliable for a V8, as per classic Toyota fashion.
Facts about Swapping Engine on a Mazda RX8
Swapping engines on a Mazda RX8 is a complex process and not an easy task.
An engine swap may not necessarily improve the car's performance or handling, which is one of its best features.
The car was designed around the Renesis engine, which is a small engine of 13 inches in height and light in weight.
Modifying the RX8 may not be worth it, and it may be more appropriate to sell it and buy a more adaptable car.
The Isuzu V6 engine is a popular choice for swapping, and it can take up to a weekend of work.
The first consideration before swapping engines is the budget for the project.
Budgets may range between $10,000 to $12,000 or more, depending on the engine's cost and the labor required.
Engine swaps are typically a pain, and preparation and reading are essential.
The preparation and research required for an engine swap may be up to 60% of the work involved.
Swapping engines requires a considerable amount of work, including welding and electronics, which may not be suitable for beginners.
RX8 LS Swap Conclusion
Some would argue that replacing the rotary engine with a piston engine is sacrilege. But other than rotary enthusiasts, most would think that the RENESIS is more hassle than it's worth. Some go as far as replacing the RENESIS with the 13B-REW from the RX7, the engine it's supposed to supersede.
For me though, I reckon the RENESIS gives the RX8 its flair as an affordable sports car. Ridding the RX8 of a RENESIS means discrediting Mazda's effort to make the RX8 drive as it should. If you are looking for another rotary try and get hold of the R3 engine. However, I also think that a V8-powered RX8 is splendid, and I understand the rationality behind it. If you're up for the project and have the time and money to spare, it's a journey that will prove most rewarding nevertheless.
If you decide not to swap your engine in the end you can also look at a turbo kit for your RX8.
FAQs On RX8 LS Swap
If you're still keen on learning more about an RX8 LS swap, our FAQs here might help…
What Is An LS Engine
LS, in General Motors terms, stood for Luxury Sport. It was originally nicknamed as such to separate their new 3rd and 4th-generation small-block V8 engines from the older 1st and 2nd generation motors. Within the car community, the LS series of engines – first introduced in the 1997 Corvette – is an iconic powertrain. Mainly, it was a relatively small and lightweight engine. Yet, it could easily output big-block rivaling horsepower (while also meeting modern emissions and fuel economy regulations). Better still, the LS V8 is well-known for its pliability. While its from-the-factory horsepower ratings were impressive enough, you could tweak and modify the LS with ease. In the end, there have been people who've cranked out at least 1,000hp from an LS motor.
What Is An LS Swap
Among car enthusiasts, the most popular engine for swaps and project cars is the LS, irrespective of what the original car was powered by. One of the reasons why LS engines are a popular option for engine swaps is due to their compact size and versatility with modifications. The relatively small form factor and low weight meant that you could fit an LS engine into most cars, even tiny sports cars or economy cars. Plus, leaving a lot of room in the engine bay for secondary modifications such as forced induction. Moreover, while the LS engines were small-block V8 motors, they could easily output as much power as a big-block V8. Oftentimes, and with the right modifications, you could easily crank out more horsepower, hence their popularity among those who like to tune and modify their cars.
Which LS Engine Is Best
If you're looking for a new engine to swap into your project car, GM's LS series of small-block V8s are a great choice. But with so many variations, which one's the best? For most people, they'd recommend opting for an LS motor that fits within your budget. Plus, you have to make sure that you've budgeted for a suitable transmission to pair with that LS engine. With that in mind, the most popular LS engines that have been used for swaps are the LS1 and LS2 motors. They're especially popular for an RX8 LS swap since they're pretty easy to source and aren't overly expensive. But don't worry, because just like any other LS motor, either the LS1 or LS2 has a lot to give when it comes to modifications and tuning potential.
How Much Is An LS Engine
Although the LS series of engines remain highly popular for an RX8 LS swap (among others), you'll first have to go through the trouble of sourcing one, in the first place. The critical challenge here is being able to afford one, as they can get pretty pricey. The cheapest LS engines are the LR4, LY2, and L20, which can be picked up from a junkyard for as little as $200 to $400. Although, the best bang-for-buck LS engines are the LMG, LY5, LQ4, LQ9, LS6, LS2, and L92. These can be found for anywhere between $1,500 to $4,500, but the performance and modification potential they offer is well worth the premium. If you do have a lot of money to spend, you might even consider the LS7, LSA, or LS9, which can cost at least $8,000, or upwards of $14,000.
Can You LS Swap Any Car
An RX8 LS swap does highlight just how popular LS engine swaps are within the car community. We've seen European exotics, Japanese tuner cars, economical hatchbacks, or hardy off-roaders have their engines swapped out for an LS. This wide-ranging diversity and reach are primarily due to the LS engines' design. They're compact motors given all the horsepower that they have to give. Combined with a relatively minimal weight penalty, this makes the LS an engine that's compatible with most engine bays. However, there are some considerations before you drop an LS into your car. You'll have to consider the amount of space and engineering for other components that need to bolt onto that LS. For example, a suitable transmission, cooling systems, motor mounts, as well as other upgrades and moving things around.
Approved Tools
These tools have been tried and tested by our team, they are ideal for fixing your car at home.
AI Car Expert Thinking 

.

.

.