Before we start discussing RX8 Specs, let's take a look at how the RX8 came to fruition. Built as a successor to Mazda's iconic RX-7, the RX8 had some significant shoes to fill. Manufactured and sold between 2002 and 2012, the RX8 first made its debut back in 2001. Unveiled at the North American International Auto Show, it captured the media's attention as soon as the covers were lifted. Opinions about the RX8 seemed to be split down the middle. Some believed it was a great sports car with an unconventional engine, others felt it lost some of the charm and charisma the RX-7 had.
In 2010, strict emission regulations meant the RX8 was no longer compliant with the European market, so Mazda had to stop selling the car in the continent. A few years later, with rising Yen prices and dwindling sale figures in North America and the rest of the world, Mazda decided it was time to discontinue the RX8 altogether. In August of 2011, the RX8 finally got the axe, and we haven't seen a rotary-powered Mazda since.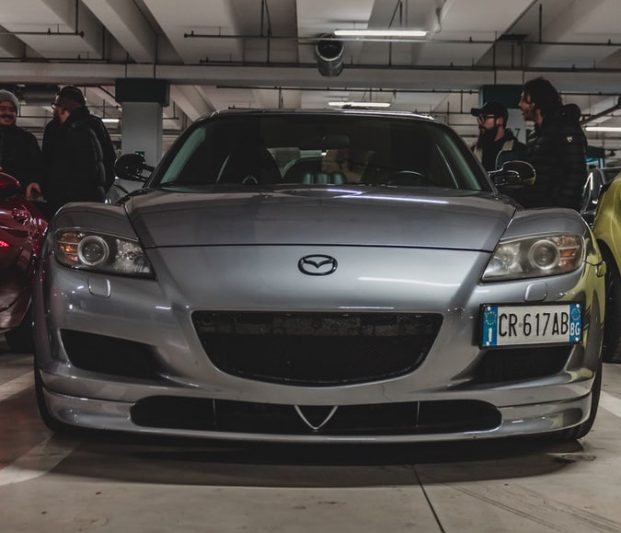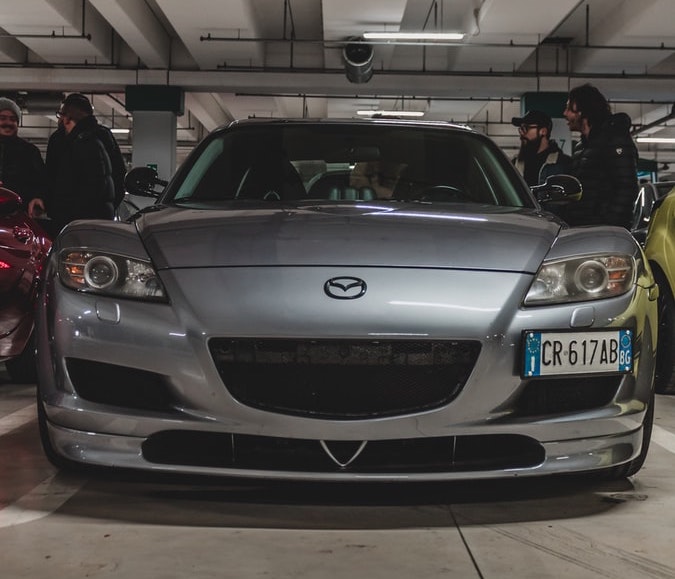 Another Rotary On The Way
A little while ago Mazda confirmed they're working on a rotary engine, one which we might get to see as early as 2022.  Unfortunately, this won't be a conventional rotary engine in the way we're used to. Mazda has no plans of building an RX-9, or any other RX8 successor for that matter. Instead, they'll use the new rotary unit as a range-extender for an EV, as rotaries are able to pack a much more powerful punch than regular cylinder engines litre-for-litre.
Second Hand RX8
Luckily, the second-hand market is littered with RX8 rotaries at affordable prices. For reasons which we'll get to in a bit, not many people seem to want a used RX8, especially one that's got a lot of miles on the clock. As much as people love to rag on the 'Wankel' engine for being unreliable, the truth is it's not that bad of an engine. I see a lot of myths and rumours online, most of which are completely bunk. But yes, the engines do need rebuilding more often than your typical 4 banger.
RX8 Specs
In this article, I'll go over the Mazda RX8 Specs, its entire lifespan, highlighting what makes it so special and what exactly gave it the notoriety it currently has. Along the way, I'll talk about RX8 Specs and various trim levels it was initially offered with, as well as give you an overview of every special edition ever made. If you just want the raw stats, you can find them listed at the bottom of this article.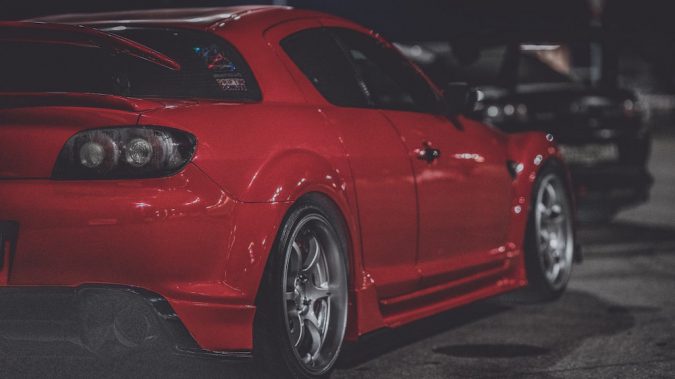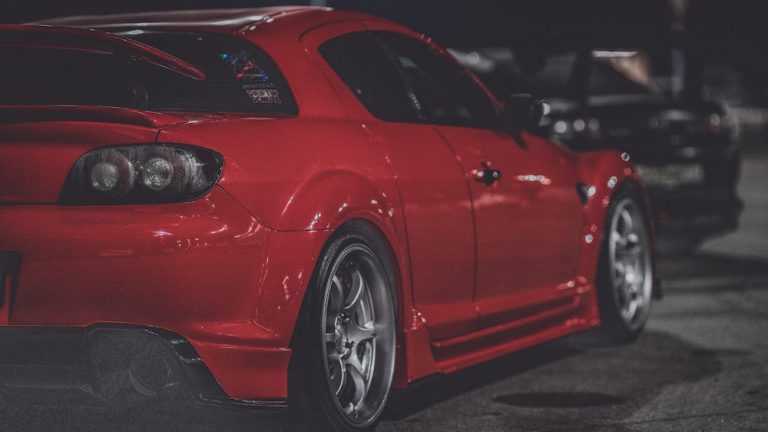 Where Rotary Engines Started
To understand why Mazda decided to build the RX8, we first have to look at its predecessors. Mazda first introduced rotary 'Wankel' engined cars in the US in 1971, starting with the R100. Eventually, they decided to name all future rotary cars using the moniker RX, beginning with the RX-2, then the RX-3, the RX-4, etc. The cars were brilliant to drive, but they weren't what you'd call user friendly or luxurious.
They were also ridiculously expensive, and the world was experiencing a decline in sports car interest. Starting with the RX-7, Mazda decided to discontinue the model worldwide, and only sell it in its domestic market of Japan. Then, something peculiar happened in the mid-to-late 1990s. The world suddenly became infatuated with import tuning and performance, no doubt aided by popular cultural influence at the time. Initial D, a Japanese street racing manga series, first broke cover in 1995, and just like that, it became an overnight sensation.
How the RX8 came to be
The RX8 can trace its roots to the RX-01 concept car from 1995. It wasn't just a mock-up clay model either. It had an early iteration of the RX8's 13B-MSP engine (albeit a naturally-aspirated one). With SUVs on the rise and a struggling financial situation at Mazda, the RX-01 never came to fruition. Inside Mazda, a hidden 'skunkworks' team was still working on the 13B-MSP though, using an elongated Miata MX-5 chassis as their testbed. Eventually, with the help of Ford, who owned Mazda at the time, and Ikuo Maeda, Mazda's lead designer, they were able to come up with what we now know to be the RX8.
Mazda RX8 First Generation 2003-2008
The Mazda RX8 was marketed as a front-engine, rear-wheel-drive sports car. The RX8 didn't necessarily have direct rivals, nor did Mazda design it to compete with any car in particular, but its price range and intended purpose placed it directly in the line of fire of Audi's TT and Alfa Romeo's Brera. In terms of originality, the RX8 is much more special than either of those cars though.
Designed as a four-door, four-seater quad coupe, the RX8's one big advantage is that it doesn't look like a four-door vehicle. Mazda specifically wanted it to look like a two-door coupe with the practicality of having four seats. The ideal solution presented itself in the form of rear suicide doors. Because they open backwards, they can be much shorter and narrower than conventional doors, since there's no B door pillar in the middle. The rear door hinges are at the back, near the C pillar, so when you open both doors, there's a massive amount of space to get inside.
Engine Placement
This cleans up the RX8's design and gives it a traditional low-slung sports car silhouette. Because of how small the rotary engine is, Mazda was able to place it at the back of the engine bay near the bulkhead and mount it extremely low. The end result is an elongated hood that's almost completely straight, with a triangle-shaped bulge in the middle designed to resemble what the insides of a rotary engine look like. Read our RX8 review if you want to know how it drives.
Design
Compared to most modern sports cars and supercars, the RX8 is relatively conservative in terms of its design. The front fascia is devoid of any large splitters or air dams, but there's a central opening that's functional and used for cooling the Wankel engine residing in the engine bay. The rear fascia is perhaps the RX8's most controversial angle, and that's predominantly down to the taillights. A lot of people like the clear design, but some don't.
Interior
The RX8's cabin is an example of why minimalism and simplicity are ideal for interior car design. At first glimpse, you might call it spartan or bare, but the more time you spend in it, the more you learn to love it. Take the centre console for instance. It's simple and uncluttered, with buttons for everything you need and nothing more. There's no large infotainment display or system, so everything you control you control through the centre console and buttons on the steering wheel.
Steering Wheel
Speaking of the steering wheel, I have to stop and mention how lovely the actual wheel is itself. Compared to BMW steering wheels, the RX8 Specs steering wheel feels comically thin, in the best way possible. It's not too thick, but it's not too thin. Mazda had the foresight to give it a three-spoke design, something most sports cars have nowadays, but it wasn't as common back in the day.
Front Seats
The seats are on the harsher side, but they're extremely supportive with tons of lateral bolstering and support. Because they're mounted low inside the cockpit, and the car itself is relatively low on its own, you get a fantastic sense of what the car is doing from the seat of your pants. You feel cocooned and isolated inside the car. You get a sense of sitting inside the car rather than on top of it, if that makes any sense. I know it's automotive cliché, but you feel connected with the car and the road because you feel you can almost scrape the road with your bottom.
RENESIS 13B-MSP engine
The first-gen RX8 Specs came fitted with a RENESIS 13B-MSP engine (2-rotor unit), sending power to the rear wheels. It was initially offered in two different power levels: the standard and the high power.
The base 4-port car boasted 191 horsepower and utilized a 5-speed manual or a 4-speed auto.
The high power RENESIS, only offered with a six-speed manual, produced 238 horsepower when new.
For the North American market, Mazda had to revise the engine slightly, altering its power output to 189 horsepower and 237 horsepower respectively.
The Mazdaspeed RX8
In 2003, Japan got a brand-new RX8 variant: the Mazdaspeed. Outfitted with mechanical, suspension, and aerodynamic improvements over the standard RX8, and built by Mazda's in-house Mazdaspeed division, it was the highest-performing RX8 at the time. Improvements included but were not limited to a new high-performance exhaust system, a grounding kit, a re-balanced eccentric shaft, different spark plugs, a lightweight flywheel, better brake pads, adjustable coilovers, and stiffer anti-roll bars.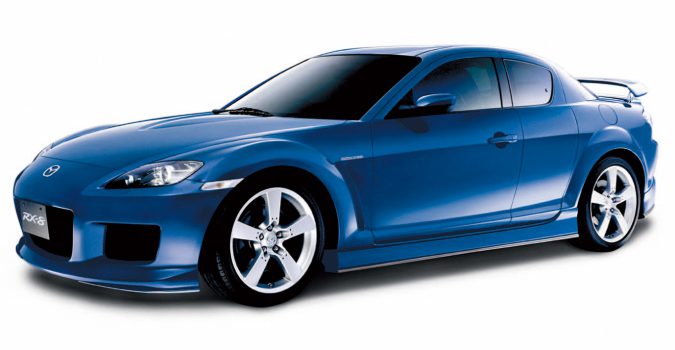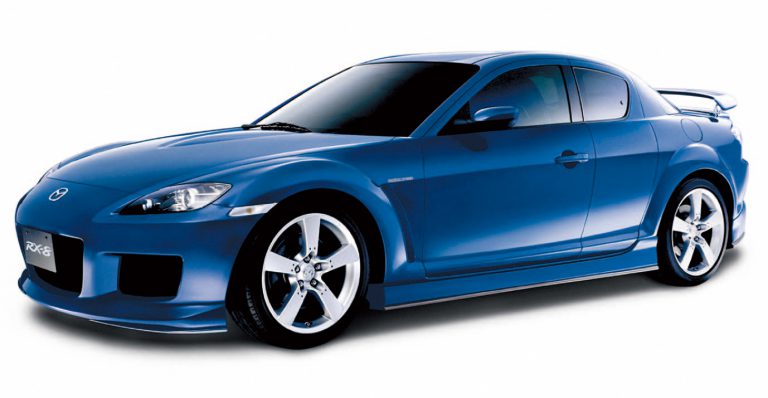 To help with aerodynamics, Mazdaspeed also modified the RX8's aero, giving it larger venting and improved oil cooler ducting, a redesigned front bumper, new side skirts, a bigger under spoiler, as well as a substantial rear wing. Interestingly enough, Mazda only offered the Mazdaspeed RX8 in two colours: Strato Blue Mica and Sunlight Silver Metallic. They only made 480 Mazdaspeed RX8s. Even though the Mazdaspeed wasn't offered anywhere outside of Japan, Mazda did sell all the improvements as accessories for the regular RX8 at dealerships throughout the world.
It is worth noting that you can buy the Mazdaspeed bumpers to use as a body kit for the RX8. Read our guide on the best RX8 body kits here.
The NR-A RX8
In 2004, thanks to approval from the Japan Automobile Federation, Mazda released the NR-A kit for its Type S RX8. The kit included a stiffer roll bar, a new radiator, an oil-cooler, two hooks, and more aggressive brake pads. Once again, the kit was only offered in Japan, but its main purpose was to make the RX8 eligible for the Japan Automobile Federation's one-make Party Race.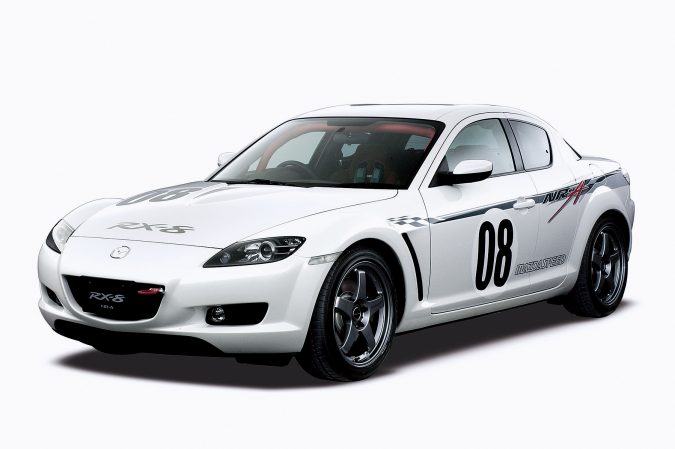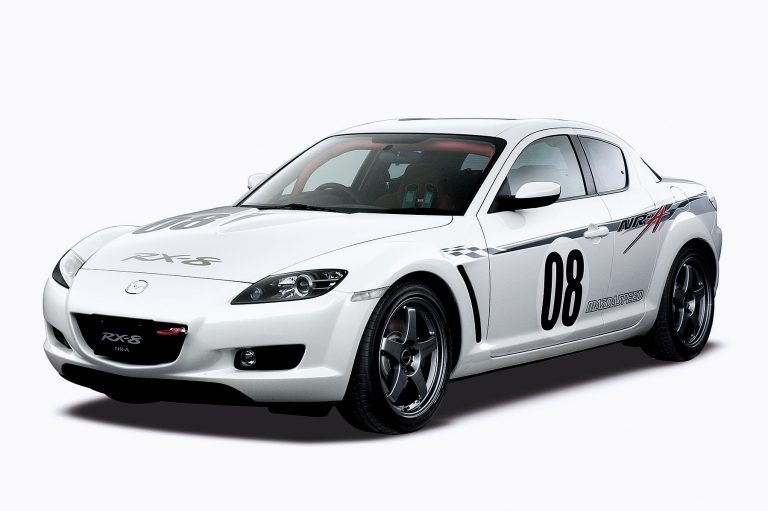 The first-ever hydrogen RX8: the Hydrogen RE
In 2004 Mazda stunned the world when they unveiled the Hydrogen RE RX8 at the North American International Auto Show. Designed and built to run on either hydrogen or gasoline, it was Mazda's way of committing to cleaner energy and a more sustainable future. By 2006, Mazda had found its first two customers for a dual fuel RX8. By 2008, they managed to sell 30 Hydrogen RE RX8s.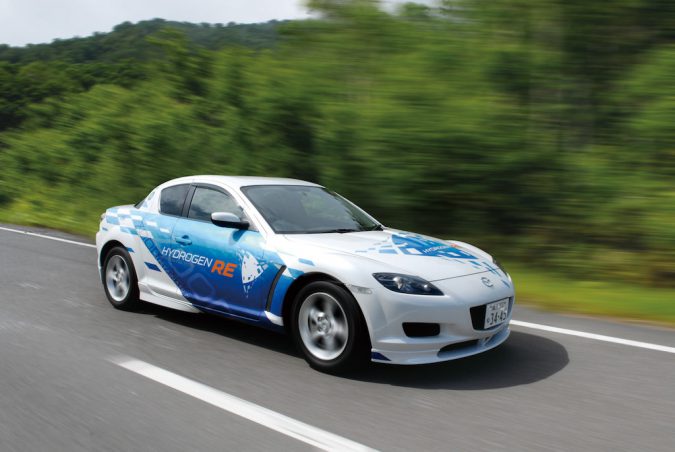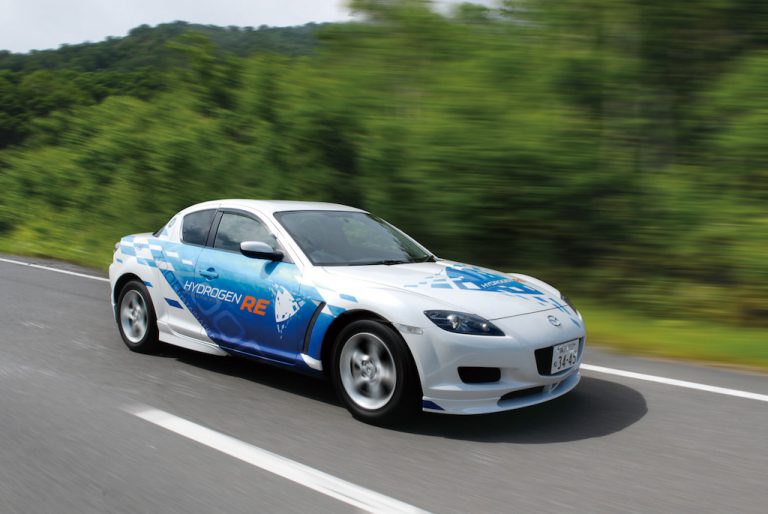 The 'Shinka' RX8
In 2005, Mazda unveiled what they called the 'Shinka' special edition RX8. In Japan, it was known as the 'Sports Prestige Limited'. Don't worry, I didn't get that wrong. They really did call the North American version the 'Shinka'. In Japanese, the word 'shinka' means transforming or evolving, which is what this special edition RX8 was.
Designated as a more luxurious GT variant of the RX8, it came in two special exterior colours: Black Cherry and Various Special. Mazda built 2,150 editions, 1,357 of which were 'Shinka' versions destined for the North American market, and the rest were sold in Japan. The biggest differences between this and the regular RX8 were the modified Bilstein shocks and the revised suspension cross member, both designed to make it ride better.
The RX8 Evolve
Making its debut in 2006, the Evolve was a special edition destined for the UK (the first UK-bound special edition in fact). Named after the original concept car first seen in Detroit, the Evolve was a limited-run of exactly 500 cars. All cars were based on the high power trim, but they did boast several bespoke exterior mods. Two special colours were available, one called Copper Red Mica 400, and the other Phantom Blue Mica 100.
The car sat on Evolve-unique silver 18-inch wheels, and it came with a polished Rotary crest on the air dam, silver bezel headlights, sportier side mirrors, chrome exhaust tips, and rotary-branded B-pillars, only seen on this model of the RX8 alone.
The PZ RX8
The PZ was, in many ways, the best RX8 offered in the UK. Built-in conjunction with motorsports legends Prodrive, the PZ was only offered as a six-speed manual ordeal. It featured unique 10-spoke alloys (supplied by none other than OZ racing), special drag-reducing mirrors, a mesh grille both front and back, and a cool spoiler on the rear hatch to provide increased stability.
Prodrive's modifications don't stop there though, because they also tinkered with the suspension using Bilstein dampers and Eibach springs, dropped the ride height by a not-insignificant 15 mm, and increased spring-rate by 60% to make the car corner better. Just 800 examples were ever made, and all sold out quickly, despite the car's £25,995 MSRP. Two paint jobs were available at the time: Galaxy Grey and Brilliant Black. They sold 380 of the former and 420 of the latter.
The Revelation RX8
Destined for the Australian market, the Revelation was a limited run of just 100 examples. Changes included a stiffer anti-roll bar, better isolated foam-filled cross members, and custom grey alloys. A new colour was added to the palette too, called Copper Red. Interesting fact: the Revelation RX8 was the first RX8 to be sold with keyless entry and start in Australia.
The Nemesis RX8
Once again, it's another US special. Featuring special paint schemes and different interior trim, the Nemesis was, weirdly, only offered as a model based on the 'regular' RX8, not the high power one. Like most other special editions, Mazda included unique badges, scuff plates, and similar accessory items, but what's interesting about the Nemesis is that they sold each car with a complimentary Prodrive experience day. Some 350 units of the Nemesis were sold.
The Kuro RX8
Finally, in 2007, Mazda decided to launch a new limited edition with a revised engine, not just exterior modifications. The Kuro had a tweaked RENESIS unit developing 227 hp and 156 lb-ft of torque, and it was only offered as a six-speed manual variant. The bad news? It was never offered in the UK, so all 500 limited-edition cars went to either Japan or NA.
Mazda RX8 Second Generation 2008-2012
The end of 2008 saw the introduction of Mazda's redesigned RX8. Enhanced by structural reinforcements for added rigidity and changed rear suspension geometry, the 'Second Generation' RX8 was more of a facelift than an actual new generation. To make it livelier off the line, Mazda changed its gear ratio from 4.444 to 4.777, making the car more responsive and accelerative in all gears.
Changes to the engine were minor, and most had to do with making the car more sophisticated and efficient. Mazda added a third oil injection port in each rotor to increase lubrication, and they included a new catalytic converter to reduce clogging and side seal failure, the most common cause for most RX8 engine failures.
To make it look sportier and newer, Mazda upgraded the RX8's exterior as well. Changes included a more aggressive front bumper, a new rear fascia, different headlights and taillights, as well as larger exhaust tips. Mazda redesigned the car's wheels too, replacing the old RX8's units with newer five-spoke wheels. The second-gen RX8 was offered in three trim levels: Sport, Grand Touring, and R3.
The R3 RX8
Japan was the first country to get the R3. Initially, it was a limited test run to see whether the car had any potential. Then, in 2009, Mazda reintroduced the R3 package and offered it elsewhere, with various different changes. The R3 package added better and improved suspension, Bilstein shocks, and large 19-inch aluminium-alloys, wrapped in performance tyres. The R3 also came with a different front bumper, including a lower splitter, side sills, and a more sizable rear spoiler. Inside, it boasted Recaro seats and Bluetooth connectivity.
Performance
Power: 227 bhp
Top Speed: 146 mph
0-60 mph: 6.2 secs
Torque: 211 Nm, 156 ft-lb
CO2 Emissions: 299 g/km
Miles Per Tank: 343 miles
The Spirit R RX8
Built as a last hoorah for the RX8, the Spirit R was a tribute to the car's history and its heritage, and it commemorated the car's end of production. Sold only in Japan, the Spirit R was and is the quickest factory RX8 ever sold. It was also the most expensive, but they still managed to sell all 1,000 examples as soon as they announced it.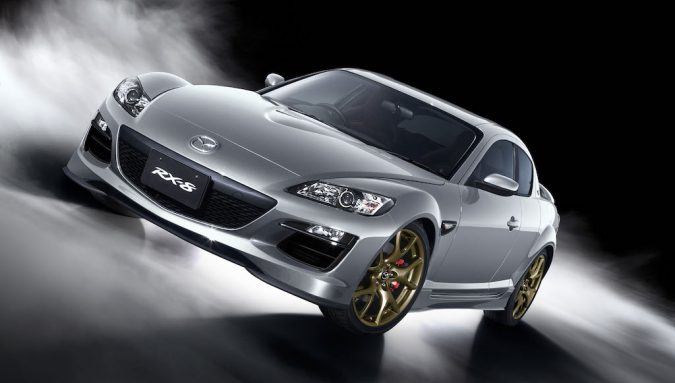 Spirit R-exclusive changes include bi-xenon headlights, large 4-piston brakes up front, red calipers, grippy Bridgestone Potenza tires, and a Bose premium audio system. The engine was slightly modified too, and Mazda was able to extract more power out of it thanks to a high-pressure fuel pump, a second intake port, an oil-metering pump, a less-restricted exhaust system, and a torque-vectoring LSD. Otherwise, the Spirit R inherited a lot of the same features as the R3, including Bilstein dampers and Recaro seats. The 19-inch wheels were made by BBS.
With all those modifications combined, the ultimate RX8 could hit 60 mph in 5.7 seconds and go on to a top speed of 170 mph. To send off the RX8 properly, Mazda even added a special colour only available for the Spirit R: Chrystal White Pearl Mica. Still if the Spirit R isn't fast enough for you, maybe you could consider an engine swap. If you know you want an LS engine swap, make sure you read our guide. 
Common RX8 Specs and Issues
Most RX8s experience the same common faults: poor compression, flooding, sticking tune valves, damaged catalytic converter, oil metering pump failure, ignition coil failure, worn actuator, etc. Surprisingly enough, the dreaded apex seals people seem to rave online about, aren't as common as you might think.
The biggest reason why people think rotaries are unreliable is because they treat these cars like piston-engined cars. The rotary isn't an engine you can abuse without taking care of. It has to be run to redline at least once every few days to clear any carbon build-up, should only be used in conjunction with high-octane fuel, and should always be properly warmed up. Let's not forget keeping on top of oil tops and changes. We have a full RX8 engine guide here if you want more info.
The simple fact of the matter is that if you find an RX8 in decent shape, it'll probably serve you well for years to come if you take care of it right. Find a specialist who knows what they're doing and perform regular maintenance. If possible, before buying an RX8, take it to a mechanic who can perform a compression check and go over the car to make sure everything's in working condition.
The end of the line
By the time Mazda stopped producing the RX8, they had sold an astonishing 192,094 examples. Considering the RX8 Specs were great and it was always marketed as a sports car, and not something you can daily drive (although you could), I find that remarkable. Also note that the RX8 was never turbocharged, but there are plenty of aftermarket turbo kits for the RX8.
Mazda RX8 Spec
Mazda RX8 Generation 1 2003 – 2008
MAZDA RX8 

1.3 Rotary

5MT

(192 HP)
ENGINE RX8 SPECS  – 
1.3 ROTARY 5MT (192 HP)
CYLINDERS

R2

DISPLACEMENT

1304 cm3

POWER

143 KW @ 7000 RPM
192 HP @ 7000 RPM
192 BHP @ 7000 RPM

TORQUE

220 lb-ft @ 5000 RPM
298 Nm @ 5000 RPM

FUEL SYSTEM

Multipoint Injection

FUEL

Gasoline
TOP SPEED

139 mph (224 km/h)

ACCELERATION 0-62 MPH (0-100 KPH)

7.2 s
MAZDA RX8 

1.3 Rotary 6MT (231 HP)
ENGINE RX8 SPECS  – 
1.3 ROTARY 6MT (231 HP)
CYLINDERS

R2

DISPLACEMENT

1304 cm3

POWER

173 KW @ 8200 RPM
231 HP @ 8200 RPM
232 BHP @ 8200 RPM

TORQUE

156 lb-ft @ 5500 RPM
212 Nm @ 5500 RPM

FUEL SYSTEM

Multipoint Injection

FUEL

Gasoline
TOP SPEED

146 mph (235 km/h)

ACCELERATION 0-62 MPH (0-100 KPH)

6.4 s
Mazda RX8 Generation 2 2008 – 2012
MAZDA RX8 1.3L 4AT (212 HP)
ENGINE RX8 SPECS  – 
1.3L 4AT (212 HP)
CYLINDERS

2-rotor rotary

DISPLACEMENT

1308 cm3

POWER

155.9 KW @ 7500 RPM
212 HP @ 7500 RPM
209 BHP @ 7500 RPM

TORQUE

159 lb-ft @ 5500 RPM
216 Nm @ 5500 RPM

FUEL SYSTEM

Multipoint Injection

FUEL

Gasoline
TOP SPEED

137 mph (220 km/h)

ACCELERATION 0-62 MPH (0-100 KPH)

7.5 s
MAZDA RX8 1.3L 6MT (232 HP)
ENGINE RX8 SPECS  – 
1.3L 6MT (232 HP)
CYLINDERS

2-rotor rotary

DISPLACEMENT

1308 cm3

POWER

170.6 KW @ 8500 RPM
232 HP @ 8500 RPM
229 BHP @ 8500 RPM

TORQUE

159 lb-ft @ 5500 RPM
216 Nm @ 5500 RPM

FUEL SYSTEM

Multipoint Injection

FUEL

Gasoline
TOP SPEED

145 mph (233 km/h)

ACCELERATION 0-62 MPH (0-100 KPH)

6.4 s