Of all the tasks associated with keeping a car looking good, cleaning is often the one that is considered to be the most unpleasant and somewhat tedious. However, if you really think about it, the actual process of cleaning a car is actually quite straightforward and not so tedious. It is what comes before and after that causes all the headaches.


Also, cleaning your car when you are away from home can be a real problem. Then there is the question of water pressure. Most people rely on regular garden hoses to clean their cars. While this can work for general cleaning purposes, it can only make things more difficult when the car is particularly dirty.
For some people in city centre areas or people with on-street parking, you might not be able to run a hose to your car. Wouldn't it be useful if you could take a large bucket of water out to your car and still use a power washer?
The Ryobi EZ Clean Power Washer RY18PW22A is an excellent option for people looking to avoid all these hassles while still being able to clean cars effectively. Here is a closer look at this portable power washer.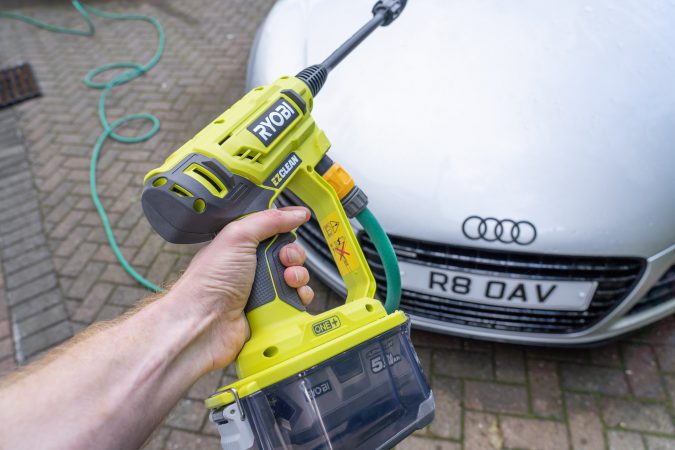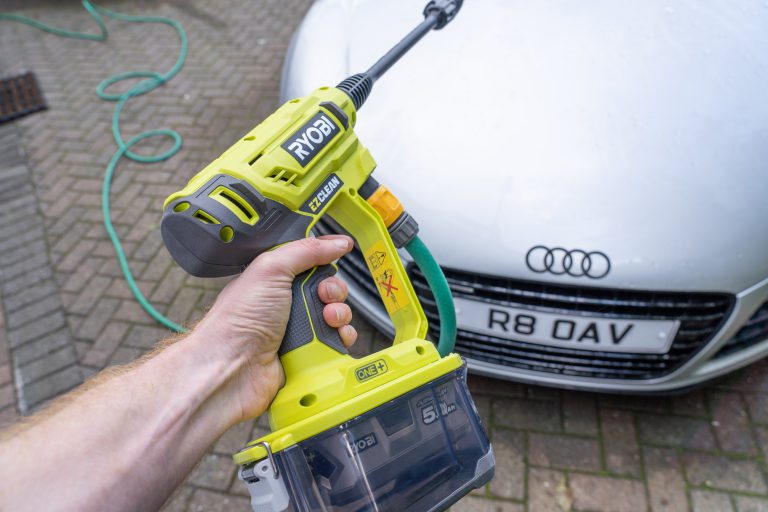 Great Portable Design
The first thing that really impressed me was how intuitive it felt in my hands. It is designed from the ground up to make the process of cleaning a car as easy and hassle-free as possible. It retains the typical form factor and design elements from other power tools from Ryobi.
It has a comfortable grip to hold on to. This is important so that you are able to use the tool for a long period of time without it feeling uncomfortable. Operation of the power washer is dead easy too, simply pull the trigger to release the water and take your finger off to stop.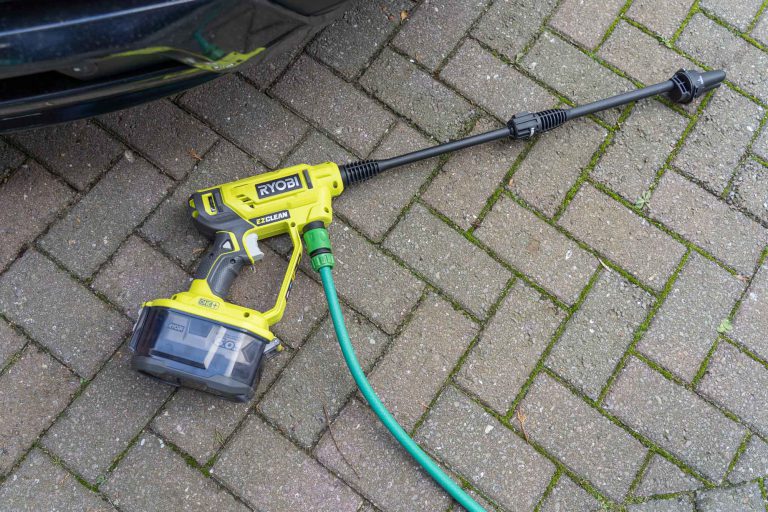 The hose connects to it at a right angle. This is again a very clever approach as the hose automatically stays out of the way. Moving around the car is pretty straightforward. The nozzle allows for easy adjustment of the water spray. There are three available modes all built-in.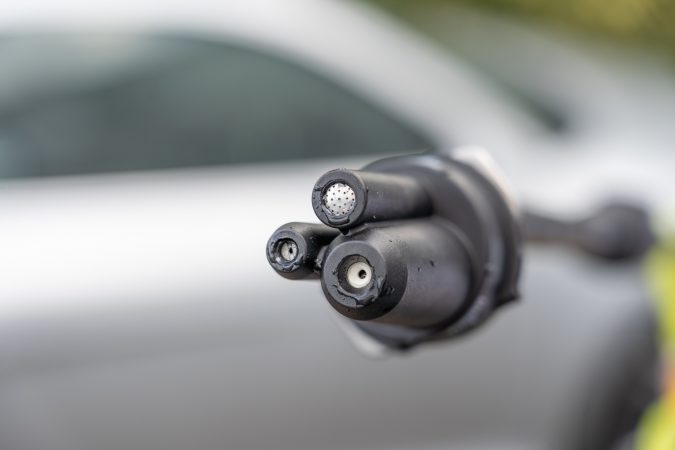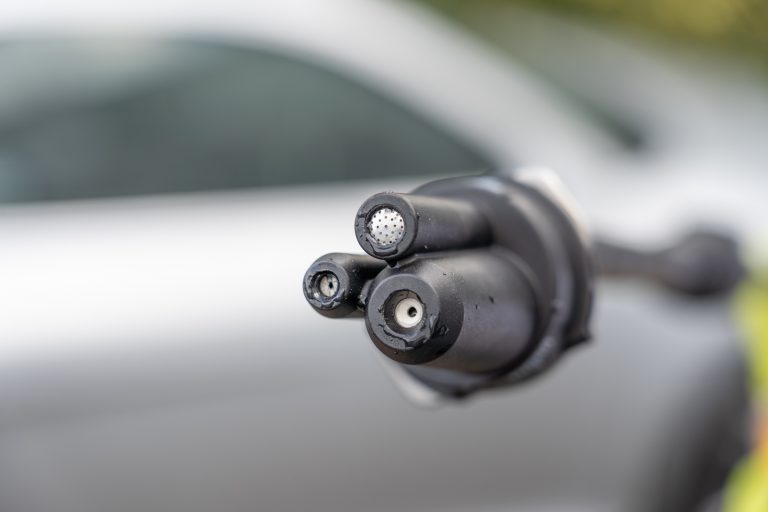 Rinse spray is the gentlest and is best for when you simply want to wet a surface or gently spray something. There are multiple uses for this cleaning the car, you would use this for anything delicate.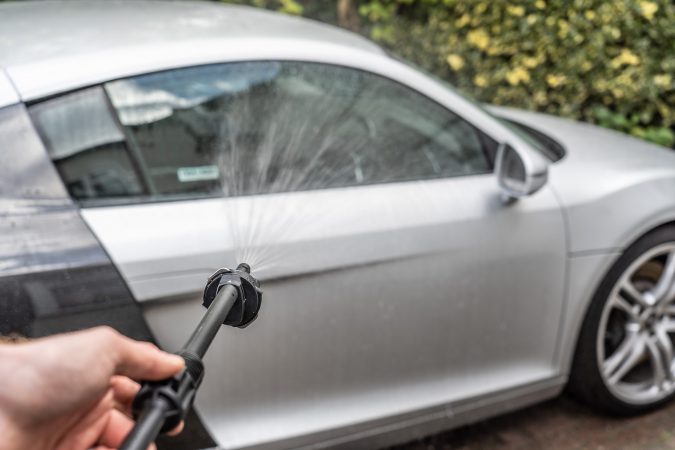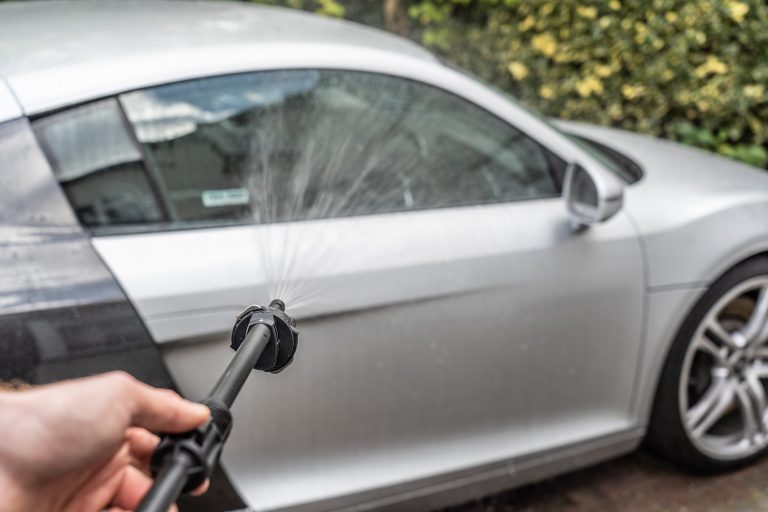 15 degrees spray is a little more intense and this is meant for general cleaning. This was the mode that I used the most during my time with this power washer. This is ideal for cleaning the majority of the paintwork windows and wheels without doing any damage.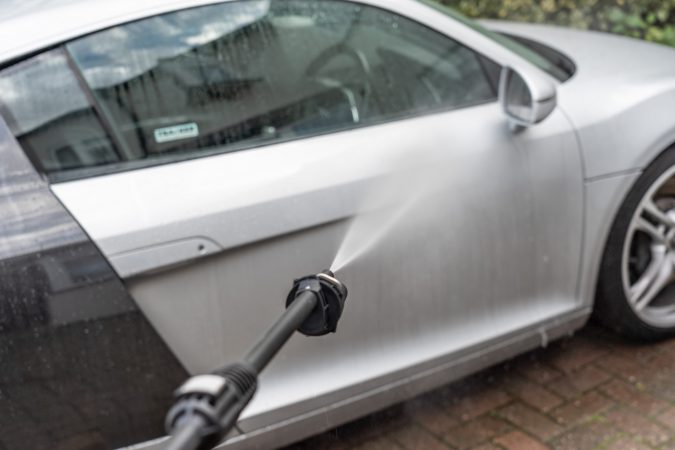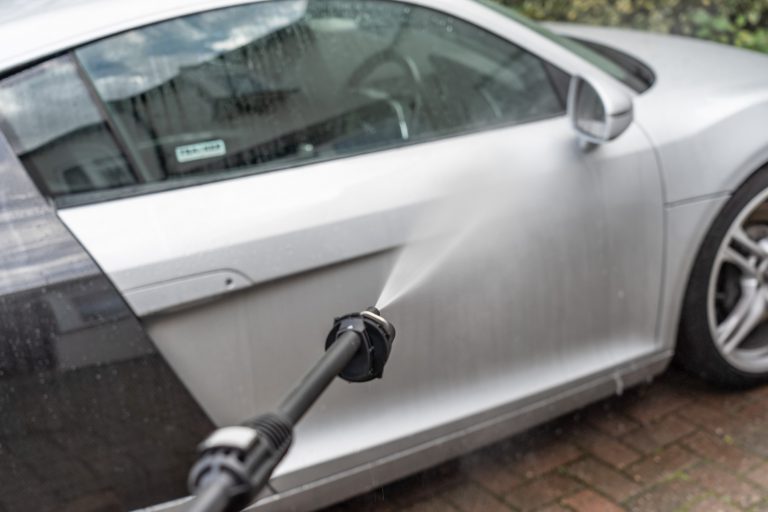 Finally, there is the Turbo mode which is meant for heavy-duty cleaning. The water pressure in this mode is pretty strong and it should only be used on those surfaces that can take it. It is ideal for removing dirt from wheel arches etc, but you could also use this mode on more rough and ready vehicles like off-roaders and commercial vehicles etc.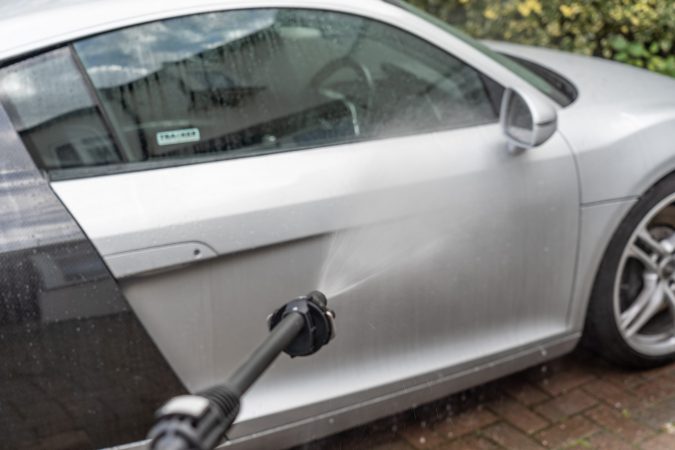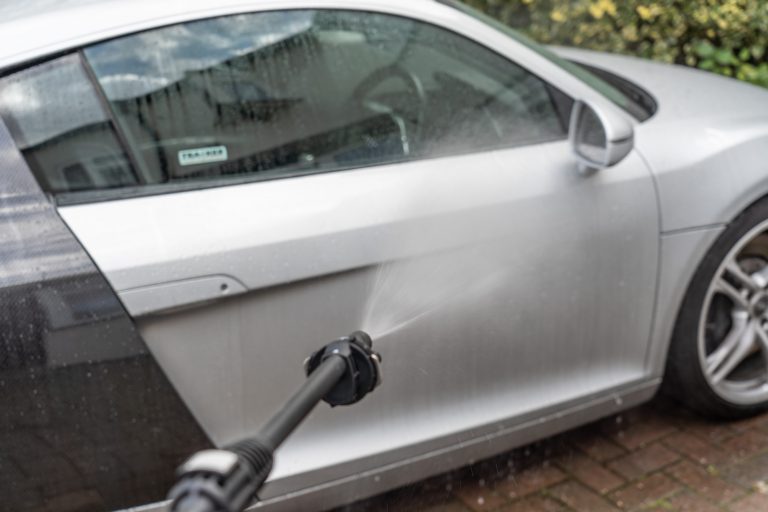 The weight distribution is also just right and while it is meant to be operated with two hands, single-handed operation is also quite possible. It is light enough to be used by anyone old or young.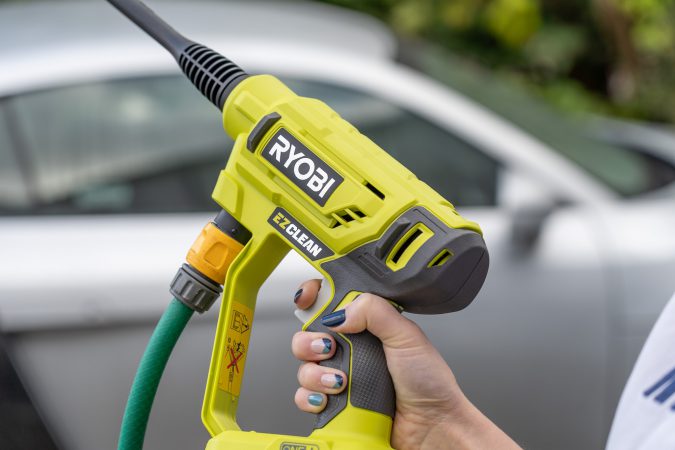 Versatile – Car, Boat, Garden or Garage
While it is primarily meant to be used to clean a car, its excellent design and practicality make it useful in a lot of different cleaning situations. Everything from the floor to furniture, fence to the garage door can be cleaned quite effectively with the RY18PW22A.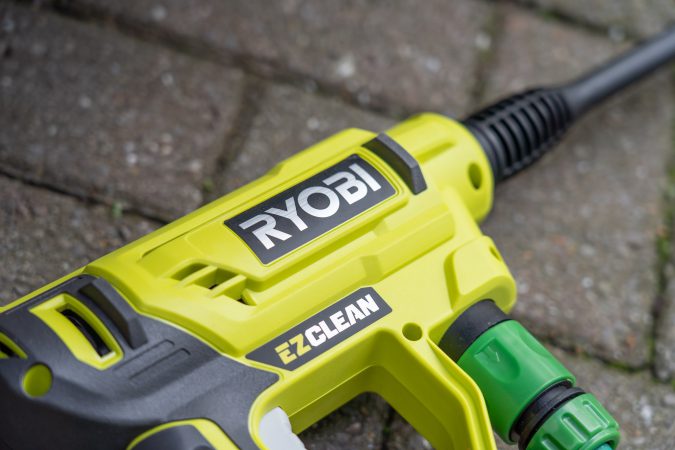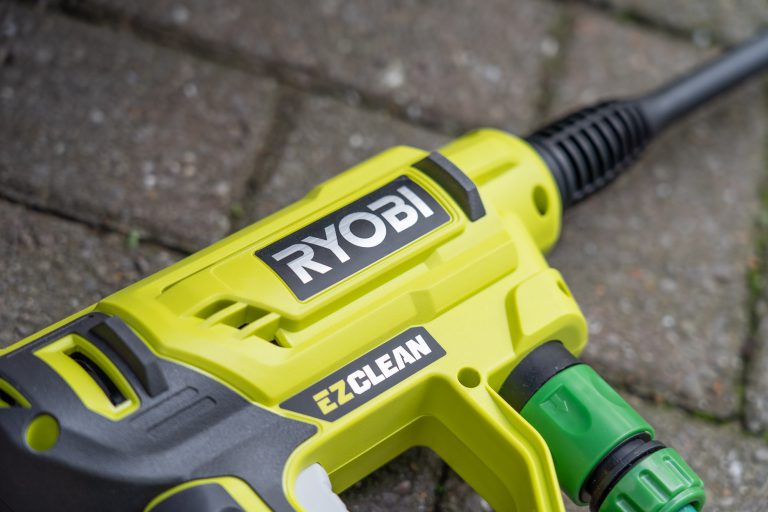 Sticking to car cleaning, the flexibility and the adjustability that this tool offers comes in very handy when giving your car a thorough cleaning. The different nozzle settings allow you to safely use the same tool throughout the car without having to play around with additional attachments.
You can circle the car using a mixture of different pressures. This is ideal for quickly rinsing the car down, removing harsh road grime from the side of the car and blowing the mud/dirt out of the arches.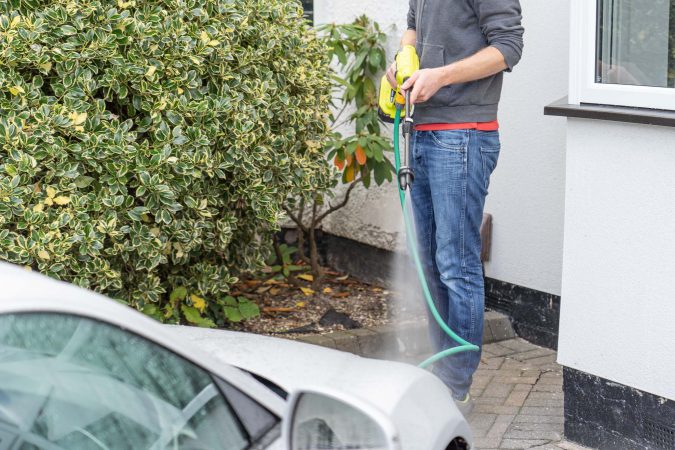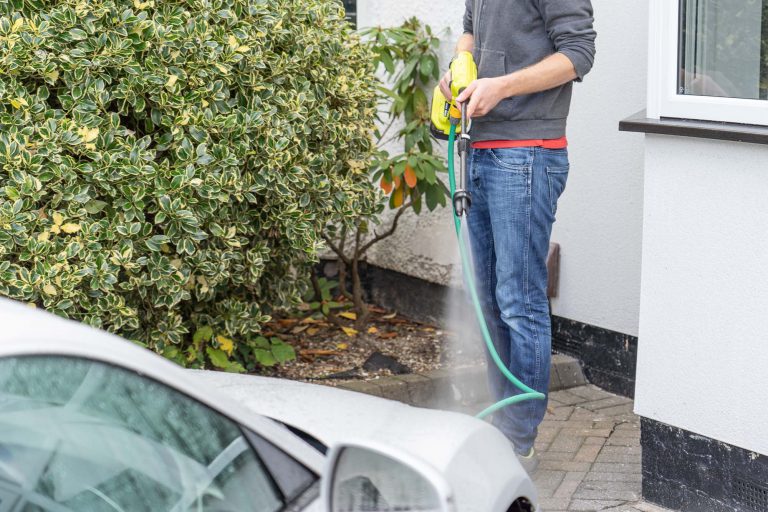 Battery Powered and Fully Portable
The whole point of a battery-operated device is portability and as expected this power washer from Ryobi excels in that regard. It takes up very little space and that makes it equally easy to stow away in a car or in a cupboard at home. The lance unscrews by hand and makes the tool very small.
This also makes it useful when you do not have access to a power outlet such as when on a trip or when the car park isn't close to your home. This is a great device for people who live in highrises. I particularly liked the useability this tool offers on a long drive which involves a bit of off-roading, this tool will blast off the dirt within moments and stop it sticking to your car. A battery-powered washer can be a useful tool to have at hand in so many situations and all the possibilities this tool offers are almost endless.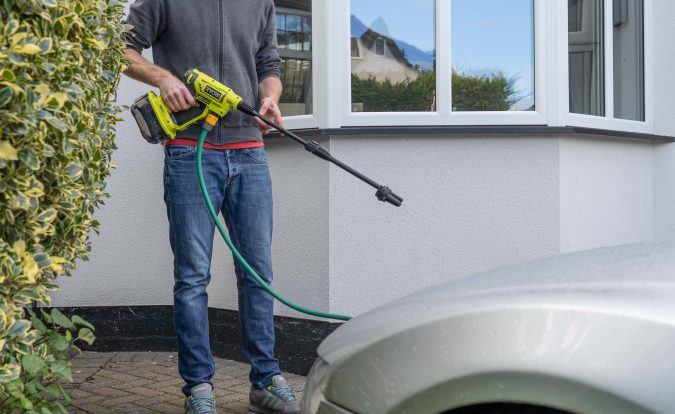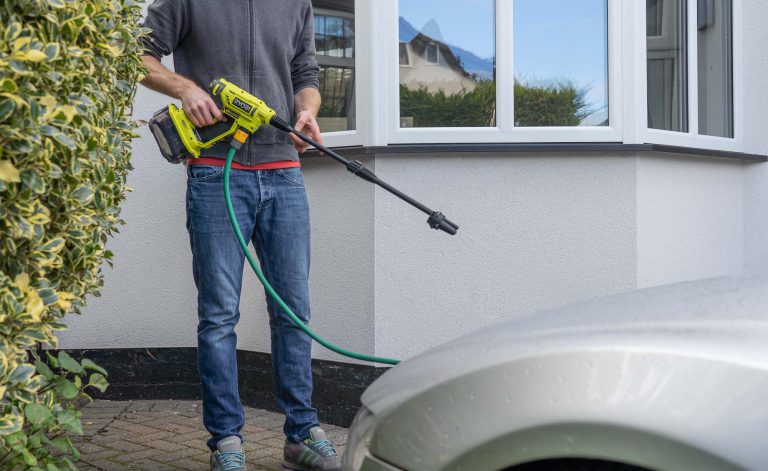 Some people might have some apprehensions about using a battery-operated device for something that involves a lot of water but the battery is encased safely in its own compartment that keeps the water out. While it should not be submerged in water, it can stand up to the splashes of water that will inevitably fall on it during the cleaning operation. It is very safe to use even when the nozzle is set on turbo mode and there is a lot of moisture flying around.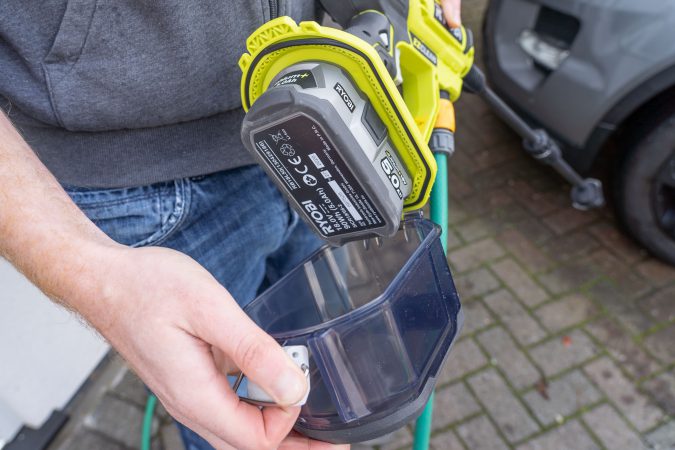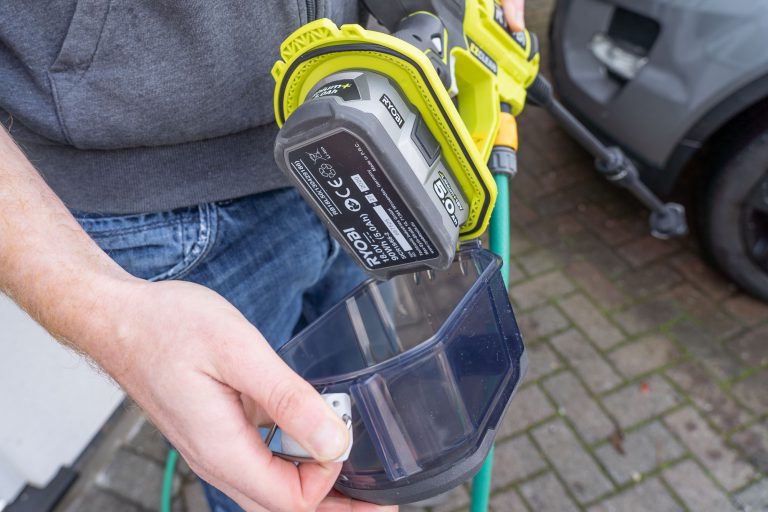 Highly Practical – With Siphon Kit
One major problem people can run into when power washing something is finding a source of water that can supply water at good pressure. This can be even more difficult when you are on the move. Ryobi has solved this problem in a very novel way.
This power washer comes with a 6m hose which acts as a siphon kit. This eliminates the need for a source of water that has good water pressure. Even a simple bucket will suffice. When on the move, you can run the hose to a natural source of water such as a clean lake or a stream and you are good to go.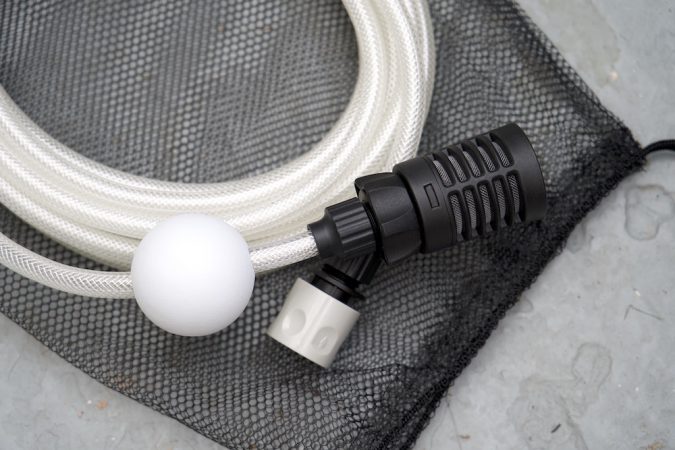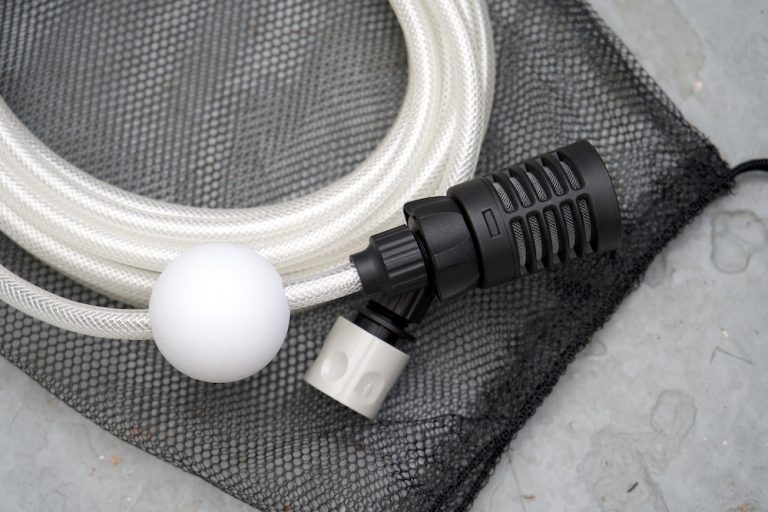 Assembling everything and setting it up exactly as you need hardly takes more than a few minutes. The battery also offers good cleaning time and it can power the washer for long enough to get you through most cleaning operations. Using a 5.0Ah battery you could easily complete 3 good cleans on 1 car without worrying about charging it up (maybe even more).
I think it goes without saying for cleaning cars you are still going to want a clean source of water so bear this in mind when sourcing your water on the go.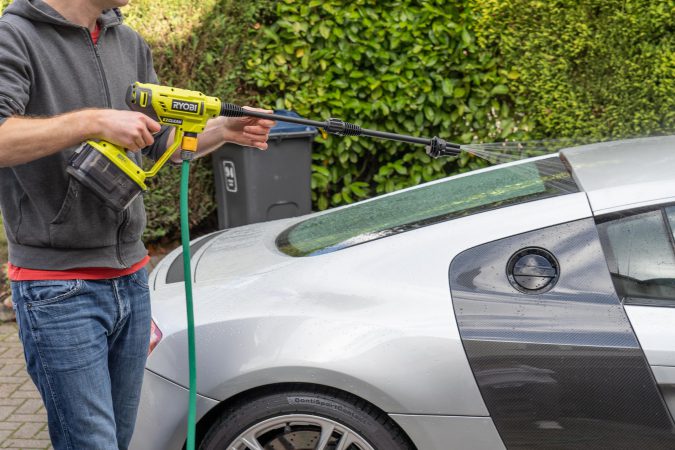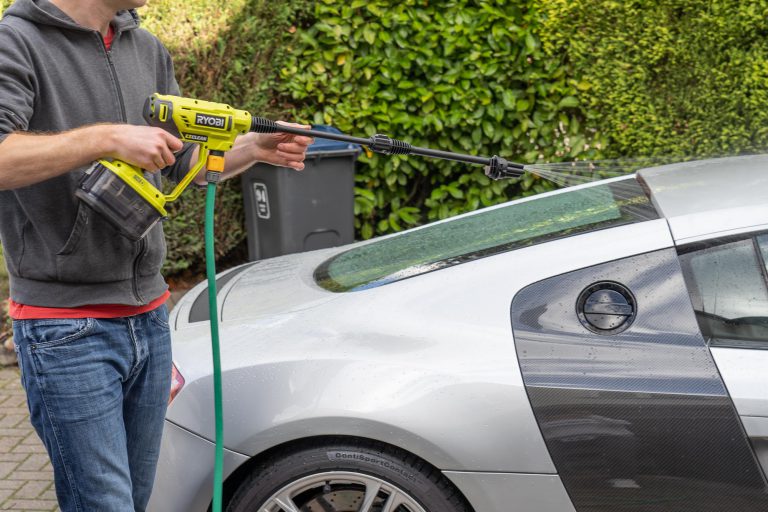 Ryobi EZ Clean Power Washer RY18PW22A – Final Thoughts
One thing that can be expected from Ryobi is excellent build quality. All the parts are built from quality materials and they feel sturdy. As long as no undue stress is applied, this should last for a long time. The siphon hose is also of great quality and it does not form kinks and won't crack in a hurry.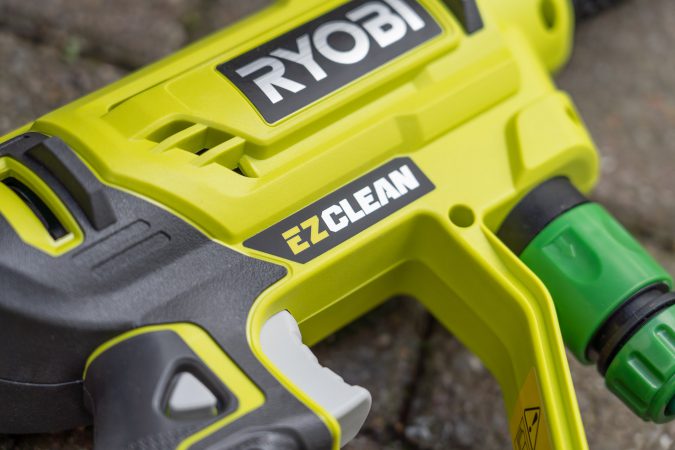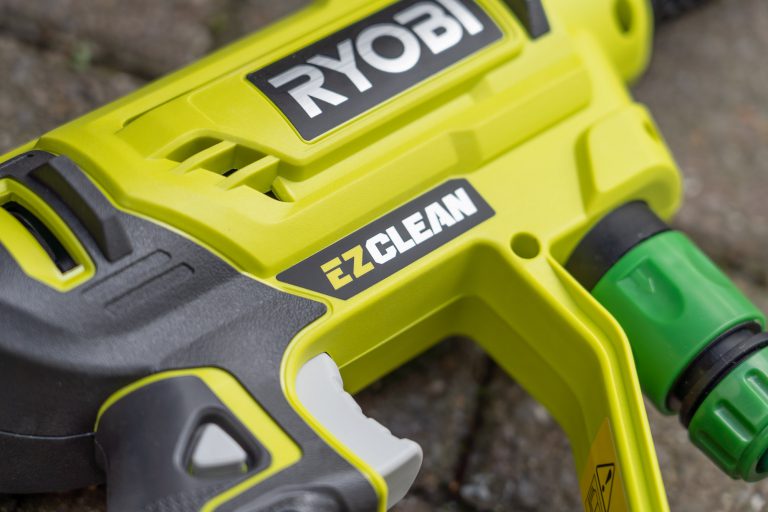 The 18v ONE+ battery is interchangeable with other tools from this brand which is something I really like about Ryobi. Overall, if you are someone who does a lot of cleaning and are looking to make things easier then the Ryobi EZ Clean Power Washer RY18PW22A might be exactly what you need. It has all the pressure you want for cleaning cars and removes the risk of doing damage from pressure washers that aren't optimised for cars. It is currently available for £129.99.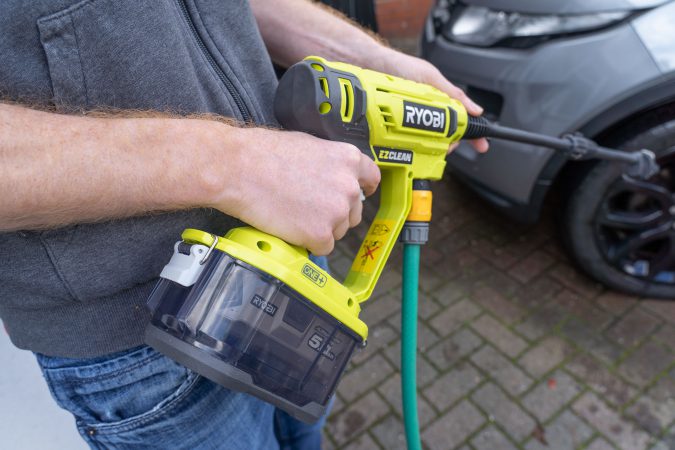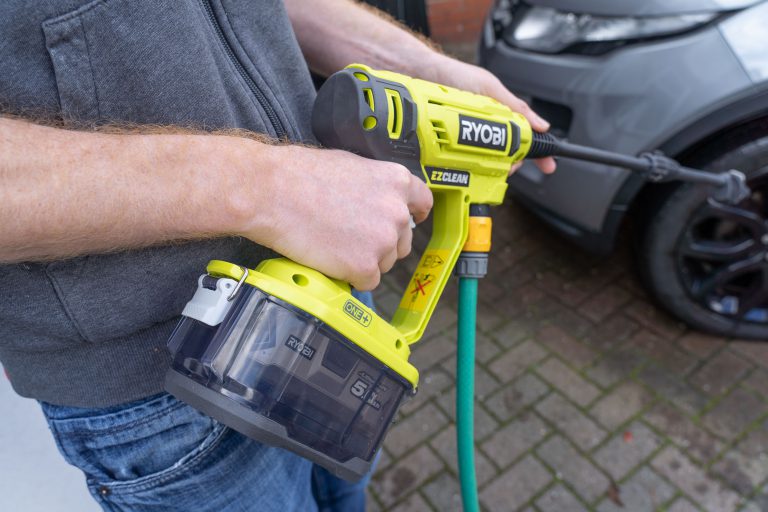 Visit Ryobi for more information.