Among the more potent and arguably useful tools that you could possess in your tool collection is no doubt the circular saw. However, most people often associate them with cutting wood, for renovating your house or building furniture. But fitted with the right set of blades, a good one could cut through various like a hot knife through butter. So, would Ryobi's latest RCS18X saw make the cut, or is it simply not good enough to win a place in your car garage?
For the automotive enthusiast reading this, a circular saw is a powerfully versatile tool to have within reach. You might not use it directly on the car, but it is very useful for the garage or workshop for building things you will use with your car like ramps, supports and storage etc. After spending some time with the Ryobi RCS18X, you'll find that we've quite enjoyed having it around.
What Are You Getting?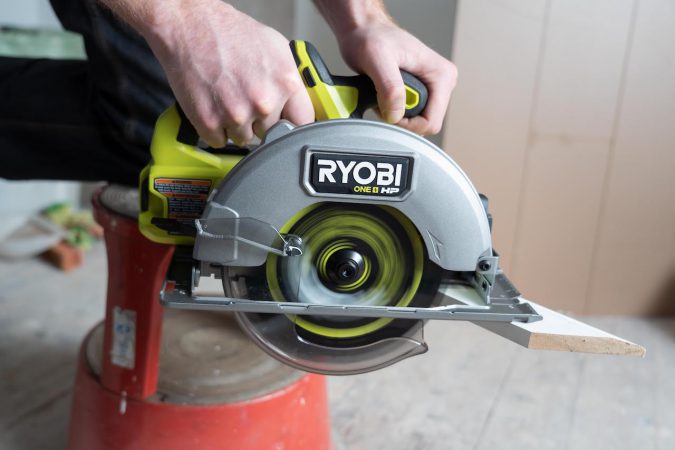 In the UK, this is sold as the RCS18X. Ours was sent as an early sample. When on sale it has a 3-year manufacturer-backed warranty.
Included in the box, you'll find the saw itself and a singular 24-teeth carbide thin kerf blade. There are some other smaller bits and bobs in there as well. Although you're not getting a battery as standard, you'll learn later on that it might not matter. So far then, that comparatively low price doesn't inspire a lot of expectations that it's anything other than an ordinary circular saw. However, the RCS18X is so much more.
Good Cutting Speeds And Ample Performance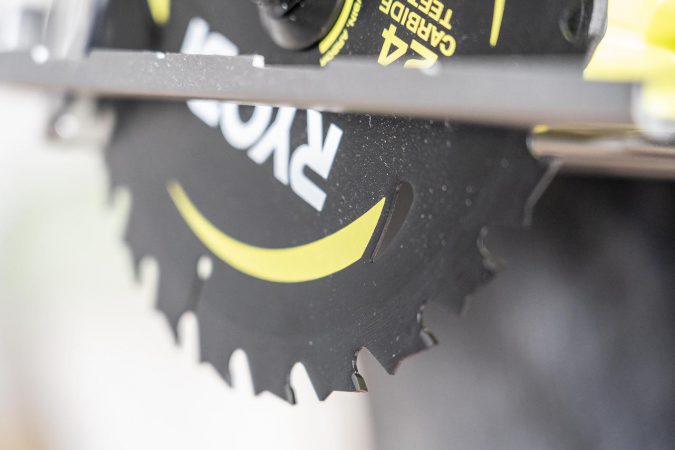 The best place to start would be assessing how it performs. Off the bat, we've found it to work rather well in our testing. Ryobi's RCS18X slots right into their high-end One+ HP series of tools. We'll explore more of what 'One+' means in just a bit. For the time being though, HP stands for 'high performance'. The main difference between an 'HP' branded saw compared to a regular one is what powers the 7-¼" up front.
Deep inside of the RCS18X, there is a newly redesigned and uprated brushless motor. Thanks to this, it can cut a lot sprightlier than Ryobi's preceding circular saws, with 40% faster cutting speeds. This brings it up to 4,300 RPM, ensuring that any project can be done in record time. More importantly, Ryobi has engineered that motor to maintain those speeds consistently, so you won't have to worry about the blades slowing down as it starts cutting through most materials.
The benefits double up now as the motors are able to run more efficiently. According to Ryobi, you could work up to 325 cuts per charge. In real-world terms, a casual DIYer could stretch out the runtime to a couple of days. For the serious users or workers, you'll run out of juice after half a day's worth of work with a 50Ah battery, which is in line with the competition, but it all depends. And owing to that brushless design, the motors undergo less strain, which means less maintenance, and it could live on for a bit longer, too.
Interchangeable Batteries For Added Convenience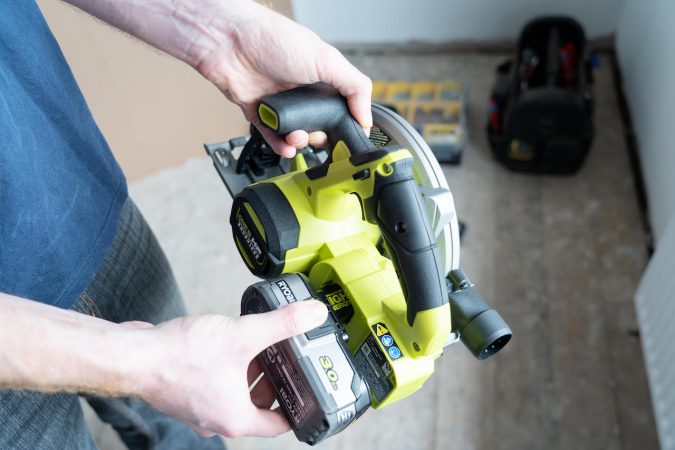 Now, we can talk a bit more about that One+ branding. Ryobi's line-up, One+ is a collection of 175+ tools that all share the same battery. This is incredibly useful in the realm of power tools. In essence, you could own a large toolset, from drills to nail guns and leaf blowers, which could all interchange with each other's batteries. Traditionally, each tool would have its own batteries, and can't be used for others. In this case, the RCS18X runs off an 18V lithium-ion pack.
That's why we mentioned earlier that it might not matter that your RCS18X doesn't come with a battery out of the box. If you already have other One+ tools, then you could simply plug those batteries in. And voila, your new circular saw is now and up and running.
Being able to simply swap batteries between all your tools is a very good option to tick off. It makes this already capable tool that much more versatile. Speaking off, the RCS18X has an 0-56º bevel capacity. This gives it an incredible cutting flexibility to suit whatever your project needs. Moreover, the depth of the cut is adjustable, as well. It could up to 2-7/16″ of depth at 0°, or 1-13/16" at 45°.
A Few Other Plus Points
Ergonomically, we've found the RCS18X to be quite comfy, even for prolonged use. The main handle is squishy while also not sacrificing on the grip. Meanwhile, there is a handy little safety switch within reach of your thumb. The upper guard is made of die-cast, ensuring that it'll be a lot more durable. Moreover, one of the things included in the box is a vacuum dust adaptor. You could then plug it into a compatible vacuum hose if you'd like to suck up all those wood and metal shavings.
Conclusion – A Great Workshop Companion For The Price
It's safe to say that we've quite enjoyed our time with Ryobi's new RCS18X saw. For the price, few circular saws could come close for sheer capability. The RCS18X is extremely versatile as far as the cutting goes, with ample amounts of adjustability for most cutting jobs. Its performance is also quite admirable, as well as the fairly good battery runtimes. If you're planning on being a bit more excitable with your next garage automotive DIY project, then the RCS18X wins a big thumbs up from us.